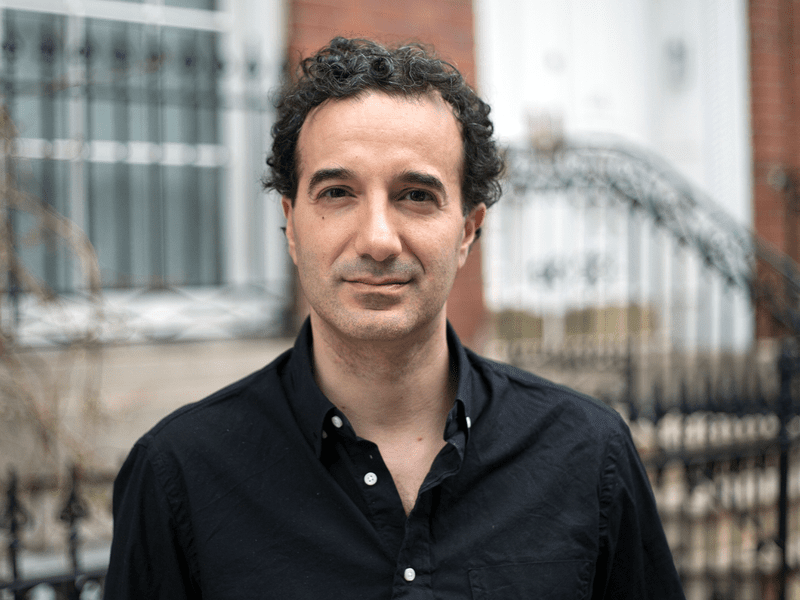 Transcript
[music]
Jad Abumrad: The positioning of being at the edge of the room looking in, that's the position of a journalist.
Helga Davis: Seneca said that luck is what happens when preparation meets opportunity, whether that luck takes a few days or even a lifetime is the unknown. I'm Helga Davis. Creator and co-host of Radiolab, Jad Abumrad might see lucky, but as he sat down to speak with me, coffee in hand and family, not too far off in the distance, we talked about the evolution of his show and how he works with doubt. This is my conversation with Jad Abumrad.
Jad Abumrad: That's how start every interview these days. [chuckles]
Helga Davis: What a joy to be able, to be there to yell at them to be quiet. Isn't there something in there too?
Jad Abumrad: Yes. If it were a burrito, it's well, no. It's an irritation wrapped in gratitude and joy.
Helga Davis: There we go.
Jad Abumrad: There you go. Yes. No, it's good. It's good. Actually, it's funny, I love working where they're near as long as they're just not yelling, that's the only--
Helga Davis: That's a thing. What is it about having them near that makes the experience something else more enjoyable, that makes it--
Jad Abumrad: Helga, it's because I worked in such weird hours. All the time, it gives me some semblance of actually having that myth, that mythical work-life balance to be able to work, and then just fall out of the studio and go read them a story, and then come back. Otherwise, it would just be too hard. It was hard for many years when I was just at the station, then you really do feel cut off. Now, I have a little studio in the house and it's literally 12 feet from their bedrooms, it's beautiful. I love it.
Helga Davis: I think about all of my friends too who are musicians, who have been on the road for the 20 years that I've known them, and they would come home and their kids were a foot taller or some several inches taller, or they learned new words, or they were walking, or they were doing something that they had missed. Now that they're home, I'm the one who can tell that the kids are big because I'm coming from the outside.
Now, they're so close to them and they're so involved in every aspect and still trying to work in the ways that they can that they don't see, they don't have that distance anymore. It's been such a beautiful thing to witness how normal it has become for folks to be with their kids and to see them through all the stages, and all the phases, and all the yelling, and all the stuff.
Jad Abumrad: Oh my gosh, yes. No, I relate to that because it's been the silver lining of the pandemic really. We're very fortunate that no one close to us has gotten very sick. Being trapped in the house with the kids and with my wife, Carla, I almost feel like I never knew my kids until this pandemic. I know them of course, but I know their rhythms now. I know that my oldest is super talkative in the morning, and pensive at night. I know that the little guy wakes up like he's shot out of a cannon, and then he gets real pensive around three. They have their different rhythms and I feel very much in tune with that, so you know them in a different way now. That does feel like a gift in a way, the one gift in all of this.
Helga Davis: When you were growing up, were you around both of your parents all the time, or did they have careers and things that took them away from you?
Jad Abumrad: I was in the mix but playing off by myself because they both are scientists. My daycare was their labs, and so my earliest memories are just sitting there for hours. It felt like days while they finish their experiment. Where I went to school in Nashville across the street was the building where my mother worked, and then two or three blocks down was where my dad worked. I would walk to her office and I would sit there and she would be doing experiments and I would play with her lab rats. They were my pets. I put them in my pockets and stuff. Then many years later, I found out that those rats probably were euthanized the next day which was-- it was a bad day.
Helga Davis: Did you know what happened to your friends?
[laughter]
Jad Abumrad: I know, I didn't know that at the time. I was always around them but they were always so deep in their work. I never really knew or was curious to know what they did exactly until I started Radiolab many years later, and then I started to be, "Oh, wow. Okay, science, what were they doing exactly? What was that protein you were looking at?" That was my childhood was just being there.
Then the other place I would get stuck for hours was in a practice room because there was my mother's lab, which was across the street from where I went to school. Then about a 10-minute walk from there was the Blair School of Music in Nashville where I took piano lessons. That was the other place where if they couldn't take care of me, they would just send me to the practice room. There were times when I would be six hours in that practice room, just playing scales and doing stuff. That was my upbringing.
Helga Davis: It sounds like that was an okay thing for who you were, and if I can say are as a person-
Jad Abumrad: Almost definitely.
Helga Davis: -that you could have that time.
Jad Abumrad: Yes, I know. I'm a, what's the word, extreme introvert, maybe an extreme but slightly noisy introvert that likes people, one of those kinds. I was always happy to spend hours in a practice room, it felt very peaceful to me. Even now telling stories on the radio or in podcasts, it suits me in a way because so often, you're by yourself in a room, sometimes in an airless booth, and you were speaking to a person but they weren't right in front of you. That social energy was kept at a remove, which for me is perfect. That's exactly how I like to operate.
Helga Davis: I'm always interested in these very beginnings of people because I think a lot of times someone might look at you and say, "Yes, but he does Radiolab." As if that that we're a destination and not an evolution of many, many, many things. I think we often get discouraged, it's like, "Well, I don't have a Radiolab, so how do I find something or do something that is so meaningful to me or to someone else?" Part of what I feel these conversations do is unpack the mystery of that a little bit so that we see already in the beginning that you had Radiolab tendencies [chuckles]. You had an ability to be on your own, to love to practice, to be okay by yourself but with people.
Jad Abumrad: Helga, I love that you called it an evolution because I sometimes freeze up when people ask, how did Radiolab happen. There was never a one-pager vision statement for it. Literally, back in 2002, after years of dabbling in radio, somewhat unsuccessfully, I got a lucky break and I was suddenly making a show and it was a giant swath of time on the AM signal on Sunday nights.
Helga Davis: Where were you?
Jad Abumrad: I was at WNYC. I wasn't even an employee at that point. I was still in that stage when you start to tell radio stories, you're like, "How should I speak in the mic? Should I talk like this like a news reporter? No, that doesn't work. Or should I talk like [unintelligible 00:09:32] and be like--" I was still in that stage of just searching to like, what is my voice, and how do I work with tape. What kind of music do I want to use in my stories? What stories are mine versus someone else? I was really early stages in that.
I got this opportunity probably too early in my career which was "Hey, we have this big chunk of time on the AM Sunday nights, just play documentaries." That was the only mandate. I just remember I was suddenly faced with three hours a week and I had to fill it, and I had to host. I don't know what that means. How do you host something? Do you have to be like a host? These days I feel like there are more models for what people can do when they host stuff, but back then there was just like, I don't know. I was like, do I have to be like, "Delightful?" What does that mean? I had to figure all that out and every week I just felt like I was making it up and there was never one idea. Then suddenly somewhere along the way, it started to sound like a thing. Then Robert came along, Robert Krulwich, he and I collaborated and then it evolved a bit more.
Helga Davis: How did you meet him?
Jad Abumrad: How I met him was that I was making Radiolab. It maybe was a year or so into the process of it. The station wasn't entirely sure it was worth doing. [laughs] It took them a long time to get to that place.
Helga Davis: How about that? That right there.
Jad Abumrad: Yes. They kept me in a limbo for a long time and I don't say this with any judgment. I actually feel like if I were in their position listening to me back then I'd be like, "I don't know, man, maybe." I was in that state and the way that I made myself useful to the station was I would make promos for them. Once upon a time, they asked me to make a bunch of promos with a series of people reading a 30-second support. These are people who had been long-time supporters of the station. It was a list of people like Andre Gregory, people had recognized who was a supporter of the station, and then Robert Krulwich was on that list and so I remember just going into his office one day, we'd made an appointment.
I handed him this little 30 seconds script, and I am a proud supporter of WNYC, yada, yada. He very typical to he was just like basically was like, "No, I'm not going to read this. This is stupid." Then he rewrote it on the spot and made wrote this bonkers 30-second thing about oil tycoons, and alien cults. I don't even remember what it was, but I was just like, "Wow", who are you?" Of course, I recognized him, but I didn't really know his work, so I was like, "Yes," Going back. I was like, "God, I was so naive." We started talking and we realized we had a lot of stuff in common. We both went to Oberlin. We both had done a stint at WBAI radio.
He had done public radio for a long time. He was actually part of the cohort that invented public radio and I was doing public radio, so he was like, "Hey, let's have lunch." We had lunch and we just kept having lunch, just like once every couple of weeks we'd meet for lunch. Meanwhile, I was making this thing called Radiolab, and then I think somewhere along the way he heard it and he was like, "Okay, this isn't bad." We started doing these small experiments, just like we'd meet early hours when there was studio time. I think you've been around for a long time at WNYC, right? Helga.
Helga Davis: Since 2008.
Jad Abumrad: Got it. I think we were in the new building by then, right?
Helga Davis: No, when I came to New York public radio, we were still in the municipal building on Chamber street.
Jad Abumrad: You remember how precious studio time was?
Helga Davis: Yes.
Jad Abumrad: There was only a few studios and everybody fought like gladiators for it. He and I would meet at six in the morning because that was the only time available and we would do little improvisations and I remember there was one in particular where I had some tape of a scientist talking about memory. It was a really interesting idea, but there's a lot of jargon and I couldn't fit figure out how to cut through it. I played it for him. He improvised around it and was started spinning a tail about a rabbit and a garden or some fantastical thing.
I remember taking that tape, cutting in the scientist, and then sound designing a little garden for the rabbit. I made some music and I put that in and I remember hearing it later and it was just five minutes and I thought, "Oh, that's interesting. I want to do more of that." That became the tiny little nugget of what would evolve into Radiolab but that was already like three years in. I didn't even really have a vibe until that moment. It was a really slow evolution is the short of it.
Helga Davis: Talk about the fact that it takes time and that you have to be given time and space to make a thing that's good, or to make a thing that is yours and isn't a copy of something else.
Jad Abumrad: Yes. I feel like I'm a walking example of that, Helga. I look back at the journey I took and then I transpose it on to today and I think if I came in today, with this half baked unformed idea of a show, nobody would say yes to it and they shouldn't but because I wandered into the world at that particular time when public radio was established, but it was tiptoeing its way towards this explosion of podcasting. I lived in this world of benign neglect where nobody paid attention and it was actually for the best. I was given the gift of four, five years to slowly figure out all the things. Not just to figure it up, but to grow up, I had to grow up a little bit.
Helga Davis: Say something about that, grow up from being what?
Jad Abumrad: I guess I was in my mid to late twenties when I started Radiolab, and I realized what I'm about to say could sound like one of those things old men about young people, but I just don't think you know anything when you're 25. I just don't think you know. You think you do, you think you've got it all figured out. I certainly did, but just I didn't know how to do journalism, basics, the real basics. You can't just wander into a journalistic institution and be given a show without knowing how to do journalism, so I had to learn that on the job. I still feel like I'm learning that, literally every day, and I'm 20 years in at this point. I had to learn how to do that. I had to learn how to be confident and self-assured in front of this evil thing right here.
Helga Davis: Yes. The mic.
Jad Abumrad: I think some people get that easy, but it took me a long time. It's funny I listened to my early self on tape, I sound like four semitones higher [laughs]. I had to wait literally for my voice to drop. I just have to grow up.
Helga Davis: To drop into your own body.
Jad Abumrad: There you go. Yes.
Helga Davis: I remember when I first came to the station, I also had this idea of what a host was supposed to sound like. I was doing overnight music and I had been given the mandate to play music from the perspective of a cool New York artist and talk about it. I was listening to the voices around me that definitely had a sound and that pronounced things in a very particular way, and I understood that to be the thing to aspire to, and so I tried that.
Then my friends who would listen, would say to me, "You played some really interesting things, but who are you when you're talking, and who is it that you think you're talking to because you're not talking to us anymore?" That was devastating. I remember running into Sarah Fisco and saying to her, "I think I sound really terrible." She said, "Oh, I was horrible for the first five years of my career. You'll get it." Getting it means that somebody's going to continue to give you the chance to get it and continue to give you the opportunity to get better.
Jad Abumrad: Yes. Same. I relate completely. Sarah Fisco is so right, as she is about most things. It's a funny thing. I think about this sometimes, I think we all have that existential who am I question? For most of us, it lives as a background hum, it's just there, but there are days when you don't have to pay attention to it. The thing about the microphone is it just puts it right in front of your face. You suddenly have to answer the question every time you speak and I found that really hard.
I remember distinctly those first few years, it would take me hours to track the show, hours because what I would do is I'd speak a line that I had written for myself, and then I would rewind, I hit play and the voice coming out of the speaker would sound like a bad imitation of everyone from Ira Glass to Joe Frank, to some news reporter. I was just like, "who the F are you, where is you in there?" I remember that process was very painful. Because I just wanted to sound like a normal dude. I just wanted to sound like, "Oh I recognize that guy." It's so weird that it took me years before I could recognize myself.
Helga Davis: How important it is because you can't really do anything until you do right. Until you know that.
Jad Abumrad: Yes. People can be harsh but at the same time, that's all adolescent growth. I look back on it and I can now smile about it rather than tear up.
Helga Davis: You grew up in Tennessee?
Jad Abumrad: Yes.
Helga Davis: What was that like? You're second-generation, your family is from Lebanon?
Jad Abumrad: Yes.
Helga Davis: Well, two things. What, what was that experience like for you, and then what do you think the hope was for you and your parents for you to be in that state and for them to be doing the work that they were doing and being American?
Jad Abumrad: Man, hell, I've been thinking a lot about this recently. Growing up as this scrawny Arab kid in this Southern Baptist universe during Gulf War number, it was a little weird. It wasn't terrible, but I never felt like I was a part of the Tennessee dominant thing. I felt a little awkward and out on the margins of it. My dad put it to me really well once. He was like, "Southern hospitality is real. People are really nice in the south. They will invite you into their home, but they'll keep you in the vestibule." It felt like that. Like you're one step apart of a thing, but you'll never be all the way. As I look back on it, I appreciate what that experience was.
I never had it really badly. I feel like it's even a privilege to say this. The positioning of being kind of at this at the edge of the room, looking in that's the position of a journalist, right? In a very different immigrant sense. It's a little bit that double consciousness idea like you're looking at yourself and you're looking at others, but you're also looking at the way that they see you and you're always quite aware of that.
That is a very useful thing when you're doing what we do. You're never actually a part of anything. You're walking into a room, that's not your room. You're pointing a mic at somebody, you're asking them a question, and then your retreat. That feels very natural to me and I was very grateful when I met the microphone when I met the process of interviewing because it gives you permission to engage.
For a long time, growing up, I didn't feel I had that permission. I always felt like I had to just be still and not noisy. It was awkward. I appreciate it now in retrospect but it's funny to your question about what was it like for my parents to be doing that work? I don't know that I ever fully understood that distance that they had traveled. I lived in Lebanon for a couple of years when I was young and I'd gone back a million times.
Helga Davis: Do you remember being there when you were young?
Jad Abumrad: Bits and pieces. I remember fragments but I went back and my dad told me a story of his dad. First of all, I went back to his village and his village, it's like a tiny little postcard little village at this, on the side of the mountain. Half the village has my last name. I met somebody with my exact first and last name. There was something about standing in that village and realizing, "Oh, dang, you came from here and you traveled from here down the mountain to America." You say that as a sentence, but then you stand in that place and it just takes on a whole nother character. Like, "Wow, that's a journey." You traveled space and time to get to this, the life that seems so ordinary to me right now.
I think he was the first person in this village of about 5,000 people to go to college. Then I thought, "Well, how did you make it out?" He started telling me about his dad. When his dad was 10, we're talking World War I era, he would march 50 miles carrying olive oil and various things that he would sell to the German Army in exchange for cereals and grains, and then they'd come back. He and his family would do this once a week.
On one of these journeys, his mom has a heart attack and dies. This would be my dad's grandmother. They buried her on the side of the road and just kept marching. He was like, "That's what allowed me to leave." Then he subsequently worked five jobs at once it's just to get my dad the money to go to AUB and then to go to America. It's crazy to think like, "Wow, that the only reason I'm sitting here talking to you is because a little boy had to bury his mother on the side of the road." It's just wild. There's the distance that that generation had to travel. I can't even actually hold it in my head. It's amazing. When they were working as scientists in Nashville, it felt like the most ordinary thing to me at that time but that was a big deal. It was a really big deal.
Helga Davis: Do you feel that he tried to protect you from that story for as long as he could in giving you the advantages that he was able to give you and education and home and just not having certain concerns really?
Jad Abumrad: I also think it was a little bit of protection as well. The place where they came from, where I come from, just imploded pretty much the moment they landed in America. They left right as the civil war was becoming just out of control. Then it proceeded for the next 17 years to just be one nightmare after another. I have vivid memories, like in 1983, when there was that famous bombing of the Marine barracks in Beirut of just watching them watch the TV. It was just heartbreak. I could see it in their faces. I just think they wanted to pretend that that place didn't exist for a long time. If they were protecting me from anything, it was just from all that insanity, and America really was a better life for me.
Helga Davis: You're this Arab kid in this school. Does that even mean anything to anybody that you went to school with?
Jad Abumrad: Well, at that time it meant something very specific. These days, there's such a different appreciation.
Helga Davis: What did it mean then?
Jad Abumrad: What it meant then was you're from the place that invented terrorism. Obviously, that is not true. Terrorism existed back in the 1600s, but the idea that somebody would drive a truck into a building and blow it up. That was the first suicide bombing in modern history. People couldn't wrap their heads around it. I was from that place. Lebanon for years, that's what Lebanon meant to people. It's the place where that happened and that happens and keeps happening. It's the place where the PLO does horrendous things to poor Jewish settlers in Israel. That was the narrative.
It was something very specific. These days, I think people have so much more of a sophisticated sense of the world and so much more appreciation for the complexities of these political situations. At that point, no. That's what it meant.
Helga Davis: Then what about you with your kids? How do you explain the place that they come from and are a part of?
Jad Abumrad: Well, my kids are this incredible mix. They're half Lebanese, quarter Filipino, quarter Indian. They're these mutts and they love that. They go to a school which asks them to interview their grandparents every year and to get their family histories and to then present that to their other kids. There's just a celebration of mixed-upness and trying to isolate and story tell the different aspects of your identity. It's so funny to see the way that they're educated and the way that it's so normal to them. What we try to do with them is to differentiate and say, one of your grandpa was Lebanese and here's what that means, and tell them stories about almost like trying to preserve certain because it's all so clumped together now in their lives.
Whereas I feel like my generation, maybe this particular to the South, I don't know, identities were hidden a little bit, made invisible, these days it's a different problem. Everything is just thrown together. Now we try and say, "This is what your Indian grandfather went through, this is what your Lebanese grandfather went through, this is what your Filipino grandmother went through." We try to tell them very specific stories, but I would love to take them to Lebanon. It breaks my heart a little bit that they don't speak Arabic. I feel like there's something ending in that, but they certainly could learn it, I guess.
Helga Davis: You start putting the pieces of this puzzle together that we now call Radiolab. You have the time that it took to make it into something that felt like and feels like it belongs to you, that it's your voice that you have your partner in crime in Robert, and then it really becomes a thing. Do you feel that you were ready for that? I think part of what happens too, is that people say, "I want this thing, and then when I have this thing I'll know and have proof that what I've been doing was the right thing". I realized for myself, there are things that I get that I'm completely not ready for. I've really thought I was ready for the success of this or that thing, and then I get this grant, and I get the first check from the grant and I can't go to the bank and put it in, because it doesn't feel real or there's a disconnect in my brain and in my body that the person I think I am, also has, can do is capable of deserves this thing.
Jad Abumrad: Same.
Helga Davis: That wasn't the answer I expected.
Jad Abumrad: No, completely the same, completely the same. Where my mind goes immediately when you ask that question is I think about Minnesota, The Fitzgerald Theater. The success of Radiolab, as much as it was a slow evolution, there was something that happened around 2010, 2011, people just started paying attention to it. We were one of those overnight successes that had taken 10 years thing. We were offered the chance to perform live at The Fitzgerald Theater. We had done some like minor things presentation stuff at the Apple store in New York City or something like that. We had done some of that, but The Fitzgerald Theater, that's where that-- I remember the week or two before we were going to do it, I went and watched Garrison Keillor do his thing at The Fitzgerald Theater, which is where he broadcast for years, and I was like, "Oh no, I can't. No, no, no, I can't do that."
Just you just get on the stage and then people, all these people watch you, I said that's insane, no, no. I remember the hours before we had to perform my literally was in a fetal position under the desk. As an introvert to step onto a stage and just be the center of that kind of attention, oh my God, I can still feel my stomach turn just thinking back on that. I wasn't ready for that. I was not ready for the idea that you aren't just a person in front of a computer cutting tape and making these little story compositions but that you're actually having to be a public person and to be a public person without a safety net, I was not ready for that.
Then the amazing thing is I didn't die. We did the performance and it was okay. I don't know if it was great but it was fine. I maybe even liked it. Then we ended up going on four tours after that. The person who started the show, if he could have known that that would be what he would end up doing he wouldn't have believed it. There's no way that Jad would have thought that other Jad in the future would be on a stage, no fricking way. There are aspects like that, you're just doing the work, and then suddenly the work drives you into a situation that just you're not prepared for. That has happened to me many, many times at Radiolab.
First, it was touring, and then it was this slightly more boring but more consequential question of how do you run a team? Now Radiolab is so much bigger than me. It's just so many talented people. Two new hosts, an executive editor who makes most of the decisions at this point Lulu, Latif, Soren, Susie, all the folks at Radiolab who I collaborate with. It is such a bigger endeavor than me at this point, and also for those offshoot projects, they collaborate very deeply with Shima Oliaee on those and I've learned what does it team need of me, and how do I do that, what do I do when I think they should do A, but they really don't want to do A, they want to do B, how do I work with that? That's been a whole other evolution and I was not prepared at all for that. Groups are hard, especially these days, groups are really hard. I had to learn, it's like a whole language you learn about how to be not just a bedroom artist, but an actual leader. There just were so many stops along the way where I feel like I wasn't ready, and then I just somehow got myself ready.
Helga Davis: Then after you won the MacArthur, did you feel ready for that? For the attention? What did that even mean, that you'd won that?
Jad Abumrad: Oh, that one took a while to settle in. It's interesting. I think back on that now. At first, it was a little trippy. It was weird. You just singled out in a way that it was awkward. It was an amazing honor. Now that I look back on it, I think that was a moment where I could quiet one of those internal voices. It didn't mean something, it did do a lot for me. The money, not as much because they divided up in a certain way and it gets taxed to hell, but I was able to build a studio in my home. That was huge. We started by talking about my kids and being close to my kids, and I was able to finally do that. Then, it was a moment where I thought I don't have to-- Like in those moments where you really-- I am filled with doubt all the time and it's something I can say back to the doubting voice is well, oh, at least I got that thing.
Helga Davis: It's such a piece of information that you, you, because that's what people say, you, also are full of doubt. It's a thing that you work with. I just finished reading again, James Baldwin's The Fire Next Time. One of the things that he talks about is being able to use one's anger, those things to propel you into the work that you must be doing, that you feel is your calling to do and that you not get defeated by that, by whatever those feelings are. I think it's such an important piece but it also means being in community, I think with people who know who you are, who see the work that you're trying to do, or the place that you're trying to get to, and that they can lift you up from that place as well. Then those things become information. It's like, what's really at work here. I doubt this why. I've done this show these many times, I've performed this piece of music, I've done this X number of times, why am I afraid today?
Jad Abumrad: You mentioned James Baldwin. It's like the fact that he could take that visceral anger and rap it in such eloquent poetry and you're just like, "Wow, there's something transformative in that." That's something to aspire to. For me, when I say I'm filled with doubt, I think it's this, it's given me a certain sensibility. For better or worse, I find when someone presents you with a truth that is resolute and simple, I just don't trust it. You know what I mean? There are certain truths that are true and simple, and so I'm not discounting that. There's some way in which for me, and maybe it is because I grew up as that awkward Arab kid where you're always in between, you're in between cultures. Whenever I find a truth that feels too simple, too partisan, too flat, I just don't trust it. It feels by definition not true to me.
The doubt for me becomes a pointing arrow. If I don't see that reflected in the world I'm investigating, I become a skeptic in that moment. You know what I mean? I feel like the stories I'm constantly chasing are stories of people who are stranded in between truths, whose instincts are pulling them in different directions. Because that makes sense to me, that emotionally computes for me. I guess that's how I use the doubt. I look for it in everything I do professionally.
Helga Davis: One of the other things that Baldwin said, and this one I wrote down so I could get it exactly right because I want to ask you something about it. He says, "The purpose of art is to lay bare the questions hidden by answers." You're already pointing at that with what you were just speaking about. It feels to me like Radiolab and so many of the other things that the offshoots and things you're looking beyond these simple truths at much more complex questions.
Jad Abumrad: I hope so. It's funny, it's a wind that sometimes feels to be blowing in the opposite direction sometimes these days towards simple, loud truth. I do feel completely still dedicated to that idea that the best work we can do right now is to somehow explore those areas where you see two truths and conflict. They both feel true but mutually exclusive in some way. Being a person, being a journalist, or a storyteller that can hold both, and see both and examine both humanity's, realities as three dimensional, that feels like the work to me right now. That feels like the work.
Sometimes that is about as he beautifully puts, forgetting the answers. In some sense, that is in our job. Even though I do think we have to look for answers because you never get to the good questions without looking for the answers. Ultimately, if all you find is the answer that feels too simple. It feels like we're shirking off our ethical responsibility in some way. I subscribe to that beautiful sentence wholeheartedly. It is ultimately about investigating the complexities behind seemingly simple answers that actually reveal a question that is not simple. That's the work.
Helga Davis: It's interesting. One of the things that happens every time I sit here to do this work, the windows in my living room face the back of the building on the next block, and that building houses a homeless shelter. Sometimes the sounds that come from there just take my breath away. Sometimes there are people who are dreaming, and they have nightmares. Very often people are fighting over things that many of us and I would even venture to say most of us wouldn't think we're things to fight about.
The other day, someone had taken all the belongings of one of the residents and put them in a bag and put that bag somewhere for him to pick up. In that bag was a thing and a last thing of someone who meant something to him, and that it couldn't be dropped or folded or banged around. The idea of losing it sent him into a rage. The thing that he kept repeating was you have to have respect for my things. You have to have respect. You have to have respect for me, you have to have respect. It's 6:30 or seven o'clock in the morning. That's where his day is beginning.
There's the impulse of some of the other neighbors to say, we're going to call 311. They're making too much noise. We're trying to work, we're blah, blah, blah, blah. The idea that the thing that identifies the person, that identifies him to a place, to a person, that is special and important to him, and that thing now may be gone or broken, it's such a powerful thing. It isn't as simple as we're going to call 311 and complain about this place. It's not that simple if you are willing, also, to listen to what's happening around you. To take that one extra step and to not be as invested in your own comfort, just for a moment so that you can know what's going on around you to get to this other question.
Jad Abumrad: That's an amazing story. That feels like the beginning of a memoir or something. That's amazing. This is funny, I haven't always thought this way, but I feel very strongly now. I do feel like every act of journalism but maybe it's just act of anything, it has to begin in empathy. I don't know that that's the sum total of what the job is, but it has to start there. It has to begin with just like, "Uh-huh, what's it like to be you right now?" Maybe that's compassion and more than empathy. I do feel like that's the thing that animates the work more than it ever has, is to find the people that you're like, "God, I really don't get you. I might even hate you at times but let me actually put those feelings aside and be like, what is it like, actually to be you? Walk me through it." That feels really important. Otherwise, I really appreciate the chance to talk about all this stuff in a way that I never had before. I'm very grateful.
Helga Davis: Well, I really appreciate just being able to not only pass your office and look at you and kind of wave. Because remember, I was on one of those Radiolab episodes. I sang something and I came in, I was at a desk and someone said "Hey, don't you sing? Can you come here tomorrow and sing this song?" I said "Sure." They got out one of those oh, beautiful ribbon microphones.
Jad Abumrad: Yes. You sound amazing on that.
Helga Davis: I sang that song into there. I've never heard the song though.
Jad Abumrad: No, You sound incredible, That was actually for an audio walking tour that we did for us. That's right. I'm going to dig that up and send it to you because I remember hearing that and be like, "Whoa, who is that?"
Helga Davis: That would be amazing. I never heard that. I remember the song hadn't been written. Then I sang it in two different octaves, so we could figure out which one. It was a whole thing. Even I have my little stint on Radiolab, so there people. Thank you, Jad so much.
Jad Abumrad: Awesome. Thank you guys so much.
Helga Davis: That was my conversation with Radio host Jad Abumrad. I'm Helga Davis. If you want more of these conversations, subscribe for free wherever you get your podcasts. Give us a rating and share with a friend. Don't forget to follow me @hel.gadavis on Instagram. Helga, the Armory Conversations is a co-production of WNYC Studios and Park Avenue Armory. The show is produced by Krystal Hawes-Dressle with help from Darian Suggs and myself. Our technical producer is Sapir Rosenblatt. Original music by Meshell Ndegeocello and Jason Moran. Special thanks to Alex Ambrose. Avery Willis Hoffman is our executive producer. City and Bloomberg Philanthropies are the Armories, 2021 season sponsors.
Now, the Coda. Here's what was said. "You're a cool New York artist. Come on in, bring some music you love, sit down and talk about it." What and well, that's what I did. I said, yes. I came in and as I like to describe it, I took my shoes off. I hadn't ever felt so comfortable doing something for the first time. That's how it began. That's how I ended up on the radio. I said, yes. We're going to listen to a short piece from my first radio show. I'm so glad still to be here, finding my voice, finding my yes, finding my way.
From the majestic cathedral of St. John, the Divine, the following program features highlights from The Songs of the Spirit concert that took place at the cathedral this past November. I'm Helga Davis. Songs of the spirit is a concert series that promotes interfaith and intercultural unity through music. As you'll hear, the featured artists who are from different ethnic and musical backgrounds often perform together on stage. This concert features Odetta, the singer who in New York times calls the Mother Empress of folk and blues, south African megastar Hugh Masekela and New York-based psychedelic Sufi Trance rock singer Haale.
To start the concert, old meets new as the jazz trombonist Craig Harris teams up with the Tibetan monks of the Drepung Loseling Monastery. Craig Harris, who we're hearing on stage now has been on the jazz scene since the mid-70s. He's a trombonist whose interest in music also extends to the worlds of multimedia, performance art, curating. For this event, he's The Songs of the Spirit music director.
The Tibetan Monks are renowned for the are multiphonic chanting. The monks simultaneously produce three notes, creating a chord. We'll hear them perform with their traditional temple instruments, including symbals, bells, drums, and Longhorn trumpets. Let's turn to the stage at the cathedral and listen to the opening of the concert with Craig Harris and the Tibetan monks.
[music]