What it Means When Jared Kushner Says Black People Have to 'Want to be Successful'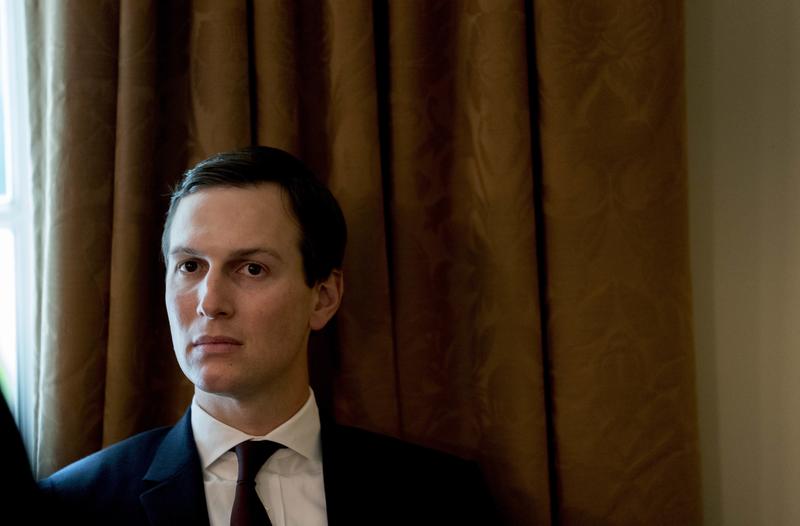 Transcript
[music]
Brian Lehrer: Brian Lehrer on WNYC. The World Series is over now. It ended weird with Justin Turner of the Dodgers being taken out of the game in the eighth inning because of a positive COVID test but then refusing to stay socially distanced from his teammates, despite being told to when they won the World Series and celebrated had a group photo. Took off his mask in the middle of all that, never mind congregating with them at all. We don't know yet if he infected his buddies.
Baseball ends weird after three months of otherwise pretty successful modelling of how businesses could handle the virus. I want to recall for a minute, the moment in August when Dominic Smith from the Mets publicly broke down in tears because as we all know, COVID hasn't been the only intense thing going on this year in baseball or anywhere else. Here's Dom Smith at a postgame news conference, August 26, I think the date was, after the police shooting of Jacob Blake in Kenosha, Wisconsin.
Dom Smith: I think the most difficult part is to see people still don't care and for this to continuously happen, it just shows just a hate in people's heart. That just sucks. Being a Black man in American, is not easy. Like I said, I wasn't there today, but I'll bounce back. I'll be fine.
Brian: Dom Smith of the Mets in tears. Here two days after the end of the World Series. That's certainly one of the moments that I will most remember from this baseball season. That same week, Doc Rivers, coach of the LA clippers in the NBA had a similar teary moment. Suddenly those moments were back in the news this week, when Jared Kushner criticized them on Fox News channel, on Monday.
Jared Kushner: You saw a lot of people who are just virtue signaling, they go on Instagram and cry or they would put a slogan on their jersey or write something on a basketball court. Quite frankly, that was doing more to polarize the country than it was to bring people forward. You solve problems with solutions.
Brian: To Kushner, who presumably is also speaking for the President there, he seems to think Dom Smith and Doc Rivers were just virtue signaling. Here's what else he said that President Trump wants Black people to be successful more than they want to be successful themselves. Listen.
Jared: President Trump's policies are the policies that can help people break out of the problems that they're complaining about but he can't want them to be successful more than they want to be successful.
Brian: Black Americans talking about systemic racism or complaining, he used the word complaining, and many don't want to be successful themselves. One thing that struck me about that is that for all everyone talks about President Trump as an aberration from traditional conservatism, saying racial inequality comes largely from Black Americans not striving hard enough is very traditional conservatism for at least the last 50 years.
Let's talk about the Trump and Kushner messaging but talk about it in historical context, with WNYCs Kai Wright, host of the podcast, The United States of Anxiety, and the local Colin show The United States of Anxiety Sunday nights at 6:00 here on the station. Hi, Kai, welcome back to this show.
Kai Wright: Hello, Brian.
Brian: Did you hear something more new or something more old out of Jared Kushner's mouth there?
Kai: I'm going to do my best to keep my composure throughout this [unintelligible 00:03:59]. It's a frustrating moment. It's something very old and you point out to the last 50 years. I'd go back much further than that. There are two strains of politics that he is speaking to there both of which come pretty much right after the Civil War.
One is a set of ideas that emerged really within months after Black people were emancipated from slavery, that brought together the sort of the southern Confederates and the northern capitalists on turning the page from reconstruction. The other is a strain of thought that we also need to talk about that grew out of the Black community, towards the end of the 19th century, a certain kind of striver, don't be a victim politic, that still exists very much in the Black community, particularly a particularly kind of Black male politic.
I think it is not coincidental that Jared Kushner is hitting those messages now. We can unpack that history but in terms of the political message that that campaign is sending right now, one of the two things they're trying to do is peel off Black men and find ways to reunite the profiteering of the North with the project of white supremacy. We can unpack that history, but that's the long history that these comments come out of?
Brian: Well, one of the things that you just said there surprised me a little bit, that Kushner maybe was actually trying to appeal to some Black voters with that statement, rather than him having made a gaffe in terms of saying the quiet part out loud there.
Kai: Well, I mean, appeal to a certain-- No one is arguing that they're trying to win Black voters, and they're certainly not but we do have to acknowledge that there is a group of Black men in the United States who have supported the Trump campaign. It's small, it's one in 10, I think the latest poll I saw was something like 11% of Black men support him this year. It was a little more than that in 2016.
I point it out to say that this idea of Black self reliance, it started when reconstruction ended at the end of the 19th century. There became this idea within the Black community of like, "Listen, we can't depend on white people to save us, we got to save ourselves." It was a weird thing to argue, since no one was waiting for white people to save us in the first place, but that became part of the political conversation in the Black community, and notably Ida Wells, Ida B. Wells we talk about her as a journalist, but one of her great contributions to history was to say, "That's ridiculous, we have to fight for our rights, as well as protect ourselves."
Over the course of the 20th century, a certain group of Black men started to really embrace that, don't be a victim, Black self reliance thing. It comes to following the civil rights movement, and then again, in the '80s, and '90s. I say all of that to say that I think it's notable that Kushner is saying these things at a time when you have the Ice Cube's and the Kanye West's, some of these celebrity Black men, billionaires-- Millionaires, rather, who have started to get in their camp.
That macho self reliance, don't be crying, that is something that speaks to a certain part of Black male politic that we need to be talking about in our community.
Brian: It's interesting, because you're thinking of it in terms of Ice Cube and Kanye West. I'm thinking of it in terms of Ronald Reagan and Newt Gingrich.
Kai: Well, both things are true. That's what I mean about there's two strains. There's that strain, but then there's also-- This is what I meant about at the end of the Civil War. I'll go all the way back to that. Within a year, after emancipation, there became this argument to say, "Hey, listen, you know, enough already with all of these 'special rights'." That special rights idea, that started within a year after so after the Civil War.
Enough with all these special efforts to help Black people, they need to help themselves. We've freed them from slavery, they have to abandon this idea of being victims and stand up on their own two feet. That idea is what unified the former Confederates and the northern capitalist who wanted to bring it into reconstruction. This was the unifying idea. It was like, okay, slavery is over. Now, they need to help themselves don't be victims.
That idea has remained in our politic ever since then. It's just important to remember how deep that runs. It's notable for the Trump campaign, and I bet it's come up in every election since then. It's notable for the Trump campaign, because that's part of the coalition they have to put back together in order to have a majority.
Brian: I know, they've said they're trying to get-- Or a lot of analysts have said they're trying to get just a few more percentage points of Black male voters, as part of what they hope will be the winning coalition in 2020. A lot of people don't realize, there was there was a bit of a gender gap in Black American voters in 2016, where they got close to zero Black women, but maybe like a little over 10% of Black men.
Kai: It's also part of their voter suppression effort. If they can convince enough Black people to just throw up their hands and not vote. Also, we have to say that we talk about all these things in terms of the political strategy, but it's also the things that they believe, and I think Jared Kushner believes this and has been spending time presumably, with some of these Black conservatives who also believe this, and they are uniquely male, they are wealthy and they are macho.
They hear that clip of somebody's crying, and they see weakness in that. I think it's important to point out on all sides of this, whether you're talking about the white people who have believed in Black victimhood as a problem are these Black men who seemed to want to politic around Black victimhood is a problem. The tell that there's something else afoot here is how easily both of those groups of people are triggered by Black power.
Shortly after this idea was introduced into our political lexicon, the idea that Black people need to take care of themselves. Shortly after that, when Black people did, in fact, start taking care of themselves, despite all this freed slaves did, in fact, rise up and start excelling and all kinds of things. In business in politics, in education was a reign of violence.
Brian: That would lead to Jim Crow.
Kai: And violence, murderous violence, decades of murderous violence in explicit response to the effort to take care of themselves. I think it's also a tell with some of these more conservative Black men. Some of these Black men that have risen to this idea that too many Black people think of themselves as victims, when you see Black women step into their power, they also respond quite often with a degree of violence and rage when they see a hierarchy being challenged.
That is the tell to this rhetoric, is that the same people who want to fetishize Black victimhood, often freak out when Black people start owning our power.
Brian: Listeners, I would like to invite especially Black listeners who feel you've been scolded by white America for not wanting to be successful during Trump and any time in your life before Trump allegedly not wanting to be successful, or as Kai was just saying, for being successful at 646-435-7280. How do you hear Jared Kushner's comments about Trump having the right policies for Black success, but he can't want them to be successful more than they want to be successful themselves?
What an insult or are there some of you who don't hear it as an insult. 646-435-7280. Let's take a phone call. Desmond in Crown Heights, you're on WNYC. Hey, Desmond.
Desmond: Good morning, Brian, and thank you for taking my call. I'm so happy that you're finally dealing with this subject. I find that the media and especially following talking about the top media hedge from the internet world, the media is always dealing with the symptom, and never the problem. The problem is that we have a millennia of dehumanization of people of color, followed by this country being founded in the words of Benjamin Franklin, we have a republic, if we can keep it.
A republic speaks to a hierarchical structure but this country claims that it's a democracy. The immediate hierarchy of this country was 7% of landed white males. This country perfected the science of advertising, which is just another name for brainwashing. It has set white supremacy and the culture of white supremacy all over the world. At the root of that, is the fact that this country was also founded on the basis of human trafficking, which people like to write off as slavery.
That goes back to the millennial statement. You've had Ibram X. Kendi on here, who wrote about the history of the dehumanization of people of color from Africa. As recently, I just saw this the other day in the Atlantic, but I found out that a family member had gone to a seminar about anti racism, going back to August 24 of 1957 when William F. Buckley, the leading conservative debated James Baldwin.
Buckley basically said that white people were right, if they used everything up to an including violence, to subjugate people of color, should they ever gain numerical advantage. People have blamed people of color for being second, meaning to be able to procreate a lot. It's amazing that we never got past 12%, 13%, 14% of the population of this country. That seems to be a major [unintelligible 00:15:20] factor. A wearing down or stopping up the the growth of our population.
Brian: Desmond, I'm going to leave it there. You put a lot on the table. I want to have some time for some other callers. There were a number of different strands in there. Kai, is there anything that you wanted to enter on?
Kai: Well, I would agree with much of what Desmond was trying to say that much of our politics has been and remains rooted in the dehumanization of Black people, which is why Black Lives Matter as a slogan is somehow still a radical statement in 2020. It's the case that in this particular formation of that, that Black people want to be oppressed, that we want to be victims in Jared Kushner's framing, has been part-- That idea has been part of the dehumanization of Black people since at least a few months after emancipation from slavery.
Brian: Desmond, thank you for your call. Keep calling us. One thing on that. I would have to go back and listen to the Baldwin-Buckley debate again to see if Buckley put anything quite in those threatening terms, the way Desmond framed it. Did you have any recollection of that?
Kai: I will try to quote it off the top of my head. Everybody should go look at those debates anyway because they are really cool.
Brian: Amazing. Steve in Manhattan. You're on WNYC with Kai Wright. Hi, Steve.
Steve: Brian, how you doing brother? It's always great to speak to you good sir. You're a national treasure and actually appreciate just you do for the city. Actually, the country just in general. What's up brother Kai. How you doing?
Kai: Hello.
Steve: I'll just say all this to say, I'm a millennial. I'm a progressive. I'm college educated. I'm a Democrat. I voted for Bernie Sanders. Reluctantly, I voted Hillary Clinton last election. I supported Barrack Obama two terms. I'm just putting that out there. I voted for Cynthia Nixon against Andrew Cuomo. I'm a progressive out here and to be frank, if I was going to vote for Joe Biden, this time around, I will vote [unintelligible 00:17:48] I'm just putting that out there.
I also just wanted to say like, I'm part of the 10% this time and it's because, again, I know for sure that with Jared Kushner, he's kicking and what he's saying is hogwash. Literally hogwash. Like I said. I met him when I was college, I'm college educated. I don't believe African Americans don't want to be successful and all that. No. It's literally systemic racism, and it's at the root of this, I guess, a bunch of issues in the country.
The issue that I have is that the Democratic Party just in general has just taken African Americans vote for granted for years, and specifically the Black, male vote as well. I also just felt too, with Joe Biden, to his history the policies, to the crime bill, to the [unintelligible 00:18:44] even when he was running against Barack Obama, then I guess he speaks nice and clean and all that.
Kamala Harris, trying to play the sister girl role but she wasn't really clean African American in how her whole record as Attorney General. Even if we want to be celebrating Black girl, sister girl magic, which I'm all about, her track record, even over at the Attorney General's office, and the Willie Brown situation. It's highly questionable.
Brian: Steve, so let me jump in and ask you a question.
Steve: Oh, just real quick, can I just get five more seconds.
Brian: Sure.
Steve: And say the Black community, again, when I'm looking at her as well and I don't even see a Black family there. There is no Black kids, no family, no Black husband. Again, don't try to value the community when she herself does not steeped in the community. Go ahead Brian.
Brian: I'm curious when you point out all those various shortcomings of Biden and Harris from their histories. You say that this time, you're going to be one of the 10%. By that do you mean you're going to vote for Trump?
Steve: Oh, yes, for sure. To be frank, I'm here in New York. I know it's a blue state, so it's really not going to go far. It's more of a protest vote. Initially, I was going to just write in [sound cut].
Brian: Woops. I think we lost Steve's line for a second. Wait, Steve, are you there? Sorry, you clicked off for a second. Who did you say you were thinking of writing? No, I think it was on our end. Who were you going to write in?
Steve: I said, initially, I planned in to write in Elizabeth Warren and Bernie Sanders, but I'm here in New York, and I really wanted to make a specific point. I'm not just going do Joe Biden, and just stand to DNC. I'm tired of the games and I'm just tired of being taken for granted. To be frank as well, again too, I understand. This Republican party over here is a bunch of racism over there.
I know in the DNC as well, though, there's a bunch of racists over there, too. They just know how to turn it on-off and these conversations that we have are small group conversations and conversations we have for the media. Again, it's two sides of the coin, and I hear people. I understand systematic racism as well, but too as well with immigration, this issue as well.
I don't think anybody who speaks how it affects the ADLS communities. People who are here, who are African Americans, and they can't get some decent jobs as American wages.
Brian: ADLS, American Descendants of Slaves. Steve, I'm going to leave it there for time. Thank you for the call and do keep calling us and Kai, again, a lot of places we could enter there but one thing that strikes me is the frustration that even if people are shaking their heads, that, "Oh, he's going to vote for Donald Trump." He said he is going to do it in the context of New York where it's a safe blue state, presumably. I'm sure that you also heard the frustration that there aren't too serious parties competing for Black votes.
Kai: Sure, if that is the case that for a lot of people Black, white, purple, green, there's just the nature of our winner take all political system, does not offer a lot of space for people's range of views. I will also say that what is clear is that in terms of this attitude about voting for Donald Trump among Black people versus voting for Joe Biden, this is a gendered thing.
Now, we can debate why and how, but just from a data factual point of view, this is a gendered issue, that you do not hear this amongst Black women. You only hear this amongst-- And a small percentage, but 10% is not a nothing percentage of Black men. There is a gendered issue at play here that we have not spent enough time thinking about. I just want to also throw in whatever else is true about Steve's politics, and everybody else's, the comment about Kamala Harris, we can't just let pass.
There's no reason to be questioning Kamala Harris's racial identity and relationship to the Black community. She went to a Black college, she was in a Black sorority, she leads what she believes to be a Black life and that is a Black life and a beautiful life and so nobody should be out here asking whether or not she's Black enough.
Brian: Sharon in Manhattan, you're on WNYC. Hi, Sharon?
Sharon: Hi, good morning, Brian. Thank you so much for allowing me [unintelligible 00:23:23] this conversation. Really struck a nerve. I am a educator, I've worked in New York City public school system, I'm also a professor. This whole conversation about Kushner and his whole comments, I'll just throw that out.
I just want to consider for a minute that the support that the Black community has had, we have Black colleges, we have Black churches that have been the institutions where couldn't go anyplace else to be to be vilified, to be even heard, these were the spaces where Black people could gather and to put their heads together around what it is they needed to do in their community.
We've always been a connected community. I say that because both worked in Harlem and lived in Harlem, and a lot of our children that came to us were children that was from struggling families. As a school community, we productively provided that haven and that safe space for them to really excel academically, but also socially and emotionally. I'm just appalled by-- And I understand my Black brothers, I understand they have their issues.
To say that outright that Black folks don't know what they're doing and they've never been in charge, it's a lie. You have to know your history, not only reconstruction but even all the Black businesses that have come through here. You talk about Ebony, you talk about Ethnic Magazine, all these new publications that have been started for Black folks to educate both Black folks about their image.
I just think that you got to look at all sides of it. This present administration is not for Black people. As contrary to I've lived in New York, Donald Trump, we know him as a landlord who does not favor Black folks at all or any people of color. I really just want to say that we're not waiting for a handout. You talked about expression pull yourself up by your boots. [unintelligible 00:25:19] some folks didn't have straps in their boots.
What we're basically saying right now, even in 2020, the same thing we've said from reconstructing period, and even forward and whatnot, is that Black folks are doing this to themselves. It may not be talked about a lot, it may not be celebrated a lot, but we as a people need to understand and embrace that. I have five young people now that are starting digital businesses in the Black community.
These are black entrepreneurs. They're doing this stuff now. It's not talked about, it's not celebrated, but folks realize, we know that we have to do this for ourselves. We have children and grandchildren who we're training to go into these places and these spaces and to use their intelligence and not be sold a bill of goods that only Black celebrities are the ones that are doing it and this whole image worship of celebrities, that's a whole other thing.
That's brainwashing too because I have young people who say because they didn't have the money or they weren't in the spaces where all these Black entertainers were, that they couldn't do what they needed to do. We had to refute that and we basically had to reorganize their thinking have them think critically, where they wanted to go and how they want to get there.
I'm just so glad to be here to just give that point of view, but it's not over for Black folks. It's not even elites, we just ain't talking about it, we're not let peep into it, because the folks get into-- And we know even among ourselves, we have different ideologies. When and they clash, we understand that and we understand that very well, but we are still moving forward regardless whether or not as opposed to go with it. We're going to move this thing forward and Black lives do matter.
Brian: Sharon, thank you so much. Appropriate last words for this segment from Sharon in Manhattan. Last words except Kai, I'm sure you're going to have a great and maybe intense I don't know United States of Anxiety on Sunday Night, two days before election day. Listeners for those of you who don't know, besides this show on the weekdays, there is now Kai's local Coleman show, The United States of Anxiety on WNYC Sunday nights in the six o'clock hour right after all things considered. What do you have on tap for this Sunday? I can only imagine what you're choosing from.
Kai: We're actually going to be imagining. We're going to open our minds for a radical imagination of a Black future. It's an appropriate segue from this segment.
Brian: Carl, thanks a lot.
Kai: Thank you.
Brian: WNYC 's Kai Wright.
Copyright © 2020 New York Public Radio. All rights reserved. Visit our website terms of use at www.wnyc.org for further information.
New York Public Radio transcripts are created on a rush deadline, often by contractors. This text may not be in its final form and may be updated or revised in the future. Accuracy and availability may vary. The authoritative record of New York Public Radio's programming is the audio record.