Tracy K. Smith's Manifesto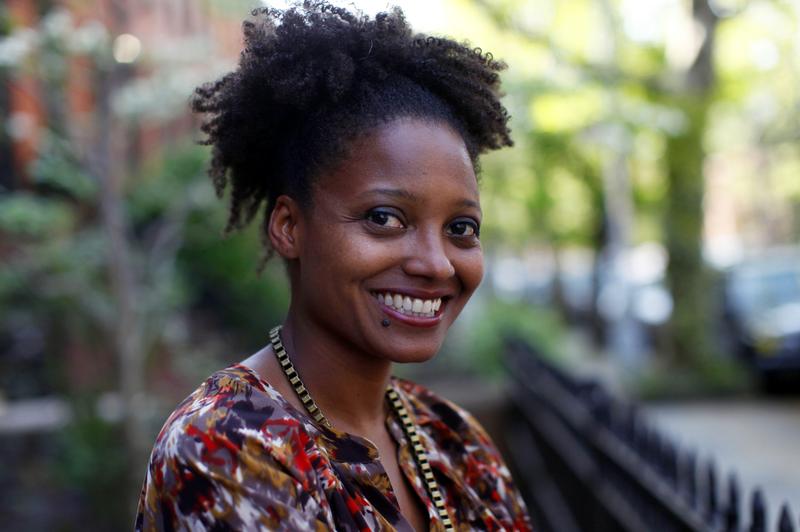 Transcript
[music]
Brian Lehrer: It's the Brian Lehrer Show on WNYC. Good morning again, everyone. I'm so happy to have back with us now the two-time Poet Laureate of the United States Pulitzer Prize winner and these days, a Harvard professor of English and African American Studies, Tracy K. Smith. Her new book is called To Free the Captives: A Plea for the American Soul. Tracy, always an honor to have you on with us. Welcome back to WNYC.
Tracy K. Smith: Oh, thank you so much, Brian. What a pleasure to be back.
Brian Lehrer: Those are some big words in the title, "free" and "captives" and "a plea" and the American soul. Start anywhere you like to introduce people to this book but maybe on how you think of the word "free" or "freedom".
Tracy K. Smith: Sure. Big title and I feel like we're living with such big stakes that I want to invite readers to think about how we can be useful to the work that lies ahead of us. One of the big concepts that the book seeks to explore is the nature of freedom as it exists in the American imagination. One thing that I've come to believe is that in our culture, freedom is something that we think of as belonging differently to different people. People that I describe in the book as free are those who appear to descend from histories of power or ownership.
The myth of that notion is that it's something that is a priori, that it's inseparable from their very persons. In that scheme, the freed are those who appear to descend from histories of violence, subjugation, people who have historically been acted upon by the free because that freedom is something that's been bought or claimed by way of violence, enslavement, colonization. My sense is that these rankings, if you will, contribute to a misguided sense of what we mean or might mean to one another. It urges or encourages us to think about leverage standing higher on one of our many national hierarchies.
As we see, there's so much work that we might begin to consider that would lead us away from those terms of competition, those terms of elevated and deflated, if you will, worth, depending on which category people appear to belong to.
Brian Lehrer: I know you're going to read a passage from the book, and thank you for offering to do that. Let me just follow up a little first on that notion of the free and the freed that you were just describing because you're describing an evolution for yourself of feeling free in one way or another that is passed through feeling less free, especially as a Black woman in America, as you became disillusioned, if that's the right word. Can you talk a little bit about your own personal journey in that respect?
Tracy K. Smith: Oh, absolutely. I am the child of southern Blacks. My parents were of the civil rights generation, and I grew up believing, trusting that a lot of my freedoms had been won for me by the work that they and their contemporaries did. I believe the dawning began sooner but in 2020, it became undeniable that we seemed as a nation to be moving backward in terms of our understanding of equality, opportunity, entitlement.
I realized that quiet as it may be or unconscious as it may be, maybe what's holding us back is the sense that people like me, the freed ought to be grateful for what we have, ought to be hoping that we can assimilate and fit in so it's not taken away. Suddenly, I realized that that's not freedom at all. I wanted to [unintelligible 00:04:18]
Brian Lehrer: Because you're not in control of it, somebody else is.
Tracy K. Smith: It's almost like being a guest or having conditional membership in an institution that could, at any time, choose to revoke it if they don't like what you ask for or what you call to their attention.
Brian Lehrer: Even in liberal spaces like the Ivy League colleges where you have taught, and as Poet Laureate of the United States, you write about your freedom of speech being met with what is essentially violence, another big word. How do you mean violence in that context?
Tracy K. Smith: I think that sometimes calls to change encourage those who feel themselves to have a great amount of power to stand up or to dig in their heels and to exert whatever kind of force or persuasion or intimidation they can to make that conversation go away. It's very different from the kind of police violence that we witnessed in 2020 and that we witness all the time in this country. I think it's a form of psychic violence that makes it hard to speak up and speak out for things that are urgent.
Brian Lehrer: Why do you think the word "freedom" has become so associated with the political right in this country? I wonder if you've thought about that. They use it to great effect on issues like mask mandates and gun rights and deregulation of businesses. Those things might make a lot of other people feel less free in ways we could list. There's the Freedom Caucus, the most conservative block in the House of Representatives. Do you think about, as a writer, as a poet, as a writer of prose, how the word "freedom" is used by different people in groups today?
Tracy K. Smith: I think about the difference between freedom of the kind you're describing. I think of that, in some ways, as liberty, the ability to do what you want as much as you want, understanding that you have the right as a free person to do that. The difference between that and liberation, which is a struggle, a process, a kind of evolution, and not just for the people who are oppressed, but for the society that allows such oppression to exist.
I think in some ways that freedom that you're talking about also correlates to me with another function of the notion of the free, which is that though the freedom is uncontested, it seems to be the case that those who hold it often believe that they have to protect it from others who would seek to encroach upon it. That protection happens sometimes by means of keeping others in their place.
I think about that phrase a lot as somebody whose parents grew up during Jim Crow. I think there are quieter means that exist in desegregated societies that are seeking to do the same thing. I think some of the dog whistle-type terms that seem to hover around the trend that you're talking about, I think those are means of trying to remind those of us who are freed where our place is and how grateful we should be to occupy it.
Brian Lehrer: Though it's often conservatives on college campuses who say they are the ones not free to express themselves without fear of being canceled. Can both things be true?
Tracy K. Smith: I don't think we're talking about the same freedom. I think we're talking about a tool that shifts around in order to amplify some voices and at the same time silence or chill others into holding their tongues. One reason I wanted to write about this obsession that we have was so that those of us who are actually interested in moving forward in some way across the political divide might think about the vocabulary that we live in. Maybe it's time to retire many of these terms and replace them with new terms that would have a greater sense of life force.
As a poet, I believe that living language is something that invites our imagination to dig in, become active, and become the creative tool that it's meant to do, but when we keep circling back to old terms or dead terms or terms that have been denuded by the kind of blurring that you're talking about, it's hard to know what to do at all. That might also be a strategy of those who are not interested in seeing true change or equality.
Brian Lehrer: Do you have any new word or phrase that you would like to introduce or amplify as an example?
Tracy K. Smith: The first example is really those two terms to say, "I think this is what we're actually dealing with. Are we comfortable with that? I'm not comfortable with that." That's an invitation.
Brian Lehrer: You mean free versus freed?
Tracy K. Smith: Yes.
Brian Lehrer: My guest, if you're just joining us, is former two-time Poet Laureate of the United States and Pulitzer Prize winner and Harvard Professor of English and African American Studies, Tracy K. Smith. Her new book is called To Free the Captives: A Plea for the American Soul. You're going to read a passage from the book for us. Do you want to set it up?
Tracy K. Smith: Sure. This book is a book that is about the American imagination and there are many different frameworks by which I seek to explore it in this book. One is my first marriage that straddled the border between the United States and Mexico. Looking back on that relationship allowed me to really be honest about the ways that we consciously or not seek to leverage our opportunity against others. This is the very end of that chapter.
I want to say this, all of this is a story about the American imagination, which envisions itself as a place where all are welcome. A chill white space, people with minds, bodies, distinct energies, but plunge beneath the surface, which is bright with reflected light. You'll find there are hierarchies running fathoms deep. In one, you are an obstacle to be cleared, or a means of momentary leverage, or a gauge against which the worthy might measure their privilege. I bob, you drift. We spend ourselves to stay just where we are near the surface or at some dim depth, our legs kicking to keep us afloat, stir up all manner of matter.
We can drift out far, we can rise up to sip air. We can come to believe it is a matter of buoyancy or settling back eventually at the rung of the familiar or sifting up ever higher above legions of others. The sea of us is everywhere. We cover the earth with our surge and our pitch. We cannot see to the bottom nor past the downward rim of far-off horizon. We are all of us in America, beneath America, full with America, famished for what America has promised. I, we, they, you, all are treading the same water.
Brian Lehrer: Tracy K. Smith reading from her new book, To Free the Captives: A Plea for the American Soul. Since you put that in the context of that marriage, I wonder if you want to expand on that a little bit in conversation because it's a very interesting aspect of the book, I think, where you explore some competitiveness. Is that the right word for position or status in the context of living in the United States between yourself and your ex-husband who I guess was from Mexico?
Tracy K. Smith: Right. I wanted to put myself in a vulnerable position in this book because I'm asking readers to think with courage about what they or we consent to and how we're complicit in many of the structural weapons, really, in our culture. I wanted to think about that relationship where I held American citizenship and my husband was a resident, where my language and my ability to have a job that would pretty much secure our living was something that made me powerful in that relationship.
Something that allowed him to feel like he was not on the bottom rung in this foreign culture where there's a lot of bias and prejudice against people from Mexico was the fact that my husband was not Black. In this culture, that was a means of ascent for him to be able to look at the very group that his wife belonged to and say, "I think I belong a little bit above that on this hierarchy." I don't think any of this was conscious, but when I think about our life, I understand that it was present. I think that we are all somehow complicit in ugly acts that we might not even consciously be choosing, but that we can choose against if we do become conscious.
Brian Lehrer: How close do you think we can come to real freedom as opposed to just being freed for all Americans and, I guess, Black Americans especially given this country's history? Here, we still are having a conversation like this about freedom after 400 years.
Tracy K. Smith: I have kids and so I tell myself I must remain hopeful. Look at us after 400 years, we're still fighting many of the same battles. One of the things that seems like it might be really important is for, I think I was saying this, those who we perceive to be the most free, the most powerful, those with the most access to actually stop and realize that they are held in captivity as well, as long as we are consenting to feed ourselves to a system that requires constant competition and that is built on the mania, that our freedom can be taken away from us by somebody who is less free.
I think it's a lot of hard conversations. I think there are a lot of different vocabularies in which those conversations are happening, but who you are, where you are, and how you can, I think you have to find your way toward those places.
Brian Lehrer: Before you go, you write poetry and you write prose. This is a book of prose, although you're such a magnificent writer that one could find poetry in sentences that we would officially categorize as prose. How do you decide what to express in one form or another?
Tracy K. Smith: I wanted to follow, in some ways, a linear thread in this book by thinking about history. History in this book really is anchored to the people that I descend from, my father and his ancestors.
I also wanted to have recourse to the kind of leaping that happens in poetry. You're right. This is really lyrical prose that's seeking to go forward, but it's also aware of the fact that we're constantly being bumped up against by the past. Maybe that's a good thing. Maybe it means that those who have committed themselves to work the work of liberation, who may be gone in body, maybe their energy, maybe their voices, maybe the artifacts that they leave us are tools that can be of use to us in continuing the work. Poetry felt like a good accompaniment to the forward movement of prose and working both of those directions forward and backward.
Brian Lehrer: Tracy K. Smith's new book is called To Free the Captives: A Plea for the American Soul. If you want to see her in person, this is a bit in advance, this announcement, in fact, it's a month from today, December 7th at 7 o'clock PM. It's sponsored by the McNally Jackson Bookstore. It's going to be at the Judson Memorial Church in the Village, 55 Washington Square South. Tracy K. Smith in conversation with Imani Perry. Again, that's December 7th at 7:00 PM, at Judson Memorial Church. Tracy, always great to have you on the show. Thank you so much for this.
Tracy K. Smith: Thank you.
Brian Lehrer: Brian Lehrer on WNYC. More to come.
Copyright © 2023 New York Public Radio. All rights reserved. Visit our website terms of use at www.wnyc.org for further information.
New York Public Radio transcripts are created on a rush deadline, often by contractors. This text may not be in its final form and may be updated or revised in the future. Accuracy and availability may vary. The authoritative record of New York Public Radio's programming is the audio record.