Ranked Choice Voting - Pick 5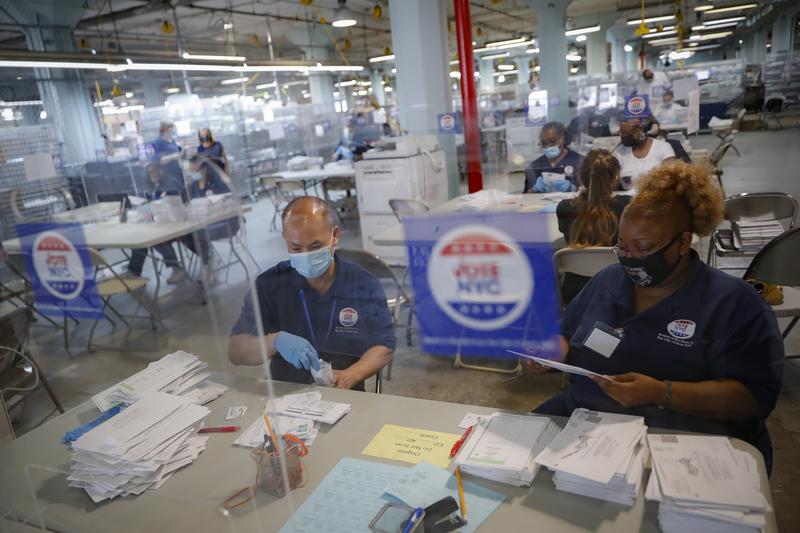 Transcript
[music]
Brian: It's the Brian Lehrer show on WNYC. Good morning again, everyone. Mayor de Blasio coming up in 15 minutes, but first, a short how-to segment for the big new thing in democracy New York-style this year, rank choice voting.
We're doing this now because absentee ballots are now being mailed out for the first election that will use the new system. It's a special election to fill Rory Lancman's seat to represent the 24th council district in Queens, but then it's going to be used for everything. Early voting in-person by the way, in that race, starts two weeks from today.
Then everyone who votes for mayor in the primaries will do this in June. How will it work? This is how to rank choice vote, your instant tutorial. Joining me is Susan Lerner, Executive Director of Common Cause New York, one of the groups that advocated for this way of voting, and with her is Jagpreet Singh, a lead organizer at
Chhaya, a community group in Queens that's doing outreach to voters in District 24 to help explain this new way to vote in the first election in which it will be used.
We can take your phone calls on how to rank choice votes, 646 435-7280. Maybe you even have your ballot in front of you already if you live in that part of Queens, 646 435-7280. Hi, Susan. Hi, Jagpreet.
Susan: Hi, Brian.
Jagpreet: Hey, Brian. Good to be on the show.
Brian: Susan, how do you rank choice vote?
Susan: Very simply. You pick your absolute favorite as your first choice, the candidate that you like almost as much as your second. The candidate that you think would do a good job as your third, and then you have fourth and fifth choices that if they were elected, it would be okay as your backup. You simply fill in the ovals in each one of the columns, starting right at the very left, close to the candidate names. Your first choice, second choice, third choice, fourth choice, fifth.
Brian: Jagpreet, if I really want my first choice candidate to win, should I rank the candidate as my first choice and my second choice and my third choice, can you do that?
Jagpreet: No, you can't do that. You should just rank your candidate the first choice, but here's the thing also, just because you like your first choice candidate the best it doesn't mean that if you rank your second choice, your third choice as different candidates that it's going to take away anything from your first-choice candidate.
Brian: Susan, what's the risk to your first-choice candidate by even choosing second choice, third choice, fourth choice. You can go up to fifth choice further down the ballot?
Susan: No risk whatsoever because your second, third, fourth backup choices do not get looked at at all unless your first choice is defeated, is eliminated from the race.
Brian: How does it work when somebody is eliminated, because I gather the way it works is if nobody gets a majority of the vote, that's the only time this comes into play. If somebody gets 51%, then rank choice voting is irrelevant. 51% of first-choice votes, but if nobody gets 50% plus one of the votes, then the first thing that happens is the lowest vote-getter out of them all gets eliminated.
Susan: They're defeated just as in any race, the lowest vote-getter is defeated.
Brian: Just the one lowest, but there are like eight candidates on the ballot in District 24 in Queens, for example, there are going to be a lot of mayoral candidates on the ballot, no doubt in June. Jagpreet, continue to walk us through this. The lowest candidate, candidate number eight in the case of this first race gets eliminated, and what happens to that candidate's votes?
Jagpreet: Once candidate number eight gets eliminated, anybody on whichever ballot candidate number eight was their first choice, their second choice, whether that's candidate one through seven, automatically gets bumped up to their first choice. Then the entire vote is retallied without candidate number eight or whoever got eliminated, first-place ballots in there.
Then we get a retally of whoever voted for number eight, their number two moves up and we retally all the number ones and the rest of them to see if anybody got a majority. If nobody gets the majority still, then the last person is eliminated again.
Brian: Then number seven is eliminated and that person's votes get distributed to their subsequent choices. Go ahead, Susan.
Susan: Actually we have a process that's in our charter that speeds up the elimination or defeat of the low-ranking candidates, the ones who don't get many votes and that's what we call batch elimination. When there is a calculation that's done, that's statistically impossible for a candidate to win, then the candidates who can't get enough votes statistically may be eliminated in groups of two or three, so this round move more quickly. We go down to the final two and that's the winner.
Brian: Or you keep going until one of the candidates has just over 50%, right?
Susan: Actually in New York City, we go down to the final two so that the margin of victory is very clear.
Brian: Here's a question coming in from Bobby in Manhattan. Bobby, you're on WNYC on how to rank choice vote. Hi?
Bobby: Hi, the thing that I don't understand is when you only count the votes for the lowest candidate, why their votes are more important than say candidates three through seven in Brian's example. It seems as though they have disproportionate influence and it's a fringe group who don't support a candidate with much support. Wouldn't it be better to eliminate all at the top two or the top three and then distribute everyone else's votes for their second choice?
Susan: That's basically what happens in the system, only it happens in Siri, autumn. If they're not the least vote-getters, they're not weighted more heavily than anybody else, they get distributed first, and then you eliminate defeated candidates until you have the final two.
If you voted for one of the candidates, if your first choice is the candidate who makes it into that final round, then your second and third choices aren't counted, don't come into play at all, and it's a system that really equalizes and allows voters to have more choice and more voice, all voters to have more choice and more voice.
Brian: Jagpreet, what are the biggest questions you are getting from voters as a community-based organization in Queens?
Jagpreet: Brian, it's mostly around the process of rank choice voting. Just like with any new thing, folks haven't seen what the ballot looks like and it's more of the logistics of how do we rank folks? What we're trying to do is make sure that we're bringing in sample ballots and showing folks exactly how it's going to look when they go to election day.
We're making sure to do as many mock election, sample elections as we can to make sure that when folks go into the ballot box, they're ready to rank folks the way they should be. The other common questions we get is around how many candidates can we rank as well as the one question that keeps coming up is that if I rank somebody number two, three, four, five, is it going to impact the person that I ranked number one?
Brian: Remind people of the answer to that. I know you gave it before.
Jagpreet: It doesn't impact whoever you rank number one. Your number one will be number one, and if they got more than 51% of the vote, they win, but if they don't receive most of the votes, they get eliminated in the first couple of rounds.
Brian: Jeff, in the Bronx, you're on WNYC. Hi, Jeff.
Jeff: Hi, Brian. Thanks for having me on. Listening to this explanation is confounding. It seems way too confusing and is likely to confuse and to disenfranchise people at the end of the day, regardless of whatever political science theory might be behind it, it just seems way too confusing.
Brian: Susan, you are an advocate for this. How do you address Jeff's concern and I'll tell you that he's not the only caller calling to say that right now?
Susan: We've got a tool and we're going to have an interactive ballot on the rankthevotenyc.org website starting next week. That allow voters to see how simple this actually is and how clear the entire process is. What we found, Brian, is that it's much more complicated to explain than it is to actually show it, and we're going to be showing it to voters all the way through from next week, all the way into June. Once you've experienced that, you'll see how clear it is.
Brian: What problem does this solve in your opinion? Susan, what problem does rank choice voting solve, in your opinion?
Susan: Well, we've got a couple of things here in New York City that this solves. The most important one is that it solves the problem that many of our officials are chosen with just a fraction of the voters in their district who voted for them when we have the crowded fields that are the benefit of having a public financing system, and it also eliminates for our citywide electeds the expense and it's a big expense, millions, 10s of million, over $10 million of runoff.
Brian: By the way, after we delivered the news-- Oh, Jeffrey, go ahead.
Jeffrey: If I can jump in real quick as well, rank choice voting has been shown in other municipalities to also increase participation and representation of people of color and immigrant communities. I mean, if we take a look at Council District 24, we have six South Asians running in the district, and whenever we've seen this in the past, in New York City, often those groups end up cutting up each other's votes and don't end up winning if there's a majority of one immigrant population running but with rank choice voting, there's the ability for folks to rank their favorite candidates and have a chance for a minority immigrant community to be able to elect a representative from their own communities.
Brian: Marta in Jackson Heights, you're on WNYC. Hi, Marta.
Marta: Hi, I think I've got the understanding of this, of where it might be useful, even just for statistics, that if you would really love to vote and support a very lower rank candidate, kind of like you're suggesting perhaps a smaller, immigrants or something, that this gives you an opportunity to make that vote known at least even if they don't win, as opposed to liking the really smaller candidates but thinking if I vote for them, they're not going to win and my vote's kind of not going to count. So I should vote for one of the larger candidates.
Brian: Susan?
Susan: You're absolutely right. People are really concerned about wasting their votes by voting for somebody that they really think would be an excellent choice, but they've been told doesn't have a chance politically. This way, you get to vote for the candidate you really care about, rather than trying to figure out who's the safest one to vote for.
Marta: Even if they don't win, you still have the statistics on how many people did make that candidate their first choice?
Susan: Yes, absolutely. You have been able to vote your passion and your values without worrying that your vote is wasted.
Brian: Dan in Brooklyn, you're on WNYC. Hi, Dan.
Dan: Hi, Brian, thanks so much for taking my call. I'm a proponent of rank choice voting. I think this is a good idea for New York City and, in general, in elections. What I am-- and I think voters will understand this process, and we can explain it to voters. What I am concerned about, though, is the Board of Election's ability to tally votes in a rank choice voting system, where they can't really seem to tally votes in the current system that we have. It'll be a much more complex process and I'm wondering what the Board of Elections is doing to prepare for this.
Brian: Susan, last answer, we have 30 seconds.
Susan: They are preparing very well. They are working with nationally recognized experts and they are definitely going to be ready for rank choice voting. Brian, if your viewers would like to learn more about rank choice voting, we've got an online forum coming up with CD 24 candidates this coming Wednesday, and more details at rankthevotesnyc.org.
Brian: Is this more complicated or less complicated than applying to high school in the New York City public school system, nevermind?
Susan: Great question. Much simpler.
Brian: We will do more tutorials here since a lot of people still don't quite get it, but very simply you'll be able to choose candidates for the coming elections in the next few months in New York, one through five.
Susan Lehner, Executive Director of Common Cause New York, and Jagpreet Singh, a lead organizer at Chhaya Community Group in Queens that's doing outreach to voters in District 24 to help explain the special election for city council for which absentee ballots are already being nailed. Thank you both very much.
Jagpreet: Thank you, Brian.
Susan: Thank you, Brian.
Copyright © 2020 New York Public Radio. All rights reserved. Visit our website terms of use at www.wnyc.org for further information.
New York Public Radio transcripts are created on a rush deadline, often by contractors. This text may not be in its final form and may be updated or revised in the future. Accuracy and availability may vary. The authoritative record of New York Public Radio's programming is the audio record.