Pricing Environmental Health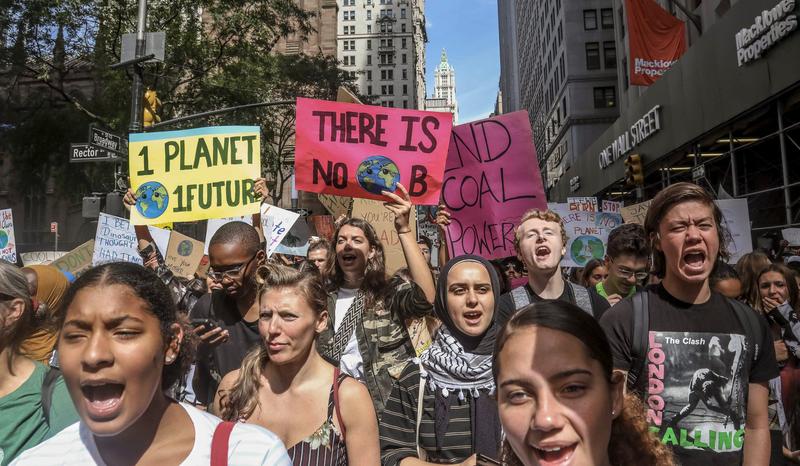 Transcript
[music]
Brian Lehrer: Brian Lehrer on WNYC. Now, our climate story of the week. The debt ceiling deal over the weekend preserves all or most of President Biden the signature climate accomplishment, the so-called inflation reduction act with its many greenhouse gas reduction initiatives, incentives, and other provisions. By the way, it means the US won't default on its debts. But today's climate story of the week guest argues in a new book that we risk environmental default unless we find a way to place a monetary value on our environmental assets. In fact, the book is called Pricing the Priceless: The Financial Transformation to Value the Planet, Solve the Climate Crisis, and Protect Our Most Precious Assets.
The author is Paula DiPerna, who has been a pioneer at the intersection of climate and finance policy. Among many other things, she has been president of the Chicago Climate Exchange International, the world's first emissions trading system to address global warming. She is also a past president of the Joyce Foundation, a writer for the legendary French undersea explorer and environmentalist Jacques Cousteau, and more. Paula, thanks for coming on. Congratulations on the book, and welcome back to WNYC.
Paula: Well, thank you, Brian. It's always a pleasure to be with you. New York's my home, and just always a pleasure to be on the show.
Brian Lehrer: I see in the book you actually credit Jacques Cousteau, for opening your eyes to the absurdities of our pricing systems. That was at the time of the infamous Exxon Valdez oil spill in 1989. Can you tell everybody that story?
Paula: Yes, it was one of the eye-openers, even almost literally, the environmental movement at the time, and people probably will recall the Exxon Valdez ran aground in Prince William Sound, which is just the most beautiful, pristine, remote sound in our country. All this oil was spreading-
Brian Lehrer: Alaska.
Paula: -and it was very sickening. Alaska. People flew up there. A wildlife specialist flew up there, and they were brushing the eyes of seabirds clean with toothbrushes. Highly delicate, highly moving, very touching images. Cousteau with whom I work closely, he was vaguely upset about it. He was annoyed about it, but he wasn't really put out. I said, "Why aren't you rushing up there? How come you're not coming with us to film up there? Why aren't you more involved?" He said, "It's terribly sad, but the real crisis is to take the oil out of the ground at today's price."
People don't realize that the Alaska pipeline was built, and very clearly stipulated that we were going to go after that oil and tear up the Arctic, tear up Alaska to get it, and build the pipeline, which by the way, started rusting rather soon because that oil was going to be a bridge fuel from the use of that fuel to transition to renewables. The scope and scale of that transition obviously never occurred, and the oil has been depleted, and the pipeline is rusting, and otters were covered with oil, but his point was, we're undervaluing the oil, and not only are we undervaluing it, we pull it out of the ground and then we waste it.
Brian Lehrer: We undervalue it because of the damage that it causes that then needs to be paid for. Your book is called Pricing the-- Did I get that right or wrong?
Paula: You got it. Pricing the Priceless and the irony of that.
Brian Lehrer: Go ahead, I'm sorry. Finish that thought.
Paula: The environment is just a wondrous gift that we have. Everything it does for us, it provides all kinds of services, yet we have to moving back to this environmental default idea that you referenced, the environment is the most seriously unpaid worker in world history. We basically get free service, free labor, from the environmental components around us; water filtration, fresh air. A question at the heart of my book is how can we value Uber in the billions of dollars, which is a highly convenient service, but really nothing more than a software program and a taxi system disrupter. We value that in the billions of dollars, and we value the atmosphere at zero. The book is trying to question that.
Brian Lehrer: How do we price the climate? You can't buy the climate.
Paula: No, you can't buy the climate, but you start, for example, there are many examples in the book of different things, and one could get beyond carbon markets, but the first most primary thing is you look at 60 miles. If you look outside your window, not that far above the Empire State Building, 60 miles between us and disaster, that's the atmospheric space, this high-end, what I call cosmic penthouse, for which we pay nothing to occupy. Imagine, if you've got free use of the penthouse at the Plaza Hotel, and all you did with it was put dirty diapers in it. That's exactly the power to how we've been using and wasting the atmosphere and the scarcity of it.
The law of supply and demand says the more demand on a scarce supply, the higher the occupancy price should be, and instead, we don't have a national carbon price in this country. We don't have one in the world, really. Europe has one. What that's doing is not so much charging for use of the atmosphere as pricing the scarcity. The more we use up the atmosphere, the higher the price to use it. In theory, then using up the atmosphere, namely polluting it, becomes too expensive and people stop polluting. That's the principle, but if you move over to say water-- Hello.
Brian Lehrer: Yes, go ahead. Water.
Paula: You there? If you move over to water, water filters toxins and all kinds of distressing compounds from the water. Wetlands, the Supreme Court case that just found that the people that want to build a house can build it because the Clean Water Act doesn't particularly refer those geographic circumstances. This may significantly wound the Clean Water Act's ability to protect wetlands. Wetlands used to be called swamps, and people used to think swamp, who wants to live near it, who wants to have any part of it, but this swamp land, this wetland is filtering all kinds of dirty things out of the water. It's sitting there looking like it's doing nothing, but it's doing a fantastic amount of work.
If you start putting an economic value on that work, which has been theoretically applied for many, many, many years, economists have been speaking about this for many years, that we have to start valuing the economic input of nature, but they've never figured out how. How do you get it from one side of the ledger to the other? What I'm trying to say in the book, and I think it's born out of the financial default is a very good example, you can suspend the debt limit, print more money. Therefore, the overdraw is covered. With nature, you can't print new nature, not even with AI or 3D printers. It's not going to be. Just basically not replicable.
We've been overdrawing those accounts for 100 years, at least, the industrial age. We just can't keep creating nature. You've got to value it higher, and therefore, no longer see it as just a bunch of raw material input. For the accountants on the air and listeners, it's basically a shift from thinking of environmental protection as a cost, in the cost side of the ledger, where you want to minimize your costs, and you want to minimize the money you spend on something, move it over to the asset side. Like infrastructure of any kind, this is natural infrastructure.
When you move it over to the asset side, then you're obliged to maintain it. Then you can put it on your books as an asset, and it raises your credit rating, then you get rewarded by financial markets for being a good steward of your assets. It's just like a house and a car. We all try to maintain our houses and our cars. Sometimes we have to let it go, but if you let the car maintenance go indefinitely, or your house maintenance indefinitely, your asset depreciates and potentially becomes useless and valueless, as opposed to what it was before, which was your most prized asset. That can happen overnight, and it's happening with our environment. We're basically overdrawing it now and we really need to figure out ways of stopping the extraction or making it way too expensive to continue the rate of extraction.
Brian Lehrer: This is WNYC FM, HD and AM New York, WNJT-FM 88.1 Trenton, WNJP 88.5 Sussex, WNJY 89.3 Netcong, and WNJO 90.3 Toms River. We are New York and New Jersey Public Radio and live streaming at wnyc.org. At eleven o'clock, we are in our climate story of the week, which we do every Tuesday on The Brian Lehrer Show today with Paula DiPerna author now of Pricing the Priceless: The Financial Transformation to Value the Planet, Solve the Climate Crisis, and Protect Our Most Precious Assets. We can take a few phone calls for her at 212-433-WNYC, 212-433-9692 or send us a text at that number.
Among the big ideas that you lay out in this book, Paula, one is how the great current intergenerational shift in wealth and attitudes you say is redefining investment trends and the idea of what constitutes wealth and return. In the context of that whole scenario that you just laid out about pricing the priceless, pricing the climate, pricing the environmental assets of the world, what is this intergenerational shift that you're noting?
Paula: Well, there's two aspects to that. One is conceptual. The Gen Z, the Gen X is a generation that has grown up thinking of climate change as a present circumstance are very concerned about it and they worry about it to the point that they're really almost anxious to almost a clinical extent. It's worrisome how worried people are about climate change and then they look, and they think, well, what can I do? The second part of that is people who have wealth, and I don't mean hundreds of millions of dollars. I mean pension fund wealth or are going to inherit their house or people who are wealthy.
There's awakening that you can put your money. There's hundreds of billions of dollars sitting around in the world doing the wrong thing and being invested in extractive industries. We can shift that, and we have begun to do that through environmental investing, sustainable investing, ESG investing, however you want to call it. Of course, there's some greenwashing and that's been a big headline way exaggerated I feel because we have to accept something as doable.
The new thinking and investing is just what I said earlier that environmental assets are a good investment because there's ways of returning to the investor very new ways and very new tools so mutual funds for example that overweight companies that are energy efficient. If you buy into that kind of a fund, you are going to get a return that is correlated with their increasing energy efficiency. Then there's some other cool things that I happen to have fallen in love with, coral reef insurance, for example, which eventually will become a mainstream insurance product and in a nutshell what does that do?
Well, coral reefs protect the coasts, and we value the coastal property, the hotels, the houses, whatever's at the coast, again, in the billions, coral reefs we value at zero. Now with increasing hurricane force those reefs are being smashed up to smithereens. Literally, you can look at these videos and see these tiny, tiny pieces of gorgeous coral that have been smashed and up until Coral Reef Insurance, they would've remained smashed. Now Coral Reef Insurance is a product that regular insurance companies sell to countries that are protecting their coral reefs again with a minimum budget so the storm hits and what can they do, they sit there.
Now with Coral Reef Insurance which is a parametric tool which is triggered by a wind speed so no debate about liability, the wind hits a certain speed it's a predictor for how much reef destruction there's going to be. As soon as that premium kicks in, the money goes to the government, they put a bunch of divers in the water. The divers go down as soon as the storm is cleared and literally tie the reefs back together, put little humpty dumpty back together again. Now this sounds insane because we know the storms are going to be coming at a more fierce rate so are we going to have divers in fix the reef only to get smashed up again but we're buying time with that.
We're buying time with that while scientists create a coral that is more resistant to the rising temperatures and also to these storm surges. Money is being used in incredibly interesting ways and there are other things. This forest resilience bond in California. California's burning all the time wildfires, why? Because the state barely can keep up with the maintenance of the forest. Can't clear it, can't trim it, can't move the brush out because they're putting out fires. They're very short [unintelligible 00:14:45] to prevent them, prevent the fires.
This bond brings forward capital from private investment. The investment is paid back by the eventual beneficiaries of the forest resilience which includes insurance companies, tourism companies, hydropower factory plants that need more water running through the hydropower facility. These are benefits that are economic benefits that never get tallied so far as [crosstalk].
Brian Lehrer: Alan in Brooklyn, you're on WNYC with Paula DiPerna author of Pricing The Priceless. Hi, Alan.
Alan: Good morning, Brian and Paula. I appreciate to talk with you. I did a paper about 40 years ago at law school that introduced me to the concept of the public trust doctrine which is very seldom discussed in these situations because it basically says there are some assets the government may not sell. It basically started out relating to the intertidal zone between high and low tide zones of the navigable waters or ocean coasts.
It applies to the atmosphere regarding climate issues, but it's been very little developed by the courts since Reagan took over and kept our courts from developing the concept in new cases. They've been doing everything they can to keep this issue out of public debate. It seems to be a very important part of what you're talking about that when we're deciding what assets to value that are in nature, you really can't get a handle on that until you recognize that future persons have a right under the public trust doctrine not to have those assets destroyed in the first place.
Brian Lehrer: Alan, thank you very much. I guess under the doctrine of cost-benefit analysis or under the practice of cost-benefit analysis, Paula, which I think is required in some of our country's environmental laws, the costs are only to other things. They're not to the climate itself. Yet as you were describing with Coral Reef Insurance there are real costs to be incurred as the climate is affected.
Paula: Bingo, and Alan is correct. It's very important to distinguish between pricing, valuing and privatizing. We're not talking about privatizing. Au contraire, we're talking about what he's talking about that there are certain assets that really are not subject to the normal cost-benefit which is today's costs against today's benefits. We're needing to talk about future benefits and future costs and that's where the pricelessness comes in and that's where I enjoyed writing this book because you're always at a metaphysical edge. You're always on a metaphysical line.
Your heart tells you that something is priceless, but your brain tells you that if you don't price it, you're going to abuse it and the proof is in our history. You have to walk this fine line recognizing you can never price something high enough if it's priceless by definition. If you don't price it somehow you will experience what we've been experiencing now which is lamentable abuse and we're very far behind on these environmental questions.
Brian Lehrer: We've got two minutes left.
Paula: Public trust is really key.
Brian Lehrer: One more call. Stephen in Harlem is going to hook this to something that was in the news that was handed down by the Supreme Court in fact just last week. Stephen, you're on WNYC with Paula DiPerna. Hi.
Stephen: Thank you so much for taking my call in your great show and Paula thank you. Yes, this incredibly important resource now they're going to be able to exploit it openly. That seems to be what came down to me. Is that what's come down? That's what I seem to read.
Brian Lehrer: What he's referring to, and, Paula, I almost followed up with the same question earlier when you were talking about the value of wetlands to the climate, to the environment generally. For people who didn't hear the story last week the Supreme Court said the EPA is overreaching in the current way that it protects wetlands in the United States. Victory for developers, I guess, but, Paula, did you look at that decision?
Paula: I did. We were overreaching already. We've overreached on the environment and, basically, as I said, we said earlier default. Now that particular case, the wetland was not contiguous to larger waterways, or they found the Supreme Court I think very foolishly ruled in that case by being so narrow. They could have made a narrow decision that in that particular case perhaps the Clean Water Act didn't apply but the caller was correct this seems to be opening the door. The irony of that and again I can't be certain of this because I didn't really see the property, but the irony is, Brian, that they want to build a house on the wetlands.
Let's say the house is worth a million dollars and they'll have a million-dollar asset, if we value the wetlands properly, they'd be better off not building the house because they would be accruing to them. They own the wetlands and if we had a system of public trust and we were valuing the wetlands, then let's say the government would be required to pay them the value of the wetlands. Now I'm not saying the government should fork over millions of dollars to private property owners because they own natural assets, but there is room in there to one, soften the blow that they can't "develop the property," which they presumably bought in good faith. Their "loss" could be softened by this concept of valuing it properly and then you don't build the house.
You get the money that you thought you would and you build somewhere else because if we start paving over wetlands, it's all over. It's all over for drinking water. It's all over for water filtration and eventually for biodiversity and water-based animals, which are not just snakes and otters going back to Alaska, but minute little insects. The more you think about nature, the more you realize that it's the greatest puzzle in the history of the world. There's been values put on the work that nature does that approach the total value of the GDP, $125 trillion. The world's GDP is around that.
Now, you can quibble with these numbers, but there's really been these new breakthroughs in terms of what is it worth. What is the standing tree actually worth standing there not doing nothing but doing a lot of work for us that we just take for granted?
Brian Lehrer: That, folks, is our climate story of the week with Paula DiPerna, past president of the Chicago Climate Exchange, past president of the Joyce Foundation, among other things. Her new book is called Pricing the Priceless: The Financial Transformation to Value the Planet, Solve the Climate Crisis, and Protect Our Most Precious Assets. Paula, thank you so much. Very fascinating.
Paula: Thank you, Brian. Take care. It's always a pleasure to be with you. Bye, bye.
Copyright © 2023 New York Public Radio. All rights reserved. Visit our website terms of use at www.wnyc.org for further information.
New York Public Radio transcripts are created on a rush deadline, often by contractors. This text may not be in its final form and may be updated or revised in the future. Accuracy and availability may vary. The authoritative record of New York Public Radio's programming is the audio record.