NJ's AG on Rooting Out Systemic Racism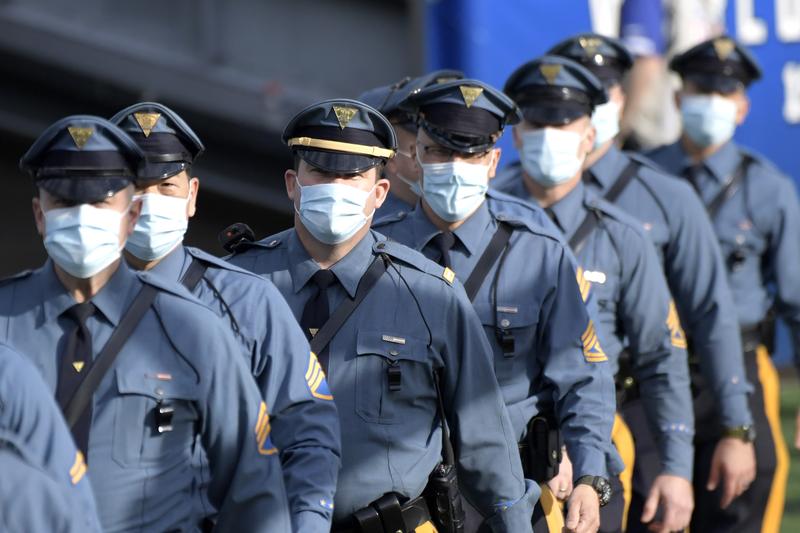 Transcript
[music]
Brian Lehrer: Brian Lehrer on WNYC, want to tell you about something that's coming up later this morning, among our special guests for the holiday today, we're going to have the Reverend William Barber who has kind of picked up where Dr. King left off running a modern-day poor people's campaign, the very thing Dr. King was doing when he was killed. I was very honored to interview Reverend Barber for the national MLK special that The Takeaway is sending out today.
Some of you might have heard that short excerpt in the nine o'clock hour, and they used what fit in for their format with so many guests that we had all together for that special. We will air my full 30-minute interview with Dr. Barber later in the show, so that's coming up. I know we have many Reverend William Barber fans out there, so I thought you'd like to know that, coming up around the top of the hour.
Right now, on this Martin Luther King Day, as we honor him for what would have been his 92nd birthday on January 15th, the New Jersey Attorney General Gurbir Grewal, he has recently unveiled an overhaul of use of force guidelines for the 38,000 police officers in the state serving in the 500 plus police departments. Yes, it is that many. New Jersey despite being geographically small, is divided up into 500 or so separate local governments. We'll talk about that and more now with Gurbir Grewal. Attorney general, great to have you on this of all days. Welcome back to WNYC.
Gurbir Grewal: Good morning, Brian. Thank you for having me back.
Brian Lehrer: I see that one of the organizing principles in your use of force guidelines is that force should only be used as a last resort. Was that already not a standard of behavior for police forces in the state, at least on paper?
Gurbir Grewal: I think aspects of this policy were in place, but what we were trying to do in New Jersey is really re-imagine the relationship between law enforcement and the public, and we were demanding different and better outcomes for police interactions. If you look at what we've done, it's more than a policy. It's a framework. It's a framework that starts with the basic premise that in every police interaction, we want to value the sanctity of human life, the dignity of the person with whom we're interacting.
Then we're giving our law enforcement officers duties and tools to avoid the use of force, to de-escalate, to find other means to resolve an interaction. Then if force is to be used, it is an absolute last resort. It has to be used in a proportional and reasonable way, and importantly, relevant to things that we saw on our TV screens from last summer, we have an affirmative duty to intervene, for law enforcement officers, and we are teaching our 38,000 cops the skills they need to intervene when they a fellow officer using force in an unlawful or improper way. I think that's important to emphasize here.
Brian: What do you mean by teaching them the skills to intervene?
Gurbir: Well, as we saw on our television screens with the murder of George Floyd, we had officers standing by as another officer squeezed the life out of Mr. Floyd. Those were junior officers and Derek Chauvin was the training officer that day. It's difficult for law enforcement officers to know how to step in, so we're equipping them, not just with a framework of policy but rather we're going to retrain all 38,000 cops on how to be active bystanders, on how to step in and give them techniques, and we're borrowing from other professions to equip them with these important tools, so we don't see those images that we saw on our TV screens replay based on an interaction that happens in New Jersey.
It's a complete rethinking of police-citizen interactions, and it's the policy that you mentioned, it's this retraining of 38,000 officers, which will be underway this year. Importantly, there's another aspect to this, which is, we are tracking every use of force in real time with an online portal, so we could see patterns; we could see anomalies, disparities; and we're going to share a portion of this publicly, so the public sees how we're doing because transparency is important for accountability as well.
Brian: Listeners, we can take phone calls for New Jersey Attorney General Gurbir Grewal on his new use of force guidelines for police officers all over the state of New Jersey. Any garden staters want to call in, any garden staters who've had encounters with the police that you think are instructive to talk about? Any police officers from any of the 500 plus police departments across the state? Anyone welcome to call, 646-435-7280, 646-435-7280, or tweet a question or comment @BrianLehrer. I saw your Op-Ed in the Hill about your reforms and that you mentioned specifically new limits on police dogs and also on high-speed chases. Can you talk briefly about each of those?
Gurbir: Sure. This is part of what we're doing here. We're rethinking how force is used. When we talk about police canines, canines have a long history in this country and horrific history relevant to the civil rights movement, which we're remembering today with Dr. King. We know from those images, from civil rights protests, how dogs were used to terrorize Black communities and Black residents and how they were used to intimidate Black residents.
We also know from recent experiences how violent that dog bite can be and how dangerous it can be, so we have put an immediate stop to the use of police canines against resisters, whether they're actively resisting or passively resisting. We've stopped them from being used at protests, intimidate protesters, or for other purposes, and we're undertaking a three-month review of how they should be used in the future. There is a role for police canines for detecting contraband and things of that nature or conducting police sweeps for bombs and explosives.
That's a valid function, but we're going to look into this because we understand their horrific history, in particular to the civil rights movement as we're talking about today, and then with vehicle pursuits. So many vehicle pursuits end up in dangerous situations for both law enforcement and citizens, so we're putting strong limitations on when you could pursue individuals and we're limiting it for the most serious offenses, not for traffic violations, and with the technology we have, we could arrest that person another day as we're seeing from the events of the Capitol. We could find you, and we could do it safely.
These are just different ways in which we want to promote safer interactions for law enforcement and for our residents.
Brian: Do you think that was handled well at the Capitol then, letting those people walk away when arguably the police were too overwhelmed to make a million arrests but of course they've gotten so much criticism for that, including the racial double standard?
Gurbir: Well, I mean the racial double standard I think it highlights the importance of the work we're doing here in New Jersey. We've realized from day one that we do our work here in New Jersey and across the country in law enforcement against a backdrop of four centuries of horrific history; the history of slavery; Jim Crow, the war on drugs/mass incarceration; all of that has led to systemic racism which I acknowledge exists, like our former attorney general at the federal level.
I acknowledge that that systemic racism has led to disparities and not just a perception but a reality that there are two systems of justices in some case, as we saw on display at the Capitol on how those protesters were handled in comparison to a prior protest. I want to put that out there because I think that informs a lot of the policies that we're trying to put in place to demand different and better outcomes for police interactions. As far as what happened [crosstalk] Go ahead, Brian.
Brian: Go ahead. No, you go, I think you were going to go to my follow-up question. Go ahead.
Gurbir: The after-actions will show the preparedness, and they will show how the law enforcement officers there acted on that intelligence or failed to act on it. What you saw was law enforcement not well prepared for the number of individuals who showed up that day and what took place.
I'm heartened, although they didn't make enough public comments to reassure the public, by the work that our federal partners are doing now to leverage the intelligence, working with us, to identify any insurrectionists from New Jersey who participated in the destruction of the Capitol, entered the Capitol unlawfully, so we're holding them accountable as to where the breakdowns were. That's going to be shown in the after-action, but we are working hand in hand to identify those insurrectionists who might've originated from New Jersey and holding them accountable.
Brian: Frank in Randolph, New Jersey on WNYC, with the state attorney general Gurbir Grewal. Hi, Frank.
Frank: Hi, I have a question. When I saw the video of the Floyd killing, and I saw the three policemen just standing by casually doing nothing. I was thinking that if I were in that crowd, I would have probably pulled the policeman off Floyd. Then what would have happened if I did that, would I have been arrested and Floyd would be alive and there would've been no demonstrations?
Gurbir: That's what we're trying to equip our law enforcement officers with a duty to intervene, that every officer has an affirmative duty to take steps, to prevent the illegal or excessive use of force by our officers and immediately report any such incidents. We hope that scene never repeats, but if we're talking about the protests that happened in May, whether or not they would have happened, George Floyd unfortunately it was not a unique American tragedy. We've seen this before, and we've unfortunately seen it since. We've seen relevant again to today in the 50 plus years since Dr. King's assassination. We've seen the enactment of policies and laws, again, from mass incarceration to others, that have exacerbated injustices and disparities. That's what prompted the protest movement in the wake of George Floyd's murder. This incredible protest movement demanding an anti-systemic racism. That has always been there.
Now, if you had intervened, would you have prevented a killing? Certainly. Would you have been held accountable? I hope not. I hope that the prosecutors who review that, that footage, and if someone like you interceded and saved a life, would see it for what it was. I certainly would, as chief state law enforcement officer, or top law enforcement officer in this state. Would it have ended the protests? I don't think so because these are deeper issues other than the killing of George Floyd.
Brian: It's a risky business for an individual to physically try to interfere with what a police officer is doing even if it looks [unintelligible 00:11:02] to that individual, right?
Gurbir: It certainly is and that's why we're doing everything possible in our state to re-imagine police-citizen interactions and to avoid that scenario altogether.
Brian: Kathy in Hunterdon County, you're on WNYC with Attorney General Gurbir Grewal. Hi, Kathy.
Kathy: Hi. My spouse works for the town and is deeply disturbed that at work, he hears racial epithets, sexist epithets, religious epithets from his manager, his co-workers. They also never had the mask mandate at work. I called without letting him know. I called the mayor of the town and some of the town council people and they didn't do anything about it.
I think in a very Republican small town, it seems like there's no recourse, he'd be mad if he knew I was even calling, because he's like "they'll kill me." Like "if they knew my view on these things, I'll have an accident, and it would hurt me." I'd like you to speak to that, like racism starts locally but if the enforcement is local, how do you stop it?
Brian: It sounds like your dog might keep them safe at home at very least.
Kathy: [chuckles] No, they're very friendly.
Brian: [laughs] Go ahead, General Grewal.
Gurbir: We realize it's difficult to report incidents of bias. What we've done, the division on civil rights for my state resides in the attorney general's office, so we've set up ways where individuals who are encountering this type of behavior, whether it's in a local government setting or in other settings, where it would be a violation of our state's law against discrimination, can reach out to our division on civil rights. We have an online portal called NJBIAS where they can go and provide this type of information, and we follow up on it.
We also realize as investigators, that we have to protect the identity of victims or those who bring information to us. We're very adept at protecting individuals who provide this type of information, and we're very proactive in holding whether it's a municipality accountable and without getting into details. We have a number of investigations right now of municipalities who are engaged in discriminatory practices, whether it's in zoning or whether it's in employment practices or whether it's in promotional practices.
These are things that our division on civil rights look at, so I would encourage the caller to go to njcivilrights.gov and follow the online portal for additional information or resources. Certainly, the issues of bias are at a local level, hate and bias are something that start at home or perhaps start with our young people, so we're also attacking it from that angle. We have put in place a task force on youth bias that our governor enacted, and we have 27 recommendations that we're working hard to implement right now to get to our young people before they develop these beliefs and practices.
Part of it is getting into our schools and getting into our towns to correct this behavior, to teach anti-bias education in our classrooms, working with our department of education. The governor has made that a priority for this year to enact all the recommendations from that task force transformational work to get at this problem with our young people where it starts [crosstalk]
Brian: In your Op-Ed in the Hill, you wrote a provocative line pertaining to your whole set of police reforms. The line is that in policing, culture eats policy for breakfast. Culture eats policy for breakfast, what does that mean?
Gurbir: That means you could have the best words on paper, you could have the best policies on paper. Unless and until you're able to change the mindset of law enforcement officers who are out in public, out interacting with the public, those policies don't mean anything. What we're trying to do is change that culture through the training that we put in place. To change that culture by hiring better. To change that culture by recruiting better. To bring onboard people who are going to have positive interactions with the public.
We're changing that culture by having early warning systems in place to identify problematic police officers early and where they can be helped to get them the help they need, to build officer resiliency. I think if you look at what we've been doing and it's not in reaction to what happened last summer, we've been doing this hard work for the last three years and the policing reform efforts that we have underway in New Jersey, this will be the single most important thing I will do as attorney general.
We're doing it across, as you mentioned earlier, more than 500 police departments, over 38,000 cops statewide, and no other state has done that but it's going to take that type of renewed look at who we're bringing on as officers, what the policies are, how we're training them, how we're holding them accountable, how we're equipping police chiefs to be better managers and to have better oversight over their local departments because there are 500 plus departments and we don't have our eyes everywhere but we are trying to change the mindset when it comes to law enforcement, so we, again, have better citizen interactions with the police.
Brian: On Twitter, listener James writes, "Do any of the guidelines make officers reluctant to use force when necessary?"
Gurbir: I think one of the things that is unique about this policy is the process by which we created it. Our approach has been collaborative, and we try to get systemic buy-in because for systemic change to really last and to take root, you have to have that systemic buy-in. To change culture, you have to have that buy-in. Brian, we had everyone at our table when we were drafting this policy, from the PBA, the Chiefs Association, to law enforcement officers, to the ACLU, to the NAACP, NOBLE, the National Organization of Black Law Enforcement Executives. Everyone had input.
We had 21 community listening sessions, thousands of public comments bringing this policy together. I think what this policy reflects is the collective wisdom of all those parties. Not everybody got what they wanted, but when we announced it at our virtual press conference, all of those parties were there shoulder to shoulder. I think police officers realize how transformative this is and how it really brings together the best practices of policing. Puts them in one place in one framework and they are bought into it.
I think they understand how this is going to resolve situations peacefully. If there's a mental health crisis, how we can, just not retreat but take a step back, reposition, and bring in the professionals who could de-escalate that situation. They want you do that.
Brian: You're saying you had buy-in from the police unions?
Gurbir: We do. If you look at the press conference when we rolled this out, next to me on that virtual screen, was the head of the PBA, was the head of the Chiefs Association, was the head of our County Prosecutors Association. The ACLU of New Jersey provided supportive statements. The NAACP of New Jersey provided supportive statements. The Salvation for Social justice, an organization that works to demand more of law enforcement, participated in that virtual press conference.
That's how transformational this work is that we're doing here in New Jersey, that it has that type of collective buy-in, which is rare to see when you're enacting policing policies. You're not doing it city by city or town by town. We're doing it statewide here in New Jersey.
Brian: I bet some listeners though hearing that are thinking, "I can only imagine the compromises that he had to make in order to get buy-in from the police unions."
Gurbir: Well, if you take our policies and our framework and put it side by side to the best practices that are being pushed out there from groups demanding more of law enforcement, I think they will stack up and they will far exceed what those groups are demanding of law enforcement. We didn't compromise public safety in this framework, and we didn't compromise law enforcement safety. What we enacted and put in place were the collective best practices from around the country, the best training, the best framework to monitor how force is being used.
I think cops, you have to realize, welcome that. They want the training. They want to get those individuals who are using force at an excessive level off the streets because it results in poor interactions with the public, less safe interactions. It undermines that trust that we need so desperately to promote public safety and law enforcement safety, which is a cornerstone of everything we do in policing.
I think we didn't compromise anything that would undermine this policy or do anything that would undermine the policy. What you have here is, if you look at it, it's something that holds up to the best practices, the best policies in place that both civil liberties organizations are demanding and others are demanding, what law enforcement are enacting in other cities.
Brian: If you're willing to take a caller from a foreign land, James in Manhattan, you're on WNYC with the New Jersey Attorney General Gurbir Grewal. Hi, James.
James: Hi, Brian, thank you for taking my call. I just have a concern in light of what we've seen recently in Washington, DC, how concerned should we be with the infiltration of bad-intent officers in uniform when it comes to the event that we are all looking forward to? How prepared are we to make sure that these people are vetted and screened, because we can't tell. They will be in uniform and we don't know, we have to trust them. Do you have any [crosstalk]
Gurbir: That's a great question. I think what is encouraging to see as law enforcement officers providing information about these bad actors, because again, it undermines everything that we are trying to do to build public trust between law enforcement and the communities we serve. I think, a couple of things, and New Jersey as part of our efforts over the last three years, we put in place very tight internal affairs policies and procedures and mechanisms for not just citizens to provide information about bad actors in law enforcement but other law enforcement officers.
We put in place an office called the Office of Public Integrity and Accountability, a standalone office within my office to oversee policing policy, to oversee statewide internal affairs investigations, to oversee public corruption investigations because folks have lost confidence in government and they have lost confidence in their police agencies because of what we're seeing at the national level and other jurisdictions. So, we've worked hard to create this oversight framework and a place for people to report.
The other way in which we do this is to try to improve and make sure we have the best possible hiring procedures, that we look at the social media histories of the candidates who come into law enforcement, to make sure we weed out these individuals with white supremacist ideology at the front-end. To make sure that we are testing, whether it's psychological testing or through other means, for these types of belief sets and routing them out of policing. Where they get through, we have means to have folks report this type of behavior to us and know that it will be taken seriously and followed up on.
I think it's a real problem as you've seen, the joint chiefs and other military leaders issued a breathtaking statement directed at military about zero tolerance for this type of behavior. It is a palpable concern not just in law enforcement but in the military and in public sectors that there may be individuals with this type of belief set and there's no place for them, either in law enforcement or in public service.
Brian: I want to follow up on James' question in a sec, let me just do my top of the hour legal ID here, this is WNYC FM HD and AM New York, WNJT-FM 88.1 Trenton, WNJP 88.5 Sussex, WNJY 89.3 Netcong, and WNJO 90.3 Toms River, we are New York and New Jersey public radio, with a few minutes left with a New Jersey Attorney General Gurbir Grewal.
Just very specifically, since after the insurrection, many people have been asking if local police officers took part or aided and abetted it in any way, partly because Trump has been widely seen as pro-cop. I read that at least one Blue Lives Matter flag was seen at the Capitol during it. Are you investigating anything like that with respect to any individuals from New Jersey?
Gurbir: At this point, the best I could give you, Brian, is that we are actively working with our federal law enforcement partners to support their investigations. If a law enforcement officer participated from New Jersey in the violent insurrection, they will be held accountable. There are 150,000 leads being processed across the country. Some have touched on law enforcement in other states, and they're being held accountable. If the same happens in this state, we will do the same, whether it's a law enforcement officer--
Unfortunately, we had a reservist who was arrested over the weekend, who was working at one of our military bases in installations, and he will be held accountable. I think that is sending the right message that if you hold these beliefs, you have zero place in public service and public employment, and that if you participated in that insurrection, we will find you and we will work with our federal partners to hold you accountable.
Brian: How is security in the state this week and going forward with the threat of pro-Trump or other white supremacist or other right wing extremist violence right now? What's your role as attorney general in keeping the state safe from that right now and how would you assess the state of safety in New Jersey from that kind of violence?
Gurbir: I think in New Jersey, we have a very strong relationship with our federal partners, and leading up to the events of this weekend where there were protests at state Capitol, we had constant interaction on intelligence level and with my role as attorney general, chief law enforcement officer for the state, I oversee the Division of State Police. We made sure we had state police assets around the state securing buildings where we felt that security needed to be tightened up, preparing for protests, and thankfully, nothing happened.
Our state police is among the best state police organizations in the country, and they are on their way now to lend support at the Capitol because that's where they're needed. They went down, Brian, on the night of the insurrection. One of the proudest moments for me as attorney general, when our democracy was challenged, one of the few law enforcement agencies that was called in to help was the state police from outside the neighboring jurisdictions. They went down within six hours, they were standing guard outside the Capitol while electoral votes were being counted.
We are prepared, our state police is incredibly well prepared, and [audio breaks] state Capitol this weekend to ensure safety of that building, and will be wherever we're needed to make sure that we move on safely, and if there are protests, people are welcome to protest in a peaceful manner, but if they engage in criminal acts, we'll hold them accountable.
Brian: Earlier in our conversation, you were talking about pulling back on the use of police dogs as part of your new use of force guidelines and some of the racist history of the use of police dogs and other things. I don't think we've ever gotten a call on this show specifically about the use of police dogs in an incident before but we're getting one now, so let me take it. Jeff now in LA, formerly from New Jersey, he says. Jeff you're on WNYC with Attorney General Gurbir Grewal. Hi.
Jeff: Hey, Brian, how are you? Lifetime listener, first time caller. In 1983, I was arrested in Clifton for selling an ounce of junky Mexican pot for $40 to an undercover cop, subsequently put in the Passaic County jail. What the sheriff's department would routinely do three, four or five days a week is coming with the dogs at two, three, four, or five o'clock in the morning, barking, intimidating all the prisoners, waking everybody up.
This whole riot would occur for an hour to an hour and a half to two hours. You had all these rules and you had to kneel and do-- It was just ridiculous. They did it to routinely intimidate these people. I'm just wondering if these practices still even occur today, and I bet that you didn't even realize that they did this on a routine basis.
Gurbir: I'm not familiar with that practice, and I have not heard about that practice. I hope that if that is happening, I would have heard about it, but that's not where we are in law enforcement in 2021. We are seeing law enforcement agencies across the state just doing everything they can to promote positive interactions and trust with the community, and that would undermine it tremendously. Again, if anyone has information where that may be taking place or similar behaviors, by all means, they should reach out to my office or to their county prosecutor's office or local PDs to report any type of violation of anyone's rights by law enforcement.
We take it seriously, and we've stood up an entire office to follow up on these leads. The police canines, Brian, the history is just so horrific, and the danger is so horrific about police canine bites. That's why this three-month period that we put aside to study this issue, to find out where more we need to tighten up the policies, it's going to be important to get it right. I think one of the things we'll look at is what the caller suggested, how they're used perhaps within the correctional setting, because that's not an issue that was on my radar screen.
Brian: Last question. Some conservatives say there's progressive hypocrisy in wanting to pull back law enforcement in general as progressive policy, but when the crime is coming in the name of the right, all of a sudden, you're all law and order and ramp up police presence and prosecutors should throw the book at them, like after January 6th, what would you say to that critique?
Gurbir: I think it's off base. If you look at my public statements and if you looked at what I said in the wake of the protests we had across the country this summer, that if those who are engaged in peaceful protest should be heard, and I hear them, and I see them but those who are engaged in violent protests or looting, they need to be held accountable and prosecuted to the fullest extent of the law. That's what we did in New Jersey. If people cross that line, which was very rare, we held them accountable, but here, it's important to point out because if you look at the New Jersey experience this past summer, the largest protest movement in our country's history, the largest ever. Thousands and thousands of [audio breaks], millions of protesters, hundreds in my state. By and large, 99.9% of them peaceful, we had peaceful protests. We had police chiefs marching arm-in-arm in Camden and other jurisdictions with Black Lives Matter protesters. That doesn't happen just because a chief shows up to the protest site. It happens because we build those relationships.
We've been doing this hard work for the past three years. That's why across the state, up and down, you saw peaceful protesters who were heard. If they crossed that line, which is rare, in one or two of our cities, they were arrested, but we only had a handful of arrests during those protests because we have that relationship of trust which we've tried to build through our office and through our local partners, with community members across our state. The New Jersey experience was very much unique in that regard.
Brian: New Jersey Attorney General Gurbir Grewal. Thank you so much for spending part of your Martin Luther King Day with us.
Gurbir: Thank you for having me, Brian, talk to you soon.
Copyright © 2020 New York Public Radio. All rights reserved. Visit our website terms of use at www.wnyc.org for further information.
New York Public Radio transcripts are created on a rush deadline, often by contractors. This text may not be in its final form and may be updated or revised in the future. Accuracy and availability may vary. The authoritative record of New York Public Radio's programming is the audio record.