Methane, Climate and the New York State Budget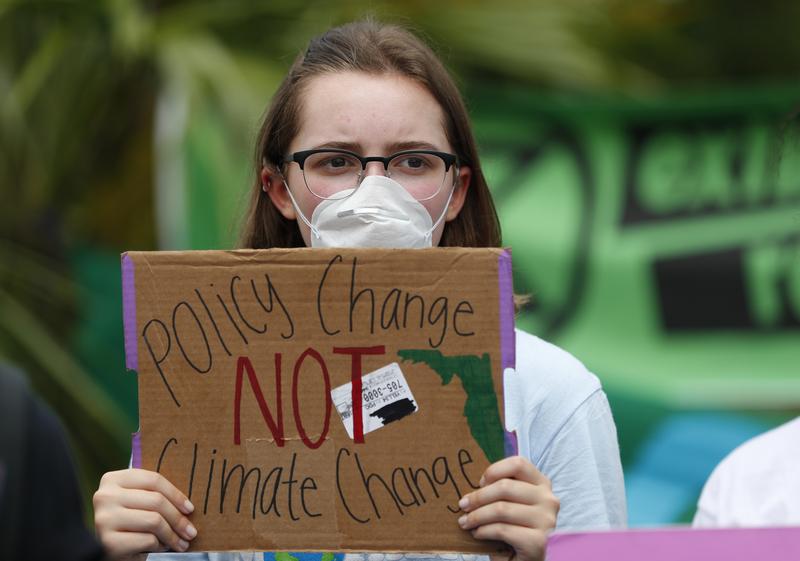 Transcript
[music]
Brian Lehrer: Brian Lehrer on WNYC. Now our climate story of the week. We do this every Tuesday on The Brian Lehrer Show this year. New York's accounting method for greenhouse gas emissions is an unresolved issue in the 10th budget negotiations that are now in overtime in Albany. That's our climate story this week. The budget was supposed to be done on Saturday, that was April 1st, for the new fiscal year that has now begun on that day. Climate policy is apparently one item holding it up. So what's the issue?
Well, methane, according to the US Environmental Protection Agency, is more than 25 times as potent as carbon dioxide at trapping heat in the atmosphere. Per the Environmental Defense Fund, methane has more than 80 times the warming power of carbon dioxide over the first 20 years after it reaches the atmosphere. Even though CO2 has a longer-lasting effect, methane sets the pace for warming in the near term. At least 25% of today's global warming is driven by methane from human actions, says the Environmental Defense Fund.
Now, because methane does its damage fairly quickly in comparison to carbon dioxide and then dissipates, New York's 2019 climate law instructs the state to measure methane emissions over a 20-year period. Why is Governor Hochul backing legislation that would allow for methane to be measured over a 100-year period? This push to change the methane accounting metric has added another wrinkle to the contested state budget.
In a statement, my next guest, Democrat Pete Harckham, New York State Senator representing Westchester and a little above there in the Hudson Valley, and chair of the Environmental Conservation Committee, is clear. His statement says, "Any attempt by the executive to insert a change in climate accounting into budget negotiations is ill-advised and ill-timed. To change the climate accounting in the 11th hour of budget negotiations would be counterproductive to the progress we've been making since the Climate Leadership and Community Protection Act was enacted in 2019."
That's some background. Senator Harckham joins me now to talk about this. Senator Harckham, thanks for coming on. Welcome to WNYC.
Senator Harckham: Thanks so much for having me, Brian. Great to be with you.
Brian Lehrer: Do you want to go into any more detail for our listeners, who probably never heard this issue raised before, about what the accounting method is and how it fits into New York's climate goal overall?
Senator Harckham: Sure. The important thing to understand is when we passed the law, the Climate Action Council was established to lay out the rules. How is New York going to make this transition? They spent thousands of hours going through the science, and the science tells us that the 20-year accounting method focusing on methane is a current science. The 100-year standard was developed 30 years ago at Kyoto, but science has emerged.
We know that methane, as you described in your open, is the much more potent greenhouse gas. That's why the members of the Climate Action Council in the scoping plan specifically focused on methane and the 20-year plan. Now to all of a sudden switch to the 100-year plan, one would negate all of the work that has been done, all of the analysis that's been done. To me, it's like right before a football game when the referee's about to do the coin toss and says, "Oh, by the way. Any team that gets inside the red zone, that counts as a touchdown too." It doesn't. It's changing the rules midway. A lot of good work has been done on it, and this would completely undo that work.
Brian Lehrer: What are some of the main sources of methane emissions within New York State?
Senator Harckham: Well, the primary is natural gas, and natural gas is primarily used in buildings. A lot of the opposition or, shall we say, support for changing the accounting standard is coming from natural gas suppliers because this is going to be a threat to their bottom line. When we decided to decarbonize as a state, and that is the policy of New York State, unfortunately, there are winners and there are losers, and the gas industry is one of those. We understand they have shareholders and they have employees and they have customers, and that's why this is going to be a transition. We acknowledge that, but we can't keep holding on to the old way of doing business and expecting different results.
Brian Lehrer: Governor Hochul has said that she'd like to make New York a leader in climate action and green jobs. She says things like that a lot. I think her reputation with the climate-concerned community is fairly good; you tell me what you think. If that's the case, so in that context, why change this accounting metric according to her?
Senator Harckham: Well, according to her, she's worried about cost. If you talk about the climate community, their reaction has been very swift and very vocal to this in opposition to her plan. If she is truly concerned about cost, there are mechanisms identified in the scoping plan in terms of the auction for credits and expanding the number of credits. In my bill, the Climate and Community Protection Fund, we have different elements of that fund that can go to help mitigate costs to consumers. She and her own budget had 200 million earmarked to address low and moderate-income consumers to help them with the transition.
There are a lot of ways that we can address costs without gutting the central tenets of the CLCPA and the Climate Action Plan
Brian Lehrer: Listeners, we can take some phone calls for New York State Senator Pete Harckham, Democrat from Westchester and points north of there, and chair of the Environmental Conservation Committee on the way New York State accounts for methane emissions in the state and other climate initiatives. We'll also get into a couple of other of the big New York State budget deadlock items. If you want to bring up one or another of those you can do that too. Call 212-433-WNYC, 212-433-9692 on what is, for the most part, our climate story of the week.
Richard in Manhattan has already called in and is on hold. Who wants, I think, to take a shot at explaining the basics of this again to listeners who may not have ever heard this 20% versus 100% metric before. Richard, you're on WNYC. Hello.
Richard: Hey. Hello, Brian. I'm a loyal listener here. Glad to be on. This is a very important issue because if the lifetime for averaging is changed from 20 to 100 years, the apparent impact of the methane emitted will become much smaller, and that will allow pollution to continue over a longer period of time. The issue that I wanted to bring up is that they offer several reasons for making this change. The most important one, or at least the one that bothers me the most, is that they say that they are only trying to make it consistent with the work of the IPCC, the international scientific community that publishes big reports.
That statement is wrong. Throughout the IPCC in many different places, they assert that the only appropriate duration for taking averages on the global warming potential methane is the duration that's appropriate to the task at hand. When they were studying several hundred years of climate change and doing remodeling, they used 100 years, but they said over and over again that's for that purpose. Whatever you're studying, you should use a duration appropriate to what you're studying.
Brian Lehrer: Richard, I'm going to leave it there. Thank you very much. I think somewhere along the line there you said a 20% standard. It's a 20-year standard, not 100-year standard. But that's exactly the kind of thing that can make this a difficult issue for the public. Right, Senator? It seems a little abstract, a little bookkeepy, and it doesn't sound like existential threat to the planet like when we talk about global warming generally.
Senator Harckham: Yes. I thank Richard for that explanation. Again, to try and simplify methane versus carbon is the short-term enemy. As you explained in your open, much, much more potent towards creating the conditions of global warming than carbon, which is why the Climate Action Council in the scoping plan specifically chose to focus on methane and the 20-year accounting. The reason you do that is because methane dissipates in 35 to 40 years. As Richard said, it would appear to be much less over the 100-year span, whereas the damage is done in a much shorter period of time.
Brian Lehrer: Now let's talk about how this fits into the budget negotiations that are going on right now. Reading a little more from your statement, "To change the climate accounting in the 11th hour of budget negotiations would be counterproductive to the progress we've been making since the Climate Leadership and Community Protection Act was enacted in 2019. If the executive is concerned about affordability, there are many avenues to protecting consumers. Disrupting our state climate plan should not be one of them."
To the extent that you can talk about negotiations underway behind closed doors, is this a bargaining chip for the governor to try to get the legislature to cave on something else that's completely unrelated? Or why is this being inserted into the budget negotiations at the 11th hour?
Senator Harckham: Well, I think we would have to ask her and her team why this is being inserted. From our perspective and what we hear from the environmental community, and I go back to the Climate Action Council on the scoping plan, these issues have been vetted. They spent thousands of hours vetting these issues and came up with the 20-year accounting. To change it now at the 11th hour is, I don't think, productive. It's going to derail us from the progress that we've made, and we just need to focus on the task at hand and move forward.
Brian Lehrer: Let's take another call. Here is Eric, who may be involved in this issue in one way or another, I don't know. Because it says "En route to Albany." Hi, Eric. You're on WNYC.
Eric: Hey there. This is Eric Weltman. I'm a Brooklyn-based organizer with Food & Water Watch, actually en route to Albany to lobby on this very issue. The environmental community had been backing legislation to ban fracked gas in new buildings and promote renewable bubble public power, and we were absolutely blindsided by Governor Hochul's attempt to undermine New York's climate law. At the end of the day, this is about fracked gas. I think we need to remind ourselves that most of the gas that we're using today is produced by fracking.
New York banned fracking, and we need to continue to move off fossil fuels by incorporating policies to ban fracked gas in new buildings and promote renewable public power, enact the Superfund law. Let me just say finally, this is not just bad policy. This is bad policy. Governor Hochul has a consistent record of misleading politics and policy, and I think this is another example of this from Food & Water Watch's perspective. Lastly, thank you, thank you, Senator Harckham, for your leadership on so many of these important issues. Food & Water Watch really appreciates your leadership.
Brian Lehrer: Okay. There's one for your next campaign of [unintelligible 00:13:20].
Senator Harckham: [laughs] Eric, thank you for your advocacy.
Brian Lehrer: Eric, explain one thing to me. If fracking is banned already in New York State, which it is, Governor Cuomo did that a number of years ago, then how could this be an issue of fracking?
Eric: Good question. We are en route to Albany to call on Governor Hochul to stop the "Iroquois pipeline expansion." New York has continued to build out fossil fuel infrastructure, pipelines, and power plants that transport and burn fracked gas. We very much need to not only ban fracked gas in new buildings as we did in New York City, but we need to halt the construction of pipelines and power plants as Governor Hochul did in Astoria, Queens, and the Danskammer plant in Newburgh.
We need her to maintain a consistent record in stopping fossil fuel infrastructure including, again, that which transports and burns fracked gas, as well as we need her to practice good politics, good policy, be consistent, and abandon these really surprising, shocking, and disappointing efforts to tamper with how New York measures greenhouse gas emissions.
Brian Lehrer: Eric, thank you for your call. Since the senator says that there are affordability issues here, and you say if the governor is concerned about affordability there are many avenues to protecting consumers, what are some of those avenues to protecting consumers while also keeping the state on track to meet its climate goals if we keep the 100-year "standard in--" I'm sorry, I got it backwards. Keep the 20-year standard in place. That is, keeping methane counted as more of a greenhouse gas, not watering it down.
Senator Harckham: Well, we can offer credits. We can offer rebates. Some of this is, I think, as they consider a Cap-and-Invest Program, putting together the auction market for these credits. If the price is too high, you simply create more allowances to reduce the price of the credits, and that reduces the pressure on the price on consumers. There are some market-based things that can be done. There are rebates and credits that we can do. Can be mean tested to income.
There are a lot of other ways that we can do this without gutting the central tenets of our climate law, and what we're trying to do to move New York forward to A, protect the environment, B, create a new clean energy economy. Remember, we're talking about creating 100,000 good-paying green jobs in New York State, bringing green industries to New York State. This is not just about the punishment side that people think we're putting an imposition here. This is about transforming New York's economy, and really leading the world as far as green jobs and green industries go.
Brian Lehrer: Fossil fuel interests in the state are battling this push to change the accounting metric to a 100-year period. Has the 20-year period for methane accounting affected their profits?
Senator Harckham: Well, we haven't implemented that as much. Now is when we're starting to, and we cap-and-invest. That is when the credits and the allowances are going to the market. Now, this is where the rubber really meets the road. If you use the methodology that the governor would like to use, it would demonstrate that the natural gas is not as big of an impact on our climate picture as the Climate Action Council and the scoping plan determined it is, and the science determines it is.
Brian Lehrer: Well, have you costed it out differently from the governor? What's the evidence that this 20-year period, this counting methane emissions more intensely than the governor wants to do, will lead to higher consumer costs in the first place?
Senator Harckham: Well, exactly. We have asked for their analysis. We have not seen their analysis. The scoping plan look at all of these things. We understand yes, there will be some price crunch, shall we say, but certainly we have not seen the kind of numbers that the governor is talking about. We've not seen their analysis. In the long run, this will be better for our economy, better for our planet, and better for the health of our children living in communities near fossil fuel-burning plants and buildings.
Brian Lehrer: Lee in Arizona, but originally from Brooklyn, I see. Lee, you're on WNYC. Hello.
Lee: Hey. Thanks so much for having me on and for covering this. I'm with the Public Power Coalition, and I organized in New York for a very long time against fracked gas. I am very happy that people are talking about this, but I'm also really concerned that in a time when we spent so little-- The media is barely focused on climate in the budget. It's been all about bail. This is really sabotaging. Hochul is trying to distract from what we should be talking about, which is bills like the Build Public Renewables Act. Talking about affordability, that bill would allow NYPA to build out renewable energy, and then give that low-cost energy to New Yorkers who need it most.
I think that's really where we need to be focusing on and not being distracted by this. We know Governor Hochul has gotten a ton of money from the fossil fuel industry. I really hope that the senator maybe can talk a little bit about some of these positive things as well, like Build Public Renewables, and the media can focus on that too because it's really been sad how little climate has been focused on in this budget. This really is just a big distraction in the final minute.
Brian Lehrer: Lee, thank you very much. It is true, and I would say on this show we've been doing our climate story of the week and we've done a number of the segments on climate bills in the New York State Legislature in recent months. It is true that the governor inserting this at the last minute is kind of forcing us, because we have to cover it, to talk about this issue where you're playing defense on a climate-related provision rather than playing offense. What are some of the positive steps from a climate concern perspective that are also under consideration as Lee raises?
Senator Harckham: Yes, exactly. As was mentioned, there's the Build Public Renewables Act, which would allow NYPA to get involved and create clean energy projects and sell that power at a lower rate to consumers. We've got the Climate and Community Protection Fund bill, which would really put guardrails around where the money from any Cap-and-Trade program would go to right now in the governor's budget. It just goes to the general fund without parameters or guardrails.
The All-Electric Buildings Act, which once and for all will set standards for when all new construction needs to be all-electric. I should say in Southern Westchester, we've been doing that for several years now because there was a gas moratorium that you may know about. Things like the All-Electric Buildings Act are not radical ideas. They've been talked about for years. They've been passed. It's time that we incorporate them. There's a lot going on in both houses of the legislature. There's a lot that's in the scoping plan. It's time that we just start executing instead of going backwards.
Brian Lehrer: Yes. We did a separate segment on the All-Electric Buildings proposal. Or no gas stoves is the way some people frame it. Do you think that's going to pass statewide? Is that in the budget negotiations per se?
Senator Harckham: Well, it's in the Senate one-house. Whether things make it in the budget or not, we can certainly pass them out of the budget. I think both houses, the Assembly and the Senate, are committed to moving a number of initiatives forward this year. Because we realize now that the scoping plan has been adopted, it's time to execute the plan and not try to re-litigate the plan.
Brian Lehrer: Last question, Senator Harckham. Because you represent part of the northern suburbs, I want to ask you just one question before you go about another climate-related plan from the governor that is said to be a major sticking point in holding up the budget, and that's the housing plan. Broadly, for our listeners who don't know, it's to build 800,000 new homes statewide in the next 10 years.
That includes density around train stations in the suburbs. Density around train stations is considered good for the climate. More mass transit useless driving, but some suburban lawmakers in business interests have pushed back. Some politicians in the suburbs say this will destroy the suburbs as we know them. Meaning, I guess, the private home nature. Where are you on this representing peak scaling around there?
Senator Harckham: Sure. First we leave it in our leadership's hand to negotiate a good deal here. We trust our leadership. Personally, I'm very bullish on creating housing. When you constrict supply as some zoning does, what you're doing is increasing cost. We've priced a lot of people out of living in New York simply because of the housing shortage. We obviously need to do more.
Personally, I don't have an issue with targets, but just not everything in the governor's plan is actionable. I think we need to work with our municipalities to come up with incentives and tools to make it actionable. For instance, my district encompasses the New York City East of Hudson Watershed, where the watershed agreement of a few decades ago was designed to stifle development, not encourage development, stifle the number of wastewater treatment plants that could be built and so on.
That's an obstacle right there. For instance, I have a community that wants to do transit-oriented development, has for the last 10 years, but the land has been owned by DEP and they've said no to the proposal. There are challenges that are real. They're not insurmountable. I think we need to give our municipalities more incentives. The 250 million that the governor proposed for infrastructure is a drop in the bucket as to what's really needed because much of Westchester and Long Island are without centralized water, without sewer systems. Up here we're on wells and septic.
The infrastructure is expensive again, not insurmountable. I think solutions can be found. I hope Saner Heads will prevail, and by working together we can find a solution that creates more housing and is actionable by our municipalities.
Brian Lehrer: State Senator Pete Harckham, Democrat from Westchester and the Hudson Valley and chair of the Environmental Conservation Committee. Thanks for joining us on our Climate Story of the Week. We really appreciate it.
Senator Harckham: Thank you so much for having me. My pleasure.
Copyright © 2023 New York Public Radio. All rights reserved. Visit our website terms of use at www.wnyc.org for further information.
New York Public Radio transcripts are created on a rush deadline, often by contractors. This text may not be in its final form and may be updated or revised in the future. Accuracy and availability may vary. The authoritative record of New York Public Radio's programming is the audio record.