ID Requirements Are a Barrier to Vaccination for Some Vulnerable New Yorkers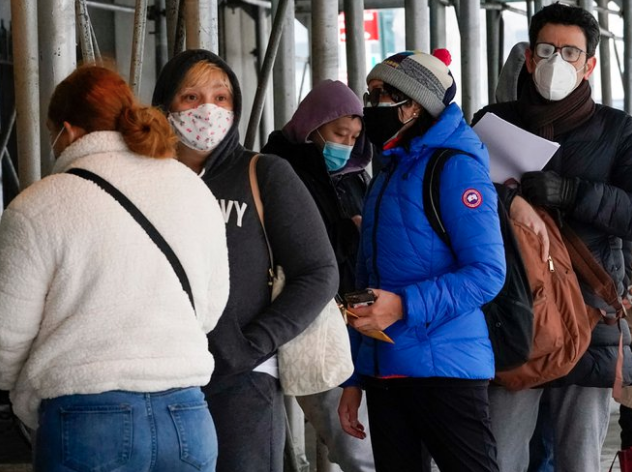 Transcript
[music]
Brian Lehrer: Brian Lehrer on WNYC. As of today, every single New Yorker over the age of 30 is eligible to make a vaccine appointment. Starting next week, on April 6th, every adult in New York over the age of 16 will be eligible to make an appointment. That means no more worrying about jumping the line, it's about to be everyone's turn all at once. New Jersey added food service workers and other job categories yesterday, as they are gradually building up toward everyone, and supply will soon meet demand, but even with these new realities, a troubling old reality question remains, why are some eligible people having a harder time scheduling an appointment than others and what barriers are still in place?
With me now is S. Mitra Kalita. She's the publisher of the newsletter Epicenter-NYC. Since January, the publication has been volunteering to help community members make vaccine appointments. So far, they booked almost 3,000 shots for community members. Some of you might remember that we had her on the show just last week to talk about what she's learned being part of that team, and we wanted to invite Mitra back for a series of conversations, digging into some specifics around who is still struggling to get an appointment regardless of supply, regardless of eligibility and to help some of you along the way.
Today, we're going to focus on a category and that is why ID requirements can be a barrier for some undocumented or other vulnerable New Yorkers. Mitra, thanks so much for doing this with us. Welcome back to WNYC.
Mitra Kalita: Thanks, Brian. It's great to be here.
Brian: I see that some of the problems you've been seeing over the past few months have to do with people having trouble proving their eligibility status. You want to tell us a story?
Mitra: Sure. We get actually a number of stories every day, and we talked about this last week, but the way most people come to us is they can't get a vaccine appointment, we connect them to a volunteer who gets them a vaccine appointment and in our confirmation of the appointment we'll say, these are the things New York requires as proof of eligibility, which can be your age right now if you're over 30, your profession, if you work in a restaurant, or are a taxi driver. Then importantly, and this is where we're seeing a lot of challenges, proof of New York residency.
You could submit a state ID. When your listeners go and go to the DMV and you need one from one category and two from another. We're pretty clear, I would think, in what it takes. Nonetheless, many folks will show up whether it's a vaccine megasite. We have a case that is very fresh in my mind of a 17-year-old restaurant worker from Flushing, who showed up at Citi Field last week. She has to have Pfizer because that's okay for people over the age of 16. It was really hard to get the 17-year-old an appointment because we have to coordinate with working parents, and her school schedule, and her work schedule.
She shows up at Citi Field and they say, "You can't get a vaccine, you have to be over 18." She's turned away. We are in this predicament of we just moved heaven and earth to not just get her the appointment, but for family to take off and get there. That's just an example of even the qualifications and the paperwork that we-- again, on our side, I feel like we're pretty explicit in what's needed, but somehow the message is not getting out to sites, whether they're big sites like Citi Field, or independent pharmacies, and then clinics in between.
Brian: Listeners, we can take some phone calls with your stories. In this category, Mitra's going to come on with us a few times over the next month or so, to talk about different kinds of barriers to getting vaccines and vaccine appointments, even if you are eligible, and even if there's enough supply. Today, it has to do with documentation. If anybody's listening right now who's having trouble proving to a vaccine site that you are eligible, give us a call and maybe Mitra can help you with this. 646-435-7280, or tell a story of yourself or someone you know, and how you got over that particular hurdle, 646-435-7280. Maybe we can help or just hearing your story might help others, 646-435-7280.
Mitra, you told us off the air about a senior citizen you spoke with who was turned away from an appointment in Washington Heights?
Mitra: There was a senior citizen-- I don't know if it was in Washington Heights or if this was in Queens. There've been two scenarios that I'm thinking of, but there was a senior citizen who had come in to watch their grandchildren through the pandemic. They lived elsewhere, but have been in New York for the brunt of the pandemic. They had a letter from their daughter saying that's why they were here. They showed their passports for eligibility, they're in their 70s, and were denied the vaccine, saying, you're not residents of New York State. They went back with a letter from the daughter saying essentially they do live with me, as opposed to saying they provide childcare, and they were approved.
Now, that might be a technicality on the letter, but I share the story because there the bottom line around documentation, we're going to be slicing and dicing some of the language, and the exact document you have, but I feel like the most important lesson is we want to make this process easy, especially for immigrant and undocumented populations. If there's any vaccine hesitancy, someone is turned away, and they go back to their communities and tell that story, the fear is that it's not just them who've been denied the vaccine, you've now spooked potentially an entire community from engaging with the system in order to get their vaccine.
Brian: I see you talked to some people who were afraid of reaching out to make an appointment, because they thought of someone at the vaccination sites saw they had an expired foreign passport they would get deported.
Mitra: That's right. There was an essential worker who's undocumented. As you know, Brian, it's been a really challenging year for people on many fronts, but even just like renewing your passport, because some consulates have been closed. The back and forth is very difficult with foreign governments. This person has an expired foreign passport. His embassy, which is Japan, I won't give you his name, but I can tell you he's Japanese, wouldn't issue a new ID.
Now, he's scared to make the appointment because he's afraid of, "I have this expired passport. I'm really not supposed to be here. I'm waiting on the renewal." Again, in order to get a vaccine, you have to engage with the system. People are, I think, afraid of even just being found out at this point, in some scenarios.
Brian: Another example you gave us was of an essential worker who didn't have a utility bill proving his residency in the Bronx, and listeners, to be clear, the most common thing that people use is their driver's license and that's all you would need. It has your address. It has your photo, it has your date of birth. If it's a valid New York state driver's license, we're talking about New York at the moment, case closed, problem solved, but if not, then there are other ways to prove it and the list is actually fairly sprawling.
Let me go through some of these just to help inform people. Any other state or government-issued ID, a statement from a landlord, a current rent receipt or lease, mortgage records, current mail, a school record, some kinds of statements from another person. You just told us about a letter from somebody's daughter, saying these parents really live with us in New York at the moment. The story public officials-- let's say the essential worker who didn't have a utility bill proving his residency in the Bronx, you want to tell that story?
Mitra: Sure. This again gets to the nature of an undocumented population and how they how they might be proving who they are and how they're living. In this case, this person lives in the Bronx, did not have a utility bill though saying that they can prove residency in the Bronx. The recourse for that worker then had to be a letter from, I believe it was a roommate we got, saying that they live in this zip code.
In some cases, we just need to get that message out, that when you show up at these sites that they will ask you, you almost have to act as though they're going to ask you for everything. Another challenge, Brian, has been the inconsistency in checking. For some people, they'll go and they'll say, "They didn't ask me anything, I just showed my passport from my home country, and I got my vaccine." If that word gets out, there's almost a positive word-of-mouth spread to the community, but then somebody else might show up, and in the case of this worker from the Bronx, well, they're out of luck, because whoever told them that they didn't need documentation was incorrect.
Brian: Jenna in Brooklyn, you're on WNYC. Hi, Jenna.
Jenna: Hi, I'm calling because I have a friend who is undocumented. I'm wondering whether or not she can use her IDNYC in order to prove eligibility?
Brian: Mitra?
Mitra: Yes. We have one case of an IDNYC that was turned away last week from a vaccine site. It was a clinic, and it was a health institution that I think was not familiar with IDNYC. However, on the list that Brian just read, and I'm actually looking at the state proof of eligibility right now, in the accepted documentation, IDNYC is explicit. It is stated. It says driver's license, IDNYC, birth certificate from any state or local government. In the case of that worker, we got on the phone, and we said, "IDNYC," we read the same thing, they wouldn't accept it, and we were able to book that worker at Citi Field for the same night.
It's not a great story in terms of them being-- they were denied from a certain clinic, but we were able to get them into-- and some of these mega sites, and the city clinics are way better at the IDNYC than some of the state sites. Pharmacies, as well, have reportedly turned away some of the IDNYC. Now, again, in the state documentation, again, I'm looking at it right here, and Brian, you just read from it. It says it's okay, but we have a problem in the things that are okay, that message is not getting out to the folks in charge of that thing.
Brian: What's the best thing for somebody to do other than call you? By the way, listeners, get out a pen or your favorite typing tool. We will give you two phone numbers at the end of the segment in just a few minutes, that you can call for specific help, but should somebody just say, "No, this is on the state list. They do say you should take an IDNYC," and then maybe the pharmacist or whoever it is, will double-check?
Mitra: We have some documentation on our website that people can show. We're hoping that in the moment, if you're confronted with the situation that helps you, you will give Brian, I know our phone number, and that can help people. In some cases, we've turned-- Assemblywoman Catalina Cruz has been excellent on this issue in terms of saying, "This is not fair." She's trying to work with the state and the city to get the word out. I think the word, hopefully now that eligibility has expanded, this will be less of an issue, but even with the expansion, people still have to prove that they're above the age of 30.
There is still a burden of proof that falls on an individual, and we can't solve for decades of immigration reform. We can't solve for that in this vaccine rollout. My hope is that between a mix of IDNYC, having letters from roommates or landlord saying, "This person is who they say they are." The other thing I really, really hope we can spread the word on is employers. If employers can provide on letterhead, just a letter attesting that a worker is who they say they are. Andrew Cuomo himself has said the state will not send individual data identifying a person in any way, that would be used to document citizenship. These letters will not be--
Brian: Let me sneak in one more caller, who I think has an employer-related question. Daniel, in Westchester. Thanks so much for calling in. Daniel, I see you're a TLC driver.
Daniel: Yes, I'm a TLC driver. I'm currently have a New Jersey license. I just moved to Westchester, and I've been a driver for almost a decade now. I went online and I got an appointment, and I showed up, but because I didn't switch over my driver's license, even though my TLC license, they still didn't accept me.
Brian: What can he do Mitra, and we've got about 30 seconds?
Mitra: I would say for TLC, the best site we've been referring folks to is Citi Field. If you need our help getting an appointment there, we can give you the number it's epicenter-nyc.com has the information and then, Brian will be sharing the phone number. I think for TLC drivers, going to the sites where they're familiar with TLC drivers, and like I said, Citi Field, we've heard good reports from New York College, have been the best bets.
Brian: There, we leave it, except to give you these phone numbers. You can call me Mitra's group, Epicenter-NYC, at 917-818-2690, and they can try to help with these ID problems. 917-818-2690, or the city has a number that's also set up to help you with these kinds of issues. 877-VAX4NYC, 877-VAX4NYC. We'll have to leave it there. Mitra Kalita is publisher of Epicenter-NYC and CEO of URL Media, a network of Black and brown community news outlets. I gather you will be back with us next week to talk about another hard-to-get-access-to group for vaccine, so we look forward to it.
Mitra: Thank you, Brian.
Brian: Thank you for this service.
Copyright © 2021 New York Public Radio. All rights reserved. Visit our website terms of use at www.wnyc.org for further information.
New York Public Radio transcripts are created on a rush deadline, often by contractors. This text may not be in its final form and may be updated or revised in the future. Accuracy and availability may vary. The authoritative record of New York Public Radio's programming is the audio record.