How the 'Pause' on the J&J Shot Will Affect the Vaccination Campaign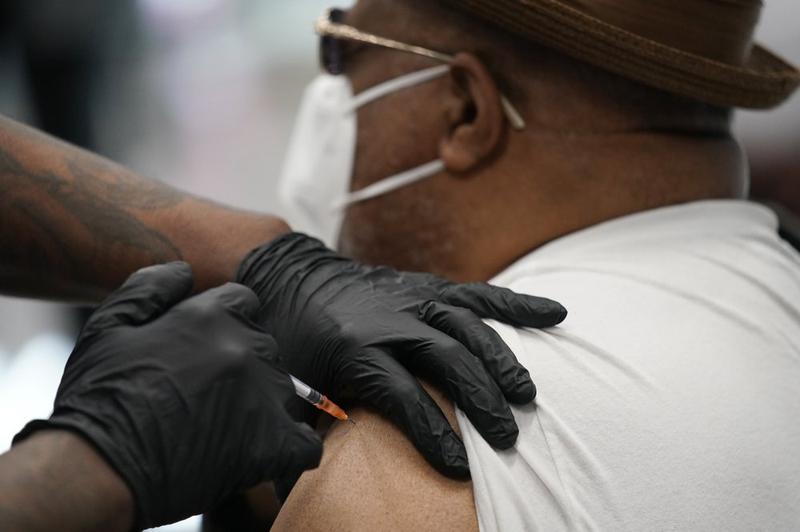 Transcript
[music]
Brian: It's The Brian Lehrer Show on WNYC. Good morning, everyone. There's breaking news this morning that the federal government is recommending a pause in giving the Johnson & Johnson COVID vaccine because six women who received the shot developed rare and serious blood clots, within around two weeks of their vaccinations. One of the women died. The New York Times reports another is in critical condition in Nebraska.
The pause recommendation comes from both the Centers for Disease Control and the Food and Drug Administration. They have not concluded that the Johnson & Johnson vaccine caused the blood clots, but they want to look more closely at these six cases. About seven million people in the US have received the J&J shot according to CDC data cited by The New York Times, all six of these reported cases occurred in women between the ages of 18 and 48, they say. The condition is known as Cerebral Venous Sinus Thrombosis or CVST. It's the same rare blood clot that's being examined as possibly being caused in a different small number of cases in Europe, in people who got the AstraZeneca vaccine.
In those cases too, it was in people under 50. What will this do to the overall vaccine effort in the United States, and the current wave of the pandemic? What's the right risk-benefit analysis in deciding whether to keep using the J&J shot when so many people will get seriously ill and die from COVID, so many more, even if the vaccine turns out to be the cause of the blood clots in these six people out of the seven million? In any case, the pause and the question suggest a challenge to the advice, or maybe a reinforcement of the advice. We hear frequently from Dr. Fauci on what vaccine to pick.
Dr. Fauci: I would pick the one that was the most readily available to me. All three of them are highly efficacious.
Brian: Fauci on CBS last month. The government is taking the steps right now to see that the Johnson & Johnson vaccine is not available to people for a while. Now, we continue our series aimed at increasing vaccine access for the harder-to-schedule and harder-to-reach and engaging with vaccine hesitancy or distrust. Back with us is S. Mitra Kalita, Co-Founder, and Publisher of Epicenter NYC, a newsletter to help New Yorkers get through the pandemic. Epicenter has helped more than 5,000 people navigate vaccine registration. She was also Co-Founder of URL Media, a network of Black and brown-oriented new sites, and she was previously Vice President at CNN Digital, before launching her current news organizations.
Also, with us for this edition is Dr. Mark Horowitz, an independent family doctor in private practice in lower Manhattan. He's affiliated with Mount Sinai. He's reserving 10% of the supply of vaccine he receives for the harder-to-reach people that Epicenter is trying to help out. Just last week, as it happens, he received a hundred J&J doses to administer. We have New York City Council Health-Committee Chair, Mark Levine, who has been tweeting this morning in response to the Johnson & Johnson news. Hi, Mitra and Councilman Levine Welcome back. Dr. Horowitz, welcome to WNYC.
Mitra Kalita: Thank you, Brian.
Councilmember Mark Levine: Thank you, Brian.
Dr. Mark Horowitz: Thank you, Brian.
Brian: I will just be candid here and tell our listeners that Mitra and Dr. Horowitz were booked for this time anyway, but the conversation we will have is, of course, changed by this breaking news. We've added, Councilmember Levine. Dr. Horowitz, first question to you, will you take this federal recommendation and pause in your own administration of the Johnson & Johnson vaccine?
Dr. Horowitz: Absolutely.
Brian: Can you explain this rare blood clot called Cerebral Venous Sinus Thrombosis?
Mark: Yes, unlike more common types of blood clots such as Deep Venous Thrombosis of the legs, or pulmonary embolus, which is a blood clot in the lungs. This is a very, very unusual type of blood clot that occurs in one of the principal blood vessels in the brain. It's a catastrophic type of blood clot, but it's extraordinarily rare.
Brian: Councilmember Levine as City Council Health-Committee Chair, what's your reaction, and how will it affect city policy?
Councilmember Levine: It's a serious blow, Brian, to our vaccine efforts, but I want to point out that so far, there's been 240,000 doses of J&J given in New York City. Actually, I was one on Friday. We don't know of any cases of this occurring, it doesn't mean it hasn't occurred, but there are no reported cases from [unintelligible 00:05:00] J&J so far in the city. I'm sure we'll talk about what this means practically, but this really has been a critical tool for us to reach populations that aren't well-served by the other vaccines.
Homebound seniors, people experiencing homelessness. This is going to be the vaccine used on the new mobile vaccine clinics, so this really, I think, is also a blow for equity. I don't know how easily it's going to be to substitute the other vaccines for some of this more mobile work.
Brian: Mitra, would you pick up on that because I know so much of your work has also focused on access and equity?
Mitra: Sure, Brian. It's been quite a morning. The volunteers who've been booking folks are just-- They're so emotionally invested in exactly the group that Councilman Levine is talking about. We, in some ways, have been pushing for the J&J vaccine to be more accessible and really decentralized. If you think about the nature of vaccine distribution, they've been at mega sites, like the Javits Center, and Citi Field, and we were just getting to a place where it felt like the vaccine was coming into the neighborhoods where people live and work.
What we saw this morning, just to give you an immediate on-the-ground reaction, dozens of folks who we've scheduled have already reached out by phone or email, or calling the volunteers who they were in touch with saying they heard the news, what should they do? We've been trying to essentially be the conduit between the Governor on Twitter who said, "If you have an appointment today at a state run site for J&J, you will be offered, Pfizer."
Just getting out basic information feels like the first step. We always tell people, "We are not doctors," but one of my first messages this morning was to Dr. Horowitz himself to say, "Dr. Horowitz, what should we do?" He suggested pausing. We've taken that guidance and said, "Look, we talked to a doctor, and this is what he suggests." The last thing I'll mention is that in some of these decentralized sites, pharmacies among them, there's still confusion as to whether they should follow the federal guidance. The state is saying they're switching to Pfizer, and, "Your appointment won't be canceled."
We've seen a mixed reaction. Some sites are canceling the appointments outright, and saying, "We'll get back in touch with you as soon as we know what's safe to give." Others are saying, "We're waiting for guidance from the supplier themselves as to whether we should keep going or not." That's contributing a little bit to the confusion. My hope is that federal and state authorities make it much clearer what some of these local sites should be doing.
Brian: City Councilmember Levine, is that something that the city could contribute to? Again, for people just joining us here, the chair of the Health Committee, it sounds like from what Mitra was just saying, if I understood her correctly, that some pharmacies that have Pfizer doses available to give in addition to the Johnson & Johnson doses are not giving the Pfizer doses to their scheduled appointments today, they're just canceling them. They're just waiting to see period now. I'm not sure that's the right thing to do.
Councilmember Levine: Yes, I flagged that for the health department, and they're working on that right now. It's such a decentralized system in the pharmacies. You're right to point out that the CDC offered guidance, but that it's up to individual providers to make those decisions. I also want to clarify a really important point that Mitra made. The city has sent out cancellations for appointments today for Johnson & Johnson, offering the opportunity to reschedule with one of the other vaccines, the state for today, at least, it may not extend beyond today.
At least for today, the state is honoring J&J appointments and using Pfizer. I presume that that will be dependent on supplies, I don't know if they committed to that long-term. If anyone is out there, as we've just said, who's got an appointment at Javits or Aqueduct today. I think we're going to have to do very strong messaging on the continued effectiveness and safety of the mRNA vaccines, which--
Brian: Meaning the Pfizer and the Moderna.
Councilmember Levine: Yes, that's right. My fear is that people's skepticism will extend to those other vaccines, which have been proven now hundreds of millions of doses delivered worldwide, to be remarkably safe and effective. Even in the case of the Johnson & Johnson, it is the job of regulators to keep us safe. It's the job of scientists to continually evaluate the impact.
Like with any medical intervention, sometimes it's safer with some groups than others and preliminary information as it seems this is a problem of women I guess between the ages of 18 and 50. Dr. Horowitz correct me on that. It's possible that older adults may begin using Johnson & Johnson. Again, important communication here. We want people not to lose confidence in vaccination overall and understand that this is regulators doing their job ultimately trying to keep us safe.
Brian: Dr. Horowitz, could you expand on what Councilmember Levine just alluded to there, which is to say do you have a theory or do you know of one from researchers as to why this might occur in these very rare cases after the Johnson & Johnson vaccine, but not after the Pfizer or Moderna vaccine, which used a different mechanism known as mRNA?
Dr. Horowitz: That's an excellent question. First of all, I would say we all need to take a deep breath in and let it out and let scientists do their research. We've had pauses before and those pauses have been lifted. I share Councilman Levine's concerned that this pause will further influence people's hesitancy on the vaccine, but like the AstraZeneca vaccine in Europe, the Johnson & Johnson vaccine is an adenovirus vector vaccine, meaning it uses an inactivated virus that doesn't ordinarily infect humans to carry the DNA into our cells to produce the antibodies against the spike protein.
This situation is akin to what happened in Europe with the AstraZeneca vaccine and both vaccines share the same mechanism of action. In both cases, the disproportionate effect was on young women of childbearing age and it was this very unusual form of blood clots in the brain. Tragic, but very unusual. In both cases, we're talking about something that occurred in fewer than one out of a million doses. I suspect with time, the mechanism will be elucidated. I don't think it has yet, there's been speculation. I also suspect with time, there may be some guidelines for using it in only certain populations, but I suspect that the pause will be lifted eventually.
Unfortunately, what this does is further feeds the fire of vaccine hesitancy among a select group of citizens who may not get their information from reputable sources, and in practice here on the ground every day I deal with patients who come in with information that may be flawed and in cases, I'm able to counsel them and show them the correct data and get them to take the vaccine. In other cases, people are pretty firm in their distrust of the vaccine. There may be cultural factors involved, there may be personal factors involved, but this is a continued challenge and this challenge will only be intensified by this pause.
Brian: Listeners, if you're just joining us-- Let me just invite listeners and give out the phone number because we can take phone calls. As we discussed the breaking news this morning that the federal government is recommending a pause in giving the Johnson & Johnson COVID vaccine because six women who received the shot developed rare and serious blood clots within around two weeks of their shot. One of the women died, the New York Times reports, another is in critical condition in Nebraska.
However, we should that this is six reported cases that have not conclusively been linked to the vaccine out of seven million doses of J&J that have been given in this country. Listeners, if you have a question, our phone number is 646-435-7280, 646-435-7280 for Dr. Mark Horowitz, who was just speaking. A family doctor in private practice in lower Manhattan affiliated with Mount Sinai, S. Mitra Kalita co-founder and publisher of Epicenter, NYC, a newsletter to help New Yorkers get through the pandemic.
She's been helping thousands of people navigate vaccine registration and New York City Council Health Committee Chair, Mark Levine. Our lines are already full. You're all not surprised to hear that, but it's 646-435-7280. Or you can tweet a question @BrianLehrer. Dr. Horowitz, I want to follow up on one thing right away for people listening who have gotten the Johnson & Johnson vaccine already. Although this is extremely rare. Are there early warning signs of this that people can look out for and get in touch with a doctor immediately if they start to feel something, in particular?
Dr. Horowitz: Actually not. This is a fairly acute and catastrophic event. It would be imprudent of me to say, "If someone who got the Johnson & Johnson vaccine develops symptom A or symptom B, they should call their doctor," because there is some overlap between the natural side effects that we counsel patients they're going to get following this vaccine and some of the symptoms of cerebral sinus venous thrombosis. It's really difficult to answer that question without giving some people some fear that the normal side effects of the vaccine might be an indication of this more catastrophic condition.
Brian: Let me take a call from Jack in Elmhurst, who says he's a doctor also and had the Johnson & Johnson vaccine himself. Let's see what Jack in Elmhurst Queens has to say. Hi, Jack. You're on WNYC.
Jack: Oh, hi. Thank you for taking the call. I've had the Johnson & Johnson vaccine. I'm fine. I actually think it's a better vaccine because it's efficacy against the South African variety has actually been proven is that I, of course, agree with Dr. Horowitz that we should follow FDA guidelines, but I think that the guidelines really should be modified because 80% of the deaths are from COVID are for males.
There would be no deaths that I know of from the vaccine. They really should continue to get the vaccine and that women who do have some deaths from Johnson on the side of caution, could recommend that they not get it and it should be their decision. That would seem to the rational and reasonable, flexible approach that Americans usually take instead of the blanket rules.
Brian: Dr. Horowitz, how much do you agree with that?
Dr. Horowitz: I agree with my colleague. I do think that we need to take some time and let this be evaluated. The greatest pines in science are probably working on this right now. I agree that because of the disproportionate effect on women that that may be the first recommendation is that women of a certain age choose one of the other vaccines. I'd be speaking out of place if I speculated any further.
Brian: Mitra, do you want to say anything about that?
Mitra: I was about to say, I do think that the vaccine hesitancy that we've been speaking of for two populations, in particular, who has historically been neglected in medicine and research women and people of color, this is a chilling finding. I take the doctor's point entirely, and for many restaurant workers who are male and if this is proven to be safe for men, the idea of being one and done with their J&J shot is still a really great thing in coming weeks to get us out of this, but for women, in particular, at least that I know of this is the second issue that has been raised with vaccines.
The first was the lack of their testing on pregnant women so that was a big question. The second is this one that's coming up and just another that I'll mention that's come up just on some of our folks who we've been helping as well as in some chat boards that I'm on is around women getting their mammograms after the vaccine, they've been told not to do these. These tend to be pretty sidebar issues in terms of coverage of the vaccine.
What I feel like the last few hours have shown us as we really need to front-load 50% of the population and how this is affecting them as a core part of our messaging around this. I'll just share a personal anecdote. My family, most of us got the Moderna vaccine. I have a brother who's an engineer, another brother who's a mathematician, they went in and looked at the trials and said, "Did they test this on Asian communities?"
They sent me an article from the LA Times. They said, "Mitra, we're good to go." This is fine for our parents. This is fine for us. My 16-year-old got the Pfizer vaccine, I said to them, could you do this now? I didn't do all that because I'm the journalist, Brian, they're the STEM-oriented members of our family. We have to feel like people are looking out for us in that same way. I hope that in the messaging of this there's some way we can not introduce chaos, say. "This is a part of the research," and remain calm, but also treat everyone as we would treat our own family and loved ones in this process.
Brian: Onika in Brooklyn, you're on WNYC. Hi, Onika.
Onika: Hi. I recently just got the Johnson & Johnson vaccine. I went to one of the pop-up sites located in majority-Black community, and my concern is the continuity of care. If members of the community exhibit those symptoms, what guarantee is that they're going to get adequate medical care to treat the symptoms of the thrombosis opposed to it being dismissed as racialized medical concern?
Brian: I understand. That's the root of so much distrust of the medical system in general. Mitra, sure you get the question. If symptoms develop in Black and brown people, they're not confident, to begin with, that they're going to get the same treatment from these side effects as from anything else in the medical system based on history and even current experience.
Mitra: There is a reason that folks like Dr. Horowitz are now within our network because we were just finding that as we were going down these efforts, that the question started to become more special cases and folks in some cases who don't have a primary care doctor, so the ability to refer people who at this point trust us to doctors and medical professionals has actually been pretty invaluable. I think there are clinics-- So more recent Dr. Horowitz himself has said he's wanted to reserve some of his vaccines, and I know his practice is very diverse.
That's what we've been doing is by word of mouth. I don't think that's a sustainable solution at all. It's not just the vaccine, but the entire past year has shown at least here in the epicenter in Jackson Heights Corona and Elmhurst, there was the St. John's study done saying 42% of Latinos here don't have a primary care physician. That is unconscionable in a year that we've had a pandemic. So my hope, and maybe Councilman Levine wants to jump in here, but these require government solutions. I, as a volunteer, can only connect you so far. There is clearly much greater systemic problems.
Brian: We're going to take a break and continue. We have a clip that just came in from the FDA of somebody stating, in fact, some symptoms to watch out for that might be early warning signs of this. We'll play that as soon as we continue, and continue with our three guests and more of your calls. Stay with us.
[music]
Brian Lehrer on WNYC. As we are talking about the breaking news this morning that the federal government is recommending a pause in giving the Johnson & Johnson COVID vaccine because six women ages 18 to 48, who received the shot develop rare and serious blood clots within around two weeks of their shots. One of the women has died. We have three guests Dr. Mark Horowitz, a physician in private practice in lower Manhattan, S. Mitra Kalita, co-founder and publisher of Epicenter NYC, a newsletter to help New Yorkers get through the pandemic.
She's also been helping people navigate vaccine registration, and Mark Levine, the New York City Council Health Committee Chair. I want to play a clip of something that somebody from the FDA just said a short time ago. Let's see. This is Janet Woodcock, and she's talking about things to watch for in your own body in terms of symptoms in the first few weeks after you get the Johnson & Johnson vaccine.
Janet Woodcock: For people who recently got the vaccine within the last couple of weeks, they should be aware to look for any symptoms. If you've received the vaccine and developed severe headaches, abdominal pain, leg pain, or shortness of breath, you should contact your health care provider and seek medical treatment.
Brian: Mark Levine, I know you were trying to get in before, do you want to react to that or say anything you want?
Councilmember Levine: Absolutely, I was reacting to some of the reports I was seeing from this simultaneous press conference. Some clarification on the age range of women who have been impacted so far, it's 18 to 38. I'm not sure if that was covered in the clip, but they said that if you've had your dose of Johnson & Johnson a month ago or prior to that, that you're at very low risk. I want to echo a broader point that Mitra is making, which is that this news is coming at a really unfortunate moment for the city as we're about to transition to a whole new stage of vaccination.
We've made so much progress, we're at 42% of adults vaccinated overall, but there's still enormous inequity. Only about a quarter of African-American and Latino New Yorkers have had at least one shot. The next phase is going to be much more about building trust in the vaccine, about taking the vaccine to people where they are. The loss of Johnson & Johnson as a tool for that because it's so much easier to be mobile, because it only requires a single dose, so easier to work with transient populations, but also the vote of confidence in the program overall.
At the moment, really our number one challenge is no longer going to be how can motivated people navigate through a complicated website system? It's going to be how can we as a city build trust in this vaccine and get it to people? The timing of this is really unfortunate. I think we're going to have to have the most intense messaging we've had so far the vaccination process and to communicate--
Brian: To reinforce that point, and Councilmember, I'll give you an opportunity to follow up on this, we can take this pause that they're now recommending in administering the Johnson & Johnson vaccine as a reason for confidence in the other vaccines it seems to me because the government is stepping in to recommend this pause based on a little bit of evidence that there may be a problem in very rare cases with the J&J. It indicates that the government is not sidestepping this, the government is dealing with potential side effects from vaccines head-on. That's a reason for trust rather than distrust, would you say?
Councilmember Levine: This is absolutely right. This is how scientific oversight is supposed to work. This should give people confidence that we're taking it seriously, but boy, I've seen a lot of bad takes already on social media this morning. I'm very worried that there'll be spillover effect into confidence in the mRNA vaccine. Let's ramp up our communication. These vaccines are safe and effective.
Brian, we have to mention that any evaluation on a vaccine has to be weighed against the risk of getting COVID-19, and that risk remains all too real. In New York City, we're still seeing 3,000 cases or more a day, and close to 200 people being hospitalized a day. We do want to remind people that the pandemic is not over, and any evaluation you make has to be weighed against the risk of doing nothing, which is real.
Brian: Maggie in Park Slope, you're on WNYC. Hi, Maggie.
Maggie: Hey. I was just intrigued to know how your guests would compare this risk with the Johnson & Johnson vaccine to the risk that I and I think many, many, many other women have faced for years, and years and years, about oral contraceptives, which had a risk of blood clots, as I recall. I with the help of my doctor weighed that risk and was quite happy to accept it.
Brian: Maggie, thank you. I think we might have somebody calling on another line, who is very well positioned to answer that question, and it is Ron in Boston, who is a neurosurgeon. Presumably, he knows brain blood clots. I'll say by way of full disclosure, he's somebody I know who happens to be a personal friend, and I know he's a prominent neurosurgeon in Boston. Hi, Ron, you're on WNYC.
Ron: Hi, Brian. How are you doing?
Brian: What can you say to the last caller first of all? Did you hear her?
Ron: Yes, that correlation between oral contraceptive use and increased thrombotic complications is well known. It is interesting that the women who have suffered this rare, but serious blood clot are of childbearing age. It'll be interesting to see if that turns out to be the relationship that somehow there's a reaction between the J&J vaccine and oral contraceptive use that led to this, in which case it would be a very restricted population that couldn't receive the vaccine. I just wanted to put that out there.
Brian: That's very interesting. Yes, because they all do seem to be occurring in women of childbearing age more or less. Based on that, Ron, is there any mechanism that looks apparent to you as a neurosurgeon, as a brain specialist? Anything from this particular vaccine that jumps out at you as might be causing this?
Ron: No, nothing obvious, but that correlation is very interesting, at least in terms of looking at who are the people that have suffered this complication, it is something that occurs more in women than men in general. The fact that it's occurring in women of childbearing age, who might happen to also be on oral contraceptives, it could be that this is not a broad problem with the vaccine, but just this particular population should not take it, perhaps. We'll have to see how it plays out.
Brian: Ron, thank you so much for calling in.
Councilmember Levine: Brian could I just had one thing.
Brian: Councilmember Levine, and then I want to go to Dr. Horowitz to get a second medical opinion, but I had to take Councilmember.
Councilmember Levine: Very quick, only because I'm seeing updates coming out of the CDC press conference. They've just clarified something on this point, which is that this pause is a recommendation, not a mandate. I'm reading here that if an individual provider talks with their patients, they could determine that the Johnson & Johnson vaccine is their best option and still administer it.
Brian: Nothing since you're monitoring the simultaneous FDA news conference, they haven't mentioned birth control pills, in particular, or if the women who suffered these blood clots were taking birth control pills?
Councilmember Levine: No, they've only specified it was women between the ages of 18 and 38, six to 10 days after getting the vaccine.
Brian: I know you're hearing it as 18 to 38. I heard it elsewhere as they reaffirmed 18 to 48, but something in that range. Dr. Horowitz, what do you think about our neurosurgeon caller's theory from Boston?
Dr. Horowitz: That's quite possible. I don't recall seeing any association between oral contraceptive use and cerebral venous thrombosis in the European populations affected by the AstraZeneca vaccine. I think there they invoked some immune mechanism for this. I think, again, we need to take a deep breath and let the scientists do their work. The original subject of this panel was to be vaccine choice. I want to emphasize there's still is a great deal of choice. The Johnson & Johnson vaccine represents a very small proportion of vaccines being shipped to the population of the United States right now.
In fact, we were about to enter a week-long period of drought for the J&J vaccine owing to the situation with the factory in Baltimore that had a quality control issue. There's still plenty of vaccine out there of the Moderna and Pfizer variety. This should not by any means prevent people from seeking a place to be vaccinated now that the eligibility for vaccination is everybody age 16 years of age and older. We are, as Councilman Levine pointed out, and as we know all too well, we're in a race against time with these variants and these vaccines are extremely effective against those variants.
The majority of the infections that we're seeing in New York City right now are either the unique New York variant or the UK variant. We, fortunately, haven't been affected by either the Brazilian or the South African variant to any significant degree yet, but we've got to get a significant number of people in the population vaccinated to win the race against these variants. These variants are highly transmissible. In my own practice, I'm seeing several new cases a week, predominantly young people [inaudible 00:33:57]
When I ask them, "How do you think you came in contact with this?" Their answer is, "I'm following all the rules. I don't know." Clearly, these variants are highly transmissible and we're in a race against time to defeat them. People have to continue to be vaccinated. Let's put the issue of the Johnson & Johnson aside for a couple of days until we get some answers from the scientific community. In the meantime, there seems to be an adequate supply of the Pfizer and the Moderna vaccine to meet demand. We've got to get people vaccinated to defeat these variants.
Brian: It's such an important point that I'll repeat it, that the overall risk to the population from the faster spread of the virus than from the side effects of the vaccines might make it a risk-benefit analysis that argues to continue the use of this vaccine even with the risk after this pause. That's such a difficult public health decision though. Dr. Horowitz, give us one more deeper take into this. If you know, in other kinds of vaccines or medications, what's generally considered an acceptable side effects rate to allow something to remain in use because the benefits still far outweigh the risks. In this case, it seems to be something like a ratio of six serious side effects to seven million doses.
Dr. Horowitz: Sure. In my career in medicine, there have been similar issues with new drugs that are introduced or existing drugs that have turned out to have unrecognized side effects during their introduction. We've made decisions to use them because the disease they treat is far more serious than the complication. Again, six out of seven million, it's tragic for the individuals involved, but the alternative of a large number of people getting COVID and the complications thereof just seems unacceptable.
I share your perspective on the risk-benefit analysis. At least in the short term, we're in a time now when the Johnson & Johnson vaccine was going to have a dip in supply because of the factory issues and there seems to be plenty of Pfizer and Moderna vaccine out there. I have a close relationship with the pharmacist in my community here. Many of them have more than enough vaccine to provide patients who make appointments.
Some of them call me near the end of the day and ask me if I have any patients who would be willing to take their leftover vaccine. We're not in a drought situation. We're just in a drought situation with respect to one of the choices. I think that there seems to be adequate supply of the other two choices and people should continue to be vaccinated if they're eligible to get vaccinated.
Brian: Mitra, you want to give us a closing 30-second thought and maybe even referring to as Dr. Horowitz said, what was going to be the topic of this conversation today, which is vaccine choice and if people could be shopping and say, "Oh, I prefer the Pfizer, or I prefer the Moderna," something like that?
Mitra: I think it's a really good point so Pfizer and Moderna and also that Epicenter is still here to help New Yorkers get their vaccines. Hello@epicenter-nyc.com. Brian, sometimes you ask me if I were running things, what would I do, which we can only dream, but the elderly home-bound women, if they are okay with the J&J vaccine, the number of women we have over the age of 100 in New York City, who are waiting for a vaccine is is quite long. The sooner we can get them that, and then on this note about scheduling has been a big reason why J&J was so appealing to large segments of our population.
I think if the city could continue to operate, it's decentralized, mobile vans in your community, the pharmacies, the churches, the mosques. Let's keep them there for a few days and say, "Your first dose and your second dose will be 21 days or 28 days apart. These will be here for a week at a time," but just start to get this in the consciousness of folks to make it easy for them. The last thing I'll say on just vaccine shopping, if you will, we need to get the message out that the side effects vary by individual. We get phone calls every day, an email saying, "I don't want this vaccine because my brother was laid up for two days." This other vaccine, we just don't know how your body will respond and that's a very individual thing.
Brian: Mitra Kalita, Dr. Mark Horowitz, City Council Health Committee Chair, Mark Levine. Thank you all for joining us.
Councilmember Levine: Thank you, Brian.
Dr. Horowitz: Thank you, Brian.
Mitra: Thank you.
Copyright © 2021 New York Public Radio. All rights reserved. Visit our website terms of use at www.wnyc.org for further information.
New York Public Radio transcripts are created on a rush deadline, often by contractors. This text may not be in its final form and may be updated or revised in the future. Accuracy and availability may vary. The authoritative record of New York Public Radio's programming is the audio record.