How Jan 6th Changed Extremism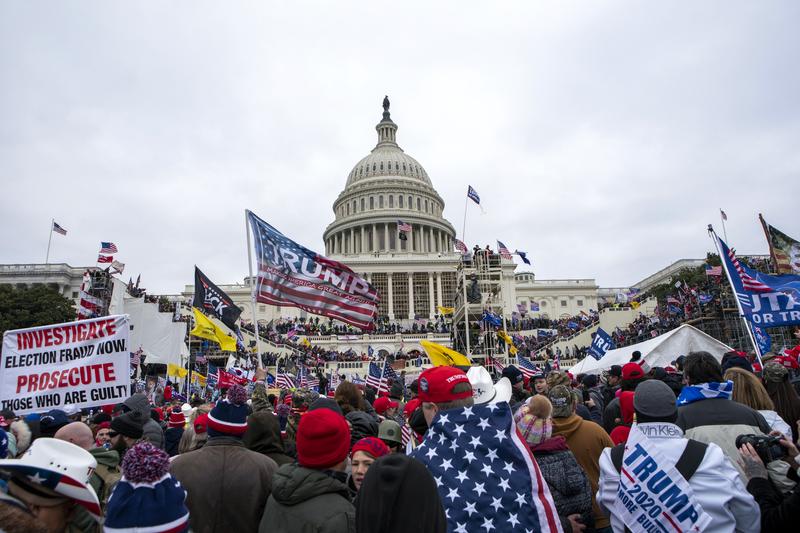 Transcript
[music]
Brian: It's the Brian Lehrer show on WNYC. Good morning, everyone. It's January 5th, 2022. Here we are one day shy of a year since the January 6th capital riot that left five people dead, 15 police officers hospitalized, that one gets forgotten, and conservative America's commitment to democracy in doubt.
Now comes new reporting that rather than being chastened by the tragic fruits of what they did and pull back from their extreme views and activities, the militia members and white supremacists so central to the insurrection have used the past year to try and build on January 6th to increase the power of their movements by getting more involved in local politics in communities around the country.
Let's find out more including how much they're succeeding or being rejected from Brandy Zadrozny, senior reporter for NBC News who covers misinformation, extremism and the internet. She's also a fellow at Harvard Shorenstein Center. Her story out this week is called From the Capitol to the city council: How extremism in the US shifted after January 6. Brandy, thanks for taking some time away from the network to come back on the show. Welcome back to WNYC.
Brandy: Thank you so much. It's great to be here.
Brian: Your article begins with the story of a militia member named Denise Aguilar, who is there on January 6th, praised the quote, "Patriots who broke open the doors," but you find her at a school board meeting near Sacramento. Tell us a little bit of the Denise Aguilar story, if you would.
Brandy: Sure. Denise Aguilar is a California mom, she's has been pretty active in the anti-vaccine movement before this starting in California when they were trying to pass some laws getting way of religious exemptions for childhood vaccination.
She's been a low-key activist for a while, but 2020 came and many like her, people who had never dabbled in politics or thought about activism slowly became mass radicalized as the phrase that were using and experts are using. That led her to the statehouse to protest COVID precautions masks, and then the coming vaccines, she was detained by police.
Eventually, it led her to the Capitol where she was part of this health freedom summit on January 6th, and she gave a rousing speech, and then according to her now-deleted Instagram video, she was bare maced and she said, "We stormed the Capitol." She said, "We will continue to storm capitals as we go home." She went back home.
She's not been storming any capitals instead as she said. She has been doing this small-time work of local protesting, going to city council board meetings, going to school board meetings, which her children do not attend the public schools, of course, but arguing and fighting to do away with mask mandates, vaccine mandates, the culture war stuff that we're seeing a lot of around the country.
Brian: Wait, her kids don't attend public school, and yet she's getting involved with the local school board to tell others what they're allowed to do.
Brandy: That's absolutely true. I've been watching a lot of school board meetings which is weird as an extremist reporter, but I've been watching a lot of them. That is a recurring theme, that a lot of the fights that we're seeing at local school boards from so-called fights against critical race theory or mask mandates, stuff like that. Most of the speakers that are against those things and are the most vocal are usually not parents of children in the district.
Brian: What's the Denise Aguilar story representative of? There are many Denise Aguilars. Are there many Denise Aguilars getting more involved in local politics around the country after they supported or participated in January 6th?
Brandy: Yes, I think it is part of a broader transformation by specifically the extremist groups that were there. I think that the stat is something like one in 10 of the over 700 people arrested and charged from the Capitol riots were part of a known extremist group. Many of those people, yes, it's very indicative of how their groups have come home and are doing small-time work. They had a cooling-off period, and now they're focused on local politics, specifically school boards, county health boards.
They do this as a way to not only battle their PR crisis because they're widely condemned following the riot. Everybody can see that with their eyes, and most people would say that's going too far, and so away to engender support is to glam onto the larger culture wars mainstream conservative movements, and so you see, for instance, Proud Boys at a North Carolina public health meeting against masks, and they're just in the back. A lot of the people that are there support them, they clapped for them, and they were glad they were there, and not all of those people are extremists.
They get into the mainstream that way, and then they also use it for recruiting. Like that North Carolina meeting where the Proud Boys showed up, they use the media from that, made posters of themselves sitting in the back, menacing all in masks, and looking quite scary, and said that the tagline was 'saved you a seat.'The message being, "We are involved in local politics, get involved too, join our group." It's this cycle of recruiting propaganda and then also engendering support within your communities and then widening out broader.
Brian: To what degree is this being centrally directed? For example, you wrote that by last spring, there were internal calls in far-right circles for them to refocus, including by Steve Bannon to what you call his far-right nationalist foot soldiers. What did Steve Bannon say, and what was the context for that?
Brandy: Right. There is no national thing to bring everybody together. There is no election right now. There is no rally and cry to unify people on the far right. Leaders of the far-right from not only Steve Bannon on his podcast, but also you have hardcore white nationalists, and they are all calling to refocus on these local groups. Steve Bannon back in the spring said basically people need to retake the country village by village.
ProPublica actually had this great investigation where they followed up on that, and after that call, and he has a ton of podcast listeners, it's a very, very popular podcast. He found there was this really crazy increase in local level party officers doing just what he said, filing to be involved in their local level politics.
I think it's incredibly popular. I think that you see it not just, and we see it with the QAnon thing too. We've seen an uptick in QAnon members running for school board, running for low-level public office, with a vacuum of a national unifying topic. What's happening is that people are going to local levels to affect change.
Brian: This may be an uncomfortable question, but if the far right is participating in school board democracy and county health board democracy, and things like that, that's not the same as trying to kill Nancy Pelosi and Mike Pence or stage a coup after a legitimate election. Is it wrong to demonize people we disagree with as a threat to democracy for getting involved in democratic institutions?
Brandy: I think that's a really fair question, and it's one that's been proposed a lot. That's what you're supposed to do if you want to affect change. I personally think that's fine. My job as a reporter is just to document. If we see that there is a contingent in the United States, a growing contingent of domestic extremists that pose a real threat to the country according to the FBI and law enforcement agencies and extremism researchers who have said that right now, we have a bigger domestic terror threat than we'd ever had ever.
I think that it's fair to say, to look at what they're doing. Especially when it's described like Nick Fuentez, for example, on his podcast, or his live stream, he blatantly says that it is a tactic. It's a tactic that works. If you cover school board meetings, you cover local politics, you're used to getting the wild ones maybe, but it is important that we realize that this isn't just local people getting involved in local things. It's blatantly a strategy to grow their movements and move the mainstream conservatives farther towards the extremes.
Brian: Listeners, we invite your January 5th questions for Brandy Zadrozny, senior reporter for NBC News on her story about how extremist groups are going local since January 6th, 212-433, WNYC. Are you seeing this in your local school boards or health department politics or anywhere else? Help us report this story. Help Brandy report this story, 212-433, WNYC, 212-433-9692, or tweet @Brian Lehrer.
What about in your social media feeds on local issues? or anything you want to ask Brandy about her reporting and her beat of extremism, misinformation, and the internet, 212-433 WNYC, 212-433-9692.
You write that it's not just the strategy that has shifted, that's gone local, most far-right domestic extremist movements have also adapted their infrastructure and messaging according to a report you cite by the digital forensic research lab at the Atlantic Council, an international affairs think tank. What did that think tank find?
Brandy: Well it found that just what we said that there was a brief cooling-off period. People went back home and learned very quickly that you shouldn't record your crimes or alleged crimes and then telegraph them to the world. People stopped doing that, stayed off social media. A lot of the forums went away, including stuff like the Donald initially took their stuff offline, places where we had seen lots of threats leading up to January 6th, explicit threats about the Capitol that went away.
The biggest militia forums went away, and a lot of the people were banned including President Trump, who tech platforms determined had instigated the riots, they were banned. According to the report, there was this reshuffling and evolution really. A lot of the actors have created their own platforms. White supremacists have created their own streaming platforms. Everybody seems to have a podcast right now or a streaming program right now. That's according to Megan Squire who works at the Southern Poverty Law Center and she tracks this stuff and watches way too much of these videos.
It basically said that these communities were still very much intact. We just don't see a lot out of them anymore and that's the infrastructure. In terms of the messaging, again, just like we talked about it really is culture war stuff. CRT, race education.
Brian: Critical race theory.
Brandy: Yes, critical race theory, education, local elections, and then yes, sorry.
Brian: All those things come together in terms of different strategies and different messages, ways of messaging. I get it.
One underlying question that I have is, do you think the far right, after I guess what they acknowledge was an image hit because of January 6th, has gotten stronger in the year since January 6th, meaning winning more supporters to their belief systems through these strategies you're describing, or gotten weaker because other conservative Americans have been repulsed by tactics and extremism.
Brandy: That's hard to say. We don't want to mischaracterize it. The far-right has reemerged and especially let's look at the white supremacists or white nationalist movement. We have seen them come back on the streets in a way that we haven't seen since the Unite the Right rally in Charlottesville. Groups are now doing demonstrations, in DC there was a recent one and then there was also one in Wisconsin with a group trying to suggest that the mass killing of a group of revelers was somehow race-related which there's no evidence to that.
Anyway, we have seen people start up again in a way that suggest confidence in their movement, but we have no reason to believe that those are widely popular. What we do have reasons to believe is happening is that the idea that a lot of people don't think January 6 was a big deal anymore. The last year has softened the public outcry for at least in conservative circles that January 6 was not that bad. It's quieted the condemnation of that. That seems to suggest that these groups will have a warmer home to come to.
Also, when you're looking at these local events like I'm watching a lot of them and a lot of-- like Patriot Prayer in the Pacific Northwest when they staged an event outside of a public high school, they had mainstream conservative support out there as well. It wasn't just Patriot Prayer. They had people forming onto that messaging.
I think that what that shows is that if you have the right message, people are willing to overlook quite a lot. Even on January 6, you had Proud Boys marching with Little Grandmas, saying, "Stop this deal." I think if there was a big enough messaging, whether that's COVID stuff, maybe it's the midterm elections, whatever it is, you will find these groups come together again.
I think that while they may not be outwardly popular now, like people aren't rallying to support the Proud Boys necessarily, but what you do have is I think that you have a general acceptance of this group if they have the same message as you do.
Brian: Yes. I think that's a really chilling and important part of the story, the mainstream cover that these groups are getting. I think we have a caller relevant to that point who wants to bring in something else from history as a point of comparison. Raymond in Manhattan, you're on WNYC. Thank you so much for calling in today.
Raymond: Good morning, Brian. Thank you very much and good morning, ma'am. Well, I'm a vet and I was looking at Martin Luther King, Malcolm X, looking at the Black Panther Movement which was a community group really, and the government labeled them as almost like terrorists. All these groups, either jailed and most of the activists were killed or murdered, but yet these guys committed treason really.
There was treason what happened in the Capitol and they're getting slapped on the hand and these Proud Boys, they're treasonists, they're going against the country. Any other group or any other organization, people of color are treated differently than these guys and I don't think that's fair. I know we are not naïve in thinking that this is okay, but it's not right.
Brian: It's not right and it's certainly different, that cover that they get from aspects of the mainstream as you were describing Brandy. Anything to add to what Raymond had to say?
Brandy: No, I think it's fair to say that dozens of Proud Boys have been arrested and charged from their activities at the Capitol. I know that there was a situation in the Michigan capital where militia was heavily infiltrated by the FBI, some counter that it was a little too heavy-handed. I think that there's more cognizant and there's more understanding about the role of law enforcement and the tragedies of the past, and the missteps of the past, and the mistakes of the past, and the crimes of the past when it comes to these activist groups.
There's a lot more eyes on them too because of social media. It's a real challenging time, but that also I think that those what happened in the past in terms of how the FBI and how law enforcement targeted specifically like Black or activist groups generally is that I think that is part of the reason. These right-wing groups now use those examples as a way to suggest that the government is after all of us.
It's just an interesting moment because I see a lot of those same calls specifically in propaganda for these right-wing groups, specifically anti-government groups like Boogaloo or the militia groups.
Brian: Alexis in Redbank, you're on WNYC with Brandy Zadrozny who covers the internet, misinformation, and extremism for NBC news. Hi, Alexis.
Alexis: Hi, good morning. Brandy, I love the way you're reporting this because you're not taking neutral to the point that you're not being realistic about what you're seeing which is really important in today's reporting. I happen to live down the road from Governor Murphy here in New Jersey, and some of my neighbors, some people that I really love, they are right-wing radicals, and they have won the school board elections ousting other people that I really love that are really smart people.
They are using Nazi imagery which is so frightening. The people that actually won our school board election took a picture of Hitler and superimposed it on Governor Murphy's face and posted that on Facebook. These are the people that won the election. There's more to this, but I don't want to take too much time, but these are the types of things that are winning.
Brian: Alexis, thank you very much for that chilling story from Redbank. Is that the kind of thing that you're hearing and seeing more of in your reporting on extremism going local?
Brandy: Absolutely. I think that we've seen a real increase. I wonder if, and I don't know if Alexis is still on the line, and Alexis DM me on Twitter please. I'd love to talk more about it, but a lot of this Nazi iconography and imagery and using Hitler as a reference in the holocaust, as a reference for what's happening with COVID restrictions is just so prevalent. We just saw Marjorie Taylor Greene, the congresswoman who was just banned from Twitter talked about it all the time.
There was this big issue with people using the star of David, the yellow star as a sort of image that claimed they were being persecuted like Jews were persecuted during the holocaust because they were asked to wear a mask in public spaces or get vaccinated for their job. It's just incredibly prevalent right now and really disturbing.
Brian: So far we've been talking mostly until Alexis just brought up the internet about old-school analog politics, like school board and county health board public meetings, but part of your beat is misinformation on the internet. Where does the internet come in to your goal in local story?
Brandy: A couple of places. What I think is so interesting about the local meetings is that they're more than just local meetings now especially because of COVID and even before everything was recorded. What you have are these local meetings actually being just a reason to record your message and then post it to social media, and often it's the wilder the better.
Alex Jones actually of Infowars actually has this contest running right now for who can get his misinformation and conspiracy theories about COVID onto mainstream media and news. He says, "Do this by going to public meetings, record yourself saying them, upload that and send it to the news and then it'll be on the news." It's actually, these public meetings are a vehicle used in part of a pipeline that involves social media.
That's one thing that I find incredibly interesting about our information landscape and how they're using it, how they're using these long held public places to further that misinformation but also the internet's obviously really important part in this like when we look at January 6th, you can't tell the story of what led everybody there without talking specifically about Facebook which was just a sort of incubator of misinformation and disinformation about the election.
ProPublica just came out with this great report where they unearthed I think 650,000 posts on Facebook groups that were pushing this lie from the election all the way to January 6th. That's like 10,000 posts a day. That's a big deal. We still have that problem. Facebook has banned a lot of people but Facebook reacts reactively. Are they prepared for the next threat? I would argue absolutely not.
Brian: Also as I'm listening to your story about Alex Jones, it presents a challenge for people like me and you, institutions like mine and yours NBC News as when to resist taking the bait even in the name of pointing out extremist involvement.
If he's telling his followers to go to things like local school board meetings, record themselves saying something false and outrageous, and upload it and hope that the professional media pick it up and report it, well, how would we report it? We would report it as, "Look at this dangerous extremist showing up at our local school board meeting," but then their word gets out through us.
Brandy: I don't do that kind of reporting. I would suggest that others steer clear of that as well. I think that there's an important part in reporting any kind of information. I think about it a lot when I think about anti-vaxxers who do the same thing. They go and do protests so that they get their signs and their message on national media, that is the goal.
It's the same thing with the KKK putting flyers and library books or diaper bags. They want their message to end up on the news. And so if you're the news, I think an important gatekeeping responsibility you have to do is to say, "Why would someone want me to report that, and do I want to do their messaging for them?" Then resist the temptation to do that.
The problem is that we have news outlets right now that don't have not a shred of responsibility and don't think about that at all. That's everything from the Daily Mail to OANN, a far-right television network. And so, the traditional gatekeepers have far less power and so it's just really difficult.
Brian: Listener tweets, "Also GOP and the right have long focused on state and local elections. That's how they own redistricting, Democrats don't," which is an apt observation. In fact, I was thinking we've seen this before in the '90s, the religious riot Christian coalition, the Pat Robertson, Jerry Falwell movements, that sort of thing, after Robertson's failed presidential campaign, got very involved with school boards to promote Christian education in public schools. They even ran some candidates here in New York City that got some attention at the time. We certainly see their influence in education policy long term in this country. Maybe this is a new generation of that.
Brandy: I totally agree. I'm old enough to remember even Common Core and the Tea Parties riot. Right-wing groups for whatever reason are far more active at the local level, far seemingly better at organizing. I'm not a political reporter so I can't go much into why but I agree.
Brian: You're an investigative reporter covering extremism and misinformation, and Jerome in the Bronx has a question for you in that role. I thank Jerome, you're on WNYC. Hello.
Jerome: Hi thanks for taking my call. My question is have you run across any information about what organizations are funding all of these activities especially the ones that actually cost money?
Brandy: That's interesting. Again my beat is the internet which is the telephone. It's hard to so say this extremism is funded by blank, but I think if we're talking about the school board issue, you can see that the longstanding conservative groups like the Heritage Foundation Groups that are still funding the same organizations and those organizations are now just shifted to fight CRT or the issue of the day or masking or whatever. A part of this is still held in the hands and funded by the coffers of your Manhattan Institute, your normal known conservative movements.
Brian: Supposedly mainstream respectable conservative institutions. Before you go, I know that your story is part of NBC News series this week that features a variety of in-depth stories on the state of extremism in America. I saw that you retweeted a quote from a story by your NBC News colleague Jonathan Allen that it compares January 6th to the first World Trade Center attack.
The one in 1993 that killed six people eight years before the big one of course on September 11th, 2001 covering extremism as you beat as you do. Why did that quote jump out at you that 1993 first World Trade Center attack comparison?
Brandy: It's not Jonathan's story was amazing. I want to even bring it further if I can. I talk to extremism researchers all day long. I think at this point it feels an unprecedented time for domestic extremism. I think that everyone is holding their breath and looking at what the next tragedy will be or what the next big violent moment will be.
I don't want to pontificate but it's a lot of people are looking towards the Oklahoma City bombing. A lot of people are talking about after the World Trade Center bombing or the planes went into the World Trade Center the maybe the knee jerk maybe too big of an response by our law enforcement and our government. I don't know which is correct and we talk about the tech companies being reactive and it feels like that's all we are doing too. We're just reacting. I haven't found a historical pair that I find necessarily correct yet. I think that it's important to consider all of them.
Brian: We've never been in this moment before. That's for sure and sometimes history repeats itself is too easy a cliche when history goes out in all kinds of different new branches and we have to adjust in the moment. Brandy Zadrozny, senior reporter for NBC News who covers misinformation, extremism, and the internet. Also a fellow at Harvard Shorenstein Center. Her story out this week is called From the Capitol to the city council: How extremism in the US shifted after January 6th. Thank you so much for your reporting and for sharing some of it with us.
Brandy: Thank you so much, Brian.
Copyright © 2022 New York Public Radio. All rights reserved. Visit our website terms of use at www.wnyc.org for further information.
New York Public Radio transcripts are created on a rush deadline, often by contractors. This text may not be in its final form and may be updated or revised in the future. Accuracy and availability may vary. The authoritative record of New York Public Radio's programming is the audio record.