How Europe is Responding to Biden's Climate Law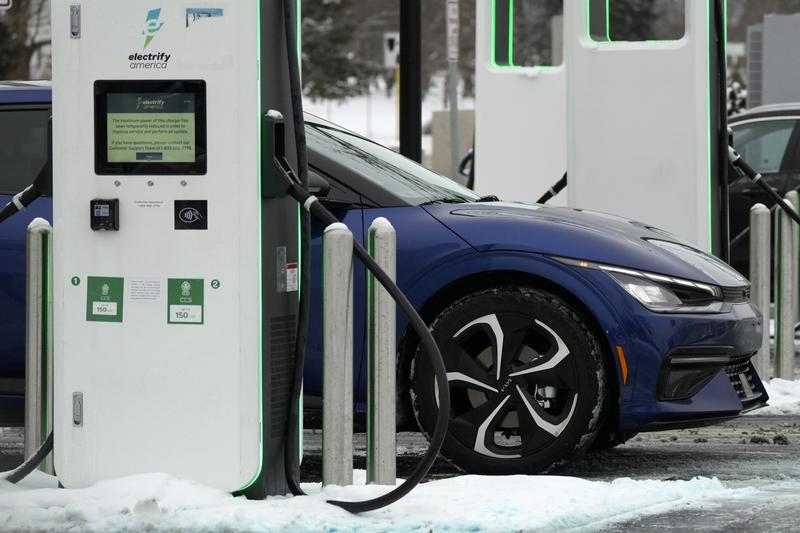 Transcript
[music]
Brian Lehrer: Brian Lehrer on WNYC. Now our climate story of the week, which we're doing every Tuesday on the show this year, where we'll look now at how the climate friendly incentives in the US Inflation Reduction Act have drawn criticism from our European allies but why a trade war might be good for the planet. Really? With us now is Robinson Meyer, the founding executive editor of Heat Map News, a new climate focused media company and a contributing writer at The Atlantic. He will discuss his recent opinion piece for The New York Times titled These Tiffs Over Electric Vehicles Are Not What They Seem. Robinson, welcome. Congrats on the launch of Heat Map News, first of all, and thanks for taking the time to join us today.
Robinson Meyer: Of course, thank you so much for having me.
Brian Lehrer: For listeners who've forgotten what the Inflation Reduction Act has to do with climate and emission standards in particular, can you give us a brief refresher?
Robinson Meyer: Yes, absolutely. Well, they named it very craftily, didn't they? The Inflation Reduction Act was the big piece of legislation that Biden and Democratic majorities in Congress passed last year, had three big chunks. One was about taxes, one was about health care, and the third and I think arguably the largest chunk was about climate. The Inflation Reduction Act included a lot of programs, a lot of new tax credits, a lot of subsidies, a lot of incentives to get companies to not only decarbonize their electric grids, to decarbonize their vehicle fleets, to decarbonize the buildings that they're in, to drive out fossil fuels and replace them with clean electricity, it also gave a lot of incentives for companies to do that in such a way that created US Manufacturing jobs and moved production from abroad or from overseas to North America or the United States. Not only is the Inflation Reduction Act quite the centerpiece of Biden's climate legacy, it's also central to how the administration seems to be thinking about his efforts to bring back American manufacturing.
Brian Lehrer: As we creep our way toward the idea that a trade war between the US and Europe might be good for the planet, in your article, you wrote that European leaders called Biden's Inflation Reduction Act a super aggressive protectionist affront to global cooperation on climate change. Can you explain why Europe was angry with the US for the Inflation Reduction Act?
Robinson Meyer: Absolutely. I should say before we get any further that I don't think a trade war would quite be good for the planet. I'm going to argue a softer line than that. However, it wasn't only Europe. It was really all of America's major allies and trade partners who were not Canada and Mexico, who are often covered by the law already, were very upset about the law. The South Korean official referred to it as a betrayal. An Indian official referred to it as the most protectionist law ever. Many European leaders have regarded it, as Macron called it, super aggressive. They're upset because the law fairly aggressively, to be fair, both tries to get companies to shift production out of their countries and into the United States, and also makes a lot of its green subsidies contingent on whatever the thing being subsidized is, whether it's an electric vehicle or a battery or a heat pump or whatever. They make it contingent on being produced in the United States or North America. Other countries that were ahead of the curve of the US in pursuing climate-friendly policies or climate-friendly manufacturing policies now feel like they're getting burned because they were really planning on selling these technologies to the United States. Now we're saying, actually, if you want us to subsidize them, then you have to make it here. You have to make it near here.
Brian Lehrer: Right, so Biden is adding this made in America nationalistic element to the explicitly climate provisions in the bill, those subsidies, but on why it might be good for the planet to have this trade war, if that's what it is, there was a Bloomberg News article the other day headlined France Weighs Gas Guzzler Penalties to help fund Climate Bill, their own climate bill. The lead line says France could raise penalties on the most polluting vehicles to help finance a green industry bill that is designed to respond to subsidies in the US Inflation Reduction Act. It goes on to say how the fact of the US Inflation Reduction Act and the subsidies for American manufacturers of green products may be spurring Europe to give subsidies to their producers of green products. That's more subsidies for green products, overall, good for the planet. Do you disagree?
Robinson Meyer: No. I think that if there is a positive mechanism here that I'm defending, I think that's exactly what it is, which is to say I don't disagree. I think the way I would look at this and the way I would think about not just trade wars here, but we're not in a trade war with Europe yet, I don't think we're close, I think we're in a bit of a trade irritation or a trade lover's quarrel, and I guess I would say that I think the Inflation Reduction Act, when the United States passed it, part of what it was responding to were fairly aggressive and fairly industry-friendly green subsidies from Europe. Europe before the United States was trying to cultivate a green manufacturing base. The US said, "Oh, we want a part of that action." It has passed its own law. Now Europe is going to pass a response law, or European countries are going to pass laws in response. That's a very positive cycle. That's what we want. There will be some downstream good effects of that as countries try to decarbonize more and more of their economies quickly and try to capture all the good economic benefits of having a green industrial base, of making green EVs, whatever it is.
Brian Lehrer: Listeners, anyone following this, anyone who works for Ford or General Motors or Chrysler or any one of those, or anybody who works in a European auto manufacturing company, Peugeot, or anything in France or anybody [crosstalk]--
Robinson Meyer: I would love to get a Peugeot listener.
Brian Lehrer: [chuckles] One Peugeot listener, we have a request. Anybody out there with a Peugeot. I don't even know if Peugeot makes electric vehicles, do you?
Robinson Meyer: I actually don't know either. They're such a big company and they're European-based, so I assume that they're there. We don't import them anyway.
Brian Lehrer: Or anyone, really, all joking aside, with connections to any European manufacturers as well as US manufacturers, and how market competition may now be actually good for the planet. Usually, it's bad for the planet. 212-433-WNYC, 212-433-9692, or tweet at @BrianLehrer for our guest Robinson Meyer, the founding executive director of Heat Map News, a new climate-focused media company. There's actually another separate story but that's very related, which is apparently new rules coming from the Biden administration could really up the timeline for when we have mostly electric vehicles on the road. Did you see that in the last couple of days?
Robinson Meyer: I did. That ties back very much into the Inflation Reduction Act, too. It looks like the EPA tomorrow is going to announce that up to two-thirds of vehicles by 2032 of all light duty cars and trucks, the kind of cars and trucks that people drive around the suburbs and on the road and aren't used for heavy-duty commercial use, that up to two-thirds of those cars and trucks will be required to be EVs by 2032. That's a very aggressive path. It's a path that it's not clear that the automakers are going to be able to meet yet, literally, and that they may not have the factory capacity to meet it. I think what's interesting is that it's also a path that could only happen because of the IRA, because of the Inflation Reduction Act, and the electric vehicle subsidies in the Inflation Reduction Act. When the government makes a rule, it has to show that the rule is cost effective. One thing that all the EV subsidies did in the law last year is they made a much, much more aggressive shift to electric vehicles much more cost effective than it would have been before the law passed.
Brian Lehrer: My producer writes, after doing some extensive research, that, yes, Peugeot does make EVs, and that they're miffed that we even question that. No, they didn't really contact us [unintelligible 00:09:54].
Robinson Meyer: I would say a broader point here back on the trade war piece is that it's not that I think trade wars are good or bad, I think, in some ways, this cycle that we're talking about where the European countries pass green pro-domestic manufacturing, pro-climate laws, and then the US responds by passing some, and then Europe responds by passing more. I think that we should look at this as a kind of inherent, emergent, maybe unavoidable part of what decarbonizing is actually going to look like. We often think about the fight against climate change as being this big cooperative endeavor, but, of course, it's also going to involve a lot of growth, it's going to involve a lot of companies competing to control markets and to dominate markets of the future, and countries competing as well to have market share in these growing industries. I think as we see this dynamic emerging of Europe, of East Asian countries, of China, of the United States passing these very domestic manufacturing or just homegrown manufacturing-friendly decarbonization laws, maybe we should think of this as just part of what fighting climate change as a planet is actually going to look like then instead of all of us joining hands together as one species and doing exactly the right things in exactly the right order. Maybe it's going to be a little bit more of a muddle, but a muddle in which we're all competing to get to a good place collectively.
Brian Lehrer: Yes, that's a great way to look at it. I think even when you talk about the Paris Accords, one of the objections from US Conservatives and I guess some US businesses is that the Paris Climate Agreement advantaged Europe economically over the United States because it required more decarbonization more quickly by the United States. Not to mention China, where the differences were even more extreme, as the critics of Paris called it, but I think that's an example of how you can't take national self-interest out of the conversation. Nations are going to try to work in their economic self-interest. I guess sometimes that works in the interest of the planet in some of the ways you were just describing. Sometimes it works against it like when Trump pulled out of Paris, largely on the basis of those arguments. Yes?
Robinson Meyer: Yes, exactly. I'd make two points there. The first is I actually think the Paris Agreement is a great example of international law and international mechanisms for dealing with climate change actually accounting for this dynamic where, when Paris went through, as you said, not only were conservatives upset that it maybe didn't serve the national interest, but liberals and progressives were upset that it didn't have any teeth, that it was just an annual gathering every year where countries make commitments and then they try to keep them. I think what's emerged over time is that actually having the annual gathering where all the countries get together and they talk about what they're going to do on climate change and they compete with each other to look the best and to look like they're all taking climate change seriously has actually been quite generative. It's not that we've solved climate change yet, it's not that we've even [unintelligible 00:13:39] the curve of global emissions yet, but having this peaceful forum where countries can compete to do the most to fight climate change has been really good.
I think the second thing I think about is that, and this is honestly how I think about this trade war, trade dispute, protectionism issue, and climate change, is that for a long time, the way that economists thought about climate change and national interest was that fighting climate change would always require a trade-off for countries. Economists looked at the facts and they said, "Well, countries have two choices. They can either cooperate with other countries and reduce their emissions, or they can use the fact that other countries are cutting their emissions to buy up more fossil fuels and develop faster." They also looked around and said, "Fossil fuels seem to exist in this almost one-to-one relationship with your country's level of development." They thought it was very tragic this dynamic, that basically countries would always have to work against their national interest and choose to serve a collective interest together in order to fight climate change, that they'd have to basically choose against development and cut emissions collectively, that it was a prisoner's dilemma. I mentioned research in my article that really changed how I thought about this issue, which is, well, if we think of fighting climate change among countries as a kind of prisoner's dilemma where countries are always choosing to act in their interest or to do the right thing, then we'd expect that as countries pulled out of Climate Accords, as they withdrew from taking climate action, that other countries would follow them. If one party defects, then a lot of other parties would defect, but that's not what we see at all.
What we actually see is that in 2005 and the US was mired in the most climate change denialism it ever saw when we were opening new coal plants and prospects for oil, Europe passed its cap and trade market, which is one of the most important global policies to fight climate change still passed. Even when Trump pulled out of the Paris Accords, we were all scared that now, the Paris Agreement would fall apart, that other countries would themselves pull out. In fact, what we saw is that other countries pulled in, and by the time the US re-entered in 2020, or 2021, every other country in the world was part of Paris and was going to the meetings and taking action in various ways and at least taking the process seriously. We used to think that this was one of these things where if all the countries didn't act together, then the global coalition to fight climate change would fall apart. What we actually see is that countries have lots of internal interests, they have lots of reasons to take action. There's lots of people inside every country in the world who wants to fight climate change, and therefore, the dynamic is really more about do the right set of political coalition's control politics in each country in order to take action rather than like this is some global prisoner's dilemma, and if we don't all act together, then we're all in trouble.
Brian Lehrer: Although you did write in your Times piece, "Another scenario might be that the United States, Europe, East Asia, and China each builds its own domestic supply chain for zero carbon technologies and that none of these chains achieved sufficient scale to bring down long-term costs." Why might that happen?
Robinson Meyer: Well, I think what we're seeing already is that for these technologies, like hydrogen, or maybe some kinds of new battery technologies, or just other forms of new technologies that aren't as developed as wind or solar but that we're going to need to fight climate change and to decarbonize the economy, the full supply chain, those are not commodity products yet, they're still very sensitive to bringing down long-term costs and scaling up. One dynamic to be very worried about is that if lots of different countries pass lots of protectionist climate laws, that every country will wind up duplicating the work that every other country is doing. There'll be like a hydrogen or-- Hydrogen is not a good example, but there'll be a battery supply chain in Europe and a battery supply chain in North America and a battery supply chain in Japan and Korea and a battery supply chain in China, and we'll wind up duplicating a lot of work, we won't access economies of scale and make things cheaper, and that will just make these technologies more expensive [inaudible 00:18:32] [crosstalk]-
Brian Lehrer: Oh, onteresting.
Robinson Meyer: - for all of them to decarbonize.
Brian Lehrer: Because nationalizing with protectionist policies tends to make things more expensive, but theoretically at least, tends to provide more jobs in the countries that do that. Listeners, if you're just joining us, we have a few more minutes in our climate story of the week for this week with Robinson Meyer, founding executive editor of Heatmap News, a new climate-focused media company, and a contributing writer at The Atlantic as we talked about Biden's Inflation Reduction Act levering both protests but also pro-climate policies in Europe in particular. We have a couple of interesting-looking listener questions coming in on this. Let's take a phone call from Janella in Manhattan. Hi, Janella, you're on WNYC.
Janella: Hi, Brian, thanks for taking my call. I applaud the idea of individuals and countries taking action to fight climate change, but I am reading a book about cobalt and the destruction that it's wreaking in the Democratic Republic of the Congo where the mining has children working and even dying in some of these tunnels that are being built that fall on them and that villages have been totally filled with uranium and forest destruction. I wondered if your guest has any thoughts on how something like electric vehicles, which are going to require cobalt, how to offset the destruction that cobalt mining is doing with the benefit of using electric vehicles.
Brian Lehrer: I'm glad you asked the question, Janella, because this is real, this side effect that's horrible for some people in Africa of the mining that helps support electrification and decarbonization.
Robinson Meyer: Yes, that's right. I think a few thoughts. I think the first is just as a point of fact, something that's been happening over the past few years that I think is quite interesting in this regard is that as the [unintelligible 00:21:04] of cobalt mining have been better known and also, and unfortunately, this is also related, as cobalt has become more expensive, EV companies have used less and less cobalt in their batteries. While a few years ago, it seemed like we were going to need huge amounts of cobalt to decarbonize and fight climate change, cobalt needs are much lower today, and they're projecting much lower going forward than they used to be. I think this gets at what is a core question behind all this policy though, which is first of all, I guess there's two thoughts there. The first is, of course, we should compare and we should think about cobalt mining. I don't mean this as an excuse, I just think it's important to think about all of this. Cobalt mining, of course, should be compared always to the current ongoing cost of fossil fuel mining and fossil fuel extraction, and cobalt, at least, you only have to take it out of the ground once, while gasoline, and oil, and natural gas, and all the fossil fuels that we depend on for our economy today have to be extracted continuously and create new landscapes wherever we're sticking our straws in the ground of destruction as well.
That being said, coal mining is a huge issue. I think one question that the United States and other countries is going to have to answer going forward is that, well, do we want to be-- In some cases, and Cobalt is arguably one of them, there's only some countries where the actual geological resources are found, and how should the US think about doing that? How should it weigh the speed and scale of decarbonization and global environmental damage against working with those countries and creating the job sites that are as horrible as the caller described? At the same time, one way out of some of these problems is for the United States to open new mines where workers are at least covered by American employment law. That's going to require digging and opening mines in places that right now might be unused or might even be conserved land, and how do we want to manage that trade-off between lands that are in the United States and the continental US that might be very close to Americans where we're going to open new minds where right now people go hiking. These are very messy political trade-offs. There's not one single entity that's going to be in charge of resolving all of them, but these are some of the questions that, frankly, my colleagues and I at Heatmap News are very interested to cover and follow over the next decade because they're really essential to the global economy and essential to how we fight climate change, and we're still figuring out the answers.
Brian Lehrer: Well, we're out of time, Robinson, except I'll note that my passing remark earlier in the segment about not knowing in the context of the competition between the US and France to decarbonize if Peugeot makes an electric vehicle. A listener tweeted a picture of what The Verge calls Peugeot's wicked wingless hypercar. The listener writes, "Here's the Peugeot nine-by-eight hypercar for Le Mans and the road racing series 680 horsepower V6 plus 200-kilowatt electric motor," and writes they'd also fielded a Formula E electric open-wheel car for that FE series. I guess Peugeot is even manufacturing race cars. You can even do car racing now with electric vehicles.
Robinson Meyer: I would say that I realize I've been putting up a mild defense of the virtues of protectionism and the virtues of domestic manufacturing throughout this conversation. However, what I'd say is that I welcome and eagerly look forward to the day when we can import more types of European cars, Peugeot especially, to the United States.
Brian Lehrer: Robinson Meyer, founding executive editor of the new climate-focused media company Heatmap News. Thanks for coming on. We'll talk again about all these things I'm sure.
Robinson Meyer: Thank you for having me.
Copyright © 2023 New York Public Radio. All rights reserved. Visit our website terms of use at www.wnyc.org for further information.
New York Public Radio transcripts are created on a rush deadline, often by contractors. This text may not be in its final form and may be updated or revised in the future. Accuracy and availability may vary. The authoritative record of New York Public Radio's programming is the audio record.