Governors Island and Stony Brook Partner on New Climate Research Center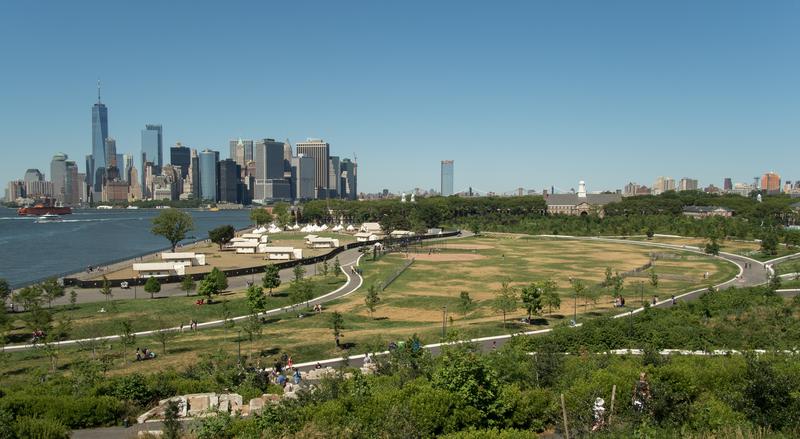 Transcript
[music]
Brian Lehrer: Brian Lehrer on WNYC. Now our climate story of the week, which we do every Tuesday on the show. On Monday, Mayor Eric Adams announced that Stony Brook University will partner with Governors Island to create the New York Climate Exchange, a brand new center for global climate research and development.
Mayor Eric Adams: "This is where we will protect our city's air and water, and this is where we will train thousands of students for the next wave of green jobs."
Brian Lehrer: Joining us now to describe how the $700 million, 400,000 square foot campus will be used, and how it aspires to make New York City the center of climate innovation is Maurie McInnis, president of Stony Brook University. Welcome to WNYC, President McInnis. Congratulations on winning the bid.
President McInnis: Well, thank you so much. I'm so glad to be with you this morning to talk about this exciting future for a climate science solution center on Governors Island.
Brian Lehrer: Start at the beginning. Tell our listeners, who may not have heard anything about this yet, what they would see on Governors Island in a few years when this gets built, and what will happen there.
President McInnis: Yes. We entered into this competition hosted by the Trust for Governors Island in the city of New York because we understand all too well that climate change is really the greatest challenge facing us today. We believed that we had ideas for a bold and innovative solution for how we would work together to approach this problem. That was going to be to build new and broad coalitions and partnerships bringing together community groups, higher educational institutions, major corporations working together with public policymakers so that we could bring science-based solutions through community input in order to design real-world solutions that will work.
By the time the Climate Science Solution Center, which we are calling the New York Climate Exchange, is open on Governors Island, we will by then have created a living laboratory. A place where people can come not only to learn about solutions but actually see them employed on the island. Where there will be K-12 students visiting. Where there will be green workforce job development programs. Where there will be researchers working with students to design future solutions that we can employ not only in New York City but hopefully for the world as well.
Brian Lehrer: I want to go down for our listeners some of the ways that you're going to model sustainable buildings in what you're going to build on Governors Island. Reading from the releases on this, it will be all-electric buildings for the entire campus with on-site solar electrical generation and battery storage meeting 100% of energy demand with net-positive capability to serve the local grid.
In other words, you plan to produce leftover energy, excess from what the buildings will actually need, to feed the local electricity grid in general. Plus 100% of non-potable water demand met with rainwater or treated wastewater. 95% of waste will be diverted from landfills, making this one of the first sites in the US to achieve True Zero Waste certification. Also, climate-resilient design including new buildings raised to 18 feet. No basements, living shorelines, being on Governors Island there.
Well, that's a lot. What else would you like to say about that, and how do you hope that can model for future construction generally?
President McInnis: You've gone through a number of the major points. Much of what we want to be able to do on Governors Island is really showcase the technologies that already exist today so that New Yorkers and others who are visiting New York can come and really see what is possible today to really begin to change how we are living and diminish our impact on the environment in ways that are contributing to climate change.
We will also be experimenting with new technologies, and people will be able to see that as well. Our research laboratories will be visible to all, and our students who are working alongside researchers will be trying out new technologies to see how they work. This is meant to be a project that goes on for decades and decades, so the solutions are going to continue evolving over time.
We're super excited that the buildings that we have designed for this building will be the first use of massive timber construction in New York City. It'll be the first living building-certified commercial structure in New York City. It will employ geothermal, solar, as you say, water adaptations, and zero impact in terms of what we are putting into the landfills. This is the way that increasingly we all need to move the ways that we are living.
Brian Lehrer: A few more minutes in our climate story of the week, which we do every Tuesday here on The Brian Lehrer Show. Today with the president of Stony Brook University, Maurie McInnis, because Stony Brook is one of the partners in the announcement that came from Mayor Adams yesterday that the city is going to construct what they call the New York Climate Exchange Campus on Governors Island.
Let me ask you something about Governors Island as a location for all of these 400,000 square feet. That might be almost all of Governors Island. That would be like six football fields by six football fields. I've gone running there and bicycling there. A lot of New Yorkers have had Governors Island as a beloved recreation area since Mayor Bloomberg transferred the island from federal ownership to city control 20 years ago.
I'm reading that not everybody is happy that there would be this kind of development on it, even for a good climate purpose. Crain's reports that an environmental group called the Metro Area Governors Island Coalition sued to block the rezoning, but a judge dismissed the case last November. Crain's reports the group intends to appeal. So what would you say to New Yorkers who are worried that Governors Island won't be available for them anymore?
President McInnis: I'm so glad you've brought that up because it's really important that New Yorkers understand that we will not be reducing the amount of recreational space. That in fact, of that 400,000 square feet, a majority of it is adaptive reuse of buildings that are already there. Then I would very much encourage everybody to see the designs that are planned. They'll understand the about four acres that will be committed to new building sites, which are not currently-- They're currently fenced off and not part of everybody's recreation space.
They can see the beautiful designs and the ways in which they integrate not only into the landscape, but also speaking very much to the buildings that are already on the island. Our plans include for us even enhancing the recreational space that is on the island. We want New Yorkers to continue to see Governors Island as such an important recreation space with open space that allows them to be nestled in New York Harbor. I agree fully with those New Yorkers who see this as such a special part of New York right there at the mouth of the harbor, looking up at Lower Manhattan across to Brooklyn, over to the Statue of Liberty. It really is a special place.
We want to continue to invite New Yorkers coming, enjoying the open space, but while there hopefully also learning about the ways in which we can all live a more green lifestyle.
Brian Lehrer: I'm sure a lot of New Yorkers will be happy to hear that commitment. Before you go, just talk briefly about what looks to me like two of the main goals that this campus, this New York Climate Exchange, will try to accomplish. One is research, so I'm curious if you already have a vision for what kinds of research that would be productive for the future of the climate.
Also, I see there's what you call a training ground for green job trainees. Who will get trained there more or less for what, as far as you can see now? I know this won't really open for five years I see, by the time all the construction is done. Do you have specific research visions and specific job training visions?
President McInnis: Absolutely. I'm so glad you bring up both of those because those are two really important things that we are going to be working on. Let me talk first about the job training because that is work that will begin long before this center opens on Governors Island. We are just the anchor institution for what is 45 separate partners. Our partners come from environmental justice groups to groups that are already working on green workforce, job training programs in the city, to other research universities, to labor unions, to Fortune 500 companies.
From the very beginning, we want to begin scaling up the work that we are doing in training people for green jobs, our goal getting to at least 6,000 people a year trained for new green jobs. We have partnerships with the city's labor community, 32BJ, Building & Construction Trades Council. We have non-profits like the New York City Employment and Training Coalition and Solar One, who are part of our partnership. We want to begin to scale up their work from day one, getting to work immediately on that important project.
The kind of research that we will be doing there will in many ways be driven by the faculty at our many partner institutions. Some of the most obvious things immediately are, in part, part of that living laboratory. One of the things that is important for everyone who lives in a dense coastal urban environment is how we work on our own coastal resiliency. With rising sea levels and storms getting bigger and stronger every year, how do we build resilient coasts that can respond better to greater storm surge and bigger storms? Part of Governors Island's area itself will be a research zone of building a more resilient coastline on Governors Island.
We will obviously be working on all kinds of things related both to green energy technologies, and to battery storage, and to the implementation of green energy into the grid. That just gives you two examples of the kind of important research that we'll be doing on Governors Island in order to help improve both what is happening there on Governors Island, but that can be implemented in New York City and beyond.
Brian Lehrer: All right. Maurie McInnis, president of Stony Brook University, which has been chosen as the anchor institution for the New York Climate Exchange, which will be created now on Governors Island. Stony Brook was chosen as the anchor institution and announced by Mayor Adams after a competition. There are partnerships with other universities though, as President McGinnis was just referring to, including Pace and Pratt and NYU, so a lot's going to go into the development of the New York Climate Exchange on Governors Island. President McInnis, good luck with it. Thank you so much for joining us on the morning after the announcement.
President McInnis: Well, thank you so much for having me. We look forward to partnering with New York City in building opportunities for all and working together collaboratively to face this great challenge in front of us, which is our current climate crisis.
Brian Lehrer: As a graduate of the SUNY system myself, I'll go, "Go Public higher ed." Thanks, President McInnis.
President McInnis: [chuckles] Thank you very much.
Copyright © 2023 New York Public Radio. All rights reserved. Visit our website terms of use at www.wnyc.org for further information.
New York Public Radio transcripts are created on a rush deadline, often by contractors. This text may not be in its final form and may be updated or revised in the future. Accuracy and availability may vary. The authoritative record of New York Public Radio's programming is the audio record.