Brooklyn DA Eric Gonzalez on Public Safety and Criminal Justice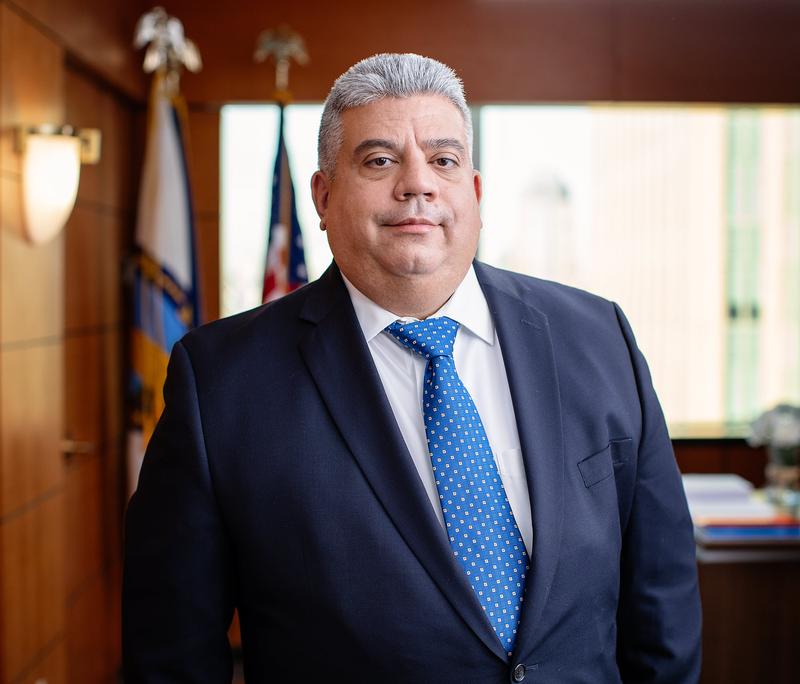 Transcript
[music]
Brian Lehrer: It's The Brian Lehrer Show on WNYC. Good morning, everyone. We begin today with an invitation for you to take part in a project that we are launching right now to read and discuss Mayor Eric Adams' Blueprint to End Gun Violence. We are rolling out this project right now. Who wants to do this with us? Here's what it is.
Mayor Adams, as most of you know, has released what he calls a Blueprint to End Gun Violence. It's got intervention plans to reduce shootings immediately and prevention plans to address gun violence longer term and some of the root causes. You probably know that some of the ideas in it are controversial. What you may not know is that at a news conference last week, the mayor urged everyone to not just listen to media reports like ours focusing on the controversies, but to read the whole plan. Here he is saying that.
Mayor Eric Adams: Read. Read the plan. My plan cannot be defined on a tweet. It's defined by picking up the document and reading it.
Brian: We're going to do it. We're going to invite you to do it and it's only 15 pages. Most of it is really big print. We have tweeted out a link to the blueprint and we've also posted it on our webpage, brianlehrershow.org. We're inviting you to read it and comment on it. If you like, we posted some discussion questions as well. Then next Wednesday, February 16th, we'll have a big conversation about it on the show for anyone who's read it.
It's like a book club, but for the central policy document guiding public safety efforts in New York City right now. Again, it's just 15 pages of large size type because it's for dummies in the media like me primarily. To see our Brian Lehrer Twitter feed, just go to the Brian Lehrer Twitter feed. [chuckles] That's simple enough. We have a hashtag for your responses for this too, which is #readtheblueprint, #readtheblueprint.
You can get the link on our Twitter feed or go to brianlehrershow.org and click on today's episode and read it for yourself. Mayor Adams' Blueprint to End Gun Violence. See what you think. Comment if you like. Use the #readtheblueprint and join us for a Blueprint to End Gun Violence readers call-in show next week. We'll kick this off by using one section of the blueprint as a jumping-off point for a special guest right now.
There's a short section called district attorneys that proposes weekly meetings among all five borough DAs, plus the police commissioner and the deputy mayor for public safety, and that asks the DAs to move gun cases to the front of their dockets, much like hospitals triage the most at-risk patients for rapid care, the mayor says. Of course, DA policies have been much in the news with the controversies around the progressive prosecutor plans of the new Manhattan DA.
Our guest right now is the Brooklyn DA, Eric Gonzalez, who also taps himself as a progressive prosecutor but who hasn't gotten the same kind of blowback. He's been in office since 2016. Let's see what's happening in Brooklyn and how they're coordinating with Mayor Adams. Eric Gonzalez, like all the DAs, was at the event last week with Mayor Adams and President Biden here in the city. DA Gonzalez, always good of you to come on. Welcome back to WNYC.
DA Eric Gonzalez: Hi, Brian. How are you? Thanks for inviting me.
Brian: Thank you. I know we had a little confusion on the show last week about whether you were there with Biden and Adams and the other DAs. I think one of our guests who was in the room there didn't see you but then did correct a few minutes later when your office contacted them. Just to close that loop, you were there with Adams and Biden, right?
DA Gonzalez: Correct.
Brian: What was that like? Did you personally talk to the President or what do you think the value of that summit was if any?
DA Gonzalez: I think it was valuable. Having the President of the United States coming to talk to stakeholders about the efforts that the federal government can do to help increase public safety and deal with gun violence in New York City is important. I think it sends the right message that gun violence can't be tolerated and that we have to figure out many solutions to gun violence. People ask all the time, "Why are gun crimes up?" The answer is that there are a lot of reasons for it and so the solutions have to be multi-pronged. Part of that solution is working more closely with our federal partners.
Brian: In Mayor Adams' Blueprint to End Gun Violence, as I said in the intro, one of the items is for the five borough DAs to meet weekly with the police commissioner and the deputy mayor for public safety. I know it's early yet in the Adams administration, but are those happening already or have you gotten a formal request yet to take part in a weekly group like that?
DA Gonzalez: We had a meeting already with the mayor and many of his top officials, including the deputy mayor of public safety, Phil Banks, the police commissioner, and others from his administration with all five DAs. I think meeting regularly and discussing public safety is important. I'm looking forward to those meetings. Our staff does meet with the police department, all five DAs. Our staff meets with the police department on a weekly basis, but I think it's important to put the top stakeholders in the room occasionally. Sometimes it'll be in-person and sometimes it'll be over Zoom.
Brian: Right, so that's basically yes to that idea. The blueprint also asks DAs to triage gun charges, like I said, like hospitals triage patients with life-threatening conditions ahead of those in less need as the mayor's blueprint cites that comparison. The mayor calls that a crucial step to get guns off the street much faster. Do you already do that or do you think what the mayor is calling for there is a good idea?
DA Gonzalez: In Brooklyn, we have a dedicated gun pot. Last year, I created a gun violence suppression unit in my office that looks to combat street possession of illegal firearms and shootings. Focusing in on gun violence makes a lot of sense. There's a lot of challenges in expediting gun cases and for a lot of reasons, largely, because most of the people who are arrested for gun crimes are not incarcerated. About 80% to 90% of the people who have been arrested for gun possession in Brooklyn are out.
Either they've made bail or no bail was set on their case. While we're also trying to, at the same time, deal with the crisis on Rikers and move people off Rikers Island, sometimes we're competing for valuable court resources and getting these cases before judges. It's complicated, but the science says that getting gun cases expedited through the system keeps us safer because it's not the length of sentence that really matters on these cases. It's the certainty that people will be held accountable for carrying a gun illegally.
Brian: You say "held accountable," but you just said so many of the people on gun charges are not in jail, I guess, prior to trial or I guess you were suggesting that even after conviction, those convictions don't result in prison time. Of course, one of the controversies in Manhattan is whether to pursue gun charges with incarceration if a person is found within a legal weapon but hasn't used it in any crime or threat. Where's the line for you and why are so many people involved in the criminal justice system on gun charges not behind bars if guns are the big threat?
DA Gonzalez: In terms of evaluating cases, I am a big believer that every case deserves to have individualized assessments and taking to consideration who the accused is in the case, their history, their record, and looking at all the other factors involved in the case. At the end of a trial, gun offenders, if convicted, will go to state prison because there are mandatory minimums.
I think in the plea bargaining stage of cases where prosecutors have to make decisions on whether or not every person who's carrying a gun should go to state prison. In Brooklyn, we look at each and every case that comes through and we make the appropriate decisions based on a case. There are other concerns now that the mayor raised in particular about raise the age.
A lot of 16 and 17-year-olds who are arrested with a gun, unless they've used that gun unlawfully against another person or displayed it during the commission of a crime, those cases are not eligible to go to court and they all be returned to family court. One of the concerns there is that it may be sending me the wrong message that those cases are not important, or there's no accountability in those cases because these cases are automatically returned to family court. There is no option for prosecutors to ask if those cases can stay in the Supreme Court.
Brian: Do you think that that option should exist? If I understand the mayor correctly, he wants it to exist in cases where the juvenile will not give up the person who may have provided the gun.
DA Gonzalez: I don't agree with that. I believe that in terms of what's happening in our family courts and the adjudication process, one or two things has to happen. Either the services that were meant to be available in family court or made available to deal with young gun offenders or they will have to have an option of staying in Supreme Court. In terms of saying, unless a person tells the police or a prosecutor where the gun came from that they'll be treated differently, I think, would appear to infringe on someone's Fifth Amendment rights to remain silent.
Brian: To the Manhattan controversy, what's your standard on whether a gun is used in a crime and whether that's a dividing line for whether you seek jail time for gun possession?
DA Gonzalez: It's a hard line for me. A mere possession of a weapon, I think, needs to be carefully evaluated to see whether or not prison is the appropriate course. When someone uses a gun and shoots a person, justice and accountability does demand that those cases be taken seriously. Of course, there's always a mitigation and other circumstances in every case it gets evaluated individually. As a guiding principle, that kind of gun violence can't be tolerated.
Brian: Listeners, we welcome your questions for Brooklyn DA Eric Gonzalez, 212-433-WNYC, 433-9692, about being a progressive prosecutor, about the balance between public safety and justice, or anything you want to ask, 212-433-WNYC, 433-9692, or you can tweet a question @BrianLehrer. You do consider yourself a progressive prosecutor.
I see that you use that label in your own blueprint called Justice 2020 released in 2019 with a 17-point action plan that you hope is serving as a model for progressive prosecutors around the country. You said at the time, jail needs to be reserved for the cases where we as a society say, "We can't be safe unless this person is incarcerated." That's a quote from you. What have you changed as DA in terms of crimes you do or don't seek jail or prison time for since 2019 or since you came into office a few years before that?
DA Gonzalez: Well, our Justice 2020 safety plan for Brooklyn was actually launched in January of 2018, so some correction. It was about using prosecutorial decision-making and discretion to keep Brooklyn safe, but also to promote public trust in our justice system. This was written way before the George Floyd protests and Black Lives Matter, social justice demands. I understood, having grown up in East New York and Brooklyn and having spent my career as a prosecutor, that law enforcement really needs to engage communities in order to have true public safety.
This was a long-term project with over 70 people who were critical thinkers in criminal justice issues to come together and build a blueprint for what a progressive prosecutor can do. Part of that work was shrinking the size of the criminal justice system to put our resources into the cases that would keep us safe and focus on drivers of crime. It's also a misnomer, I think, that being progressive doesn't mean that you focus on safety.
Part of my blueprint for Brooklyn was to focus on areas where we admit as prosecutors that we had not done a good job in getting people justice, so gender-based violence and sexual assaults and solving these shootings in communities of color. The clearance rates for shootings in communities of color were so low and remained very low. Part of that is putting resources to make sure that we resolve some of these cold cases and bring justice to Black and brown families, who have seen not to get the same closure rates as other communities.
Brian: In that quote that I read of you from a few years ago, you said jail time needs to be reserved for the cases where we as a society say, "We can't be safe unless this person is incarcerated." That brings up the bail reform issue because that's what Mayor Adams wants judges to be able to do as you know for pre-trial detention, which they are not allowed to do now, said a dangerousness standard. Here's the mayor on that on this show last Friday, saying pair the dangerousness standard with data to see if judges are racially biased in who they see as dangerous. Listen.
Mayor Adams: We have 49 states right now that they are allowed to use dangerousness. If you look at a judge, you keep the data, we partner. With the court system here, the chief judge is really open to make sure this data is collected correctly. Remember, lawmakers can write into law the requirement to give this information and turn this information over. This is something within our span of control.
Brian: Move away from cash bail as an ability to pay screen and move toward a dangerousness standard, plus data to catch judicial bias. I'm curious if you support that as a path to both safety and justice and if you as a prosecutor would like to be able to argue that individuals are too dangerous to be released on bail.
DA Gonzalez: I've spoken on this issue many times about a different model. The model that our state legislature chose was to look at crimes and put them into camps. Either the crime was bail-eligible or the case would be not bail-eligible. It really became about the charge or the allegation made at the time as opposed to the person before the court. I favor discretion for judges, but I think it's the wrong model just simply to look at the charge. You have to be able to look at the person's history.
Have they been convicted of other crimes, what their circumstances are to make these appropriate decisions? The system that we have now, I think, was meant to protect people from being needlessly detained on small amounts of cash bail. I supported bail reform. I think that we made a tremendous step forward in the bail reform that we have, but it could be tweaked. There are other models. The New Jersey model close by has had received some criticisms of it, but it's been favorable, probably is considered more favorable than our current system.
There, the judge doesn't have unfettered discretion. Their risk assessment tools and other things used to help decide this, and then there's an automatic review of the judge's decision within 48 hours. You can have a system like that here in New York. There are other models. I think bail reform was needed, but we have to always continue to look at the data. The data suggests that there's some needs for tweaks on some of these issues.
Brian: It sounds like you support a dangerousness standard. Tell me if I'm hearing you wrong. Do you think that what the mayor proposed there could address, sufficiently, the bias in the system? If we assume that a disproportionate number of judges are white and a disproportionate number of defendants are Black and Latino, can monitoring through data rid the system of enough unintentional bias?
DA Gonzalez: I want to be clear here, Brian. I support discretion for judges. The term of dangerousness is something that concerns me, what makes a person dangerous, but I think common sense on these cases means that a judge should be able to look at a person's background and not simply the charge. I just think that's a common-sense approach. I also think that the strength of the case that the person is facing matters, right?
If the case was caught on videotape and there's no question to the identity of the perpetrator and that the perpetrator committed a crime, I think the strength of the case also matters in making decisions about whether or not someone is likely to return to court if they're released. Our current system does not allow for that. It's just simply about the charge that's been committed.
I think it's something that we can take a look at without saying that we're retreating on the principle that people shouldn't be held in on low amounts of bail. Quite frankly, we could get into a system where cash is taken completely out of the equation. Courts would either decide if someone will be released or someone will be remanded. That is also a possibility to end cash bail.
Brian: We'll continue in a minute with Brooklyn DA Eric Gonzalez. We'll start taking your calls. I have more questions too. Stay with us.
[music]
Brian: Brian Lehrer on WNYC. As we continue with Brooklyn DA Eric Gonzalez on ending gun violence in New York City, but also reforming the criminal justice system so that it is more just. George in Brooklyn, you're on WNYC with DA Gonzalez. Hello, George.
George: Good morning, Brian. I love your show. Hello, DA Gonzalez.
DA Gonzalez: Good morning, George.
George: Real quick. I want to cut to the chase. Good morning. I've heard repeatedly, I haven't read it yet, Eric Adam's piece. As an artist who's been doing anti-gun violence work in the Lower East Side and somebody who's really concerned about this, I get a little concerned when I keep hearing repeatedly public safety issue. I really want to stress, it's a public health issue.
It may be a small semantic thing for many people, but somebody who's been involved in this work and has dealt with people who have been really impacted by this, I think it's really important that we as a city recognize that the public health issue-- especially when you consider the fact that the majority of gun deaths are by suicide. At the root of this violence besides everything that the DA has been doing, which I applaud, and even the fact that we're talking about this is really fantastic. It's a critical, critical issue. I think how we look at this in terms of how we coexist or try to coexist is a public health issue. I think that's an important thing to at least put into the conversation.
DA Gonzalez: George, I agree with you 100%. I don't have the blueprint in front of me, but I'm pretty confident that the mayor has labeled it as such, a public health crisis. His blueprint, I think, attempts to do a lot of things, at the same time, deal with some of the immediate enforcement to try to alleviate gun violence, but a lot of it is thinking about getting to root causes.
I know that having been at the meeting with the mayor that he thinks that a lot of this has to come from a public health analysis. I believe that you're correct, George. I would say if the mayor was on that he would say that his blueprint, actually, is a public health approach as well as a law enforcement approach. I just wanted to put that out there.
Brian: Right, I agree that he would say that. In fact, listeners, you'll see our discussion questions on our webpage, brianlehrershow.org, along with the blueprint. One of our suggested discussion questions is about what you think about the mental health aspects of the blueprint, in particular, because that's definitely one of the things in there that doesn't have to do with law enforcement per se. George, thanks for raising that.
DA, I was also reading last night, a little bit of the work of the Columbia University professor, Jeffrey Fagan, who has an appointment at Columbia that I've never seen before. Maybe it's more common than I know. He teaches both in the law school and the school of public health. His focus is gun violence. Isn't that interesting that there's at least one professor at one school who has those twin appointments and sees it from both those lenses?
DA Gonzalez: We're starting to see a lot more in Brooklyn. We have started to put more resources into hospital-based violence intervention programs as well, thinking that a lot of the hurt and trauma that comes after the shooting and the predictable response to being a victim or having a family member victimized by gun violence is retribution. That kind of trauma has to be dealt with at the time of the intervention.
There's a triage being done more and more at the hospitals through these intervention programs to stop violence and working with violence interrupters and others. That's all part of this multi-pronged approach to reducing gun violence in Brooklyn because we've invested money in different approaches. We did see, while the rest of the city saw increases in gun violence, Brooklyn had a 40% reduction in murders last year and about a little bit over 20% reduction in shootings from the year prior. I think that a lot of the effort was not just the enforcement that we've done as police officers and prosecutors, but the other efforts to defuse violence in the community.
Brian: David in Queens, you're on WNYC with Brooklyn DA Eric Gonzalez. Hi, David.
David: Hi, how are you? Thanks for taking my call. I wanted to say that I think after two terms of the de Blasio administration and COVID, de Blasio, of course, there was definitely a fractured relationship with the police department. I think there's a perception in the city right now that progressive politics equates with weakness. It's definitely not so cut and dry, but my fear and I know a lot of family and middle-class families, parents in New York City, are worried that criminals are being emboldened by the sense of weakness in the city.
There are definitely bad people out there that want to do bad things and they sometimes will need to be met with strength. If they sense any sense of weakness or a fractured relationship between the mayor and the police department, they're going to feel like it's open season and I worry about that, especially as a parent.
Brian: David, thank you. DA?
DA Gonzalez: I think that's right. I think that there is a sense that there was a schism between our political class, our police department, and our community, and that we all have to come together to create the safety and wellness we want for our communities. That schism definitely was on display for the past two years. I am hopeful that Mayor Adams can get us all on the same page because there's a lot of commonality. Everyone wants to live in safety and peace, and so getting to the political solutions to get us on the same page. When we're divided, I do think that others will take advantage.
Brian: Well, your blueprint that was released in '18 was called Justice 2020. Since 2020, crime, especially shootings, have markedly increased in Brooklyn as elsewhere. Critics say progressive prosecutor reforms are one of the reasons. What's your response there?
DA Gonzalez: Well, first, I just want to say. I became the acting district attorney when my predecessor, Ken Thompson, passed. From 2015 to 2019, shootings declined in Brooklyn by nearly 40%. Homicide were down by a third. I think that the policies I put in place that focused on drivers of crime and focused on people most likely to pull triggers really reduced gun violence. I've been very clear that I will not tolerate people who hurt others, whether it's by gun violence or any other violent crime.
I disagree that progressive politics are the cause for this increase. We obviously saw a dramatic spike in gun violence during 2020 and COVID. As I just said, last year, we had a reduction from those peaks. I expect that this year, we'll see gun violence go down in the county as well. I think it's important. I do believe that crime sometimes is cyclical. When that happens, that we have to put a lot of different efforts to reduce it.
For a long period of time, I would say from 2015 to 2020, we saw crime increasingly going down even as progressive prosecutors were elected across the country. We all knew at some point that crime would come back up because that's the history of our country and looking at crime statistics. The question is now, what do we need to put in place to reduce the violence?
You know this, Brian. I don't have to repeat this to your listeners, but shootings went up in jurisdictions that had tough-on-crime prosecutors as well as places that had more progressive prosecutors. There was something about 2020 and this once-in-a-century pandemic that I think has caused this place that we're in and it's a really bad place. I do believe that we will move past it.
We have to bring all our political actors together to figure out solutions. This is why I'm happy that the mayor has focused on dealing with this issue head-on, and not just simply pushing it to the background and saying things like we still remain one of the safest, big cities in America. You could still make those arguments, but I think that would be tone-deaf to what's actually happening on the ground.
Finally, as a progressive prosecutor, I still believe that it's my obligation to deal not only with violent crime but to deal with people's quality of life and quality of life crimes in their community. It's the way we deal with those things are different than maybe my predecessors dealt with them. It's my obligation in my community and ensuring community members that I care about them and their families' well-being, that I'm also dealing with quality of life crimes.
I think that is something that progressive prosecutors have to make sure that they continue to tell folks. It's not just simply about the violence. My obligation is to make sure that people are safe and can enjoy their communities, and so my job does include dealing with lower-level crime or disorder. It's not simply about homicides.
Brian: One more call before we run out of time. Raymond in the Bronx, you're on WNYC with the DA in Brooklyn, Eric Gonzalez.
Raymond: Thank you very much, Brian and Mr. Gonzalez. My question was the elephant in the room is mental health. God bless to police officers. I have family members that are police officers and that got shot. This person had mental health issues. I use the train a lot and I see so many people. I have pictures of the E-train, of people sleeping on the benches and everywhere.
These are young men that are just displaced in our city. I'm not saying how they get a gun, but they probably have guns to protect themselves. You're thinking that they're going to be victims of a crime. What are we doing about that? I think that's the elephant in the room that nobody's addressing. The mental health problems in our city.
Brian: Raymond, thank you so much. Also, to that point, DA, we have a tweet. After we talked about gun violence as a public health issue that says, "But, Brian, what is actually meant by, 'It's a public health issue'? We need to dissect that term and what non-public health people mean by," so on that and to Raymond's very specific question about mental health.
DA Gonzalez: In Brooklyn, we're fortunate that we have a mental health part in Supreme Court that really deals with people who come into the criminal legal system with mental health issues. During my visits to Rikers Island and other places, such a large percentage of our detained people are diagnosed with significant mental health histories. There's been a big failure as a city and probably as a country in getting services to people before they become violent or commit crime.
Unfortunately, Rikers Island has become the largest mental health hospital in the state of New York and we all know that. We have to make sure that we continue to focus resources to deal with people before they're committing crime because of mental health. I think in terms of the public health concept, it's that people are arming themselves and carrying guns because they feel that they need them for public safety, for their own safety, I should say.
There's so much trauma and so much hurt in these communities where there's a lot of gun violence, there's issues of poverty, and there's just so much stress and mental health issues that are undiagnosed that people are more prone to use and carry a gun than in other communities. Partly, it's the untreated mental health. A lot of our young people have seen their friends and their family members shot and gunned down in our city. There's no justice for them. There's no arrest or prosecution of those cases.
They grow up hypervigilant and making sure that they're not going to be victimized. By the same token, there's been, seemingly, a discount of human life that people are not taking their lives into consideration in the same way other communities will. We have to get into our schools. We have to have after-school programs. We have to have mentorship programs. We have to give our young people who come from the same neighborhoods that I came from, from East New York, opportunity and hope and deal with the trauma that they're dealing with.
That's what we mean by a public health crisis at gun violence. It's because the conditions by which many young people in our community live in is something that, ultimately, over a period of their lives, creates stresses on them. It's hard to understand unless you grew up in that community. I will tell you, Brian, when I was a young man, I knew a lot of young people who carried guns. They carried guns because they did not believe that the police or the criminal justice system could protect them. They were going to protect themselves. We have to end that.
Brian: Last thing, in our last minute, you've been a progressive prosecutor since you took over from your predecessor, Ken Thompson, who died in office, who pioneered the role, 2016. It didn't become such a source of intense backlash, it seems to me until last month, though your policies don't sound much different from what we're hearing from Manhattan. Why do you think that's happening now?
DA Gonzalez: In terms of DA Bragg, I believe there was a communication problem in conveying what he had intended to do. It was a politics problem. I know the DA and I've spoken to him since he's been elected. I knew him when he worked at the Attorney General's Office and when he was teaching in law school. I know that he cares about public safety. The ability for him to ensure and to make sure that he communicated his beliefs with the community got mismanaged because they rolled out the memo prior to him having the public meetings.
When I rolled out Justice 2020, first of all, the first thing I did is I called 1,200 employees in my office into a large ballroom and laid out what we were going to do, and worked on building confidence in my own office that we were going to be doing the right thing. Then we rolled it out in town halls throughout Brooklyn in stakeholder meetings.
Unfortunately, the communication problem that DA Bragg had was that memo was either leaked or he put it out without the ability to explain what he was trying to do. Now, he's been on the defensive trying to explain it. Ultimately, I know the DA and I know he cares about public safety. If given the opportunity, I think he'll be doing the work that he was elected to do and help create a fairer system of justice in our state.
Brian: Brooklyn DA Eric Gonzalez, we always appreciate when you come on with us and your openness to dialogue and taking phone calls from the public. I really appreciate this constructive conversation. Thank you so much.
DA Gonzalez: Thank you, Brian.
Copyright © 2022 New York Public Radio. All rights reserved. Visit our website terms of use at www.wnyc.org for further information.
New York Public Radio transcripts are created on a rush deadline, often by contractors. This text may not be in its final form and may be updated or revised in the future. Accuracy and availability may vary. The authoritative record of New York Public Radio's programming is the audio record.