51 Council Members in 52 Weeks: District 40, Rita Joseph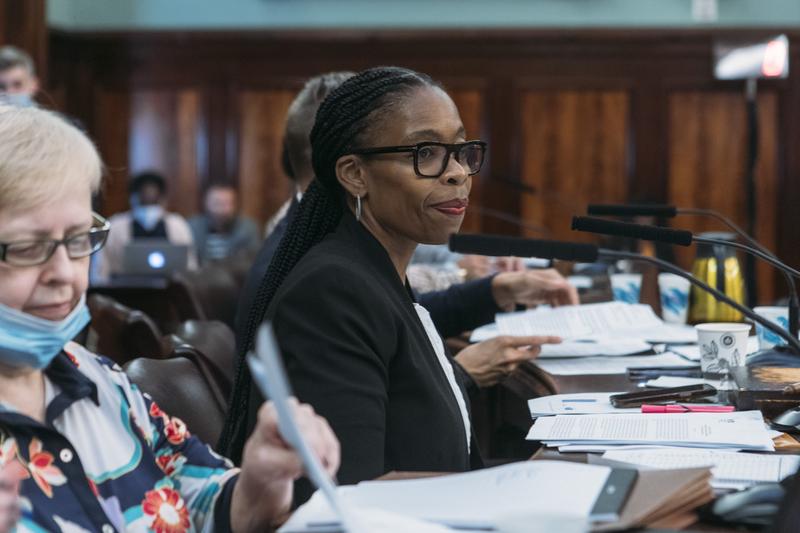 Transcript
[music]
Brian Lehrer: It's The Brian Lehrer Show on WNYC. Good morning again, everyone. We've been doing national news so far with the January 6th committee hearing, preview for tomorrow, and Marion Nestle on the FTA's food labeling. Let's go local. We continue our year-long series 51 Council Members in 52 Weeks, in which we're welcoming every member of the New York City Council, touching every neighborhood of the city in this year, in which a majority of the council is new because of term limits, and its majority female for the first time ever.
There's a lot of New York City news right now between the new crime numbers and what's going on with the asylum seekers. We'll talk about those things and more as we are joined by another one of those freshmen women members, Council Member Rita Joseph from District 40, which includes parts of Crown Heights, East Flatbush and Flatbush, Kensington, Midwood, Prospect Park South, and Prospect Lefferts Gardens, all in Brooklyn, of course. Council Member Joseph, thanks so much for joining 51 Council Members in 52 Weeks. Welcome to WNYC.
Council Member Rita Joseph: Oh, well, thank you. Good morning, Brian. How are you? Thank you for welcoming me to WNYC this morning.
Brian Lehrer: Want to tell people a little about your background first? Where did you grow up, and What first got you interested in politics or public service?
Council Member Rita Joseph: Oh, absolutely. I grew up in Ditmas Park. I attend to PS 139. What got me in is teaching. I wanted to be a diplomat, let me put that on the record, and I studied international relations. Worked for the United Nations for five years, and I didn't feel fulfilled. My cousin called me one day and said, "Hey, the Department of Education is hiring bilingual teachers." Because, as you know, I'm Haitian American, so I'm bilingual, and I said, "Okay, I'll try it out."
I walked into the school buildings, and I fell in love with New York City children in public schools, and I taught at District 17. I saw so many inequities coming from the district I went to school in, and I just started working from there, making sure that the schools had the resources because I always said if I taught at a school, my kids should be able to attend the same school that I teach at, which happened. My 12-year-old attended the same school that I taught at by bringing resources in.
Till today, we call my school what they call a de facto community schools because we created partnerships in not-for-profit with other organizations in bringing resources. We were doing food giveaways, we were doing coat drives, we were doing toy giveaway even before, we even dreamed of having a pandemic. Those resources were [inaudible 00:02:43], making sure kids had access to technology, one of the things I'm passionate about, way before pandemic. Some of my students, till today, they were ready. They were ready when we pivoted on to remote learning because they had the basic skills on how to navigate the tech world.
Brian Lehrer: Very interesting. We're inviting all the council members to describe your districts and the people in their districts because one of the goals of this series is, as we touch every neighborhood of the city through their elected representatives, just to let everybody else in our listening area know, who lives around here now? Because neighborhoods are always changing, the city is always changing. Sometimes people have old ideas about who lives where. Can you describe District 40 for us? Who lives there demographically, and how has that changed during your lifetime there?
Council Member Rita Joseph: Absolutely. I represent a number of neighborhoods as you mentioned earlier, Flatbush, Prospect Park South, Kensington, Ditmas Park, Prospect Lefferts Gardens, and Ditmas Park. What makes District 40 so unique is a microcosm of all New York Cities, from Black, white, Latinos, Native American, native New Yorkers, homeowners, renters, have our working class. Ditmas Park has those historic Victorian homes. We also have one of the largest Caribbean communities, which I'm also part of the Haitian community, Jamaicans, Trini, Guinee.
If you walk down Church Avenue, you'll get a chance to take a little walk through basically little Caribbean because we have a representation of all of them. We saw a lot of changes as well. When I looked at the data from the census, the district used to be 65% Black in 2020, but it's shrunk. I lost a good chunk of my Black constituents, which is now down to 50%. It's a representation, a little bit of everyone. It's the melting pot. That's what I called my district. I have specific areas, for example, in one of my districts is little Pakistani. Has the largest Pakistani population outside of Pakistan.
Brian Lehrer: Part of what you were just describing there, I think with the loss of Black constituents in that part of your district, without using the G word, was gentrification, right? I'm curious if you know where the people who can no longer afford to live in your district are going. Have you been able to track that at all?
Council Member Rita Joseph: That's one of the things I'm working on. It's a work in progress to track to find out where did 18,000 of my constituents go. I know a lot of them also went out of state because my students, based on where I was teaching at, students were moving to Connecticut, to Philadelphia. I had one family who moved to Tennessee. They were like the price of the home in Tennessee compared to what they were paying here, and they were young professionals, they decided to take a chance and move out of state.
I was basing that on where my students were going. A lot of them were moving out of boroughs. One of the things I would love to see is keeping the community hold, no one is being displaced, and try to thrive and work in the communities that raised them.
Brian Lehrer: Listeners, we can take some phone calls for Council Member Rita Joseph at 212-433-WNYC, 212-433-9692. If you're in the district, Crown Heights, Flatbush and East Flatbush, Kensington, Midwood, Prospect Park South, Prospect Lefferts Gardens, all or parts of those neighborhoods are in Dstrict 40, especially want to hear from you. Anyone else can call 212-433-9692 or tweet @BrianLehrer.
[unintelligible 00:06:34] on the committee on immigration, so let's talk about the current influx of asylum seekers. According to The New York Times, as of last week, the city was sheltering more than 13,000 asylum seekers. Our colleagues at Gothamist report the number is probably closer to 17,000. Whatever it is, it's a lot in a short period of time. I'm curious what you make of Mayor Adams' executive order to declare a state of emergency and whether that can do any good.
Council Member Rita Joseph: Well, while declaring it is important in making sure that people know that this is a crisis. We're in the midst of a crisis with migrants. As you know, there was a huge influx last year around this time. September, I was under the bridge in Texas and Del Rio, also meeting with migrants and finding out where they need to go, what can we do. It is an emergency because our system could not support, but it's also unfair for this governor to just be shipping, and I think the numbers are close to 17,000.
I'm just going to call it-- It's terrible that this governor is doing that to us. Whether it's political payback or whatever it is, I just think it's unfair that it's being done. We're New Yorkers, and we welcome our new New Yorkers. I visited schools on Friday that absorbed about 200 of these new New Yorkers, so we're making sure they have the resources they need, whether it's holding resources fairs, making sure they have IDNYC so they can navigate the system, make sure their kids are being placed in ENL classes.
Bilingual teachers, dual language teachers will also be needed. We're doing our part. It's not going to be easy, and I'm sure the mayor agrees with that, and the mayor would say that. It's not going to be easy, but we're New Yorkers. We're resilient. We will rise up to the occasion, and we make sure that we take care of our new New Yorkers.
Brian Lehrer: I saw a number in the New York Post. I don't know that we've confirmed it independently, but that more than 5,000 of the asylum seekers' families' children have been enrolled in the New York City public schools just recently, including some schools where they have very limited Spanish language resources. I'm curious if you're seeing this in your district at all, whether some of the asylum seeker family children are now enrolling in public schools in your district, and if there are any services that are needed, or principals who are contacting you about this, if you're aware.
Council Member Rita Joseph: Like I said, I visited a school on Friday that absorbed about 200, and I made sure that I took Melissa Ramos, who's in charge of Open Arms, so she can see the students because this is one of the only bilingual schools in Brooklyn that absorbed 200 students. They've been doing this for a long time. It's the other schools that'll probably need resources, so I told them that a ESL teacher would be good and ENL coordinator to provide [unintelligible 00:09:33] to support the students in acquiring a new language. I've been working closely with the New York City Department of Education to make sure that those supports, where they're needed, they're directly the resources to these students.
Brian Lehrer: Let's take a phone call on education. Juno in Brooklyn, You're on WNYC with Council Member Rita Joseph. Hi, Juno.
Juno: Hi, Brian. Hi, Council Member Rita Joseph. Thanks so much for taking my call. First, I want to just appreciate the council member for the incredible accessibility and responsiveness that she's demonstrated to our district, which is tremendous, like a change and a breath of fresh air for those of us who have lived here for a while and who had a different council member for a long time who was not quite responsive. Just want to shout you out for that, and we're very grateful.
The reason I wanted to call in is I wanted to ask about, I'm a parent at PS 139, which you mentioned earlier in the segment, and our playground there was part of the schoolyards to playgrounds program for a really long time. It's recently undergone an extensive renovation, but unfortunately, our school hasn't been able to keep it open to the community.
My understanding is that's because obviously with budgets for schools being what they are and the expiration, I think, of the funding for that program, there's not funds for custodial overtime to open and close it and keep it clean and so forth. This is one of the only open place spaces in our district or in our part of the district, and it's such a great community space. It was vital for the community during COVID, but during other times as well, my kids both learned to ride a bike there and roller skate and scooter, for example. I just wanted to see if there's anything that we as a community can do to get that opened up again.
Council Member Rita Joseph: Good morning, June. How are you? Yes, 139 is my alma mater. I attended school at PS 139 [laughs] and the school is named after my music teacher, Ms. Fenty. [laughs] Exactly. Yes. That is something I've spoken to the principal about. That's something I'm also working on to see how we can navigate that. I know that's the only playground because I used to play there as well.
I had to play handball there, so I know how valuable that space is. The top lot is not appropriate for the school-aged kids that would go there. I'm working with the speaker. I'm working with the principals to see how we can navigate that space to make sure that's open space for us, for the young people in the community to go and ride their bikes, jump rope, play tennis, do whatever they need to do. Yes, I agree. I'm working on it. Just bear with me a little bit, but I'm working on it.
Brian Lehrer: Thank you for your call, Juno, sounds like you made a good connection there. Is there an upside? The call made me think, is there an upside, financially, for the schools that are taking in migrant students? Because, of course, you all in the city council have been in this whole battle with the Adams administration over the cuts to public schools based on declining enrollment this year. If the enrollment is going up in some of these schools, then presumably the formula would send more money there. Is that happening?
Council Member Rita Joseph: Yes, it would send more money. The only thing I'm urging the Department of Education, as chair of Education, is to make sure the resources are leaving the doors right away. Usually, they make enrollment adjustments on October 31. I'm looking to make sure that these resources are leaving the doors sooner than expected. That's one thing I'm working with the administration with right now as we speak. Matter of fact, I sent an email out yesterday. As we speak, I'm working on that not to wait for October 31, but to expedite it sooner.
Brian Lehrer: As a Haitian American, do you think that the treatment of Asians coming here and being allowed to stay under so-called temporary protected status after the hurricane back in 2010 was it is-
Council Member Rita Joseph: One of the worst earthquakes that-
Brian Lehrer: Earthquake, of course, and the temporary protected status that people who were here already before the earthquake quake from Haiti were given. I don't know if you think that's worked out well or been another form of discrimination against Asian Americans. To what degree is it a model for how the government might treat or help the Venezuelans arriving in New York City right now?
Council Member Rita Joseph: I think that we should look at immigration as a whole and start working on pathways to citizenship. Same for the DACA. I think it's time that we find a pathway to making sure citizens, they've been here working, paying taxes, and being part of this community, this country, and it's time that we offer them a pathway to citizenship. Haiti has been dominating the headlines lately, a lot. This always resurfaced. I think the TPS was a great look, but let's look beyond the TPS. Let's make sure that they are given permanent status to continue to work and be part of this great fabric that we call America.
Brian Lehrer: By the way, the point that the Governor of Texas, Greg Abbott, says he's trying to make as New York declares a state of emergency because so many asylum seekers have arrived is that they've got this state of emergency in Texas, and just because they're there at the border, they shouldn't be forced to bear the brunt of the whole thing. They're trying to get Mayor Adams to put pressure on President Biden to have a more orderly system where not everybody can flood into the country all at once claiming asylum. What do you think about that?
Council Member Rita Joseph: The system in place, as I mentioned before, immigration system is not perfect. It has a lot of work, but we also get punished. If you remember, under the previous president, he punished all the sanctuary cities. Remember, we are a sanctuary city. That means we welcome all those who are in need until the discretion is provided at the border. It's the Border Patrol that provides a discretion that allows those that come in, because when I went under the border in Del Rio, we talked to Border Patrol, and it's based on their discretion. They're the ones who are also allowing people to come in.
We cannot blame New Yorkers for saying that we are a sanctuary city. It's also terrible that we're using people, children, women, people in distress as political props by sending migrants to New York as a punishment. Remember, at one time they wanted to take away federal dollars because we were a sanctuary city. We will continue to be a sanctuary city. We will continue to stand with migrants.
Again, we received them with open arms. We remember what the Statue of Liberty said, bring us your word and bring us your tired. We're here for it but the only thing I would love to see, a partnership with the federal government, because this is taking a financial toll in New York City. We would love to see partnership across all levels of government from city, state, and federal government.
Brian Lehrer: Another call from, I think, within the District. Medar in Flatbush. You're on WNYC. Hi, Medar.
Medar: Hi. Good to speak with you, Council Member. Good to speak with you, Brian Lehrer. I'm looking at the avenue on Flatbush, and I've always wondered if there's any plans for more urban landscaping or any plans for any more environmental trees in the neighborhood, essentially, just to keep it more straightforward. Because I feel like getting this Park, for example, just has all those beautiful trees, all those beautiful houses, and certain parts of the neighborhood just don't seem to be acknowledged on that in that front.
Brian Lehrer: Council Member?
Council Member Rita Joseph: I'm an environmentalist, so that's something we're going to look into. I'm also working on Flatbush [unintelligible 00:17:46] I'd love to see a bustling there to improve the quality of air that we breathe. I think every neighborhood should have beautiful trees, so maybe that is something we can consider. That's why I always love talking to the neighbors to find out what is needed. What else can we do to Beautify? One of the things I know my office is definitely working on and people across the District can attest to that is the trash. I walk down Flatbush Avenue.
Flatbush Avenue is filthy, so we're working on that. You'll see gentlemen with red shirts and black pants called ace. They do the clean-up from now on up and down Flatbush Avenue to make sure the corridor looks really nice. Yes, trees. I agree. Another thing I'm also putting in the District is tree guards. For the trees that we do have, I'm putting tree guards around that as well. Does that answer your question? Oh, he left.
Brian Lehrer: Let's see, Medar, are you there? Does that answer your question?
Medar: Sure. Thank you so much.
Council Member Rita Joseph: You're very welcome. Thank you for being a great constituent as well.
Brian Lehrer: Thank you for your call. I want to ask you about crime. Crime stats came out on Friday, and they showed, maybe surprisingly to some, that the number of overall shooting incidents in the city decreased by 13% compared with September of last year, highlighting the NYPD's continuing work, they would say, to combat gun violence 13.2% to be exact.
The number of murder citywide decreased for the month of September by 23% compared to September last year. However, we're also seeing that five of the seven major index crime categories saw increases a 22% increase in burglary, a 21% increase in grand larceny auto, and a 21% increase in other kinds of grand larceny. Are the citywide crime stats reflected at all in your district? What are you seeing crime-wise?
Council Member Rita Joseph: Let's see. Saturday, right before I put the governor into the district for a walk-through, just to see what was happening, where we needed resources. There was two shootings in my district. One wasn't fatal, young lady was shot in the thigh. She will be fine. I lost a gentleman, a 40-year-old in my district. That still bothers me because when I look at stats, as a forever educator, when I look at stats, neighborhoods that are always under resource always have the most crimes. We want to make sure that we bring resources into the community to support job training, housing. That's why I'm investing in youth services programming.
Education always show that crime is leased in those areas. That's why I introduce the bill to have intro 402s to have year-round youth employment to keep young people busy, so keep them busy we keep them off the streets and we keep them away from the guns. That's one of the things I'm working on. That was one of the things I brought to the governor's attention, that we want to make sure that people can live and thrive in the neighborhoods. I want to make sure that my seniors are able to go to and from their destinations without fear that they will get hit by bullets. Then that's one of the things that I'm working on. Definitely, and of course, [unintelligible 00:21:17]
Brian Lehrer: What's the role of-- Go ahead. Finish that thought. I'm sorry. Go ahead.
Council Member Rita Joseph: No worries. We also need our federal partners to make sure that they're enforcing gun laws as well.
Brian Lehrer: What's the role of the NYPD in this, as far as you're concerned in your district? Where are you on the scale from defund the police to please flood by neighborhood with more police officers?
Council Member Rita Joseph: Well, even when I ran, I've always said reinvest, take some of the NYPD budget, reinvest it in some universal after-school programming, summer youth mentoring programs, reinvest it into young people. We can decrease-- Like I said, neighborhoods that are under-resourced usually have more crimes because they don't, they need to--
When we need to start on every level, as a former educator, make sure the schools are providing excellent education for our students. We start at the very basic healthcare-accessible green space, job training, housing, food security. All of those things are part of what makes a neighborhood and NYPD is part of the solution, but not the whole solution. The community as a whole is also part of that solution.
Brian Lehrer: One more call, Maddie in Brooklyn. You're on WNYC with Council Member Rita Joseph. Hi, Maddie.
Maddie: Hi. Thank you, Ms. Joseph, for being on the radio and for being a great representative. I had the pleasure of doing a bike trip with you over the summer. Do you remember that with [crosstalk] Crystal Hudson? It was so great. I just wanted to thank you for coming out to that and then also wanted to ask, I heard there was a cyclist hit and killed on Flatbush Avenue. I walked my two-year-old across there almost every day. It can be quite overwhelming, as I'm sure you know. I was just wondering if you had a comment, because I know it's been something you've been working on, especially with dedicated bike.
Council Member Rita Joseph: Oh, absolutely. As you may know, this is an issue that's near and dear to me. I had lost two students to traffic violence, so this is personal. Yes, I did hear about the cyclist. I did talk to Danny this morning. I did stop by, of course, they would not let me into the area, but I did stop by to see how it was going. I'm tired of seeing people, my neighbors, friends, families killed on road.
I will continue, as your council member, to do everything in my power to make sure we continue to decrease the numbers in traffic violence. My heart goes out to the family. My condolences is to you. Let's not let this one go without make bringing changes to the district and how we care about people who ride bicycles. I'm just tired and I'm sick of this bad news all the time. Today was very heartbreaking. As I watched the news and as I got the phone call and I stopped around the corner, but they wouldn't let me in, so--
Brian Lehrer: Yes. Maddie, we all know cars are the main culprits in traffic deaths, but I'm curious if you, as an advocate for pedestrians and bicyclists, have a concern about the proliferation of electric scooters. We're going to do a segment on that at some point. I'm curious if you find that a thread or if whatever groups you're involved with are concerned about that as an issue in your neighborhood too.
Maddie: Oh, you're asking my opinion?
Brian Lehrer: Yes.
Council Member Rita Joseph: [laughs]
Maddie: Okay. I would say-- I thought maybe you were going to ask the council member. I would say that it has to do with the culture in the United States, in general. I'm sure you all have talked about this as well. We need to have a culture of drivers and road users starting from the top down. In any vehicle where they are considerate of all members and all users. I think that like if you go to other countries, there are people who use scooters and bicyclists and you don't have the same conflicts you have here because they don't have the same individualist mentality that we have here in the United States. I think that that's a big part of it.
Brian Lehrer: That's a 30,000-foot view. Council Member, not so much the e-bikes and of course, respecting the fact that people have to make a living as delivery people. The scooters, which I think are another level from the e-bikes and riding on the sidewalks, all of that stuff.
Council Member Rita Joseph: Yes, my seniors always tell me that, they're like, council member, we need just some enforcement. At the same time, we don't want to take away someone's livelihood. There has to be some way that we manage that, and we coexist, as Maddie said before, that we're careful of our pedestrians in our seniors. My seniors, whenever they see me, that's the number one complaint I get. "Council member, I'm a [unintelligible 00:26:19] little old lady. If this bike is speeding and hits me, what are my chances of survival?" That's not good because I have a senior mom as well.
That's not a good thing. We also need to invest in other alternative forms of transportation. All those very surprised to sometimes find the council member on the bus. I'm usually on the bus. If we invest also in public transportation, that will also deter people from getting in their cars. I noticed during the pandemic people were buying more and more cars because there was no-- They didn't want to get on the train, they didn't want to get sick. Now we even have more and more. That's one of the reasons why like riding on the B41, inspired me to push for a bus lane to make sure that people traveling down to B41 can get to and from places in a meaningful time.
Brian Lehrer: You're either on the bus or you're off the bus. Council member Rita Joseph is on the bus.
Council Member Rita Joseph: That's right/
Brian Lehrer: Let's end on a bit of a lighter note. Oh, actually, two things because I ask every council member in the series, what's the number one reason since you took office that constituents contact your office? Briefly, what do they seek help for affirmatively contacting you, reaching out?
Council Member Rita Joseph: They reach out about, definitely trash. Trash is the number one and rats. [laughs]
Brian Lehrer: Trash and rats. It keeps coming up district after district.
Council Member Rita Joseph: Rats and trash. My staff has attended the Rat Academy by DOHMH. There is a rat academy to find out how they live, how to get rid of them, what can we do as a community to make sure, and of course, trash. In the previous administration, the budget was cut for trash pickup. This budget, we made sure we reinvested money back into DSNY to make sure that trash is being picked up and that trash improves the quality of life. I think that's very, very important as well.
Brian Lehrer: We're inviting everybody to bring a show-and-tell item from their district something that other people might like to know about if they're not in the district. I see, as a former teacher, you would be very acquainted with show and tell and you're going to go that way, right?
Council Member Rita Joseph: Show and tell. What I bought into my district that I was super excited was after my tech training, I'm also a techie, undercover techie. During the pandemic, I was very helpful in setting up iPads and joining a tech team citywide to support teachers in schools in making sure that they were online to create Google Classroom. I'm very passionate about my 3D printer. As a teacher--
Brian Lehrer: About your 3D printer you said, right?
Council Member Rita Joseph: Yes. 3D printers. I was one of the first schools in my district to get one to show my students how to use it because I wanted to create a pathway into STEM, especially for girls because I was also part of the Girl Who Codes Club. I used to host one every Thursday for my girls. That was one of the ways that I was able to create a pathway that I would go into many meetings and realize that there weren't many women first in the space and not many Black and brown women were in the tech world.
That was one way to bring it to show and tell was to create tangible representation of how powerful science and engineering was to our community. That can be a pathway into medicine, fashion, design. However, they were recreating heart valves through to 3D printing. Coding and STEM was very important to me. That's my show and tell, my 3D printer
Brian Lehrer: Rita Joseph from District 40, parts of Crown Heights. It's Flatbush, East Flatbush, Kensington, Midwood, Prospect Park South, and Prospect Lefferts Gardens. Thanks so much for joining 51 Council Members in 52 Weeks.
Council Member Rita Joseph: Thank you so much.
Copyright © 2022 New York Public Radio. All rights reserved. Visit our website terms of use at www.wnyc.org for further information.
New York Public Radio transcripts are created on a rush deadline, often by contractors. This text may not be in its final form and may be updated or revised in the future. Accuracy and availability may vary. The authoritative record of New York Public Radio's programming is the audio record.