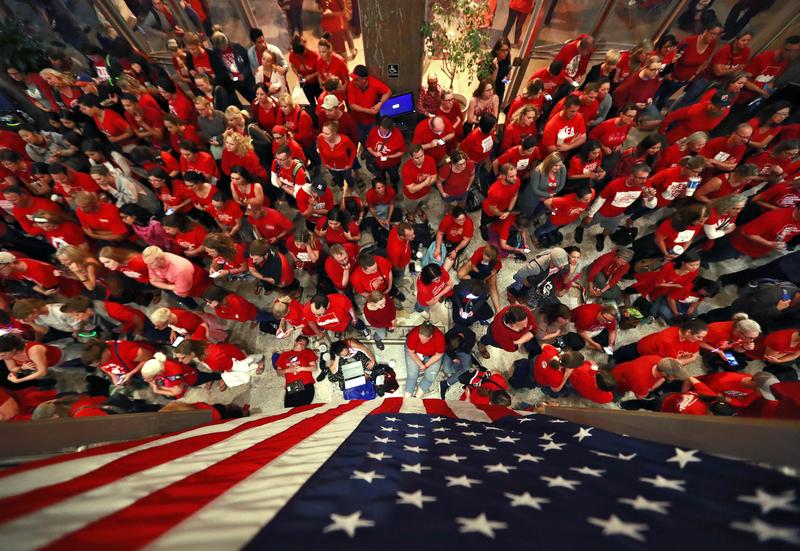 Transcript
Kai Wright: I'm Kai Wright and this is the United States of Anxiety, a show about the unfinished business of our history and its grip on our future.
President Trump: Under all circumstances, we are going to protect the Republicans. I mean, maybe I changed the party a lot over the last three years.
Speaker 3: Our nation is changing. Our founders were wise, but they weren't perfect.
Speaker 4: These folks have violated their oaths. They have abdicated their responsibilities as an Article One body and the United States Senate, and they have really forsaken any conservative values to support Donald Trump.
Speaker 5: When I look at the party and I see what it's become, I think that I was naive about how deeply embedded the racism issue was in the party.
Speaker 6: I have been to five Republican conventions as a delegate, to go and vote for a Democrat, it is painful.
Kai: Charlie Sykes. Hello, sir, and thanks for coming on the show this week.
Charlie Sykes: Hey, good to be with you again, Kai.
Kai: You're in, what I have to imagine is, a disorienting position where we're facing the most consequential election of our lifetimes, and you're hoping your party loses or, at least, the candidate for the party you spent many, many years advocating on behalf. That's got to be weird.
Charlie: Yes. I'm very much an ex-party. Yes, I mean, the last four or five years have been completely disorienting. I mean, there's a certain vertigo when you see what's been happening. Yes, if we would have sat down four or five years ago, six years ago, and you would have said, you're going to be rooting for Joe Biden for president, I would have thought you were hallucinating, but no.
Kai: Okay. Let me introduce you to everybody. Charlie Sykes is the founder of The Bulwark and a host of a podcast there by the same name. If you've watched the political TV shows over the past four years, you have definitely seen him out there making the conservative, I'll say, case against Donald Trump. I won't call you a Republican. Before all of that, in the before times, Charlie had a famous conservative radio show in Wisconsin for many, many years.
It was an important stop on the circuit for Republican politicians and thinkers and influencers. Charlie, now, The Bulwark has become at least one of the intellectual centers of the anti-Trump conservative movement, or at least, that's how I think of it. How would you describe the community of writers and politicos you've gathered there at The Bulwark?
Charlie: No, that's a fair description. We're unique among former conservative publications in that we haven't gone along with Trumpism, but we have a pretty wide range of people from center-left to center-right. The thing that distinguishes us is that, unlike the more tribal approaches, we actually just say what we think. We would look at what's going on, and we say, "You understand what's happening here? You understand what it means that the president is doing X, Y, and Z?" To that extent, it's been disorienting, but that's been liberating too.
Kai: The conversation Charlie and I are going to have this week is really a continuation of one we had about four years ago, right at the start of the Trump administration. At that time, we were each hosting separate nights on a national call-in show on public radio. It was an open forum for processing the first 100 days of the Trump era, just in real-time. Charlie and I certainly have very different ideas about politics and about what is the smartest most just way to govern this country.
StoryCorps heard that and thought it was interesting and asked to have each of us talk to each other about how we came to our respective views. I want to play part of that conversation for you now to set the stage for this conversation in which I'm just going to have a lot of questions for you, Charlie, about the past and future of conservatism in American politics. Here's Charlie Sykes and myself in a conversation produced by StoryCorps in 2017.
Charlie: I always described myself as a recovering liberal because I actually grew up in a very liberal democratic family. My father was the chairman of the Wisconsin Civil Liberties Union. My first campaign was setting up the campaign headquarters for Eugene McCarthy, who was the anti-war candidate against Lyndon Johnson.
Kai: When you said that you were raised by people from the ACLU, my eyebrows went up very quickly. I did not know that. At what point did you say, "I don't think I believe what I believed yesterday"?
Charlie: Part of it was I became a newspaper reporter, and I covered urban issues and started noticing that a lot of the programs from the Great Society were just failures. One of the things that influenced me was the whole question of, "Are we actually supporting policies that are helping people or hurting people?"
Kai: For me, this hasn't really been an ideological question or a policy-driven question. My parents could not go to the bathroom in the same place as your parents could go to the bathroom, and that's only one generation ago. That's what shaped my worldview was being raised by those kinds of people who had that kind of life experience. That is a profoundly different starting point on politics than the idea of what's happening to others.
Charlie: Obviously, and I think that, perhaps, at one point, Jews might've felt the same way. My father actually was a Jewish World War II veteran fighting in World War II, where Jews were being annihilated.
Kai: May have shaped his liberalism at the time.
Charlie: Very much so. Let me tell you, though, about one of the formative parts of my view that is very different than yours. For me, what Martin Luther King Jr. said about looking forward to a day when my children are judged not by the color of their skin, but by the content of their character was one of the formative things for me, the belief in the colorblind society, that at some point, you move beyond that and you judge people by the content of their character. What's wrong with that?
Kai: That's a great example that that's what you heard Martin Luther King say because that's not at all what my parents heard Martin Luther King say or what I heard Martin Luther King say. His message was justice, not colorblind, no. Martin Luther King never said that we should not see race. He also said repeatedly that we had to undo the injustices that we'd already spent 200 years creating.
To put it another way for me too, my parents, they put me in white schools, and from the beginning, they said, "Listen, that means that you are in a place that is not built for you to succeed. When you go about making your choices, be clear. You will have greater fall than your white peers if you make a mistake." These are things that were delivered to me time and time again, frankly, as I would screw up. [laughs] That's not teaching me to be a victim. These things informed my politics, that was teaching me to be clear-eyed about what you face, and then, go out and be individual Kai Wright.
Charlie: As I was listening to your story, Kai, I was thinking that in terms of what shaped my worldview, it would be my parents. I can't imagine being the same person without them.
Kai: Are they still around?
Charlie: No, and had not been for some time, no. Miss them every day.
Kai: My grandmother passed two years ago. She is a towering figure in my life. Much of my politics were shaped in her parlor. She convened the world in that parlor, and people had conversations like these. Anyway, when my father died, which was-- I was 30 at the time, died a young man. He and my grandmother lived together at the time and I would talk to them regularly on the phone. I remember leaving her house after his funeral, and she says to me, she says, "Well, Kai, you got to still call." I called some, but I didn't nowhere near enough.
Charlie: You know what, I can so relate to you. My father also died young. He died when he was 63, which is actually one of the reasons I retired from my radio show because I figured that I'm roughly his age now, never had a chance to say goodbye, never had that last conversation. Those are the regrets that stay with you an awful lot.
Kai: In talking about our life experiences, what you're hearing is that we were taught to respect people and respect ourselves. We can debate what is the best way to care for people. That's the kind of debate that both you and I want to have.
Charlie: Your point about respect is fundamental here. This is something that I try to tell conservatives is, "First of all, look, if you start the conversation basically going, I hate you. I want to deport your mother, and I think you're less than human. Would you like to hear my ideas about the flat tax?" Well, you know what, no.
Kai: No, I don't.
Charlie: On your side, if you say, "Hey, I think you're a bunch of redneck bigots. Would you like to hear my idea about education reform?" Well, no, because the conversation stopped.
Kai: I couldn't agree more.
Charlie: If you start with the base of respect, but that's is one of the casualties of where we're at right now.
[music]
Kai: That was Charlie Sykes and I talking in 2017 in a conversation produced by StoryCorps. Charlie, of course, what we were talking about then was a lot about how do we talk past our ideologies with respect and that was a lot of what StoryCorps was interested in. I start with that tonight because I'm not sure how I feel about where we landed now four years later because it just feels like I agree with the point about we have to talk to each other with respect, but it seems beside the point at this point.
It seems like the real issue we're facing is that there is one political party that is just not talking in good faith at all, and the Supreme Court denomination that we're seeing right now is a stark example of that proceeding with just raw use of power as opposed to an investment in democracy. My question for you is, what do we conclude from that about this party that's setting aside this conversation about respect, and thinking about, well, can we even be in a respectful conversation if one part of it is just not operating in good faith?
Charlie: Yes, I don't think you and I are going to disagree on some of those issues. Listening back to that conversation, though, I remember it so well that you can have a respectful conversation when you and I are talking to each other as human beings with shared human experiences. It's when we talk about politics, when the line gets higher and higher, that it gets more complicated.
Look, I find this a very difficult era. I find it very difficult to watch what's happening to our politics and realize how much of the debate is, in fact, not in good faith at all. I will admit to you, despite the kumbaya rhetoric about respectful conversation, it is more difficult, especially when you see what people are willing to accept. I think back to that conversation that we had three years ago, it seems so long ago, and I thought things were going to be bad, they turned out to be worse than I expected. I also was still in the throes of trying to figure out what happened and listening to some of the things I said there, I have to confess to a certain degree of naiveté.
Kai: Really?
Charlie: Naiveté about what the Republican Party was, what the conservative movements stood for, and what some of those values that we- some of those, frankly, the clichés that we had played as loops in our heads. It is difficult, and we are in an absolutely ugly moment in our society in which I don't feel that the two parties are talking with-- I'm sorry, at least, the Republican Party is certainly not talking to the rest of America with a great deal of respect right now.
Kai: You would say you are definitively no longer a Republican, is that what I'm gathering?
Charlie: Being a Republican right now is basically a cult of personality for Donald Trump. It doesn't stand for any specific values. It simply stands as anti-liberalism, and by the way, anti-classical liberalism as well. In terms of what the Republican Party stands for, no. I'll be honest with you, I have a very hard time ever imagining, after this election, sitting down with some of those same people that I used to think were compatriots and thinking that we had anything in common in terms of our vision for the country or the values that we shared.
Kai: Can we talk about that because that's something I've heard you say a few times? It's really striking because even back then, in 2017, you pointed out that one of the things that most surprised you was seeing people you respected go along with it. What was that like to watch that unfold? Do you remember the first time you looked at somebody and was like, "You, really? You're going to go along with this?"
Charlie: Oh, I remember it, absolutely. It's been this rolling process over the last four years. As I said, I knew it was going to be bad, I didn't think it was going to be as bad as it, in fact, turned out to be. I use the analogy of the Invasion of the Body Snatchers. It did feel like, "Oh, my God, they got you too. I've known you for 20 years or 15 years, and I thought we saw the world in the same way. I know what you think about Donald Trump. I know when you're watching Donald Trump's behavior that you have no illusions."
Yet, one by one watching them either because they were no transactional or because they were engaging in some Faustian bargain because they thought they would get some win, but then, watching as they have been drawn into this weird, toxic world that we have right now. Yes, it is a little bit like Invasion of the Body Snatchers.
Kai: I have to say, Charlie, it begs the question, and we're going to talk about this throughout this show, but it begs the question of whether or not the Trump era changed something in those people and in the party or revealed something about those people and the party. I guess that's my question for you. Where do you fall on that?
Charlie: Well, that's an excellent question, and I wrestle with it all the time, I'll be honest with you, because I think it's a little bit of both. Obviously, this dysfunction was a pre-existing condition. Obviously, some of the most toxic elements that we're seeing now, including the race issue. You had a quote from Steve Schmidt earlier, the latent racism of this party, the latent and increasingly overt racism of the Republican Party, some of us thought that it was a recessive gene, and now, it's turned out to be dominant.
Does that reveal or change? It's a little bit of both because I think that if you had leaders who had appealed to the better angels of our nature, you might have gone in a different direction. I mean, you look at some of the Republicans who are breaking with Trump, whether you're talking about the McCains or Mitt Romney or the former Republican governor of New Jersey or Pennsylvania or Michigan, these are Republicans who could have been in positions of leadership who would have taken the party in a different direction, but there's no question about it that there was something there that we had ignored and that we did not confront. You see it playing out very much in real-time now.
Kai: Why do you think that was the case that there was something there that was ignored and not confronted?
Charlie: A lot of us have different answers for it, and this is part of the disorienting question, at least, for me. It's been four years and I'm still asking myself this question, "Why did we miss this? What did we do to contribute to all of this?" I think there were some was just cynical that you knew that you had the crazy uncle at the end of the bar who was the racist, but you figured that you could just to simply ignore him and he would never totally dominate the party, when in fact, he did. There was a certain cynical deal that was made with others.
There was also a certain naiveté to believe that the center was always going to hold, that there was such a thing as compassionate conservatism that would replace that kind of nativism, xenophobia, misogyny, and racism. A lot of the people that I had faith in, I thought were going to champion that vision of the Republican Party, some of them stuck with it, but an awful lot did not, a lot of them signed on to Trumpism.
Kai: Something you've said a few times in both your podcast and at The Bulwark in print is that a Republican presidential candidate hasn't won the popular vote since 1988, and you say what alarmed you about that is that no one in the party seems to care. I hadn't really done the math there and it's striking because what you're describing then is, I don't know another way to put this, but is a zombie political party that's not actually engaged in politics anymore.
Charlie: [laughs] That's well put. No, actually, because I was having a conversation with somebody and I said, "Look, this is a party in a death spiral. If you've alienated women, African-Americans, Hispanics, Asian-Americans, and young people, you're not going to ever be a successful national party." The person I mentioned this to, "Well, why do you think they care about that?" Then, they cited the figure that they haven't won the popular vote. They're not even trying.
They're quite content with being able to use the United States Senate to push forward minority rule. They're very comfortable with gerrymandering in the House of Representatives, and obviously, the Supreme Court is absolutely central to now their vision of the future, which does not include convincing a majority of Americans to support their ideas. [crosstalk]
Kai: Go ahead.
Charlie: You see it with the Republican Party right now. I mean, the Trump Republican Party is no longer engaged in politics as they are to persuasion. It's simply liberal tears and throwing red meat to the base, and that's a reflection of this.
Kai: It's a terrifying thought, honestly, regardless of which political party we're talking about that there's a major party that has given up on democracy. It explains a lot about how we end up where we're at. I'm talking with Charlie Sykes, founding editor of The Bulwark and who, after spending decades as a huge figure in the conservative media and political landscape, has become one of the nation's most vocal conservative critics of Donald Trump. It's The United States of Anxiety, and we'll be right back.
[music]
This is The United States of Anxiety. I'm Kai Wright. I'm joined this week by Charlie Sykes, founding editor of The Bulwark and one of the country's most visible conservative critics of Donald Trump's Republican Party. Charlie, in a minute, I want to get more into your reflections on how the Republican Party got to where it is in the first place because I know we both love political history and I suspect we are going to have a little difference of opinion about it, but it's going to be interesting to talk through.
First, I want to start taking some calls because, already, people want to talk. Our phones are open, in particular, for people who have left the Republican Party over the past four years. I'm curious whether your views have changed in some fundamental way or if it's just the party under Trump that no longer represents you, maybe it's a little bit of both. 646-435-7280, that's 646-435-7280, or tweet us using the #USofAnxiety. Let's start with Kathy in Las Vegas. Kathy, welcome to the show.
Kathy: Oh, hi. Thank you so much, Kai. It's an honor to be here. Thank you.
Kai: Now, Kathy, I'm told that you identified as a Republican for most of your life until this election.
Kathy: Correct. I am a daughter of a staunch Trump Republican, who wears his MAGA hat proudly. He's 96 years old. My late mother was a Democrat, but I ended up being someone who leaned towards the conservative Republican Party when I married my sweetheart, who was career military. I had children. I wanted to raise them with very sound traditional values.
I'm a Christian, a Greek Orthodox Christian, a Greek American, and I wanted to bring my children a counterbalance to what maybe the more liberal school education they were receiving. I wanted to make sure that they had a faith-based life, decency, just some real good sound, but I thought were traditional Republican, values. I fully embraced the Republican Party when I married and started for my children. Yes, that was me until this past year. I completely changed.
Kai: Was it just watching Donald Trump that changed you, or what? Tell me about that change. What triggered it?
Kathy: No, it was Donald Trump, but it was more than Donald Trump because I have two daughters and they're extremely intelligent. One is 18. She happens to be a delegate for Bernie Sanders, who is very active.
Kai: Your family covers a lot of ground here.
Kathy: Yes. She's an activist. She's never wavered. The younger daughter, right behind her, same thing, very articulate, extremely intelligent girl, and yet, their opinions and their beliefs I had to hide it from my Christian friends, not to say that the church-- I have to separate. They happen to be a part of my church. The church is not the driver of this. They are not, but these people who are Christians, who are a part of my church happened to pretty much denounced me for my children's views.
When my daughter became a delegate, when I posted on Facebook how proud I was of her, I was shamed, no doubt about it. I was shamed as a terrible parent because I allowed my daughters to choose this and not to tow the party line of being a conservative with Christian, or not so much Christian, but with conservative ideal. That started me thinking, "What do I-- Who am I, and who are my friends? What's going on?"
When the pandemic hit and when I saw what happened with George Floyd, I reached the tipping point. I saw social, racial injustice for what it was, everything, blinders off. I shut off Fox News. I stopped listening to the voice of anyone else while we were in quarantine. I mean, we weren't listening to our friends so much. We were tuned in and dialed into what was going on in America. I was terrified, my husband as well, lifelong Republican. We waited and waited for the GOP, the senators to stand up against Trump, but crickets. There was silence. There was nothing.
Kai: Kathy, can I ask you-- I want to make sure I get two more callers, but I want to ask you what you feel like as a consequence of this change, which it sounds like it was like on behalf of your daughters, which makes total sense to me, do you feel like you've lost anything? What have you lost?
Kathy: It's a small price to pay to lose some friendships. They were a part of QAnon conspiracy thinkers anyway, but what I'm really more afraid of is that we've lost the Republican Party. I've certainly abandoned it. I don't know what they stand for. I'm afraid of the great American experience actually falling apart at this point. I worry about the global relations that we once had, the good relationship with our allies going ascender. I'm worried on every level. I'm only hopeful that the next generation will get it right.
Kai: Kathy, thank you so much for calling in. We appreciate you sharing your story. Charlie, before we have you respond to that, let's take one more.
Charlie: Sure.
Kai: Ted in Somerset, New Jersey.
Ted: Hello, Kai.
Kai: I'm sorry, Ted in Summit, New Jersey.
Ted: Yes. Hello, Kai. Hello, Charlie. How are you this evening?
Charlie: Good.
Ted: Thank you for taking my call. I think I fit the criteria you laid out, Kai, but why don't you take the lead? This is my first call into a radio show in 55 years. I'm a huge Bulwark fan, so I couldn't help but call.
Kai: My question for you, Ted, is, have you changed as a cog in the last four years? Have you abandoned your conservativism or the Republican Party, and if so, why?
Ted: The Republican Party, yes, but to use the battered phrase, "I didn't leave the party, the party left me," I believe I'm still a conservative in terms of what I thought the principles of this party were, what I was raised on, which was limited government, pro-growth tax policy, a strong military, basic things, character counts, words matter, things like that, but that party doesn't exist at the moment. It inhabits the Republican brand, but it is no longer that.
Kai: As a consequence, what do you want from the future then of if it's not the Republican Party, what are you looking for for the future for your political engagement?
Ted: The future of my political engagement, I do believe in the duopoly. I do believe in the two-party system. I do believe they should get back between the 40-yard lines and start arguing as Charlie likes to say. I look forward to an argument about marginal tax rates again, not this abomination of what is posing as Republicanism at this point. I'd like to see a reclaiming of it. That gets-- Kai, if I may be so bold, just frame the question, something I wanted to pose to Charlie, if I may?
Kai: Please do.
Ted: Mr. Sykes, it is my pleasure to talk to you.
Charlie: Hey, it's Charlie.
Ted: My question is, one thing I learned in business school is the surest way to go out of business is to get an increasing share of a decreasing market. People aren't buying what the Republican Party is, at the moment, at least not in the majority, at least, hopefully, the polls are correct, not in this cycle. Why so, community word, defeatist or why so circumspect in the role that those who can- that have seen what conservatism is, understand it, and know that it's not mean spirited, know that it is just sometimes the adults in the room, fiscally, at least, used to be. Why wouldn't they be the only-- [crosstalk] Sorry.
Kai: Ted, I'm going to let Charlie answer so we can get to some other calls, but thank you very much for that. Charlie, answering that question, what is the future here? The movement that you're part of, is that the future of the Republican Party or the future of something different?
Charlie: I don't know at this point. One of the answers I've given is, right now, the house is on fire and we need to put out the fire and we'll worry about redecorating later. What I think the caller was mentioning is that I know that people like me are not going to have a Bill Kristol or Steve Schmidt are not going to have a seat at the table because we have committed the ultimate sin of supporting Joe Biden, but also, I'm concerned about what's happened to the Republican Party because Trumpism will survive after Donald Trump leaves.
There's several groups. There's the Vichycons, the people who are not full Trumpist, who have gone along with it and basically have proven that they cannot be counted on to stand up for these fundamental values. Then, there is the hardcore of the Trump cult, and unfortunately, these are the folks that dominate the Republican Party today. I think that we need to be prepared for this fight going on a long time and that the group of conservatives and former Republican, who were appalled by Donald Trump, are going to be a minority and they're going to be a small minority in the party through at least 2024. I think that's just a recognition to know that the Republican Party is just not going to snap back to rationality and decency the moment that Donald Trump walks out that door.
Kai: Is there a space for a whole another party? That's one of the things I think about. The parties we have now are maybe 50 years old and the way that they're aligned, there's nothing about nature that says it has to be this way. If there's a meaningful constituency of people, of conservatives, who are not happy with the Republican Party as it exists, is it foreseeable that you would start something new?
Charlie: I would like to say, yes, but I do think that this duopoly is entrenched in our country. What I would hope for is that we would have a continuing coalition of the decent, people on the center-left and the center-right, who are having the conversation that we're having and we had three years ago, who were able to work together. I think that-- At the moment, I didn't want to talk about the particular election, but I am struck by the fact that Joe Biden seems to speak directly to that. The point I'm at right now is that I can disagree with you about 6 out of 10, 8 out of 10 issues, public policy issues, but that if somebody is an honest, honorable, empathetic human being, we can do business.
I'm looking past the various policy differences between right and left, looking for that coalition of the decent, and also, I think that a lot of the fights over the next several decades are going to be about liberalism versus illiberalism. There's illiberalism on both the right and the left. We can perhaps restore that liberal tradition, but it's going to be a tough time. It is going to be a slog, and as you mentioned earlier in the hour, we need two rational political parties. If you have one political party that basically embraces authoritarianism and conspiracy theories, if the Republican Party becomes the party of QAnon, then, that is a very, very dark omen for democracy going forward.
Kai: Let's go to Tony in Queens. Tony, welcome to WNYC.
Tony: Thank you for letting me speak. I wanted to say one of the big things that always got to me about conservatism is my father. My father, he came from Vietnam. He was a very conservative man in his ideas up until one very key day, and that was the day that my father went to his first Republican meeting. When he came home, he told me, "Tony, I can't be a Republican anymore."
I asked him, "Why?" He said, "Because I was the only minority in that entire meeting. When I got there and I saw that I was the only minority, I realized that all of the things that they said that sounded good, when they said Americans are good and things like that, they weren't picturing me. I was not one of the people that the speaker had in mind, that the Republican authorities had in mind. When they said good American or good citizen, they were picturing someone completely different." That really got to him because he said, "Tony, words aren't neutral. Ideas that we say are neutral. You have to look at who's saying them, and in their mind, who are they picturing as the good, the people who are going to benefit from this, and the people who won't."
One of the things he told me, I'll never forget, he said, "Tony, politics is all about negotiation. One thing about negotiation is that you're going to sacrifice certain things for other things." He said, "When I realized that Republicans did not see me as their ideal of what an American is or what ideal Republican is, he realized that when it came to negotiations, when they had to cut interest to get other things, they would always cut my interest first. I would be and my people would be the people on the cutting block."
I've always thought about this for this reason. When I look at Trump and things like that, I don't want to make it all about Trump, it's very clear to me who he thinks and who the Republican Party thinks right now are true Americans, are true Republicans. I have to be honest, I really don't think that that has changed that much over time. White Anglo-Saxon people have always been put first as, "Okay, this is the party, the Republican Party. These are the ones that matter to us." I cannot escape my dad's analysis, which was that they don't see me as the ideal Republican and my interests will always be cut for the interest of other people in the same party, who they see are more important. I'm not really- [crosstalk]
Kai: Tony, I'm going to let you go.
Tony: Go ahead. I apologize for that.
Kai: No, no, no, thank you very much for your comment, but I just want to make sure we get to more callers. Thank you for that. Charlie, we're going to return to this idea, but I can't let this pass without you commenting on it.
Charlie: Yes, sure.
Kai: What about this core question because I have the same question as Tony? Are we not looking at the natural end of 50 years of Republican politics if this version of this modern era of the party grew out of what has been infamously called the Southern Strategy and Richard Dixon's effort to use increased rights for Black Americans as a rallying point to drive whites into the Republican Party? How much is race always been part of this problem?
Charlie: Right, that's a great question. Frankly, I do wrestle with that because there's no question about it that right now, you are seeing a party that has decided it's going to double down on racial identity politics. When Donald Trump does talk about the real Americans, we know what he's talking about, and that's been going on for some time, the real America. Was there an alternative path for the Republican Party? I think there was, but I do think that people like me underestimated, the pivot that was made in the 1960s, the Southern Strategy, the degree to which that was the basis of the Republican Coalition, that they always had to pander to that particular idea.
I come from a different tradition where one of the big issues for me, through the 1990s and beginning part of this century, was the reform of inner-city education. I thought that there were alternative approaches to reaching the same goal for improving opportunity, but I think that that was an opportunistic issue that the right seized upon, in retrospect, because they were willing to jettison it so quickly.
I guess this is the question, and I don't know the answer to this, what percentage of people on the right were in fact racist? You can't tell because you can't look into people's hearts, but what we know right now is the overwhelming majority of American conservatives are willing to tolerate racism because they are tolerating it in real-time. That, I don't think is subject to debate. That was something that has always been there, and the fact that it burst out in the flames a little bit, it's like-- I thought it was a burning ember that was going to go out, in fact, because we didn't put it out, it's become this forest fire.
Kai: Let's go straight to Mark in Norwalk, Connecticut. Mark, welcome to the show.
Mark: Good evening, gents. Thank you for taking my call. I was actually a Republican from when I could first vote back in 1972, and I actually left the party in 2008. Over the period, especially starting with the Reagan years, I began to notice that the party was allowing the infusion here of ultra-nationalists, racist, people I used to characterize as of questionable religious character.
Now, it's not like they didn't have a right to be heard, they do. If you're admitting them into your party, they have a right to be heard, and you're seeing the anti-establishment backlash, not only in the Democrats but with the Republicans. One big reason for that is how the parties were. Come out of World War II, it was two functioning parties, separate entities, and ever you had an extremist, for example, maybe on the left, you had communists, maybe on the right, you had people like the Birchers, the parties were able to absorb these people and dilute them. That no longer exists. I'd like your feelings on that, if you would. Thank you.
Kai: Okay. Thank you, Mark. What do you think about that, Charlie, quickly, before we take another call? It's almost similar to what Joe Biden said earlier in the Democratic primary in which he received a great deal of blowback for, I think justly, of waxing nostalgic about a time when the parties got on and were able to absorb, as Mark says, the extremists in their midst, do you agree with that?
Charlie: They absorbed them, but they also were willing to expel them. There's a function of political hygiene that was particularly important for the Republican Party, in the 1960s, they had to figure out, "What are we going to do with the KKK and the John Birch Society?" Unfortunately, I don't think they were effective. I think that that's going on right now. If this party becomes a QAnon party, what is its future?
Yes, we no longer have parties that can say, "You can be in this party, but no, you cannot be in this party." There's no mechanism for guardrails. There's no one who's patrolling the border and saying, "These conspiracy theorists, these racists, the alt-right, the Proud Boys, need to go someplace else." I think that that's one of the reasons why you've had this spiraling vortex of the Republican Party toward increasing craziness because there's no one who can stand and say, "This is the line. You can't cross it anymore."
Kai: Let's go to Dana in Bridgeport, Connecticut. Dana, welcome to the show.
Dana: Oh, thanks so much. I have to admit I'm a Democrat, but I like Charlie Sykes so I couldn't help- [crosstalk]
Kai: Okay, then, we'll give you-
Dana: Okay, great. I have a quick question. My feeling has been that Citizens United and dark money has played a huge part in this extremism. I'm also very concerned that the political right, namely, politicians in power, want to maintain their power so they basically get into office. The thing that they have to do is then raise money for their next election or raise money so that they can chair a committee or raise money so that they can help their fellow Republicans on the right. They basically are just trying to maintain their own status and maintain their power. It seems like it's an insidious thing. It's probably the same way on the left too, but it seems more extreme on the right. That's my question.
Kai: Thank you. Charlie, does this connect to the democracy point too in terms of not trying to raise a lot of money from bunch of different people, just trying to raise money from a small group of people?
Charlie: Yes, exactly. This is one of the issues I've actually changed my mind on because I used to be in the camp of, "Well, money is free speech, therefore, you cannot regulate it." Look, you can't talk about what's happened to American democracy, the dysfunction of our representative government, without talking about the role of huge money, special interest money, the oligarchy, where a handful of individuals control the agenda.
I will say what's fascinating about 2020 is some of the chickens are coming home to roost for the Republican Party. They became addicted to going to a handful of really rich guys who would write out big checks and then they would do their bidding, but what's happening is that they are being overwhelmed now by this green tsunami of money from small-donor Democrats. I think that this is the great irony that the Republicans thought that Citizens United would give them a permanent advantage in terms of money and they are being overwhelmed. I didn't see that coming.
Kai: Let's squeeze in one more. Elena from Westchester, you got about 30 seconds. I'm sorry you got to keep it brief, but I know you've been waiting.
Elena: Okay. Much like the other callers, a lifelong Republican, I was actually born in Russia, so instilled in me to be conservative. My comments are really about the overtaking of the Republican Party by the religious right. It just seems like back in the '80s, it was never so much about the evangelicals and being just about pro-life, it's become very hard for people like me, who are just fiscally conservative, are strong on defense to be a part of this party, especially when, like me, I live in the blue state. I just-
Kai: I have to leave it there, Elena, I'm sorry.
Elena: Yes.
Kai: Charlie, really quickly on the relationship to the religious right.
Charlie: Well, it's obviously become a huge constituency for the Republican Party, but the more dramatic development has been the way in which the politics of the Trump era and right-wing politics have changed evangelical Christianity. The way that the church has allowed itself to be used to run interference for Donald Trump. I think that, yes, it's changed the Republican Party, it's affected the Republican Party, but long-term, the damage goes both ways.
[music]
Kai: Well, Charlie Sykes is the founder and editor at large of The Bulwark, where he also hosts a podcast by the same name. Charlie, thanks for being willing to have a real conversation about all of this with us.
Charlie: It's been great talking with you, Kai.
[music]
Kai: United States of Anxiety is a production of WNYC Studios. Jared Paul mixed the podcast version. Kevin Bristow and Matthew Miranda were at the boards for the live show. Our team also includes Carolyn Adams, Emily Botein, Jenny Casas, Marianne McCune, Christopher Werth, and Veralyn Williams. Our theme music was written by Hannis Brown and performed by the Outer Borough Brass Band. Karen Frillmann is our executive producer. I am Kai Wright. You can keep in touch with me on Twitter @kai_wright. Thanks for listening, and take care of yourselves.
[music]
Copyright © 2020 New York Public Radio. All rights reserved. Visit our website terms of use at www.wnyc.org for further information.
New York Public Radio transcripts are created on a rush deadline, often by contractors. This text may not be in its final form and may be updated or revised in the future. Accuracy and availability may vary. The authoritative record of New York Public Radio's programming is the audio record.