'The Woman King' Isn't a Biopic. So What?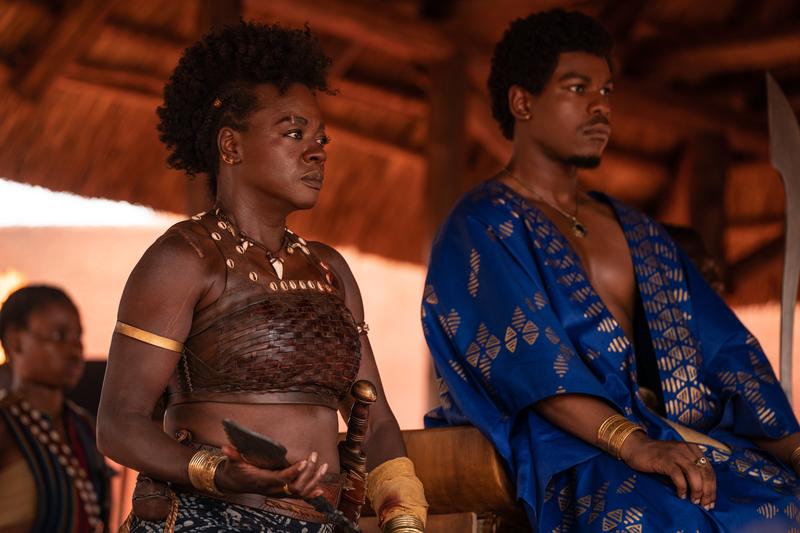 Transcript
[music]
Kai Wright: Welcome back to Notes from America with Kai Wright. That's me, and we're going to turn now to the new blockbuster film, The Woman King. You're hearing a little bit of the score right now. The Woman King stars Viola Davis. It's directed by Gina Prince-Bythewood. Both behind the camera and in front of it, this is a film driven by and about Black women. It opened last weekend to an impressive box office to critical acclaim and excitement and to some criticism for the difficult conversations. It either fosters or avoids depending on your perspective.
I will tip my hand from the start here. I love this film. It is wildly entertaining, yes, for me, but also I have to say I appreciate the story it imagines, but that's just a fan's perspective. We are going to think a little more deeply about it now with Aje-Ori Agbese. She's a communications scholar at the University of Texas Rio Grand Valley. She's a specialist in intercultural communication, and in particular, representation of African women and their lives. Professor Agbese, welcome to the show.
Aje-Ori Agbese: Thank you for having me, Kai.
Kai Wright: Am I getting your name right? Agbese, right?
Aje-Ori Agbese: Yes, you are. You haven't killed it.
Kai Wright: Okay. Thank you. We can take your calls, listeners, calls and questions about The Woman King while we talk. Professor, before we get into the film, I do have to ask you about your own notable background. I gather you had a radio show in Nigeria at six years old. Is that true?
Aje-Ori Agbese: Yes, it is. It's what happens when you decide that you want to follow your father's footsteps. My father was in charge of the radio station and they were looking for a child to speak on a show and he said, "Go do it."
Kai Wright: Okay. Well, I'm glad we could continue the legacy here on Notes from America with your note from six year old in Nigeria. This new film, The Woman King, starring Viola Davis, let's start with what's notable about the film itself. This is a big action film based on the story of the Dahomey Kingdom and its war with the Oyo Kingdom. Viola Davis plays the general of the Dahomey King's elite guard. They're real. They were called Agojie and they were all women.
Before we talk about that history, the film itself, it centers women, and I will say dark-skinned Black women, as hero warriors who are strong and tough and are the leading characters. It feels like this is so unique. Am I overstating this because I don't think I am?
Aje-Ori Agbese: No, you are not, because in many ways, the film is unique for its storyline in terms of its focus on women as heroes, its focus on African women or women from an African nation. The choice to put more dark-skinned women in it, although I have to say I thought they were a little darker than I'm used to seeing some of them.
Kai Wright: Wait, what are you trying to say?
Aje-Ori Agbese: I know Viola Davis is dark, but she seemed a little darker than usual. I don't know if there was sun exposure or something happening.
Kai Wright: You're trying to say that they darkened her skin. Well, that would be a nice turn of events from the usual lightening of Black people's skin.
Aje-Ori Agbese: Yes. I thought it was interesting. In fact, there is a scene in the movie where when the Oyo calvary actually captures some of the Agojie, the first Agojie that they actually put on displays a light-skinned woman. I thought that was interesting.
Kai Wright: Say more about that. What do you mean?
Aje-Ori Agbese: Well, I don't know if it was a battle, but I also think it emphasizes or indicates that there was a time when light-skinned women were seen as the women of choice in some societies and still are in some parts of Africa. The first one that's put on display is light-skinned. Then the ones who come and rescue are dark-skinned.
That can be taken in several different angles, but I thought the choice of the light-skinnrf one as the first one that is shown was a powerful message because until then, we hadn't really focused on light-skinned women in the movie. I think before then, I only saw two. One of them was a troublemaker too, which could mean anything to anyone who watches it anyway.
Kai Wright: There has been some criticism as I alluded to the film's standard Hollywood practice of taking too many positive liberties with the history it depicts, The Atlantic slave trade is a significant part of this film. Both the Dahomey and the Oyo are selling their captives to the Portuguese, and Viola Davis and Agojie are opposed to the trade and urge the king to stop it. There is, as I understand it, little evidence of this moral high ground in the historical record, and some people think the film dangerously underplays the role that the Dahomey Kingdom played in the slave trade. First off, what do we actually know about the Agojie, this group of elite warriors?
Aje-Ori Agbese: Okay. I would say the best way to answer that question is to also appreciate the fact that history itself is full of embellishments. History itself is full of exaggeration. History itself is a frame. In other words, we have to rely on historical writings from Europeans on the story of the Agojie, on the story of Dahomey itself and the transatlantic slave trade. We will never truly know what happened and what did not happen because none of the accounts we have actually came from the people of Dahomey or the Agojie themselves or the royal family. We will never know.
On the other hand, I think Viola Davis and the crew found themselves in a situation where they really wanted to tell a story about amazing women in a period in Africa that many people probably didn't know before Black Panther, but they also might have found themselves in a situation where they had to choose an era or a context where they were trying to make sense of things.
I would say that there is evidence that King Ghezo did, at one point, decide that he was going to stop the transatlantic slave trade. The background to slave trade in that area of West Africa was really because the Dahomey Kingdom when it was created found itself on land that was not fertile. What they did essentially was raid villages and then they found out that by selling to Europeans, they actually could make money and raise their own economy.
When you understand the business from that angle, it kind of makes sense. It doesn't excuse what they did, but it was what was going on at the time. They were not the only kingdoms that did that. The Oyo Kingdom itself did that, and the Oyo Kingdom is the bad guy in the movie because they wanted access to the coast.
Kai Wright: They were unapologetic. In the movie, they're unapologetic about the slave trade.
Aje-Ori Agbese: Right, and they were unapologetic about it because they had the calvary, they had more people, and Dahomey was also paying tribute to Oyo. They themselves, even though they were a powerful kingdom, they were still subject to someone else. All these little things, when you put them together, it's really hard to say what's right, what's wrong, what's good, what's bad because we didn't live in that time.
Kai Wright: Right, and there's just so little actual historical record. I'm also thinking about the character Malik in this film. He's this absurdly handsome guy whose mother was Dahomey. She was taken and enslaved in Portugal, and Malik has somehow managed to come back with a slave trader to visit his mother's homeland.
Now, setting aside the farfetched nature of Malik's whole story, he also represents this classic Black American story of wanting some kind of healing or redemption or connection on the shores of West Africa. Within that, we do have this thing where we, now I'm talking about Black Americans, tend to imagine everybody having been a king or a queen or an elite warrior. I guess as someone who studies this, how do you think the film industry supports those kinds of tropes, and why are they important or not important?
Aje-Ori Agbese: On one hand we have Black Americans who basically believe, like you said, everyone who lived in Africa at certain point was a king or queen, a prince, a princess, royalty. It's hard to imagine that there were people who were servants, and that romanticization of Africa produced movies like Coming to America.
Most of the other Hollywood movies I've seen haven't really tried to delve into that because, for the most part, Africa really didn't exist in Hollywood beyond negative things. If you're talking about war, okay. If you are talking about hunger, okay, but if you were talking about the romanticization that African Americans had, I would say the first film that actually opened that door was Coming to America.
Kai Wright: Let's talk about Coming to America. You've talked about both Coming to America and Black Panther as things to think about in relationship to The Woman King. Let's take them in turn. Coming to America, for folks who don't know, this is the 1980s smash hit comedy. Eddie Murphy is a king coming from, I think, a totally fictional African country to the United States-
Aje-Ori Agbese: Yes, Zamunda.
Kai Wright: -in search of a queen to get him out of an arranged marriage back home, and hilarity ensues. How does it contrast with The Woman King?
Aje-Ori Agbese: Oh God, where do I begin? For one thing, Coming to America really, really, really painted this picture that African women really had no mind at all. We were submissive. He says, "What do you like to eat?" Whatever you like to eat. "Bark like a dog." She barks like a dog. We find out in part two that she never stopped barking. She barked for over 30 years, which doesn't make sense, but when you contrast that with or compare/contrast with The Woman King, it's such a big difference.
It's different because I would say Coming to America is 100% fiction in my opinion because even though there are people who said, "That's my life story, I was a prince in Africa, then I came to America to find a wife and happiness," and so on, The Woman King tells us that women had a place of importance in Africa. Women could speak in Africa, not all of Africa, to be clear, because we have to be honest that there were cultures or ethnic groups or tribes that really, really didn't see any worth in women and still don't till this day, but many pre-colonial societies were quite the opposite.
You had women in The Woman King who could actually speak their minds. Nawi, who is the character who plays General Nanisca's daughter, is powerful in the sense that when her father tries to marry her off, you can see that the man thinks of her as nothing and hits her because of how she looks at him. She pushes him down. We don't see that in Coming to America.
Kai Wright: She fights back almost in almost every sense in The Woman King. Anytime a woman or a girl is assaulted or challenged, every time, she fights back. That is really notable.
Aje-Ori Agbese: Yes, and that's powerful. That's powerful because I think for many young girls in many African societies today, they are looking for that voice. They are looking for this image. They are looking for these stories that tell them these are the people we once were and these are the people we could be again.
Because too many cultures today, and I blame someone of this stuff on colonization, I blame some of it on Christianity, I blame some of it on Islam because a lot of these messages constantly tell women in many African societies, they don't belong. Seeing movies like The Woman King, seeing characters in Black Panther also tell women what's possible and what was possible and could be possible again.
Kai Wright: Let's talk about Black Panther as a counterpoint to Coming to America with time we've got left here, but I understand, first off, that you actually learned stuff about Nigeria watching the Black Panther. Is that right?
Aje-Ori Agbese: Yes. I actually learned that there is an ethnic group in Nigeria that had an alphabet system way, way before because those alphabets were actually incorporated into the movie. I did a study on the movie actually looking for the messages that the movie sent out. One of the things that came out was they had an alphabet system from people who are in present-day Nigeria in a state called Cross River that they had had for centuries. They've been washed away. Nobody's using that, but I had never heard that before. I had never heard that before. I studied history in Nigeria, and I had never heard that before.
Kai Wright: Tell me that. I bring it up because I feel like it connects to the point about why these films are important and the fact that they're watched by Black people both here and Black people in throughout the African continent. What do you think we should take from the fact that you learned something about Nigeria, your own home from this film?
Aje-Ori Agbese: I think for me, it raises the notion that there are a lot of historical things we've been taught in school that we need to start questioning or challenging. I think we're doing that in Nigeria. We've gotten to a point now where we're raising questions about so-called discoveries by British people during colonization, rivers that they suddenly discovered. Then we realize, "Hey, people were using these rivers before they ever came." That's important.
I think it's important because when Hollywood makes these types of movies, it actually gives validation. It gives validation to who we were. It gives validation to the fact that our stories can be successful because I think that's the biggest part of it. Viola Davis said the reason why she waited eight years to actually do this was because she was afraid. She was afraid nobody would watch it. She was afraid it wouldn't be successful, and then Black Panther happened, and it was a mega success.
This is actually the best time to ride on those coattails because someone has knocked down the door and done it well. Why don't we try it too? That's important because it's going to bring up more stories. We're actually doing more historical movies in Nigeria. I've noticed that has actually gone up since Black Panther, that more and more historical stories are being told.
Kai Wright: We're going to have to wrap it up there, but I love the trend that you're describing. Aje-Ori Agbese is an associate professor in the Department of Communications at the University of Texas Rio Grande Valley. She is a specialist in intercultural communication, and in particular, representation of African women in their lives. Thank you so much for this conversation.
Aje-Ori Agbese: Thank you so much for having me, Kai. Thank you.
Kai Wright: This is Notes from America. We are a new national show inviting you into a conversation about the kind of society we've built together and imagining what we might create together in the future. We are all about active listening, if you heard anything you want to chime in about or a question you want us to follow up on, send us a note, notes@wnyc.org, or hit us up on Twitter or Instagram, @noteswithkai.
Notes from America is a production of WNYC Studios. You can follow us wherever you get your podcast or check us out on WNYC's YouTube channel. Our live engineers tonight are Matthew Miranda and Milton Ruiz. Our team also includes Karen Frillman, Vanessa Handy, Regina de Heer, Rahima Nasa, Kousha Navidar, and Jared Hall. I am Kai Wright, and I want to thank you for spending this time with us. I'll talk to you next week.
Copyright © 2022 New York Public Radio. All rights reserved. Visit our website terms of use at www.wnyc.org for further information.
New York Public Radio transcripts are created on a rush deadline, often by contractors. This text may not be in its final form and may be updated or revised in the future. Accuracy and availability may vary. The authoritative record of New York Public Radio's programming is the audio record.