The Wolf Pack of White Nationalism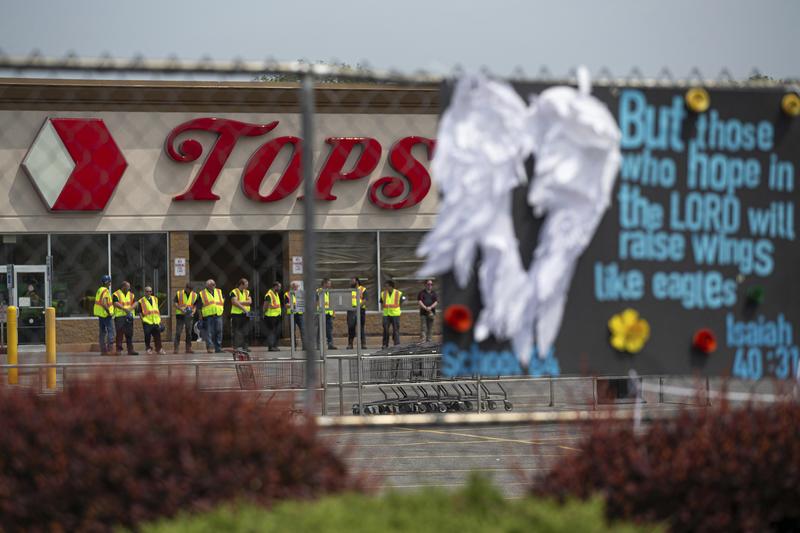 Transcript
Regina de Heer: Have you heard about the mass shooting in Buffalo?
Michael: I did.
Regina de Heer: What was your immediate reaction to that news?
Michael: My immediate reaction was just very distraught, feeling of hopeless. I guess my thought was like, "Oh, again, this is just so upsetting." Then just getting scared and thinking about the loved ones in my life and just being reminded that anything can happen anywhere.
Regina de Heer: I wonder, has this event made you, by chance, think differently about the people you may be friends with on Facebook or people who might be in your own personal life who maybe saying some off-handed things that you may be looking at different light?
Michael: Yes. To a certain extent, I guess. I didn't think of that directly in this moment, but I guess the thought does cross your mind. You just don't ever know what anyone's capable of and it's really scary.
Kai Wright: Welcome to the show. I'm Kai Wright. You know what, this is a really scary moment with the grind of awful news stories in the onslaught of norm-shattering events over the past several years. It's a lot. Amid all that, the extreme ideologies that motivate a segment of white America can become obstructions. We have, again, been reminded over the past week that they are a very real and present danger from the great replacement theory to insurrectionist winning primary elections to Republican leaders hanging out in a hangry with proud racists and dictators. As overwhelming as all of these can feel, we do have ways to understand it, and we do have ways to confront it. Tonight, let's try to get our minds around it together.
The white terror attack in Buffalo is, of course, still top of mind, so we'll start there. Juliette Kayyem leads the Homeland Security project at Harvard's Kennedy School of Government. She's a former assistant secretary in the Homeland Security Department of the Obama administration. Now, the author of a new book called The Devil Never Sleeps: Learning to Live in an Age of Disasters. Juliette, thank you for making time tonight.
Juliette Kayyem: Thank you for having me.
Kai Wright: We'll get to the broader questions your book raises, but let's first focus on what happened in Buffalo. After these attacks, the killer is often described as this sort of extreme outsider and we use this word "lone wolf". You wrote an essay in The Atlantic in which you dissected that trope, the "lone wolf" trope. You actually started by breaking down the metaphor itself, so maybe can we start there, too? Explain the place of the so-called lone wolf in the actual animal kingdom.
Juliette Kayyem: Exactly. Lone wolf, we generally think of as the guy, generally the guy who acts solo. That's to compare it to the ISIS or Al-Qaeda type terror attacks. They were highly-- lots of people highly structured, highly organized. Wolves are not a particularly spectacular species. They're not strong. They're not fast. Their power comes in the pack, comes from the fact that they are a group. When they find their prey, and I'm using purposeful language here, when they go for the hunt, they surround their prey, one attack strong and goes after various parts of the prey. That means that the lone wolf, literally, in the animal kingdom, is not a threat. He cannot massacre. I thought-- was thinking about that. I was thinking like, well, why-- the lone wolf is actually not scary.
I'm seeing all these explanations for all these guys time after time saying lone wolf. The truth is it's just given the online environment, given the radicalization in our political space, as you noted, which I don't think we should be shy about what's going on about the incitement for violence that it permeates the language of many members of the GOP and the former president, Donald Trump when he uses words like fight and liberate. His people know what he's saying. Means that there are-- these are not lone wolf incidents. They are structured and organized online for performative purposes as we've learned about the killer in Buffalo. He was performing. He was stalking for months with an audience watching.
Kai Wright: It's so chilling.
Juliette Kayyem: It's so chilling.
Kai Wright: The performance part is really chilling.
Juliette Kayyem: Yes. There's an online-- I don't use it, but there's many online chat rooms, this one is called Discord. Discord has not disclosed to my knowledge how many people are part of his sort of online chat room. There are some news reports suggesting that a number of people started following the video of the killing because he did video as part of his performance right before.
From months before, he is not only documenting or messaging about the most random of things, a parking ticket or whatever else but also this kill. I'm just being honest, this was a hunt. He goes to the supermarket beforehand. He's entering it weeks before. He's entering it. He's determining that it's sufficiently filled with Black shoppers. That's what he wanted.
Then in the days before, just talk about the number of people knew, he actually uploads this manuscript. Some people call it Manifesto. I think that gives it too much credit, this manuscript onto another platform called MediaFire. If you're just looking at his network, it's not one. I mean let's just be clear, it is not one. It is a group of radicalized individuals who are engaging, supporting, giving comfort. He's, as I wrote in the piece, he found his people.
Kai Wright: Why does the language matter? Who cares whether we call him a lone wolf or not? Why does that matter?
Juliette Kayyem: Part of it was I wanted people to sort of say, "Okay, wait, now I get it. A lone wolf is not scary. These guys are scary." The other is it is important that we see the network as maybe not criminally liable but as culpable bystanders. Until we start to do that, we're going to have all sorts of excuses that is mental health or access to guns. Trust me, I am a strong advocate of stronger gun legislation, but at some stage, it is also the network that is supporting it in terms of this, what we're calling domestic violent extremism. It means that the answer is not just law enforcement, although that's clearly going to be an answer.
For people who see this happening, you're not just a bystander. You are the audience. He's doing it for you. People say, "Well, I was watching him," or he was saying things online. He's saying them because he wants, whoever to him is, he wants the audience. I think it's going to take a lot of engagement as well having people come forward. The Buffalo cases, to be honest, that was months and no one said anything?
Kai Wright: No one-- I have to say, I wade carefully into this because I don't know people's lives and I certainly don't know the facts. One of the details that stood out to me was the day after the shooting and they went to the neighborhood, to his neighborhood. The neighbors were like, "Oh, yes, we were just at his graduation party recently." I thought, no one-- this wasn't-- I just wonder what's being said at that party. I really do wade into this carefully, but I think about the performance element of it. We go to the big-- the performing in Discord for other avowed white supremacists. What about the performance in less particular spaces? How much do we see that in these cases?
Juliette Kayyem: A lot. Each of them is different in terms of these, why that guy, right? There's lots of people who are absorbing radicalization, but why this particular person? That might be a combination of background, mental issues, desire, whatever it is. You do see in a lot of these cases, there's performative nature as well in terms of how they're relating to the outside world that's not online. Now, I think actually the parents in this case, it seems to me probably did know something was going on, but we don't know yet. Each cases is different.
What's not unique in each of these cases, and this is what's important for people to realize is that they are finding their people through a radicalization process that is being comforted in our political space. I don't want to dismiss the politics of our time either, and I'm pretty clear about that. There's wonky terms like stochastic terrorism that I use, which is just a waste.
We have political leaders and media leaders who are speaking in a way that radicalizes. There's just no question about it. They may not be specific as to what form of violence, the violent radicalization takes. That's the random nature of it. One can hardly be surprised that some of their listeners will be motivated. That's the scary thing about the replacement theory. It is not about demographics and don't let anyone tell you otherwise.
I've been in counterterrorism and homeland security a longtime, replacement theory came out of France as a reflection or a condemnation of ending immigration for Muslims that were destroying French culture. It is clear it is not about "Oh, our country's changing." Because our country is changing, we will be a majority non-white country within a couple of decades. Most people view that as, yes, but many don't.
Replacement theory that you hear from Fox media and now the Republican Party, which has not disavowed it, is essentially a theory that the pie is limited and the presence in this case of Blacks, right? He chose Black. He said he chose Black. It means that I cannot have a piece, any part of the pie either. It justifies violence because it's essentially, it's either me or you as for them. The fact that we're even talking about replacement theory, I thought it was the third rail and nothing in this country surprises me anymore, but it should be a third rail.
Kai Wright: Juliette, you appear in the Buffalo shooter's manuscript, manifesto, however we'll call it, how so and how did you react to that?
Juliette Kayyem: Well, I'm an on-air analyst for CNN whenever anything goes bad, so sort of my little niche. I'll be alone for like 48 hours and then never again. There's a meme that describes a lot of the CNN. It's the Jews of CNN. It's a meme that is someone put together and has shown up a number of these white supremacy documents. I had seen myself in that as well.
The irony is, and mayor of America, which probably doesn't make him feel better, but it is just like a list of people and of media folks. I did not any more than I get nasty tweets or whatever, I don't really jump every single time anymore. If you're in this space, you get used to it. I didn't make me think that in the same way, I wasn't that special. Really the killer in Buffalo isn't that special either.
His specialness came from the pack. Honestly, I don't think we're going to find anything exceptionally interesting about him. He probably had mental illness or something, but lots of people have mental illness and don't do this. Unless we look at the pack and the network that's supporting it and watching for months, months. This is the scary part of this story.
Kai Wright: Your expertise is really in responding to social threats of all sorts. Your new book, as I mentioned, came out end March, it's called The Devil Never Sleeps: Learning to Live in an Age of Disasters, which is great title. The premise seems to be the disasters are a constant part of our society. Just quickly say more about that and why that is an important point to make right now.
Juliette Kayyem: Yes, I've been in this field a long time. It's also important because it's not just about terrorism, but obviously, we came out of a pandemic. I think a lot about climate change and natural disasters. Having been in this field a long time, I realized we had this weird notion of success and failure. If we can stop the bad thing from happening, that's success, and if we don't stop it, that's failure. The truth is, is if we're building for a time of rainbows and unicorns, I shouldn't be the first to break it to you, but that's not what our goal is. Our goal should be that, as I say in the book, learn to fail safer.
In other words, when we're on the other side of what we, in disaster management proverbial called the boom. When you're on the other side of the boom, what can you do to prepare ourselves to fail safer so that the measure of success is really where things less bad? I think about this about, obviously, the network of radicalization is absolutely terrifying and we need to address that.
One of the things where I would hope we could get some common ground, we certainly have it in the polling, but if you're in law enforcement and homeland security, one of the things that you focus on in terms of gun control or gun control measures is not so much handguns or other things, suicides or-- you want to focus on the weapons that kill so fast that no public safety apparatus can save you in time. That's what happened in Buffalo. I think the first phone call was a minute and a half, some of the school shootings, they have people who are armed on campus. I guess they had one in Buffalo as well.
One of the things I think about is just, well, can we at least maybe get some? It's not good if someone comes in with a handgun, but it's certainly better than the weaponry we're seeing out there. It's a way of thinking about how we can invest in metrics and in investments that help us fail safer, make things less bad, and cut across every disaster and go back to disasters that people think they know and say, "Okay, well, let's look at this a little bit differently because here's the alternative that would have been worse, and so what can we learn from that?" Hopefully, it's actually optimistic because it's like we have agency.
Kai Wright: No, I agree.
Juliette Kayyem: Yes, we have agency. I think that's one of the things that, like I do breaking disaster news for CNN and I have been doing it for a while. It's like this thing and that thing, and this thing, and you can start to feel overwhelmed by it. I think one of the reasons why I can feel optimistic is that you actually see how people can assert agency. I think if you watch too much bad news, you'll start to freak out. As we say, your only options are to freak out or tune out. Hopefully, this provides some agency.
Kai Wright: Juliette Kayyem is director of the Homeland Security Project at Harvard's Kennedy School of Government. She's a former assistant secretary in the Homeland Security Department of the Obama administration. Now, author of that wonderful new book, The Devil Never Sleeps: Learning to Live in an Age of Disasters. Juliette, thanks for this.
Juliette Kayyem: Thank you so much.
Kai Wright: We'll turn next to a particular brand of extremist ideology that is showing up in those primary campaigns that we talked about. What is Christian nationalism and how did it become such a powerful part of Republican politics? We'll take your calls. Have you thought about what you can do to confront the growth of extremist ideologies among white Americans? I'm thinking in particular about white people specifically here. Do you have anyone in your life who believes things like the great replacement theory? Tell us what you've learned about confronting it? 212-433-WNYC. We'll be back after the break.
[music]
Rahima Nasa: Hi, it's Rahima. I helped produce the show. If this episode resonated with you in some way, we want to hear from you. Here are some questions to think about. Do you have anyone in your life who believes in things like the great replacement theory? Are you engaging with them? How have those conversations gone? We'd love to hear more about your experiences. Here's how you can share them with us. Record yourself on your phone, then email us the recording, or you can just write us a regular email. Our address is anxiety@wnyc.org. That's anxiety@wnyc.org. Thanks for listening.
[music]
Kai Wright: Welcome back. I'm Kai Wright. I'm joined next by someone who has spent many years reporting on the intersection of white identity politics, the Republican Party and religious extremism. Sarah Posner is the author of Unholy: Why White Evangelicals Worship at the Altar of Donald Trump. She's an investigative reporting fellow at Type Media Center, and she has been watching the Republican primaries play out with some concern. Sarah, thanks for joining us.
Sarah Posner: Thanks for having me, Kai.
Kai Wright: Okay, so the Pennsylvania Republican primary, this has been the big story of this year's election so far and we all remember the state's role in the 2020 election. Of course, we can imagine it playing a similar role in the 2024 presidential election, but in any case, you wrote in advance of that Pennsylvania primary about Doug Mastriano, who has now won the GOP nomination for governor. Your article in TPM was called How Christian Nationalism and The Big Lie Fused to Fuel Doug Mastriano's Candidacy, so we are going to start there. Sarah, for those who aren't yet tuned into the midterms, who is Doug Mastriano? Before we get to your reporting on the Christian nationalism in his campaign, particularly just introduce him to listeners.
Sarah Posner: Doug Mastriano is a pro-Trump state senator in Pennsylvania who has spent a lot of time advancing Trump's stolen election lie, trying to get illegals substitute later electors injected into the electoral process in Pennsylvania back in 2020 and attended the insurrection. Mastriano his gubernatorial campaign centered on not only his belief in Trump's stolen election lie, but also in the idea that he's carrying out God's will in his campaign and would be carrying out God's will as governor.
Kai Wright: That gets us into the Christian nationalism piece. Again, overall, what is Christian nationalism? Like as a movement and a belief system for people who have never heard of this, introduce people to that set of ideas.
Sarah Posner: Christian nationalism is a political ideology that holds that America was divinely founded as a Christian nation and that social and political and legal changes that happened over the course, say, of the second half of the 20th century until now, including, importantly, secularism, have subverted the Christian nation and it is the duty of patriotic Christians to restore the Christian nation.
Kai Wright: Sarah, we were talking with Juliette about the great replacement theory and this idea that when something happens, like the shooter in Buffalo, that we immediately think of him as exceptional, as this lone wolf off in the corner. Just as you're helping us understand what Christian nationalism is, put it in context, similarly about beyond electoral politics, just like how widespread is this in the culture right now?
Sarah Posner: How widespread is Christian nationalism in culture?
Kai Wright: Yes.
Sarah Posner: Yes. I would say it's hard to divorce it from politics because it is the core of the Republican Party. It is the driving ideology of the Republican Party base, currently, and has been for a while, but I think Trump really energized it and accelerated it. It is not only extremely widespread within white evangelicalism, which it is, but the ideology of white Christian nationalism has also permeated people who might not necessarily identify as evangelicals, including Conservative Catholics and mainline Protestants.
As we saw in the insurrection, the ideology and iconography of Christian nationalism is so widespread that even someone like the QAnon Shaman was seen in that famous Luke Mogelson video inside the Senate chamber, praying in Jesus's name. Christian nationalism, in a way, is an ideology that transcends Christianity, and that's why I called it a political ideology.
Kai Wright: Right. How has this shown up in Doug Mastriano's campaigning? He's now the Republican nominee for governor of one of the most important states in our political system, and he's been credited with running a smart campaign actually is what analysts say. How did Christian nationalism show up in that campaign?
Sarah Posner: Well, he campaigns at a lot of events, like one was called Pennsylvanians for Christ, which was their stated goal was restoring the Kingdom of God in Pennsylvania. He was not shy about campaigning at these very explicitly Christian nationalist events where they basically talked about how it was necessary for patriots to carry out God's will and change the politics of Pennsylvania and change the politics of the country. Mastriano talks about this a lot.
His acceptance speech on Tuesday night when he won the primary was very, very similar to a speech he gave at the Jericho March back in December of 2020. The Jericho March was a Christian nationalist events that was part of the run-up to January 6th, and helped lay the Christian nationalist groundwork for January 6th. He gave very similar speeches, cited the same Bible verses in both of those speeches, and basically was saying that he has a divine directive to restore Pennsylvania or restore America as a Christian nation and that other Christians have a role to play here too, and that you're carrying out history, you're making history, it's your role, your duty.
Kai Wright: Just to give people a sense of the intensity of this, there's a detail in your article in TPM that just grabbed me. You say that at some of Mastriano's campaign events, they're blowing a shofar. I don't even know if I'm pronouncing that right, but what is that? How has it been used in his campaign and how does it relate to Christian nationalism?
Sarah Posner: As your Jewish listeners will know, the shofar is a Jewish ritual object that is used in synagogues at the High Holy Days. It has over the 15 to 20 years that I've been reporting on the Christian Right, I've seen it used more and more at Christian events, at evangelical events and used to advance these Christian nationalist ideas. A big part of Christian nationalism is the belief that patriotic Christians have to engage in spiritual warfare with satanic enemies so people or forces that are undermining the Christian nation. They use the shofar as a mechanism almost for announcing that kind of spiritual warfare or making a statement that they are engaging in that battle for the Christian nation. It's a complete terrible appropriation of a Jewish ritual object for this political end, but it is so--
Kai Wright: Is it meant to target? Is it meant to be like a thing directed at Jewish people?
Sarah Posner: No. It is meant as a statement of their engagement in this battle for the Christian nation. For example, at the Jericho March, it was blown and it was compared to the blowing of the trumpets in the story of Joshua in the Bible when the walls around the city of Jericho fell. The comparison was that there are walls around the deep state and they want to make those walls fall so they can bring down the deep state, which is also seen as an enemy of the Christian nation.
Kai Wright: Let's take a couple of calls. Listeners, we're asking you if you have thought about how you can confront the growth of some of these extremist ideologies amongst white Americans, whether it's the Christian nationalism that Sarah is talking about or the great replacement theory, stuff that Juliette Kayyem was talking about in our first segment. Call us up and let us know what your experience has been? 212-433-WNYC, that's 212-433-9692. Let's go to Wendy in Springfield, New Jersey. Wendy, welcome to the show.
Wendy: Hi. Thank you. Don't feel helpless. There are many organizations, but I'll just give you two that I've been involved with. One is braverangel.org. It's a non-profit. It's just like the therapy that couples go through so you know how to argue, how to disagree without being disagreeable. The reds to talk to the blues, the blues to talk to the red.
The second one is projectsanctus.com. It's a dot-com because you donate whatever you can afford for each session. We've been reading over the year about all of us Black, white, everybody has gone through. We're in a white supremacist world. It's like fish in the water. We've all been traumatized, and it's how to deal with your trauma and work with other people to deal with their traumas, and so how to deal with a white supremacist society non-violently, but it starts with you because all this stuff is in the body. It's all in the body.
Kai Wright: Wendy, thank you for those recommendations. Let's go to Jeff in Derry, New Hampshire, I believe. Jeff, welcome to the show.
Jeff: Hi. Thank you. I'm going home. I'm actually going home to where I primarily live, which is in Manhattan, but any case. I was very lucky to go to a very prestigious boarding school, med school, for high school, and I just came from a big reunion. Most of the people there are extremely progressive, well-educated, et cetera, cetera, cetera. Then there are two people from my class who both after I knew them there fell into very, very deeply into the Born Again Christian movement and I had shocking conversations with them at this reunion, because these are people who went to this extremely high-level school and went on to Ivy League colleges, and are not, as I like to write people off, the uneducated, don't understand, and what I found was, I was only successful with one person.
One person just refused, even budge, but the other person actually responded because I happen to be a non-evangelical Born Again Christian. I'm sort of a more mainline Protestant. I know the Bible very well and I try to talk at his level about what I believe Jesus Christ, the Son of God are not taught us and what his perspective on this. That, I think I find in all my difficult political conversations with people who are going to these terrible places online that you have to find it in through something that they do agree with and then try to work from there.
Still, I just have to say it's just shocking to me to put together Christianity with a certain race or certain nation, because there's just nothing in the gospels that even begins to suppose that as the way we're supposed to go through life or deal with politics is pushing people.
Kai Wright: Thank you for that call. Sarah, building off a couple of things that Jeff said, one is he said, well, I'm not sure where this comes from in Christianity, this idea that there's a relationship between Christianity and what race you are. In terms of amongst Christian nationalists, what is their argument, back to Jeff, that this is a Christian thing?
Sarah Posner: Well, throughout history, you can find examples of Christianity being used or misused towards and that Jeff would probably consider un-Christian. The idea of using Christianity for a certain political end is not something that's unique to the Christian nationalism that we're seeing in the United States right now. What they would say, they would say, yes, I am loving my neighbor. I am living like Jesus, because there are Christian nationalists who would point to you in the Bible that they would claim that the idea of America was prophesied in the Bible.
They would claim that America is like Jerusalem in the Bible so that they compared President Donald Trump to King Cyrus who restored Jerusalem after the Babylonian exile for the Jews. They tend to use the Bible as a proof text for a political idea that they have, because obviously the comparison of King Cyrus and Donald Trump is not very, after even logical in any way. In a lot of ways, there's not a lot of logic to be brought to the table in this. I would applaud anyone who could have a one-on-one conversation like Jeff did with his high school classmates and make some progress on that front.
Kai Wright: Well, just to quickly dig in on that front, then would you argue, listen, this is not actually a religious conversation. There's no point in terms of thinking about solutions. There's no point in getting into a debate over religion. That's not what this is about. This is about politics. Is that what you're arguing or something different?
Sarah Posner: Well, one way of having the discussion would be, you have your view of Christianity and I have mine. We have religious freedom in this country and we have a separation of church and state, so you're free to practice your version of Christianity and I'm free to practice my version of Christianity and the state shouldn't interfere in that or impose one or the other.
Christian nationalists would argue that the separation of church and state is a myth, and because they believe that America was divinely founded as a Christian nation, that it must be governed that way. That's what makes it difficult to have that conversation because you can't really walk away agreeing that there's separation of church and state and religious freedom, and so you're each going to go on your happy way. You would be more at loggerhead because of that core belief of Christian nationalism.
Kai Wright: Let's take a break. I'm talking with Sarah Posner, author of Unholy: Why White Evangelicals Worship at the Altar of Donald Trump, and an investigative reporting fellow at the Type Media Center. She's been following the rise of Christian nationalism in the Republican Party for years and says it's surging in this year's Republican primary elections. After a break, I'll ask Sarah for the Republican Party's history with this movement.
Welcome back, I'm Kai Wright. I'm joined by Sarah Posner, author of Unholy: Why White Evangelicals Worship at the Altar of Donald Trump, and an investigative reporting fellow at the Type Media Center. Earlier in the show, I spoke with a homeland security expert about the terrorist attack in Buffalo and the great replacement theory ideology that fueled that violence.
Sarah is explaining another related set of extremist ideas, Christian nationalism, and we want to hear from you. Do you know anyone in your life who has followed either of these ideologies or any other form of white nationalism, and if so, how have you thought about how you can interrupt this, how you can interrupt its growth? Let's go straight to Heather in Long Island. Heather, welcome to the show.
Heather: Hi, Kai. Just one quick point, I just wanted to jump off on the Christian nationalist theory. It seems to me that a lot of that type of person always is falling back on the Old Testament and while they might have imagery of Christ, they're not talking too much about Christ in His message. They're really going back a lot to Old Testament stuff, like Cyrus and all that. It's very confused the message where they don't really talk about Jesus so much in his message, but go back to the fire and brimstone of the Old Testament. That's just one thing.
As I was saying to your screener before, I'm in a town called Freeport on Long Island, that is a little speck of blue in a very red area. We moved here purposely because of that. I have acquaintances and friends that are from other places and my experience has been, if you can't get to somebody before they glommed on to these conspiracy theories or these wild ideas, they're gone. You have to get to people when they are not radicalized. When they still are like, "Those people and blah, blah, blah," and try to stop them in their tracks, get them to process what they're thinking and how they thought that and where they got these ideas, and show them that their narrative is so wrong and it's always been wrong.
The way to do that sometimes, and I think your other caller touched upon it with go to something that a lot of people, working-class people, in particular, can agree upon, which is labor unions. Everybody wants a job. Everybody wants their kids to, grow and flourish. How do we do that? Don't you think everybody wants those things the same as you do and grow from that, try to find a common issue to pull it out.
Kai Wright: Thank you for that, Heather. Sarah, the premise of this conversation for me has been like, "Okay, how can people interrupt? How can people engage with this?" I guess I want to just test that premise with you in the first place, right? Because I'm trying to get us to solutions and think about how we can just, not just be terrified. In your experience covering this movement for so long, is this a space where it's a reasonable goal to try to change people's mind or is this about controlling the power of people who think this way?
Sarah Posner: Well, I've both reported on people who are extremely enmeshed in this movement, and I've also reported on people who have left the movement. I guess my answer to that question would be that not to assume that everyone who is enmeshed in the movement is enmeshed in it forever, that there are a lot of people who ended up for various reasons, having epiphanies and trying to leave. Not that leaving is easy, but it happens.
Many people who do end up leaving leave for reasons like they're gay and they could not withstand the homophobia anymore, or they were sexually abused and they saw that as being intertwined with it, or they just had some experience in the outside secular world that they had been sheltered from for a really long time that made them see that there were other ways of looking at the world and looking at politics. I have interviewed and written about people like that too. That always gives me a little bit of perspective that people aren't lodged in this forever, but I think at this particular moment, we're living in this moment where so much is on the line with our democracy with how much this movement drives the Republican Party and its stolen election lie that I think that's keeping me on edge, if that make sense.
Kai Wright: Spell out the relationship between this and the stolen election lie. Why is this such an engine of that lie?
Sarah Posner: Since the founding of the moral majority in the late 1970s in the Christian coalition, the modus operandi of the Christian right has been there is this silent hidden majority in the United States that they're going to vote for these family values and these Christian values. All we have to do is organize them and get them to the polls and get them to run for office, and then we'll win because there are more of us. Then I think they started to see that there aren't, they're a minority in this country and I think the Obama years in particular made them realize that.
Trump came along and became this really messianic figure to them, I think, in large part, not only because they have this transactional handshake about Supreme Court justices and so forth, right, anti-Roe Supreme Court justices, but that he was willing to carry out their agenda in anti-democratic ways, small d, anti-democratic ways and that he spoke their language about that there is this America that has been lost to political correctness or wokeism or however they might want to phrase it at any particular time.
That fusion between the belief that God had ordained, had got his hand on Trump or divinely ordained him to be in the Oval Office and that Trump was the best president for the Christianity ever, and that they just went hand in hand when he started pressing the stolen election lie. How could it possibly be that this divinely ordained leader lost the election? Because they also believe that they are engaged in this spiritual battle between the forces of good and satanic forces, it must have been these forces of evil that created, stole the election from him or there was fraud or what have you.
Around the time of the election, you saw the Christian right getting on board with a stolen election lie, and after January 6th, you saw the Christian right with unprecedented support for state-level bills that we saw passed in 2021 that were designed to suppress the vote of Democratic voters.
Kai Wright: I think what's interesting there is, I hear you saying, is it's not even about the cynicism of it as much as if you believe that this is, in fact, a divinely inspired moment that this person was put in office by God, it's unbelievable that he lost. Then everything is on the table from there. I also think it's interesting to think about Trump--
Sarah Posner: For somebody like Doug Mastriano, then he uses that to say that we are going to come save the day and carry out God's will.
Kai Wright: Which is important, that's the next chapter now, is that now we're in for Mastriano. This is not about lookback. This is about, okay, mount the crusade to take back power for white Christians.
Sarah Posner: Right.
Kai Wright: In your article, you tick through all the different versions or a number of different versions of so far right religious movements that have had some relationship to the Republican Party over the years, but you say that really from Reagan through the bushes, there was a distance there and that something changed in the McCain campaign. Is that an accurate characterization of the sweep of history?
Sarah Posner: Since the merger of the Christian right and the Republican Party with Reagan's election in 1980, the white evangelicals and conservative white Catholics have been merged with the Republican Party, but during that time period, there were also changes that were happening within evangelicalism where these new religious movements or sub-movements were becoming more focused on and driven by these charismatic Christian ideas about faith healing and revelation directly from God and prophesying and movements that said that there are modern day disciples and prophets and apostles of Jesus who have to be engaged in spiritual warfare to defend the Christian nation.
What you saw with the bushes is they know that they need to reach out to all these different segments of the evangelical world to win elections, but they're not going to invite some of these figures into the Oval Office to lay hands on them like Trump did. While you're having this solidifying of this merger between the religious right and the Republican Party, these changes are happening within the religious world. Then you see John McCain nominate Sarah Palin, who comes from that world as his running mate.
Then you see Rick Perry in 2011 having his massive prayer rally in the professional basketball stadium in Houston, that was very much driven by those kinds of religious movements. There was a lot of prophesying and speaking tongues and that sort of thing happening at that prayer rally. They're increasingly becoming more enmeshed in mainstream Republican politics. Then Trump comes along and he's really good friends with Paula White, who's a televangelist who comes from that world herself.
She introduces him to all of these other figures and I think that a lot of political reporters were mystified by some of the religious figures that he brought into his 2016 campaign. They weren't well-known, they weren't denominational leaders that were familiar to political reporters, but for Trump, this was the way of building his base and building a base that was driven by this like, "Oh, we're getting a prophecy from God that Trump is the chosen one or something of that nature."
That all fused together too and they're very driven by Christian nationalism as well. What you saw in the Trump era was really an escalation of that kind of charismatic Christianity that that corner of it or that segment of the evangelical world really becoming more enmeshed in Republican politics. You're seeing it now in more and more candidates for lower office, really reaching out to those kinds of audiences and expressing those ideas themselves.
Kai Wright: Sarah, we have 30 seconds here, but in terms of a solution, do you see a similar rise in movements to counter this in religious spaces?
Sarah Posner: I do see Christians mobilizing against Christian nationalism and you see more organizing by groups, atheist group, secular groups, groups that are working to support separation of church and state. All of those things are important from the Christian side and also from the secular/atheist side.
Kai Wright: We'll have to stop there. Sarah Posner is author of Unholy: Why White Evangelicals Worship at the Altar of Donald Trump. Sarah, thanks so much for joining us. If we didn't get to your call, send us an email, anxiety@wnyc.org. That's anxiety@wnyc.org. I'm Kai Wright and I will be here next week. Talk to you then.
[music]
The United States of Anxiety is a production of WNYC studios. The theme music was written by Hannis Brown and performed by the Outer Borough Brass Band. Sound designed by Jared Paul. Matthew Miranda was at the boards for the live show. Wayne Shulmister mixed the podcast version. Our team also includes Emily Botein, Regina de Heer, Karen Frillman, Rahima Nasa, and Kousha Navidar. I am Kai Wright. You can keep in touch with me on Twitter @kai_wright and, of course, you can find me live Sunday evening at 6:00 streaming at wnyc.org or tell your smart speaker to play WNYC. Until then, thanks for listening. Take care of yourselves.
[music]
Copyright © 2022 New York Public Radio. All rights reserved. Visit our website terms of use at www.wnyc.org for further information.
New York Public Radio transcripts are created on a rush deadline, often by contractors. This text may not be in its final form and may be updated or revised in the future. Accuracy and availability may vary. The authoritative record of New York Public Radio's programming is the audio record.