Why We Can't (and Shouldn't) Move On From Jan. 6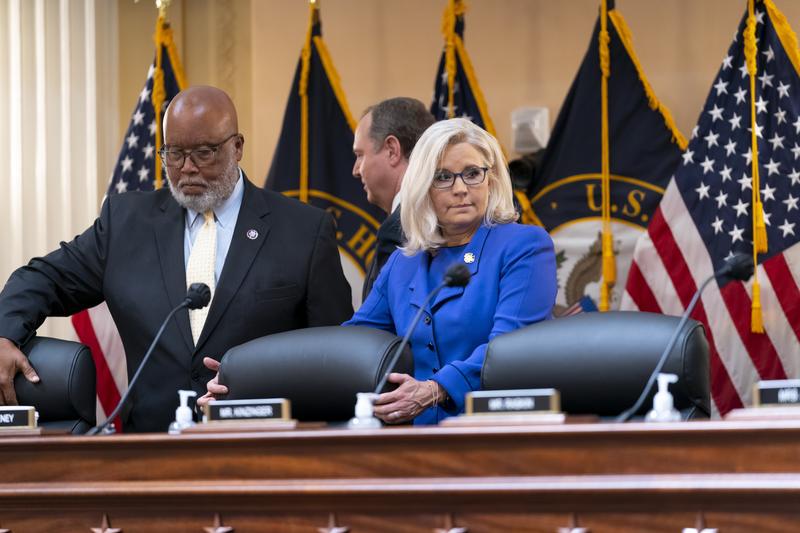 Transcript
Kai Wright: The public accounting has begun. Congressional hearings about an assault on our democracy by a fraction of Americans who nonetheless still hold enormous political power over the rest of us. How do we get through this without feeling defeated? Can we find a light at the end of the tunnel in these House hearings? We're going to reflect on these questions and take your calls with political scientist, Christina Greer. Then we're going to clear our emotional palettes a bit. Have you spent time with the work of artist Faith Ringgold? She's in her 90s, still making art, and honestly, she's been reflecting on these questions since the '60s.
Michele Wallace: It was just like, I don't know what, a vegetable soup of American violence. H. Rap Brown, what did he say? Violence is as American as cherry pie.
Kai Wright: We'll learn about her work from her daughter. That's all coming up on The United States of Anxiety.
Speaker 3: The January 6th hearings are starting tomorrow. What do you think is at stake?
Speaker 4: I think it was an attempted coup, and there's been tremendous effort and resources used and this is our opportunity to hear directly.
Speaker 5: It's important to try to protect democracy if there was something illegally done.
Speaker 6: Because it's the democracy on the line. Do I feel optimistic about the outcome? Not really.
Speaker 3: Will you be watching?
Speaker 6: I haven't decided. Well, it's a particular busy weekend for me. I don't know about watching, but definitely I'll be reading about it.
Speaker 5: I probably honestly will not be watching because I'll be doing other things at the time. To be honest, I know it's an important thing, but I probably will not be anywhere near a TV set at that time.
[music]
Kai Wright: Welcome to the show, I'm Kai Wright. This weekend has got to be one of the most strange dissonant moments in the lifespan of this country. The television event that began on Thursday night and continues tomorrow morning would by any previous standard be a watershed. One of those rare events where you've got the whole nation's attention and people are emotionally invested in the outcome, but in reality, I suspect a lot of people, myself included, if I am totally honest, are just numb about the whole thing.
Let me start though, with Representative Liz Cheney. She is infamously to some, the Republican Vice Chair of the House Select Committee to investigate the January 6th attack on the United States Capitol. Here's how she kicked it off on Thursday night in prime time.
Liz Cheney: Tonight, I'm going to describe for you some of what our committee has learned and highlight initial findings you will see this month in our hearings. As you hear this, all Americans should keep, in fact, in mind this fact. On the morning of January 6th, President Donald Trump's intention was to remain president of the United States despite the lawful outcome of the 2020 election and in violation of his constitutional obligation to relinquish power. Over multiple months, Donald Trump oversaw and coordinated a sophisticated seven part plan to overturn the presidential election and prevent the transfer of presidential power.
In our hearings, you will see evidence of each element of this plan. In our second hearing, you will see that Donald Trump and his advisors knew that he had in fact lost the election, but despite this, President Trump engaged in a massive effort to spread false and fraudulent information to convince huge portions of the US population that fraud had stolen the election from him. This was not true.
Kai Wright: All of which is to say January 6th was not something where passions ran high and stuff got out of control in the moment. It's not just about Donald Trump refusing to call off the dogs once the violence began, rather, the committee concludes that the former president of the United States planned and executed a failed strategy to interrupt the transition of power because he knew he lost, and they intend to prove it. Yet, like I said, I'm pretty numb about it all.
On some level, it just feels futile and I hate that. I really hate that I feel this way. For the first half of tonight's show, I've invited one of the smartest people about politics I know, who was also the person we had on the show the weekend after January 6th happened. Christina Greer is a political scientist at Fordham University and co-host of the FAQ podcast. Christina, welcome back to the show.
Christina Greer: Thanks so much for having me, Kai. It's always great to be here.
Kai Wright: We are hopefully going to talk about a few different things in politics, but I do want to start with these hearings and mostly with how we can process it. I feel like there's tons of reporting out there about what actually happened on Thursday night. I'm really more interested in what it means for those of us who are outside the hearing room. Can you first off just react to how I set this up? Do you think these hearings are a big deal?
Christina Greer: They absolutely are, because it's not about the past necessarily, it's about a reflection of the past to see where we're going in the future. We did not necessarily have a peaceful transition of power, something that we've had in every year of our existence as a relatively young nation. I think we also, though, have to recognize that for some people who aren't tuning in, it's to protect them from the trauma that they witnessed on January 6th and the real threat that they understand that this country is still experiencing. These people have not gone away.
The DOJ and various courts are slowly but surely prosecuting them, but we know that they are just a small fraction of Americans who believe that this is something that should have been done, that should have been done even more aggressively and they're planning to do even more in the future. These hearings are not just a reflection of that moment on multiple levels of the government, but it is a real, I would say, a foreshadowing as to whether or not this young democracy will survive. We are on the precipice of failure and we have to recognize that and I think far too many Americans don't understand just how fragile this democracy is.
It only exists if we believe in certain principles and we're seeing more and more Americans not wanting to uphold that and to have a former president to say, "It's okay for you to do this. I actually encourage you to do this. I want you to do this on my behalf." That is so frightening. This is so different from Watergate. I know there are a lot of comparisons to, should we tune in like Watergate? Richard Nixon, don't forget, was never impeached. He actually had enough respect for this nation to step aside. He's a highly problematic president let's not [unintelligible 00:07:20] but he was highly problematic, but he did resign.
We saw even in 2000 with Bush v. Gore. Al Gore knew that that election had so many issues and problems, but for respect of the future of our democracy, he stepped aside. Donald Trump is the first American president who refused to attend an inauguration. He's the first American president during his inauguration, sat there and talked about the opposing party and his opponents in the most egregious, disrespectful, vile ways, setting the tone for the next four years.
The fact that so many individuals don't see Donald Trump and his followers and his party as an existential threat to the future of our democracy is beyond concerning and frightening, not just as a political scientist, not just as a Black American, not just as an American, but someone who knows that this democracy is incredibly fragile. We are slowly but surely making strides toward progress, but this is a president and his party, he's aided and abetted by his party. We cannot forget that. They are systematically rolling things back day by day, and did through four years.
Kai Wright: I want to get back to where you started though, is that those of us, I'm going to say us, that are having trouble tuning into this are reacting to a trauma around what we know how grave it was and part of it for me is it does feel futile. It just feels futile at this point, so I guess how do any of us watch this and not leave feeling that futility, not feeling utterly hopeless about the future of democracy given all that you just said?
Christina Greer: I'm a pragmatic optimist, but that's largely because I have the privilege of working with students at the collegiate level, so I think teachers, inherently we have a certain level of optimism even though our jobs are incredibly difficult, but we have a certain level of optimism that others just don't have because we see these young minds, we hear their questions, we tussle through what they're going through on a daily basis. Kai, I wish I had a concrete answer for that. To know that and we see this on social media and it's half joking, but it's actually not.
We know that if there were hundreds of black people storming the Capitol, we would see hundreds of dead Black people within minutes. We know that if it were Latinos or Asians or Muslims, we know that we would have a very different outcome than what we've seen now. We literally have an entire party saying, "It's a slight dust-up. You Democrats are making a tempest in a teapot. It wasn't that bad. They were just concerned citizens," or and now with the Rudy Giuliani talking points, "It was actually Democrats who did it." Now they're just totally changing the discourse. When you watch those pictures, my blood pressure is through the roof.
I have to watch this in small doses, because to see these men with confederate flags, with swastikas, with Donald Trump flags, breaking windows, crawling through crevices, pushing back police, these are the Blue Lives Matter people by the by, assaulting Capitol police officers, literally storming a capitol in an insurrection at the behest of the sitting President of the United States, so much so that his own Vice President is in hiding from the President.
This is the type of stuff that we talk about with "other nations" who aren't democracies. When we start looking at other continents and pointing the finger and saying, "Ooh, they need help with their democracy, they need help with their elections." We need help with our elections. Where's the UN? It's far time. The UN should have been in our electoral space years ago. I would say in 2000 they should have come in and stayed here, actually.
Kai Wright: That was the discourse of the civil rights movement, right, was this is a global democracy problem and there should be an international monitoring body over American democracy.
Christina Greer: Yet, and still, Kai, you are absolutely right, but we have somehow played this hat trick on the world to say, never mind all of the facts, never mind 400 years of chattel slavery, never mind genocide, never mind how we've treated women in every single group that's not certain white men of a certain class, and we've tricked poor white men into thinking that they're part of that group, even though we clearly know they're not.
On an international level, we act like we're basically a Four Seasons or a Ritz-Carlton, and we're borderline a Hojo or a Motel 6. We know that we have not lived up to our democratic principles by any stretch of the imagination, we're not even close. We're getting there. That's why I'm invested in this democracy. That's why I'm invested in this country. That's why I'm trying to plant these seeds in the future minds of America, but we're not even close.
To have something like this, that is so evident, that the former President of the United States is literally sowing the seeds of this insurrection. For a glimmer, for a small moment, we had people in his own party who were saying, "This is a bridge too far. This cannot be sustainable." Then a few days later, they're all in lockstep. This is a much larger, not just domestic problem, it's an international problem, and the root cause is so old, and it's so part of who we are as a nation built on white supremacy, anti-Black racism, capitalism, and patriarchy, all on display January 6th, just as Bell Hooks has always told us.
This is where we are right now, is we're trying to process this collective trauma and move forward. These hearings are about where we are going as a nation, as much as they are what happened on January 6th, 2021.
Kai Wright: We need to take a break. I'm talking with Christina Greer, a political scientist at Fordham University and friend of the show. When we come back, we're going to open the phones. I've been asking Christina how these house hearings on January 6th will matter to people. I want to hear, what does matter to you in politics right now? Maybe it is these hearings. Maybe it's the health of democracy or maybe it's something else. What matters to you in this election year and why? We'll take a break, and we'll take your calls after.
[music]
Kousha: Hi, everyone. This is Kousha, I'm a producer. I've got two pieces of exciting news for you, and they're both about our next live episode this Sunday. First, we're doing a live Juneteenth celebration in partnership with radio stations around Texas. We'll take you to the party happening at Emancipation Park, talk about the history and food of the holiday, and of course, take your calls. Before the show, we also want your voice memos. How do you celebrate Juneteenth? What's your favorite part? Record yourself on your phone and email us the recording. The address is anxiety@wnyc.org.
The second piece of news is that we're also going to live stream the episode on YouTube. You can see Kai, our guests, and chat with the whole team during the show. If you want to join, go to WNYC's YouTube channel at 6:05 PM Eastern Time this Sunday. Exciting things. Looking forward to celebrating with you. Now, back to the show.
[music]
Benny Thompson: I'm Benny Thompson, chairman of the January 6, 2021 committee. I was born, raised, and still live in Bolton, Mississippi, a town with a population of 521, which is midway between Jackson and Vicksburg, Mississippi, and the Mississippi River. I'm from a part of the country where people justify the actions of slavery, the Ku Klux Klan, and lynching. I'm reminded of that dark history as I hear voices today try and justify the actions of the insurrectionists on January 6th, 2021.
Kai Wright: Welcome back, I'm Kai Wright. That was representative Benny Thompson's opening remarks on Thursday night at the house hearings on the January 6 insurrection. I'm joined by Fordham University political scientist, Christina Greer. Christina, I want to hear your thoughts on what Bennie Thompson is saying there because it's been established that the key players in the actual violence on January 6 were part of this melange of groups that are either explicitly white nationalists or adjacent to in some way. Thompson's saying the way people have dismissed this violence is also reminiscent of past white nationalist movements. Why is that an important point to make or isn't?
Christina Greer: It's absolutely an important point to make, Kai. I've said this time and time again, I don't think the vast majority of white Americans understand the capacity of white Americans in this country. I don't think that they understand the depths to which certain white people will go to make sure that this country is "theirs". I think a lot of folks are just like, "Well, I'm good. There's certain key members of my family who are good. There are others who vote for Donald Trump, but that's for economic reasons."
I don't think that they fundamentally connect the dots to see that this insidious behavior goes beyond a tax break. If you are supporting a man and a party and an ideology that says that Mexicans are rapists, and that children should be separated from their families at the border, and that Black people are inherently criminals, and that Jewish people are inherently corrupt. The list goes on and on about these tropes. January 6th makes total sense for that type of ideology.
I think that so many white Americans in this country don't fully understand the depths to which certain Americans have gone and will continue to go to make sure that there's not equity, there's not incorporation, there's not unity, there's no forward motion in this nation. I think that is what is really frightening, because it can't just be the marginalized groups trying to hold off the tide, it has to be a collective effort.
When we've moved forward as a country, it has been a collective effort. We saw how folks worked together in the civil rights movement, and keep in mind, the civil rights movement was well over 50 years. This isn't just something that happened a few years in the '60s, which a lot of folks think, because we refuse to teach our history in schools and refuse to have an honest conversation about who we are and who we were as a nation.
I really do think that the more conversations I have with white Americans who are just like, "Well, I was good. I voted for Hillary, but I didn't bother talking to anyone in my family about how they voted because that's personal." It's actually not personal when we view these policies and think of ourselves as a collective. When we look at January 6, you can't look at those as the others, because they're not going to listen to people like you and me.
They might actually listen to people who look like themselves and have a long walk-through because we've seen people who have been able to convert to some normalcy to recognize that they were under some quasi-cult, but the cult is real and the cult is strong, and the cult has always existed since the beginning of this nation. Until, I think, a majority of this country understands the threat, it's basically scooping water out of the ocean with a paper cup. It's not going to move us forward quickly the way we need it to.
Kai Wright: Listeners, I want to hear from you too. Christina and I have been talking about if and why and how these January 6 hearings will matter to people outside of Congress. I wonder, in general, what matters to you in politics right now? It could be January 6, it could be our democracy in general, it could be something else. What do you care about in this election year and why? Let's start with Rom in Bridgewater, New Jersey. Rom, welcome to the show.
Rom: Thank you. I've been listening to your conversation and I'm very interested. I have a couple of things, one of the things is I think that the Democrats, it's very frustrating to me that they're really bad at messaging. They don't know how to concisely convey the information. They just seem to ramble on and give speeches in this day and age when what you need is a tweet or some really condensed version of what the message is and why we should care. That's my first thing.
Then the second thing, sorry, if I can finish. The second thing is I feel that the Democrats are with the American people on most things except immigration. The reason why I say that is, and this is hypothetical, if they moved a little bit to the right on immigration but they kept everything else, I think that they would win hands down, because now everybody's afraid. The problem is even the immigrants themselves, many times they don't support more immigration.
Kai Wright: Thank you for that, Rom. I'm going to let you go and we're going to go to Reggie in Bed-Stuy.
Reggie: Hi, I am Black, I am a registered Democrat. I voted nationally for Democrats every year except 2000. In 2000 I voted for Ralph Nader in New York City actually. I look at the hearings online on archive, I don't watch it live, but for myself, the main issues right now are not this at all. Frankly, the main issues, A, is the foreign policy of Joe Biden is absolutely atrocious.
When I voted for him, I didn't vote for a bunch of neocons like Victoria Nuland and the people that he has in there, Jake Sullivan and Blinken, who are neocons to the economic issues with the inflation and all that. He's failing on the domestic issues. He's not an aggressive president on the domestic issues, but he's willing to whip a sanction on anyone that defies him.
Kai Wright: I got it, Reggie, I'm going to stop you just for time so we can get to one more caller. Let's go to Bob in Central New Jersey. Bob, welcome to the show.
Bob: Hi, I couldn't disagree with Reggie more. This is the only issue. Professor, you're doing an excellent job in raising our consciousness about this. It seems that we are at real risk and it happens just at the time when African-American, Blacks are getting into positions of real power. Isn't that an amazing coincidence, how that happens. I think that we have to press this considerably. Economic issues, they're not under the control of us as much as we would like. There are trends, but this is an issue that people are running, not a blind economy.
Kai Wright: Thank you for that, Bob. Christina, there is a bunch there. I want to try to pull some of it out. One, just in general, and we talked about this on previous shows in the last couple of months. The in general frustration with the Democratic party on a whole bunch of [unintelligible 00:23:44] for people who look at these hearings, look at the Republican party and say, "This is a true threat to the well-being of the country."
The Democrats, for a variety of reasons, they have bad messaging, they don't have their politics quite right, are just not happy. As an analyst, have you seen that as well and what do you think that means as we go into these midterm elections, where people are going to show up and make choices?
Christina Greer: We know that usually during midterm elections, the party of the president tends to lose seats and if that's the case and we know that Democrats have a unified government right now, which means they control the presidency, the house and the Senate. If trends go the way they have in the past few election cycles, that means the Republicans will take over one party or one branch, whether it's the house or the Senate. That's a very real possibility.
I think part of the frustration with so many Democrats is, Republicans seem as though they play for keeps. When they get power, they grab it, they are on the offensive and it's like a Brewster's Million or Supermarket Sweep, whatever visual you want to use. They do not sit around and say like, "Let's build consensus, we've got two years, but let's maybe try and figure it out."
Whereas Democrats, they bring emails to a knife fight or they bring a knife to a gun fight and Republicans don't play by the same rules. If Republicans are losing, it's like, "You know what, let's just change the narrative. Doesn't matter if we have to lie, let's just do it. We are here to win." I think Democrats are playing by a set of rules that no longer exist. Now, a lot of people like the fact that there's a level of decorum and patience and incrementalism.
The sense of urgency that we find ourselves in is very frustrating to people who are asking themselves, I vote for this particular party consistently and what am I getting? I'm getting incrementalism, maybe I'm getting a party that doesn't seem as though they've got fight in them. I'm getting a party that keeps extending an olive branch and getting it singed off yet still they keep coming back day in day out. It's a [unintelligible 00:25:52]
Kai Wright: Are there any races where you're seeing that change in terms of-- I'm thinking about some of the really important races that are going to happen this year, all over Georgia, the governor's race, the Senator Raphael Warnock re-election, many of the state level races. Are you seeing anything in the party where you're like, "Oh, that's changing"?
Christina Greer: Here's the thing, the Democrats are putting up phenomenal candidates. Let's stick with Georgia, they're putting up Stacey Abrams, they're putting up Reverend Senator Raphael Warnock, two of the brightest minds that we've seen in politics in a very long time. The difference is, on their watch, and dare I say on our watch too, because my grandparents fought in the Civil Rights Movement, they weren't allowed to vote for the vast majority of their lives. On our watch, the rollbacks to voting have been such that the institutional mechanisms that will prevent Democrats from actually participating at the polls in ways that they could and should, that table's already been set.
Democrats can give you a great candidate, but they're working against institutional barriers that Republicans have put forth, so then you have democratic voters who are saying, "How and why did you all let that happen? How is it that it seems as though Republicans stay winning even when they're not in power? How is it that we have the president who controls the Democratic party and a "Democratic Congress" even by a slim margin, however, we have a unified government, but you can't even keep your people in order, Manchin, Sinema, to get them to vote when they should?"
That is, I think, a collective frustration of Democrats to say, "What is the point of having power when Republicans even in the minority still seem as though they're running the show? We know how they behave when they're in the majority."
Kai Wright: A hard pivot here for a second because we've got to wrap up this conversation about January 6. In our next segment in this show, we're going to cleanse our emotional palates and talk about a remarkable artist, Faith Ringgold, who's famous for her painted quilts. Listeners, hang on, you're going to learn tons and tons about her career and work and why she's important to think about right now.
Christina, you texted me earlier with an adorable photo of you and your mom, I believe, at the Faith Ringgold exhibit. Quickly wrap us up with a little teaser here for folks about what's your relationship to this artist and her work?
Christina Greer: I've always loved Faith Ringgold and her quilts, just because as an African-American female artist, she's part of the Black Masters in my mind. When I think of Jacob Lawrence, William Johnson, Horace Pippin, and Romare Bearden, Faith Ringgold is right up there with them, Aaron Douglas. When I went to see the quilts and I'm a quilter, my mother's a quilter.
I have a massive quilt from my grandmother from the 1930s, this is my mother's mother, so a very working class quilt. This wasn't the fancy, Amish style, 3 Pointed, flower type quilt, these are functional quilts. When I was a fellow at Smith College, I got into quilting with the few Black women who were on campus, not just faculty but also faculty, staff, and fellows. We all every Tuesday, we called it, I don't know if I'm allowed to say this on air, but it was stitching and bitching.
It was women who could come together and we could talk about politics, we could talk about relationships, we could talk about family, we could talk about anything. The fact that Faith Ringgold is in her 90s and still such an important voice in Black politics, American politics, and art, is just beyond inspiring. Hopefully when it travels again, hopefully folks around the country can see it.
Kai Wright: That's a perfect queue up, thank you. Listeners, stay tuned. Christina Greer is a political scientist at Fordham University and co-host of the FAQ podcast. Great having you back, Christina.
Christina Greer: Thanks so much, Kai.
Kai Wright: Coming up, the life and work of Faith Ringgold. Stay with us.
[music]
Kai Wright: We're good. [unintelligible 00:30:04]
Rahima Nasa: Yes [unintelligible 00:30:06]
Kai Wright: I went recently with our producer Rahima Nasa to the new museum on the Lower East Side of Manhattan. We went to catch the end of an incredible exhibition, a 50-year retrospective on the artist Faith Ringgold. Rahima wanted to show me the medium that Ringgold literally invented. They're called story quilts.
Rahima Nasa: Why don't you take a look at the text, Kai. It's really tiny. It really forces you to stand in front of the painting, which I also love.
Kai Wright: What does it tell us? What are we reading here?
Rahima Nasa: The text is a letter that Willamarie who is the protagonist of the painting [unintelligible 00:30:44]
Kai Wright: There are these big, colorful, quilted paintings that carry complicated actual written narratives about race and gender and really, family. They're part of an exhibit called Faith Ringgold American People, it just closed here in New York but it's headed to San Francisco next. The name is apt because as I walked through this retrospective, I read in her art, a history of American people in the 20th century and specifically, a history of Black American people and our conversation about where and how and whether we fit into this country. Faith documents this history through sculptures and paintings but most famously through her story quilts, and it is a deeply personal history.
In fact, in an interview at the Museum of Modern Art back in 2016, Faith explained that the whole reason she started actually writing on her quilts was that she couldn't get her autobiography published. Publishers just didn't like how she was writing her story. Here's what she said about that.
Faith Ringgold: You don't decide, look at me and then decide what my story is. I told you what my story is. That's my job.
Kai Wright: Indeed. The story quilt our producer Rahima wanted to show me it's called Dancing at the Louvre.
Rahima Nasa: It's this large quilt and in the center of it is a scene that's painted on. There's borders around the quilt that are made up of different pieces of floral background.
Kai Wright: The quilt depicts two Black women and three little Black girls who have their arms stretched out like they are dancing around. They're wearing these colorful dresses and they just look so, so happy. Behind them is a row of three famous paintings of white women including the Mona Lisa. Like much of Faith Ringgold's work, the whole scene is just meta. It's a semi-autobiographical, artistic comment on art itself.
Rahima wanted me to see it and share it with all of you because she spoke about it with Faith Ringgold's daughter, Michele Wallace. Michele is herself a very big deal. She's an art historian and a feminist scholar. She wrote a really important book about sexism within the Black nationalist movement. It's called Black Macho and the Myth of the Superwoman. When Michele and Rahima spoke, they talked about Michele's mom, about the life and the work of Faith Ringgold, starting with this scene of a joyful Black family Dancing at the Louvre.
Michele Wallace: I just think it's this incredible meditation on motherhood. It compresses many things in our lives because number 1, mother took my sister and I and my grandmother to Paris.
Rahima Nasa: Here's the story behind the quilt. As Michele tells it, it's 1961. Michele is 10 and her sister Barbara is 9. Faith drags all of them to Paris, her own mother included, because she's trying to find herself as an artist and she wants an up-close look at what her teachers say is the world's most important art.
Michele Wallace: My mother has finished a master's degree and she's taken us all on her world tour of European art. My mother was determined that we were going to see the Mona Lisa. We were determined that we were going to get outside and get some ice cream. It was a struggle. In other words, this Dancing at the Louvre is a derivation of our first situation in the Louvre, but it's also about the opportunities. How could you make a life for a Black woman that would end in her being a famous artist?
Faith Ringgold: What I went there for was--
Rahima Nasa: Here's Faith in 2016 again.
Faith Ringgold: I was trying to figure out, do you really want to be an artist? Are you really going to do this struggle? You want that really or what do you want?
Rahima Nasa: Faith decides, yes. She does want to be an artist but if she's going to struggle, she's going to do it on her own terms and that means truly engaging with the world she inhabits as a Black woman.
Michele Wallace: My mother was a little bit like Jesus Christ in the sense that she is willing to address and speak to whomever will listen. She was born in 1930 at 222 West 146 Street between Bradhurst and Eighth Avenue. My mother grew up around wonderful storytellers.
Rahima Nasa: This is during the Harlem Renaissance. Duke Ellington, Langston Hughes, Zora Neale Hurston. Faith grows up in a community of musicians, painters, and poets and this creative spirit spilled into her home too, where Faith's mother was a towering figure.
Michele Wallace: Whose name was Willie Posey and who I called Mama Jones.
Rahima Nasa: Willie Posey loved to design clothes and she had an incredible fashion sense. In one old photo, Willie is seen wearing this gorgeous A-line dress with white gloves, a beaded necklace, and strappy black heels. She has her hands on her hips and a big grin on her face.
Michele Wallace: She was really a housewife. She was designing her children's clothing and dressing them up. All the early photographs are them [unintelligible 00:36:31] head to toe in my grandmother's fashions.
Rahima Nasa: Faith's father, Andrew Louis Jones, he was a truck driver for the Department of Sanitation.
Michele Wallace: All those city jobs were great. There was a [unintelligible 00:36:47] who worked for the sanitation department, post office, all those kinds of jobs Black men had. Those Black men who had those jobs were able to take care of their families during the Depression. I think that people think of the Harlem Renaissance and the Depression as mutually exclusive, like one followed the other. Actually, they occurred at the same time. You got Jacob Lawrence, one of our great artists who is part of the Harlem in which my mother grew up.
Rahima Nasa: Faith actually knows some of these people, like Sonny Rollins who goes on to be one of the most influential jazz musicians of the 20th century. He was her childhood friend. Faith experiences era a little differently because she spent a lot of time at home. She was diagnosed at a young age with pretty bad asthma.
Michele Wallace: She was home schooled by my grandmother, which is quite partly accounting for their tremendous closeness. The doctors just simply felt that the best way to keep her from being sick was to not expose her to other children. My grandmother taught her how to sew and how to make dolls.
Rahima Nasa: This became a way to encourage faith to be creative. Willie Posey gave her paint and crayons to keep her occupied. Her dad bought Faith her first easel. When she was a teenager, she decides she's going to be an artist. At the time, one of the few ways for a young woman to pursue art is to become an art teacher. In 1948, she enrolled at City College and majors in Art Education. She sets about making a life, she gets married, has two daughters, gets divorced, graduates, teaches art in public schools, raises two little girls by herself, and all the while, she's still trying to make her own art.
Michele Wallace: Through all this time, she doesn't have a studio. Her studio, in fact, was a closet in our apartment. She painted boats and landscapes. I remember her making a lot of portraits of herself with pastels. When she really took off is when she married Burdette Ringgold and you know exactly when this happens. This happens in 1962. Then she becomes Faith Ringgold and that is when she begins to find herself.
Rahima Nasa: Something else is happening that year.
Speaker 16: 200,000 people converge on the nation's Capitol to rally for civil rights. They come by train, they come by bus, and by air.
Michele Wallace: We had the Civil Rights Movement, you had Martin Luther King, you had nonviolent resistance. You had, especially in the north, a hope that there would be a peaceful resolution to integration, but there wasn't going to be. There was going to be violence. There are riots going on. Martin Luther King will be killed in 1968. John F. Kennedy in '63, very important, Malcolm X killed in 1965. Very important in Harlem. A major influence on my mother and my father in the Ringgold household. They knew him. It was just like, I don't know what, a vegetable soup of American violence. H. Rap Brown, what did he say? Violence is as American as cherry pie.
Rahima Nasa: In the summer of 1967 a series of uprisings protesting racial injustice and police brutality spread across the country.
Speaker 17: New Jersey's largest city, Newark, for five consecutive days and nights. At least 24 persons are killed. More than 1800--
Rahima Nasa: During that summer, Faith makes one of her most famous works, which was her way of documenting this moment. Kai and I spent a long time in front of it when we went to the New Museum.
Kai Wright: Wow. This is very different from what we saw in the quilts, right? There's a lot of blood in this piece and death. It's not people dancing in a museum.
Rahima Nasa: She was basically depicting what is happening in the news or what feels like is happening.
Kai Wright: It's funny to think about where she must have been as the person, as the creator of this versus the creator of three girls and their mom dancing in a museum on a quilt.
Rahima Nasa: No, definitely, this one is definitely the most graphic and violent. They named this painting Die. It's massive, spans 12 feet. There's 10 adults evenly divided between Black and white. There are kids cowering as adults fight, their clothes are splattered with blood. It looks like they're trying to kill each other or run away.
Michele Wallace: What's funny is when mother did those paintings, I thought they were about the south. I didn't know that they were about the North. I believed what everybody else thought, that racism and stuff was down South somewhere, so she must be painting about the South.
Rahima Nasa: Faith new racism was very real up North. In fact, she was facing it in the mainstream art world because she could not get attention for her work in the galleries and museums. They were closed off to women, especially Black women and to this kind of politics. Faith begins to organize and speak out.
Michele Wallace: She definitely went to protesting because she couldn't get in anything. She wasn't going to just sit home with the art piling up and take it.
Rahima Nasa: In 1970, Faith and a group of other artists protested The Whitney's Annual Exhibition, which later became the biennial. This show was a big deal for American artists, but the majority of the artists exhibited at the time were white or men, and Faith wasn't having it. Here she is talking about it in an interview for the documentary series Makers.
Faith Ringgold: Our demand was that The Whitney Biennial should be 50% women.
Rahima Nasa: As Faith tells it, Michele helped her come up with that number. While Faith did her best to shield her daughters from racism, she also taught them to be activists.
Faith Ringgold: She's a kid and she's doing her homework. I said to Michele, I said, "What percentage of women do we demand?"
Michele Wallace: Then I said 50%. Why? Because in the population of the world, women are 50%. In fact, they're more than 50%.
Faith Ringgold: I said, "Oh my God, this poor kid, she's too young to be involved in all this." This was outrageous because their thing was no women. You can't demand 50%. I said, "Really?" I said, "What? Say it again?"
Michele Wallace: Why wouldn't it be 50%? I can understand why it might be a little bit concerning, but let's face it, if we're going to demand something, it's 50%. I didn't realize how shocked she was by it and how shocked everybody was by it.
Rahima Nasa: They didn't get 50% in the end, but they did get 20%, which was way more than what anyone expected. In 1981, Faith's mother, Willie Posey, dies at the age of 78. Her death hits the whole family hard. Faith is buried in grief and she channels that grief into making something unlike anything she had done before.
Michele Wallace: She's always starting over again. This generational restarting. How do I go on with my life now that my mother who is my absolute muse, her muse, the woman who generated everything that she was, how does she go on with her life and her work?
Rahima Nasa: She's absolutely devastated by this loss. She decides to return to her roots, to the thing that connects so many women in her family, stitching together pieces of fabric to make something new, quilting. It went back generations in the family. Willie Posey actually learned it from her mother and she and Faith had worked on a quilt together a year before her death.
Michele Wallace: My understanding is that her grandmother taught her, Betsy. Betsy had everything. Betsy was rich. Betsy was a dressmaker. She's a former slave.
Rahima Nasa: Betsy's own mom, Faith's great grandmother, taught Betsy how to quilt.
Michele Wallace: They all made clothes. They were dressmakers. They obviously sewed as slaves. They both were about 100 when they died. My grandmother knew them.
Rahima Nasa: Now Faith decides to bring quilting into her art in a different way. She makes a piece called Who's Afraid of Aunt Jemima? It's based on a menstrual show character that up until recently was used to sell pancake syrup. This elaborate quilt has a border made of scraps of colorful fabric. She's painted figures directly onto the fabric. She's using the fabric as her canvas. It's a huge innovation and a huge departure from anything else that's happening at the art world at the time. More than that, it's also when Faith begins to use text in her artwork. The quilt has a story literally written into its borders. Faith wanted Michele to help her write the text about Aunt Jemima.
Michele Wallace: I said, "No, mother, I cannot do that." She said, "Well, Aunt Jemima is our feminist hero." I said to her, "She's not my feminist hero. I don't know what you're talking about."
Rahima Nasa: Faith writes the story herself without Michele's help. She uses text on the quilt to reimagine Aunt Jemima as a successful entrepreneur and matriarch. This is the first Faith Ringgold story quilt. She will be world famous for this, but she was scared of what she'd done.
Michele Wallace: She had hid it. She hid it. She was afraid to show it to anybody. Moira came and stayed with her.
Rahima Nasa: Moira is a close friend of Faith's.
Michele Wallace: She said to Mara, "I feel guilty because under your bed I'm hiding this work of art. I don't know what it is or why it is, but I feel guilty about it." Moira said, "Take it out. Let me see it." It was Who's Afraid of Aunt Jemima? Moira loved it. With Who's Afraid of Aunt Jemima? Here comes my grandmother's voice and all the elders in our family coming out of my mother's mouth in a way. I Marvel at it now, that her grieving process produced so much work. It produced the story quilts, it produced the abstractions. It became my mother's new medium.
Rahima Nasa: Faith's story quilts continue to get more personal. In 1991, she tells one of her most ambitious stories in a series called The French Collection. The first quilt in that collection is the one I showed Kai earlier. The one that is inspired by Michele and Faith's trip to Paris. It's yet another turning point for her art.
Michele Wallace: What she was doing is she was starting her career all over again at 60. She'd already been an artist 30 years. It would be a midpoint. It could have been as far as she'd ever get, but The French collection is a projection of where she plans to go with her career.
Rahima Nasa: Faith does go on to great places. Her work has been exhibited at The Whitney, the Guggenheim, the Tate, the Museum of Modern Art added Die to its permanent collection. It hangs in the same room as a work by another great artist. You may have heard of him, Pablo Picasso. Her story quilt, Tar Beach, was adapted into a best-selling children's book. At 91, she's still making work. She's been inspired by the protest following George Floyd's murder. She has a lot more to say about racial injustice and the American people.
Michele Wallace: She has left me a wonderful, wonderful, detailed roadmap of her thoughts and her passions. It's for me to interpret the work and talk about it and try help explain it or understand it, whereas she's just light years ahead of people in this regard.
Kai Wright: That was art historian, Michele Wallace, talking with our producer, Rahima Nasa, about the life and career of Faith Ringgold. If you missed the retrospective on Faith Ringgold at the New Museum, you can catch it this summer at San Francisco's de Young Museum. Show opens on July 16th. The United States of Anxiety is a production of WNYC Studios. Keep up with us by following the show wherever you get your podcasts or at wnyc.org/anxiety. You can send us your thoughts on any and everything you hear on the show by emailing us at anxiety@wnyc.org.
We do particularly love to get voice memos there, so just record them on your smartphone and email them to us. Again, that's anxiety@wnyc.org. Our team includes Emily Botein, Regina de Heer, Karen Frillmann, Kousha Navidar, Rahima Nasa, and Katie Steele. Live engineering by Matthew Marando. Jared Paul does our mixing and our sound design. Our theme was written by Hannis Brown and performed by the Outer Borough Brass Band and I am Kai Wright. Thanks for spending time with us, and I'll talk to you next week.
Copyright © 2022 New York Public Radio. All rights reserved. Visit our website terms of use at www.wnyc.org for further information.
New York Public Radio transcripts are created on a rush deadline, often by contractors. This text may not be in its final form and may be updated or revised in the future. Accuracy and availability may vary. The authoritative record of New York Public Radio's programming is the audio record.