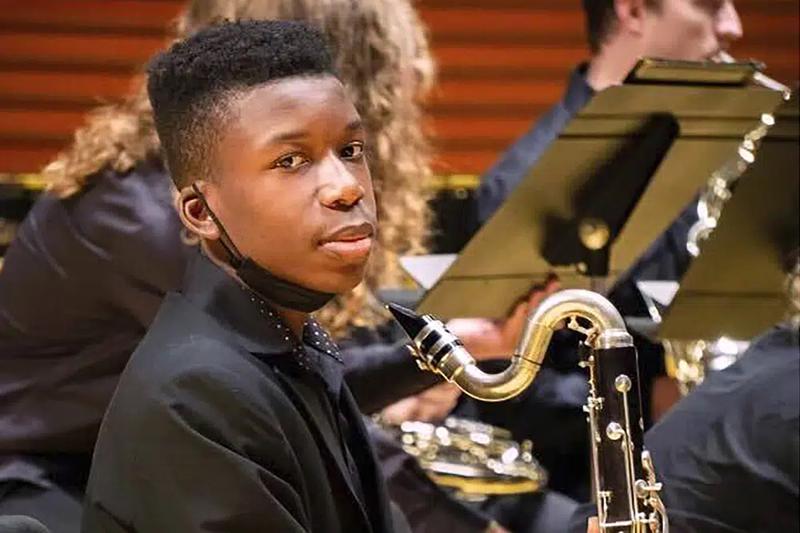 Transcript
[music]
News anchor 1: It's a reality that's hard to swallow, day after day headlines about victims of gun violence across the country in Missouri.
News anchor 2: Breaking news from Kansas City, Missouri tonight, an 85-year-old white man has just been charged in the shooting of a Black teenager who rang his doorbell by mistake.
News anchor 1: New York.
News anchor 3: A 20-year-old woman was fatally shot after turning up the wrong driveway in Upstate New York. Police say Kaylin Gillis was in the car with three friends looking for a friend's house in the rural area of Hebron, New York.
News anchor 1: Texas.
News anchor 3: In Texas, 18-year-old Payton Washington remains in the ICU after being shot early Tuesday. Her teammates say she was with a group of cheerleaders when one of them mistakenly tried to get into the wrong car in a grocery store parking lot.
News anchor 1: The common denominator across all these tragedies is guns.
[music]
Kai Wright: It's Notes from America. I'm Kai Wright. Welcome to the show. A special welcome to our newest listeners at WFAE in Charlotte. Good to have you in the conversation. Guns are an obviously emotional topic for many on all sides of the debate over their regulation. Conversations about racism are equally potent, and when the two come together, watch out. We were reminded of this over the past week as the world has followed the shooting and recovery of 16-year-old Ralph Yarl in Kansas City.
The unarmed Black teenager went looking for his siblings at the wrong house, and the owner, an older white man with a gun, opened fire. Ralph survived, thankfully. A few days later, Kaylin Gillis did not survive. She was shot and killed when she and some friends drove up to the wrong house in Saratoga, New York, and then in Elgin, Texas just outside of Austin, Payton Washington was critically injured when she and her fellow cheerleaders approached the wrong vehicle while trying to arrange a carpool after practice. Unlike Ralph Yarl, race did not play a role in these two shootings, or did it?
Historian Carol Anderson argues that everything about our national history with guns and how they are regulated has been and remains tied to anti-Black racism. In 2021, she published a book making this argument as she traced the history back to the drafting of the Second Amendment. The book is called The Second: Race and Guns in a Fatally Unequal America. We turn to Carol Anderson now to help process the awful stories of gun violence that have filled the headlines over the past couple of weeks. Carol, welcome back to Notes from America.
Carol Anderson: Thank you so much for having me, Kai. Thank you.
Kai Wright: The man who shot Ralph Yarl said he was "scared to death" when he pulled the trigger. Your book is essentially a history of this particular fear and how it has manifested in various gun laws going back to the Second Amendment, as I said, but let's begin with the present. What did you think when you heard about the shooting of Ralph Yarl and the role that fear played in it?
Carol Anderson: I thought that this is exactly what I've been talking about. What the man said was he saw this big Black guy on his porch and he was afraid. Ralph Yarl is 5'8 and 140 pounds. That's not a big Black guy. What has been conjured up in this society is this threat of Black people, big monstrous. In the early 19th century, a Virginian said, "We've got to keep the ferocious monster in chains." It's like when you hear Mike Brown, big scary, Eric Garner, big scary, Jonathan Ferrell, big scary, Black people, big, scary, dangerous. That fear linked with the kind of political and media messaging that we get about crime, crime, crime, crime.
Crime is everywhere. Crime is rising. Crime threatens to destabilize, to take away everything that you have. The way that crime is defined is Black. You see it on Fox News over and over and over. You see it in political ads over and over. It's saturating this nation with fear of crime, even when the stats don't justify this amplified fear of crime. Then you get the politicians coming behind it, loosening gun laws so that you don't need to be regulated. You don't need to have a license.
You get this saturation of fear, this saturation of anti-Blackness, and this saturation of crime, the fear of crime, and then this saturation of guns. You get a narrative that the way that you solve this is through standing your ground. You get a Supreme Court decision coming out of New York, the Bruen decision, where New York had a regulation about who could have guns. The Supreme Court overturned that, and part of what it said in its ruling was that the police can't be everywhere.
Say you're walking down the street in New York City and you could be mugged, you could be raped, you could be murdered, all that stands between you, and what you value is your gun. When you have it in a Supreme Court decision--
Kai Wright: To protect you against personal safety, and I have to say, I've been thinking about Tamir Rice this week, the 12-year-old boy in Cleveland who was killed by police way back in 2014 at this point. He was playing with a toy gun in a park and a police officer shot him. You've talked about his story as an example of how the fear of Blackness perverts the debate over the legal use of guns, over the gun regulation debate. I want to get into that for a second. What does Tamir Rice's story illustrate for you in the history that you write about in this book?
Carol Anderson: Ohio is an open-carry state, which means that you can openly carry a weapon as long as you're not threatening anybody, as long as you're not pointing it at anybody. He was in a park by himself, and he had a toy gun. Now, it didn't have the orange tip on it that said, "Hey, I'm a toy," but still, he's by himself in the park with this toy gun in an open-carry state. The police rolled up on him, and within two seconds shot him. What they said was, "We were afraid. Our lives were in danger. We were afraid."
They said, "Oh, we just shot somebody, and we think he's about 20 years old." He was 12. It is what Phillip Atiba Goff, a professor at Yale, talks about, the adultification of Black children where they become bigger, older, meaner, stronger, taller, heavier, more of a threat than they actually are. That's what's happening in this society. That's what I see with the killing of Tamir Rice.
Kai Wright: Well, I'm also thinking about the fact that logic of the Open Carry Law, when I start to think about the gun regulation laws that you're writing about and how they relate to race is that the logic of the laws that the sight of a gun is supposed to bring feelings of safety, not feelings of fear. This was a child with a toy gun.
Carol Anderson: Right. Part of what we have to understand is that this is a marketing strategy that more guns will make us safe. In fact, the states that have the looser gun laws, in fact, have the most gun homicides. I liken it to being addicted to a drug or being an alcoholic and thinking that that next hit is going to make you better. Having that next hit keeps you an addict. It keeps you an alcoholic. It doesn't make you safer. It doesn't make you stronger. It doesn't make you better. The addiction to guns right now in this culture is that.
Kai Wright: In a minute, I'm going to ask you, listeners, I'm going to put out a question to you because I want to hear your take on this. Whether or not Carol's right about that addiction, I want to hear from some of you who are gun owners. But first, let me ask you this, Dr. Anderson, it's one thing to say that these ideas about the sense of danger that Andrew Lester, the shooter, felt when he shot Ralph Yarl in the front door of his Kansas City home are traced back to race.
What about the other cases that have been in the news lately, cases that did not involve white shooters and Black victims? How does the dynamic of fear of Blackness that you describe in your book, and we're going to get into the full history here after our break, but how does that dynamic of fear apply to those cases, or does it?
Carol Anderson: What I see is when you've got this language of fear, crime, crime, fear, and you need your gun in order to protect you because the police can't do it, the police aren't there, guns, fear, it just takes a second. It just takes a second. The amygdala is just screaming fear and crime. You begin to think about the ways that it was just perpetrated, that message of fear, of crime, crime, you're not safe, you're not safe, you're not safe.
In our political sphere, in our legal sphere, in our media sphere, it's there. It's oozing out of all of the orifices of this society where it's, "Have this alarm system. Have this gun. You're not safe. You must protect yourself." The fact that a young white woman was gunned down in Upstate New York-- In Upstate New York, he saw a car in his driveway, and that's all he had to see, fear.
Kai Wright: Well, listeners, we want to see if we can make space for honest talk about that fear and guns with you. According to one survey, I saw recently, this is from Newark at the University of Chicago, one in five US households bought a gun between March of 2020 and March of 2022, and 5% of those households bought a gun for the first time. Presumably, at least some of these purchases were driven by fear for personal safety.
If you fear for your safety and you've armed yourself as a result, please tell me more about that. I recognize that there are many, many reasons people own guns. This is not to comment on any of those things one way or the other, but if the reason you own a gun is personal safety, I want to hear about that. Did something happen to you? What made you decide you needed to be armed? Conversely, if you're afraid of the people who have armed themselves recently, how are you responding right now?
I'm talking with historian Carol Anderson about her 2021 book, The Second: Race and Guns in a Fatally Unequal America. We're processing the shooting of 16-year-old Ralph Yarl in Kansas City and all the recent news around gun violence. Coming up, we'll dig into the history Carol lays out in her book, the complicated relationship between fear of Black people and gun regulation in the United States. Stay with us.
[music]
Kousha Navidar: Hey, everyone. This is Kousha. I'm a producer. I want to ask for your help on an upcoming episode. Notes from America is partnering with KOSU. That's Oklahoma Public Radio. We're making an episode about reparations for survivors of the Federal Indian Boarding School Program, and we'd love to hear from our listeners in the native community about your own experiences and perspectives.
Specifically, here's what we'd like to know from you. Do you think the federal government should provide reparations? If so, what would those reparations look like for you, and how should they happen? Would it be directly paying survivors for the harm, or would it be more investment in native education? If not, what do you think would best serve this community right now?
We'd love to get a voicemail from you. You can record it right on our website. Just visit notesfromamerica.org and click on the green button on the website that says "Start Recording." You can also record yourself on your phone and email us. Our email address is notes@wnyc.org. However you talk to us, we hope to hear from you and potentially to use your message in this upcoming episode. Thanks as always, and talk to you soon.
[music]
Kai Wright: Welcome back to Notes from America. I'm Kai Wright. About a week and a half ago, 16-year-old Ralph Yarl, an unarmed Black teen in Kansas City, was shot in the head by an older white man when he said he was scared to death when Ralph mistakenly came to his front door. That news helped draw attention to a series of similar cases in the following days. 20-year-old Kaylin Gillis was shot and killed in Saratoga, New York when she pulled into the wrong driveway.
In that case, both Kaylin and the shooter were white. In Elgin, Texas, Payton Washington was critically injured when she and a group of fellow high school cheerleaders mistakenly pulled up to the wrong car in a parking lot. A man in the car shot at them. These incidences, they certainly have many differences and distinctions, I want to be clear about that, but one through line is someone with a gun was convinced they were in danger when they were not.
I want to see if we can make space for some honest talk about fear and guns. Again, I recognize that there are many, many reasons that people own guns, and I recognize that there are many, many gun owners who do not accidentally shoot people in a panic. That said, I do want to hear about the relationship between a sense of personal danger and gun ownership because I will be honest, I personally genuinely do not understand it. If you fear for your safety and you've armed yourself as a result, please tell me more about that.
Conversely, if you are afraid of people who have armed themselves, how are you responding right now? Meanwhile, I'm talking with Emory University professor of African American studies, Carol Anderson, about her 2021 book, The Second: Race and Guns in a Fatally Unequal America. Carol, you've written that this book is neither pro-gun nor anti-gun. How can that be? Help me understand what you mean by that.
Carol Anderson: What I mean by that is that our arguments have been about guns. Was it about the right to a well-regulated militia or was it about an individual's right to bear arms? My book started with the killing of Philando Castile by a Minneapolis police officer who was--
Kai Wright: In July 2016.
Carol Anderson: Yes. Who said he was afraid because Philando Castile said he had a gun, a license to carry a gun. He wasn't brandishing it. He wasn't threatening the officer. He merely had one, and he was gunned down because of that. The NRA went virtually silent on that killing and so folks were asking, "Well, do Black people have Second Amendment rights?" And I thought, "Lord, that's a great question." I went hunting. Like historians do, I went hunting.
I went back into the 17th century and started seeing all of these laws coming through colonial America about how the enslaved could not have access to weapons or ammunition and also how free Blacks had limited access to guns and to ammunition. What started coursing through there, you started seeing it in the language, was this fear of Black people, this language that they were inherently violent, that they were inherently dangerous, inherently criminal, that they had to be contained and controlled, and that the white community had to be protected against them, and so this language. That was the role of the militia.
I started seeing this, as I said, starting in the 17th century. I saw it in the ratification of the US Constitution where the debate got real hard and heavy in Virginia where Patrick Henry and George Mason were furious with James Madison for putting control of the militia under the federal government. They were like, "You cannot trust those folks in Pennsylvania and Massachusetts to send the militia in when the slaves rise up against us. We will be left defenseless." They basically threatened to scuttle the Constitution unless they got protection, and that protection was the Second Amendment.
Kai Wright: The proverbial well-regulated militias of the South, in particular, they were there. Their primary purpose was to quell slave rebellions. It was that concern that you're documenting that led to the debate over the Second Amendment in the first instance, right?
Carol Anderson: Yes. Of course, there were militias throughout the nation. We get this heroic language about how they were there taking on the British, and so they were fighting for American liberty and American freedom. Well, their track record was really sketchy. Sometimes they show up, sometimes they wouldn't. Sometimes they'd fight for a man, then sometimes they were like, "Oh, peace out, I'm done." George Washington was beside himself because how do you fight a war if you can't trust your folks to be there where they're supposed to be?
The part of putting the militia under federal control was to begin to regularize the training, the structure, the expectations of this militia. What the South was afraid of was that when you've got that federal controlling, you've got these states in the North who are getting rid of slavery that you can't count on them to send troops down in order to put down a slavery vote. They basically said, "Unless we get what we want, we will hold a new Constitutional Convention," and James Madison was absolutely afraid of that.
Kai Wright: This is the beginning. The beginning of our conversation around guns is, can we keep the South in the union by guaranteeing that their militias can fight slave rebellions? I'm going to come back to some of that history in more detail. I want to hear from a couple of our listeners as well to sort of bring modern-day fears into this conversation. Let's start with Kenton in Charlotte, North Carolina. Kenton, welcome to the show.
Kenton: Hello. Greetings.
Kai Wright: Greetings, Kenton. Are you either a gun owner who's concerned about your personal safety or someone who's concerned about gun owners?
Kenton: More so for personal safety but also understanding that there are 400 million guns in this country. In a country with more guns than people, learning about them and having an education about them is actually a decent thing to have, but also, being trained and proficient and understanding to use them is important. I think mentioning Ida B. Wells after the Reconstruction period where she mentioned about having a rifle as a place of honor in a Black home where the government, the police were not actually going to provide protection to Black people.
We need to make sure we keep the-- The tradition of Black firearm ownership has not always been a negative. There have been situations where riots or lynchings were prevented when Black people own firearms. We need to make sure it's a nuanced, nuanced discussion. I did read the book and enjoyed it, but there's a nuanced discussion in understanding that the history of Black people owning firearms is not always negative where we had these situations where crime, crime, crime, and fear, fear, fear-- There have been some positive situations with that.
Kai Wright: Can I ask you, Kenton, when did you become a gun owner and why? What specifically made you feel like, "For my safety, I need a gun."
Kenton: It was 2017 after the election of Trump. but also I'm a father with two children, so I have to make sure I-- Having a firearm in my home, of course, I was going to be very diligent about making sure that it's protected, it's stored properly but also personal responsibility. One, there's a saying in the gun culture, when seconds count, the police are minutes away. Of course, I'll call the police and I'll do everything that I can to protect myself and protect my family, doing it within the law. It's not always about being an offensive tool.
One of the things in the gun culture that we speak about is that there are tools. In the hands of the wrong people, they can do some very, very negative things, but on the flip side, there's anecdotal evidence and maybe there's statistical evidence of 500 to upwards of 3 million defensive uses of a firearm. I want to make sure that as a counterbalance that we do talk about that and understanding that there's not always that fear, fear, fear aspect. We do want to make sure that--
Kai Wright: I'm going to stop you there, Kenton.
Kenton: Yes. Thank you so much. I appreciate it.
Kai Wright: Thank you for your comment, and thank you for your story. Carol, because you do talk a lot about the relationship, where Black people who want to own guns fit into this history that you have documented, do you want to just respond to Kenton first off?
Carol Anderson: Yes. Part of what I lay out in this book is how when Black people are armed, Blackness already is the default threat. Black people with guns becomes an exponential threat, and they have paid for that threat repeatedly. They paid for that threat in Cincinnati when there was a white mob coming to destroy the Black community and the Black folks shot back. They paid for that threat in Colfax, Louisiana. They paid for that threat in Hamburg, South Carolina. They paid for that threat in Elaine, Arkansas. They paid for that threat--
Kai Wright: These are all times in history when there's been Black people taking to the streets with guns and have been massacred.
Carol Anderson: Yes. Taken to defend their community from a pilgrim, from a mass lynching, from mob violence. They paid for that threat in Atlanta. They paid for that threat. Black people have had guns. What we have seen though is that when they have had guns to defend themselves, they have paid the price. In modern-day with stand-your-ground laws, whites who kill Blacks under stand-your-ground are 10 times more likely to walk under justifiable homicide than when somebody Black kills somebody white under stand-your-ground. 10 times more likely. That's what it's like in the modern-day era.
Kai Wright: Let's go to Gabriel in McIntosh County, Georgia. Gabriel, welcome to the show.
Gabriel: Hey there, thanks so much. This is a really interesting and unfortunately relevant topic. I just wanted to call in and add that I live in an area of Georgia which is probably not so dissimilar from many of the areas of this country, any state you go. The majority of adult men carry a gun on them with one in the truck. When I first moved down here, I was advised to buy a shotgun for my house in a way that someone would tell you to get a refrigerator or an oven or a stove or a household appliance. That struck me.
At first, I was about to do it because when you move to a place like this, you pick someone's brain. You're like, "What do I need? A chainsaw? What kind of boots should I get?" I can't recall the term that everyone kicks around, but it's a nice sexy term. Home defense firearm, I guess. It's just on the shopping list of things. I refrain from getting one of them because my own thoughts [unintelligible 00:26:28] that the more guns that are in the room, it's the old Chekhovian adage.
I don't mean to butcher whatever you said, but when there's a gun on the mantle place, you got to use it in a play. Unfortunately, the addiction to guns and the high that I believe that people feel around them and when they use them is as dramatic as the Chekhov's play. Some people feel compelled to take that gun right off the mantle as soon as they can. I have not bought the gun.
Kai Wright: Gabriel, to clarify, you didn't take your neighbor's advice.
Gabriel: No, sir. I've been totally fine. For a year, I've been out here totally fine. I almost once got shot by my friend for going on his property when he didn't expect me there. That happened and he apologized for it, but we absolutely have way too many guns. The marketing of it is way too similar to any sort of very expensive gadget that you can just barely afford but want enough that you can save up for like an iPad or maybe a smartphone.
Kai Wright: I'm going to stop you there, Gabriel, just for time, but thank you for sharing your story. Something I want to ask you, Carol, in the context of all this when I think about these people wrestling with their guns and their fear, they're wrestling with gun ownership and fear over guns right now, and hearing you say, "Oh, let's talk about the militias back during the pre-Civil War era. Let's talk about this ancient history," and saying, "How could that possibly have something to do with what happened to Ralph Yarl in Kansas City in 2023?" Can you just draw the line in your mind between this history that you're talking about and what happened when Ralph Yarl knocked on that door?
Carol Anderson: That history is that history of fear, that history that we have to have the guns to protect ourselves. We've got a 1792 law, the Uniform Militia Act, a federal law saying that every white male between the ages of 18 and 45 must join the militia and must have a gun. That must join the militia is as the protection of white society from these dangers. That is baked in. It is baked in danger, fear. "White men, we have to have the guns to protect ourselves."
We see that coming through till after the Civil War when Andrew Johnson basically provided amnesty to the Confederacy. One of the first things they did in passing new laws was the Black Codes. The Black Codes were not only about controlling Black labor but also about disarming African Americans because the issue of guns is so prominent. We see that coming through with the Hamburg Massacre.
They wanted the Black state militia to be disarmed, to have white men who had no legal authority to take the guns away from Black men. We see that coming through in so many ways with the laws that were there, with the fear about Black people with guns. Ralph Yarl is a young Black man who our society has depicted as being just the default threat, Black men. Threat.
Kai Wright: We've got about a minute before our break, but I want to put to you, what I'm hearing is that regardless of whether we're talking about regulate guns, whether we're talking about let Black people have guns or let more people have guns, that the gun regulation piece of it is in your argument, a red herring. This isn't about that one way or the other. This is about Black people. Is that a fair way to put it?
Carol Anderson: It is a very fair way to put it. One of the things though that we're also seeing in these states that have been the states of the deep South, the states where there has been slavery, you have seen this push to deregulate access to guns. Begin to think about how that fear of the Great Replacement theory, that fear of demographic change, linked with that fear of Black people, that fear of crime, crime, crime has led to this. Anybody can have a gun. You don't need to be licensed. You don't have to be registered. Again, that to me is part and parcel of this how do we protect this white community from these Black folk?
Kai Wright: We need to take a break. I'm talking with Emory University professor of African American studies, Carol Anderson, about her 2021 book, The Second: Race and Guns in a Fatally Unequal America. Stay with us.
[music]
Kai Wright: Welcome back. This is Notes from America. I'm Kai Wright, and I'm talking with Emory University scholar Carol Anderson about her 2021 book, The Second: Race and Guns in a Fatally Unequal America while we are processing the terrible spate of stories we've had over the last week about gun violence. Let's hear from Libby in Peterborough, New Hampshire. Libby, welcome to the show.
Libby: Hi. Thank you very much for having me.
Kai Wright: Thanks for calling.
Libby: I am not a gun owner myself, and I will not become a gun owner. I don't understand the mindset around gun ownership. I am afraid of the increase in gun ownership, and I feel like I have to be looking over my shoulder. I don't want to upset somebody for fear. They might be trigger-happy. I don't want to hit the wrong place at the wrong time. In a way, I feel like we've returned to the Wild West. It's a frightening time to be alive.
Kai Wright: What are you doing with that fear, Libby? Are you just walking around scared or what happens to that?
Libby: No. I talk about it with people who are like-minded and not like-minded because I think it's healthy dialogue to have. I am trying to understand those who choose to own guns for their own personal safety because I don't feel like I should be judging that, if that's how they want to manage their own fear around it. It's just not something I choose to do. I think I need to continue talking about it.
Kai Wright: Well, thank you for sharing, Libby. Carol, I am really struck by that emotion. [unintelligible 00:34:00] to say, on our show team when the planning for the show began, there's a lot of us just feeling like, "I don't know what to do." I'm increasingly scared myself because it feels like we're back at the Wild West. I hesitate to use back at constructions, but still, it feels pretty wild out there. I guess I just want to prod you to comment on what Libby was saying in this sense of just so much-- We've talked about the fear amongst the gun owners but the fear that then permeates the rest of society.
Carol Anderson: It's powerful. Think through, for instance, the 2020 election and the assault on the US Capitol. When you go through the threats coming into election workers, they often talked about, "I've got my Second Amendment right and I'm going to take my country back." Again, this sense of I'm going to use the gun to protect this white society, because this was about reinstalling Trump into the White House, I'm going to use my Second Amendment right to basically overthrow the government. You see this in the assault in Buffalo where Payton Gendron went hunting for Black people because of the Great Replacement theory.
It was a way to protect his country. You see this in terms of the use of AR-15s, the semi-automatic military-grade weapons in the hands of civilians like at Uvalde. You see this over and over. What the unrestricted use has done, has made not only our schools unsafe. Let me put it another way. Because of this anti-Blackness that is coursing through American society, what we're seeing is a horrific Faustian deal being made.
We are willing to sacrifice our children. We are willing to be unsafe in our schools, to be unsafe in our churches, to be unsafe in our grocery stores, to be unsafe in our amusement parks, as long as we can have access to the guns to keep these Black folks in check.
Kai Wright: What do we do with that, Carol? You're laying out this history, and if the takeaway is that whatever direction we've gone with gun laws, whether it's restricting access or granting more access, we are prepared to be unsafe in order to control Black people. What do I do with that in the context of today's gun debates?
Carol Anderson: That means that we really have to begin to think about how to dismantle anti-Blackness in this society. One of those ways is to get at that language of Black pathology because underlying anti-Blackness is this sense that Black people aren't human. It's saying that Black people are monsters, Black people are dangerous. We always hear about Black-on-Black crime. After Uvalde, Greg Abbott, the governor there, when they start talking about, "Well, what about these AR-15s?" Greg Abbott says, "Gun laws don't work. Just look at Chicago.
Chicago becomes that kind of short form to say, "Look at those Black people killing each other." It's that language of Black pathology, so Black-on-Black crime. Yes, over 80% of Black folks are killed by Black people. Over 80% of white people are killed by white people, but we don't have the language of white-on-white crime because that narrative of pathology doesn't go with whiteness. It goes with Black people. Part of this is dismantling that. It has to be done.
The other part of it though is to just get some doggone common sense about this. That means military-grade weapons don't belong in the hands of civilians. This is in the land of duh. [laughs] Right?
Kai Wright: Well, we will have to leave it with that epiphany. It's also maybe in the land of duh that Black people are human beings.
Carol Anderson: Duh. [laughs]
Kai Wright: Carol Anderson is author of The Second: Race and Guns in a Fatally Unequal America and a professor of African American studies at Emory University. Thanks for this time, Carol. Up next, a reflection on the end of Ramadan, and we open our listener mailbag to hear your thoughts about monuments in your communities.
[music]
Kai Wright: This past week, Muslims around the world celebrated Eid the final day of Ramadan. A month ago, we invited you to celebrate the beginning of Ramadan here on the show. We spoke with James Beard, award-winning writer and podcast host Ahmed Ali Akbar about some new intentions he was setting and new traditions he was trying out for a month that's really a lot about reflection and community and generosity. As Ramadan concluded, our producer, Rahima Nasa, checked back in with Ahmed to see how it all went. She joins me now. Hey, Rahima.
Rahima Nasa: Hey, Kai. Ahmed was telling me about Laylat Al-Qadr known as the Night of Power. It is believed that during this time the first few verses of the Quran was revealed to the Prophet Muhammad. Muhammad ends up forgetting the date, which I actually find really relatable because imagine all the pressure. Anyway, because the date is not written down anywhere, people argue about when exactly it is, but it does happen during the end of Ramadan during the last 10 days. Everything that you do during this time just holds extra value.
Ahmed Ali Akbar: The last 10 days of Ramadan are supposed to be really special. You get extra kind of benefit and a lot of people come together during that time. At first, I was feeling like, "What have I done?" But then a night or two ago was the Night of Power which is this really important night where people spend the whole night at the mosque. I was lying in bed being like, "It's probably the Night of Power" because people argue what day it is. I was like, "It's probably the Night of Power tonight. I should go to the mosque."
I was lying down. I was like, "I'm so bad that I'm not going on this most important night of Ramadan." Then my friend is like, "Hey, we're by your house. You want us to pick you up?" I was like, "Oh my God, it's a sign." I went and despite all my dread, it was so good to be in community with people. It was amazing. I won't say who, but there were some celebrities at the Night of Power which was interesting.
Rahima Nasa: Wow. Fancy. I'm wondering if you had any moments this month where you were just like, "I don't know if I'm doing this," or where your motivations just seemed conflicted.
Ahmed Ali Akbar: Yes, there were definitely days where-- I had set up an intention for myself to walk every day and I did not accomplish that.
Rahima Nasa: You didn't do that uncle walk?
Ahmed Ali Akbar: No, I didn't do the uncle walk as much as I would like to. I said I was going to do an uncle walk every day. I did it probably every three days, but I realized it's true, for me, it affects me physically. If I don't have something to do, I'm just horizontal. I was like, "Okay, it's fine. It's not a big deal." How about you? How are you feeling at the end of this month?
Rahima Nasa: At first, it was scary setting all these intentions and then broadcasting them. I think I gave myself a lot of grace because of some health reasons. I had to stop fasting for a little bit. I ended up needing to do a modified fast. At first, I felt so guilty, but then I started speaking to my other friends with chronic illnesses who are Muslim, and they were just like, "It's okay because you had tried doing it. You're doing your best as far as your body will allow." Getting through that was a really big deal for me because I always felt like if I don't do it correctly then I'm not Muslim enough.
Ahmed Ali Akbar: Right, but you are. [laughs]
Rahima Nasa: Thank you. Thank you. I appreciate it.
[music]
Kai Wright: Indeed, you are Muslim enough, Rahima, so much so that you tried a new thing for our show as well. You did a little takeover of our Instagram account to share the food you were cooking for the beginning and end of your fast. Because of the fasting, food is such a big part of Ramadan and the conversation around it, but you wanted to deepen that conversation with our listeners who follow us on Instagram. How'd it go? Did you have any epiphanies?
Rahima Nasa: Yes, I did. One of our followers on Instagram had pointed out that Ramadan as an adult is a lot harder because you are responsible for feeding yourself while as a kid your parents do all the hard work for you. I really felt that these last couple of weeks, particularly when it comes to Sehri, which is the meal we eat before the sun rises. It's so early and it's really hard to make decisions.
This year I did a much better job at planning things out, and I also made things harder for myself. I didn't want to just keep relying on the same old recipes that I'm used to eating during Ramadan, which is stuff I grew up with like [unintelligible 00:43:51] and samosas. I really wanted to expand outside of the Middle East and South Asia.
Kai Wright: Yes, I saw that on our Instagram feed. I saw the videos of you making all that cool Somali food, which I love Somali food as well. Listeners, if you missed all of this, you can still find it at noteswithkai on Instagram. Go back and look at all of Rahima's Ramadan cooking, and thanks to all of you for helping us reflect on Ramadan this year.
[music]
Kai Wright: In another recent show, we asked you to reflect on monuments in your communities. In that show, we spoke with artist Michelle Browder about a monument she created in Montgomery, Alabama called the Mothers of Gynecology. It honors the enslaved women who endured horrible experiments on their bodies in the 19th century. We asked you what new monuments you'd like to see in your communities. I want to share some of the voicemails we got after that show, starting with the reaction to Michelle's work, which was inspired by a painting.
Voicemail 1: Hi, Kai. Thank you so much for covering the women of Gynecology Monument in Montgomery, Alabama where my mother's family comes from and picked cotton. This past summer, I had the chance to visit the monument with my mother who had just had a hysterectomy. I must tell you I'm so grateful. We would never have known that if not for modern-day efforts, people like Michelle Browder who made the women at the center of the story. Do you realize in that painting they hold up a white sheet, and that's literally a metaphor for the whitewashing? I'm so glad that you're un-whitewashing our history.
Voicemail 2: Hi. My name's [unintelligible 00:45:45] and I live in Stone Mountain, Georgia, just outside of Atlanta. If I could see a monument built in my community, it would be to Hugh Thompson Jr, who was the hero of the Mỹ Lai massacre in Vietnam. About 500 people were killed. Him and his compatriots stood in the way. He saved up quite a few people. He's not very well known, especially not around here, and I would love to see a monument to him.
I got a chance to meet him when he was on his book tour in the late 90s. Of course, he's passed on now, but I think it would be a great thing to have the monument in Stone Mountain, especially because Stone Mountain's known for some other controversial monuments, which I don't think represents what we ought to be about. His family, according to Wikipedia, his family even took an anti-racist stand. If that's true, then I can tell you that wasn't an easy thing to do back in the day.
Voicemail 3: Thanks so much for this special episode about the importance of art and monuments in telling American history. I just can't thank you enough. I'm an artist living in Pittsburgh for 16 years, and there's some amazing artists here doing work around labor history. Sean [unintelligible 00:47:26] is one of many artists here. Vanessa German is an amazing artist here in Pittsburgh. Their work has literally made me a better human. I thank you for your work. It's amazing to hear about on the radio. Thanks.
John: Hello, Kai. My name's John. My spirit name is [unintelligible 00:47:46]. I'm an enrolled member of the [unintelligible 00:47:50] Indian Chippewa Band of Lake Spirit Native Americans. I wanted to talk about the possibility of a memorial tour or maybe even more importantly, reparations for the Holocaust of Native Americans who lost their life during the colonization of what is now the United States. I think that would be a great topic for you to go into and talk about the idea of reparations and what we do about that and make it more part of the public consciousness. Thank you very much.
Rahima Nasa: Thanks for that, John. Your voicemail is actually very timely because we're working on a special show that focuses exactly on that. We're partnering with Oklahoma Public Radio, KOSU, on a show about the impact of the Indian Boarding School Program. We want to hear from folks affected by this policy. Do you think the federal government should provide reparations? If so, what would reparations look like for you? How should it happen? Would it be money? Would it be more investment in native education?
Do you think better mental health resources or counselors with trauma-informed therapy should be something offered to boarding school survivors? We really, really want to hear from you, so send us a voicemail by going to notesfromamerica.org and clicking on the green button that says, "Start Recording." Then click Send when you're done. Don't forget to include your first name and where you're calling from. That's important.
Kai Wright: Well, thank you, Rahima, and Eid Mubarak to those who celebrate. Notes from America is a production of WNYC Studios. Follow us wherever you get your podcast and on Instagram at noteswithkai. Mixing and theme music by Jared Paul. Reporting, producing, and editing by Karen Fillman, Vanessa Handy, Regina de Heer, Rahima Nasa, Kousha Navidar, and Lindsay Foster Thomas. André Robert Lee is our executive producer, and I am Kai Wright. Thank you so much for spending time with us.
[music]
Copyright © 2023 New York Public Radio. All rights reserved. Visit our website terms of use at www.wnyc.org for further information.
New York Public Radio transcripts are created on a rush deadline, often by contractors. This text may not be in its final form and may be updated or revised in the future. Accuracy and availability may vary. The authoritative record of New York Public Radio's programming is the audio record.