Why the Indian Child Welfare Act is the Gold Standard in Family Law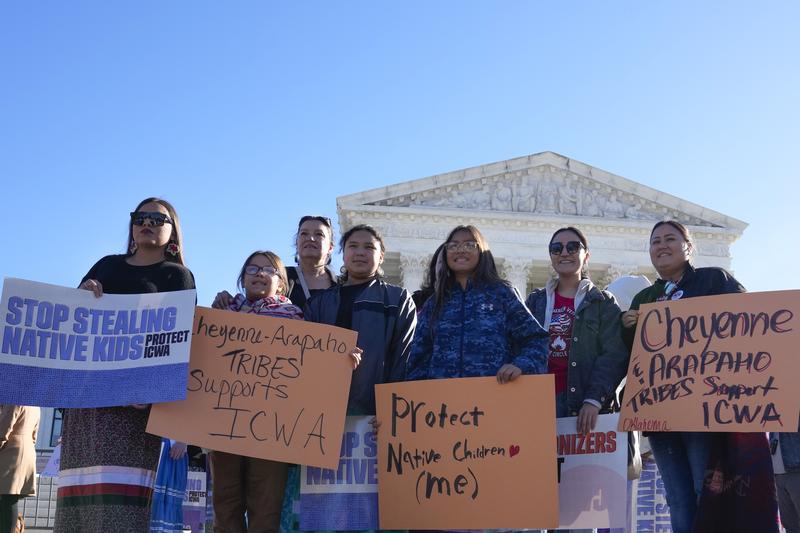 Transcript
[music]
Speaker 1: We want our children and our grandchildren, but we are not allowed to keep them.
Speaker 2: We do not get any kind of information from the county welfare. All we could say is that they tell our Indian parents that they are not fit to raise their children.
Speaker 3: These welfare people took me in and they wanted to take the child, and I said, "No, I can't let him go." He went out and he grabbed the child.
Speaker 4: When I was pregnant with Bobby and the welfare kept coming over there and asking me if I'll give him up for adoption.
Speaker 5: You mean while you were pregnant with him?
Speaker 4: Yes.
?Speaker 1: What's the difference between an Indian home where there's plenty of love. If the child is barefoot, a little bit dirty, he's got jam on his nose, so what? He's happy, I think. In white families, I've seen the same thing. The kids are happy too. They're barefoot out in the yard sometimes and everybody seems to be all right there. The parents scold them. I don't say anything wrong.
[music]
Kai Wright: It's Notes from America. I'm Kai Wright. Welcome to the show. A few weeks ago on the show we spoke with Allison Herrera, the Indigenous affairs reporter at KOSU in Oklahoma, about the Federal Indian Boarding School program and what reparation could look like for Indigenous families who are still healing from the abuse of that program. Alison joins us again this week to talk about the results of a different federal policy. One that tribes have been fighting to keep intact, the Indian Child Welfare Act, which is often referred to as ICWA. The law has been in the news lately because it just survived a high-stakes challenge before the Supreme Court.
ICWA was enacted after a congressional investigation found that more than a third of all native children who child welfare agencies had removed from their homes, had been placed with non-native families and with foster families without any ties to their tribes. This was happening long after that federal boarding school program was phased out in the 1960s, so native activists spent years calling on Congress to do something about this situation. In 1978, ICWA was finally signed into law. It requires that child welfare agencies make an active effort to keep native children with their tribes and their families, and it's been a huge success.
Advocates have called it the gold standard of child welfare policy, but it was in danger because a White family from Texas argued that the law discriminated against them because of their race. The case made its way all the way to the Supreme Court and to the surprise of many earlier this month, the court ruled to keep the law intact in a 7-2 decision. Justices Samuel Alito and Clarence Thomas were the only two who dissented. On the show this week, we want to tell you a good news story about what happens when a law works. KOSU reporter, Alison Herrera is going to tell us the story of Hodalee and Jamie Sewell and their family. It illustrates exactly how ICWA was designed to function.
Allison Herrera: I'm driving through Claremore, Oklahoma within the Cherokee Nation Reservation to get to a community called Bushyhead. It's about sunset and even though it's bright and sunny, as I make my way down the Will Rogers Turnpike, I can see a very typical spring storm building in the distance. I'm going to meet Hodalee Sewell. He and his wife Jamie, live in a tidy one-story house down at Gravel Road here. Hi. How are you?
Hodalee Sewell: Doing great. Good to see you. [crosstalk]
Allison Herrera: The Sewell's House sits in a rural part of northeastern Oklahoma called Bushyhead.
Hodalee Sewell: This is Bushyhead Premier.
Allison Herrera: Named after the Cherokee Nation Principal Chief Dennis, Wolfe Bushyhead, one of the tribal leaders after the Cherokee Nation were forcibly removed on the trail of tears from the southeast. Their home is connected to the larger city of Claremore by a two-lane road lined with white oaks and eastern red cedar trees. A few miles down from their house is a popular fishing spot. How long have you guys lived out here for?
Hodalee Sewell: Oh, a little over two years in Bushyhead.
Allison Herrera: It's really pretty out here. Hodalee likes the neighborhood. It's quiet and there's plenty of space for exploring outdoors, setting up a stickball court, and he's close to their neighbors too.
Hodalee Sewell: It's beautiful. I bought the property, I don't know, five years ago, six years ago, planning to come out this way, but now that we've been out here, our neighbor John Jumper is a wonderful elder.
Allison Herrera: Even though it's really beautiful here, like some parts of rural Oklahoma, drug activity disrupts the community. It's the main reason Hodalee and his wife Jamie want to sell their property and move into Claremore.
Hodalee Sewell: -and go to town, so she's got a better opportunity.
Allison Herrera: Hodalee is of Muscogee descent and has ties with the Sumter tribe of Cheraw Indians, which is a state-recognized tribe in South Carolina. He moved to Oklahoma several years ago and met his wife Jamie, who's a citizen of the Cherokee Nation. They're also caring for a little girl who's just over a year old. We're calling her Noni in this story to protect her identity.
Hodalee Sewell: Oh, look, a dear. Oh, my goodness. Oh, my goodness.
Allison Herrera: What's the matter? What a beautiful smile.
Hodalee Sewell: She is a very beautiful baby.
Allison Herrera: Yes. She does have a beautiful smile. Although she's crawling around energetic and smiley, it's her nap time. Another reason they want to move to Claremore, better schools and they'll be closer to their adult children who can help care for Noni.
Hodalee Sewell: We're off to the adventure. I raised my son as a single parent. He's 33 now, and then my daughter's 24. I co-parented raising her. It's what you do when you're raised, at least in part around your tribal community.
Allison Herrera: Hodalee upholds his values as an Indigenous person above all else. Caring for others is a big part of that.
Hodalee Sewell: We don't leave nobody out, we don't leave nobody to suffer, we step in. I've been a member of the American Indian movement my whole life. These are the values we live by. Sobriety, support, spirituality, sovereignty.
Allison Herrera: These are the values he wants to pass on to Noni.
Hodalee Sewell: I'm glad to have another generation now to help raise and teach and learn our language, learn our religion, learn our culture, that's what matters.
Allison Herrera: Hodalee is 53 years old and his wife Jamie is 47. Even though they have adult children, they're both enjoying being new parents. They want to raise their new daughter in the Cherokee and Muscogee communities, and they want her to have a sense of her culture and where she comes from.
Hodalee Sewell: This's a monkey. That's my ear.
Allison Herrera: Do you guys speak Cherokee too?
Hodalee Sewell: I speak Creek pretty good. I'm not fluent. I'm pretty good though. I'm learning Cherokee for my wife's sake. We got Cherokee materials and I can tell her any Creek word. I teach her how to speak Creek, but if--
Allison Herrera: Teaching Noni Muscogee, and Cherokee is really important at this age because if you don't grow up hearing the language, it's harder to learn.
Hodalee Sewell: [Creek language] She's learning slowly but surely, Cherokee. I speak Creek and that's what I'm teaching her. This is Creek. I owe it to the next generation, that she have the opportunity to learn about who she is. She's part Creek and part Cherokee. As soon as she can walk, I'm going to have her out there in the ring dancing with me.
[stomp dance songs]
Allison Herrera: Hodalee and his wife want Noni to embrace both cultures. That's why they want to take her to stomp dances and other things in the Cherokee and Muscogee community.
Hodalee Sewell: Now, on the weekends, we like to go do stuff in our corner, because I'm a straight dancer. We already got her a stomp dance skirt. We got her everything and she can't walk yet.
Allison Herrera: After he picks Noni up from daycare, they go home to play, have lunch, and explore the outdoors around their property. Hodalee also uses this time to teach her some Muscogee words.
Hodalee Sewell: [Muscogee language] We're teaching her that when you hand me something, I say "thank you", and I hand you something, you say "thank you." She's saying words like that and I'm already teaching her and telling her words in our language, just so it don't never be in her memory, "Oh, that's when my dad started trying to teach me Indian." It'll always be a flow where I'll be like, whatever we're talking about, like, "Come with me," or "Look at that bird," or whatever it is.
Allison Herrera: A car pulls up in the driveway. It's Jamie.
Hodalee Sewell: There's my baby.
Allison Herrera: Noni is very excited. Mama's home.
Hodalee Sewell: [unintelligible 00:09:23] see me go.
Allison Herrera: Now the party begins.
Hodalee Sewell: Now the party is really going to begin now.
Allison Herrera: Hi.
Jamie Sewell: Hi.
Allison Herrera: I'm Allison.
Jamie Sewell: I'm Jamie.
Allison Herrera: Nice to meet you, Jamie. As soon as Jamie gets out of the car, Noni practically leaps into her arms.
Hodalee Sewell: [unintelligible 00:09:38]
Jamie Sewell: She's so excited.
Allison Herrera: Oh, I know. I could tell. Jamie currently works as a loan officer in nearby Broken Arrow. In a former life, she was a foster mom, specifically for Native children under the Indian Child Welfare Act. [music] The Indian Child Welfare Act or ICWA, is a law that was passed in 1978. Its goal was to keep native families together after a century of policies and practices that sought to erase tribal culture. First, by sending children to federally ran Indian boarding schools from the late 19th century until the late 1960s. In the 1960s, the Bureau of Indian Affairs ran the Indian adoption program that encouraged white families to adopt native children. The effects were devastating. Then in the 1970s, after searing congressional testimony by native women that detailed how their children were taken away, Congress acted and passed ICWA.
Recently, the nearly 45-year-old law survived a challenge before the US Supreme Court. In a 7-2 decision, the justices rejected claims that the law was unconstitutional and is race-based. Tribal leaders and advocates were overjoyed. When Jamie was a foster parent, she adopted one of the children she cared for, a 15-year-old Cherokee boy. She made sure he knew about his family, his culture, and wanted him to feel proud about his cultural heritage. She says this is important because later on in life, it can be a big mental health issue.
Jamie Sewell: Some people get lost because they don't know where they come from, who they are. It's a big part of who somebody is.
Allison Herrera: Jamie has one biological son, and he also knows who he is and his history. She told me about a time in school when a teacher asked if they had a family member on the Trail of Tears.
Jamie Sewell: He was the only one that raised his hand. He was the only one that knew about his culture, about who he was, and where he was from. It gets lost and I think that's the biggest picture, is these children are our future. If they lose way of their culture, of the language or anything, what do we have? What do they have?
Allison Herrera: For tribal nations to continue, they need to raise their children in their communities. Even during the oral arguments before the Supreme Court last fall, several of the justices grilled the plaintiff's lawyer on this issue. They pointed out that this was the reason the Indian Child Welfare Act became law because too many children were being taken away from their communities and homes. If there are no children, there's no one to learn the language, no one to carry on cultural traditions. If that happens, tribal nations cease to exist. Jamie was a foster mom for almost 10 years. It was rewarding, but it got to be too much after a while. Then she met Noni who she and Hodalee are in the process of adopting.
Kai Wright: After the break, the role ICWA played in that process.
Billie Estrine: Hey, everyone, this is Billie Estrine. I'm the new Notes from America intern. I'm so excited to be here this summer. One of my favorite parts of the show is hearing from you. I love talking to you when screening calls during our live broadcast because you have such amazing takes. If you haven't called in and want to, I'm waiting on the other line. We're live Sunday at 6:00 PM Eastern Time. Give me a call. You can also talk to us on social media. Our Instagram and Twitter are @noteswithkai. Again, that's notes with K-A-I. Finally, you can send a voicemail and tell us what's on your mind. To send a voicemail, visit our website. It's notesfromamerica.org. Scroll a little down the page and click on the green button that says "Record". Thanks for hanging out with me. We're all really excited to hear from you.
[music]
Kai Wright: Welcome back. It's Notes From America. I'm Kai Wright. This week KOSU Reporter, Allison Herrera is telling us the story of the Sewell family. Their journey to adoption illustrates why so many child welfare advocates have considered the Indian Child Welfare Act, a gold standard of family law. Here's Allison.
Allison Herrera: Jamie comes from a large family and has lots of aunts, uncles, nieces, and nephews. One of those nephews is Noni's dad and has several other children that he and Noni's mom couldn't care for. Noni was sent to an emergency foster care placement right after she was born. Her birth mother struggled with addiction and couldn't take care of her, but after that, she had nowhere to go. All of her brothers and sisters were already living with another relative. It fell to Jamie and Hodalee. Jamie remembers feeling anxious about asking her husband to care for Noni. How could she ask him to take on such a big responsibility?
Jamie Sewell: Whenever I got home, we were sitting out on the porch and I had approached him about it and told him, "They don't have nowhere to put her. She's with her aunt right now, but she has three of the other children." He told me, "It's our job. It's our duty as her family to take her because it's so important for her to know where she comes from because she's going to know who her family is. She's going to know everything about herself."
Allison Herrera: A key part of the law is known as active efforts. It's something social workers and advocates of the law say is what makes it the gold standard of adoption policy and should be applied to all families. Active efforts say that before a parent's rights are terminated, everything must be done to help them stay together. That could mean drug treatment programs, parenting classes, or other help. If that fails, then immediate or other family members must be considered to adopt or raise the child. This is part of the law, opponents say is discriminatory.
That's how Jamie and Hodalee were able to care for Noni. They're her closest family. Initially, when Noni was sent to an emergency placement, it wasn't a done deal that she would be placed with the Sewells. Well, why don't you tell me about how you found out that she had been put in placement?
Jamie Sewell: Well, I actually had a DHS caseworker get ahold of me. I'm not sure how they got my name, but it's probably because I did foster care for about 10 years through ICW. Our Indian caseworker had to explain to her what it meant and why there was an ICWA, why it was in place because she didn't even understand it.
Allison Herrera: That scenario Jamie described is not uncommon. Some caseworkers don't understand the law or don't follow it at all. They don't understand that before a child is put up for adoption or placed in a non-native foster home, relatives are native foster families must be considered as an option. In Noni's case, she had a social worker from the state and a social worker from the tribe looking out for her best interest and making sure she's placed in the right home. That's why it's known as the gold standard. Jamie says caseworkers want to rush the placement process and believes they quickly want to move to terminate parents' rights.
Jamie Sewell: I noticed that in some cases there's conflicts because whenever ICWA tries to step up and say, "No, we need to do this. This is what's best for this child," sometimes they're like, "No, we're not going to do that. We don't need to do that." A lot of it is because I don't think they know. They don't understand. I think that's why they get upset about it. When she was first placed with somebody--
Hodalee Sewell: A non-Native woman. From what we were told by our caseworker, she was not too happy when they come to move her.
Allison Herrera: Hodalee is talking about Noni's first placement, a non-native woman who may have wanted to adopt her, but that's not how it's supposed to work.
Jamie Sewell: Whenever that lady found out that she wasn't going to be able to keep her, she wanted her out of her home because you do fall in love with them. I understand that.
Hodalee Sewell: They told her this girl's a Cherokee Nation citizen. We don't want to hurt you but this is how it is.
Jamie Sewell: The caseworker was like, "Well, you need to explain to her why it's so important," because I think a lot of people don't know.
Allison Herrera: The reason behind the law is to keep native families together after decades of harmful policies by the US government and religious institutions that broke up families. Hodalee and Jamie want a better future for Noni. They've been overjoyed since the very first day they brought her home.
Hodalee Sewell: She was three weeks old, not quite a month, I don't think when they brought her. Oh, my great niece. She was so tiny. I can show you pictures if you want to see pictures because she was-- Let's show her pictures.
Allison Herrera: Noni was just a newborn when the Sewells brought her home, she required a lot of care and attention, which for other people, Hodalee and Jamie's age would seem like an enormous amount of work, but that's not how they think of it. Hodalee himself was not raised by his biological family. It's typical in native communities for all family members to step in and take care of children, not just the parents. Historically, non-native social workers and caseworkers have thought this approach is a sign of neglect and it's led to a lot of family separation. "The structure and community is important," says Hodalee.
Hodalee Sewell: We don't let our people go. We don't want them to go to strangers. We want them to know who we are and them know that. Also, as somebody who in my entire life and my mom and grandparents and all of them, we actively have to push to be part of the Indian community or we will be sidelined, we will be dismissed. That's what we do.
Jamie Sewell: We don't want to rush through and make a mistake and something happen. I think DHS is really fast most of the time to, "Let's just take the child out of the home. Let's just go ahead and we're done. We're going to get everything. We're going to take care of this case, we're done with it." That's not what they're about. They are about trying to preserve the child and put the child back with the family.
Alison Herrera: Ever since the Sewells took Noni in, they say it's been amazing. She's in a home where she's loved, cared for, and with someone who isn't going to let her connection to her family and culture go. What's it been like having her around?
Jamie Sewell: Oh my goodness. I've not got to raise a little girl before, but having her is just, especially at the age I am now, she is sunshine. That's all she is. It's just the best thing I think that we've ever done. I would do it over. I would do it over again. She teaches us things. At her age, she teaches u. This is how it goes.
Alison Herrera: What was it like when you first got her?
Jamie Sewell: Oh, my goodness. I loved her right off the bat. [chuckles] Of course, she's--
?Speaker 11: She's a great-niece.
Jamie Sewell: Great-niece, yes. Also seeing him hold her for the first time was amazing too. We have pictures of her. She's just looking up at him like, "Oh, okay. You're going to take care of me?" [laughs] Everywhere he goes, she follows him. She follows him everywhere he goes. It's so cute. [laughs]
Alison Herrera: Noni hasn't been officially adopted by the Sewells yet. They still have a few more visits with Noni's social workers to make sure things are set. They're just waiting on a call from their lawyers and then it's onto the courthouse. After that, Noni will go through a naming ceremony.
Hodalee Sewell: In my community, when they're four months old, you have a ceremony. Then you have another one at four years old. Because we wanted to wait till the adoption was legal and then she'll get named, like that, so it would have been four months, but it's going to be a year. There's no problem.
Jamie Sewell: We're going to do the other two kids that my son is fostering.
Hodalee Sewell: Other great-niece.
Jamie Sewell: Other great niece and nephew, and so we're going to give them their name too.
[music]
Alison Herrera: This law, The Indian Child Welfare Act is the reason Noni is with her family. She's their future but not only that, she's the tribal nation's future, and that's what the law was meant to protect.
Jamie Sewell: A tribe is a family. If you keep taking those children, and if they live in a different culture, a foreign culture, then they're not going to know where they're from or who they are. It's very important. This is our future.
Kai Wright: That was reporter Alison Herrera from our partners at KOSU in Oklahoma. After hearing the Sewells' story, I was still curious about what actually makes ICWA the gold standard of child welfare policy. I called up Dr. Claudette Grinnell-Davis, who is a professor at the University of Oklahoma's School of Social Work. They spent their career studying the child welfare system, and ICWA in particular. Claudette, thank you so much for taking the time to talk with us.
Dr. Claudette Grinnell-Davis: Thank you for the invite.
Kai Wright: You have spent so much time following this stuff. Why do you think it came out this way? What do you think? Was there some misunderstanding of Justice Gorsuch and Justice Amy Coney Barrett? What do you think led to this?
Dr. Claudette Grinnell-Davis: First of all, Justice Gorsuch has been a staunch defender of tribal sovereignty for a long time, so it's not as much a surprise from him. Justice Barrett and also Justice Kavanaugh, those are the surprises. This is a reinforcement time and again that tribes have always been considered political entities, and that's baked into the constitution. If you want to argue about the constitutionality of that, it's very hard.
Even if you go back and look at the founding of the Bureau of Indian Affairs, which has its founding date in the 1820s, there's a reason why it was placed into the Department of War because tribes were political entities, and that's where some of the issues around due process hinge. Part of it is related to issues of race. Is ICWA a race-based law? The answer is no. ICWA is not a race-based law because not every American Indian child is protectable under ICWA.
Kai Wright: Several people in child welfare circles have described ICWA as the gold standard of child welfare policy. What do they mean by that?
Dr. Claudette Grinnell-Davis: We can talk about the UN Convention on the Rights of the Child. Part of what is embedded in that is that children have a right to their family, to their name, to their identity, and to their culture. ICWA is grounded in those fundamental principles. As a result, that makes it the gold standard. In that, it keeps children protected within their known network of relationships and doesn't isolate them.
Kai Wright: Why isn't that what always happens with all children that are separated from their family in the United States? That's not the standard?
Dr. Claudette Grinnell-Davis: No, that is not the standard, unfortunately. That is due to a piece of legislation that was passed in 1998 called the Multiethnic Placement Act which mandates that you need to put a child in the most family-like placement as quickly as possible and you can't hold a child from a family-like placement if there is an available family based solely upon race.
Kai Wright: The quickly-as-possible idea is really important in law around child welfare normally.
Dr. Claudette Grinnell-Davis: Right.
Kai Wright: I'm very familiar with the idea that a lot of Black family structures are not seen as legitimate and healthy in white circles, to put it bluntly. Is that basically what we're talking about?
Dr. Claudette Grinnell-Davis: That's a lot of it, absolutely. If you go back into the history, there are tribal communities out there that-- Traditionally, once a child got to a certain age, the boys would go live with an uncle's family, a girl would go live with her aunt's family. Those relationships were done that way to build the web of community and connection within the community, to make it stronger. That's been a part of some tribal communities for a very long time, centuries. It's precisely because of those misunderstood differences that were frequently assumed to be abandonment, neglect.
Let me give you a more hypothetical perspective on this. Let's say you have an Indian father, an Indian mother, and they have four children, two boys, two girls. In some tribal communities, and it's been this way for a very long time, the girls refer to their mother's sisters as mother, and those relationships that would be viewed as cousins are actually siblings.
There's a whole host of building those networks and that tends to happen in clans that are more matrilineal which, again, is another problem in relationship to European settler traditions which tend to be more patrilineal.
Kai Wright: If there's not a father around, suddenly there's a problem but actually that's not ever been a problem in the first place.
Dr. Claudette Grinnell-Davis: Right. The notion of the very intense nuclear family as it comes to us from Europeans has not historically-- It's been a part of some tribal communities, but not all.
Kai Wright: The point of ICWA is to tell child welfare agencies if you can't understand this concept, you have to nonetheless even if it is not immediately intuitive to you. The Supreme Court has now said that's perfectly appropriate.
Dr. Claudette Grinnell-Davis: All children do better when they're connected to their kin and their families and people they know. There are various kinds of poverty and lack in the world. That's frequently one of the arguments that is used to justify allowing Indian children to be adopted because there are challenges on reservations. I've written about some of those. Some of those frankly, can be laid square at the feet of the Federal Government for underfunding treaty obligations.
The reality is there's poverty that also comes from not knowing who you are. If you talk to anybody who's been adopted, anybody who's been scooped, whether in the American or the Canadian context, they will always tell you that they knew a part of them was missing by not being attached to their communities. The reality is it's a fundamental human right. People have a right to be attached to their culture and to their family. The American child welfare system needs to do a much better job of respecting that right and finding the best placement for children within those rights.
Courts are always going to be able to act in the best interest of the child to place children where they think is the child's best interest, which may or may not in the court's eyes be in relationship to kin and family. The reality is we have to recognize that wrenching a child from everything they know is its own form of maltreatment. We need to start doing a better job of respecting those kinds of familial adjacent ties that keep children whole healthy and connected to who they know, who they love, and the communities that love and support them.
[music]
Kai Wright: Dr. Claudette Grinnell-Davis is a professor at The Zarrow School of Social Work at the University of Oklahoma. Thank you so much for this insight and this time, Dr. Grinnell-Davis.
Dr. Claudette Grinnell-Davis: Thank you. My pleasure.
[music]
Kai Wright: Notes From America is a production of WNYC Studios. Find us wherever you get your podcast and on Instagram @noteswithkai. Mixing and theme music by Jared Paul, reporting, producing, and editing by Billie Estrine, Karen Frillmann, Regina de Heer, Rahima Nasa, Kousha Navidar, and Lindsay Foster Thomas. André Robert Lee is our executive producer, and I am Kai Wright. Talk to you next time.
[music]
Copyright © 2023 New York Public Radio. All rights reserved. Visit our website terms of use at www.wnyc.org for further information.
New York Public Radio transcripts are created on a rush deadline, often by contractors. This text may not be in its final form and may be updated or revised in the future. Accuracy and availability may vary. The authoritative record of New York Public Radio's programming is the audio record.