Who Gets to Be Beautiful in America?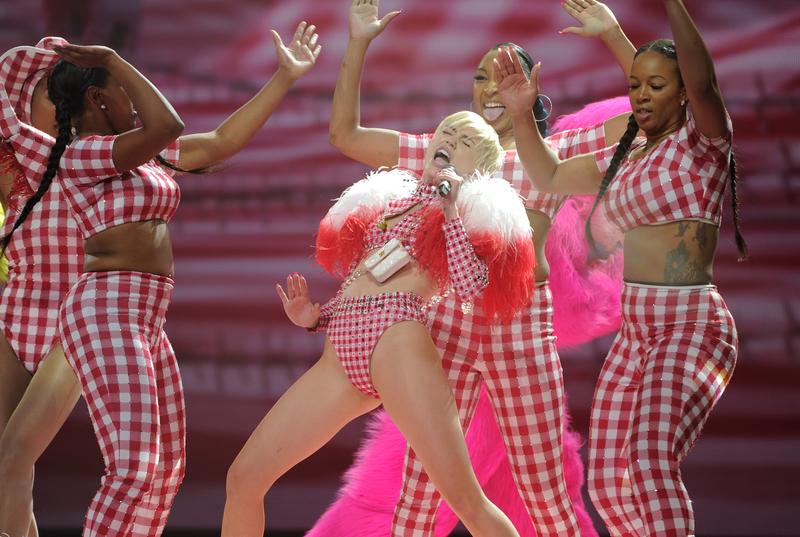 Transcript
[music]
Kai Wright: It's Notes from America. I'm Kai Wright and I want to share something with you. My WNYC colleague, Tracie Hunte has been trying and failing to get people in her life to allow real talk about something hard. It's one of those things that really illustrates how these big social concerns that we talk about on this program, they actually show up in our innermost lives. Here's Tracie.
Tracie Hunte: Let's have an honest conversation about beauty. Not about fashion, or makeup, or anything like that but what it means to be beautiful, why are some bodies considered beautiful, while others aren't, and how do these standards shape our destinies? To start off, I'm going to go somewhere you might not expect, the 2013 MTV Video Music Awards. One of the big performance that night was Miley Cyrus.
[music]
It might be hard to remember now but back then Miley was a huge deal. She was in full Good Girl Gone Bad mode. A young white popstar eager to shed her kid show cutesiness. She got up on stage and started twerking and strutting, all while surrounded by these thick buxom Black women dancers. At one point she smacked the butt of one of the women repeatedly and pretended to bite it. The whole thing was really cringe and offensive.
In the aftermath, several Black women writers called out Miley for cultural appropriation using Hip Hop aesthetics to recast herself as sexy and dangerous. There was one essay that had a slightly different take. It was written by Tressie McMillan Cottom, the professor of sociology and 2020 MacArthur Genius. Her essay, When Your (Brown) Body is a (White) Wonderland talked about how the Black dancers served as a stark visual contrast to Miley's slim, white feminine ideal.
One line in that essay triggered a backlash. Tressie wrote, "I am not beautiful." Almost immediately, the letters, emails, and blog comments started rolling in and they were almost exclusively from other Black women. They were offended because if Tressie was calling herself not beautiful, what does that mean for other Black women who look like Tressie?
Tressie MacMillan Cottom: I knew writing it that I was breaking some covenant. It goes to the heart of I think what Black women feel like we have done to protect ourselves in a world where we are objectively the anti-beauty standard, then I think they thought I was rejecting that. There's a lot of power in naming a thing a thing. It does not ultimately serve me to deny the fact that there are things out there in this world that are bigger than me and big beauty is one of them.
Tracie Hunte: What is beauty? How would you define it?
Tressie MacMillan Cottom: Beauty is an idea, an aesthetic. There's the beauty that we all have by virtue of being born and being human. There's the human experience that has so much beauty in it and so much possibility for beauty that is absolutely democratically available. Even in the darkest days, for example of Black people's existence in America, there was beauty. Then there's what I call big beauty which some people call beauty industry, beauty standards.
Now that's ideology and power and politics at work. The big beauty is the thing that coincidentally gets in the way of us appreciating the small beauty that is available to all of us. One of the ways that happens is almost from the get-go, we are socialized into the fact that beauty is something you buy and consume.
Tracie Hunte: Tressie and I have something in common. We're both what she calls big, dark-skinned girls and we both had to wrestle with what that means for our lives, and the people who insist that what others think about our bodies doesn't matter. It's all about the inside.
Tressie MacMillan Cottom: The tyranny of self-help is the idea that you can just love yourself more than the world hates you and that will fix everything is that it does make people feel like they're crazy. You're getting all of these messages and you know that this is what is being said to you but everybody is telling you that no, you just don't believe in yourself enough, right?
Tracie Hunte: Yes. I feel like I have a version of the same conversation, where I'll be complaining about dating and being on the apps and stuff like that. Maybe I'll say like, "I'm not conventionally pretty." I'll say something like that. Then there's all that rush to reassure me, "Oh you're so beautiful." It's my white friends, my Latino friends, my Black friends, everybody's like, "Why are you talking about yourself like that?" I feel like I'm going crazy, because I'm like, "No, I'm quite vain actually." [laughs]
Tressie MacMillan Cottom: Let's take this off the table. This is important Tracie because see, I say this in the essay and I feel a lot of people overlooked it. I literally say, I know I back. Let me be very clear. I know the streets to walk down to pull your daddy. I'm not confused. Okay?
Tracie Hunte: Yes.
Tressie MacMillan Cottom: What I am saying, however, is that there is a thing called status and social status, and I don't bring social status to men. That shapes the experience that we have on the apps, our experiences at jobs, our experiences in courtrooms. We know that Black women who are darker are perceived as less attractive, get harsher criminal sentences than lighter-skinned women. We know that we earn less money. We know that we're less likely to marry someone or partner with someone who has our same educational level or income capacity.
When you just say like, "I know why the apps ain't popping." We know. That's what you are acknowledging, but it makes people feel so uncomfortable. This is also a very American problem by the way. Nobody will tell you faster than a Korean auntie that you're not that pretty but you're smart. Because for them, this is not a thing, is what it is, and that there were other forms of status that you could accrue. They just see it as laying it out. I say as someone who has lots of Korean aunties around me. For whatever reason, they love me and will tell me. I don't know. This is comforting. I like it.
Americans just believe in meritocracy. No matter how much we have evidence that we do not live in a meritocracy, believing in merit is like a very American religious faith principle.
Beauty runs totally counter to the idea of merit. It's a genetic lottery and it points out that you are subject to random chance, and we despise random chance as Americans. If you just work hard enough and make all the right decisions. I think this is just a very Black American problem that we don't have a language to talk about that. That's because of the Americanness in us.
Tracie Hunte: You do talk about the work that Black women have done to call themselves beautiful, to be included and beautiful and that was hard to read because yes, I do want to be seen as beautiful by the larger culture, and what am I missing out on by not being able to tap into that. Your essay is like, "You can't tap into it." The train has left the station and I was like, "I don't want to hear that."
Tressie MacMillan Cottom: Oh, I'm so sorry. I get it. Listen, I didn't want to know it. I didn't want to believe it. You think I wanted to write it? Hell no. I still daydream about a frictionless existence. Being a woman in the world means that we get a lot of friction, just trying to go about our daily lives and being beautiful will get rid of some of that. Black women are very uncomfortable for very reasonable reasons, with how vulnerable big beauty makes us and that when we desire it, we are in a position of vulnerability.
Listen, so much of what we have built to protect ourselves against a world that is hostile to us is built on our idea of our strength. We're strong. We're bigger and better than that. Our bravado comes from a place of loving defense of ourselves but we're also human. I don't know. I think embracing the vulnerability of wanting it can be a power position. There's a lot of power in accepting your vulnerability.
Tracie Hunte: Wanting beauty but not having access to it feels complicated, but having beauty, that presents its own set of contradictions. Take New York Congresswoman, Alexandria Ocasio-Cortez, if you spent any time on social media, you know that AOC sparks anger in people that can't just be chalked up to political differences. Tressie says that what really makes people mad, Republicans and Democrats is her beauty.
Tressie MacMillan Cottom: The only people who are supposed to legitimately own beauty as power are white women. Even then, only to the extent that white men allow them to. All the rest of us have a negotiated relationship to beauty and we're always supposed to be a little ashamed and a little vulnerable with it. One of the things that I really appreciate about AOC is that she is not that at all. She owns it and has turned it into political power, which is just a direct hit at [laughs] the white patriarchy of elected politics.
She's thin and she's able-bodied and she has the long feminine hair and she enjoys and plays in the power of makeup and style and she's not ashamed of that. It is very obvious that most men think that her power comes from how beautiful she is because that is what she is critiqued on the most. All of the really horrible memes from the alt-right are probably expected, but you also see it coming from the left, the people who should be aligned with her politically.
Who have really struggled with how they diminish her intellect and her political prowess and her organizing prowess. It is because she makes them deeply uncomfortable because they are attracted to her. Being attracted to a powerful non-white woman makes, I think, men across the political spectrum feel very vulnerabl because think about what that opens up. What if all the sexy Latinas start running and what if all-- Instead she chooses to embrace both the power of being beautiful and the power of being a feminist.
Tracie Hunte: Is this big beauty something that only affects women in fems? What effects does it have on men?
Tressie MacMillan Cottom: As I think is always the case, real radical feminism will do more to set men free than it will ever do to set women free. Men are as trapped in the pursuit of big beauty as women are. On the one hand, we know that men, for example, are experiencing more eating disorders and body dysmorphia than they ever have before. Also, the pursuit of owning beauty is at the heart of men wanting to own women. That's what bagging a ten is.
That's what having a badie is. Whether they're heterosexual or not because it happens, irrespective, by the way, I think of sexual identity being surrounded by bad bitches happens in queer communities too. It's a thing. I just want to say, that this is not something that I think queer theory completely solves for us, by the way. That obsession with being a baddie, that is actually happening across the sexuality spectrum. It puts you at odds with people's humanity. Yes, that's really bad for women and oppressive for women, but it is also very isolating for men.
Tracie Hunte: How is beauty and equity issue?
Tressie MacMillan Cottom: One study that I found really interesting recently is that people across race when they're looking at somebody who is of a different racial group than they are, especially one that is lower on the racial hierarchy. A white person looking at a Black person, they have a really hard time discerning class signifiers. You could be dressed in Hermès from head to toe. You could be rocking the Gucci and the Prada. You could pull up in the BMW.
You could have all those class signifiers, but the darker you are, the less that white people will perceive those class signifiers in you. That's what beauty does. It diminishes all of the things you earn by merit. Our eyes are not objective tools. I think we must have like almost a set of Instagram filters in our minds.
[laughter]
That blurs us out.
Tracie Hunte: Yes.
Tressie MacMillan Cottom: I think people see me and I really do think sometimes they just see a morphous shape.
Tracie Hunte: Or any Black woman who's had to say, "I'm standing here, why are you getting in front of me?" Something like that.
Tressie MacMillan Cottom: "You're literally sitting on me, sir." A man sat on me one time, by the way, like I was your chair. I will never forget it as long as I live. I was just like, "You sat on me. What could you have possibly seen in your mind?"
Tracie Hunte: I was talking about your essay to a friend and I told her, oh, and this essay Tressie says that she's not beautiful. She was just saying, but how do we wrestle back these standards from, for instance, white straight people if we refer to ourselves as not beautiful? Isn't part of getting white straight people away from being the standards of it like reclaiming it and calling yourself beautiful?
Tressie MacMillan Cottom: Oh, I get it. I do. I just don't know that that's the project I'm most interested in. Reclaiming is not the same thing as reimagining. If I take the word back from you, I'm still accepting the word, I'm still accepting the history of the term. That isn't actually not the same as a radical reimagining. Reclaiming beauty would not be about making Black women as beautiful as white women. It would be about divesting beauty from capitalism so that it is democratically available to all people in a way that does not foreclose their individual ability to flourish.
[music]
If I must leave us with some hope here it's this, although I don't traffic in hope. I'm really articulate. I'm like, "Go to church, honey. I'm not a preacher," but I read something recently that says that what we accept is beautiful, internalize, and then that shapes our vision is an average of the images we've seen before. This is where I think that white media and stuff probably does matter. What Shonda Rhimes does, for example, when she does colorblind casting.
I suspect it is a slower process than we would like and probably isn't a perfect process because I don't think it's just about seeing images. I don't think it's just about living in proximity to people. I think you have to see people in a world. Saying words, moving around, changing the averages of what we expect.
Kai Wright: That's Tressie McMillan Cottom. You can read more of what she has to say about beauty and so many other topics in her book, Thick: And Other Essays. We'll have a link to her essay about Miley Cyrus in our show notes.
[music]
Notes from America is a production of WNYC Studios. You can follow us wherever you get your podcast, or you can find us on both Instagram and Twitter @noteswithKai. Matthew Mirando was our live engineer this week. Music and Mixing by Jared Paul and Mike Kuchman. A special thanks to Jenny Lawton for editing help this week. Our team also includes Karen Frillmann, Regina de Heer, Vanessa Handy, Rahima Nasa, Kousha Navidar, and Lindsay Foster Thomas. I am Kai Wright. Thanks for spending this time with us tonight. I'll talk to you next week.
Copyright © 2022 New York Public Radio. All rights reserved. Visit our website terms of use at www.wnyc.org for further information.
New York Public Radio transcripts are created on a rush deadline, often by contractors. This text may not be in its final form and may be updated or revised in the future. Accuracy and availability may vary. The authoritative record of New York Public Radio's programming is the audio record.