What Could Go Wrong? Everything (And It's Ok)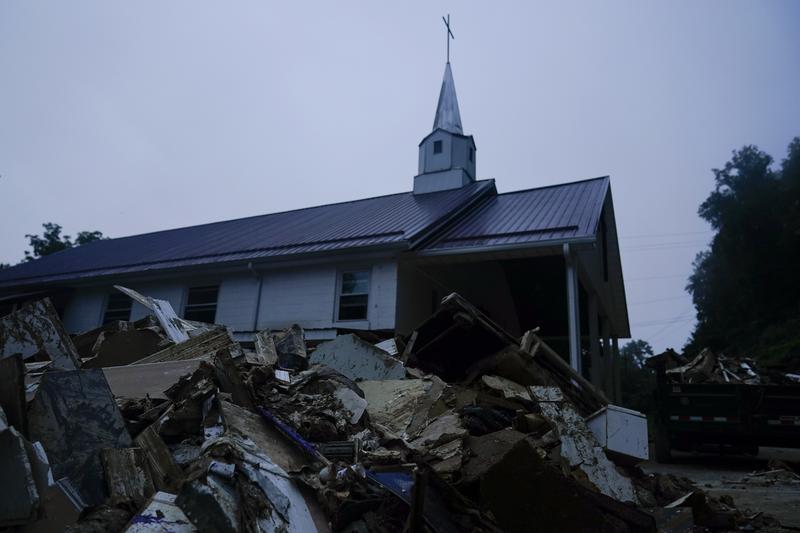 Transcript
[music]
Regina de Heer: What is the number one threat facing us that keeps you up at night?
Speaker 2: I don't know, there are tones.
Speaker 3: Honestly, abortion access has been on my mind a lot lately.
Speaker 4: The monkeypox virus.
Speaker 5: The filibuster in the Senate.
Speaker 6: Right now I don't have any fears because I don't listen to media anymore.
Speaker 7: Human beings, because everything that is happening around the world is happening because of the actions of a human being.
Speaker 8: I can't really say that I'm certain about anything. The only thing that I hear is God himself.
Regina de Heer: How are you personally preparing for that threat?
Speaker 3: I don't think I personally did that much for it.
Speaker 9: I'm actually moving to France soon.
Speaker 10: I protest, I hit the streets.
Speaker 11: Reading and understanding the state of the world and current events.
Speaker 3: I don't know just kind of hoping somebody fixes it. Or I guess [unintelligible 00:00:49]
[music].
Kai Wright: Welcome to the show I'm Kai Wright. You've probably heard of something called the black Swan theory. Ring a bell? It's one of those ideas that seeped out of academia and into popular culture a while back and it basically says that there are some events that are totally unpredictable based on any existing understanding of what's normal or possible, but that these have very serious consequences if they happen. The point is we got to figure out how to deal with stuff like that.
Then there's this related theory, maybe it's a countering idea, called the grey rhino theory and as I understand it, it says basically no, no, no there are also totally very much predictable events with similarly massive consequences and these happen a lot more often so we'd be wise to prepare for these likely disasters, but what if all of this categorization is kind of beside the point? What if actually we are just constantly being chased by both swans and rhinos and all kinds of other angry wildlife all at the same time and like, that's what's real because that's sure how it feels lately.
That is what Juliette Kayyem would like to talk about. She's a disaster expert. She spent her whole life studying and working on what happens when the worst-case scenario comes to pass. She wants us to think a little differently about these disasters. We've had her on the show previously to think about a terrible news event and now we've even invited her back to zoom out and talk about the big ideas she lays out in her most recent book, which is called The Devil Never Sleeps: Learning to Live in an Age of Disasters.
[music]
Thanks for joining us again, Juliette.
Juliette Kayyem: Thank you for having me.
Kai: You have a very weird job to me. How did you become so interested in confronting terrible situations?
Juliette: Oh, I know it's-- And I started my life off in LA as a teenager playing beach volleyball and surfing, so something went terribly wrong.
Kai: Terribly wrong for you.
Juliette: I started off in counter-terrorism in the 1990s. I was a lawyer at the Department of Justice. Those were about a dozen cases in the 1990s and obviously, 911 happened, sort of changed the way I thought about my career and about protecting the homeland essentially. How do you think about risk reduction and defending ourselves in crises, but it changed fundamentally four years later in 2005, when a nation that had been focused on stopping 19 guys from getting on four airplanes, essentially watched New Orleans drown. Hurricane Katrina really changed how I thought about my career and what I was interested in, which was we can't just focus on one threat, we focus on the devil.
The title of the book about what are the hazards that we are facing and what could be the consequences of them, and spent a career in state government, federal government, academia, media, business helping institutions and people prepare for that moment of disruption.
Kai: It's so funny you think-- so you mentioned Katrina because I imagine like many of us, certainly for me it could never get out of my head. The moment I turned on the TV and watched what was unfolding and it just felt like there's a before and after this moment in our lives.
Juliette: Yes. That's exactly right. The thing about Katrina, not just race and negligence and critical infrastructure, all the things that contributed to that, but most of the people did not die in the hurricane, they died, as I explained in the book of what's called stupid deaths. They are not stupid, they are victims but stupid deaths describes the phenomenon of people who perish because the resources aren't available. These are the avoidable deaths. The term comes out of Haiti and all of the disasters and earthquakes they have had that a certain number die at that moment, but a lot of it is the negligence, the inability to drive resources, protect people and that's essentially hurricane Katrina, that a lot of those deaths were not because of hurricane, but the negligence after.
Kai: Yes. Well, we're going to get in detail some of the ideas you layout in the book, but I want to start with-- for you personally, obviously the early months of 2020 were a big moment in your life, all of our lives but yours in particular given the work you do and you were among the people who were screaming fire very early on. Take us back to that time for a bit. You write in the book about even as far back as December feeling like, "Oh, no, something bad is happening."
Juliette: January 4th is when the hairs on my neck start to go up. January 4th is when I read an article-- we read my first article about a strange virus in China, and it didn't seem right, and what didn't seem right about it is China is saying no one is dead and yet they've called in the WHO, those things. If you know China, and if you know pandemics and the WHO, those things aren't consistent. The WHO does not jump at every time someone gets sick from a respiratory disease. Then I am the consumer of intelligence. I am just reading what's happening and I know how the world works, and people are on planes and we have a flow of a gazillion people a day going back and forth and this thing is unleashed.
I would just say January to mid-March, I call the squandered months because the White House certainly had more information than I had, but anyone who was looking at this from a preparedness perspective knows this is the moment, we're not going to stop it, it's in China. Then, we're looking at Italy and thinking, "Oh, hope it doesn't come here." Well, come on people, of course, it's here or of course, it's coming here. Then in early March my frequent contributor to the Atlantic and I'm not a fear-monger and my editor said, "You're making me nervous about this pandemic thing, about this COVID." I was like, "Well, I am nervous."
I wrote a piece in early March, which he worried that the headline was too hysterical and in hindsight, it wasn't hysterical enough. It says, "America, you have no idea what's about to happen." it was just a way of understanding how we function as a society and have a federal system in which we have a federal government, but also states and what was likely to happen, which I underestimated. Then I spent a lot of time advising mayors and governors and institutions and private sector on what does it mean to live in a pandemic? How are you preparing for it and then how are you functioning through it in a way that still keeps society moving as much as possible?
Then how do you recover if that's what-- Yes, we are recovering, but how do you think about what recovery looks like and the risk calculation that has to go into anything like this? I got on the wrong side of a lot of people who thought that we should stay inside longer. I was a big proponent of opening schools sooner because the cost-benefit analysis was becoming clear to me that our kids were suffering, but I was very forceful in writing and vocally about mandates. I thought we should have had more mandates.
Kai: Back at the beginning of it and you write about how everybody around you was terrified of what you were saying. Even your mom was saying, "she's doing a little much here."
Juliette: I got off of CNN, she goes, "You're scaring everyone." I was like, "I'm trying to do something."
Kai: This is where you start the book. You tell this story in the prologue. Why is that an important moment to jump off from in this book?
Juliette: Well, I didn't want the book to be about pandemic preparedness. God, I didn't want to read about the pandemic by the time I was writing the book. I wanted it to position the pandemic as one of many devils. What interests me about it is in the end while it was a novel virus, it looked a lot like most disasters that I study or have worked in, that we can learn lessons from it, but we can also prepare better based on history, that we're in a continuous cycle of disruptions and you can date it at any stage you want so let's take surprise out of disaster management.
Kai: Thus the title of the book, The Devil Never Sleeps, so where'd that come from?
Juliette: The Devil Never Sleeps is people are familiar with the line and there's a movie, but comes from a previous experience I had had when you're in this world either in working in government or not, you get invited to these anniversary "parties". They're emotionally unsure of themselves. This was in Joplin, Missouri. Joplin had experienced a tornado which are just horrible to predict and horrible to prepare for, that had killed over 100 people in a very small community in Missouri. I was invited back a year later for a rebirth moment. Its recovery was being led by a widow named Jane Cage, who was just very religious, very conservative, infectious in her enthusiasm.
I came to adore her because her hands-on, "We're going to make Joplin better for the next tornado," and leading a recovery effort that brought out everyone in the community, including trying to overcome some of the racial and economic divides that existed there. Her religion and her faith, we all have different kinds of faith and hers was so tactical. In other words, it wasn't Joe being like, "I'm going to sit here passively and the stars are misaligned." It was like, "Yes, God put us here to assert agency. We're going to assert it." I said, "How are you like this?"
She said, "I live in Missouri, there's going to be more tornadoes." She said, "The devil never sleeps, but he only wins if we don't do better next time." I thought that's the way we need to be. We need to assert agency over something that we-- yes, I wish they weren't happening. Yes, I wish we were better about the climate or radicalization or anything that can harm us. Yes, I dream in the future of a resilient world. Right here right now, you are here. Right here, right now, what could we do that would minimize the harm after the boom, whatever it is?
If I had a bumper sticker for the book, it would be, "Can we learn to fail safer?" It's a failure, we're on the other side of this catastrophe, but maybe there are things that we can invest in that make the harm less harmful.
[music]
Kai: I'm talking with Juliette Kayyem. She's a former Homeland Security official and she's a Harvard Kennedy School lecturer and we're talking about her latest book, The Devil Never Sleeps: Learning to Live in an Age of Disasters. We'll take a break, and then try to apply Juliette's harm reduction framework to today's crises. We'll find out what disaster management specialists learn from zombie movies. Stay with us.
[music]
Regina: Hi, everyone. I'm Regina, a producer with United States of Anxiety. A few weeks ago, Kai talked with author Daniel Smith about how the Summer Jam is so intimately connected with the memories we all have. For the rest of the summer, we are building a Spotify playlist with songs selected by you and by our team. Here's a contribution from our show's sound designer and engineer Jared Paul.
Jared: My pick is Protection From Evil by Ibibio Sound Machine. That song just slaps so hard. It makes me feel literally protected from evil. That's something I think we all need right now.
[music]
The drop about three minutes into it is just one of the craziest things I've ever heard in any song.
[music]
Regina: Thank you so much, Jared. And very much in the spirit of Kai's conversation with Juliette Kayyem. If you too would like to be involved in a special project, send us a voice recording telling us your song choice and why you chose it. You can email the recording to anxiety@wnyc.org. That's anxiety@wync.org. You can be a part of the playlist and our next conversation with Daniel Smith. The Playlist is already live on Spotify so start streaming it now. You can find a link in the episode description. Thank you so much and we look forward to hearing from you.
Kai: Welcome back, I'm Kai Wright and I'm talking with former Homeland Security undersecretary Juliette Kayyem about her latest book, The Devil Never Sleeps: Learning to Live in an Age of Disasters. She says we need to develop a stronger harm reduction perspective if we're going to face the world in which we live right now. One in which the worst-case scenario is more common than it is exceptional. It turns out people in her line of work, they have a surprising reference point for thinking about times like these. One of the things that I was surprised to learn is that folks in your industry talk about zombie attacks seriously as a way to think about these things. Why? Why are zombie attacks useful?
Juliette: Zombie is like a huge part of national security. One is because it's what we call protein threat. In other words, it's constantly changing, so you don't have to be so specialized. It's just like this crazy thing that is scaring you. The other is that the genre has changed. The early zombie genre, the 1930s 40s 50s, had the zombies always winning. Humans had no agency. We were idiots. They are constantly changing. What's interesting about the zombie genre now, people who watch the second or third-generation zombie shows that are on all the TV stations now, is humans have adapted. Humans are learning to assert agency so they're much more interesting because it's how do they survive? How do they react? How do they--
Kai: Right.
Juliette: Looking at that, how do we assert agency? What are we learning about threats and how do we not be so passive in the moment of that disaster? I will say one of the most interesting data coming out of COVID is they wanted to as a who was mentally best prepared for the pandemic. This is assuming a certain level of resources and capacity but of a certain demographic.
Kai: This who could wrap their head around it.
Juliette: Exactly. Yes, that's exactly right. Who could wrap-- It turns out, is a people whose entertainment interests were horror and zombie movies. It's because they liked them. They were adaptive, they were thinking about harm and long-term harm and we're able to adapt to a pandemic that all of us found psychologically hard and stuff. It's one of those interesting studies that only people like me get giddy about. I think it's an interesting take on what zombies can teach us.
Kai: It's so yes, now I'm off on a tangent in my own brain because it's the moment it's so frustrating both in zombie movies and in real life when people are like, "It's here, it's now and you're still blinking at not wanting to let go of what you had before it came." That's the defining moment of frustration-
Juliette: I agree.
Kai: -in so many horror movies. That's basically what you're saying. We got to not be that.
Juliette: Yes. It is. I spend a lot of time on Twitter, unfortunately, for my sanity, but something happens and it's all blaming the past and how we got here, whatever the issue is or why can't we be that society of rainbows and unicorns. Somewhere in between those two things between past and future, we can do a lot right now. That's preparedness. It's perpetual preparedness, but it's not-- and we want to be clear I'm not asking get hoards of food or water, it's just the basic things you wish you had done. Here's what you probably would want in your house if you were just thinking rationally about it.
I'm not a perfectionist. I say that the tools and the thinking is going to get you 80% of the way there. If I'm going for 100%, I'm going to lose because you can never be 100% prepared for the harm.
Kai: Let's establish some of the basic ideas here. One is devil never sleeps so is the point that we always live in crisis, or is it that in this moment, we are in now we live in a unique time of constant crisis?
Juliette: It's the latter in the sense that part of it is our globalization so that what happens at a market in China is coming to us quite fast. Our connectivity is a blessing and a curse. You don't want to keep people from flying or being connected, but they also have their harm. Part of it is real in that sense. The other part is the earth, in particular, is changing. I can look at the number of hurricanes, the number of billion-dollar disasters and tell you things are changing at a much more rapid clip.
I will say finally, that the book is meant to reimagine what disaster management is and to help people understand that we had formed a disaster management response and everything that we do in my world had been based on an idea that disasters were essentially random and rare. That this thing happens, there's this moment, and we surge resources and then but for the grace of God go I, people say, "Oh that poor community," and then we move on. How could we rethink how we prepare knowing that these things are recurring?
One thing that I learned because you learn about your own field when you're writing a book was this word disaster. "Dis" means not or bad and "aster" means of the stars. It means like a misalignment of the stars then humankind is put in a passive role. Like, "Oh woe is us." Think star cross lovers. Catastrophe shares that. I never thought of that before. That the way we think about it is, "Why me? Why here? Why now?"
Instead, can we take the surprise out of it and rethink disaster management? How do I do that is actually I want to tell the good stories. I want to tell what happened in various disasters and what are the lessons that are the connective tissue across all of these disasters that we can invest in and abide by for right here right now. I'm not waiting anymore and I'm not hoping anymore for them not to happen.
Kai: It's not some mystical thing that we can't control. The point is it's here, what do we do? Get into that idea. Now another important idea is this notion of left and right of the boom.
Juliette: Yes.
Kai: That industry conversation about disasters. Just lay that out for people. What is left and right of the boom?
Juliette: We are simple people. The world is divided into two parts or the moment is divided into two parts left of boom and right of boom. The boom is I'm agnostic on it. It could be the cyber attack, the pandemic, terrorism, whatever. Left of boom are all the investments that we make to prevent and protect ourselves from the harms. Then right of boom is our response and our recovery.
What I'm arguing for is can we look at the boom that moment when you're there? What can we learn from these disasters that if they are in place they will help us feel safer because we've already failed once the boom comes? But we can measure success differently rather than if it didn't happen that's good and if it did happen that's bad. Success can be measured in my wonky terminology of can we make things less bad?
Can we make a pandemic 400,000 casualties not a million? The 400,000 is not good, but boy, compared to where we are now that's much better. It's hard for people, it's hard to talk about it and I have a casual voice. I know I can sound casual about it, but I'm not as more just thinking about how we're measuring less bad.
Kai: Let's try to apply these to some real-world things that we're facing now because it can be a little ethereal. The big headlines right now are about heat. It's summer, it seems like every summer the past few years across the world we have these extreme heat waves now. Applying your framework to heat waves, how are we thinking about them wrong right now? What about the way that we're talking about them and thinking about them is wrong and what would you have us do instead?
Juliette: Obviously, we're talking while Europe is essentially burning from the sun and also the fires that are just overwhelming so many parts of this country. I can answer that with the long-term solution. I'm not going to rate the long-term solution is how we live in wild lands and how we adapt. What's most important today in terms of saving life is a motto from firefighters which is, "Always know where your fire is."
This comes out of lessons learned of firefighting, where firefighters have perished which is what is going on, and can we evacuate people fast enough, get them to places where they will be safer in the moment of the fire? I'm very much focused on that moment when you lose control and you're having a wildfire or whatever else. Here's what we're doing good. One of the reasons why we don't have high fatalities in these horrors. Paradise was quite unique.
Paradise California a couple years ago, where almost 100 people died and for reasons that are getting fixed now is because you lose visuals of where the fire is. If I were going to invest in anything in terms of how do we prepare to live with fire? It is where is my fire? And so that is identifying where it is and where it's moving and getting people out of the way and we're getting better at that. As I say, I'm a glass-half full person. When I look at these fires, horrible, horrible, but I'm also looking at fatalities. Those are some good numbers.
Kai: The point being as we think about it, you don't want us to spend so much time on how did this fire happen? There's a lot of-- including in journalism of investigating who did what wrong to create the fire. You don't want to have that conversation.
Juliette: No. I want someone to have it, it's not me. I'm clear about that. I'm part of a narrative, but I'm part of a narrative that is lost in our interest in "Who's to blame? Why did that happen?" Or our interest in, "Why can't we build for a future that's going to be unicorns and rainbows?" Which isn't going to happen. I'm very much focused. It's not that left boom investments, the prevention, and protection or the blame or whatever doesn't interest me.
It's just that we got that covered in a way and then where we were failing in educating people and telling them the stories of, "Okay, here's my investments and here's why it's working," is because we never tell the story of now or we only tell the bad story of now when it all gets screwed up, like Hurricane Katrina or Uvalde or something. That is where I want people to focus.
Kai: Does this connect to the preparedness paradox-
Juliette: Yes, yes.
Kai: -that you write about? Explain what the preparedness paradox is and maybe in the context of heat waves and fires?
Juliette: And hurricanes. We're in hurricane season too. We have significantly fewer fatalities because of fires and hurricanes because we've gotten good at responding. Why don't people know this? It's hard to tell that story and the reason why is something we call the preparedness paradox, which is the more investments we make in being better prepared for the now and failing safer, the less harm there is.
Therefore, everyone will think that we were over exaggerating the risk or won't see the benefits of the investment. That people don't die in hurricanes or that we're able to evacuate from fires, or our skills that have been nurtured over time and ones that continue to need to be nurtured. That's not your story. This story is, of course, 100 people dying in paradise because they lost transparency of the fire.
This is a real thing. In my field, it's a real thing, in public health preparedness paradox. Most people will identify with it or will seem familiar to them because it actually came out of Y2K. Those of us who are old enough to remember all the hysteria, so to speak, around when the computers were changing from 1999 to 2000 relatively new computers, there was a big fear that planes would fall from the sky and the banking monetary system would go kaput.
There were billions and billions of dollars of investment to prepare for turning the computers so that when it turns to 2000, it wasn't actually turning to zero, zero, zero, zero because they weren't identifying in the year after 1999. The new millennium comes barely a blip and the narrative is everyone overreacted. People like me are like, "No, they didn't overreact, they prepared and there were blips, but it wasn't like before." I think being aware of--
Kai: The interesting thing here is you're arguing, it's now accepted in your world that, in fact, had we not done that preparation there would've been a disaster.
Juliette: Yes. We know that because the computer systems that weren't changed went to zero, zero, zero, zero.
Kai: Connect that to the devil never sleeps point. The preparedness paradox does what in terms of our ability to be in the now and deal with the now?
Juliette: It makes us not see the benefits of the investment. From how I think about the Boston Marathon response and what it means to not lose 197 people who had traumatic injuries. If you made it to a hospital, if you were one of the 197, you survived. That's an investment in preparedness because our public health facilities were ready. To things as wacky as the Super Bowl after Beyoncé plays at the halftime, the lights go out at the Superdome in New Orleans.
It's prepared for the potential for a disruption, a hurricane it was prepared for so that the Super Bowl is only in half-light. For someone like me, a half-light Super Bowl is much better than an all-dark one. I tell these stories of ways in which we've prepared for the boom. We can't stop it and how they work because, one, I want people to hear those stories and to read these stories and to feel, "Okay, what lesson can I have from each of them? From Beyoncé I can learn about the necessity of thinking about stopping what we call cascading losses, so that even if you have a damage in your own house or your own family, how do you make sure it doesn't ripple even further."
Kai: It's the boom is coming.
Juliette: The boom is coming. Boston marathon, I talk about family unification. You can do that. Now. It takes five minutes one common animating theme in every disaster. If you're a parent, "It's where the heck are my kids?" Period. You see it in the school shootings, but you saw it in the tsunami and the Boston marathon. "Where's my kid?" Well, you can think about that now. What does your kid know?
I don't write about in the book, but I remember once when we used to travel, we were really lucky to be able to take a trip to Europe. My kids were old enough to know what was going on. I remember I turned to them and I go, "Where are we staying?" They all go, "The hotel." It's like, "Well, that's actually not that helpful. I should tell them the name of the hotel." Little things like that then if anything were to happen in a European city, God forbid, at least I know they know where they are. It's little things like that too.
Kai: A lot of the idea here is saying, if you acknowledge that bad things are going to happen, you can be prepared for them.
Juliette: That's exactly right. Or 80% prepared. We're not aiming for perfection in a world in which we don't know when the boom's coming or what's happening, but I can overcome the common horrors that we will experience whether it is, "Where is my fire?" Or "Where's my family? Where's my kids?"
Kai: The backside of that idea that is, I think, hard, at least for me is that 80% piece that says, "I have to acknowledge, okay, there's going to be a boom. I can prepare for that to make it less bad. I also in that have to accept I am unlikely to make it go away. That some damage is got to happen."
Juliette: I just don't know the-- I hear you and I hear people say it. I dream of that alternative narrative about our lives, but no one can promise you that. That other 20% or that the boom won't happen, but what we can do is provide the agency, the way to think about getting your head around that we will be in boom moments and there are things you can do so you're not as surprised and less bad is a standard, less bad is good often. Anyone who's experienced these.
[music]
Kai: Juliette Kayyem's latest book is The Devil Never Sleeps: Learning to Live in an Age of Disaster. Juliette, thanks for talking with us.
Juliette: Thank you so much for having me. I really appreciate it.
Kai: The United States of Anxiety is a production of WNYC studios. The theme music was written by Hannis Brown and performed by the Outer Borough Brass Band. Our team also includes Emily Boutin, Regina de Heer, Karen Frillmann, Kousha Navidar, Rahima Nasa, and Jared Paul. You can catch the live show on Sundays at 6:00 PM Eastern by going to WNYC's YouTube channel, or just stream it at wnyc.org.
Listen, if you hear anything that sparks a thought or a question or a story or anything, please do tell us. Send us an email to anxiety@wnyc.org. Bonus points if you send a voice note. I'm Kai Wright, you can find me on both Instagram and Twitter @kai_wright. Thanks for listening.
Copyright © 2023 New York Public Radio. All rights reserved. Visit our website terms of use at www.wnyc.org for further information.
New York Public Radio transcripts are created on a rush deadline, often by contractors. This text may not be in its final form and may be updated or revised in the future. Accuracy and availability may vary. The authoritative record of New York Public Radio's programming is the audio record.