What Arizona Teaches Us About The 'Latino Vote'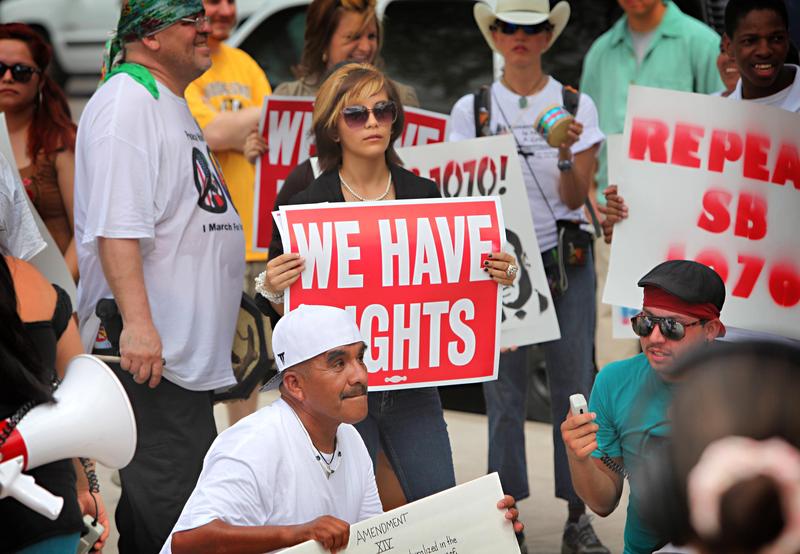 Transcript
[music]
Kai Wright: Its Notes from America. I'm Kai Wright. 12 years ago, Arizona's Republican-led legislature passed one of the most harsh anti-immigrant laws in the country. The law, which came on the heels of a midterm election in which Republicans around the country ran hard on fear of undocumented immigrants. It became known as the Show Me Your Papers Law.
Governor Jan Brewer: The Bill I'm about to sign into law, Senate Bill 1070 represents another tool for our state to use as we work to solve a crisis that we did not create in the federal government.
Kai Wright: As a matter of policy, SB 1070 allowed police to stop and search anyone they suspected of not having the proper paperwork to be inside the US. As a matter of politics, it did even more than that. It became a messaging vehicle for driving home this relatively new idea at the time that being in the country without papers is a dangerous crime and one that calls for drastic, even authoritarian measures.
Governor Jan Brewer: There's no higher priority than protecting the citizens of Arizona. We cannot sacrifice our safety to the murderous greed of drug cartels. We cannot stand idly by-- [crosstalk]
Kai Wright: Governor Jan Brewer became a right-wing celebrity. Remember the tarmac moment when she infamously shook her finger at President Obama? You could argue that Arizona and this law, they're both big parts of the MAGA verse origin story, but they are also big parts of the origin story for the modern immigrant rights movement. SB 1070 fueled enormous activism, particularly among the young striving class of undocumented people who became known as dreamers.
That activism, it helped change the state's politics. It's at least part of how Arizona became a swing state in 2020. [applause] Anyway, all of that, it's the backstory to this week's hugely consequential election in Arizona, in which Latino voters in particular may be decisive. Republican gubernatorial candidate Kari Lake has been called the New Face of MAGA. She's a proud election denier and unapologetic about wanting to aggressively police undocumented people.
Control of the US Senate may well be decided in Arizona as well. Here's the thing, turns out there's no reason to believe that Democrats can count on Latino voters to stop any of that. Polls both in Arizona and nationally show growing Latino support for Republican candidates. Journalist Maritza L. Félix joins us to help make sense of all of this. Maritza runs a new service for Spanish speakers called Conecta Arizona.
She comes to us from feet in two worlds. She's a project that brings the work of immigrant journalists to public radio. Maritza, welcome to the show.
Maritza L. Félix: Hi, Kai.
Kai Wright: Maritza, the obvious first question is how to explain what I just described. How is it possible that Latino voters in Arizona, many of whom are Mexican immigrants like yourself, would even consider voting for candidates from a party that's responsible for this really harsh anti-immigrant politics?
Maritza L. Félix: Kai, it is a question that a lot of people are asking, and to begin to understand where we are, how we arrive to this moment, we need to go back in time at least 10, 12 years. On April 23rd, 2010, I was in the same room when Republican Governor Jam Brewer signed SB 1070. That law criminalized an undocumented person just for being in Arizona.
If someone was stopped and could not show a driver's license, a US passport, a green card, a social security card could be arrested and deported, we needed to be carrying our documents everywhere. It was controversial, yes, but later that same year, Brewer was reelected as Arizona governor. At the press conference after she signed SB 1070, Governor Brewer was asked how police were supposed to identify undocumented immigrants.
Howie: How can that not lead to some form of racial profile?
Governor Jan Brewer: No different than any other reasonable suspicion, Howie. We have to trust our law enforcement. It's simple-- [crosstalk]
Maritza L. Félix: She didn't have an answer but for Latinos in Arizona, the answer soon became clear.
Karina Ruiz: SB 1070 wasn't just targeting immigrants. I think it's important to know that it was because of the color of our skin, it was pure racial profiling.
Maritza L. Félix: Karina Ruiz is personally familiar with racial profiling. She has brown skin. She was a student at the time and went on to become an immigrant rights activist. She immigrated to Arizona with her family from Mexico, and she was, and still is undocumented.
Karina Ruiz: If you listen to Mexican music, it was like a cue for police to assume that you could not have legal status. It was also targeting citizens, Latinos, and Latinx, that live in the state, and that's what I think prompted people to realize that the attack wasn't just on immigrants. That the attack was on Latinx, brown people of color. I know that in those efforts in the big marches, and the efforts that happened, a lot of leaders started in the movement.
Kai Wright: Yes. Honestly, Maritza, I remember that moment really clearly, and it really felt like a turning point in the racial justice movement in general, but particularly in the immigrant rights movement, that SB 1070, the strictest law in the country right, led to just this massive amount of organizing.
Maritza L. Félix: That's right Kai. Actually, SB 1070 really was a wake-up call for Latinos. Whether they were undocumented immigrants or families who had been living in Arizona for generations, there was a lot of fear of those sons and daughters of undocumented immigrants. The kids that were born and raised with mixed-status families, first generational US-born Latinos, they transformed this fear into a lucha, a fight.
They were canvassing, they were protesting, they were fighting for their rights and they became a movement. Reyna Montoya was a dreamer then, and she became part of that movement. She actually founded a non-profit organization to help those dreamers to achieve not just a temporary solution for their immigration status, but a permanent impact for being here in this country legally. She became part of that movement to protect voting rights, even though she cannot vote.
Reyna Montoya: I think what changed was a whole community that got activated and I said, we either have a choice, "We either can continue to remain to be in the shadow or we can take action." That's what I saw a lot. You couldn't just turn a blind eye and pretend that it didn't impact you. You would hear about your cousins, your neighbors either getting in deportation proceedings or having that palpable fear. I felt what really changed was that people like me said, "We can't take this anymore and we have to make a choice. Either we continue to live in fear or we do something about it."
[music]
Kai Wright: The people who made the choice to fight back then, what did they do, and what were their results?
Maritza L. Félix: I remember Kai back then, there was a group of ladies holding a vigil outside of the state capitol and they were praying they were organizing, but they stayed there for more than 100 days. One of them was Petra Falcon. She founded Promise Arizona, a nonprofit organization that actually wants to fight for this path to citizenship, to worker protections, and to have more Latinos registering to vote, and not just registering, but actually voting.
Petra Falcon: We were also at the same time training, we were doing a lot of what we called movement-building training to get young people integrated into the movement, as we called it, locally and nationally. That's how you got a lot of people running for public office in the next general cycle of the election. We've got many more people in the Arizona legislature in the House and the Senate elected to become state senators and state representatives which basically also gave the community semi-media wins.
Kai Wright: That's interesting. Correct me if I'm wrong, Maritza as I remember this movement that launched, it had some very real political wins. The author of SB 1070, Senate State Senator Russell Pierce, he was defeated in a recall election. Then the infamous sheriff of Maricopa County which includes Phoenix, Joe Arpaio, he was the face of this law really. He also lost political power in the course of this.
Speaker: There's a new sheriff of the town.
[music]
Maritza L. Félix: I remember there was a real feeling of success, Kai. Actually, Petra and the dreamers that we had already been talking to were part of these recall efforts and helped to take Russell Pierce out of the office and elected another Republican actually. A couple of years later, they did something similar with Arpaio. I think most of us here in Maricopa County, we remember that [unintelligible 00:10:13] campaign.
Kai Wright: It was really one of those moments nationally too where you had this like euphoria, particularly in the racial justice world of like, "Oh, my God, there can be change, something could really happen." Very sort of Obama-era enthusiasm but here's the thing where it says, now, it's more than a decade later. Like many of those moments of euphoria from the Obama era, it feels like there's been a turn. We're hearing news and polling about the idea that there's going to be this unexpected increase in Latino support for conservative like conservative, conservative Republican candidates. What is going on?
Maritza L. Félix: I will love to have that answer but to answer that question, I'm going to let Pedro de Velasco do all the talking. Pedro works with a group called Kino Border Initiative in the Nogales area. He works, actually in both sides of the Mexican border.
Pedro de Velasco: The mythical Latino vote. I think this is a very angular concept. It's sometimes difficult for Americans to comprehend that Latinos are very different from each other. Latinos come in all shapes, colors, smells, flavors, rhythms, and a diversity of backgrounds. When we talk about Latinos, we're talking of more than 20 different nations. In each of these nations, people have a diversity of backgrounds.
One person does not vote the same just from being from Mexico, from Colombia, or from Venezuela. I believe that it is important to move away from the idea of the Latino vote, because even migrants who naturalize as US citizens, they're not voting for or against this or that candidate or policy just for coming from abroad.
Maritza L. Félix: Kai, let me put this in perspective for you. More than 7 million people live in Arizona and Hispanics represent about a third of the population. We are more than 2 million organizations that promote that empower the Latino vote, estimate that about 640,000 Latinos will vote in these midterm elections. They're really important. This is a significant number. This is huge. Compare that to 2002. In just two decades, the Latino vote in Arizona has increased by 400%.
Kai Wright: Yes, that is massive.
Maritza L. Félix: Exactly. Everybody talks about it as if they knew it, but actually, Latinos are getting more independent. There are polls going around, everybody's asking these questions, and they assume that Latinos are going to vote for Democrats but in these primary elections, we actually realize that we know nothing. 45% of Latinos are affiliated with the Democratic Party. That's something that we know but two of every five Latinos are not affiliated with any party. They're independent.
We need to understand that because we're not all the same. There are families that just speak Spanish, many families they don't, many families that have been living in Arizona forever, but most of them just got here, or they go back and forward to cross the border. The Latino voter is not the same. It's not monolithic, and that's something that we know. We don't care about the same things.
For example, everybody thinks that we just care about immigration of the border but actually, economy is one of the most important issues for us. Let me introduce you to Felix Garcia, he's a Latino Republican, he is [unintelligible 00:14:02]. He was born in Mexico but came to Arizona, he became a pastor. He has a consulting business with Republicans, most of them, he became a political analyst and now he's actually representing the new face of the Republican Party here in Arizona. I sat down with him shortly after the primaries, and this is what he told me.
Felix Garcia: Now I think that the Latinos we're more focused on job opportunities because if you have opportunities if you have security, your family is happy with the community every single day. The reality, a job is very important for our community, jobs, house, security, those are the three more important issues, not the immigration, not anymore.
Kai Wright: Which is to say that Latinos in Arizona are like most other human beings, they're worried about stuff that directly impacts their daily lives, and for many immigration policy just isn't on that list right now. Still, we know that polls are notoriously inaccurate. In any case, we can certainly overstate the idea of Republican support amongst Latinos. As you said, the vast majority are independent or Democratic voters but if Latino voters do help elect Republicans who are going to roll back the gains of the past 12 years in the state, where does this leave the activists who had been working all this time to register voters and encourage Latinos to participate in politics in the first place?
Maritza L. Félix: I also asked Reyna Montoya about this. Remember, she came out of the movement to fight SB 1070. She knows that we made some progress in Arizona, but that progress may be reversed. She talked about Kari Lake, the Republican candidate for governor in Arizona. That candidate has promised that if she gets elected, she will finish up the border wall, but Montoya takes a long-term view of Arizona politics.
Reyna Montoya: I think that even though that there's been some progress made, we're seeing a little bit about post the Trump wave of how nationalism and anti-immigrant sentiment continues to be on the rise. I think that right now where we're experiencing Arizona, it's a little pendulum. It's like, it was very anti-immigrant. We saw that wave. We saw the pendulum swing the other way and saw a little bit of progress and more education being done, and then now it's up in the air. We don't know where the pendulum is going to swing. Is it going to swing to somewhere like Kari Lake that has very similar policies and ideologies, or is it going to be moderated?
Maritza L. Félix: In just like Reyna said, "The Queen is in the air, it can go either way." You know what it is because politicians and candidates have taken the Latino vote for granted. Oh, they don't care about that or they act as they don't care about the Latino vote, but in these elections, if that 640,000 actually go out and vote, we're going to see what we can expect for the next 2024. They're going to be huge elections in Arizona. As we said, it can go either way.
[music]
Kai Wright: Maritza, thanks for this reporting.
Maritza L. Félix: Thank you, Kai.
Kai Wright: Maritza Félix is the founder of Conecta Arizona, a Spanish news service based in Phoenix. She comes to us through Feet in 2 Worlds, a project that brings the work of immigrant journalists to Public Radio. Notes From America is a production of WNYC studios. Follow us wherever you get your podcasts on both Instagram and Twitter @noteswithkai. Hey, if you heard anything you want to chime in about this week, you can leave us a voice message right on our website.
Just go to notesforamerica.org and look for the record button. Special thanks to Feet in 2 Worlds and John Rudolph for editing help this week. Our live engineer was Matthew Mirando, mixing and music by Jared Paul. Our team also includes Karen Frillmann, Regina de Heer, Vanessa Handy, Rahima Nasa, Kousha Navidar, and Lindsey Foster Thomas. I am Kai Wright. Thanks for spending time with us.
Copyright © 2022 New York Public Radio. All rights reserved. Visit our website terms of use at www.wnyc.org for further information.
New York Public Radio transcripts are created on a rush deadline, often by contractors. This text may not be in its final form and may be updated or revised in the future. Accuracy and availability may vary. The authoritative record of New York