The Week That Changed America's Cities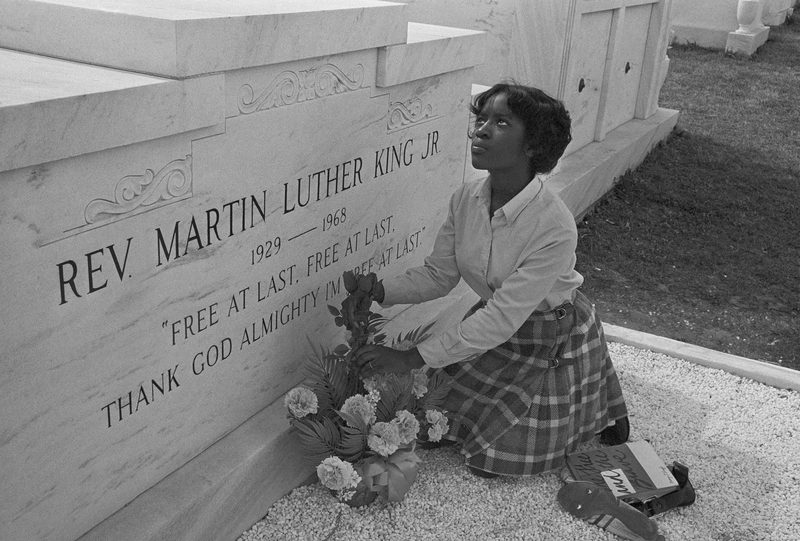 Transcript
[music]
Kai Wright: It's Notes from America. I'm Kai Wright. Martin Luther King was assassinated on April 4th, 1968, in Memphis, Tennessee. He was buried on April 9th, today during what's commonly called Holy Week in the run-up to Easter Sunday. Nothing about life in America would be the same after that week. The Atlantic Magazine's Vann Newkirk has made a new podcast telling the history of this particular moment in the spring of 1968. He says it's one of the most consequential weeks in American history.
Vann Newkirk: When you look at what happened in the actual hour when King was killed, you start seeing unrest and disturbances in Black communities across the country, and they last for days. Actually, become the largest, some people call them uprisings, riots, unrest, whatever you want to call it, between the civil war and the protests for George Floyd in 2020.
Kai Wright: Vann Newkirk's podcast is called Holy Week, a story of a revolution undone. It turns the reaction to King's death in cities all over the country, events that laid the foundation of urban politics for the next 50-plus years. Even before King was killed on April 4th, each of the major players in the Civil Rights Movement were facing a moment of great uncertainty. President Johnson's White House, the growing Black youth movements, and King himself, they were all at crossroads. For King and the organization he led, they were frankly in a crisis of identity.
Vann Newkirk: He was losing support, even among lots of Black Americans, especially young Black Americans. The movement had been going on for a decade at that point, and there were lots of people who grew up with it in the background, who saw all these big changes legislatively, who saw these boycotts but they were still living in poverty in the ghettos and who still didn't have opportunity, and they were looking to things like Black power to leaders like Kwame Ture, Stokely Carmichael, then, or to the Black Panthers. King was being seen kind of as both the establishment in some places, but also he was reviled by the establishment in others.
Kai Wright: President Johnson and the white liberals who had previously supported the Civil Rights Movement were also at an uncertain moment. LBJ had passed, of course, these massive historic Civil Rights laws. He had launched his great society, Medicaid and Medicare, and all the things that we think about today. Frankly, it didn't feel like any of that was working.
Vann Newkirk: He passes the Voting Rights Act in '65, and that's the one he gets all the nice ink pens, and they handed out to all the leaders, and it's a big moment. Then a couple of weeks later, actually, that summer, Watts goes up.
Speaker 1: Six days of rioting in a negro section of Los Angeles left behind the scenes reminiscent of war-torn cities. More than 100 square blocks were decimated by--
Vann Newkirk: You have the Watts Rebellion of '65. Every single summer after that, they have rebellions, riots in major Black communities across the country. We were able to talk to people in the White House with Shaw. He and people in the White House they were trying to figure this out, why we did these things, why are people rioting?
Kai Wright: We gave you the stuff.
Vann Newkirk: We gave you the stuff. We did the things. In '68, actually, the Kerner Commission report, which was Johnson's effort to try and figure out what had happened, and the commissioners came back and told him that it's happening because the country is racist.
Kai Wright: Which was literally the findings. It was literally this is because of racism that this has happened.
Vann Newkirk: That's it.
Kai Wright: Which people weren't ready for.
Vann Newkirk: They call for really big billions of dollars in spending to eliminate racism and poverty. That comes out a month and change before King was killed.
Kai Wright: The third then, important pillar of this is the emerging Black Power Movement that young Black people, in particular, are starting to gravitate to away from King. You give us a powerful window into that part of the story on the day after King is assassinated. The writing has begun and Stokely Carmichael holds just a remarkable press conference. You take us to it in your podcast, we hear him jostling with these reporters.
Stokely Carmichael: We die every day. We die in Vietnam for the [unintelligible 00:04:51]. Why don't we come home and die in the streets for our people? Black people are not afraid to die. We die all the time. We die in your jails, we die in your ghettos, we die in your rat-infested homes, we die a thousand deaths every day. We're not afraid to die. Today, we're going to die for our people.
Kai Wright: You point out that there's like an uncertainty behind his bravado in that moment. What's the question he's facing?
Vann Newkirk: First of all, what I see in that press conference is a young man who's grieving, a young man who is grieving the loss of a mentor and friend, who is very angry and whose anger goes beyond just what he's supposed to say as a revolutionary. He's promising race war, he's promising that there's going to be pious for King on the street. He is saying this is going to be the thing that finally brings the revolution. You look at what he had done the night before.
He was on the streets in DC the very first night of unrest in the city. He was going around telling young Black folks that they didn't have the firepower to fight police and the military. He was ambivalent about it. We tried to show through these two days that he was really trying to wrestle with when the rubber met the road for his philosophy turning into something real. What would it mean to him? I think you saw somebody who was trying to, really trying to make it real, but also, he had just lost a very important person to him.
Kai Wright: Yes. Everybody was grieving.
[music]
It's Notes from America. We'll be right back. One of the really powerful parts of the podcast is that you talked to all these people who were kids at the time and were on the streets of DC during these uprisings. You really start to see the gap between the ideas of all these people. The President Johnson's and the Kings and the Carmichael's and the realities for these young people who are out there uprising. Vanessa Dixon is one of the people we meet, a 12-year-old at the time, I believe. Can you introduce listeners to her briefly here? Who was she and where did she find herself on April 4th, 1968?
Vann Newkirk: She was just a wonderful person to sit with. Native Washingtonian. She lived in two different Black neighborhoods. One is the historic center of the H Street Corridor in DC. She just grew up with the city. She loved it. She told us how she thought she invented gogo music. She just loves to play.
Kai Wright: You all know that she didn't.
Vann Newkirk: She's so much a part of it. Hey, she told us she came outside with the pots and pans. We're trying to find a recording of it now. She had three older brothers and the brother that was closest to her in age, Vincent, they were always together. They raked leaves, they made money. The family didn't have a lot of money, so they made their own money. They carried people's groceries, they hustle. They were living, basically, the life that the Kerner Commission says that was going on [unintelligible 00:08:46] in Black communities. They were in that situation when the riots broke out on the night of April 4th.
Kai Wright: You described there's this moment where Vanessa's brother, he's out looting a department store that they used to shop at. He calls his mom and he tells her, "I've gotten you a couple boxes of stockings in just the right size and just the right color," which is a moment that made me cry, I have to say. What do you want people to take from that kind of detail?
Vann Newkirk: It's one that stuck out for me as somebody who just recently lost my mother. I don't know. I think about all the different details you can give about a riot. You can talk about the bricks going through stores, you can talk about the fires, and we do to some extent, but there's a lot of opining on what it means to go and loot or go and be out in the streets and one of these things. You don't hear about the kid who-- Yes, he goes out and steals and he feels nothing about it because he went and got a pair of stockings for his mom.
That's the type of thing that I'm interested in because I'm mentioning human motivation and what tells you more about what's going through a person's mind? What moves them, what motivates them than how they feel about their mother? This is a person who clearly loved his mother and loved so much in the middle of all this excitement, he decides this thing isn't bothering him. His mother couldn't go and get stock when she wanted all in the box because she had to go out and pick two out at a time because they didn't have any money. He said, "Now, I got the opportunity to do it." That to me is a really special moment.
Kai Wright: Is it the moment that Stokely Carmichael wants? Is it the revolution? I don't know that I have the answer to. We hear people opining about looters, but also revolutionaries are opining about why people take to the streets.
Vann Newkirk: That's one where I don't know if I came up with an answer for myself. I think clearly what happened in '68 didn't end up destroying the halls of power. It didn't end up, I think, the way Stokely described it in that press conference at least. You think about little revolutions and think about what it means for youth in DC to go out and run the streets and see the cops be powerless to deal with them.
These people who had exerted this force and brutality over their lives. You see people that are saying, "Black power." They're calling each other soul brothers, calling themselves Black for the first time. Eventually directly as a result of this, at least in DC, DC gets home rule self-government and a Black-led government. Those are things I think I don't want to discount, and I think where our land is that things can be revolutionary in different ways.
Kai Wright: None of this is to say that people weren't grieving. That this wasn't an act of mourning at the same time. I just wonder 50 years later, talking to someone like Vanessa. Talking to all those folks who were out there? What do you think they were grieving and are they still grieving it? What was it like to unpack it with them now?
Vann Newkirk: The grief still is so palpable and present for everybody we talk to. Not just a larger symbol for America, but something about themselves was altered or changed. All of them, they saw in King, I think, a sense of possibility. Even people who didn't really believe in what he believed in, even people who didn't love nonviolence. People who were agitating to be more radical and revolutionary. They saw in King the last best hope for things changing, for having the ability to go out and buy what they want to have the jobs they wanted, to not live in substandard housing.
When he was killed, there were two levels of grief. There was just this is an important Black person who was killed. We talked to people who knew King. Obviously, they had that level of personal grief, but also just the avatar of an age. He was gone. You had an age, I think, even the most cynical readings of the Civil Rights Movement. This was a real transformational time for America, one where things that were previously thought impossible happened yearly, weekly.
People grew into and grew up with, these young people, this idea that things might be better next year and that's an incredible-- If you understand how radical that transformation in our lives is, and then the main symbol of that transformation is killed.
Kai Wright: How did this week that followed transform the cities in which these uprisings happened? We go in the podcast from DC to Memphis to Atlanta, all these black Meccas. What's the legacy of that week in those cities?
Vann Newkirk: A lot of them weren't as Black then. The sixties were the time of what we call white flight, but the riots where there were riots accelerated that white flight and the creation of the suburban politics in America. DC becomes Chocolate City. It first gets to Monica in the early '70s, a couple of years after the assassination, Baltimore is trending to be a majority Black city at the time.
You see white flight from Chicago, Detroit, Newark, and basically, you see the rise in the early '70s of cities with Black mayors. That's a direct consequence of what happened in the late '60ss, particularly '68. You also see the seeds of the things that go wrong in the cities with all those people fleeing to the suburbs. There's a diminishing tax base, and essentially, you see them become Black islands where there's power within them, but they become starved of resources from the outside.
Kai Wright: There is DC as an example, for a really long time you could physically see the riots still for decades. You could physically see places that just didn't get rebuilt, didn't get reinvested in.
Vann Newkirk: Actually, one of the reasons why I was interested in doing this, my father he did a mid-career PhD, which is a fun thing when you have kids in middle school. I won't be doing it for mine.
Kai Wright: Good dad.
Vann Newkirk: He got a history PhD from Howard. I would go up with him. I remember, and this was in the '90s, I remember Howard going down from that Mcdonald's going down 7th. You could still see then buildings that had been burned that hadn't come back yet. It was like, I'd never seen that in a school book or anything, but it was just written on the face of the city. That was 30 years after the riots.
Kai Wright: Then today, those same corridors of DC are some of the most strikingly gentrified parts of the city. In recent years, DC has really seen an influx of capital, and it must be said of white people. I just wonder if that came up in your conversations as well.
Vann Newkirk: I'll say it's telling that I think every single person we interviewed who was on the streets in DC, minus two, they live in PG County now. They live in the-
Kai Wright: Prince George's County, Maryland.
Vann Newkirk: -suburb, Prince George's County, Maryland, where a lot of Black Washingtonians have been pushed out during the last waves of displacement and gentrification of the city. That right there, I think, tells a lot of the story itself.
Kai Wright: Where do you sit in this history yourself? I know the shooting of Michael Brown and the subsequent unrest in Ferguson in 2014 was a big turning point for you as a journalist. I wonder if you see any analogies between that time and the one you're covering now.
Vann Newkirk: I think there are some really strong parallels. Number one, you've got in '68, there's a span of literally months between the killing of MLK, the pretty dramatic shift of white suburbanites towards Nixon, and the election of Nixon. I think you see some of that happening today. Obviously, we had Donald Trump. We've got an ongoing reaction to what happened in 2020. We've got books being banned in Florida. For me, I do think there are parallels. I think history tells us anytime there is a demand, a robust demand for even incremental change regarding race in America, there is always, as King liked to say, a backlash.
Kai Wright: Vann Newkirk is the host of the new podcast Holy Week by The Atlantic. Vann, thanks for coming back on our show and talking about this great work.
Vann Newkirk: Thank you for having me.
[music]
Kai Wright: Notes from America is a production of WNYC Studios. Follow us wherever you get your podcasts and on Instagram @noteswithkai. Theme music by Jared Paul, mixing this week by Mike Couchman. Our team also includes Karen Frillman, Vanessa Handy, Regina de Heer, Rahima Nasa, Kousha Navidar, and Lindsay Foster Thomas. Andre Robert Lee is our executive producer and I'm Kai Wright. Thanks for spending time with us.
[00:19:10] [END OF AUDIO]
Copyright © 2023 New York Public Radio. All rights reserved. Visit our website terms of use at www.wnyc.org for further information.
New York Public Radio transcripts are created on a rush deadline, often by contractors. This text may not be in its final form and may be updated or revised in the future. Accuracy and availability may vary. The authoritative record of New York Public Radio's programming is the audio record.