How the Right's Anti-Trans Hate Machine Works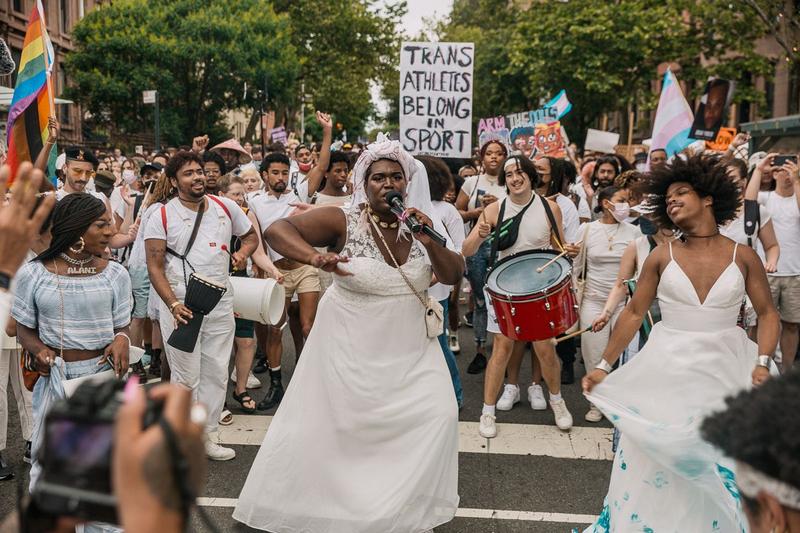 Transcript
Kai Wright: This is The United States of Anxiety, a show about the unfinished business of our history and its grip on our future.
Judy Woodruff: It's been a record-breaking year of bills proposed in state legislatures that would limit transgender rights, from access to medical care to sports participation.
Christiana Holcomb: Athletic policies like the ones that we're seeing in the state of Connecticut really undermine nearly 50 years of advances for women.
Schuyler Bailar: I mean, we see this with literally any Black or brown women in sport, trans or not, there is an immense amount of policing of that person's body.
Protesters: Black trans lives matter!
Malcolm X: The most unprotected person in America is the Black woman.
Chasity Moore: You will never know what it feels like to be born a certain way and feel another way.
Angelica Ross: We as Black women don't always have the language to talk about our privilege or your privilege, as cis Black women. Trans women are not your enemy. We are your sister.
[music ends]
Veralyn Williams: Welcome to the show y'all. I am not Kai Wright. He's on vacation. I am Veralyn Williams, the executive producer of this show. Today I am your host. We're going to cover a story that's really been on the top of our minds within our team. The record number of anti-trans legislation being introduced around the country. Joining me to unpack what's been happening and why is Imara Jones, an award-winning journalist, and creator of TransLash Media, a journalism, and storytelling project that is trying to counter the hostility we've been seeing against trans people in the US. Hey, Amara?
Imara Jones: Hey, how are you?
Veralyn: I am well. Let's go back to 2016. Donald Trump is elected, what was going on in your life at that time?
Imara: There was so much going on at that moment. There was a lot of turbulence going on in my life. I was in the middle of a newish relationship. Then, I was moving through bi-gender identity even more so during that time. There's tons of turbulence.
Reporter: Starting to predict a Donald Trump's victory, they had not been doing that-
Imara: Then, all of that collided with this election.
Reporter: We're covering a story that no one saw coming.
Imara: We must accept this result.
Reporter: This was an earthquake, unlike any earthquake--
Veralyn: You said you were moving through your gender identity, you were transitioning in 2016.
Imara: Yes. Still transitioning, I think it's the way that I would say it. Because transitioning is a process. That election put everything in stark relief. I think one of the things that that time did is that it made people choose.
Veralyn: One of the things you chose to do, that's what actually led you to start TransLash Media.
Imara: That's right.
Veralyn: How are those two things connected? What was it about the Trump administration that, and even the name TransLash, backlash, TransLash?
Imara: That's right. I came up with that by myself, TransLash, transgender backlash I did it. I put it together. I'm very proud of my branding ability. One of the things that became clear by 2017 going into 2018, in particular, was that the Trump administration was going out of its way to target trans people.
Reporter: In a series of morning tweets, President Donald Trump announced Wednesday he will bar transgender individuals from serving in the US military. Trump wrote, "The military cannot be burdened with the tremendous medical cost and disruption that transgender in the military would entail."
Imara: It just seems strange to have your military not only say that new trans people can't come in but to overrule your entire military and defense establishment and say, "No, we want to run a McCarthyite-type of operation and go into the military and find out who's trans and throw them out." That's a lot of effort. That's not, "I'm just checking the box." That was happening across the board.
Reporter: The Trump administration has rescinded key protections for transgender students in public schools.
Ali Velshi: Late yesterday the Trump administration completed a change to the Affordable Care Act rolling back a policy that protected transgender patients from discrimination.
Imara: It became clear that this administration was going out of its way to pick on a group of people that's 1.5% of the entire population, tiny. Our community is tiny. Not only was all of this policy action happening, but the more we got into the Trump administration, the more and more violence we saw against trans people.
Samantha Bee: The Human Rights Campaign tracked at least 26 deaths due to fatal violence. The majority of victims were Black transgender women.
Imara: For me, it was like this policy violence as I call it, is also linked and is the backdrop against which the physical violence is taking place. That when you look at the murders of trans people overall, but specifically Black trans women, so many of those murders are ones in which the people who commit them don't believe that they've done anything wrong. They'll either, first of all, the murders are brutal, but they'll call the police themselves or wait for the police to come and be like, "Yes, I did it." Calmly walk away.
It's because we're living in a society in which they felt that this was increasingly permitted. Those two things together made me realize that we had to have a media project that focused on this issue and at the same time tried to combat this violence by putting forth positive stories of trans people or actually, just actual stories, and you have to be positive, but just actual stories of the lives of trans people to combat everything negative that was happening.
Veralyn: You started by putting the camera on yourself?
Imara: On me, oh, god so uncomfortable.
Imara: Hey, Dre, come in with your awkward self. We want to be able to control our bodies. Put your stuff down.
Speaker 16: You're not getting breast augmentation.
Imara: Exactly.
Speaker 16: You're getting breasts.
Veralyn: You did a three-part docu-series, where you documented your own transition? I will say, first of all, I was like, "Oh my gosh, that would have been my exact instinct."
Imara: I'm slightly different than you on this Veralyn, it was not my instinct, I hated it. It is far more my instinct to cover other people, and to get in the lives of other people and to listen to them and to be with them than to actually be the person on stage telling my own story. That's deeply uncomfortable for me, I have to say.
Veralyn: Well, it certainly worked on me. The episode that really stuck with me was when you went back to the place where your mother grew up. You talked to your great aunt Melrose.
Imara: One of the things about you is how you don't do a lot of judging as a person.
Melrose: No, I don't do that. Everybody has to be what they want to be in their own soul and spirit. I don't go into that. You know I love you.
Imara: I love you, too. I appreciate you so much. The team that I worked with at the time actually had to push me to do it. When we were first kicking around ideas of what TransLash could be, they were like, "You should tell your own story." I was like, "I'm not going to do that." I kept saying, "I'm not going to do that." Then at one point, I was like, "I'm not going to do that, because no one's going to care."
The minute I heard myself say that I was stunned. Sometimes you don't know what's operating in your head until you say it. Then, when you hear it, you realize that you're shocked by your own beliefs. I was shocked by that unbelief of myself because it's so antithetical to the way that I move in the world. I believe that everyone's story is important, believe it or not.
Veralyn: One of the things you said in Episode one, you said that you've always-- In talking about your transition, you said, you've always known who you were, the problem wasn't knowing the problem was accepting it. That you think that that is an issue for a lot of people, and maybe even the reason why there is a backlash against trans people. Can you say more about that?
Imara: I think a couple of things, I think accepting I would capitalize it, I would say capital A, accepting and what by that is not only you accepting yourself, it's the people that are close to you accepting you, it's the world accepting you, it's literally there being space for you. I don't only want to put it in the context of myself, I think that acceptance happens in a communal sense. It's a communal idea of acceptance and belonging that I think is really at play here.
There are a group of people who have antipathy, those you can't really focus on. I honestly have come to believe that I think most people's reticence, even hostility, and comfort around or about trans people is really about ignorance, and not in that judgmental way, but in the way that it is in the actual dictionary if we were to open our dictionaries to page whatever, and look at the word ignorance, is a lack of knowledge. That lack of knowledge, the lack of knowing something means that what fills the gap between where you are and the other person is actually stereotype conjecture.
What is mostly in the media about us, both in terms of journalism, as well as popular culture is not great. If that's the only source material that you have for transitioning trans people, it's not going to lead you to the best place. I think that's also a really key driver in what TransLash tries to do. It tries to fill that space with actual stories of trans people grounded in their real stories, in order to bridge that gap. Then, if you want to talk about the racialized dimensions of acceptance of trans people, specifically in Black communities, that's a whole another thing that we could get into and talk about.
Veralyn: As you were just saying, that your view of bringing in the dictionary definition of ignorance and using that to frame why there is so much anti-transness in our society. You could literally take the same words that talk about Black people, Black women. I think there are a lot of cis Black folks that will literally use those same words and talking about white folks or just like, "People only see what we do on television. That's why the help needs to go away," or whatever the case might be. Help being the movie, Viola Davis.
When you said like, it's ignorance, I often feel like, it's this like a separation. When I was doing community journalism work in central Brooklyn, I had trans folks in my community. I had friends who were trans, but leaving that work and then moving back to The Bronx, now I just don't. I just feel like it's so easy to slip into that, but I guess the thing that I don't understand is why is this so hard for folks to realize that you're actually by oppressing this community, that you're also oppressing yourself?
Imara: I think that a lot of people just don't actually think about their existence and their choices in an intentional way. I think that there are a lot of people that are just on autopilot. I mean even that as Black people. They just don't even stop to think about the internal contradictions that all of us have and therefore do very little workaround trying to resolve those internal contradictions. Then they just end up carrying those things and, I'm just going to pick an example, of how a person can be Latinx and then also still be racist. They actually haven't contextualized.
Then, we'll say, "The world of presses Latinos," and then turn around and say something out of their neck about Black people or vice versa, Black people about Latinos, for example. This is just an example. I think it's just people don't do a lot of work and our society doesn't ask people to do a lot of work around their humanity and therefore the relationship of the humanity of other people. It's a huge deficit and it allows for these contradictions. It allows for Black cis women to not stand up for Black trans women.
When you look at the pattern of the violence, the marginalization, the stereotyping that Black trans women face, and it's almost identical to that of Black cis women. It's not very different because they're both actually rooted in these ideas about who gets to be a woman and womanhood being tied to whiteness and so once you're outside of white womanhood, there's a way that it's stereotyped and then used to oppress. That's true for all women.
Still even understanding that and experiencing that. For example, none of the Black national women's organizations have ever put out a statement about the violence against Black trans women ever.
Veralyn: Ever. I'm getting goosebumps. I'm like, "Wait, how is that--?"
Imara: It's wild. Even though for example, most Black sororities, I think except Zeta [Phi Beta], the major ones. There are a lot of ones, but I'm talking about the ones that you can name and that everyone focuses on and that people brag about in their family. All of the major Black sororities admit trans women: AKA, Delta, et cetera. But I would defy anyone to go find a statement from those sororities saying the murder of Black trans women is unacceptable. Even just saying that is considered to be radical. Or the National Council for Negro Women as another example. So there are lots of internal contradictions that are not resolved and people use their own identity as an oppressed person, as an excuse to not engage those other things.
There's a perception that stopping at your own oppression is where it begins and ends and not understanding the basic principle that Dr. Kimberly Crenshaw or Audrey Lorde or Dr. Angela Davis all have underscored through their work, which is that all these forms of oppression are tied and bound together and unless, and until you begin to understand that and deal comprehensively with the systems of oppression, we will never be free of the tyranny of oppression. It's not going to work. That basic principle has not filtered down into the minds of a great many people, including leaders in the movement for liberation.
Veralyn: Wow. I think I'm a little like, "Wait." I'm like, "Now I'm going through my head about has Essence ever made--?" In my head I'm like--
Imara: Not really. Essence has moved, but it's been pretty recent.
Veralyn: You see why that ignorance persists. Because I was that Black teenager that subscribed to Essence. I've been getting Essence magazine since I was 15. The fact that it's never occurred to me that they don't speak on trans-Black women issues-- You know what I mean? It's like, you don't know what you don't know.
Imara: Well, this is why representation is important. To be fair, they've started to do some things recently. I want to acknowledge that because I don't--
Veralyn: Yes. Of course.
Imara: When you look at the broad history, Essence is actually better than some others in terms of moving recently. I think that this is why representation matters. For me, I was a trans person growing up in Atlanta in the 1980s and my mom got essence magazine. If I knew that Tracy Africa who was a Black trans model who a lot of people have seen in various ads from that era but didn't know that she was trans, what if we knew that she was trans and there was an article written about her, it would have changed my life. They're all these other things that the lack of representation hurts everybody.
Veralyn: I just Googled her and I'm like, "Oh yes, I've absolutely seen this woman in magazines and did not know she was trans."
Imara: Absolutely. You didn't know that she was trans, but she's trans and a lot of Black cis women looked at her and was like, "Oh, girl, I got to get that relaxer." She's a Black trans woman. I think that there are a lot of ways in which these things would have made a difference, but the eraser is a part of the strategy of maintaining hierarchy and we know that as Black people. You can have extreme Black achievement and it gets erased. There's so many examples through history, but Hidden Figures is an amazing one. That the United States would not have been able to land on the moon without Black women and they got totally erased from history like literal erasure.
Veralyn: Let's take a break. I'm Veralyn Williams. I'm talking to award-winning journalist, Imara Jones. When we're back, we're going to talk about how TransLash is moving things forward with their upcoming podcast, The Anti Trans Hate Machine. We're going to hear how she's continuing to center the voices and the stories of trans people. This time, those that are being targeted by the record-setting year of anti-trans legislation we are currently in. This is United States of Anxiety. I'm Veralyn Williams. We'll be right back.
[music]
Veralyn: Welcome back to United States of Anxiety, I'm Veralyn Williams in Kai Wright. I am joined this week by award-winning journalist and creator of TransLash media, Imara Jones. Imara has been reporting on what she calls The Anti Trans Hate Machine, which is also the title of her upcoming podcast. TransLash was sparked by the Trump administration and their work and policies that took away the rights of protection and the inclusion of trans people. Their anti-trans rhetoric and legislation didn't just go away once Biden was elected.
Imara: I think the key part of understanding how we got to this moment and why The Anti Trans Hate Machine continued to accelerate regardless of the results of the election is because where we are is the result of a plan. A part of that plan has been to figure out ways to erase trans people from public life, how to actually erase LGBTQ people from public life because it's seen as being a central threat to the Christian idea, family.
Consequently, because of the loss of gay marriage, because the first round of these bills that were being put forth back in 2016 and 2015 were focused on whether or not trans people could use the bathroom, those were stopped because they were one type of bill that people could understand. What they've decided to do with the anti-trans bills that are in operation right now, is to introduce lots of different types of bills, 127 in 33 states when there were just six two years ago. Also, fled the courts with court cases and hope that out of that comes some type of movement to achieve the goal of erasing trans people from public life.
These bills do a couple of things, the main ones. They are designed to prevent teenagers and adolescents and their doctors and their therapists from providing the medical care that would allow these young people to either have time to figure out their gender identity or to begin the process of transitioning. The second type of these bills also targeting youth and we need to understand that both of these types of bills target young people, because they've done polling on their side, which show that the best way to get people uncomfortable with trans issues is to focus on young people, is to prevent trans youth from competing in sports that correspond to the gender of those young people.
Again, that's something that's been happening for a really long time. No one's even noticed. The NCAA and all these athletic bodies have lots of different rules, those rules have been in effect for years. People have been competing not even noticing that it was an issue and not even saying anything.
Veralyn: Why youth sports? Did their polling tell them that? How did they get to this specific strategy?
Imara: Well, their strategy told them anything dealing with young people and trans, that's the sweet spot for people to go, "Oh, I don't know." That's uncomfortable because adults, people got, but not kids. Kids are so vulnerable and all this other stuff. I also want to underscore and jump up and down on the roof, particularly about this on this program because this is the forum where people care about this is that we wouldn't be where we are as well without anti-Blackness, that they'd already teed up this issue, understanding where their polling was, but then they needed the actual vehicles.
Though that vehicle came in the form of a complaint, not a legal complaint at this point, but news reports of white girls complaining in Connecticut that there were two Black trans women that were running and competing against them and track mates. An organization called The Alliance Defending Freedom, it's the legal arm of the anti-trans hate machine of the far-right, in general, to be quite honest, behind some of the big cases that people may have heard of like hobby lobby and the master case cakeshop. They then seized on this opportunity to go and to file a lawsuit against the state of Connecticut on behalf of those white teens to prevent the Black trans women from running.
Speaker 17: Mitchell and two other student-athletes filed suit against the CIAC because they say competing against athletes who are not biologically female like them leaves the playing fields uneven.
Speaker 18: We line up in front of our blocks and the starter calls us to get into position. We all know how the race will end. We can't win.
Speaker 19: The girls, athletes are at the physical disadvantage compare to the transgender female.
Imara: That case got national attention and then spurred other white lawmakers across the country to reach out to Alliance Defending Freedom to help them to craft bills that would also keep trans people from sports with the poster child, literally child, because these are children 16-year-olds, the poster child for this being Black trans girls, and to help them craft bills to keep trans girls i.e, in this case, Black trans girls from also competing against white girls.
It's this interplay between gender identity and race and using some of the worst racial tropes that we're still contending with around the femininity of Black women, around Black womanhood, around the need to protect white womanhood. We would not be where we are on anti-trans bills without anti-Blackness and white supremacy. That's a part of the story that I don't think gets enough attention.
Veralyn: The two teens in Connecticut that you're speaking of is Andraya Yearwood and Terry Miller. Like you said, they really did spark this latest iteration. It was just a lawsuit.
Imara: Still going even though they graduated from high school, yes.
Veralyn: Yes. We actually have a clip of Andraya Yearwood. Speaking at the Athletic Ally Action Award in 2019, it was an award that honors folks censoring inclusive athletic environment of LGBTQI+ athletes. Let's hear a little bit of what she had to say in her acceptance speech.
Andraya Yearwood: There are two things I've known about myself for most of my life. I am a girl and I love to run. I love how I running makes me feel, and the way allows me to excel at something that I am passionate about. When I'm running, I'm in the moment, I'm happy, and it makes me feel free. It scares me that this is a reality for so many other trans girls and women of color are there too. We live in a world where we're constantly under attack for who we are.
Veralyn: Imara, tell us more about Andraya's story. What does she personally have to contend with as she was trying to compete in track and field?
Imara: This is one of the most devastating parts of the story.
Veralyn: I just want to acknowledge, when you take a breath and I can see in your face you're trying to collect yourself. I just want to acknowledge this work isn't easy.
Imara: No, thank you for that. I think a couple of things. I think we need to remember that all of the young people that are fighting these bills or in the focus of these anti-trans laws and that are a part of our series even our children. They're overwhelmingly teenagers. Lindsay, he caught who's trying to beat back the first anti-trans sports bill that passed which was inspired by the Connecticut case, at the time when this started was 18, a first year in college. Andraya and Terry were in high school junior year, kids. There are children as young as 12 that are going to protest and having to bear their hearts and break down before state legislators asking them to not legislate against their existence. These are children.
One of the reasons why Andraya and Terry are reticent to talk is because they went through too much as kids just because they wanted to run. Suffering incredibly racist things being said about them on Fox News and elsewhere. Having to endure death threats, having the Alliance, Defending Freedom in court to their face mis-gender them and demean them to the point where the federal judge in the case cut them off and asked them to stop dehumanizing these two girls and ADF was so upset about that, that they filed a separate motion, stopped the main case to have that judge removed just because he asked them to stop dehumanizing these two Black girls.
Veralyn: It shows you that it's not about sports If you stop the case on the sports, just to make a separate case about being able to take it--
Imara: It's not about the thing that we're talking about. That case of Terry, Andraya is more important because it served as a rallying point for the organizations and the politicians who wanted to seize on this issue and to move it down the field. They have succeeded in that. That's this lawsuit and then the response by state legislators has put this issue on track to go to the Supreme Court. While ADF may be losing in Connecticut, they're still advancing their agenda in the way that they want.
Veralyn: You spoke to one of these legislators. You spoke to Barbara Ehardt, a member of the Idaho State House of Representatives and she introduced a bill that restricted trans girls and women from playing on girls' teams in high school and colleges in Idaho. The bill was passed.
Imara: The bill passed. It was signed into law. There was a court case last year with Lindsay Hickox, this time a young white woman, Lindsay, wins an injunction against Idaho. Right now the Idaho law is not being implemented. Barbara Ehardt is really important because her bill is the first one to pass. It's the first bill to pass the state legislature.
She says that the reason why she introduced the bill was because of Terry and Andraya, but Connecticut's 2,500 miles from Idaho, but she was so threatened by what she saw in these two Black girls competing against these white women, that she introduced a bill in Idaho that now is on its way to the Supreme Court.
Veralyn: Let's play a clip from your conversation with Ihara. She's talking about why she feels justified in not allowing trans girls to compete with cis girls.
Barbara Ehardt: We're not taking opportunities away from anyone. It's just clarifying where they have to compete. If we clarify it early enough, then everybody as they move forward they at least know when they make a decision, "Maybe I should wait, or this is what I'm going to need to do," but again, this doesn't keep anyone from identifying however they want.
Veralyn: I feel like I'm checking a box by asking this question. I just want to set it up in this way, but I feel like we do have to talk about the science. Thinking about the listener right now that's listening to us and they are thinking maybe Barbara Ehardt that they truly do feel like trans girls who compete with cis girls are putting those cis girls at a disadvantage and they fought to get girls to be able to be in sports, and so this goes against what they want and the ways in which they're discriminated against. What needs to happen in order for a trans athlete to participate in school sports?
Imara: A trans athlete, according to the National College Athletic Association, the International Olympic Committee, and USA Track and fields, people who know about this stuff, trans women have to be on both hormone blockers, and estrogen to the point where their body chemistry using those two metrics matches that of cis women. That's why trans women can't compete on teams is because by the time you get to that point, it's like and like, it's not apples and oranges. Lindsay talks about this, it didn't make it into the first episode, but she shares how she felt her body changed.
Lindsay: I've felt myself become slower. You can tell that when you're an active runner, when you get slower. I could tell over the course of the year that I was taking hormones, that I wasn't as fast as I used to be. How to tell opponents of trans women in sports that, how to get them to believe that, yes, I am indeed at the level of cis women. At the end of the day, even if you give them all the science and all the facts in the world, they still say you're a man trying to compete in women's sports and it hurts.
Imara: That's why trans women can't compete. It is because by the time all of these things are done, there's no difference between the competitive ability of a trans woman and other women. There's just not. Why does a person like Barbara Ehardt think that she knows more than someone on the international Olympic committee?
Veralyn: Well, to your point it's because this is effective for what they ultimately want, which is to what does it bring--
Imara: The kingdom God.
Veralyn: Bring the kingdom of God. As a Christian, I can't even say that seriously because what are you talking about? Don't get me into my Jesus theology because I don't think Jesus will be down with any of this because ultimately what's at stake is the lives of trans youth.
Imara: We know from the Trevor project that even the talk of these bills is increasing the number of calls to suicide hotlines. We know that that this is impacting the mental health and wellbeing of trans youth, so that's part of the harm. When you talk to these state legislators, a lot of them realize that just the conversation around this is really toxic and is advancing what they want because the whole point of these bills or an essential point in these bills is to get people to be uncomfortable with trans people. It's to animate the people that agree with them to become more involved in public life, i.e to vote.
[music]
Veralyn: I'm Veralyn Williams, I'm talking with generalist Imara Jones about her reporting on anti-trans legislation and upcoming podcasts, The Anti-Trans Hate Machine: A Plot Against Equality. When we're back, Imara and I are going to shift gears a bit and talk about our Black womanhood and Black fem solidarity and our lack thereof. We'll be right back.
[music]
Kai: Hey, this is Kai. Just a quick program note here. When we started making this show back in 2016, we were just trying to bring context to that wild campaign season, and particularly the history that we all carried into it. Initially, we figured we'd stop after that election, but obviously, there was a lot more to chew on, which is just to say, if you're new to the show, there are tons of episodes here that I hope you'll check out. We've taken snapshots of the political culture.
Speaker 20: It's not right. I'm sorry. I feel bad for people that are oppressed and I mean oppressed. But we've got to take care of our own too.
Kai: We've asked how power is really built in a democracy.
Stacey Abrams: I don't believe that demography is destiny. I think demography is a pathway, but it takes work, and we are the first campaign in the deep south to put in the work.
Kai: We've just mined all kinds of history in an effort to put America on the couch to understand how we got here as a country and where we're going. I urge you to dig around in the archives. It is all still relevant. If you hear something that raises new questions for you, and you want us to follow up on that, hit me up. Email me at anxiety@wnyc.org, and maybe we'll take you up on it. Thanks so much.
[music]
Veralyn: Welcome back to The United States of Anxiety. I'm Veralyn Williams in for Kai Wright. I've been talking with journalist and TransLash founder, Imara Jones. Imara, we've spoken about how everything we've discussed so far is really rooted in anti-Blackness and the fact that Black women, even though we're not a monolith, but it seems to be triggers for a lot of folks, many, many folks, even Black folks. Our bodies, our excellence, and our ability to be resilient quite frankly are constantly met with racism and misogyny.
Reporter: Shocking that even a world-class athlete like Simone [Biles] deals with fat shaming.
Simone Biles: He called me fat because I had terrible meet.
Speaker 23: One of them is Serena or their sister? Performance-enhancing drugs.
Veralyn: There's just so much evidence of this, but even as I say this out loud I'm worried I'm being hyperbolic. Am I?
Imara: No, why do you think you are being hyperbolic?
Veralyn: I think that sometimes it just feels like-- because when you think about even this whole conversation around hair bonnets and whether Black women should be wearing bonnets to the airport, I really, really tried to ignore the whole controversy until one of our queens of comedy, Monique, weighed in.
Monique: I love y'all for real and I ain't never going to BS you. Stop wearing them bonnets and headscarves looking like don't nobody give a damn about you, nor do you give a damn about yourself.
Veralyn: I'm just like, "Why are you so invested?" Or we spoke the other day about, first of all, I feel like every conversation I've had with you I've brought up the Real Housewives of Atlanta. I am pretty much obsessed with that. That's what I did over the pandemic. I watched season one to the current season. I'm an encyclopedia of the show. One of the conversations that often happened is whether someone's body part is real. Like, "Is your butt real?" It's like, "Well, she said her butt was real, why are you so invested in proving whether it's real or not?" That's when sometimes I feel like, "Is it me?" Why is this even a conversation among Black women?
Imara: I think that a part of patriarchy is policing of women's bodies and women also live in a patriarchal society. We live in a patriarchal society and consequently have adopted elements of patriarchy into our beings regardless of whether or not we realize it. A part of that is body policing and "cool authenticity" because patriarchy is obsessed with whether or not a woman is "authentic or not."
That's a part of anti-Blackness and specifically anti-Black womanhood. That's sometimes where the tension between Black trans women and Black cis women can flow from is because Black women feel constantly policed, constantly marginalized, constantly judged. The idea that the woman is questioned or could be questioned by the existence of other type of women is deeply unsettling.
Veralyn: Because of the society we live in, there are a lot of universal things that we experience as a collective. Yet, there are a lot of cis Black women. I know because I have some of them in my circle who feel that something is lost of them. Something about their womanhood is diminished by the elevation of trans Black women. I'm curious about how your experience, have you experienced that lack of solidarity between you and cis Black women?
Imara: Well, I think a couple of things. I think, one, it's fascinating when you were like the elevation of Black trans women. I was like, "2020 was the deadliest year on record for Black trans women, where's the elevation sis?" "Oh, you mean the fact that you just actually see Black trans women is a threat to you?" It's not that Black women are-- Then, "Oh, so the fact that you see Black trans women is a threat to you. Oh, okay. So what's going on for you?" Okay, so Black trans women are still the most marginalized of the marginalized, unemployment rates double that of Black people overall. Housing and underemployment rates that are also double and sometimes four times greater than Black people overall.
Black trans women are the most marginalized of the marginalized. "What's this idea of elevation that you have?" I think that's one thing that I think is really important in all of this. I think that there are always missed opportunities for women to come together overall period. Then, when you add cis and trans, it's even greater. The call for women who are experiencing the things that you're talking about is to go on a journey of self-realization and actualization and to understand, again, in the tradition of a lot of women in our movement like Audrey Lord, like Maya Angelou said similar things, to understand that a part of getting free as a woman is to detach from the structures that oppress us, all of them.
Those include white supremacy and patriarchy. That means you need to go on your own journey to feel better about yourself as a person in order to be free of the idea of control and confirmation from an external force. We need to think deeply about who we are in the world. I have to say that I was able to arrive at this. Before I was able to be really grounded and centered into my womanhood. I needed the confirmation of men to make me feel like I was a woman.
I've gone through that stage. The more I've been like, "No, I'm good," and I know who I am and I'm confident in my woman. I actually don't need anyone else to confirm that for me. One day I was talking to a Black trans woman, my friend, and it was during the summer in which there were lots of murders of Black trans women. It was 2019, and it was about a three or four-week period where there was almost one every other day, so intense.
It's like June of 2019, I think it was. We were sitting outside drinking and having sisterhood because of this intense moment, and I said, "We have to hold Black men to a higher standard. We have to stop making excuses for them or they're going to change. You're not going to raise Black boys differently and you're not going to demand that your brothers be different, and you're not going to demand that your partners be different. Men aren't going to change, and it's going to continue to cost us our lives."
Also, for Black cis women, Black women have the highest incident of intimate partner death in the country. Which means that if a Black woman dies in this country overwhelmingly, she's killed by someone close to her. Her partner or somebody else. I said, "We have to hold Black men to a different standard. We have to tell them that they don't get to hurt us. They don't get to kill us. We get to stop making excuses for them. That's what we get to do."
Then, she goes, "But Black men suffer so much. They have PTSD." Then, I cut her off and I said, "Hang on, you are a Black trans immigrant woman. What about your PTSD? What about times when you faced the violation of your body autonomy? What about the times when you have faced the exact same thing that Black men have faced, but yet you're not out here killing people. Why don't you hold them to the same standard?" She was floored. She didn't know what to say. She said, "Oh my God, I just did it." I said, "Yes, you just did it. You just did that thing. You did the thing that we have to stop doing."
Veralyn: Period.
Imara: End of story and scene. That is Black sisterhood. What I'm describing right there is Black sisterhood, which has a deep and abiding belief that I have in us, in us as women, as Black women, and as our power. I firmly believe that the only liberation that we can have as Black women is in coming together and deeply supporting each other regardless of how we were born. That the way to Black liberation for Black women is for Black cis and trans women to come together. I do not see another way to liberation and that as long as that doesn't happen, there's no way that Black women can be free regardless of how you were born.
Veralyn: I'm tempted to leave it there, but the thing that I'm thinking about now is last year we had the racial reckoning and you saw a lot of--
Imara: Is it over? You said last year we had. It was all past tense. I was like, "What? Is it done? We got equal rights?" Girl, nobody told me--
Veralyn: We got Juneteenth remember? Juneteenth, everything is fine and we get a day off.
Imara: Who asked for Juneteenth? Last year people were asking for criminal justice reform, voting rights and inter racism in America, housing access, and perhaps reparations. The response was, "Y'all get Juneteenth." It was not on the list. I 1000% promise you that I didn't go to any march or demonstration last year when everyone cried out in unison, "We demand Juneteenth." Not one.
Veralyn: Nope. Not one.
Imara: Not one. Somehow that's become the antidote.
Veralyn: What you asked for versus what you got. That's literally the American story.
Imara: Talk about it. And about what you accept.
Veralyn: Wow. I bring up last year and the "racial reckoning" because a lot of white folks who had gotten the message that they need to do their own work were asking for what can they do? There were all these reading lists that went out. We gave all these assignments for white people to go do the work for themselves. What does that list look like for cis Black women when it comes to showing up for and being allies to trans Black women?
Imara: I think the work for Black cis women is to do work on what your barriers are to sisterhood. I guarantee you, if you have a barrier to sisterhood with Black trans women, you've got a barrier to sisterhood for other Black women. I have not seen it be any other case than that. That means you've got an issue with Black sisterhood. That means that you believe that there are some Black women who are worthy and other Black women who are not and that's the way you navigate the world. Your Black says sisterhood is not for all Black women, it's for certain Black women. Which means that it resembles what? White supremacy and patriarchy.
That means that the roots of your idea of sisterhood are rooted in the wrong things. There's so many things that are already existing within the canon of Black feminist thought that has been written since the 1970s, that is the basis for sisterhood and for engagement and understanding between Black cis women, Black queer women who also may identify as cis and Black trans women. It's already there. For me, those are the things that I rely upon, everything that I've just named are the things that I rely upon. Those are some of the bedrocks that I rely upon to make some of the arguments that I've made today, as well as my own personal experience.
I also think that it's incumbent upon you to talk about trans issues within your family. It is incumbent upon you to even if your family doesn't listen and in hostile, I'm talking about Black families. it's incumbent upon you coming upon you to talk about it in churches, it is incumbent upon you to talk about it in workplaces where that makes sense, and certainly within your sororities or other places. Why is that? Because there is not liberation for Black women unless there's liberation for all Black women. Therefore, if you're talking about and engaging issues around Black trans women, you're actually supporting as a Black woman your own liberation.
Veralyn: Showing up for you is showing up for myself.
Imara: 1000%.
Veralyn: Thank you so much for this time, Imara.
Imara: Thank you so much for giving me this time and for spotlighting these issues and how they intersect and how they are playing out in our society, and for taking the time to talk about the Anti-Trans Hate Machine, which feeds off of everything that we've just spoken about.
Veralyn: Awesome.
[music]
Veralyn: The United States of Anxiety is a production of WNYC Studios.
Hannis Brown mixed the podcast version. Kevin Bristow and Matthew Marando were at the boards for the live show.
Our team also includes Carolyn Adams, Carl Boisrond, Emily Botein, Gigi Polizzi, Karen Frillman and Christopher Werth.
Our theme music was written by Hannis Brown and performed by the Outer Borough Brass Band.
I am Veralyn Williams, the executive producer.
I hope you'll join us for the live version of the show next Sunday, 6p eastern… You can stream it at wnyc.org or tell your smart speaker to play WNYC…. Until then, thanks for listening and take care of yourselves.
[music]
Copyright © 2021 New York Public Radio. All rights reserved. Visit our website terms of use at www.wnyc.org for further information.
New York Public Radio transcripts are created on a rush deadline, often by contractors. This text may not be in its final form and may be updated or revised in the future. Accuracy and availability may vary. The authoritative record of New York Public Radio's programming is the audio record.