Somebody, Sing a Black Girl's Song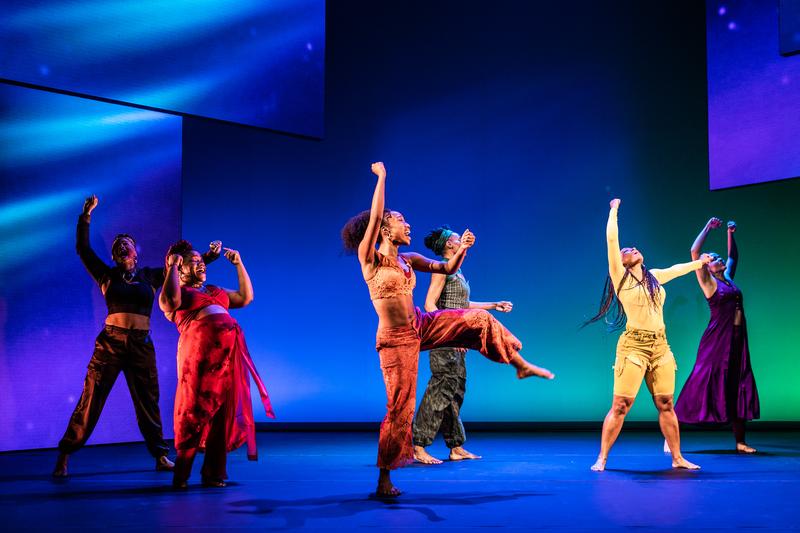 Transcript
[dial tone]
Regina de Heer: Hi, Francina.
Francina: Hi.
[music]
Regina de Heer: Thank you for taking the time. We asked you to recite the opening poem from For Colored Girls, but I want to ask, what was your first encounter with the show?
Francina: When I went to college, I went to the illustrious Morgan State University in Baltimore, Maryland. I was cast in the production of For Colored Girls by Ms. Trezana Beverley. She was my director and she also played in the original For Colored Girls on Broadway.
It was magical. It was just a story about Black women that was universal, that needed to be told, and that's the story of our existence. Both delicate and complex and beautiful. She really made us take the time to do the work, to find out why do we still need to hear and sing A Black Girl's song?
Kai Wright: Welcome to the show. I'm Kai Wright and tonight we are celebrating a remarkable piece of art that has been singing a Black girl's song for nearly 50 years. For Colored Girls Who Have Considered Suicide / When the Rainbow Is Enuf, is a choreopoem. That's what Ntozake Shange call for groundbreaking work when she began performing it at a bar outside of Berkeley, California. It made its stage debut as an ensemble piece in lower Manhattan in 1975 and on its journey from that debut through to its current Tony-nominated Broadway revival, this show has touched so many lives. Including that of a young Francina Smith at Morgan State University.
To start our own journey tonight here is Francina reading the opening poem to For Colored Girls it's called Dark Phrases.
[music]
Francina Smith: Dark phrases of womanhood
Of never having been a girl,
Half-notes scattered
Without rhythm, no tune,
Distraught laughter falling
Over a Black girl's shoulders,
It's funny/it's hysterical
The melody-less-ness of her dance
Don't tell nobody, don't tell a soul
She's dancing on beer cans & shingles
This must be the spook house
Another song with no singers
Lyrics/no voices
And interrupted solos
Unseen performances
Are we ghouls?
Children of horror?
The joke?
Don't tell nobody, don't tell a soul
Are we animals? have we gone crazy?
I can't hear anything
But maddening screams
And the soft strains of death
And you promised me
You promised me
Somebody/anybody
Sing a Black girl's song
Bring her out
To know herself
To know you
But sing her rhythms
Caring, struggle, hard times
Sing her song of life
She's been dead so long
Closed in silence so long
She doesn't know the sound
Of her own voice
Her infinite beauty
She's half-notes scattered
Without rhythm, no tune
Sing her sighs
Sing the song of her possibilities
Sing a righteous gospel
Let her be born
Let her be born
And handled warmly.
I'm outside New York, and this is For Colored Girls Who Have Considered Suicide / When the Rainbow Is Enuf.
Kai Wright: That was actor Francina Smith reading the opening poem to For Colored Girls Who Have Considered Suicide / When the Rainbow Is Enuf. You can find Francina in the new film, The List, coming out this fall. Keep an eye out for that. The current Broadway revival of For Colored Girls is sadly about to close. If you are in the New York area, please take my advice and race out and get a ticket right now. You will thank me.
Recently, I joined our producer Regina de Heer in meeting the show's director and choreographer. Camille A Brown has had a remarkable career in her own right. She's been the choreographer of several ground-breaking works both on stage and in film, it's a long list of stuff. Most recently, she directed the widely acclaimed opera Fire Shut Up in My Bones that was the first opera by a Black composer ever performed at the Met, and she was the first Black woman to direct on the Met's main stage. More of you maybe saw her work as choreographer of Ma Rainey's Black Bottom, which was on Netflix or in a whole bunch of other shows.
Not to mention that she's got her own dance company which has a mission of empowering Black bodies to tell our own stories through movement. The point is Camille Brown was exactly the right person to bring For Colored Girls back to Broadway and it's earned her a second Tony nomination. Regina, and I talked to her just as the show was opening.
[music]
Kai Wright: Hello, Camille. Thanks for joining us.
Camille A Brown: Thank you for having me.
Regina de Heer: Hi.
Camille A Brown: Hi.
Kai Wright: One of the most powerful things about For Colored Girls is just how many generations of Black people and Black women in particular, but Black people of all sorts have these origin stories with how we first encountered it or how we developed a relationship to it. Do you have an origin story for the show?
Camille A Brown: I do. My aunt and my uncle had a poster up for colored girls in their Brooklyn apartment when I was younger. I remember just staring at it and being enamored like, "Oh my gosh, that's so incredible." The colors and everything. Then my mom, as I was growing up, and she still tells me this to this day, she always told me, "Don't ever let anyone take your stuff away." She would just tell me that when I got down or self-doubt, or just really felt down about persevering. She would always tell me, "Don't let people take your stuff away. Don't let anyone take your stuff away." She didn't tell me until a couple of years ago that she got it from seeing the show.
I feel like this show has been a part of the fabric of my life since as early as I can remember because that's what my mom ingrained in me. Never give up. Never let anyone take your stuff away. It's wild because when I was preparing for the show, I almost had to get out of my own way because I knew that, like you said, for so many Black people, particularly Black women, this has been such an important part of who we are. It's been done so many times by so many different people and I got in my head a little bit about, well, I have to do this, I can do this. I can do this.
Finally, I was talking to a friend and she said, this is an offering. That's what it is. Don't worry about anything else but this is what you want to say with the work. I went forward with that in mind.
Regina de Heer: I personally didn't have much experience with the show itself other than a vague idea of the premise, but the show when I saw it really spoke to my soul as a woman of color, especially as a Black person who has grown up in predominantly white spaces. For listeners who may not be familiar, what would you say it's about and how would you describe it because it's not a straightforward narrative?
Camille A Brown: No, it's not. It's about sisterhood and empowerment and Black women holding space for each other in order to share all types of emotions, whether that be pain or joy, sorrow, intimacy, vulnerability. It's just that playground of love and comfort. That's what I would say that the show is about.
Regina de Heer: Just hearing that, I'm thinking of being in the audience and seeing the performers express in the show. I'm still quite haunted by especially the Lady in Green's poem towards the end of the show. Somebody almost walked off with all my stuff and since you brought it up earlier, I wonder what does that poem mean to you and what do you hope it would say to the audience?
Camille A Brown: Don't lose yourself for anybody because my mom put it in my head from the beginning, that's what I'd translate that poem to be. I think the beautiful thing about Ntozake Shange's poetry is that it can be translated in any way, but just in terms of stuff, your stuff could be anything. It could be something emotional, it could be something literal. Then also depends on the day or what space you're in in your own personal life. That kind of stuff continues to change. I think it's about holding onto what is precious to us, most precious to us.
Regina de Heer: Yes, I think that the vulnerability and the intimacy in these poems is so powerful and you really do see yourself in them. The poems are also often defiant and challenging. I wonder how did you as a director and choreographer approach that balance or if you even see it as a balancing act?
Camille A Brown: Dance is storytelling for me, and so it is a balancing act in terms of you have these two languages of text and movement coming together but like the phrase says, a choreopoem, they're actually working together. It wasn't something that I thought, "Let me think about the text and now let me think about the dance." The dance is the poetry. How does it move? Well, listen to the text. What is the text saying to you? It's storytelling and I used to tell stories without words all the time so this was an opportunity to tell stories, continue to do what I do but have live text with me which I have done before but not as intense as this.
Kai Wright: There was so much play in the movement even with often quite challenging content. There was all this playful movement I guess. Is the playfulness intentional?
Camille A Brown: The playful movement is definitely intentional because as Black women we are dimensional. There are stories in there that are definitely talking about pain and sorrow but there are also stories in there that are talking about celebration.
At the end when she says, "I found God in myself and I loved her fiercely," to me, that's empowering. How do we do that? Momma's little baby. I've put gigolo in there and these are yank-dank. These are things that are playful and we are dimensional so it's important to to see the dimensions of who Black women are.
Kai Wright: After the show, I couldn't help but think about the way so many Black men in Shange's era really intensely rejected the show called her man-hating and demonizing Black men and all the rest. I don't know, in this moment, I'm sitting in the two theater there were tones of Black men with me some openly crying at the end of the show and I wonder how you think about how this show lands inside the Black community today versus in the past?
Camille A Brown: Oh it's been-- I wasn't even born when this show was on Broadway and I think there are certain things we can say as Black people that many things have stayed the same in terms of how we may be treated in oppression and stuff but just in terms of how we've moved forward, there's been so many movements that have happened even within the last two years so I think even now approaching it, people see it in different ways. It is really interesting to see different groups Black men, Black women, white men, white women, people of color, coming to this show and their individual responses. It's been interesting
Kai Wright: Before we let you go, we've talked about the lineage of this show the creators, and the audiences. I wonder if you had any connection or consultation with the creators in particular. I'm thinking about Paula Moss who was the original choreographer, and I guess co-creator of the show really?
Camille A Brown: Yes.
Kai Wright: Did you have any connection with her?
Camille A Brown: I met Paula Moss a couple of days ago.
Kai Wright: Oh wow.
Camille A Brown: Her and some of the original members of the Broadway production, along with Dianne McIntyre, came to our performance, and I didn't know this until two hours before it was happening.
Kai Wright: They didn't tell you they were coming?
Camille A Brown: They didn't tell me. It was really lovely at the end of the show, the cast was able to meet with the original members and take pictures and it was really lovely. I actually was able to meet Ntozake Shange back in 2017, her sister, Ifa Bayeza, took her to see my company at the Kennedy Center, and we had done another piece that I do, Black Girl linguistic play the night before but she had missed it so she said she was interested in seeing it and wanted to see a video but dance doesn't always translate on video sometime.
I was so nervous because this is Ntozake Shange so I was like oh no I don't want to send it. I don't want her to be disappointed, procrastinated. Sadly sometime later she passed away so when I was asked to do the show the first time I put in some gestures that were connected to Black girl linguistic plate in honor of her and then her estate asked me to do the show and told me that she herself wanted me to be a part of it so I was really blown away by that.
Kai Wright: That's beautiful. That's yet another example of the way this show has just been passed from person to person for nearly 50 years now.
Camille A Brown: Absolutely.
Kai Wright: Camille, thank you for your work. Thank you for your work on this show, and thank you for this time. It's really been a delight.
Camille A Brown: Thank you. It's been an honor.
[music]
Kai Wright: Camille A. Brown is the choreographer and director of the Broadway Revival of For Colored Girls Who Have Considered Suicide/When the Rainbow Is Enuf. She's up for two Tony awards for her work on the show. We were inspired by the fact that the original cast surprised Camille by showing up when the show opened. Coming up we're going to have a live reunion with a couple of those cast members. They'll tell us what this show has meant to them, and then we invite you to tell them what this show has meant to you. Call us up and tell the creators of this nearly 50-year-old work of art when and how it touched your life. We'll take your calls after a break.
[music]
Welcome back. I'm Kai Wright. This is the United States of anxiety. Before I bring on our next guest, let me just say this. Our hearts are certainly with the Black community in Buffalo right now the horrific act of white terrorism that took 10 lives this weekend is hard to process. We will of course eventually have a conversation about that on this show but not tonight. Tonight we are intentionally celebrating Black life, not death, and I ask you to join me in that space. This work of Black art For Colored Girls Who Have Considered Suicide/When the Rainbow Is Enuf is a genre-changing contribution to theater, poetry, and dance created and recreated over the years by a group of remarkable Black women.
If it has touched your life we want to hear from you. We're going to be joined by members of the original cast and our phones are open if you want to celebrate with them. When did you first encounter For Colored Girls? How has it touched you? I'm joined first by the legendary Trezana Beverley. She was the first Black woman to win a Tony award for best actress for her role in the original 1977 Broadway production of For Colored Girls. She played the lady in red. She has subsequently directed the show and taught it to young actors like the one who read for us at the start of the hour. Trezana, it's such an honor to have you with us.
Trezana Beverley: Thank you. It's my joy to be here.
Kai Wright: Can you start by helping people understand what this show meant to audiences as a life-affirming piece of Black art, as I was saying earlier, as a life-affirming piece of Black art when it first entered the world in the mid-1970s?
Trezana Beverley: Oh my, there's so many examples of how it affected Black women. I can remember when we were creating the showdown at the Henry Street settlement with Woody King who was one of the producers on the show, Black women were literally falling out in the aisles. It was like having church. I've said many times that when we were leaving the theater, when we were at the public, when we were on Broadway many evenings when the cast was leaving through the stage door, there would be a sister hovering in the shadows and she would follow us down the street and then eventually say, "Can I speak to you? Can I say something?"
We would turn around, "Of course of course."Invariably they would say, "Thank you for telling my story.' That happened to us many times. There was no show, no commercial play that had created a national narrative like For Colored Girls. It literally changed the lives, it affirmed Black women. It changed the lives of many many many Black women.
Kai Wright: Let's go back to the origin story you're suggesting there. Ntozake Shange arrives in New York City with her choreopoem and she had been performing it in California on her own, and as I understand it, her sister convinces her to stage it here with a director. She shows up at the first rehearsal at a bar in the lower east side and finds that the director has gathered an ensemble including you. Do you remember that moment? Tell us about how you came to the show.
Trezana Beverley: I had Oz Scott who was the original director of the play. He and I went to NYU Tisch School for the Arts. Now it's Tisch. At that time, it wasn't. He knew my work he had been a stage manager at the public theater with Novella Nelson and Novella gave me my first break in commercial theater. Oz knew my work very well and he actually called me and asked me to be in the show. I think all of the young women who were in the original cast were actually handpicked. I don't think any of us auditioned for the show at all.
Kai Wright: Wow. Well, let me bring in another person who was there at the start speaking of the handpicked cast. Aku Kadogo is head of the theater department at Spelman College now and was part of that original ensemble in the lower east side. Aku, thanks so much for calling in.
Aku Kadogo: Thank you so much for having me it's a pleasure.
Kai Wright: Can you tell us about Ntozake Shange herself? I mean, if you were introducing her to someone back then let's say how would you have described her?
Aku Kadogo: Well, I met Ntozake Shange in Dianne McIntyre's dance class in fact and it was there that she asked me to join her and Paula to do some of the clubs. Ntozake was a force to be reckoned with. She was a dancer and I knew her as a dancer but then she had these powerful words. Honestly, wherever she performed people were really having to deal with her and with these beautiful words that were so rhythmic.
Also, remember she's performing with musicians so it was always going to be somewhat of a happening. My interpretation of it we were really a part of the performance art lost scene movement. We were performance artists and that's what we were doing. Ntozake was just really if we were at a party, Ntozake did a poem or a musician joined in with, her she lit the room up and she was a force to be reckoned with.
Kai Wright: Our producer, Regina de Heer, is a young Black woman who saw the show for the first time as we were working on this episode and she's talked about how unprepared she was for it. That's the word she uses, unprepared. I wonder what it was like for you, Aku, as a young performer when you first encountered the work.
Aku Kadogo: Very interesting. I now say, and hindsight is 2020 vision, we were the children of Sonia Sanchez, Amari Baraka, Barbara Ann Teer. They had laid a ground of this ritualistic performance style but we were to explore it and explode it onto the main stage. I think when I look back now, I feel like I've been performing in Black theaters. In fact, I'm from Detroit originally so I was working with Concept East theater which was founded by Woodie King and David Rambo, I might add. We were already performing poems and doing these music movement pieces and working with musicians.
This wasn't unusual but then we came together for we hit the theater in this way that it had done because when I was with Ntozake and Paula, we would go to clubs and we would decide which poems we were going to perform that night. It wasn't the order of the poems themselves organically came about as we rehearsed this piece with Scott, yes. We used to do it like we'd do four or five poems in a night and say let's do this and do this.
We cut some poems. Then the order of the work began to reveal itself to us and how it might make, not a chronological sense but a emotional sense how it might be ordered. Some of the highs and lows. Oz Scott and I often speak about the highs of the show but then where you had to bring it back or go forward with the emotion of it. As we worked the pieces, this is what we were doing.
Kai Wright: Well, let's go to some colors, let's hear from Salantra in Brooklyn. Salantra, welcome to the show. I hope I'm pronouncing your name correctly.
Salantra: You are. Thank you so much for having me.
Kai Wright: What was your first experience with the show?
Salantra: How wowingly ironic is it that you had Aku Kadogo on your show when the piece I'm about to share with you is how For Colored Girls has seemingly followed me throughout my entire literary connection through high school and college. I actually went to Spelman College and had many exchanges with Aku Kadogo but I actually saw For Colored Girls for the first time as an adult and had a really special connection with the way that community and continuum traveled through this play.
It's so interesting that it's a choreopoem because that movement also travels the message. It gives the message to the audience but it creates an eternal message and an internal continuum between Black women in an artistic community but also Black women just living their lives. I think that's really special and worthy of sharing so thank you.
Kai Wright: Thank you for that call. Aku, do you teach For Colored Girls at Spelman or how do the students react to it when they encounter it?
Aku Kadogo: Yes, I've taught it, sometimes I teach a work or two and sometimes I teach the entire work. The entire work is a complex thing to teach because sometimes I want to break down what was going on. There's so many for me, for example, to talk about the work, A Night With Beau Willie Brown, you can't talk about it without talking about the Vietnam War.
Kai Wright: Just to clarify for listeners that's a poem at the end of the show.
Aku Kadogo: Yes.
Kai Wright: It's one of the more powerful poems, go ahead.
Aku Kadogo: The other piece that I was just saying to someone that I learned about I didn't know about Toussaint Louverture until I did For Colored Girls I hadn't been taught about him. Then there's this beautiful delightful work about going to the library and because we were all a certain age, we all remember when you could go, you had a children's library card but then you had to go to the adult side and then get your adult library card.
Then here is this man, a Black man like my mama say to quote the poem, Toussaint Louverture, so then you're also you've got to talk about that. There's some historical references, musical references and it's just a very dense, rich, wonderful work to explore.
Kai Wright: Oh, let's go to Fran in Queens. Fran, welcome to the show.
Fran: Hi, thank you for doing this. For Colored Girls was just life-changing for me. As a white woman or a woman of white as I began to call myself after the show, I was treated to the show by several sisters from my community. I had just made my final vows as the religious, and yes, that last line I had found God and the voice in myself and the empowerment of women, the truth, the bravery of those stories.
I am a poet and a playwright and in my younger years used to be a dancer and it just has shaped much of my life, much of the way I think about race, the way I think about justice, the way I tell stories. If I could just read two lines of an elergy I'd like for Ntozake I met her about three weeks at the Dodge festivals about three weeks before she died if I could read like the first three lines for short.
Kai Wright: Yes, please.
Fran: Somewhere, somewhere somehow, too soon, too fast you have to over the rainbow. Is it enough, less or more? Do angels answer what you asked? Do the same thing and dance your stuff, so it was life-changing.
Kai Wright: Thank you for that, Fran. Trezana, talk a little bit about we've heard about you said how there would be Black women literally falling in the aisles and waiting for you outside the doors. What about, really, people of any other race. I'm thinking about why people in particular that came to this show what was that like at that time?
Trezana Beverley: It was very, very interesting because there were white ladies that actually wanted to do the show and would actually question why weren't white women in the show? Zake was very clear. She would says this is a Black girls' trip. The play in its evolution and a work of art certainly leaves itself open to interpretation. I know that there are productions that have been done both in this country and abroad that have included women of Asian descent and even some cross-gender actors have been in the play. It's a work of art that certainly leaves itself open to interpretation but at that time, Zake was very clear she would say this is Black girl's trip.
Kai Wright: The title is For Colored Girls.
Trezana Beverley: Yes it is [laughter]. You could stretch that, of course, but Black girls' trip. Sure.
Kai Wright: It's still lovely to hear I just say and maybe, Aku, what do you think about the fact that Fran hears somebody that said who was like, "This changed my life as a white woman? How often do you hear that kind of thing?
Aku Kadogo: I do. I remember lecturing once at the University of Michigan predominant white audience and when I was introduced and someone said For Colored Girls, there was a gasp in the room like ugh, like that. It changed a lot of women's lives, but I will also say I'm just going to just name a couple of white celebrities that came.
John Lennon came with Yoko. Jack Nicholson came on opening night with Angelica Houston and he came into our dress rooms, both of them came to congratulate us. It was a work of art that people wanted to see and that impacted the city because we had moved this performance art form onto the main stage.
Kai Wright: I'm talking with Trazana Beverley and Aku Kadogo two original members of the cast of the Broadway show For Colored Girls Who Have Considered Suicide / When the Rainbow Is Enuf and our phones are open if you have seen or read any version of For Colored Girls, call us up and tell us what the show has meant to you.
Trazana and Aku are telling us what the show meant to them as performers. Here's your chance to tell them what it means to you. After a weekend in which there is yet again, a national conversation about Black Death. We are celebrating Black life and Black art, so join us, stay with us.
[music]
Kousha Navidar: Hey, everyone? This is Kousha, I'm a producer. Quick heads up, for next week's episode, we're highlighting some incredible new journalism from our colleagues at WNYC Studios. I don't want to give too much away, but it's a new series that touches on a lot of the themes that we talk about on the United States of anxiety, like race, equity, power, and how that shows up in people's lives every day.
We're super excited to give you a sneak peek at this series, so I do encourage you to tune in. In the meantime, if there's anything from this episode that resonates for you, let us know. Does the story of For Colored Girls hold a special place in your heart? Send us a message, record your voice on your phone and email us. Our address is anxiety@wnyc.org. That's anxiety@wnyc.org. All right, talk to you later.
Kai Wright: Welcome back. I am Kai Wright and tonight we are celebrating the groundbreaking show For Colored Girls Who Have Considered Suicide / When the Rainbow Is Enuf. The current Broadway revival is up for 7 Tony Awards and I'm joined by two members of The Original Cast. Trezana Beverly won a Tony for her role back in 1977, and Aku Kadogo who is now the theater director of Spelman College in Atlanta is with us as well. We're taking your calls, let us know how this show touched your life, when did you first encounter it? What did it mean to you? Let's go straight to another caller. Susan from the Upper West Side. Susan, welcome to the show.
Susan: Hi, it's great to be able to speak to the cast. I saw the show when I was a young teenager, I must have been about 14. I went with my school in the Bronx. I was one of the only white students in the school and one of the only white people living in the projects. I lived in the projects and they brought their grade down. I think I started crying from the moment that that curtain went up and when the women came out.
I didn't know theater could be that, I didn't know language could be that. When the woman in green came out and said, "Somebody just walked off with all my stuff." I thought she was looking at me and she was speaking to me. I didn't think about my being white and that she wasn't speaking to me as a white girl. I thought she was speaking to the deepest part of me, a part of me that no one had ever spoken to before. I had no idea that theater could go that deep. It changed my life, I have taught the play.
I taught it in a day school in Princeton, the 13 years I was there. I taught it in Rural Maine. I taught it in Connecticut and now I teach it in prisons all across the country. I saw the recent production this past Friday night because of friends got me a ticket as a gift. Again when the curtain opened, I was 40 years later my other self visiting my younger self in this piece and I am so grateful to be able to thank you women for what you did. I know, not just to me as a young teenager, but I'm sure all those other kids in the Bronx that were sitting with me.
Kai Wright: Thank you so much, Susan, for that call. I'm jumping ahead in my strip. Trezana, this idea that "I didn't know theater could do that," stands out to me from Susan there, because I think about how different the landscape in theater was in the late 1970s in New York. That far predates me, but as I gather there were all these small, affordable places to put up like really experimental work like this and as a result we got theater experiences like the one Susan is describing. Is that right? Can you just take us back to that moment and put this show in that context?
Trezana Beverley: Yes. The backdrop at that time was the Vietnam War and the Black Panther Movement. The atmosphere was palpable, As an African American woman you could walk out on the street and get a job because it was so political at that time. Writers were just going crazy, the work was there and the stage was wide open for experimentation along with the language, the poetry, the depth of Zake's writing, she created that narrative theater. She broke down the Fourth Wall. Equus was on Broadway just a few months before we went there and Chorus Line followed us.
That was the first time that narrative theater was actually done on Broadway. You could see that downtown, but we brought it uptown with the help of the genius of Joe Pat. It was as Aku said, it was a stirring pot of political energy that we created this work and we felt very, very free to do it. I don't think there was any hesitation among us as young Black women to go out and put ourselves out on this stage with this very intense piece of theater.
I also want to share this very, very quick story we were talking about white women also feeling empowered by this play. A very famous actress, who I will not name, came to see the show. She had a friend who had just recently divorced her husband and they were in a restaurant having dinner before the show and guess who was in the restaurant? The man as she had just divorced Lord. This actress was bringing her friend to see For Colored Girls. After she saw For Colored Girls, she introduced me to a director who put me in his film.
Kai Wright: All right, there it is.
Trezana Beverley: I can't tell you who that lady was, but she was very famous.
Kai Wright: I invite everybody on Twitter to play the game, to see if you can figure out who it is that Trezana is talking about. We have a special caller who I want to bring on who knew Ntozake Shange in this show personally as well. This is what I was jumping ahead to again a minute ago. Carol Maillard is one of the founding members of the Grammy Award-winning A Cappella Ensemble, Sweet Honey in the Rock. She of course has had quite the career in theater herself. Carol, thank you so much for calling in tonight.
Carol Maillard: Oh, I'm having a ball, thank you for having me. I'm listening to my sisters Aku and Trazana you all are landed out and from the Upper West Side Susan, oh I'm having a good time. What can I tell you?
Kai Wright: Let me ask you this, is a Sweet Honey in the Rock an all-woman Black ensemble formed in the '70s, another groundbreaking art form made by and even for Black women. What do you think it was about this time period that made it so fruitful for Black women-centered work?
Carol Maillard: I'm going to back up. First of all the Sweet Honey in the Rock comes out of the theater. There's a DC Black repertory theater company and we were doing experimental theater. DC was chocolate city, DC was ripe for creativity. I am telling you, we did a little bit of everything in our theater company and Sweet Honey was born at the suggestion of one of the actors, a gentleman by the name of Lee Tae Ri He wanted us to have a vocal ensemble. We were doing poets and we were doing Black playwrights. Coming to New York City at that time in the mid-seventies, we were coming out of that folk movement where all the music for Pop and RNB started to take on a more socially conscious and political conversation. Sweet Honey was right up there in it.
The woman who wrote the song I found God and Myself and there was some other songs I know y'all remember My love is too delicate to have thrown back on my face. That was a song. Diana Warden was also a member of Sweet Honey in the Rock. She did sweet honey and then she came to New York and gave Zake those songs. I found God and Myself stayed in the production that I was in many productions but not this last one.
I think the time was right because folks were really expressing themselves in terms of what they wanted out of being an American, out of being a citizen of the world, Vietnam War, civil rights movement, women's movement, Chicano movement. People were really moving into expressing themselves to say, "Hey, we are here. I am valid just because I simply am. I'm putting my stuff out there like it or lump it. This is my truth and I'm standing in it." I loved it. Seeing For Colored Girls I just knew it was something I was supposed to be a part of.
Little by little, I didn't do Broadway. I turned down the national company but I went to Australia with Aku and then I did one of the LA companies with Trezena and Aku. My life was For Colored Girls. It's just in my blood. Then I did the TV show WNE TVs show For Color Girls and as directed.
Kai Wright: I asked Aku earlier to introduce us to Ntozake as a person. Can you do the same? Tell us about Ntozake for you.
Carol Maillard: Hey, Aku nailed it. Force of nature, creative, bright, honest, full of her own God self not afraid to express it. When I say stuff like that, I have to always tell myself people have all kinds of experiences that go from the high, the low, and the in-between but it's what makes us human. Ntozake was not afraid or had so much hutzpah just to put it out there and her writing stands. It's beautiful. It's heartfelt, it's beautiful, it's honors, and very courageous. I'm very glad I'm a part of this legacy.
Kai Wright: Carol Maillard is one of the founding members of the Grammy award-winning ensemble Sweet Honey in the Rock and one of the many people who this show has touched. Thank you so much for giving us few minutes your time, Carol
Carol Maillard: I was glad to be here. Glad to be a part of the legacy as I said
Kai Wright: Let's go to we have another unexpected special caller. I believe Owen was the original publicist for the show and has called us up. Heard it on the radio and called us up. Owen, welcome to the show.
Owen: Well, thank you very much. I was the national press agent for the national tour that took the Broadway production around the country. I want to clear that up. I worked for Merle Debuskey at the time who was in the main press office for the New York Shakespeare Festival. My comment is just that we're forgetting that a lot of men felt they were being attacked For Colored Girls. They felt it was anti-men in a way and an example of that was in Chicago. We had to have a community meeting with a local group who the men were very offended by the show feeling that it was drawing them in a bad light. All of the cast members myself and other people involved the production met with the community and it was like a forum situation to discuss the matter. I think that made the show even stronger and better because we were able to explain to them that it wasn't so much anti-men as it was women self-realization for women and not necessarily attacking men. That was my thought on this discussion here for colored girls.
Kai Wright: Thank you, Owen, and either Aku or Trezana, I mentioned this to Camille Brown the director of the current Broadway revival that history, and how it was on my mind when I saw the show because I was surrounded by other Black men now who were so embracing of the show. I just wonder if either of you want to comment on then versus now and how it's been received inside the Black community.
Trezana Beverley: Well I can. I teach twice a week up at the State University of New York. I teach freshman acting and I have a lot of young men in my class. I have a lot of young African American men in my class. I can tell you that the Black man has evolved quite a bit. There's a new generation out here of young people who are not holding their feelings so close to the vest. I think that they are more open, they're more inventive of change.
I think at the time when we were doing For Colored Girls because of the Vietnam War and because Black men were the dominant numbers fighting in the Vietnam war and so many of them came home with PTSD. It was a very delicate time for the Black man. That was then and now is now. I think that's why you saw a different miler in the theater, Kai, when you were there surrounded by Black men.
Kai Wright: It's a really interesting point. Do you want to quickly add to that, Aku, or does that cover it for you?
Aku Kadogo: I did. I wanted to just share a little anecdotal story about three times when we had gone to Broadway, there was a beautiful brother who would meet me after the stage and he would just say, "Why, what are you trying to say?" He was just grilling me for answers time and time again that I couldn't necessarily give him. Then about the fourth time, and this was over maybe six weeks or something, I walked out one night and he said, "I understand," and it was just beautiful. What I wanted to say, and this also pertains to whoever came to see the show.
Remember we are all richer for we begin to pull back the curtain and share our stories and we understand where we universally connect. At what vortex we meet at. I think this is what was the power of For Colored Girls. Many people came and it spoke to them in different places and different stories. Somebody almost took all my stuff. That could be anybody. You don't want to give your stuff away. It's a powerful statement on the true universality of the work.
Kai Wright: Aku Kadogo directs the theater program at Spelman College and performed as the lady in yellow in the original For Colored Girls production. Aku, thank you so much.
Aku Kadogo: Thank you. It was a pleasure.
Kai Wright: Trezana Beverley was the original lady in red, a role for which she won a Tony. The first Black woman to win Black best actress in a play. She stays busy but you can catch her in Eleanor and Alice presented by the urban stages on June 17th on Roosevelt Island, as well as directing the Mannequin direct diaries coming soon. Thank you so much. Trezana for this time. In the 10 seconds we've got, do you have a parting word on For Colored Girls for folks?
Trezana Beverley: The essence of For Colored Girls is spiritual. It's about a spiritual awakening. When Zake says for colored girls who considered suicide when the rainbow is enough, what are those colors? What do those colors mean? What is over the rainbow? God created the rainbow as a sign and his return coming back in those beautiful colors, so remember the rainbow. Always remember the rainbow
Kai Wright: We'll have to leave it with those beautiful partying thoughts. The United States of Anxiety is a production of WNYC Studios. Our theme music was written by Hannah Brown performed by the Outer borough Bras band, sound designed by Jared Paul. Matthew Marando was at the boards for the live show. Liora-Noam Kravitz mix the podcast version. Our team also includes Emily Botein, Regina De Heer, Karen Frillman, Kousha Navidar, and Rahima Nasa. I am Kai Wright. Keep in touch with me on Twitter @Kai_right, and of course, find us live next Sunday 6:00 PM Eastern. Stream it @wnyc.org or tell your smart speaker to play WNYC. Thanks for listening and take care of yourselves.
Copyright © 2022 New York Public Radio. All rights reserved. Visit our website terms of use at www.wnyc.org for further information.
New York Public Radio transcripts are created on a rush deadline, often by contractors. This text may not be in its final form and may be updated or revised in the future. Accuracy and availability may vary. The authoritative record of New York Public Radio's programming is the audio record.