Schools Had a Tough Year. What'd We Learn?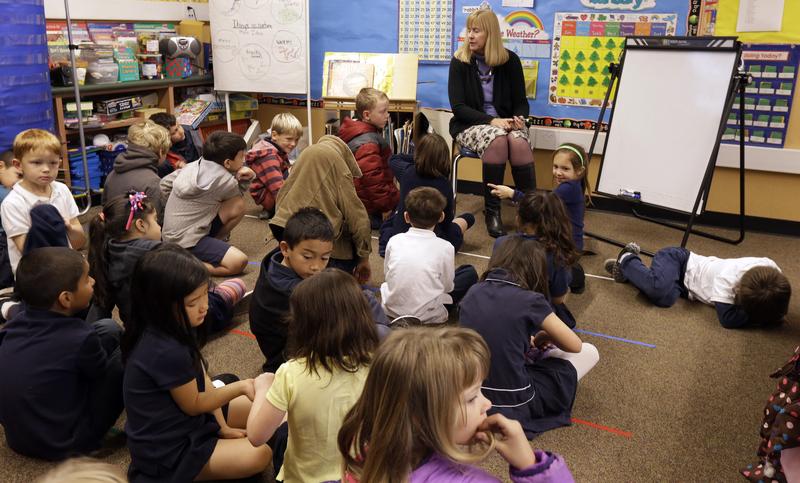 Transcript
[music]
Regina de Heer: There's been a lot of social debate about what kids are learning at school this year. At the end of the school year, has that shown up in any way in your own classrooms? Have you had to have conversations that you hadn't had before when it comes to race or sexuality or gender?
Student 1: Yes, it definitely has.
Regina de Heer: In what way?
Student 2: We go to a Christian school actually. There's a lot of division, but our teachers are not allowed to have an opinion on it.
Student 3: Yes, my friends, I know a lot of them that are different sexualities and they get mad because the teachers they can't really say anything about it and it makes it sound like they don't accept it.
Regina de Heer: I'm sorry to hear that, but has it made you feel more encouraged that your generation is more accepting and willing to fight for each other.
Student 3: Yes, it feels like that we can gather together, our friends support us.
Kai Wright: Welcome to the show. I'm Kai Wright and congrats to all the students and families who have been out there celebrating graduations, or just the end of another school year. Truly you have achieved something because the challenges of this past school year have by all accounts been unprecedented in their intensity. We're going to talk about schools all tonight. Later in the hour, we'll launch a special series reported inside one New York City school building, but first we're going to reflect on what's been happening all over the country with a reporter who has been on the education beat for more than 25 years.
Valerie Strauss covers education for The Washington Post, where among other things, she writes a vertical called The Answer Sheet. Valerie, thanks so much for joining us.
Valerie Strauss: Thank you for having me. Really happy to be here. I just want to say that with a mountain of podcasts that are out there, yours has the absolute best title. None comes close. So…So, I was honored when you asked me to be here with you.
Kai Wright: Okay. Well, thank you. I'm glad that's how we got you. Well, certainly this hour is all about anxiety. Let's start with the simple question of safety though, because certainly, that has hung over the heads of parents and students all year. Gun violence is on everyone's mind, obviously. Your most recent posts in The Answer Sheet was about active shooter drills, and I have to say it was chilling. You shared several testimonies and tweets from parents about how their kids engage with these drills.
In one tweet, the person said, they'd asked their third grader about the drills and she said, "Yes, we had a lockdown drill today. There aren't very many hiding places in our room. The good ones are all taken in like three seconds." Then another thing you shared was a will that two kids in Alabama wrote to share their most valued possessions with each other after a shooting at a nearby school. Why did you share these testimonies, Valerie?
Valerie Strauss: After each shooting that span two decades now, a couple of decades, I try to talk to affected kids in that community where it took place. I remain every single time as horrified and saddened by what this nation does to its kids by allowing the conditions for this to happen. I was looking for a different way to communicate the horror of it. At first when you mentioned the matter of factness of it that has happened with this younger generation that has grown up that doesn't know anything different than hideous gun violence.
I thought that just letting them speak with their own words, the parents, the students, I felt that was the best way to do it rather than being an intermediary. Just sharing those because I was very moved by them.
Kai Wright: You say that there's some debate about the active shooter drills themselves and how they're impacting kids, which is interesting to me. Can you briefly explain that?
Valerie Strauss: Absolutely, you can find people who think that they are a necessity. That students of all ages and the adults in the rooms need to know some kind of procedure about what to do if they're in a situation where there's an active shooter in the school. There are also people who say that as bad as it is, as many as we've had, the percentage of shootings compared to the number of classrooms we have is infinitesimal. It won't happen to most kids. That the training in some ways there's all different kinds of training, I should just throw out there isn't one standard way to do it. There isn't a best practice that schools all follow.
There are some that are better than others. There are others that scares kids to death. What people will say is that the trauma of these is far more detrimental than the potential risk. It's kind of a risk assessment. How do you assess risk? To most kids, this isn't going to happen to, but you're still over 95% of the schools in this country do these drills and the kids over the years that I've talked to and the parents and the teachers say, the majority of kids.
Again, this isn't the majority of kids out there. It's just the majority of the kids for whom I have done interviews, they get traumatized, and then if they're not then they become matter of fact. They absorb, it becomes part of their being and their natural outlook on life that I could get killed any minute. That America is a place where guns are allowed and my life has less worse than the gun and we've got to do this.
Kai Wright: It really makes me think about that is a great example of how I think about, we focus so intensely on a single affected school when these mass shootings occur, but it does echo through everybody's life, whether you were at that school or not. I was talking to my mother the other day. She was a grade school teacher her whole life, she's retired now, but she told me about a young friend who she's been counseling because the person is going to send their kid to school for the first time in the fall and they're in tears, they're in literal tears with anxiety about their child's safety. What would you say?
Valerie Strauss: The anxiety I have to say in the last couple of weeks and not just in Texas, but the supermarket, the funeral, there have been shootings all over the place, from coast to coast, in all different kinds of activities that people do. The anxieties that I have heard are unparalleled in a time where the country has been anxious certainly on a different level since 911, that's over 20 years, but I think people are really scared.
It probably has certain things to do with the politics of the country too, and different kinds of fears. It's a compilation of fear. Many people fear climate change. They fear the effects of racism. On one side, people fear what their kids are learning in school. Other people fear what their kids aren't learning in school. This most visceral fear has become more egregious than anything I have ever heard just the last month.
Kai Wright: Is there anything you would say to that parent that I mentioned that you've heard in your reporting on this that would offer anything useful, really? I'm not even saying hopeful, but just anything useful that you would say to that person.
Valerie Strauss: Look, I'm not a therapist, I'm a reporter, but I'm also a parent. My daughters are older, but I have friends with young kids and I found myself saying this to one of them recently, which is that, as I said before, as bad as this is, and it's bad, most people will not encounter this directly. Most children will go to school and not have this. They may be bullied and they're going to have to deal with that, but they're not going to deal with an active shooter. Most people are not going to deal with active shooters in their lives.
Kai Wright: You've been covering education for 25 years, as I said, is it hyperbole to say that this past school year was more fraught than any you've seen? Not just the shooting, but all of it.
Valerie Strauss: It's an interesting thing. I would say yes and I have been doing this for a very long time. I went to a superintendent's conference in Nashville earlier this year. One of the things I asked a bunch of them was, of the years since the pandemic started, we're now in basically our third school year that has been affected by it, which was the worst. By in large, they said, "You won't believe this, but it's this last year." This year when people were back in. Part of that was they had traumatic stress disorder from what happened when the schools closed and how families had to deal with that.
The renewed culture wars are at a level that I think we haven't seen. We've had them before certainly. We've had fights over abortion and integration and immigration and same-sex marriage and what books kids should read and sex education, but the kinds of things are happening now in the way that they're being put into law, there's something different about it. Superintendents are flabbergasted by what's happening on that score.
For different school districts, you have a continuing growth in the so-called school choice movement that is challenging their funding and you have the fallout of the pandemic in a couple of ways. One is, how do you catch kids up to where you want them to be? Which is not an easy thing. Then you have the wave of discipline issues that are happening and violence at schools. Teachers all over the country have told me they've never seen anything like it. The young kids can't sit still. They never can sit still but now they really can't sit still. The acting out of younger kids, the trauma, the depression, the anxiety is just enormous.
Even before this, America's not a real kid-friendly place. It never has been. I think at this moment, kids are more challenged than ever.
[music]
Kai Wright: We need to take a break. I'm talking with Valerie Strauss, education reporter for The Washington Post about the many challenges that have plagued this past school year. We can take your calls if you've got any questions about schools, whether it's education policy, or politics, or what you're seeing in your own system. Call us up, 212-433-WNYC. That's 212-433-9692 or tweet at us using the #USofAnxiety.
Coming up, we'll talk about those culture war battles and about the bigger picture around all of this, which is the fight of Republican education itself. Stay with us.
[music]
Kousha Navidar: Everyone, this is Kousha. I'm a producer. If you're a student, especially if you're a high school student, we'd love to hear your thoughts about this week's episode. This year, a lot of political campaigns will talk about teaching race and gender in schools. Has this debate shown up in your school? How? If you're not a student, we'd still love to hear from you. How is this debate showing up in your community? Email us or even better, send us a voice memo. Record yourself on your phone and email us the recording.
Our address is anxiety@wnyc.org.
One more thing, later in this episode, we're going to give you a sneak peek into a new series from WNYC that we've been teasing these past few weeks. Be sure to listen through the whole episode for that. All right. Thanks again. Talk to you soon.
[music]
Kai Wright: Welcome back. I'm Kai Wright. We're talking about the remarkable school year that's concluding now for most students. I'm joined by Washington Post education reporter, Valerie Strauss. She's been covering schools for many years, and she's never seen an environment as difficult as this one for students and educators alike. We can take your calls, listeners, if you've got any questions about schools, whether it's education policy, or maybe the politics, or just what you're seeing. Call us up. We'll see if Valerie can answer.
You can also call us up with some insights from what you've been seeing in your school year. Has it been as challenging as the rest of us think it has? 212-433-WNYC. That's 212-433-9692 or tweet at us using the #USofAnxiety.
Valerie, the culture wars, the National Republican party has decided to make schools the frontline in the culture wars this election season. That in part grew out of the perceived success of Governor Glenn Youngkin's campaign in your own backyard in Virginia, with making an issue out of how racism is discussed in schools in that state. The controversies have now gone beyond race to focus on sexuality and gender identity.
You wrote about a student at Pineview school in Osprey, Florida senior class president. Oh, and I'm going to butcher his name Zander Moricz, I think. Zander gave the class commencement address, and school officials reportedly told him not to use the word gay or to mention his role in challenging the state's new law restricting what teachers can say about sexuality and gender identity. Tell us a little bit about Zander and how he handled the predicament of this speech?
Valerie Strauss: He was really brilliant about it. Probably most of your listeners know that the Florida governor signed a bill called, Don't Say Gay. It's the first such bill like this. There have now been I think four other states that have done it and a bunch of other Republican states will do this. It's meant to curtail conversation about gender and sexual orientation. People think that it's just about the younger kids because it bars any conversation and grades from kindergarten to third grade.
It also affects all the way to 12th grade because it says that any conversations are supposed to be "developmentally appropriate" without explaining what that is so that leaves open and anybody can challenge anything and say, "There's no standard definition of it." It's a debilitating piece of legislation for lots of people. This young man in Sarasota County was an activist in his school community against it. It happened to be the valedictorian of the school who was giving the graduation speech and his principal Haldeman said, "You can't say gay, and you can't talk about your activism."
He's also the youngest plaintiff in a case that's challenging this, Don't Say Gay Law in Florida. They told him, "You can't talk about that. You just can't talk about the whole issue." What he did was talk about the issue. He talked about himself, and how he found himself, his sexual orientation and he did this by substituting the word curly hair.
Kai Wright: For gay.
Valerie Strauss: Yes. The writing of the piece was really well done. He was a good speaker. You can google for the video and watch him do it. Just, don't say gay graduation speech, curly hair, and it will come up. He's really good. What's sad is that he had to do that, that somebody would tell him not to talk about himself in an appropriate-- It's crazy.
Kai Wright: As you said, we have seen culture wars show up in schools in the past. Certainly, I remember them growing up. What's different about this moment? Why is this different from those or is it?
Valerie Strauss: I think it is. For one thing, the earlier ones were led by white Christians, Anita Bryant in Florida, who were talking about the religious abominations of these things they were protesting, the so-called religious problem. Some of this is secular and some of what's driving this it's coming from the same people who actually don't believe in public education. There is a convergence of the school culture wars with people who are trying to redefine what public education is, and the way they want to redefine it, Betsy DeVos.
Governor DeSantis has said this quite openly, "Anything that gets paid for by the public is public education." Which means that any voucher that the state taxpayers pay for that goes to a religious school that discriminates against LGBTQ, or anybody else, they want to discriminate, and they're legally allowed to do that because it's a private school but that's public education. This is a bastardization of the whole brilliant idea of giving a public education to every young person.
That's one thing that's different is this convergence of people who are trying to restrict what teachers can say and do in the classroom and the attack on public schools.
Kai Wright: It's interesting.
Valerie Strauss: Also, I think I mentioned before is that you have some of this being put into law. Before you didn't, as much. There were some but not to the extent. Now you've got a majority of Republican led states and you're going to see a lot more of this. Some of these other laws that are restricting the way teachers can deal with US history and race and racism. A lot of what's going on with the culture war, as always, in this country revolves around race. A lot of it does, unfortunately. Those are a couple of the differences.
Kai Wright: We'll get back to this point about the convergence of these movements of the fighting against public education and the culture wars in a minute. I want to take a call though. First Mike, in Bergen, New Jersey. Mike, welcome to the show.
Mike: Hey, how are you? Thanks for taking the call. I want to refer back to the comments about children being traumatized by the training in school for active shooter. I think part of the problem is, I know parents want to protect their children from everything. I grew up having to have fire drills. The generation before us grew up worried that at any moment a nuclear bomb would drop and entire towns had to have plans for what to happen in case the entire town got wiped out.
I think that it could be done where children are trained to deal with the reality that we live in a world that has risks. If you don't do that, you have children that can't deal with life when they get out and are paralyzed by life.
Kai Wright: Interesting. Thank you for that, Mike, and listeners, we welcome your calls if you've got questions if you've got more thoughts like Mike's, 212-433-WNYC. That's 212-433-9692. Valerie, I am interested in that point about-- Because I do remember the cover ourselves under our desk for nuclear war drills when I was a kid. I hadn't thought about that, but there is a history to this like schools as a place where we learn how to live in a risky world, I guess, is the point Mike is making.
What about that part of the conversation is there? Go ahead.
Valerie Strauss: Yes, I think the idea that kids have to learn they're living in a world with risk is absolutely right. To the extent that how much the teachers are supposed to do that and parents are supposed to do that or guardians are supposed to do that, I don't know. Yes, there have been drills we had. I've lived in Miami, where the Russians had their nuclear weapons aimed at us, not too far away. I remember those drills, and we just had to get under the desk. You just had to get under the desk. I remember fire drills. You just had to walk outside. I get those.
Many of the drills for active shooter are far more frightening than those are. They don't just practice hiding. They sit there for an hour, and they don't talk, and you're talking about four and five and six-year-olds who can't sit still. You have them explicitly learning that somebody can come in and kill them with a gun. There's something much more visceral than a fire can break out and you're walking out the door.
Now some of them are done well. In fact, there was a shooting in Michigan at a high school in last December. Some of the kids said, 'Well, it was helpful to know the procedure." Yes, there are ways to do it. You're right. There are ways to do it, but a lot of the districts have become a huge business and have purchased these very extensive, dramatic, explicit with guns, programs that are traumatizing to kids. The parents told me. The kids come home and don't want to go to school. They're being traumatized. I don't know anybody who was traumatized, frankly, by walking out from a fire drill.
Kai Wright: Right, the duck and cover was scary when I was a kid, but I hear your point. I hear your point. Let's go to Colin in New Jersey. Colin, welcome to the show.
Colin: Hi, thank you so much for putting me on. I'm a principal actually in Jersey City. I just wanted to say that it's interesting because there are almost two stories that are happening at the same time because I know that you're incredibly correct about what people are seeing across the country in terms of schools. At the same time, I've been incredibly inspired by our students in terms of what they've wanted to do.
Our students have organized a community drive. We've raised over $3,000 for Ukraine. We are currently planning another way to aid people in Uvalde, Texas. Our students have been incredibly interested in talking about issues of race, equity, gender. It gives you a tremendous amount of hope when you see some of these other stories about what's going on. I can also say that having gone to school leadership conferences, there is a lot of talk at these conferences to help people in these states, where they cannot say these things, to think of ways to still address these issues and serve their students the way that they should.
Kai Wright: Thank you for that, Colin. A note of hope. Go ahead, Valerie.
Valerie Strauss: I would love to be able to talk to him more later. Can you tell me how to call you? What school you're at, so I can call you?
Kai Wright: We'll connect you. We'll get the information from you, Colin, offline, so you don't have to do it on the radio, and we will connect you to Valerie if you are willing to talk to her more. Love to have some additional reporting. What do you say about that? This idea that there's good stuff happening in schools too. How much are you hearing stuff like what Colin just said?
Valerie Strauss: There's always been stuff happening in schools. That's one of the great myths of public education is that schools are failing kids. A lot of them are extremely troubled, but the story of public education in the United States is as much the amazing things that happen day-to-day, the day-to-day work that teachers do with kids and that kids do.
Before the pandemic, I would go in and out of schools a lot in different places. I am constantly amazed at how smart kids are. I hate to use the word resilient because I think we overuse it, and we expect them to be able to do more than they can, but there's a lot of fantastic work that goes on in public schools in the country, in some of the most challenged districts and the wealthier districts across the board. Especially, in the places you wouldn't think it was happening. The work that goes on, that spirit that exists in the school community is really something.
When you poll parents about public education, and you can find polls to say anything you want, but the consistent well-done polls that are done annually. Most American parents give high grades to their kids public school. Now, if you ask them about public education at large, they'll give a lesser grade, but they like their school.
Kai Wright: It's so interesting that it's true. That's about a lot of elected officials, as well, and Congress as well.
Valerie Strauss: That's right.
Kai Wright: As we're starting to tick down here, I do want to dig in on to this public versus private education thing. As you mentioned, the activists behind these culture war issues have said explicitly that the purpose is to weaken faith in public schools in general and that there is an ideology that schools should be businesses. They should be run like businesses that compete for students.
Just on the most basic sense, what's the big deal in that? What is lost if schools, in fact, are businesses that compete for students?
Valerie Strauss: Public Schools, first of all, that's a great question, and it is the fundamental question about public education. Public schools, public education are not businesses. They're civic institutions. Civic institutions do not run on the same principles as for-profit companies that have to make a profit, and that the profit is the most important thing, right?
The people are the less important issue. They need to make a profit with the product that they are producing. Children are not products. Children are children. The competitive notion that drives for profit business doesn't work in education because you're dealing with human beings. You're dealing with kids, and they're not blueberries. There are all kinds of differences in the way you have to deal with them. They're not standard. You can't standardize kids. You can't really even standardize everything you do in education because kids learn differently. Kids learn at different ages. Kids are interested in different things.
You create environments that kids cannot thrive in. You harm them. When you have schools open and close and open and close, and kids are shuffling from school to school. All the best research shows one of the best things for kids is stability. Particularly, kids coming from troubled neighborhoods. They need stability. The idea of opening and closing because they didn't get the right test score, or they didn't produce enough blueberries is really detrimental to kids.
Kai Wright: It also makes me think about the-- I've heard you say to the detriment to society about the purpose of public schools was one of them was a space that binds society. Is that right?
Valerie Strauss: Absolutely. That was one of the original missions when Horace Mann in the 19th century started the common school movement. That's really interesting you bring that up because this is one of the things that I think is being lost with the idea in the choice movement. People pushing the use of public money, so people can choose the school that they feel more comfortable in.
America is supposed to be a diverse place. It's supposed to be a melting pot. That was what distinguished it. That's what made it a country that was different than any other country that had ever existed, and that still is the aspirational goal. It's never been reached. It's been the aspirational goal of public education, and I still think it's a worthy aspirational goal, but to be honest, I'm worried about it. Just like I'm worried about the future of the country. They are intermixed.
Kai Wright: I feel the need to channel Colin here, the principal in New Jersey, for both the country and for our schools. Maybe if we dig below the top line, maybe there's something more hopeful there.
Valerie Strauss: Absolutely, this country has been through awful things before. It can get out of this if it has the will. It can, it can.
Kai Wright: If it has the will, if it has the will. Valerie Strauss covers education for The Washington Post. She's been on the beat for 25 plus years. Valerie, thank you so much for your work, and thanks for joining us tonight.
Valerie Strauss: Thank you for having me. It was fun.
Kai Wright: Coming up, we're going to launch a fascinating new series from WNYC studios. We'll follow the season of a girl's varsity volleyball team in Brooklyn. In doing so, we're going to get an intimate look at how one public school building is trying to break down stark racial divides. That's next.
[music]
Welcome back. I'm Kai Wright. We've been talking about schools. We're launching a special series about schools in our podcast feed later this week. Long-time listeners to this show are used to hearing lots of original reporting and narrative storytelling from us. I'm happy to say we've been developing more of that kind of work to share with you in the coming months and we're excited to get started with this series. It's called Keeping Score, a year inside a divided public school building that's trying to unite through sports. It's reported by WNYC Alana Casanova-Burgess and Jessica Gould in partnership with The Bell which is a student-led podcast about life in New York City schools. I'm so excited about that student journalism on this project by the way.
Alana and Jessica and those student journalists they're going to take us inside one school building here in New York City in Brooklyn's Park Slope neighborhood that houses four separate schools. They're going to tell the story of an effort to break down the stark racial segregation that exists between students and between the four schools inside that building. It's a story that takes us into the complex history of New York's massive school system which ironically remains by some measures the most racially segregated system in the country.
Alana and her reporting partners have found a really neat way to track how the students themselves have experienced this effort. They've done it by following the season of a girls' varsity volleyball team. I asked Alana to set this series up for us.
Hey Alana, so great to have you in the United States of Anxiety family.
Alana Casanova-Burgess: Oh, thank you. Thanks for having me.
Kai Wright: Volleyball. I got to say I was both tickled and confused when I heard you were doing a deep dive on a volleyball team. Are you like a jock or what got you into this story?
Alana Casanova-Burgess: No, I'm firmly a debate team kid but I did go to the New York City public school system. I went to this big school called Brooklyn Tech. It had like 4,000 students, 1,000 students in my graduating class. When I was in high school, I was really only aware of who my peers were, who was in my school but this story that I'm bringing you in the US of A listeners in the next few weeks looks at what happens when in one building you have different kinds of schools and you have different visions of a school system under one roof. You can really think about what that school system looks like when you actually have a point of comparison there.
Kai Wright: To clarify, here in New York City some kids go to those huge schools like the one you attended and sometimes the city houses a handful of smaller schools in one building and your reporting takes us inside one of those buildings, but just so we understand, why does New York do that? Why do multiple schools house together?
Alana Casanova-Burgess: This is something that really started during the administration of Michael Bloomberg in the early 2000s. The idea was that students would be better served in these smaller settings. Large schools with low graduation rates, with kids with behavioral problems et cetera, would be better served by having a smaller scale so that teachers and administrators could have more of a grasp on what was going on. They would split a school up into smaller schools and then each would have a kind of identity or brand that would attract students who say, wanted to focus on environmental science or the visual arts, things like that.
In this one building, John Jay, they then had three schools and I'm not going to quiz you on this but they were cyber art studio Academy. The John Jay Secondary School for law and Park Slope Collegiate, all sharing this building. In 2011, the DOE made a proposal. They said that if they could add Millennium Brooklyn, a selective high school to the building they would, a, fix up the building and b, be able to serve the neighborhood Park Slope better because there were all these parents, all these families who were not being served by the existing three schools. I want to play you some tape because this was a really contentious moment.
Jill Bloomberg was a principal in the building at the time the DOE made this proposal. Here she is talking about what it would mean to bring Millennium Brooklyn into the building
Jill Bloomberg: When the DOE came in and said, "This is great news. We have all this money for the school but we're only going to spend it on the building if Millennium moves in." Then I was furious with a well of past slights.
Alana Casanova-Burgess: Here's the case the city made for bringing Millennium Brooklyn into the building. "While there is not an immediate need to create additional high school seats in Brooklyn, the community has made the DOE aware of the need to provide more high-quality high school options."
Jill Bloomberg: It's just that if the school is not good enough for middle-class children who are overwhelmingly white, why is it good enough for the Black and Latin students who attend the school? Look, I think school integration is a good thing. I had no objection to students who live in the neighborhood coming to the school but I thought the idea of creating a separate school to be attractive to those students and families was racist.
Kai Wright: Yes, it's really striking to hear it that way, Alana, that the Department of Education considered the building to be in perfectly fine shape for those three schools that were already there but not good enough for the new more selective school that they wanted to add to the building. I guess this is where race comes into the story. I guess these selective high schools, the issue is that they tend to have a student body that's more white and more Asian, right?
Alana Casanova-Burgess: That's right. Yes, the screening process has been shown to favor white and Asian applicants and that is the case with Millennium Brooklyn. Across the public school system in New York, it's actually around 15%. That's one 15% of students are white. At Millennium Brooklyn, that number is closer to 45%. It's really different from the other schools in the building where the student body is more like 90% Black and Latino kids.
I know I'm spitting a lot of numbers at you but when we think about what that means, it's really a view of New York's segregated school system in a nutshell. In this case, in the same building, you have students who aren't really interacting much between floors. They're in these separate worlds. They're in these very different schools but they're in the same building.
Kai Wright: You reported this with a group of student podcasters at John Jay in this building, what did they record? What kind of tape did they gather? What were they asking about?
Alana Casanova-Burgess: Yes, they are students from The Bell and they've actually been documenting the story for the better part of a year. They've been recording voice memos of their own feelings like audio diaries. They've also been interviewing their peers, administrators, and teachers. Then my colleague Jessica Gould and I, we've stepped into the story and did our own reporting as well.
One of the things that we were both really struck by immediately is how conscious of race these students are. We've been really blown away by how these students have these conversations with vocabulary that I know that I did not use in high school. I don't know if you did, Kai, but it strikes me because the conversation that you've been having on the show about the curriculum wars, about the different things that students are in are not allowed to learn in school. It's so contrary to the impulse of this generation.
I want you to meet Rinika Jack. She's a student at Casa and she's one of the podcasters. I just love the way she describes her first day coming to school and you're going to hear her here with Jessica Gould.
Rinika Jack: I had came into the country on a Saturday and I started school on like a Tuesday I think.
Jessica Gould: Rinika Jack moved to the US from Gayana and she started school at Casa just a couple of days later. Growing up she had ideas about what life at an American high school would be like.
Rinika Jack: We had cable so it'd be like high school musical and stuff like that. I came here expecting a big football field, homecoming dances.
Jessica Gould: She was surprised when she arrived at that big brick building in Park Slope.
Rinika Jack: It wasn't your usual typical bright high school with kids out on the lawn and stuff like that. It was just dull and it was scary.
Jessica Gould: No popular kids or slackers gathered in groups on the grass. There wasn't any grass at all, just concrete and inside, metal detectors with lots of students filing through.
Rinika Jack: I saw the white kids. I was like, oh this is American High School? Yes, of course, it's going to have white kids because I've never been to a school with white people. I was like, okay this is cool. Then when I finished with the front office and they showed me to my class, I was like, "Where are the white kids?" There's no white kids here. Literally none. It was just Black and all the minorities.
Kai Wright: Wow. It's really interesting to hear those ideas in the voice of somebody like Rinika. It's just going to be cool to hear these students talk about this stuff, but Alana, this is a story about sports in the end. You've been following the season of the girl's varsity volleyball team at this building, and you give us lots of detail about the team's fascinating history in the podcast, but let's try to shorthand it here just to set up what people will hear when they download it.
The original three schools in that building, the mostly Black and Latino ones, they already had a combined sports program. They all played on the same teams, but when the new selective school moved into that building, that school did not merge its programs, rather it kept its own totally separate teams and actually competed against the other teams in the building, right?
Alana Casanova-Burgess: Yes. For one sport, in particular, they were really rivals because they were playing in the same division. This was the girl's varsity volleyball team. Imagine the optics of this. You've got one team in the building with a lot of Black and Brown student-athletes, and then another team in the building with a lot of white and Asian student-athletes, and then they're facing off in the same gym. I want to play a piece of tape here. Here's a coach. She works with the volleyball team, talking about how it could have all been different if different choices were made.
Veronica Vega: From the very beginning, I felt like, "Oh, we should all play together." From the very beginning.
Alana Casanova-Burgess: This is Veronica Vega, a Park slope collegiate teacher, students call her Mama Vega.
Veronica Vega: The way I see it, sports, clubs, and extra curriculars are the heart of a school. When I became a teacher, immediately, I said, "I need to be a coach."
Alana Casanova-Burgess: She helped build the afterschool athletics program in the building. When millennium arrived back in 2011, she had to help figure out how they were going to share the gyms, the fields, the courts with eight new teams, it was bound to come to a head eventually.
Jill Bloomberg: Then one of the PE teachers and coaches came into my office, furious.
Alana Casanova-Burgess: Jill Bloomberg, the principal, at the time.
Jill Bloomberg: She said, we were supposed to have the gym now for our middle school volleyball program, and the millennium stunts team is working out there. I'm like, "What's a stunts team."
Alana Casanova-Burgess: It's competitive cheerleading. I had to look it up.
Veronica: I was like, "You know what? I'm just going to go on PSL.
Alana Casanova-Burgess: PSL, the public school's athletic league. For years Vega and others had been applying to them to try to get more sports.
Veronica: See how many teams that they have versus us.
Alana Casanova-Burgess: I'm like, "Oh my God, they have a stunts team. They have fencing. They have ping pong. They have baseball. They have softball. They have 17 teams."
Kai Wright: Here are these school leaders just realizing how big a difference exists between the resources that had been available to their student-athletes all this time, and what's available for the students in this new selective school.
Alana Casanova-Burgess: Oh, and there's actually even more. Okay, can I tell you about club volleyball?
Kai Wright: Okay.
Alana Casanova-Burgess: Club volleyball is this private league, which is happening outside of the school. When we're talking about the volleyball team, there's a privilege that some of the students have on the team where they're actually participating in this whole other league and it takes thousands of dollars to participate in this. It's $100 just to try out. When I heard about that, it reminded me of private test prep, where some students get a leg up in preparing for a standardized test, for example. You have this unequal playing field, unequal court of student-athletes who have access to different experiences, for even something as simple as after-school sports.
Kai Wright: Now in this school year, they've tried to at least make the sports program less divided. They've merged the two different volleyball teams into one team, and you have watched that process unfold over the course of this past school year in volleyball season. I gather that it struck you that volleyball is a really apt metaphor for this whole struggle in this building.
Alana Casanova-Burgess: Yes. I had this thought when I was sitting on the bleachers one day watching them play is that volleyball is so particular, you're on one side of the court with all your teammates, your goal is to work together, to mesh, and get the ball over the net to the other side, and it's different from say soccer or football where you're running around, your bodies are in contact with your opponents team. In this case, it's really all about your teammates. In that sense, it's been such a compelling sport to watch, to think about how students learn to be friends with each other, form relationships, across this building that as I mentioned has been so separate for so long.
Kai Wright: Well, I cannot wait to hear all of these wonderful students' stories. It's going to be dropping in our feed over the next four weeks and, Alana, before we let you go, what's the one thing you want people to know before they get ready to hear that first episode?
Alana Casanova-Burgess: Well, what's been the most exciting thing for me is I'm sitting on the sidelines, watching this team on their quest for a championship, and that's really exciting, will they get there? Will they win? Also, what are they willing to give up in order to get there? The other question I've been thinking about is these students on the team are trying to bring this building together. They're trying to break down the divides in this very divided building. They're trying to heal these rifts between floors in this school that is as I've mentioned segregated. The question for me is how much are we asking them to do that work? How much should we, as adults have done that work before the problem even got to them?
Kai Wright: Keeping score a year inside a divided public school building that's trying to unite through sports. Alana, thanks so much, and I really look forward to the first episode this Thursday.
Alana Casanova-Burgess: Well, thanks, Kai, and thanks for having me.
[music]
Kai Wright: New episodes will appear in the United States of Anxiety podcast feed each week for the next four weeks. If you're not yet following our podcast, be sure to do so. Find us wherever you get your podcast. United States of Anxiety is in production of WNYC Studios. You can send us your thoughts on any and everything you hear on the show by emailing us at anxiety@wnyc.org. We particularly love to get voice memos there so just record one on your smartphone, email it along. That's anxiety@wnyc.org.
Our team includes Emily Botein, Regina de Heer, Karen Frillmann, Kousha Navidar, Rahima Nasa, and Jared Paul, a special thanks to Bill Moss for mixing this episode for us. Our theme was written by Hannis Brown and performed by the Outer Borough Brass Band, and I am Kai Wright. Thanks for spending time with us. I'll talk to you next week.
[music]
[00:47:51] [END OF AUDIO]
Copyright © 2022 New York Public Radio. All rights reserved. Visit our website terms of use at www.wnyc.org for further information.
New York Public Radio transcripts are created on a rush deadline, often by contractors. This text may not be in its final form and may be updated or revised in the future. Accuracy and availability may vary. The authoritative record of New York Public Radio's programming is the audio record.