The Rocky Statue: A Famous Monument to a Fictitious Hero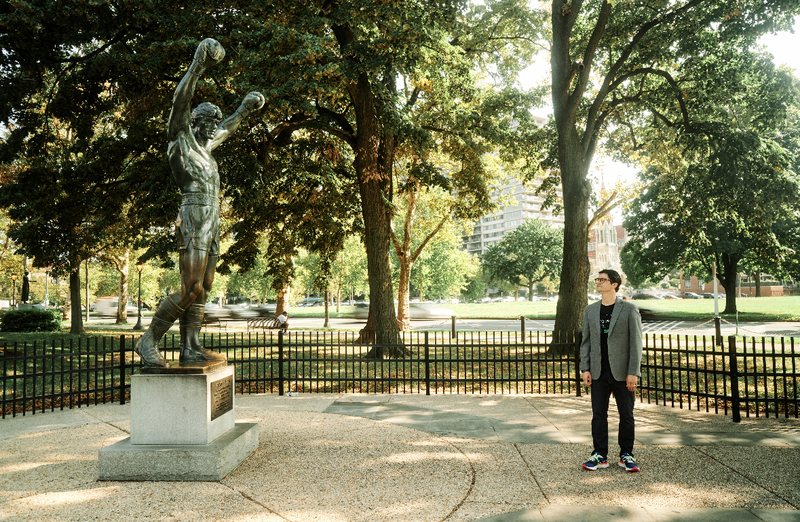 Transcript
Kai Wright: It's Notes from America. I'm Kai Wright. If you have gone to visit Philadelphia, there is a really good chance that you've gone to the Philadelphia Museum of Art, stared up at its long stairwell to the front door, and take it off running to the top where you have victoriously thrust your fist in the air and began singing the theme song to Rocky. There used to be a statue of the Rocky character right there at the top.
Now it lives in a little plaza at the bottom of the steps, and millions of people a year come to pose with this monument, but of course, it's not a monument, not really. It's a movie prop, or that's all it was originally supposed to be, at least. After years and years of locals and tourists alike gathering at the feet of Sylvester Stallone's likeness, the line between fiction and reality prop and monument, it's gotten blurry.
Actually, a couple of the younger people on our own team thought the whole rocky story was about a real person. The thing is, the grit of the rocky character was modeled, at least in part, on a real Philadelphia boxer, a real human being who does not have a world-famous monument and whose story is not remembered in the same way as this fictional character. Paul Farber got curious about this odd set of facts in his hometown, and he's made a whole podcast exploring how these transfigurations happened and what they tell us about monuments.
The podcast is called The Statue, produced by our friends over at Philadelphia's Public Radio Station WHYY. Paul is the co-founder of an organization called Monument Lab, which facilitates conversations about the past, present, and future of monuments in our communities. He's also got a long relationship with our own executive producer André Robert Lee, who is a Philly native. André was a mentor for Paul way back in grade school, and he shows up in Paul's podcast. I talked to them both about this story. Paul, thanks so much for joining us.
Paul Farber: It's so great to be here. Thank you for having me.
André Robert Lee: Hey Paul.
Paul: Hi, André.
André: How you doing?
Kai: André and Paul, you guys go way back. How do you guys know each other?
André: Paul was in lower school and I had an afterschool job working at the afterschool program, and he was a six-year-old with a big personality, was organizing everything and running the show.
Kai: Six years old, do you remember André from when you were six years old, Paul?
Paul: I do. I got to reconnect with Andre several decades later. He's been a great mentor and friend. A friendtor ever since.
Kai: Friendtor. All right. Paul, you are the monuments guy in this conversation. It's your life work. What drew you into this field in the first place?
Paul: I have to say it was really some experiences I had going to Berlin for the first time. I'm Jewish and queer and didn't grow up really being told to think about my legacy in Germany and Berlin, that it was a traumatized space. I really felt more comfortable being Jewish in Berlin than I did when I was a student traveling in almost any other space in Europe. It was encountering monuments and memorials that were big as a city block and others as small as a cobblestone.
It was seeing the range and there's this feeling of, yes, there is a profound amount of trauma and pain, but there was also a lot of joy and release and catharsis by not having to push the story under the rug. The scars of the city of Berlin lived on the surface. It made me think about what would it take to feel that same way about my hometown or about American cities. That really kicked off my interest in what would become Monument Lab.
André: As you talk, Paul, we have a history, and I'm remembering you calling me from Berlin or call me from some Dark Castle as you were working on your dissertation. How did you get to the Rocky statue?
Paul: I credit my mom is the person who when she asked me a few years ago I was teaching a class on monuments and memory and mapping, and she said, "Oh, you're going to talk about the Rocky statue, right?" I looked at her with a certain look and she looked right back at me. I really credit her. She's a lifelong Philadelphian, a retired Temple Professor. She said, there's something there. People line up every day, no matter the weather, no matter the time to take a picture with Rocky.
As we found out over four million people visit the rocky statue each year. That's Statue of Liberty numbers. Just with that pull in I realized that I had to as we say in the series, the statue, I had to get off my high horse and really understand and meet people where they were. It pulled me in to think about maybe there's something that we can decode about monuments more broadly by looking at this statue to the most famous Philadelphian who never lived.
Kai: André, what about you? What was your relationship to this statue? Again, it's a movie prop actually that has become a monument. André, as somebody who grew up there, what was your own relationship to it?
André: I was just thinking about the series of Rocky movies because they felt like Philadelphia movies and survivors, Eye of the Tiger was just a chant in the streets back in the day. That was Rocky III and that's when that song came out and everybody was dunk, dunk, dunk.
[music]
André: I think I didn't grow up going to it or knowing about it. I didn't know about the Philly Museum of Art where the statue lives. I just heard it. The little kids in North Philly were humming the song and it became a national song. When you hear it, you feel something.
[music]
André: Even though I had never really been to the statue or been to the museum where that statue was held, for me, the rocky statue was a strange sense of pride in Philadelphia being gritty, being a survivor place, being that we look into the eye of the tiger in Philadelphia, we'll just do what we need to do to get by. I felt connected to it. I see it in the podcast. We got hoagies, we got pretzels, and we got Rocky.
Paul: I think what I see now from the perspective of working on this podcast, when I go and talk to people at the line I'll find people from all over Philly, but I'll meet people as I have from Kuwait who comes to the statue, from Mumbai, from Mexico City, from San Diego. In the podcast, we talked to a man who fled the Taliban and chose Philadelphia because of the Rocky story.
Just those moments, it put something else into perspective where Rocky is this backdrop of the city, but that line between art and life is constantly blurring. It made me want to ask more questions about it and dig into it.
Kai: In digging into it, Paul was reminded that Philadelphia does already have a real-life story of a hometown hero boxer, except he was Black.
Paul: Joe Frazier was a real-life heavyweight champion. He lived in Philadelphia, he was born in South Carolina, and he was the first person to knock out Muhammad Ali and was a lifelong rival with Ali. He is a really important figure both in the history-- I mean, the history of Black boxers in Philadelphia.
Kai: Why doesn't Joe Frazier like Rocky have a monument with millions of people coming to visit it every year? Well, that's next.
[music]
Kai: Smokin' Joe Frazier stepped onto the boxing scene when he fought through an injury in the 1964 Olympics and became the only American fighter to win a gold medal that year. When he went pro, he used his powerful left hook to scrap his way to the world heavyweight title. Now, Muhammad Ali was of course the sports reigning celebrity, but Ali was banned from competing because he refused to go to Vietnam.
Frazier campaigned and petitioned to get Ali reinstated. When Ali finally came back, the three fights between these two athletes, they were and still are considered some of the greatest in boxing history. Which is to say he was Rocky. In the podcast, the statue, Andre, takes Paul to visit Joe Frazier's Philadelphia Gym.
André: Have you ever been to this corner and stood here, been here?
Paul: I've driven by it many times, but I've never stood here.
André: There are weeds growing next door to it in the fence-off area, next to the tracks. It's very Philadelphia in the sense that it's not open, it's not preserved, it's not used, but it's here and it's strong.
Paul: We stopped, lost in thought at what looked like an abandoned building.
André: We're looking up at a pair of boxing gloves across from the sign that says Joe Frazier's Gym.
Kai: André, tell us a little bit about where you were in that moment.
André: We're in North Philadelphia on Broad Street at Broad and Glenwood. It's the Glenwood section of North Philadelphia. It's the Deuce Deuce, as many people call the area. It's very complicated, beautiful, wonderful, difficult area where I grew up. A lot of lower-income families, primarily Black. Joe Frazier's Gym was this place that children were invited to get off the streets and take lessons in boxing and move towards improvement in life.
Joe Frazier opened that up. It was the place where he trained. Then he opened it up because he really saw that there were children who needed an outlet. It's a sacred land for some people in Philadelphia.
Paul: Joe Frazier was the person who ran up the art museum steps and punched meat carcasses before the character Rocky did. Even though there are a number of boxers that Sylvester Stallone drew upon to tell the story of Rocky, Joe Frazier's story's front and center. Joe Frazier has a cameo in Rocky 1. Joe Frazier was supposed to play himself in Rocky 3.
Kai: I love this fact.
Paul: The film where the Rocky statue's dedicated. That was the idea that Stallone had was to have the film Rocky Balboa fight real-life Joe Frazier. They went into the ring for an audition and as Stallone described it-- he got hit. It felt like a falling piano, and he got stitches. Ultimately, the plan was dissolved. I think what really struck is when we talk about it in the podcast is the extraordinary and the ordinary.
That when you're at the art museum steps and you see a line of people by the Rocky statue from all walks of life, there's something profound happening there. That's extraordinary. At the same time, when you're at Joe Frazier's Gym, which is shuttered and just a few miles away, you see the lack of preservation and acknowledgment of real-life boxers, especially Black boxers in the city. There's a disparity of resources. That's ordinary when it comes to monuments.
Kai: How is it that Joe Frazier's Gym ended up shuttered and overgrown with weeds and all of this stuff?
André: From my eyes as a kid walking around, it was hopping, it was busy and then all of a sudden, it was just shuttered. We didn't quite understand as kids in the neighborhood what happened.
Paul: What I can tell you is that the relationship that Frazier had to the gym was very intimate, that he not only trained there, there's iconic photos of Muhammad Ali right outside, but he lived above it. Later on in his life, he fell on financial problems and lost the gym. There were hopes to be able to get it back to turn it either into a gym or to a cultural center. It slipped outside of the family's hands.
Thanks to the work of the National Trust for Historic Preservation, and especially people like Brent Leggs, the gym got designation on the National Register, which means that it can't be demolished, which is not the case for a number of important sites of Black history in the City of Philadelphia that doesn't get that status. At the same time, the developer who owned the building said, "Now, I'm going to charge more money for it." It's really stuck in limbo between being a beacon of the community and its future status, which is yet to be determined.
Kai: Wow. I was going to ask you, Paul, do you consider it a monument? As a monument specialist, is that a monument? I guess not. I don't know. How do I think about that building?
Paul: A monument is in the eye of the beholder. I think when it comes to both people in Philadelphia and to fans around the world, it is. It has all of the facets of monumental architecture. It has Joe Frazier's name carved into it. I think the biggest part for me is the role that has played. There is no single definition of a monument in our culture. When you talk about monuments, you are, of course, talking about bronze and marble symbols on high.
We also use the word monument to talk about archaeological sites, national parks, ruins, and also those unintentional monuments, a shuttered building. We even talk about monuments as monumental architecture, poetry, protest, projection. Monument Lab defines a monument as a statement of power and presence in public. While that is really important to note, I just want to say, just because you are considered a monument doesn't mean there is an equity.
In fact, there's a gross inequity when it comes to the resources that we see, especially the Black cultural sites in this country.
Kai: In your work at Monument Lab, how often have you seen examples like what has happened in Philly with Joe Frazier and his gym, and the missing story of the city's actual, real-life underdog boxer?
Paul: I think about our National Monument audit. There's a few things that stand out to it for me. One of them is in the top 50 list of people who have monuments dedicated to them, there are more Confederates than Black Americans on that list. There are three women on that list of the top 50. The most monumentalized women in this country is Joan of Arc.
There are no US-born, Latinx, Asian Pacific Islander, or self-identified LGBTQ+ people on that top 50. I also think about another item that we found in the audit, which is in our study set, we encountered nearly 6,000 Civil War conventional monuments. 1% of them mention slavery.
Kai: Wow.
Paul: The Civil War was fought over slavery full stop. When I say mention slavery, I mean that the name of the monument, the plaque, or maybe even the record-keeping that's kept behind the scenes, it does not necessarily tell the story of self-emancipated Black folks fighting for their freedom, the long legacies of slavery. It just says the word. That's 1%. We found in Confederate monuments, the word defeat came up only 3% of the time.
I can tell you anecdotally that I see the words like loyal and patriot and statesman. What we came to in this moment was it can be profound to remove a toxic monument or to build a new one. I've seen it be really catalytic to a community that-- especially those that have long been denied the ability to render their heroes and their figures in this enduring way. If we don't deal with the misrepresentations deep down, then we're going to be keeping on in some of the same path that we're on, which is that history is used as a blunt force against those who have to fight for justice and fight for belonging.
André: You've been a great mind since you were six years old, Paul, and I love it.
Paul: I had good teachers from then, including you.
[music]
Kai: Paul Farber is the director of Monument Lab and the host of The Statue that you can get wherever you get your podcasts from WHYY. Paul, thanks for this time.
Paul: Kai, thank you. André, thank you.
André: Thanks, Paul.
Kai: Notes from America is a production of WNYC Studios. Follow us wherever you get your podcasts and on Instagram @noteswithkai. Of course, you can always talk to us by going straight to notesfromamerica.org and looking for the little record button. Theme music and mixing by Jared Paul. Milton Ruiz was our live engineer this week. Reporting, editing, and producing by Karen Frillman, Vanessa Handy, Regina de Heer, Rahima Nasa, Kousha Navidar, and Lindsay Foster Thomas. André Robert Lee is our executive producer, and I'm Kai Wright. Thanks for hanging out.
Copyright © 2023 New York Public Radio. All rights reserved. Visit our website terms of use at www.wnyc.org for further information.
New York Public Radio transcripts are created on a rush deadline, often by contractors. This text may not be in its final form and may be updated or revised in the future. Accuracy and availability may vary. The authoritative record of New York Public Radio's programming is the audio record.