The Radical Roots of Plant-Based Eating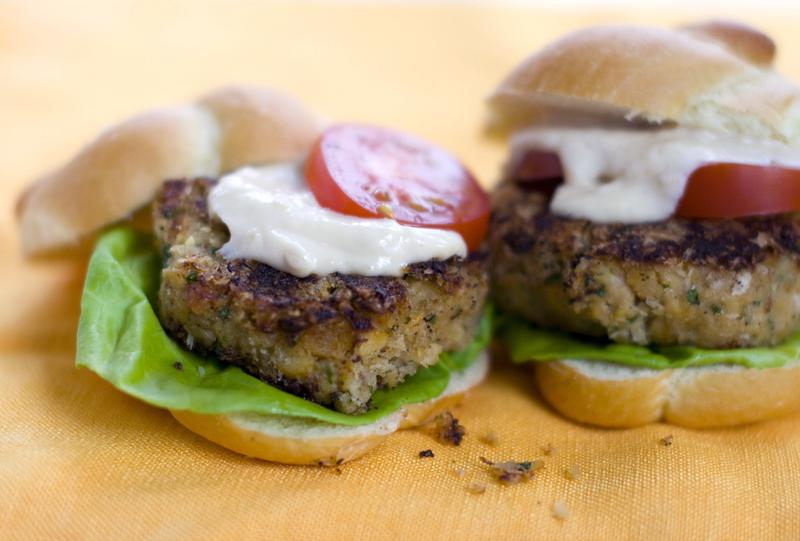 Transcript
Speaker 1: Listener-supported WNYC studios.
Ramsey: Hi, this is Ramsey from Portland, Oregon. My husband and I are eating as much plant-based foods as we can, and we totally enjoy them. We do have an occasional hamburger. We're in our 60s, and we just want to live a healthy lifestyle.
Mikayla: Hi, my name is Mikayla, and I'm calling from Scotland. I just decided to test out plant-based diets, and I cannot square the moral side of eating meat with the actual impact on the animals that are sentient beings, they're aware of their surroundings, they experience happiness. I can't participate in that.
Speaker 4: I am a vegetarian because it's better for the planet, it's safer for my kitchen. [laughs] I just feel so much healthier with all these veggies.
[music]
Kai Wright: It's Notes from America. I'm Kai Wright. Welcome to the show. Alicia Kennedy has spent much of her career reporting on the politics of food, of what we eat, and the consequences those choices have for the planet. She's chronicled that research, including the often overlooked radical roots of plant-based eating, in a new book. It's called No Meat Required: The Cultural History and Culinary Future of Plant-Based Eating. Our producer, Rahima Nasa spoke with Alicia about this history and the question of whether we can pursue a different future for our climate by changing what we eat. I'm going to share her conversation with you this week. We're not taking calls during the show, but as always, you can still talk to us about anything you hear. Just go to notesfromamerica.org, look for the record button, and leave us a voicemail right there. Just remember to include at least your first name and where you're calling from. Okay, here's Rahima.
Rahima Nasa: For the last few years, I wanted my values to match what I eat. It's just I couldn't decide what I wanted to be, a flexitarian, vegan, vegan-curious, plant-based. Does it even matter? I first started thinking about these terms early in the pandemic. A global health emergency and a supply chain crisis seemed like a good time to make some changes because it was more clear than ever that it eating meat wasn't going to be sustainable. Lucky for me it was a good time to make these changes because there are so many good options available. Around the corner, there's a plant-based deli that sells a delicious buffalo chicken wrap made of seitan instead of chicken. There's a vegan bakery that can make croissants without butter that are so good, you can't tell. My local grocery store now has endless options for non-dairy yogurt.
Listen, to be fair, I do live in Brooklyn. This would be the place where you would find so many plant-based options. Even when traveling outside the city, I noticed that there are more and more things to eat for vegans at fast food restaurants like Burger King, Dunkin' Donuts, and McDonald's thanks to the rise of alternative meat companies. Having these so readily available feels like a good thing and better for the planet than eating a hamburger made of beef.
Alicia Kennedy: I think what's getting lost is that these companies are selling themselves based on the ease of their product and the ease of this switch that people can make without really interrogating those deeper aspects of agribusiness in the food system that are really causing a lot of harm.
Rahima Nasa: That's Alicia Kennedy. She used to be a strict vegan, but now she eats a plant-based diet. She's been writing about plant-based eating in the US for a long time, and Alicia set me straight.
Alicia Kennedy: These are still based on mono-crop agricultural systems. These are still intellectual property that is owned and profited from. These are often companies that are still owned by big meat companies as well, like Tyson or Smithfield. These folks have gotten their money into ultra-processed, plant-based faux meat products. We're not seeing a deeper switch in terms of transforming the food system toward ecological well-being, farm worker, and labor well-being. We are not seeing these companies that want to be in fast food restaurants ask these fast food giants to also change their practices around sourcing other ingredients or increasing wages for workers and that sort of thing. Conditions for everybody aren't increasing simply because more people are eating a plant-based burger. It really shows the limits of what it means to get into the mainstream if it doesn't really change the way the system is working at large.
Rahima Nasa: A lot of these companies are using the fact that, or promoting the fact that eating plant-based is better for the planet, but they're not actually really doing anything.
Alicia Kennedy: I think that's also why it's so important to interrogate what companies mean now when they're saying, "We're plant-based, we're going to feed the world, we're going to save the world." We already tried this and all it did was get swallowed up and co-opted and sold back to everybody at a very expensive price. What is the difference between what people are saying is plant-based eating like the impossible meats, beyond meat and just being a vegan? It's so interesting because these really are synonyms in a lot of ways, but plant-based because it doesn't have as strict a meaning as vegan has been able to be squirrely about what it really means and what it really signifies. There are items at the supermarket in the freezer aisle you could pick up and they'll say they're plant-based, but they'll have an egg in them or they'll have milk fat or something like that.
For me, I've always thought of plant-based as something that just bridges the gap between vegetarian and vegan. Vegan also has had this bad cultural connotation. Going back to the 90s, folks have used plant-based in certain organizations to differentiate themselves from that kind of vegan baggage. We've seen that it works. I would call it a bit of greenwashing to use the phrase plant-based on things like impossible burgers or beyond meat because they're not being very clear about their sourcing and what's going on.
Rahima Nasa: That's where I get conflicted too about an impossible burger being available at a fast food restaurant because now my dad knows what an impossible burger is and it's something he would try because it's at a place that is in front of him.
Alicia Kennedy: Legible.
Rahima Nasa: Yes, exactly. How do we negotiate that or balance that?
Alicia Kennedy: It's one of those things where it's not really up to the individual to fix. I do think that having the Burger King impossible burger accessible, legible to a huge amount of people is 100% a good thing. Especially if we were doing things that would ensure that these impossible burgers were made in line with some good ecological principles, some good labor principles. There was transparency on that level, but at the same time, it's very difficult to say what the future of this kind of eating could be because we're in a liminal space in terms of where we are, where we've been, and where we're going because we have seen the stock and the availability of plummet, of impossible and beyond, and we're seeing people eating more meat again and that's not how to go forward in terms of climate change.
We're at a real precipice in terms of how do we change people's behavior around meat, but the problem doesn't lie with individual choices. Individual choices have a role to play insofar as they influence the collective, but it's about subsidies for meat and dairy and industrial animal agriculture. It's about how little the government cares about breaking up agribusiness and how much leeway we give these massive companies and allow them to take advantage and be still the cheap option in the supermarket. Even when there are smaller companies making food and getting on the shelves in the supermarket, eventually you're going to see a big company undercut that and get themselves out there for cheaper. It's not the individual struggle, it's a political struggle.
Rahima Nasa: Plant-based eating as a political act actually goes back decades. Hippies, activists, punks, groups typically on the fringe, typically reject the status quo, including what they eat.
Alicia Kennedy: In the middle of the 20th century, people started to have more of a consciousness about a lot of things. We saw Silent Spring from Rachel Carson in 1964, which was really ringing alarm bells around environmental crises. You have the Vietnam War that's causing huge demonstrations, a huge youth movement against the draft, and against war in general and then you have things like the population bomb coming out saying that one day there's going to be too many people on the planet to feed. You have the civil rights movement where there was a strong pull toward vegetarian and vegan food as a way of controlling one's own nutrition, controlling what goes in one's own body.
All of these things were happening, and these seeds were being planted. Then in 1971, we see Frances Moore Lappé publish the book Diet for a Small Planet, it talked about the world's food system as a protein factory in reverse, where, and this is still true, we use 80% of farmable land to produce food for livestock that provides only 18% of calories. This was a big deal because she was making it about hunger. She was making it about how actually there will not be an overpopulation problem on the planet and there won't be hunger if we were growing food in a different way, producing food in a different way, and distributing it in a different way, in a way that prioritized everyone actually being fed. That was a very revolutionary moment.
It was also that year when Stephen Gaskin and Ina May Gaskin formed the Farm Commune in Summertown, Tennessee. It was all this interest in the counterculture and in how people should live, and this rejection of that '50s Americana, American dream notion really fomented in this 1970s, hippie counter-cultural rejection of the ways in which the American food system had been built. These folks were the ones who made it mainstream eventually to eat brown rice, to make tempeh, to eat tofu, and all of these things, and they brought them into the wide American mainstream. This is a common refrain, that the boomers who were hippies are now the CEOs [laughs] with yachts. The same thing happened to the food. The food was really successful and really important for its ability to feed the world cheaply without a huge ecological impact, and then it becomes something you have to go to Erewhon to get.
Erewhon itself started out as a natural food store, and now it's where you go get a $25 smoothie, and so all of these things--
Rahima Nasa: Adaptogen City.
Alicia Kennedy: Exactly. All of these ideas that really came about because of a desire to make life better for folks are luxury items now, and it's a really big switch, so what can the future be if we continue doing things that way?
[music]
Rahima Nasa: Let's put a pin in the future for just a moment, when we come back more on the history of plant-based eating and the people who helped shape it.
[music]
Regina: Hi. My name's Regina and I'm a producer with the show. You may remember that last year we started the Notes from America Summer Playlist. We collected submissions from you and curated a playlist that everyone could enjoy. Well, summer is here again, and I'm happy to announce we're launching our second summer playlist. A couple of weeks ago I had a conversation with the guys from a band called Wake Island. They talked about how music has become such a powerful outlet for identity, filling a need as they search for their place in the Arab-American diaspora. Now is your turn. What's a song that represents your personal diaspora story? Here's how to send us your response. Go to notesfromamerica.org and look for the record button to leave us a message.
Start with your name and where you're recording from. Then tell us the name of that song, the artist, and a short story that goes along with it. Feel free to include a little bit about your background as well. Make it your own, and please make sure that your recording is at least a minute long. We'll gather all the songs and your stories in Spotify playlists that will drop regularly all summer long. All right? I think that's everything. Thanks for coming to my TED Talk and I can't wait to hear from you.
[music]
Rahima Nasa: It's Notes from America. I'm not Kai Wright. I'm Raheem Nasa, one of the producers on the show. Alicia Kennedy takes us on a trip back in time in her new book, No Meat Required to help us better understand what the plant-based movement in the US stood for when it first started. The counterculture of the '60s played a big role in that.
Reporter 5: Never before have the young set the pace as they do now.
Reporter 6: Rock music is the basic ingredient of the hippie life, so too are drugs?
Speaker 7: I don't want to be settled down, and I want to try things out.
Speaker 8: I think that sex is just much groovier when there's love, but there's nothing wrong with just sex for sex.
Reporter 6: As revolutionary fervor grew, the student leaders called the country's whole way of life into question.
Rahima Nasa: Among these hippies was Stephen Gaskin, a charismatic new-age philosopher of sorts. In the '60s, he held classes on Monday nights at San Francisco State. These classes got so popular that he eventually had to move to a bigger venue.
Alicia Kennedy: It's very cultish in its beginnings. [laughs]
Rahima Nasa: Yes, communes, and somehow it always end up like that.
Alicia Kennedy: Yes. There were a lot of communes in this time, and so they all got on some school buses and they traveled from California and found land that they could buy for cheap in Summertown, Tennessee, and this is where they established the farm commune, and they still exist. There are still folks there. They still have a Tempeh lab. They're still publishing books. They still are doing their counterculture work.
Rahima Nasa: What was counter-cultural cuisine? How would you describe it?
Alicia Kennedy: Counterculture cuisine, I would best define it by looking at something like the farm vegetarian cookbook that they put out in the mid '70s through their own publishing house. It was a book that was revolutionary for its time. We would look back on it now and be like, "Ugh," but they were eating rice, they were eating a ton of soy, they were growing soy, they were making coffee from soy, they were making whipped cream from tofu. They were just using soybeans for whatever they could possibly get out of them. This was a big thing for the counterculture, was soy and its potential, but this was a global interest because soybeans have been discussed since the '60s, since the '70s as the crop that can feed the world and can feed the world protein.
They were also eating bread. They were making their own bread. It was also about getting back to whole wheat flour versus white flour. It was about this idea that the processing of foods had removed something essential, and that by putting it back in, we would restore ourselves as well to some sort of better state of being and living.
[music]
Rahima Nasa: Meanwhile, Black activists made the connection between plant-based eating and the fight for racial justice.
Alicia Kennedy: There was also within the civil rights ideology toward a plant-based diet, a desire to break away from the US diet, but for different reasons, because this was a diet built upon enslavement and on enslaved cooks too, and on their wherewithal and their talent, and so there was this desire to break away from a style of eating that had so much of that legacy tethered to it, and so there was a rejection of pork and a rejection-- As well, Malcolm X gave a speech where he said that he would see growing up how much joy white people around him would take in the hunt, and that it was to see folks who took a lot of joy in killing, he made that connection between slavery, between Jim Crow, and between eating meat.
[music]
Rahima Nasa: Other civil rights leaders embraced plant-based eating as a natural extension of a commitment to non-violence. Coretta Scott King, who had been inspired by her son Dexter, who had been inspired by another activist, Dick Gregory, a comedian. He used his platform to speak up about social issues like segregation, the Vietnam War-
Dick Gregory: When I got to that little section that said, "Occupation," I would just write, "Murderer." [laughter] That sounds funny, but we would never be permitted by law to draft a murderer into the army, to send him to Vietnam to kill Viet Cong.[laughter]
Rahima Nasa: -and even the American diet.
Dick Gregory: A lot of people are hooked to beef like drug addicts hooked the dope. Yes, it's beef addicts. [laughter] Yes, you laughing now, but --
Alicia Kennedy: In 1973, Dick Gregory's Natural Diet for Folks Who Eat: Cookin' with Mother Nature came out and it's recently been reissued as well, which I think shows the trajectory of plant-based thinking, understanding its roots in a deeper way. This was a vegan cookbook, and it grounded its ideology in the civil rights movement, in Black liberation. This was not uncommon. I interviewed Bryant Terry, who is a cookbook author. He wrote Afro-Vegan. He edited the book Black Food. He told me that he's had so many mentors in the food movement, like Alice Waters or Michael Pollan or Frances Moore Lappé but what has always been more influential to him was that when he was growing up in Tennessee, the folks around him who were drinking green juice and who were growing their own food were his relatives and his neighbors.
This was never to him a white ideology to eat well and to eat from the land. Also we saw a lot of this overlap with the civil rights movement because it's this realization that the way the patriarchal global structure treats the land and treats animals has commonalities in terms of how white supremacy functions, in terms of how patriarchy functions. These things were swept under the rug. Even in a lot of texts or documents on counterculture cuisine or on hippie food, it's swept away that a lot of the folks who were adherent to counterculture were white. The folks who were protesting the Vietnam War, a lot of them were white. This is swept under the rug and not really discussed. I did want to name the reasons why this happened, and a lot of it was that folks who are marginalized are already politicized.
They didn't need a grand movement to get themselves involved. Also, the counterculture was predominantly made up of people who came from privilege and were able to, and wanted to break from their families in a way and needed to do that in order to live a different life, live an alternative life. Whereas folks who were already marginalized, they were part of their families, they were part of their communities. They were able to be counterculture within their own lives. They didn't need to go to the commune necessarily in order to do that. They also had to work and they had to sustain their families in a real way that a lot of the hippies did not. They were able to go be barefoot and make tofu smoothies. It was a different kind of life that folks were living.
Rahima Nasa: Despite all of this why do you think that eating plant-based or eating "hippie food", is still seen as something for white people or what gets lost around this narrative around hippie food?
Alicia Kennedy: I think it's interesting because throughout history, the vegetarian has been thought of as humorless. When we come to this secular point for vegetarianism and veganism, which I would say is 1970, 1971 when Diet for a Small Planet comes out and the civil rights movement has these attachments to this diet, there's communes, it's coming from a place that's not religious all the time, I think that that's when we see this narrative break apart into factions because one, it's just easier to write nice little New York Times stories about middle-class white families who give up meat and are inspired by Diet for a Small Planet and that sort of thing. Of course, that's going to be the visible narrative that takes root in US culture.
It also makes it easy to continue that narrative of "These are the humorless people. These are people you can't relate to." If you establish vegetarianism and plant-based diet as very far away from acceptability or as a weird thing that's a luxury, then it's interesting because it has so many layers to why it is this narrative. It's easier to maintain that humorless sense and that sense of alienation that comes with giving up meat if you say, "Oh, it's just for those people who are weird." Then it's also because that narrative serves agribusiness, because to keep the idea that vegetarian or vegan eating is extremely elitist means that folks who don't want to be seen as elitist will not pursue that. You're taking out a lot of folks who might already be interested in eating a plant-based diet because they are being hidden from the intersections in terms of labor, in terms of ecology and that sort of thing.
There are so many progressives that I know who still would eat Tyson chicken nuggets, even though they would supposedly care about labor rights. It's a very multifaceted problem but that has changed so much in just the last half decade.
[music]
Rahima Nasa: Another big milestone in the movement happens in the '70s with a group of feminists who cared deeply about the environment, the Bloodroot Collective.
Alicia Kennedy: The Bloodroot Collective is a restaurant in Bridgeport, Connecticut that still exists today, and it is still run by two of the same people who founded it. It was founded as explicitly a feminist restaurant, a women's space, a space for consciousness-raising where they also sold books and had events and had different gatherings there in order to get women together in a time when that was a really cool thing to do, in the 1970s. These were folks who were leaving their husbands, they were choosing political lesbianism and they were finding out that when they were digging into a feminist ideology that there was also a notion very strong within what's called ecofeminism toward giving up animal meat. Ecofeminism is a philosophy that suggests the oppression faced by women is similar to the ways in which we have oppressed the earth and its animals in numerous ways.
The Bloodroot Collective has taken up that sort of philosophy in their approach to food. They have always been a vegetarian space, but they have always also been against fat phobia in their space. They have really tried to make vegan food over the years. Their first couple of cookbooks were called the Political Palate and the Second Seasonal Political Palate. They also really wanted to serve seasonal and local food as well. They also always wanted to bring in the foods of the cultures of the women who entered their space. Their cookbooks are quite diverse and really reference their community. That was a really interesting thing that they were able to do with their cookbooks. It's a fascinating space for the fact that it still exists. It's one of the few feminist restaurants that still exists in the United States.
Rahima Nasa: With the Bloodroot Collective they're obviously a group of women who are keenly aware of the trauma around disordered eating. How do they respond to that kind of thinking when it came to people coming to their restaurant or just even asking them about it?
Alicia Kennedy: Well, they have a really great sign over their register that says, "Out of respect for women of size, do not comment on the richness of the food or the size of anyone's body," and that sort of thing. For me that when I first went there in 2015, that was a real eye-opening moment for me because I was like, "Oh wow, this is a feminist space."
[music]
Rahima Nasa: There is almost always tension when putting radical feminism in the same space with anything diet-related because American diet culture is anything but radical or feminist. A listener named Dawn in Philadelphia feels this deeply.
Dawn: I have been a vegetarian for 14 years now. I started when I was 13 and it completely started from a terribly unhealthy place. I had ingested all of the beauty standards of the culture at the time, born in the mid-90s, grew up with, "Oh, be skinny, low-rise jeans," et cetera, et cetera. I was like, "Oh, being a vegetarian is the easiest way to restrict", but now I am a vegetarian because it's better for the planet.
Rahima Nasa: I grew up seeing many young people try out veganism to make their bodies smaller, which is a huge departure from veganism's radical roots. How did it even get there?
Alicia Kennedy: I think that fat phobia diet culture, these are deep strains in US culture and they have to be rooted out in various ways but plant-based eating has kind of glommed onto fat phobia and wellness culture in ways that have been really damaging and really off-putting. We saw, especially with the raw foods movement, a real attachment to this idea that you could glow or that you could detoxify yourself in some way by eating raw foods. Then you see books like Skinny Bitch, and that was really, really explicitly like, "You go vegan because it'll make you skinny." There are a lot of vegans out there who have really tried to shift this narrative, who have really tried to be visible in being fat and being vegan and saying these things are not mutually exclusive.
[music]
Rahima Nasa: This rejection of the status quo is what made plant-based eating so attractive to counterculture hippies, civil rights activists, and even anarchist punks. To reject meat was to take a stand against a fundamental element of this country's national identity.
Alicia Kennedy: Because meat is really symbolic of what it means to buy in to individualism, to buy into the taking of land, taking advantage of a workforce, and that sort of thing. If you ask me, these are really tied up in our national ideology. It's growth, it's take, it's use until it can't be used anymore. That's all really tied up with the meat industry. It's about getting out into the West and then building the railroad and that's how made meat this staple of folks' diets, beef especially.
[music]
Rahima Nasa: Knowing all of this history makes me feel hopeful about the path forward. Where do we go from here?
Alicia Kennedy: If we did things in a way that was in line with what the planet can handle, in line with what labor can handle, in line with not cruelly containing animals in factory farms, if we changed those things and put more resources into a diverse array of legumes, grains, vegetables, fruits, in a way that supported really significant regional biodiversity in the United States, there would be less meat. That's it. There would be less meat to eat. People are going to have to change no matter what. Also, the thing is that are we going to see that change happen on that grand scale unless people also start to say, "Hey, I don't want to be a part of a system that is so exploitative and so destructive?" Probably not. If we want the big cultural shifts and the big political shifts, I think we also have to make the decision to see the power of what we can do collectively.
[music]
Kai Wright: That was producer Rahima Nasa talking with food writer Alicia Kennedy about the history of the plant-based eating movement. Her new book is called No Meat Required: The Cultural History and Culinary Future of Plant-Based Eating. Notes from America is a production of WNYC Studios. Follow us wherever you get your podcast and on Instagram at Notes with Kai. I'm Kai Wright. Thanks for listening, and I will talk to you next week.
[music]
[00:33:20] [END OF AUDIO]
Copyright © 2023 New York Public Radio. All rights reserved. Visit our website terms of use at www.wnyc.org for further information.
New York Public Radio transcripts are created on a rush deadline, often by contractors. This text may not be in its final form and may be updated or revised in the future. Accuracy and availability may vary. The authoritative record of New York Public Radio's programming is the audio record.