Putting An End To Toxic Cop Culture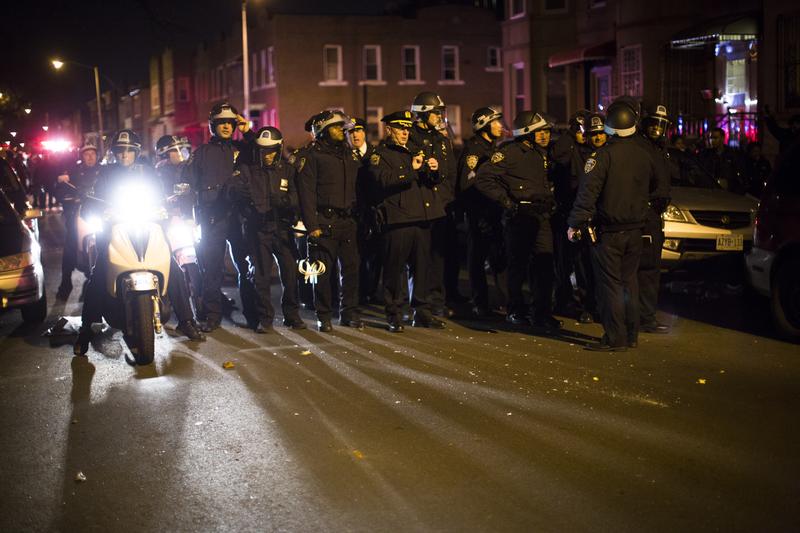 Transcript
Kai: Hey. It's Kai, and I want to share a conversation from our archives about the culture of policing. We're, of course, still following the story in Memphis of the police killing of Tyre Nichols. This is yet again a story about the police killing an unarmed Black person who doesn't appear to have had any reason to be interacting with the police in the first place.
While we were covering one of the many previous cases of this nature, I talked to a former police officer, Marq Claxton. He's now the public affairs director for an organization called the Black Law Enforcement Alliance. He's a vocal advocate for reform. He spent two decades serving in the New York Police Department. Based on that experience, he says his former profession must either "evolve or die". We spoke in April of 2021. Take a listen.
Marq, thanks for coming on the show.
Marq Claxton: It's great to be here. Thank you so much for the invitation.
Kai: You first joined the NYPD in 1985, which was more than 35 years ago now, and a very different New York City. I just wonder what drove you to join in the first place. What were you facing then versus what you faced toward the end of your career?
Marq Claxton: That's a great question. Well, what compelled me to join the NYPD was my mother. My mother's desire for me to have a good paying job with benefits long term. I remember, as a young man with her saying to me, "You'll have an opportunity to retire in 20 years, you have no idea how big that would be." I didn't, at the time, but that was really the motivating factor. That's what really drove me to take the exam. Literally, she drove me to take the exam. Of course, like so many other people, I have a strong desire to help and assist people. That's every cop's answer. That also played a role. The determining factor was my mother motivating me to do that, for the security of it.
Kai: I have to ask, Marq, as a Black man, who is a former police officer, in a moment where we just keep adding to the roll call of Black people who have been killed by police, and now this week, here we are, we have yet another in Minnesota, I just wonder how you process that. What is on your heart with that?
Marq Claxton: I feel like so many other Black people feel, I feel vulnerable. I feel susceptible. I feel more in danger, with every killing, than I've ever felt. I really feel it. I am concerned. I'm concerned for my family. I have sons. I have other family members. My feelings, and there are advantages and disadvantages to offering commentary on so many of these cases. The advantages, I get an opportunity to really give some professional perspective to them, and to speak to my community specifically about some of the dangers we are facing and some of the dynamics within law enforcement. The disadvantage is that, when it's video, I get to see it over and over and over again. It seems nowadays it really has increased my level of fear and concern for my greater community, and of course, my family.
Kai: Well, thinking about all those years you spent on the force, two decades, it's a long time, I wonder what, if anything changed in the culture of policing over that time? Did it shift at all from the beginning to the end of your career?
Marq Claxton: You said something that's key, and that is the culture. Since I've concluded my career with the NYPD, there is not much that has changed police culture. It is still as insulated as us against them, as no one knows what we do except for us, we're against the world, we defy everything that's outside, any instances of reform, any suggestion about reform or change or update or upgrades. The culture itself, the cliquishness of it, still very much exists. It preceded my career, and it has continued up until this day, from what I can see.
I don't think I've realized, even during my time in the NYPD, how strong and just how toxic the culture was that would prevent any significant or substantive reform. I don't think I grasped it. There were incidents that occurred throughout my career that I thought, "Okay. Well, this will definitely change things, or this will making a difference, or this will change that behavior or that policy." Then when I saw that it didn't happen, regardless of how egregious and crazy it was--
Kai: What do you think that's owing to the stasis in culture in that way? Because anything else over the course of 30 years, journalism has certainly changed. Probably almost every profession, people would say, "Yes. The culture of my place has changed a lot." Why do you think that's true for policing that it doesn't change?
Marq Claxton: Well, I think it's because other professions have national standards, and other professions are constantly evolving to stay updated and current. Other professions consider outside input, and are influenced by outside factors. Policing and the profession of policing really remains quite insulated, and isolated. The way police look at it, is only police know what police do, what police should do, and how police should do things. It's a very different culture. It's not a typical profession, and that's a shame, to be honest with you.
Kai: I wonder about how all of that then shows up in our interactions with police, our individual interactions with police. Over and over again now, we're talking about cops who get afraid, and then someone gets hurt or killed, and I genuinely can't understand it. This is the person who has the gun, gets afraid. It feels easy to say, "Well, okay, they're racist, and they're monsters and goblins, and they then need to kill those monsters and goblins." Can you help me understand the mindset of a police officer in a moment when they show up on a scene that might lead to these kind of violent interactions we keep talking about?
Marq Claxton: Well, to be honest with you, fear is quite normal. Fear is a regular companion with police officers on the street. I've had a lot of assignments that are considered to be just dangerous assignments, and there have been many times throughout the course of my police career that I was fearful.
The challenge or the requirement of being a professional police officer is how you manage that fear, how you interpret the events around you in real time, and how you can keep clear head and make wise judgments and assessments in the midst of the most chaotic or dangerous situations. That's the skill and the art of professional policing.
What happens too often is that individual police officers go into situations with perhaps fear, along with ignorance, along with the bias, then make decisions based on their general beliefs as opposed to what stands before them. Then, a point that I've been making for several years, is that we can't ignore the fact that a lot of police enforcement is race-based. If you start off with race-based enforcement, and then you include in that an individual who goes into a certain level of bias, fear, concern, and this stubborn defiance, and doing things a particular way, to all of these type of people, you end up with the tragedies that we have ended up with across the nation.
Kai: You're listening to my conversation from the spring of 2021, with former NYPD detective, Marq Claxton, who is now a vocal advocate for police reform, and a leader in the Black Law Enforcement Alliance. Coming up, I asked Marq how the stubborn culture he describes inside policing should inform any ideas about reform, and what can actually create change? That's next.
[music]
That stubborn defiance you talk about, it makes me ask some fundamental questions about reforming police when you have this kind of culture that you've described, and what kind of reform is actually possible, given that culture. In the past year, certainly, we've seen this such a shift in mainstream conversation about policing, and it feels like a lot more people, just at minimum, agree with the idea that police are involved in far too many things, regardless of how they do it. We have too many police and doing too many things. Do you agree with that?
Marq Claxton: Yes, I do. I come from a mindset I'm comfortable with re-imagining policing. I'm very comfortable with it, and I believe it's necessary to do that. In your professions, there is evolution. When you know better, you do better. If there is a better way, you seek that better way. Sometimes that better way decreases your role in society. Sometimes it increases your responsibilities. I have no problem with re-imagining police because when you think about it, most of the calls that you responded for as a uniformed police officer in patrol, deal with motor vehicle accidents, or people who need medical assistance, and you go in there, or a building is burning down before the fire department gets there, or while the fire department's there, you respond to that.
There are a lot of areas that could be handled by people who don't necessarily carry guns, who don't necessarily come with the history, and the stigma attached with their appearance. If you delegate some of the responsibilities that are traditionally police responsibilities, you have less interactions with people, you have less opportunity for the police to stop someone for a relatively minor traffic infraction, not even a crime. Somehow this incident during the interaction turned into a fatal shooting, or choking, or strangling. Re-imagining police is not only necessary, the reform is going to come in one form or another.
Kai: How far does that go, though? What about the natural extension of that idea, which is that like, well, we can do better than policing as a model for dealing with our problems in society all together? We can just start over and not have cops. What about that?
Marq Claxton: Well, understand, I come to this with certain bias. That is because I had a full career in law enforcement, but like I said, I've had many conversations with people who layout for me, who pose that question, and who box me in. As matter of fact, two weeks ago, Melissa Harris-Perry, who used to host on MSNBC--
Kai: We've had her on the show.
Marq Claxton: She posed this question to me and boxed me in to think about it, but do you really need the police? My reflex, of course, is yes, in some capacity, you do need because there are dangers, et cetera, but I'm open to analyzing and looking at those areas that don't necessarily require a uniform presence with a firearm, and the potential danger. What's sad about that is that the police have put themselves in a position where people are even considering whether or not you need it, you unnecessary, because of their actions and their refusal to even change or modify their behavior, and their decision to play certain communities, particularly communities of color in increased danger, has caused people to say, you may not be worth all the trouble.
Kai: Certainly for me, part of what's driven me to that is, there have been so many efforts at technocratic reform, and now here we are, after this shooting in Minnesota, where an officer accidentally drew their gun instead of their taser, and we're debating what's the best way to make officers draw their taser instead of their gun. It just seems absurd. The question in this for me is, with all of these failed efforts at reform, is it not reasonable to get at a point where we say, well, maybe reform's not possible, maybe there's something about the culture of this thing that just makes it unmovable?
Marq Claxton: It is reasonable to question that. It is reasonable. Now, that's where the police will oppose you, because for them, it's not reasonable even considering half the discussion, but is it reasonable to have it, I think that it is. Nothing changes unless you incentivize, or you penalize. That's it, it's very simple. If you have whatever reform idea that you want to move forward, built into it, better be incentivizing it, or penalizing non-compliance with it. Otherwise, it is a failure, it will not work, because the police, they don't understand negotiated settlements and arrangements and modifications to the way things are. They don't even want to address or deal with or even learn the history of policing. They don't want to know it. It's not relevant to them.
Kai: That's interesting. Even amongst police officers, you feel like there's not this hunger or desire to know, oh, this is where my profession came from and what it's about.
Marq Claxton: That curiosity doesn't exist, and part of the reason is because, toxic police culture takes that out again, that curiosity. What matters is right here, right now, us here. It's cultish in many ways. There's no curiosity to learn origins, because if there was, I would've learned it, they won in the police academy, but right now there will be police academies teaching the history of police and their slave-catching origins. There's no incentive to learn those types of things because they're so busy protecting and defending this toxic culture that they have to exist in.
Kai: It's a silly question because there's not one reform, but if you say you've got to penalize and incentivize, what would that look like? What would be the sharpest version of that?
Marq Claxton: I'll tell you, the elimination of qualified immunity is big, even though it's a civil remedy, but whatever that one thing is, it's hard to go against that entire profession. If you have individuals within that profession feeling increased vulnerability, and increase susceptibility to penalty, then you will see behavior modification. That's why it's important when you have police officers who engage in conduct under the color of law, that you arrest them, they prosecute them, and you sentence them. Because others look at that and go, whoa, wait a second, that's not the department losing a million dollars, or the taxpayers paying $30 million. That's Joe going to jail, next to the guys that he used to arrest. That will modify behavior in ways that you can't imagine, and then there'll be some people who say, "I'm not going along, I'm not going to police them out. Because I was going for a particular reason, and I don't want to leave myself open to that type of penalty."
Kai: Maybe those are the ones we don't need in policing in the first place.
Marq Claxton: Exactly. Exactly right, and that's why you have to really, you have to enforce penalties. You have to be as public about it, and as clear about it, and you really have to enforce penalties. That changes everything.
Kai: Marq Claxton is the Public Affairs Director for the Black Law Enforcement Alliance, and a former NYPD detective with 20 years of service.
Marq, thanks for joining us.
Marq Claxton: Thank you.
[00:17:37] [END OF AUDIO]
Copyright © 2023 New York Public Radio. All rights reserved. Visit our website terms of use at www.wnyc.org for further information.
New York Public Radio transcripts are created on a rush deadline, often by contractors. This text may not be in its final form and may be updated or revised in the future. Accuracy and availability may vary. The authoritative record of New York Public Radio's programming is the audio record.