A Pre-Midterms Vibe Check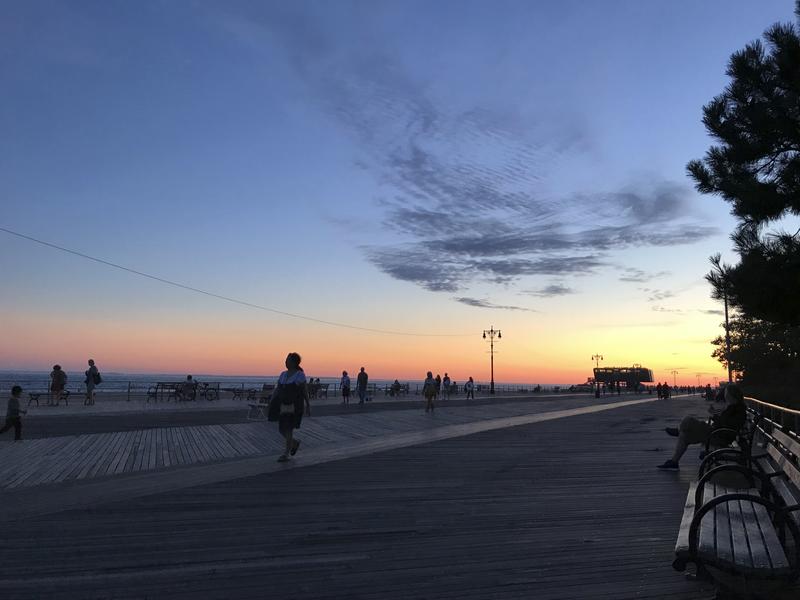 Transcript
[advertisement]
[music]
Kai: It's the United States of Anxiety. I'm Kai Wright. Welcome to the show. Tonight's show is all about you, dear listener. This is a vibe check. As you just heard for a lot of us, certainly for me, these are strange times. It was a summer of droughts and heat waves and natural disasters. Our hearts, of course, are with the folks in Puerto Rico today in particular, as they confront yet another horrific storm. I felt a real dissonance between the material reality of what's happening around us and just a general sense of saying, "I'm going to tune this out for now. Maybe that's a good thing. I don't know.
The pandemic is the obvious example. It is seemingly over in the eyes of officialdom and a lot of individuals, but then everybody I know keeps getting COVID. Of course, we are in an election year that by all sober accounts could push our democracy past the edge of sustainability. Yet I don't think most of us are paying much attention to electoral politics at all. Again, maybe that's a good thing for all of our collective mental health. Anyway, I really don't have a sense of where everybody's at right now. Like really, what's the vibe?
Tonight we're opening the phones to hear from you. This one is your show. Get your phones and your typing fingers ready. I'm going to throw out a few questions to stir the conversation. The first one is about the overall national mood. The classic polling question before every election is whether people feel the country is headed in the right or the wrong direction. The answer has notably trended toward the wrong direction in recent years, which is no surprise given all we've been through. I actually want to hear from anyone who feels like we're headed in the right direction, what is it that you're seeing? If you feel that way, what is it you're seeing that the rest of us are not? For anyone who's feeling optimistic about the future of the country, what is the source of that optimism?
I am joined for tonight's vibe check by WNYC's own Brian Lehrer. As you know Brian leads a two-hour live conversation every day right here on WNYC. While some of y'all have been out at the beach and are just unplugging personally and generally from the public conversation, Brian has been in it and he is probably better positioned than anybody to check the vibe. As we head into the fall and into this big election, we welcome Brian Lehrer. Brian, thanks for coming on, sir.
Brian: Hey, Kai. The vibe is definitely corn boy. Nevermind.
Kai: Corn boy on TikTok. I almost said on YouTube. It's on TikTok. Brian's going to walk us through some of his big takeaways from a busy summer of news. Listeners, in addition to answering my question for all of you, you can also ask Brian questions throughout the hour. For now keep your questions focused on national politics because that's what we're going to be talking about first. If you got a question for Brian about national politics, call us up or if you want to answer my question, call us up, which is again, this, anyone who feels the country is headed in the right direction, what is the source of your optimism? 212-433-WNYC.
Brian, let us talk about national politics and where things stand right now. On September 27th, your show is starting the second iteration of your midterm election series. As I understand it, based on popular demand, you're devoting a third of the series to the topic of democracy, both preserving it and improving it. Is it fair to say that the big takeaway in national politics for you and the listeners you've been hearing from is that concerns about democracy continue to be at the forefront?
Brian: Yes. The series is called 30 issues and 30 days and that's what it's going to be in 30 shows between September 27th and the election. We did as a prelude, a five-part series of call-ins this summer asking, what's your main midterm elections issue for people of different generations, starting with callers in their 20s or below and ending with callers in their 90s and above? Kylie did get our first-ever 100-year-old caller during that segment [crosstalk].
Kai: I was listening. I heard it. It was very cool.
Brian: There were some generational differences, but the through line during all five parts was that people kept raising democracy in peril and nobody raised it more than the 90-year-olds who've seen a lot of history, obviously. Our final caller, maybe you heard it was a 90-something woman who had escaped the Holocaust to come to this country. She was shuttering over the echoes from that era that she sees rising here today. That's a little bit of popular demand context.
Kai: In some ways it's surprising because I think a lot of analysis back in the spring expected that this issue of democracy would fade into the background as we got further away from the Trump era and further away from January 6th. Particularly given more pressing concerns or more immediate concerns around health than around money that people had, do you think it's the house hearings on January 6th that succeeded in keeping democracy in people's minds? What do you think it's owing to that this has managed to stay on people's minds?
Brian: I think the January 6th hearings, yes. I think that's not the only reason, but if you're asking about that, I'd say the extent of the conspiracy to block the transfer of power raised eyebrows and raised perceived threat levels if you want to call it that regarding democracy. I think the committee has done such a good job so far of explaining what really happened in a clear and organized way.
Kai: What kinds of questions do you hear from people than when we're talking about democracy, is it really only like, "Hey, we got to stop these Maga people? How do I do that?" Or is it more than that? Is there something else in the conversation you're hearing?
Brian: Much more. Democracy in peril, I'd say maybe more than anything from the politics of the stolen election, big lie, leading to all these states right now, where they're making it harder for democratic party constituents to vote. Where they're trying to change the laws so that politicians might be able to cancel election results that they pretend are invalid. Republicans in various swing states are running on that. I think it's also from the modern civil war proponents if I can call them that, among some elements of the right leading many of my callers to fear that the January 6th capital riot might be the beginning of an era, not just a one-off piece of lunacy.
Brian: We're going to be in this space for a little bit. Well, let's go to a caller Wilson and Yonkers who I think wants to answer my question about, what he's optimistic about. If we're headed in the right direction, Wilson, welcome to the show.
Wilson: Thank you. Glad to be a part of it. From what I've been experiencing, things I think are moving in the right direction. During the COVID period, I was living with family in far upstate [unintelligible 00:08:15], right on the Canadian border, which is a very red area. I'm not seeing the amount of flag waving and everything I used to see. I think the-
Kai: Oh, I think we lost Wilson there for a second. That's okay. I think I get the sense. He's saying that up there in what was a red area, he is nonetheless in what he was concerned about with flag waving and people being the Maga crowd I think is what he's really talking about.
Brian: I'm curious Kai, maybe for another show, what has radicalized the Adirondack [crosstalk] that's where he was all the way up there. That's the least Stefanic country who went from being this relatively moderate, New York Republican to being, all in on Maga.
Kai: Let's go to Christina and Elizabeth, New Jersey. Christina, welcome to the show.
Christina: Thank you.
Kai: You are optimistic, Christina, what is the source of your optimism?
Christina: I think that there are discussions that are being had right now that we tend to ignore when everybody has plenty of money to spend or the economy is going well for certain groups of people. I think we start ignoring poverty. We start ignoring homelessness problems. We start ignoring migrant problems. I think right now, we have an opportunity to have a conversation about how bad is healthcare for everybody. How bad is our situation with migrants, how bad is different aspects of people's lives? We have an opportunity to do something about it. Even with the pandemic, we have seen the government can step in. and start paying for testing for people. The government can step for paying for certain aspects of health care. I think since we're having this conversation and we never have it when things are going, "right"? Now the opportunities that we might not get otherwise.
Kai: Can I ask you, Christina, because this is something that we talked about a lot back in 2020, even you know when the pandemic first started in? Oh, we can't go back to normal and everybody was saying, "Yes, what's the opportunity to do some of these things, and along in an ongoing way." In your own life, in your social circles, do you find that people are in fact ready to have the kinds of conversations you're saying, this is an opportunity to have? Are you seeing that?
Christina: I'm actually seeing more people talking about politics and what's going on in our country than I've ever seen. I've been into paying attention to politics maybe for the last let's say 10 years myself. Then maybe the last 3 years. I suddenly see people wake up and start paying attention in ways that I haven't seen before.
Kai: Got it. Thank you, Christina. I got time to sneak in one more real quick. Let's go to Deanna in Manhattan. Deanna.
Deanna: I am absolutely thrilled. I am really doing something that most Americans should be doing. If you don't like the candidate, find a way to vote them out. What happened was with me was an amazing story. Our previous mayor offered small businesses like myself an opportunity to get a grant because it all went during COVID to the big companies. My representative promised me he'd send it in for me because I was a victim of identity theft, and he never did it. He sat on it. He never returned my calls for months and months and months.
I was waiting for this money that I really needed. I just kept praying and praying and praying. Then just three weeks prior to the primaries, I got a call from the Democratic Party asking me what do I thought about our Governor, our mayor, and would I vote for this person or that person. I didn't even know my representative, the one that hurt me very badly-
Kai: Deanna, I got to wrap you up.
Deanna: Wait, primary businesses. I ended up calling the woman he was running against which I didn't know, asked her if I can make 5000 calls for her to help her get elected. That's the way you're happy about democracy. That's the way you make change. God bless America.
Kai: Thank you very much, Deanna. I'm Kai Wright, we're doing a five check tonight with WNYC's own Brian Lehrer. We'll be right back after a break.
[music]
Welcome back, I'm Kai Wright, and I'm joined by WNYC's own Brian Lehrer. It's a vibe check tonight, guys. I'm posing some questions for you to get a sense of where people are at, emotionally and mentally as this really strange summer concludes and as we head into a huge election. We've been talking about national politics but now I want to pivot a little bit and talk about personal and public safety because that's been a huge aspect of our lives lately. It's come up a lot in the news.
Our next vibe check question for everybody is going to be on this topic. On a scale of 1 to 10, how safe and secure do you feel right now? I mean beyond crime, though that's certainly part of it, but I'm also thinking about stuff like public health, or about some of us whose lives are often the subject of people's political debates, transgender and queer people, for instance, or immigrants and Muslim Americans. Whoever you are, and however you think about safety and security, answer this for me on a scale of 1 to 10, how secure do you feel right now?
Of course, if you have questions for Brian Lehrer about anything it's a, what do we call it, an ask you anything segment. Ask the mayor segment, it's an ask Brian anything segment. You can call us up for that as well. 212-433-WNYC. Brian, safety is another big touchstone in your upcoming series 30 Issues in 30 Days. It's just been such a huge part of the conversation in New York this summer. How would you rank us overall? As you've observed this conversation about public safety this summer, where would you put the general anxiety on a scale of 1 to 10?
Brian: Oh, boy, 1 to 10 is hard, but it's higher than it's been in more than 20 years I would say. Not because crime is as high as 20 years ago, but because it's going in the wrong direction for the first time since more than that. I go very high with your scale and give you probably an 8 if I have to name a number, but I frame it more as crime and criminal justice, not just crime because I think there's a tension in this city and in the country generally.. I think I'm not telling you anything that you don't know but a tension between what I would call not wanting to go back to the bad old days of one kind, or another kind.
People don't want to go back to the bad old days of violent crime, like the 1970s and '80s, in New York City. They also don't want to go back to the bad old days of mass incarceration, like the '90s and early 2000s. Arguably still today but incarceration has come down over the last 10 years in the city. Bill De Blasio would tell you that reducing the Rikers Island population by thousands is one of his proudest accomplishments. Now it's going back up. A central question for society I think, in New York City and elsewhere is how do we find the right balance or better yet whole new way of approaching public safety that doesn't make it just a tug-of-war between those two dystopian battle days, depending on who you are?
Kai: Just to get into our collective psyche for a minute, you said maybe it's about the change in crime rates but I do wonder, crime rates are going up, but they're still historically low. It's so profound of a concern, I heard one of your shows about New York's job recovery, and that we're lagging behind the rest of the country and that this is because of fears of crime that suburbanites people outside of the city don't want to come in, and that slowing job growth. It just feels like it has become this concern about safety, it feels like it has become just a really dominant issue here and I think in a lot of cities around the country. What do you really think is behind it if it's not just the numbers?
Brian: Well, somewhat, it is directional. People feel differently if something is getting better than if something is getting worse, as opposed to the absolute numbers but also crime is such a big media story. The tabloids and local TV news play up the most sensational crimes because people are already concerned but they play them up like they're the new normal for most people. I would say people in the suburbs since you cited the suburbs, who come into the city, let's say those who come in mostly for theater or other cultural events are the most susceptible to seeing things as worse than they are, and maybe commuters to work to but at least the commuters have daily contact.
There is also COVID. We are in a steady state, as you mentioned at the top, you made a reference to it. We have about 15 people per day dying from COVID all summer in New York City, according to The New York Times COVID tracker. That compares to less than two murders citywide per day, by the way, if we want to compare COVID to fatal crime. These things combined keep people jittery even as people return to pre-pandemic activities to an increasing degree I think.
Kai: I'm talking with WNYCs Brian Lehrer about his big takeaways from our disorientingly busy and high-stakes summer of news I have to say. We're taking your calls right now. As part of our vibe check tonight, I'm asking you, how safe and secure do you or don't you feel? On a scale of 1 to 10, how secure do you feel right now? Let's go to Cooper in Brooklyn Heights. Cooper, welcome to the show.
Cooper: Hey, how you doing?
Kai: I am well. What about you? On a scale of 1 to 10, how do you feel and what puts you at that place?
Cooper: I rate it about a 2. Just because I think long-term, the effort to curb climate change just isn't really happening at the speed it needs to so as much as like crime rates go up, crime rates go down or something like that. That's all deck chairs on the Titanic.
Kai: Okay, deck chairs on the Titanic. Brian, how often do you hear that?
Brian: Oh, I hear it a lot. In that generational calling series that we did, it was interesting to me. Of course, this is a thoroughly unscientific sample but the callers who most mentioned climate change were the youngest cohort, 20 and below. We had a 15-year-old who called in, talked about climate change, and the oldest cohort. I think that that's because the youngest people among us, they have their whole lives ahead of them to worry about the increasing threat of climate change. Maybe the older people, the old desk people that was the 90-plus cohort takes the longer view. They're not so worried about this week's grocery bills for raising their kids and that kind of thing.
Maybe the youngest and the oldest have the longest-term view among us, but we certainly hear climate a lot and enough that we this year, instituted a weekly climate story of the week segment to make sure that it stays front and center where I think it needs to be among these things that seem more tangible enough at the moment.
Kai: Let's hear from Onika in Brooklyn, welcome to the show.
Onika: Hi. I was in a high-firm neighborhood. Just last night, I heard a gunshot. Oh, actually early this morning, but I'm more so afraid of domestic terrorism because that has been met historically in the United States within the community. They're street crimes, it's personal crimes. Those are addressed by law enforcement, but domestic terrorism, law enforcement offices are among those who hold those same allegations on the people who perpetrate those crimes.
Kai: Thank you for that Onika. This is Brian, I think it connects to, In my mind, to your democracy questions from our beginning of our conversation. How much does this come up with folks?
Brian: It comes up all the time. We saw an example of the ongoing threat of domestic terrorism this past week when Trump said on a radio show that if he's indicted on any criminal charges, there will be trouble like this country has never seen. What would that mean he's comparing it to? Since the country has seen plenty of trouble over the years. How about the first civil war or it's seen major riots sparked by a variety of things we all know and more? Trump waves that statement off as a prediction, not incitement, but it sure can sound like the time he said, "Proud boys stand back and stand by.: Remember that, rather than denounce them as he was asked to do in that televised presidential debate. Then of course, the proud boys and the Oathkeepers, and others felt that they were called to arms by Trump for January 6th. That's come out in some of their trials and in some new January 6th rioters video from the capital that was released just last week.
Absolutely that plays centrally into people's concerns about democracy.
Kai: Let's go to Jeremy in Prospect Park, Brooklyn, Jeremy, welcome to the show.
Jeremy: Hey, how are you? Thanks for taking my call. Good afternoon, Kai and Brian. Subway ridership and the safety around subways is completely out of control. It really takes away from the quality of living of anybody who lives in New York City, who relies on that public transportation. It just wants to get around in the evening. That to me brings everything what would be a 9 or a 10 down to maybe a 6 or 7. It's got to be an issue. The subways are just a nonsense. I have guests that people coming from out of town visit me and I'm like, "Don't take the subway." That's what makes the city so great is the ability to get around to public transportation and go into Manhattan, go anywhere. That's my take guys.
Kai: Thank you, Jeremy. This again feels relative to me, Brian. I know I talk to other New Yorkers who've been here a long time. I don't know how long Jeremy's been here, who are like, "The subways are perfectly fine." First off, are you able to fact-check? I can't do it off the top of my head, the level of crime on the subway right now. Are you able to do that off the top of your head? Sorry.
Brian: I don't have it in front of me. A lot of other street crime, it's higher than it was a few years ago, but it's much lower than it was decades ago. To some degree, it very much is a matter of perception. There's no single answer but by and large, taking the subway is very safe.
Kai: All right. I'm going to get to one more, I think on this line of question about how secure you do or don't feel. Let's go to Terry in Courtland matter.
Terry: Yes, I am 73 and I am highly alarmed by the rollbacks of so many advances I've seen in my lifetime. The health issue of abortion rights, voting suppression, things like that. Not only am I alarmed by the problems with these on their own but also the fact that we need so very much to be working on climate change and these rollbacks are derailing from what we need to do on climate change. Then as an added little problem, my own local problem is very recently, there's been a proposal to erect a 14-story cell tower in my very quiet forested street. This would also be right next to a county forest. In scrambling to fight this, I've been learning about the inadequacies of the very outdated 1996 Telecommunications Act, some of the provisions of which make it impossible to fight the cell tower on health and safety grounds.
Kai: Terry, can I ask you just because, we're running out of time, but I want to follow up with you. One of the things you mentioned was the rollback and access to abortion. I wonder about, in your circle-- There was a lot buzz, a lot of talk when the Supreme Court, of course, started the summer by reversing Roe about the long-term impact this would have politically in terms of how much it would galvanize voters and how much it would fuel movements. What has been your experience in terms of how much that is on the forefront of people in your world's minds?
Terry: Well, with the pandemic and everything, I just got my second booster, but I've been more isolated than usual. My contacts are mainly online, but from what I can tell, I think it is having an effect on women of a lot of ages, I certainly hope so. Now with this parent national proposal by Republicans to ban abortions, I hope that will have even more of a galvanizing effect.
Kai: Thank you for that, Terry. Going back to the subway point, I just want to point out somebody on YouTube points out that when the stats are one factor but it's beyond the stats. It's the shocking incidents like when the woman was pushed in the rail track and killed. There have been some large incidents that have affected people's emotional relationship to the subway. It's more than statistics and I think that's a good point. Thank you for sharing that.
Brian moving on for a second from public safety, as we start to wrap up this part of the conversation, I do want to get to another issue that is going to come up in your 30 issues in 30 days, that is one of the big takeaways from the news cycle this summer, and that is housing. This connects to how people feel safe or secure for sure, and how comfortable they feel in their housing. but there is a housing affordability crisis happening nationwide. New York City is certainly at the center of that. You had several call-ins about this over the course of the summer. What were you hearing from people in terms of the choices that they're being forced to make?
Brian: Long-term, middle-class, and working-class wages have stagnated on average. That's true for decades now. Affordable housing supply is not kept up or kept down, if you want to look at it that way. With that, market forces in the situation of unequal supply and demand, too much demand for the supply favors the suppliers, the landlords. We see the gentrification of neighborhood by neighborhood after neighborhood. Obviously it's lower-income people who get displaced or have to make themselves house poor by paying such a big percentage of their income in rent. We know lower-income people are disproportionately people of color too. The cycle of white privilege in the economy gets perpetuated by this.
It's really hard, I have to say, looking at all the choices that politicians have to make. There was the mass construction of public housing way back in the 1930s when FDR and the federal government believed in helping to fund it, that's been gone for long, long time. The city and state governments feel that they don't have the money at the scale needed. We get deals with the private sector compromises like tax breaks for affordable housing construction or mandatory 20% affordable to get a zoning exemption for big, mostly market-rate developments. These are imperfect solutions that aren't up to the task of meeting the actual need. I don't know that anybody has the real answer for New York City.
Kai: It's certainly on the forefront of everybody I know is mine, the cost of what it takes to have a place to live. I am talking with WNYC's Brian Lehrer about his big takeaways from a busy and high stake summer of news, and about the midterm elections that are coming this fall. We're going to take a break and then shift gears one more time because I want to talk about good news. I want to know what got you pumped this summer or what's got you excited about the fall. More Brian, and more of your calls after a break.
[music]
Kousha: Hey, everyone, this is Kousha, I'm a producer. As some of you may have already heard, there is big news about our show. We're going to start broadcasting the live show nationally every week. As part of that launch effective today, we're going to relaunch with a new name, Notes From America With Kai Wright.
The other segment of this week's show is all about that change and all the good things that means. We're dropping that segment down our feed today along with what you're listening to right now. Please do check that segment out. Starting next week, we'll be coming at you with that same thought-provoking discussions, just at a bigger scale and with a refreshed name and sound.
We're all super excited about it and excited to keep you in the conversation. One more update about that, we've got our own social handles now. Please follow us and talk to us either on Twitter or Instagram. In both cases, our new handle is @noteswithkai. I hope you'll check us out. All right, thanks. Talk to you soon.
[music]
Kai: Welcome back, I'm Kai Wright and I'm joined by WNYC's own, Brian Lehrer for a vibe check tonight. I've been posing questions for you to get a sense of where everybody's at, emotionally and mentally as this summer concludes and as we head into a huge election. With the time we've got left, I want to talk about what was good this summer. Listeners, what got you pumped this summer, what has you super excited about the fall? Brian, I know that you've got a few things you're really happy about. A lot of them came from the world of sports, I gather and it starts with baseball. Yes, is there going to be a Subway Series?
Brian: I don't know if there's going to be a Subway Series, but yes, on the lighter side of what's there to be happy about right now, I'd say in general, it's a fun time to be a New York sports fan. To start with baseball, the Yankees and Mets are both headed for the postseason, whether or not there'll be a Subway Series, and with some very likable Stars to Watch. In fact, the Mets just this afternoon tied a record for the most strikeouts in a game in Major League history in a very exciting game. Aaron Judge of the Yankees had his 58th and 59th home runs of the season, that's one behind Babe Ruth, and two behind Roger Maris for the Yankees and American League records. Off they go Subway Series, not out of the question.
Kai: Now, I got to put you on the spot here, Brian, because I was told before the show that it's not totally clear where Brian falls, on the Yankees versus Mets conversation. Are you willing here tonight to give us a sense?
Brian: Brian is a little more Yankees but loves both teams. Truly, my parents were from the Bronx, Yankee fans. My first games were going to Yankee Stadium, but I grew up in Queens just a few miles from Shea Stadium, so I was going to Mets games as a kid all the time. I have a genuine affection for both teams.
Kai: Listeners, I want to hear from you. We've got a few minutes left in this and we've heard all the bad news. We need to hear the good news from you as well. What got you excited this summer? Yochi on YouTube says, "I was excited with the ascendance of the Linda Lindas, a very young punk rock band, they released their debut album on April 8th." The Linda Lindas are getting Yochi pumped.
Brian, more sports news that I understand you're excited about is, we had a pretty cool US Open tournament this year. It has more fans than I think it had in 2019. It had a bigger audience than it had even pre-pandemic, right?
Brian: Those are the stats that I've seen, which makes it different than a lot of other live events which have not recovered their full audiences from before the pandemic. Along with a beautiful retirement ceremony for Serena Williams, I hope a lot of people saw that we also had the rise of some young American players who should be prominent and fun to watch for years to come and diverse, like Frances Tiafoe, Danielle Collins and Coco Gauff.
We haven't had a lot of American tennis champions other than Serena Williams for a while. All in that fabulous complex that got built for the city, thanks to Mayor David Dinkins. Can I give you a little historical footnote here?
Kai: Please do.
Brian: Rudy Giuliani when he was Mayor, refused to attend a single match at the US Open. He was definitely not America's mayor in that respect, as a childish I think, rebuke to Dinkins. The stats that I've seen say the tournament is more than a $500,000,000 boon to the city's economy each year. After Giuliani left office, Mayor Bloomberg called it the only good athletic sports stadium deal, not just in New York but in the country because we know they often bomb in terms of public benefit. Dinkins hoped that he could help diversify tennis, and that seems to be getting realized, at least to some degree.
Kai: I'm going to conclude with David in the Bronx. We've got maybe 30 seconds for you David, but I really want you to tell us why you're excited because I'm excited for you.
David: Oh, okay. I'm excited because I'm in love, that really helps in this time.
Kai: Oh.
David: Also, my kids are grown, so my child support is stopped. That's been really great. I have money now I haven't had in 20, 25 years. I don't know.
Kai: You have fallen in love and you got some money in your pocket and the sun is still shining at least a little bit until daylight savings time, and so David, you're feeling it. You know what, David, I hear you. Thank you for that.
David: I love your show. Thank you.
Kai: Thank you, David. Brian, before we sign out here, 30 Issues in 30 Days, it's coming up September 27th. What else you're going to get to in 30 seconds that we haven't talked about?
Brian: We're definitely going to get to abortion rights. We're definitely going to get to the culture wars in public education. We're definitely going to get to climate. We just mentioned that briefly. Those are some things to look forward to every show, starting a week from Tuesday until just before the election.
Kai: Okay. We will leave it there. That is our vibe check for the end of summer of 2022. You can, of course, catch Brian Lehrer every weekday from 10:00 AM to noon on WNYC or wherever you get your podcast. Brian, thanks for this. This is a lot of fun.
Brian: Always great, Kai.
[music]
Kai: We are a production of WNYC studios. Milton Ruiz is our live engineer. Our team also includes Karen Frillmann, Regina de Heer, Rahima Nasa, Kousha Navidar, Jared Paul, and Lindsay Foster Thomas. A welcome aboard to our new intern, Vanessa Handy. I am Kai Wright. You can find me on Instagram and Twitter @kai_wright, or you can find me right here, Sunday evening at 6:00. Talk to you next week.
Copyright © 2022 New York Public Radio. All rights reserved. Visit our website terms of use at www.wnyc.org for further information.
New York Public Radio transcripts are created on a rush deadline, often by contractors. This text may not be in its final form and may be updated or revised in the future. Accuracy and availability may vary. The authoritative record of New York Public Radio's programming is the audio record.