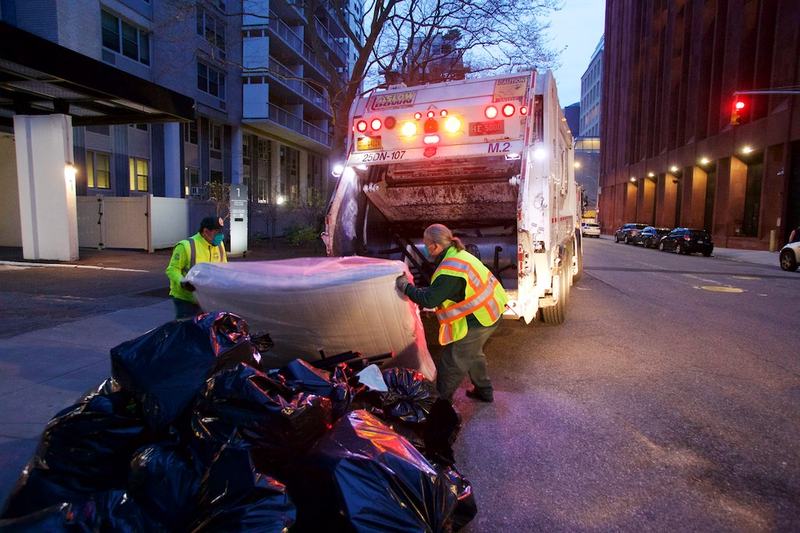 Transcript
Announcer: Listener-supported WNYC Studios.
Kai: I'm Kai Wright and this is the United States of Anxiety, a show about the unfinished business of our history and its grip on our future.
[crowd chanting]
Speaker 3: We have students coming into the buildings, what would have happened on September 10th now happens on September 21st.
Speaker 4: One of my customers told me yesterday, "You're more important than a lawyer right now. No one needs a lawyer. Everyone needs to come in a grocery store."
Crowd: George Floyd, say his name.
Speaker 5: Let's not forget for a moment that thousands of those workers have made the ultimate sacrifice in serving their fellow Americans.
Speaker 6: We have been at the forefront of the pandemic as essential workers. While we were caring for others, who was caring for us?
[applause]
Kai: This was the sound of New York City in this day, clapping, pots and pans banging in celebration of what we've come to call essential workers. A sonic release from the unsettling, quiet of a city totally shut down. By summer, the sound of our lives became protest and rage.
Crowd: George Floyd, say his name. George Floyd, say his name. George Floyd, say his name. George Floyd, say his name.
Kai: Now as summer winds down, there's an odd sense of normalcy at least here in New York, but we're wondering will we go back back to that old creepy, quiet of a shutdown city, back to the nightly celebration of those who once again, might have to risk their lives so society doesn't totally collapse? If so, we'll be facing some really hard choices about all of that essential labor. Already this past week, New York City narrowly avoided a teacher strike. We actually just kicked it down the road a couple of weeks. The labor dispute boils down to whether educators and everybody who works in a school for that matter, whether they're willing to risk their lives while doing their jobs and whether the rest of us will force them to do so. This is really just the beginning.
In this episode of our show, we're going to talk about two particular kinds of essential labor and the questions they raised. First, we'll consider the public workers who make cities function, people like those teachers. Then a little later in the show, we'll talk with the people who literally take care of us and our families. Let's start with public workers. I have personally been a lot about New York in the late 1970s, which was our last really intense fiscal crisis. Earlier this week, I called up a labor historian at the City University of New York, Joshua Freeman and I asked him for perspective on the budget crunch we're facing today.
Joshua: Do you know that the mayor has threatened 22,000 layoffs, which is getting pretty close to the number of layoffs in the first couple years of the fiscal crisis. If that really happens, then we're talking about one of the worst cutbacks in public employment in the city's history. If you know New York's history, just the words fiscal crisis can be an emotional trigger. To think that the city is now considering anything like the number of layoffs as the late 1970s, that is scary and you felt it in the everyday life of the city, literally, garbage wasn't being collected. The subways weren't being maintained. Doors were opening between stations. Basic public services were simply not being delivered. Kids shut up for school in September and the classes were, 40 kids in a class. The few years after 1975 were very, very rough years for day to day existence in the city.
Kai: Talk to me about the way we think about city workers and the history of that. I've been in the city for about 20 years, it feels like even in that time we've been through so many different public attitudes about city workers.
Joshua: I think the public has a two-sided view of public workers. On one hand, they're often very appreciative. A lot of bus drivers are beloved by their regular customers. I think a lot of older New Yorkers who use the bus develop relationships with particular drivers. I think there are certain workers that provide services that make a real everyday difference in people's lives, who are the beloved ones. Also, public workers are the face of a system that doesn't work for a lot of people and therefore they are often the subject of great deal of abuse, anger, and resentment. Sometimes resentment because the subway doesn't work or it's overcrowded or the air conditioner's broke and people take it out on the conductor. Sometimes resentment because they have steady jobs and they're getting pensions and they're getting health insurance and lots of hardworking New Yorkers aren't.
Kai: Here's the question. As we move into what is by any measure, going to be a hard year for New York City and a lot of cities frankly, how much do we value each of these public jobs? Which ones are we prepared to cut? Which ones are we prepared to force and to work, even if it's for less compensation or in less safe conditions? As our team thought about these questions we considered one particular city workforce as a case study. Reporter Jenny Casas looked into the history of the people we used to call garbage men.
Robin: You might go your whole life without ever needing to call a fire department and you might go your whole life without ever needing to call a cop, but you need a sanitation worker every single day.
Jenny Okay, guys. I talked to Robin Nagle, who is the Department of Sanitation's official anthropologist.
Kai: Anthropologist, I had no idea the Department of Sanitation has an anthropologist. That's cool.
Jenny: Totally, and you can tell a lot about who we are and how we live by our trash. It's such intimate work, like the sanitation workers who run the same route all the time can tell you so much about the people that live on those blocks.
Robin: Who's getting married? Who's getting divorced? Who started drinking again? Who's beating up their wife? Who's left her husband. Those kinds of really intimate details about a home. They can read it in the trash.
Kai: That's the story with trash in New York City right now. I would assume with all of these people who have left town to move wherever it is they moved, that we'd have less trash.
Jenny: You would think that but it turns out that because people are staying at home or a lot of people are staying at home more and we're all like surrounded by all of our things. We're throwing out stuff in our homes and we're ordering more online, there's actually a lot more household trash and recycling.
Kai: What, if anything, has the department been doing to help protect them from COVID amidst all of that?
Jenny: The department has given out everyone masks and hand sanitizer and every shift when a truck pulls in, there's a team of people ready to sanitize and disinfect the equipment. Like the steering wheels and the front, but even so, since the pandemic, over 650 sanitation workers have tested positive for COVID-19 and at least eight have passed away as a result of the virus. Maybe the best way to appreciate their work is to understand it a little better and the best person to fill you in on that is one Harry Nespoli.
Harry: I took all of the city tests, took the police, took fire, took sanitation and I said to myself, "The first one that calls me, I'm going to take." The first one to call me was sanitation. I started a job in 1970.
Jenny: His first day on the truck, he's with two veterans on the job and their first stop was at this park.
Harry: They had these wire baskets. I take the pail and I just throw into the hopper what's inside the pail. It hits the hopper. It splashes back in my face and what is it? It's all dead pigeons and blood.
Jenny: Ugh, Harry had no words.
Harry: I said, "[inaudible 00:09:20]."
Jenny: He had always fancied himself a tough guy.
Harry: I grew up in Brooklyn when it was Brooklyn.
Jenny: This was too much.
Harry: I went home that night. I told my wife it's the God's honest truth. I said, "Babe, listen to me. I ain't going to make 20 years on this job."
Jenny: Harry is now the current president of Local 831, the Sanitation Workers' Union. What brought him back day after day after day for 50 years and counting. It was the steady paycheck, a pension, a full suite of benefits, health care, medical, dental, glasses, prescriptions. Today, sanitation workers have unlimited sick leave, and depending on when they start, they can retire after 20 years on the job with 50% of their salary for the rest of their lives. One worker described it to me as quote, "the best security blanket you can go to sleep with every night" and all those gains can be traced back to the founder and first president of Local 831, John J. DeLury.
Interviewer: Good evening. Few local questions agitate our city more violently than the problem of public employees and their rights. Our guest this evening on Campus Press Conference is a man who must wrestle daily with problems like these.
John: I have been the first union in the city of New York that has been granted--
Harry: John DeLury spent a fortune. A founder to do one thing and you know what it was with public relations? What do you think it was? You're going to be quizzed on this. What do you think it was?
John: A fire department, a police department has a certain amount of glamour to it. A cop can be killed by trying to apprehend a criminal. It makes front-page news. A fireman can be injured out of four-alarm fire, screaming headlines in the paper. The sanitation man sweeping the street can be killed by a motor is coming down running into him and you don't even find three words in the paper.
Jenny: DeLury built a whole legacy on demanding that the Department of Sanitation not be treated like the ugly stepchild of the city's uniformed forces.
Harry: Codeword, garbage man. That's a curse. He made it sanitation. That's the word it should be.
Jenny: Workers at this time were constantly being injured. They had no sick pay, no overtime, terrible working hours, and small pensions. In 1965, a sanitation worker was found crushed to death and the back of his truck's compactor.
John: The sanitation man is subsidizing on the city workers because sanitation men can never enjoy the benefits of the pension system they are in now.
Jenny: In this interview from the WNYC archives, DeLury sites that the average sanitation worker doesn't even make 16 years on the job.
John: The life expectancy is shorter than the expectancy of the rest of the people that are in that system.
Jenny: After that death in 1965, DeLury threatened to strike, but didn't follow through. It was on his mind in 1968, when contract negotiations fell apart. Now New York state had just passed the Taylor Law, making it illegal for city workers to strike, that law is still in effect today. At the time the union was demanding more pay and pension benefits and the city would not budge. DeLury famously addressed 7,000 sanitation workers gathered on the steps of city hall yelling, "No contract, no work." 10,000 workers walked off and stayed off the job. With that, the Sanitation Department would prove the worth of their work by not doing it.
Speaker 12: It don't affect me except for the very bad smell here. It's terrific.
Speaker 13: It's going to affect my business where customers can't get in here because of the garbage situation.
Speaker 14: You can't go down, no Warren Avenue what I've seen nothing but garbage and rats.
Speaker 15: I would like to see somebody--
Jenny: Day after stinking day the trash continued to pile up.
Speaker 16: Every moment that goes by the situation gets more serious. There's 10,000 tons of garbage that are left on the streets every day. We're up to over a hundred thousand tons now.
Speaker 17: In a word New York is a mess all because of this degrading unconscionable and unlawful strike.
Jenny: A few days into the strike, the board of health had to declare a state of emergency. Hospitals couldn't discard their medical waste and a number of fires were going up across the city because people were burning their trash.
Speaker 18: I've been in this country for 50 years and I've never seen nothing like it. It's really terrible, it's a mess.
Jenny: A week passed and still no deal.
Speaker 19: The progress we can report is if the negotiators have gone through three rounds of soft drinks and the newsman waiting in this press room. It's almost as littered now as the streets outside, they've gone through four coffee urns and four dozen delicatessen sandwiches.
Jenny: John DeLury was arrested and jailed for defying a court order. The mayor called for the support of the National Guard and eventually, Governor Rockefeller stepped in and took over the negotiations without the mayor's blessing.
Rockefeller: The concept of using military forces for strike-breaking purposes is one that is alien and completely an anathema to all organized labor. I think I ought to say very frankly, that you can't move garbage with bayonets.
Jenny: New Yorkers had either learned a new appreciation for sanitation or they had learned to fear its absence.
Anthony: Anyway, long story short, the strike ended.
Jenny: Here's former sanitation worker, Anthony Lofaso remembering his first day back on the job.
Anthony: We resumed on a Saturday night to pick up. At least in my neighborhood where I worked in the South Bronx, when we came on the street, the people were clapping in the street. That's the support that we had and throughout my career, I tried to impress on the sanitation workers that the best ally we have is the public.
John: They'll be nothing that will be able to take the place, no machine that I can visualize that can go over to the building of the house, pick up the can, bring it out to the curb over three or four parked cars. Dumping in the thing and then bring it back to the house. This may come, but this would be utopia and I don't think I'm going to be around to see this kind of a thing.
Interviewer: Well, thank you very much. Mr. DeLury.
Jenny: John DeLury would pass away less than two years into his retirement in 1980. When he started his career with the Sanitation Department as a dump laborer in 1936, he was making less than 1800 a year. By the time of his death, New York sanitation workers were some of the highest-paid in the country.
Blasio: Where we put our money is into the people who provide service to New Yorkers, whether--
Jenny: Now New York City is facing a financial crisis and balancing the budget means that cutting the city's workforce is on the table. Mayor de Blasio has been talking for months about laying off up to 22,000 people.
Blasio: If you got to keep cutting and keep cutting, it has to at some point reach personnel. It's just pure logic of budgets and it's very a sad logic. I don't like it one bit. I want to revert this at all costs.
[phone rings]
Harry: Nespoli.
Jenny: Hi, Mr. Nespoli, this is Jenny Casas.
Harry: Hey, Jenny?
Jenny: Thank you so much-- Harry will be the one negotiating to keep those layoffs far away from his workforce.
Harry: This workforce came to work caught, the virus, was isolated, stayed home and some of the families caught the virus, and then they came back to work.
Jenny: Harry himself had the virus back in March. Both he and his wife were very ill for weeks.
Harry: Could you imagine that garbage laying out in the street in this summer that we've had with heat? Forget about it? It's crazy. The world is turned upside down right now.
Kai: One more note about public work. It's been a particularly important road to the middle class for Black families here in New York and everywhere. That means the economic fallout from the pandemic might hit Black communities just as acutely as the virus itself did. Coming up though, the story of another workforce that has been uniquely important for people of color, particularly women of color. I'll talk with Ai-jen Poo who helped create the National Domestic Workers Alliance. If you do care work of any kind, home care work or domestic work I want to hear from you as well. Call us up at 646 435-7280 or tweet us using the #USofAnxiety. It's coming up after the break.
[music]
Anna: Childcare centers that were shut down during the early days of the pandemic have mostly been allowed to reopen.
Speaker 24: Make sure you're sharing.
Anna: The childcare providers already operating on razor-thin margins are now dealing with a whole slew of new challenges.
Speaker 24: This isn't going to work. We're not going to have the staff. We're not going to have the kids.
Anna: I'm Anna Sale. I'm the latest episode of Death, Sex, & Money, the impossible realities of childcare in America right now.
Speaker 25: What am I going to do? I don't know.
Anna: Listen, wherever you get your podcasts.
Kai: It's labor day weekend and that means this week, we're talking about essential work and how we actually value that work. Home health aides and personal care aides have long been the fastest-growing jobs in our economy and the Bureau of Labor Statistics estimates they will remain the fastest-growing jobs over the next decade. It's these workers, really not those in the manufacturing or farming sectors who are arguably the forgotten people of the American economy. They are overwhelmingly women particularly Black women and quite often immigrants. They're also one of the most poorly paid, least protected workforces in the economy. This is important. They are also at the center of what is probably the most energized growing labor movement in decades. If you do any form of care work or domestic work I want to hear from you. I'm interested in your own relationship to the work.
What brought you into it? Was it just a financial choice, like it was just that's the work you could find or was there something else? Then what keeps you in the work now? What do you value in it particularly now that it can be quite dangerous to do what you do? What sustained you? Tweet us at the #USofAnxiety. Joining me now is Ai-jen Poo who has helped build a national movement of domestic and care workers. She's the co-founder of the National Domestic Workers Alliance and also of Caring Across Generations which is a network of advocacy groups trying to transform how we handle long-term care. Ai-jen, hi, thanks for joining us.
Ai-jen: Hi, Kai. It's really great to talk to you. Thanks for having me.
Kai: It is a pleasure and also you are the co-host of a podcast called Sunstorm with Alicia Garza who is, of course, famous as one of the co-founders of the Black Lives Matter movement and you guys are launching your second season this week, right?
Ai-jen: That's right. We're really excited about the second season. The whole idea of the show Sunstorm, we launched it after the 2016 elections because we really felt-- I don't know if you've experienced this weather pattern where you have sometimes a torrential rainstorm and somehow miraculously the sun is still shining through. After the May 16 elections, we were just reflecting on how this country is experiencing a political sun storm where we have these unprecedented threats and attacks on our democracy and the fabric of our society and our culture. At the same time, we have courageous people of all walks of life stepping up to march, to vote, to run for office, to protect our healthcare and to move us forward.
That was the inspiration for the launch of the pod, and the second season is focused on finding your way. Really figuring out a way to contribute to bringing the country closer to its promise in a way that feels authentic to you. We're really excited about it. First episode features the one and only Megan Rapinoe. We hope that folks will tune in.
Kai: All right. The way you talk about the sun storm idea that there's the sun shining through an otherwise torrential downpour is honestly a lot of how I think about the domestic workers' movement that you've been part of over the last decade-plus. I want to talk about that and can we just back up and talk a little bit about your personal relationship to that work and that movement in the first place. What originally brought you to this space of building power amongst domestic workers, people who work in other people's homes essentially?
Ai-jen: I was raised by my mom and my grandmother, two really strong women who I just thought walked on water and could do anything. They did everything in the household. They went to work and they were really engaged in the community and I had hundreds of aunties who all were a part of a caregiving community for me and my sister. I think that there was a disconnect for me between the way that I saw women powering everything in my life. I just assumed as a child that if women are powering everything and making everything happen that of course, they would be in charge and making all the decisions. I quickly realized growing up that that was not the case. That women are not really in positions of power and decision making and in fact overly concentrated in positions of vulnerability and abuse.
That disconnect just played out over the course of my life and got me really interested in working with women who are powering and holding up our families and our economy and yet don't have basic recognition. Even the recognition that the work of caring is real work, we still refer to it as help. Meanwhile, there are millions of professionals whose work makes everything else possible in our families and in our economy and wanting to really address that incredible disconnect became something that just was more and more meaningful for me.
Kai: Can you tell us about some of the history here because you mentioned that we don't even think of it as work, so many people we can refer to it as the help. There's a very particular history to that too that this is work that was very explicitly carved out of labor law. Can you give us some of that background?
Ai-jen: As we all know domestic workers are more than 90% women and majority women of color. The work itself of caring and cleaning is often associated with women culturally and assumed that women will take care of. Then as a profession, domestic work has always been associated with women of color and Black women, in particular. Some of the first domestic workers in the United States were enslaved Black women as a matter of fact and that legacy of slavery has shaped the conditions and the way that this workforce has been treated both culturally and in law and policy. A big defining moment was in the 1930s during the new deal and negotiations coming out of the Depression, Congress was debating what would become our foundational Labor Laws, the National Labor Relations Act which gave workers the right to form a union, then collectively bargain.
The Fair Labor Standards Act which established the minimum wage laws, the protection and the right to a minimum wage and overtime pay. Southern members of Congress refused to support those two measures if they included protections for farmworkers and domestic workers specifically. At the time, they were Black workers and it was an explicit expression of anti-Black racism and a refusal to allow for Black workers to have equal protections under the law and to be able to frankly build power as workers. That exclusion has really shaped the conditions of domestic work for generations to this day. It has also been a place that domestic workers have resisted and organized and built power for generations.
We stand on the shoulders of giant Black women like Dorothy Lee Bolden who founded the National Domestic Workers Union in the 1970s and organized Black women throughout the South to improve wages and working conditions. Our work is very much carrying forward her legacy and trying to bring dignity and respect protections to this work that really is such a core part of what makes this economy work and also a large share of the jobs of the future.
Kai: I want to talk more about all of the organizing past and present here in a minute, but first, within all of that history that you've just described you also as I gather your family has some experience with care workers that has also shaped your understanding of long-term care and how we provide that. I wonder if you can tell me about that experience.
Ai-jen: Absolutely. I think care is an issue that really does connect us all. I think all of us-- The former first lady Rosalynn Carter famously said, "There's only four kinds of people in the world, people who need care or will need care and people who provide care or will--" In my case my paternal grandfather, he actually lived a long and for the most part very healthy life, but when he was in his 90s his vision started to deteriorate and he started to lose his other functions quickly and we weren't able to find appropriate home care for him. He was placed in a nursing home against his wishes. I visited him in that nursing home and it broke my heart in a thousand ways. He was afraid he was sharing a room with half a dozen other people some of whom were wailing and suffering in pain.
The other of whom were just completely comatosed and unmoving. Someone who lived with such dignity and strength, to see him in a state where he wasn't eating and was in a deep, deep depression and actually passed away after just a couple of months in that facility. It was so heartbreaking to me that we couldn't offer him a more dignified form of care in his final days. Then on the flip side of that, my grandmother on my mother's side, she also lived a very long life. Was able to live independently for her entire life in the comfort of her own home because she was supported by wonderful home care workers over the course of 15 years who enabled her to go to church and participated in singing in the church choir, enabled her to keep playing Mahjong. She was a Mahjong shark. "Let me win once a year on my birthday."
Kai: Got to give them hope.
Ai-jen: Exactly. That'd keep me coming back. She was really very independent up until she had a stroke and the whole time was able to have a dignified quality of life because of the support of home care workers. I will forever be indebted to the women who supported her over the years because there is no greater gift than that quality of life that good care provides.
Kai: These are just a tale of two systems, essentially that you took away from that.
Ai-Jen: Exactly. That we have a system that is patchwork at best and that actually doesn't help families prepare for the inevitable care that they need. We've never really invested in our caregiving infrastructure or systems or workforce. The average annual income of a home care worker in the United States is $16,000 per year. Imagine trying to survive on $16,000 per year let alone raise a family. It's an unsustainable wage and as a result, we lose many of our best caregivers to other low-wage service jobs like retail and fast food. About 800,000 people are on waitlists waiting for home care through the Medicaid program. We just don't have the system in place that they need to support a dignified quality of life for older adults or people with disabilities who want to live at home independently which they deserve.
I know that nursing homes are always going to be necessary and there's a whole movement to transform nursing homes and to make them much more home-like in terms of the context to age and there's great work being done there but we need choices. Our elders and our loved ones with disabilities deserve to have the choice to live at home and connected to our communities. We just don't have that in place and with such a large and growing older population in this country, it's long overdue. I think the COVID crisis has really brought that into focus.
Kai: I just don't want that $16,000 a year never slide by people. I think everyone agrees how essential this can be. We've seen how essential this can be under COVID, as you pointed out, we're all going to need it in some form. We're talking about something that we valued as a society at $16,000 a year. This returns to our question this episode with essential labor. What are we prepared to value it? How much are we willing to put as a society behind the things we consider essential. Let's take some calls. I'm talking with Ai-jen Poo who is the co-founder of the National Domestic Workers Alliance and advocate for the lives of women of color who do much of the so-called essential work of our economy. Let's hear from Dr. D. [unintelligible 00:33:41] in Crown Heights, I believe.
Speaker 27: Hi, are you there?
Kai: Yes. First off have I said your name correct Dr. [unintelligible 00:33:50] is that correct?
Speaker 27: Close enough. [unintelligible 00:33:52] is the last name but Dr. D. is fine.
Kai: I'm sorry. Dr. D.
Speaker 27: My family is originally Crown Heights going back to I think 1904. I've now relocated. I headed North to Connecticut. First, let me thank you.1992 I did a dissertation on unionized home care workers at 1199. Sorry, I'm catching my breath. I was coming upstairs and shout out to 1199 who created a closer living wage. From a philosophical perspective, this is clearly a feminist issue. Old poor women being helped by, as you pointed out younger often immigrant women raising children alone, frequently and sending money back when they do to their home countries. It's also an issue of economic justice that this work is not valued. It is also very isolating because you're working with a single often single old person without the collegial and social support that I think retail at least offers.
That's a larger issue it seems to me it's creating a career lack. Home attendance are at the bottom of the realm, then home health aide and CNA. How do we incentivize how to provide scholarships so people can get the training to become an LPN. There is such a need for nurses. The last thing is we need to expand, I believe the kinship care model where people get paid for taking care of their family, their family older people quite like we have kinship foster care where grandma takes care of the little ones when mom is not well.
Kai: Doctor D, I'm going to let you go now but thank you for calling. I want to hear from you, Ai-jen a little more about that model. Dr. D, one of our callers was saying we need new models. Essentially, we need new models for these kinds of workers in order for it to be an economically viable job. I want to just put that to you. I know that is a big part of what NDWA has been doing. What are some of the new models that have been coming out of your organizing?
Ai-jen: Great question, especially just thinking about New York. 10 years ago New York became the first state in the country to pass a Domestic Workers' Bill of Rights. It was a seven-year campaign that thousands of domestic workers were a part of that was historic and broke new ground in terms of protecting the rights of domestic workers. Since then nine states and two cities have passed similar legislation and Senator Kamala Harris and Representative Pramila Jayapal have introduced a federal Domestic Workers' Bill of Rights to really not only address the long-standing exclusions in protections that we talked about but really create a new framework for rights and a voice for this workforce, including establishing what we call a standards board where we can bring workers and employers and government together to talk about what should be the standards and norms that shape conditions for this workforce.
I think that's the kind of thing that we need to be moving towards is I think that our economy, similar to our democracy suffers from just such a unsustainable and toxic inequality. We need to put more power in the hands of more everyday people especially working people especially essential workers and women of color who power so much of our economy and have done so much to keep us safe in this pandemic, to give them a voice and a seat at the table in defining our economic recovery and the way forward and what should be the standards and protections. Just thinking about the home care workers who've been working through this pandemic, they are the only lifeline in many cases for some of the people who are most vulnerable to the virus itself. Older people, people with disabilities, people with chronic illnesses, they've been the only human contact, bringing medication, bringing food and we rely on them for much.
Kai: That dynamic that you're describing also, the isolation inside that dynamic there's the employers many of whom many of us don't consider ourselves in players who have domestic workers or care workers in our home. Yet it's this one on one relationship. Can you talk about how that impacts things? The ways in which the person doing the hiring and the person the work have this oddly intimate relationship.
Al-jen: It is incredibly intimate and it's very unique and that most people don't consider or would never think of their homes as workplaces but they really are. They're workplaces for millions of workers who provide care and cleaning services for us. It's also unique and that you could go into any apartment building or any neighborhood in New York and not know which homes are also workplaces. There's no sign, no registry, no list. Setting standards and making sure that the workforce has protections is both a matter of policy. It's a matter of culture how we really see and treat this workforce. How we value them each and every one of us as individuals and as households is really really important.
Kai: Let's go to Pauline in Rockland County. Pauline, hello, welcome to WNYC.
Pauline: Hi Kai?
Kai: Hi. How are you?
Pauline: I'm doing okay. How are you?
Kai: I'm wonderful. I gather that you have done care work for about a decade.
Pauline: Yes.
Kai: Tell me about it. When did you start and why? What brought you to it?
Pauline: My family and I, we moved to Rockland County about 10 years ago for my husband's work, and I was looking for work as well. I noticed that there was a lot of elderly people in my community, and neighbors were saying that they needed help, et cetera. I thought I would get certified and get into it from the bottom up, so to speak. I wasn't expecting to stay in it, as long as I have. It has been really, really wonderful. It's been amazing to be able to help people. You go home feeling good about life, I think, at least I do.
Kai: Do you feel your work is valued financially by society? Some of the things we've been talking about in the hour in terms of having job protections and having--
Pauline: Financially no. When I started, people in my agency were making $8 an hour. Now with all of the different minimum wage increases, we are making some more than that. Still-- I also do private and you're expected to be paid a lot higher. I feel the people who work in the agencies really should be paid more. It's not high enough, I don't think.
Kai: You value your work and it's rewarding and that's an important part of it.
Pauline: Definitely it's extremely important. Just where I am, there are so many different senior centers, senior complexes, people who are struggling to take care of family, and not everybody of course is going to be able to be paid by Medicare. If you get caught in the middle, you're not poor enough or you're not rich enough, you live in the middle, you don't get any help at all. That group, they may be able to pay for a few hours, but they can't get all what they need.
Kai: I'm going to let you go, Pauline. Thanks for calling and I hope you'll call us back. Ai-jen, as we start to run out of time here, one just quickly. If there's something that Pauline said that jumped out at you, what was it?
Ai-jen: It's such an amazing thing that I witness every day how dedicated our care workers are, and how challenging the work is. Despite not having the financial-- the compensation that they deserve they continue doing the work and it's really so powerful. It's really time that we valued this work differently and also protected it.
Kai: Later tonight, you're going to be part of what I gather will be a Labor Day weekend tribute to essential workers.
Ai-jen: That's right.
Kai: Tell people what that is and how they can participate.
Ai-jen: This is a Labor day like none other as we're all still in the midst of a pandemic that rages on and our essential workers, so many industries, grocery workers, delivery workers, sanitation workers, domestic workers, are all still working and still don't have the protections that they deserve. This tribute tonight, which will air at 8:00 PM @honoressentialworkers.com, will be an opportunity for us to honor our essential workers, and to take action to make sure that they have the protections that they deserve. We have been applauding them and they deserve that applause and they deserve so much more. They deserve an essential worker's Bill of Rights. They deserve access to healthcare and better wages. We hope you'll join us for this tribute and also join in the effort to support essential worker protections.
Kai: That's @honoressentialworkers.com.
Ai-jen: At 8:00 PM tonight.
Kai: Ai-jen, thank you so much for joining us, you've got a lot happening. Honestly, your energy for all that you do is an inspiration in and of itself. Thank you.
Ai-jen: Thank you so much. I love your show. Thank you for bringing in the voices of care workers.
Kai: Ai-jen Poo is the co-founder of the National Domestic Workers Alliance and Caring Across Generations. Thanks to all of you for joining us tonight as well. The last thing I'll ask you to tell me is what have you been cooking out there? We have learned that as folks listen to the show, because of the hour we're in, a lot of you are out there fixing up food. I want to know what you're doing. Send me pictures of it, send me recipes of it. Whatever you want to Kai_wright on Twitter, use the #USofAnxiety. My boyfriend is in there making tomatillo sauce right now. That is what I'm about to go grease on. I hope you got something good coming too. This is the United States of Anxiety, I'm Kai Wright. If you're finding the show, check out our podcast feed for tons of previous stories and conversations.
There's lots and lots of content there for you to back up and listen to wrestling again with what it really means for us to live together in a multiracial society, what it's going to demand of all of us, what we'll have to endure in order to bring it about and bring about the joy that will come from it. I hope I will talk to you again next Sunday here live at 6:00 PM. Thanks for spending this time together with us. Happy Labor Day, everybody.
[music]
Copyright © 2020 New York Public Radio. All rights reserved. Visit our website terms of use at www.wnyc.org for further information.

New York Public Radio transcripts are created on a rush deadline, often by contractors. This text may not be in its final form and may be updated or revised in the future. Accuracy and availability may vary. The authoritative record of New York Public Radio's programming is the audio record.