Meditations on a Bittersweet Election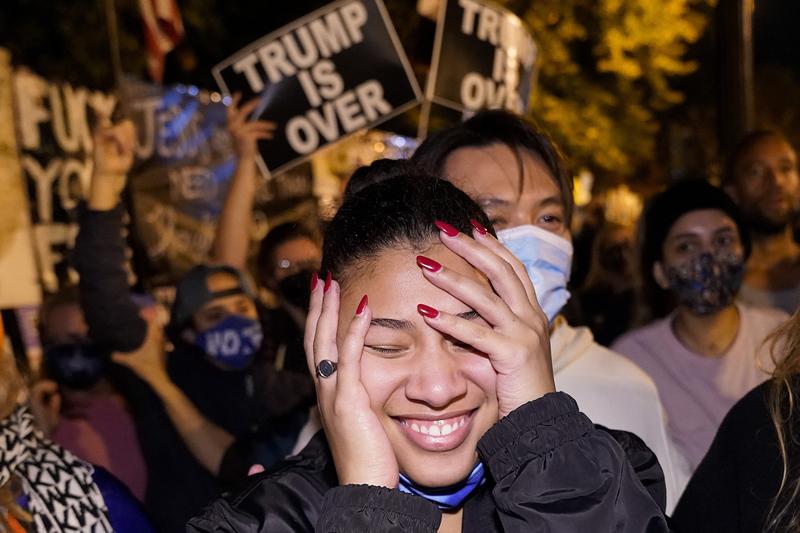 Transcript
Kai Wright: I'm Kai Wright and this is The United States of Anxiety, a show about the unfinished business of our history and its grip on our future.
Natalie Barr: Americans are choosing their next leader, the highest voter turnout in a century.
Lorella Praeli: We have it within us to actually transform and deliver a different kind of future for our country.
Dave Zirin: Whether Trump is president or not, we're going to have to reckon with Trumpism for a very long time.
Dr. Steve Bland Jr: To stop the vote suggests to stop the very democracy that we are running and these persons are running to the poll.
Eddie Glaude Jr: The country has been playing politics for a long time on this hatred, we know this.
Amara Walker: I hate that, but I have to say, "I belong." Why do I have to justify that I'm American?
Protester: Working class, Black people, Indigenous people, Brown people, immigrants deserve to have their votes counted.
[music]
Kai Wright: Thus, far just shy of 150 million votes have been counted. That's as of now, a day after every major news organization concluded that Joe Biden won. That means more people voted in this presidential election than ever before. Joe Biden has declared victory and claimed a mandate. He's got a point, 75 million people and counting said they want him to be president, which is it's notable, 9 million more people than voted for Barack Obama in 2008. Biden's also well on his way to 300 electoral college votes, so by traditional standards of electoral politics, he can certainly reasonably claim a mandate.
Of course, whenever we ask this question, does the winner have a quote mandate? What we really mean is, do we agree on the next steps? Have we resolved anything? That I do not know the answer to. This show, The United States of Anxiety was born in reaction to Donald Trump's 2016 campaign. As I said in almost every episode of that season of our show, the ideas and sentiments that Donald Trump represented would remain with us no matter what happened in that election. Indeed four years later, at least 71 million people are still willing to vote in support of those ideas and sentiments.
For those of us who find the racism and the sexism and the authoritarian elements of Trump's politics repugnant, what now? The past four years have been deeply alienating for so many people, Black people, immigrant families, Muslim Americans, women, transgender people. Honestly even just living in a big city has meant that you and your community have probably been insulted at some point.
I just wonder how that experience has changed all of us. Or has it changed all of us? I want to know, call us up and tell me. After all of this, how do you feel about your place in this country? How do you feel about this country in general? Maybe you found yourself newly patriotic or maybe you've lost a sense of pride you once had. How do you feel about the United States and your place in it? This is just a check-in on that question. Call us up at 646 435-7280. Again, that's 646 435-7280. Or tweet us using the hashtag #USofAnxiety.
I also wonder about how these past four years have changed your own life or your choices in your life.
It certainly changed mine. As I said, we launched this show in reaction to Donald Trump's campaign in 2016, back then I was a print journalist. I've ended up with a whole different career as a result of the Trump era. What about you? How has your life changed as a result of the past four years? Call us up at 646 435-7280. Again, that's 646 435-7280, or tweet us using the hashtag #USofAnxiety.
As we take your calls, I am so thrilled to be joined by my friend and colleague, Melissa Harris-Perry. I imagine many of our listeners were also card-carrying members of nerd land as the fans of Melissa's weekend show on MSNBC used to call ourselves. She is a professor of politics and international affairs, as well as a professor of Women's, Gender, and Sexuality Studies at Wake Forest University. Melissa, you have just launched a new podcast called System Check, which you co-host with Dorian Warren, congrats on that. It's a great timing to launch a new political podcast site.
Melissa Harris-Perry: Oh, sure. That seems fine that it would be good timing. We did it very swiftly and I don't think Dorian or I have recovered any sense of balance or rest in the context of how swiftly we decided to do it. I have enjoyed every moment of it so far in part because I just really do adore Dorian and have actually been talking politics with him pretty much all day for 20 years.
Kai Wright: For many, many years.
Melissa Harris-Perry: Yes, we figured we just let some other folks in on it as well.
Kai Wright: I don't think you're going to regain your balance any time soon, but let me start this conversation by asking you the same questions I put to our listeners. Has the past four years changed you in any meaningful way? Or has it not changed you? How would you answer that question?
Melissa Harris-Perry: Oh, Kai, I don't think we want to start with my past four years. [laughs]
Kai Wright: Yes, we do. It's a loaded question because I know some of the answers, but I want to hear.
Melissa Harris-Perry: I do want to back away from the highly personal because yes, it has been for me what I would call an extraordinarily traumatic four years, some of which has been connected to our politics, much of which has not been directly necessarily connected. I think like anyone who experiences either joy or trauma there's no way that we can have those experiences without reading them in part through the filter of the larger historic, social, political moment in which we live.
I can imagine that in times of personal trauma when the country seems as though it is quite happy and content, it must feel like an awful sense of disconnect to be experiencing personal trauma at the same time that others seem to be prospering. My experience was having a lot of personal trauma at the same time that the nation was roiling in trauma, so many people and communities that I cared so deeply about were also experiencing stunning and painful losses. In that sense, it leads you to try to place your own personal experience within that broader context and to ask how we are all deeply connected in those economic, social and political ways.
Kai Wright: Your life and work gives you a unique vantage on something that we've been experiencing together for the last, three or four days in terms of just the way in which our democracy is mediated by these large for-profit media companies. It's just been this weird experience to watch. I'm trying to figure out how to wrap my head around it and the experience since-- You've been very vocal about the ways in which the relationship between our politics and our media. I just want to hear your reflections on the last few days with that.
Melissa Harris-Perry: Sure. When I left MSNBC just over four years ago, a part of what initiated that very painful public departure had everything to do with some deep disagreements about the way that cable news was making use of the precious resource that is television airtime. I'll say, I'm not a journalist, I wasn't trained as a journalist. I'm a political scientist who found myself, in 2012 with this shocking and exciting platform. A national television show.
I learned a lot of things, but I think the most important thing I learned coming out of the academy and into televised cable news is that the camera is so extraordinarily powerful. I like to say the camera is like love, sunlight and water. It makes things grow. Anything you put the camera on will grow. Think of the first reality TV shows like Survivor, and now you put the camera on that, the next thing you have lots of reality TV shows. You get one Real Housewives, suddenly 20 Real Housewives.
It taught me, I had to be much different in the way that I would, for example, call in a guest. In a classroom, oh, you can put any horrifying ID on the table, you can walk around it, you can think about it, you could pick it up off the table, you can adjudicate it as a class because that's what a classroom is. With television, you have to be much more careful about the ideas that you give air time, not because we're censoring, but because we recognize that anything that you put that camera on will grow.
I was sitting there watching cable news make candidate Trump grow. Not that they were bad people or there were folks sitting around saying, "We shall make Trump president," but rather that there were just baked in incentives for us to watch an empty podium with a breaking news banner that said, "Trump to speak," rather than to even take the other Republican candidates in 2016.
What I'd say is, again there was a lot that happened in that split, but certainly part of it was my sense that many even within what was presumably a more progressive media space, were not using our cameras and our television minutes as precious as they are wisely. Then I saw that again, in this case where there came a point where they were going to count the votes and then there was going to come a point where we were going to call it, and really no one needed to be held hostage. to 24 hour punditry about how to count to 270 because a lot of things were happening.
There were a lot of down-ballot races, there were fascinating activists to talk to. There was so much that happened in this election that basically didn't get covered because of this impulse to think about the news in a very narrow way. What I would say is, I hope that the part of what's happened in the podcast world we find ourselves in or in the audio world we find ourselves in is that we provide some alternative diet. That American viewers maybe don't reward those television minutes that do so little to educate the public on the public's own airwaves.
Kai Wright: We've got a lot to talk about tonight. Media is certainly one of them, our phones of course have already erupted. I want to start immediately just bringing some folks in, Dan in New Jersey. I understand Dan that you feel like you have been changed over the course of the past four years. Welcome to WNYC.
Dan: Hi. Yes, sir. Thank you for putting me on. Yes, I have to change. Actually, I told your screener, it was not about how personally I had to change, but that I text with a friend, a college friend down in Florida a lot, she's a Trump [unintelligible 00:11:27] she's a Trump voter. I know she's an intelligent caring person and I don't quite understand a lot about her, but I was asking her whether she felt the election was stolen or if she felt okay, but she said, "Oh no, [unintelligible 00:11:42] of course it's stolen." Not just that. She says they reaching out. "It's combined out." That's the way she put it. She's still just patronizing.
Kai Wright: It's patronizing for Democrats to reach out to her now?
Dan: Exactly. She feels like the patronizing, it's insincere. It's power, I would say. I really respect what Stacy Abrams did in Georgia. It really is all about power. Real power is not attained. If we did this depending upon conversations then those conversations will be rejected. Reaching out would be seen as disingenuous.
Kai Wright: Thank you for that Dan. Melissa, he does get to something I've been thinking about a lot in these last few days because there's been so much already debate around, what is the next step for the Democrats? What do they owe the Trump voters? Who should they reach out to? Versus, "Should we continue to try to persuade Trump voters?" Is one half of the democratic party and the other half is like, "No, no, no, we got to just have the power and move on." What have you noticed in this conversation just already in the last 24 hours since Biden won?
Melissa Harris-Perry: I appreciate the caller so much in part because I don't live in New York. I don't live in a big city. I live in North Carolina, a mid-sized city. In fact, my county both in 2016 and in 2020 was among the swingiest or the purplest, where truly we all live next door to each other. I also teach students who are Trump supporters, a fewer this year, but certainly in 2016 students who were Trump supporters, as well as those who have supported and voted for Democrats. I want to make a couple of distinctions. One distinction is between voters and elected officials.
The question of whether or not voters or citizens or residents of a nation ought to be about the business of creating community in ways that allow us to be able to be in community with whom we have deep disagreements is quite different than whether or not elected leaders, particularly with very narrow margins ought to be seeking to make bipartisan deals that actually harm aspects of their party who would otherwise not have any protection. It's really important to make that distinction.
Your caller talks about talking across the line of difference and trying to keep that open, even if you don't quite understand each other. I think that's really different than whether or not Joe Biden and Mitt Romney are going to engage in a fix so-called to the ACA, that actually leaves more Americans without health insurance. That is where the issue of power and having power and exercising it is necessary.
Then the piece about, should we reach out to Trump voters from an electoral perspective? This is why we're doing the work we are in System Check, the new podcast, is when we talk about it that way it is as though one that presidential politics has anything to do with the popular vote when of course it does not. Not that it has nothing to do with it, but very little to do with it, does not translate exactly.
Then secondly, that we now have a 2020 census that we have a lot of reasons to think may have been compromised with a meaningful undercount both because of the COVID-19 crisis and because of the rhetoric and practices of the Trump administration. That 2020 census is now going to statehouses that are still largely controlled by Republicans who are going to have power to again, draw and redraw congressional districts, as well as state districts. You can reach out all you want, they're not even in your district. This is just a totally separate issue relative to strategy.
Kai Wright: It's really interesting thinking about the down-ballot races in this cycle too, as well. When we wonder about the places where Democrats lost, they didn't, where the polling was off, that all may be true. The question I have is, how much of that was about that these districts were drawn to not be lost in the first place? That's how they were drawn 10 years ago.
Melissa Harris-Perry: By the way, I got to say, I don't think the evidence is great that the most progressive wing of the democratic party cost centrist their seats, given that so many of those most progressive members didn't get reelected in their spaces. Again, I think that's really where we need to be looking towards these systems.
Kai Wright: Hold that thought, because I want to talk about that at some length, but Stephanie from the Westside, Stephanie has a question or a comment on this business of the electoral college and how our democracy is designed. Stephanie, welcome to the show.
Stephanie: Oh, hi, thanks for taking my call. I really appreciate it.
Kai Wright: You felt like the electoral college you wanted to mention is part of the problem?
Stephanie: Oh, yes. Just for starters, but the original frame was something like, "How are you feeling in this democracy?" I'm relieved with millions of other Americans that Biden was elected. I don't particularly regard myself living in a democracy. We call it a democracy, but I really think we need to stop doing that and look at things more objectively. What I think about specifically as well, start with the electoral college. I live in New York. My vote doesn't matter as much as somebody in Ohio, Pennsylvania, Arizona, Texas. That's ridiculous. That's not democracy. It's not representative government in the purest form. There's that.
Then there's the issue that, I'm in my 50s, early 50s, for the rest of my life, Supreme Court judges that are nominated in nine days are going to have a huge influence over my life. This one person. What's democratic about that? Lastly, in the midst of climate change in a pandemic, we need science more than ever. It is literally going to save our lives. There seems to be a majority of people for whom it's some subjective whimsy, which it's an a la carte menu of what they can pick or choose to believe, so, no, I don't really feel like I'm living in a democracy.
Kai Wright: I'm going to let you go with that, Stephanie. Thank you. Stephanie says it's not a democracy at all. She doesn't feel any relationship to it. Let's squeeze in one more person before break. Stephen in Pearl River. Welcome to the show.
Stephen: Wow. Hi guys. By the way, it's just a privilege to be on the radio with the Notorious MHP.
[laughter]
Stephen: I just wanted to say that.
Kai Wright: It's like the Notorious RBG now you've got to [crosstalk]
Stephen: Hey, however, you want to look at it, but I can tell you this right now that I may be the unofficial president of her fan club. In the meantime, let's talk about how always looking over my shoulder waiting for another norm shattering shoe to drop, whether it was the footnotes added to Mitch McConnell's rules for Supreme Court nominations or assaulting the affordable [unintelligible 00:19:46] all these things. While I do have a small sense of relief it's small. When I look at how many people voted to affirm hatred, racism, intolerance and cruelty on Tuesday. It's a bit concerning and it is mind-numbing to me as well. I did not expect that
Kai Wright: Stephen. I've got to take a break, so I'm going to let you go. It's United States of Anxiety, I'm Kai Wright.
[music]
Biden: I'm proud of the coalition we've put together, the broadest and most diverse coalition in history. Democrats, Republicans, independents, progressives, moderates, conservatives, young, old, urban, suburban, rural, gay, straight, transgender, white, Latino, Asian, Native American. I mean it, especially those moments when this campaign was at its lowest ebb, the African American community stood up again for me. You've always had my back and I'll have yours.
Kai Wright: That was President-Elect Joe Biden on Saturday night as he accepted his-- I'm sorry, not accepted his nomination, as he declared victory in the presidential campaign, declared his mandate, and described what he believes to be his coalition. I'm Kai Wright, this is The United States of Anxiety. I'm with Melissa Harris-Perry, professor of politics and gender studies amongst other things at Wake Forest University and co-host of the new podcast System check with Dorian Warren from The Nation Magazine.
Melissa Harris-Perry, having heard that clip from Joe Biden about who he says is in his world, I want to hear your reaction to it. What do you think about that? You, I, and others in our circles have spent so much time over the-- I don't know how many years talking about whether and how the Democratic Party does in fact center Black people who were at its base and all of those other communities that he named-checked. Do you think we're in a new place now or no? What is your immediate reaction to hearing him say that?
Melissa Harris-Perry: New as compared to the Trump administration? Yes. I just imagine how Joe Biden must feel right now. [laughs] Joe Biden couldn't make it out of the earliest primary state in '04 or '08, and then he called then-Senator Obama, clean and articulate. It must've looked like it was really all over for Joe Biden's political career and then, President-Elect Obama chooses Joe Biden as his running mate and he gets to go to the White House.
Even if he just had that, even if Joe Biden had been rescued from history by Barack Obama and turned into the vice president of the historic first Black president, even that would have been an extraordinary gift of blackness to Joe Biden, but then that gift kept on giving. Because of course, Joe Biden didn't win the Democratic primary, the Democratic primary was won for Joe Biden by members of the Congressional Black Caucus and by African-American Southern voters who turned the tide for Joe Biden handed that nomination to Joe Biden, and then largely remained quite loyal to Biden over the context of this entire election, even when Biden wasn't always directly campaigning for those votes.
He wasn't performing like a Clinton-era stiff arm to Black folks, but he also wasn't nurturing those relationships in ways that frankly he'd actually been somewhat better at doing even during the Obama years. I suspect Joe Biden has at least some level of awareness like, "Black folks did this. Stacey Abrams did this. Kamala Harris did this. Black women voters did this, Barack Obama did this."
I'm all down that Joe Biden seems like a really lovable, decent, good white guy with the right intentions around these issues. I also think he's an American president and a Democratic American president in a very constrained system. I have a fairly short wish list for what will come from the presidency over the next four years and a much longer and more aggressive wish list for what will come out of communities and out of state and local politics.
Kai Wright: Because you just feel like the presidency is going to be stuck?
Melissa Harris-Perry: I do think that this is part of the internal anxiety, if we will, of Democrats in this moment, is to ask a question about whether or not the most valuable thing that we can do for the American presidency over the course of the next four years is to return the office to some level of restraint, or if this is some sort of all-out policy war moment where breaking the rules and continuing to extend executive power is the appropriate response to what the past four years have been.
If we go back to your caller who said we're not in a democracy, I push back a little bit. I'd say we're in a broken limping democracy, but we always have been. We've always been a democracy that is not quite a full expression of its aspirational possibility. Because I am a Black Southern woman, I have no nostalgia ever about anything, but particularly about any prior moment in the American political story.
We are certainly a place with some institutions and structures that are not a direct translation of the popular will, but that's in part because we had founders who were a little nervous about the popular will, and about majoritarianism. Look, I'm a Black person so I have a little bit of anxiety about what majority will just is as well. I don't think it means we don't live in a democracy. I do think it means we live in a democracy that translates preferences in ways that regularly reproduce the benefits of white supremacy for white folks and particularly shuts out people of color, and that doesn't mean that every white person benefits from whiteness.
In fact, I would even suggest that much of what's happened in the Trump years is that he's devalued the whiteness dollar, but those baked in aspects of the system don't mean it's not a democracy. It simply means it's a broken one and one we have to continue to push for. Again, I'll just end on this. The question is, and I don't know that I have an answer, but is the right thing to throw ourselves into the procedural aspects of democracy to say that how we get to an outcome, the means, the systems are just as important as the outcome itself? Or do we say, "Oh, hell no. We may have 48 months to win and we got a win, so however that win will happen, we're going to take to it."? When I look at Joe Biden, I think he's a little more of a procedural Democrat.
Kai Wright: I think he's a little more about them first. It's interesting that you don't feel like you've got an answer to that, but let's get some more of these callers in. Michelle in Manhattan, Michelle, welcome to WNYC. I understand the last four years, you feel like you have had some change.
Michelle: Yes. First of all, thanks for taking my call. What's really changed for me is I realized that having been a regular voter that I wasn't really that engaged in the entire process. These past four years have really brought to light all of the small and large loopholes, the ways in which the system can be gamed by someone who has no morals or ethics and wants to do it. We have all run our lives by the honor system and that's not how people behave. Our expectation of people is they are going to be respectful and they're going to follow process and procedure.
Traditionally what has happened in the past will happen going forward and Donald Trump completely destroyed that just willy-nilly, for the entire four years. It really taught me that I need to be far more aware of the ins and outs of our politics. I need to be more engaged on a local level because corruption starts local and then filters up. I just feel like I need to be way more involved and way more aware of my own media consumption, of my own political education, and be more cognizant that not everybody is coming from the same space of respecting one another.
Kai Wright: Thank you for that Michelle. As Melissa said, the camera will make everything grow.
Melissa Harris-Perry: See, I just have to say though, that call from Michelle is-- I get in trouble whenever I say this, but it is the thing that I love about my President Trump [chuckles] is that there is a way in which the absolute clarity with the bridge, he and his administration laid into relief things that I think had been a matter of contention. I want to be clear, it's not that they made them clear to all Americans. This is really for me, about a in-group conversation on the broadest definition of the left. People who understand themselves as non-racist, who understand themselves as Democrats or who understand themselves as Democrat-leaning, but who regularly engage especially, during the Obama years in post-racial language, or a sense that some level of egalitarian or of equity had been met.
With the election of Donald Trump, I have to say, I did not experience surprise because I predicted it, but also because the idea that a racist rapist would become president seemed like a Tuesday afternoon in America. This particular racist with this particular history of clear claims by reputable individuals that he had sexually assaulted, harassed, in the case of at least one individual that he had actually committed forcible rape against her, that his rhetoric, his tone, at the point in which Charlottesville hosts a deadly white supremacist rally and you have Republicans who stand on-air and say, "I denounce white supremacy."
I thought, "Man, during the Obama years you couldn't even say white supremacy existed without a fight on the team of the right side." Think of how many Confederate statutes fell during the Trump presidency. Now I want to be really clear. I don't think that the elevation of Donald Trump is good because too many very real lives were at stake, too many very real children are separated from their families, too many very real policies will impact us for decades. When I look for the value of this moment, the one thing that I can pull out of it is this sense that it created clarity for so many on the left relative to the continuing problems in our city.
Kai Wright: On that note, I want to bring in somebody who I asked to call in, because I know she had a journey of this regard, Imara Jones, who Melissa you know, as well, is the host of the podcast TransLash, as well as a monthly event here at The Greene Space, it's called Lives at Stake, it's meant to be a conversation by and for trans people. Imara, the name says it all. I wanted to check in with you because I know that this project and a lot of your work over the past year is exactly the kind of thing that Melissa is talking about.
It grew out of this moment into a whole new movement.
Imara Jones: First of all, hi Melissa and hi, [crosstalk]
Melissa Harris-Perry: Hey. [laughs]
Imara Jones: Hey, how are you? [unintelligible 00:33:12] I think that everyone had a decision about how they were going to respond to the moment, to the crisis that was born out by 2016. What I decided to do with the skills and the knowledge and the understanding that I had as a storyteller, as an analyst, as a journalist, to take all of those things and to turn them on the community that I am a part of that was being assaulted by this administration.
It comes out of a very simple thing that we've learned even about Donald Trump's trajectory from Celebrity Apprentice to now which is that who controls the story has control. We have to become, as one of your colleagues said before, much more focused on telling the stories of actual people that are demonized in this country so that we don't end up in a place where we have, as we are now, for example, with the highest number of trans women murdered than any other year on record so that we don't end up with kids in cages, so that we don't end up in this place of dehumanization and borderline fascism. That's by us being able to see everyone as human.
Storytelling plays an essential role in that. That's the way that I responded and responded to the moment, was by creating TransLash, was by creating in every single way that I know how through podcasts, through video, through fighting this focus, this need and the urgency around seeing trans people as essential to the story of the country as essential to humanity. I think that even with the victory of Joe Biden, there's still an incredible amount of work that has to be done, but the fact that that was acknowledged shows the importance and the power of us doing that.
Kai Wright: The fact that he included the trans community when he was listing off his constituencies. Is that what you mean?
Imara Jones: That's exactly right. The fact that there has been this urgency and it's not only me, it's lots of different people that we could spend the rest of the time of the show naming and all of the things that we're naming. This essential urgency that we're all saying of that, "We're here, we are essential. The way that you engage and treat us is a sign of health for this country, is a sign of health for this democracy, is a sign of health for your essential humanity. What are you doing? What will you do?" That essential moral question that we have put at the center of transness is one that we have forced and will continue to force politicians and so many people from all walks of life to reckon with.
Kai Wright: Imara Jones is host of the TransLash podcast and our weekly series Lives at Stake here at The Greene Space at WNYC. Melissa, I want to right away go to someone else we asked to call in. We've spoken to her as we were covering the voting process in Wisconsin last week, Andrea Kaminski is an election inspector in the city of Madison and part of the leadership of the League of Women Voters there as well. Andrea, thanks for calling us in.
Andrea Kaminski: I'm happy to be here.
Kai Wright: I just wanted to check in with you and get a sense of what's happening in Wisconsin now. There's the specter of the recount, but does it feel like people there have a sense of resolution with Joe Biden's victory? Do people feel like something has been resolved in that state, which has really been at the center of a lot of these debates that we've been having over the last four years? What do you pick up on the vibe there?
Andrea: I live right near the State Capitol in Madison. There were rallies yesterday, there were going to be dueling rallies, one saying that we've got the vote, let's protect it and so forth, and the other one's saying, "We need a recount." In terms of democracy, both of those are part of democracy and they are not an uncommon thing that happens in--
Kai Wright: Oh, I think we may have lost you. We'll work on getting Andrea back. In the meantime, let's go to Ben in Manhattan. Ben, welcome to the show.
Ben: I'm here. Thank you very much for having me. I appreciate it. I'd like to go back to the very beginning of the conversation where you started out, which is how, if in any way, I was changed in the last four years [crosstalk] election four years ago. In a very substantial way, I was changed. In other ways, I wasn't changed. It so happens because of my age and I'm retired and I, fortunately, have financial ability, my day-to-day life did not change. I was fine.
However, I think the shock of that election of Mr. Trump coming to the presidency of the United States, as much as it was incredible, it was also stunning in the sense that I couldn't believe that a man like that in this country could be elected. He is a first class con man, and he's not even that good at con man. Because anybody that's really paying attention you could see in a minute, he was a con man and a good con man, you can't even detect that he's done it, but it really made me think about it.
I'm an immigrant. I came here as a child four years old, and everything in this country was always laid out in such a way that I knew if I did A, B and C, I move ahead, if I studied hard, I advance in school, I could go to college. I went to an Ivy League school, good education. I worked through my life in many ways successfully. You really fit into a structure of the way this country was built and the way things ran and you didn't give that much thought to it.
Even though we were aware, totally aware of the way Blacks were treated in the South, what went on in the South, and of course, what happened in the 1960s, all of that was very aware, but to think of it as-- I'm going to use the word "distant", even though it's not all that distant. My immediate reaction after the election was two big things. Number one, this was like tearing a scab off a wound. It brought out all of the illnesses that this country had; racism, the anti-immigrant attitude of the desire to reconstruct this country as a white country, recognizing the fear that so many white people for some reason think that they're losing that, that they're losing having a white Christian country. That was an aspect that suddenly sprung into very, very clear. The only way you could account for that many people voting for Mr. Trump, I have to say, I have to answer that, other than the fact that people were desperate, there were a lot of people hurting, a lot of people-
Kai Wright: Can I ask? You're saying that was for you a new realization in that moment? You understood that in a way that you hadn't understood it before?
Ben: It was a major change. In a sense, I came to this country my family were able to go to work and do whatever. The Black population, or obviously the majority of the Black population in this country didn't come as free immigrants. They came in shackles. What happened in this country afterwards was no matter what they tried to do to become as free as I am or I had been all my life was to get off those shackles.
At every turn, the shackles were there, maybe they weren't physical shackles, but from an operational point of view, how the country ran they were shackled, and we're paying the price. We're paying a horrendous price for it. It's a sickness that can't be shaken off. It's very, very hard to say to oneself, and I'm saying it to myself--
Kai Wright: Ben, I'm going to leave it there because we're running out of time and I want to get to a couple more people, but thank you for that. Another person who had a realization in the course of this past four years. I want to go back to Andrea Kaminski in Madison. We've got you back again, Andrea, you were giving us a sense of what it was like there after having been an election inspector, helped to run the election there, what people are feeling in Wisconsin now.
Andrea Kaminski: We saw demonstrations. There were rallies here in the Madison area, near the Capitol of Trump supporters and Biden supporters. One, the Biden supporters were celebrating, and the Trump supporters were saying, "You can't call this election yet." We're expecting a recount. We've been so polarized. We've had a couple of recounts in the past several years. They don't really make much difference.
Kai Wright: About 30 seconds we've got here. Does it feel like people are ready to move forward or are still stuck in the debate we were having before election day?
Andrea Kaminski: We'll have some disgruntled people, but I do think that they will move forward. I think that in the long run, we had a transparent election and people have to accept that and Wisconsinites will.
Kai Wright: Thank you for calling in Andrea. Melissa, last 60 seconds we've got here. You said earlier, you're excited about what's going to come from the states and the movements, tick off the things you're excited about.
Melissa Harris-Perry: I want to actually do something slightly different because I appreciate so much what Andrea just said about the many sides of democracy. Let me just say this, that when democracy is healthy, when it is functioning and operating the way that we want it to, then democracy is actually for the losers. If you know that you are always going to win, if you are confident that you always have the power to be in control then you don't really want a democracy. You want some sort of autocratic system.
Democracy ensures that even when you lose an election, which you ought to do about half the time in a well-balanced democracy that you don't lose your rights, that you don't lose your voice, that you don't lose your ability to protest and to make the next argument to run for office, to be a citizen, to be a resident, to be safe. The whole point of our system is supposed to be that it is safe to lose. What I would say is in the past four years, it hasn't been safe to have lost. That part of what we will have to do to protect our democracy is not only to exercise the power that we now have, but also to ensure that we are doing the thing democracy is meant to do, make it safe to be a loser.
[music]
Kai Wright: United States of Anxiety is a production of WNYC Studios. Jared Paul mixed the podcast version, Kevin Bristow and Matthew Miranda were at the boards for the live show. Our team also includes Carolyn Adams, Emily Botein, Jenny Casas, Marianne McCune, Christopher Werth, and Veralyn Williams. Our theme music was written by Hannis Brown and performed by the Outer Borough Brass Band.
Karen Frillmann is our executive producer and I am Kai Wright. You can keep in touch with me on Twitter @Kai_Wright. That's Wright like the brothers. As always, I hope you'll join us for the live version of the show next Sunday, 6:00 PM Eastern. You can stream it @wnyc.org or tell your smart speaker to play WNYC. Until then, thanks for listening. Take care of yourselves. Talk to you soon.
[END OF AUDIO]
Copyright © 2020 New York Public Radio. All rights reserved. Visit our website terms of use at www.wnyc.org for further information.
New York Public Radio transcripts are created on a rush deadline, often by contractors. This text may not be in its final form and may be updated or revised in the future. Accuracy and availability may vary. The authoritative record of New York Public Radio's programming is the audio record.