The Man, the Myth, the Manipulation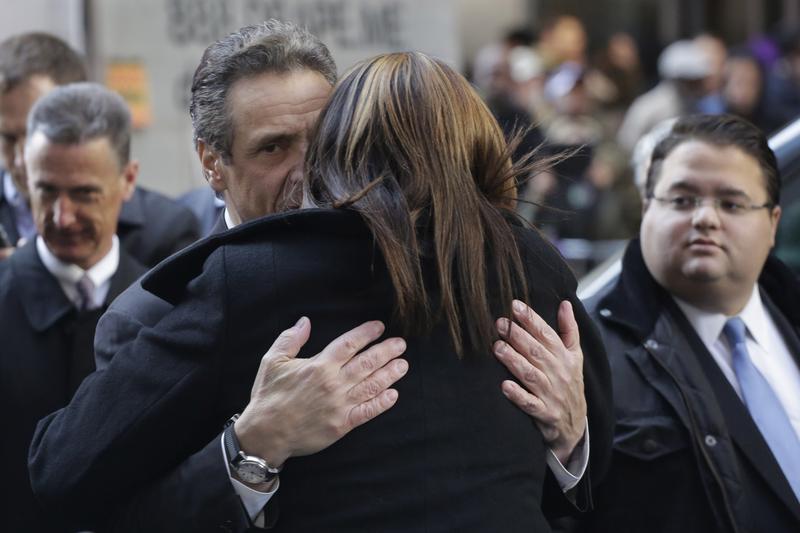 Transcript
Kai Wright: Hey, this is Kai. We've got a bonus episode for you because, as of this week, New York State has a new governor. Kathy Hochul has just been sworn in as the first woman in the Governor's Office. Andrew Cuomo resigned after a state attorney general's investigation found he sexually harassed 11 women, many of them young women who were working for him. Cuomo is a massive figure and personality, but this whole saga in New York politics is about a lot more than him. His whole decade-long tenure as governor offers a study in a particular kind of gendered leadership.
I sat down with someone who has long been one of his most vocal critics and who challenged him in the Democratic primary back in 2014. Zephyr Teachout is a professor at Fordham University Law School and is actually a specialist in corruption. She wrote an essay way back in March in The Nation magazine calling on Cuomo to resign. We talked about why. Our conversation is coming right up.
This is the United States of Anxiety: A show about the unfinished business of our history and its grip on our future.
Krystal Ball: An entire nation of desperate lips and media figures is throwing themselves at the New York governor in an embarrassing way.
Celebrity 1: Cuomosexual.
Trevor Noah: Cuomosexual.
Jada Pinkett-Smith: When Cuomo's on, I'm like, "Got to go see my celebrity crush right now, sorry."
Chris Cuomo: You're going to be held accountable for what happens in ways that your brother just can't do.
Protestors: Here, here.
Protestor: Outside.
Protestors: Outside.
Protestor: Governor Cuomo.
Protestors: Governor Cuomo.
Protestor: Office.
Protestors: Office.
Protestor: These women have the courage to speak up, not just for themselves.
Andrew Cuomo: I did nothing wrong, period. I'm not resigning and I'm doing my job every day.
Letitia James: The independent investigation has included that Governor Andrew Cuomo sexually harassed multiple women.
Cuomo: My resignation will be effective in 14 days.
Kai: Zephyr, thanks for joining us.
Zephyr Teachout: Thanks so much for having me.
Kai Wright: This past spring, you wrote an editorial in The Nation magazine calling Cuomo to resign, and you describe him as, "petty, controlling, and grandiose. Even worse, he equates bullying with competence." I am particularly interested in that last plaint, this mixing up of bullying and competence. What did you mean by that?
Zephyr Teachout: Well, there's the story about Andrew Cuomo, pushed by himself, but really that was supported for years by the press that he is kind of a jerk, or you might use more vulgar terms, but he's our jerk. "He uses it to get things done," that's an expression, "he's competent." I think it's one of those biggest false stories about Andrew Cuomo. When you actually look at his record as governor, he's good at getting things done if you think of getting things done as aligning people to his political needs. When it comes to the traditional work of governance like literally building bridges that don't fall down, that don't have safety issues, building infrastructure, fully funding schools, the governance work that people largely really want, he's actually been pretty terrible.
There is a way in which he has built up the idea that being a jerk, being a bully, actually means that you're competent, and that's just false. It's a really dangerous narrative and framework. I think it's one that we far too often fall into and it's very tied into certain ideas about masculinity: the sort of tough guy who may be a little gruff around the edges but at least he accomplishes things. The real story is that he is somebody who accomplishes his own power but not the work of governing.
Kai Wright: As he has tried to defend himself over the past couple of weeks, we've heard him repeatedly appeal to this idea that we're familiar with him and his style, that we know him already, and by implication, we love him already. The thing is that that is true for a lot of people. A lot of people are really drawn to that idea of his bullying makes him competent. What is it about that style of leadership that you think is so appealing to so many people?
Zephyr Teachout: Well, I'll take a little bit of issue with that. I think it's important to remember how Andrew Cuomo came to power in the first place. Which is that he very much was elected on his father's reputation. You don't have to trust me on that. If you look at his own speeches, even his acceptance speech, winning the governorship in 2010, it was riddled through with references to his father. When I ran against him in 2014, that's what I ran into everywhere, is that people had a deep love of Cuomo, and there was a blurring of the lines between Mario and Andrew Cuomo. Frankly, I had felt that too. When he was elected in 2010, I thought, "My childhood hero who had stood up against the death penalty," but that of course wasn't Andrew, that was Mario.
He came into power with a false sense of people knowing him. They felt like that they knew him because they knew his father. He of course believed he learned from his father who failed to get a fourth term, something that Andrew has as well. That, "You've got to be tougher." He thought his father probably was too soft in some areas. There's a little bit of history that I think is important to fill in there. Having said that, I do think there's also an attraction to, "Somebody else will take care of this for me," there's an attraction to, very literally, the strong man leadership. It's really important to understand that what appears as strength is really a banal run-of-the-mill self-centered guy with way too much power, absolute, too much power.
[music]
Kai Wright: I'm talking with Fordham University, Zephyr Teachout who challenged Governor Andrew Cuomo back in the 2014 Democratic primary and who ran for Congress in 2016 about what we should take from the conflation of bullying and competence that is such a part of Andrew Cuomo's legacy. Before we take a break, when the governor announced his resignation, our intern, Gigi Polizzi grabbed a mic and hit the streets to just see what people were saying about him. We were curious just how prevalent the whole Cuomosexual thing really was, which, not to out Gigi or anything, but she had a tinge of it herself. Anyway, here is some of what she heard.
Gigi: We know now that he's resigned as of literally two hours ago, but in March, a year and a half ago, he was a source of comfort for a lot of people. He was leading the nation and stepping into the space where our president wasn't in terms of giving us daily updates. What was your relationship to him in March or April 2020?
Lucy: Honestly, I saw him as a meme. People were making all these jokes about like, "Daddy Cuomo's going to take care of us and make it okay," and all that. I think a lot of people- I hate this phrase because it's overused but- saw him as the adult in the room.
Gigi: Were you watching him then?
Jules: Yes, once in a while, I used to watch him, the numbers and see how the vaccinations, I think. I just checked once in a while.
Melissa: He talked a lot about his mother at the beginning, he talked a lot about his daughters. There was a comfort to turning on the TV and hearing a familiar voice, feeling safe and feeling like we were protected.
George: He was good though.
Gigi: You did tune into him?
George: Yes. I think he was every time on the TV. I don't know much about--
Meila: I remember always seeing him on, I think, CNN. My mom would always have it on. I don't know. I admired him, I liked him.
Gigi: It's his brother.
Meila: Oh, his brother's the one that's on CNN.
Gigi: Yes, his brother's a reporter but he would give daily press briefings. So it was probably covered by CNN.
Meila: Yes. Okay. That's when I ran into the phrase Cuomosexual.
Gigi: What is your understanding of Cuomosexual?
Meila: I think he's one of those politicians that people just think are like a JFK. He's charming.
Alana: Everybody was like, "Daddy Cuomo." [laughs]
Gigi: Where do you think that daddy figure came from? What do you think it was about the way that he was leading that prescribed that title or that feeling to him?
Lucy: He definitely did seem like he had control of things. He put out a really confident front, and also part of it was those weird PowerPoints he was making.
Mike: I had never seen him speak before. I just was aware he had a positive rating.I didn't know what he looked like until this week.
Gigi: Really?
Mike: Yeah.
Gigi: He resigned about two hours ago.
Mike: Oh, is that right?
Gigi: Yes.
Mike: To be honest, I thought he stepped down already.
Lucy: Even back then, I never agreed with his policies. At the end of the day, I didn't trust him. After the whole nursing home thing and such, I lost trust.
Mike: I don't know, I'm pretty out of the loop but the less creepy folks in leadership positions, the better because it sets an example for everyone, right?
Kai Wright: We'll be right back with more. [music]
Kai Wright: Welcome back. This is the United States of Anxiety. I'm Kai Wright. I'm talking with Zephyr Teachout who challenged Governor Andrew Cuomo in the 2014 Democratic primary and thus was on the receiving end of his infamous political aggression and bullying. Zephyr, I wonder if we can talk about that campaign for a minute. What was that like setting aside your deep policy disputes with him? As you considered running against him, how did you process that already famous aggressive political style of his?
Zephyr Teachout: Well, before I announced, having talked to people, I was frankly scared about what he would do to me. [chuckles] I remember thinking, "Okay, how can he affect my career? It was really striking that almost anybody you talk to would have a warning like, "Before you stand up to him, be scared." That fear was everywhere. After I announced, it was almost comic. I would talk to some lawmakers who privately supported me but would physically move away when we were in public.
Kai Wright: Oh, wow.
Zephyr Teachout: There was one senator who said that every time he spoke to me he'd get a call from Andrew Cuomo's close associate, Joe Percoco, who is now in prison for federal bribery saying, "What are you doing?" That it was like there were spies everywhere watching proximity. A lawmaker who stood next to me at a fair got a lot of attention just for standing near my sign. The level of fear was--
Kai Wright: What do you make of that?
Zephyr Teachout: Well, one of the things that I think is really important to understand is that Andrew Cuomo is a bully, but he had the Governorship of New York, which has a grotesque amount of power. One political scientist concluded that New York was, if not the most, one of the two most executive-branch-concentrated states. Let's just talk about what that means. What that means is if that state senator gets in Cuomo's bad graces, that region of the state may get less funding. It's a real brass tacks form of revenge. People were worried about their own careers but they were also worried about their constituents because the governor has so much power over the budget.
There was a combination of actual power and a culture of fear, and they both re-enforced each other. Now, Andrew Cuomo didn't actually acknowledge my existence. He refused to shake my hand. He absolutely refused to say my name to the point where my running mate said, "It was like Voldemort." If he dared say my name, something terrible would happen. He refused to debate me saying, "Debates were a disservice to democracy." He set up a new political party in New York called the Women's Equality Party, designed to support him to show just what a champion of women he was; lest people choose to have a female governor instead of him. At first, frankly, it is scary, and the ambiance of fear, even when it's not clear, I did two things. I thought, "How can he actually hurt me? He can't." Second, the stakes are too high.
Kai Wright: In the report issued by Attorney General Letitia James's Office, the investigators explicitly linked this behavior to the allegations of sexual harassment, and you did the same in your editorial asking for him to resign in the spring. How are they connected in your mind? Can you do that math for people?
Zephyr Teachout: Abusing your state employees, sexually harassing them, sticking your hand up someone's shirt, these are gross abuses of power. When Andrew Cuomo harassed and assaulted his staffers, he knew and they knew that if they spoke out, the full power of the state could be used to try to destroy their careers. He had 10 years of history of everybody knowing that he would, in fact, act on those latent threats. There's actually really interesting psychological recent research on this kind of abuse of power and how they're connected. We've known for millennia that power corrupts, but there have been some psych experiments recently that finds that a highly stylized environment gives some people more power and other people less.
The people with more power not only care less about the others, they lose the compassionate, empathetic capacity. They actually lose the ability to read other people's facial expressions, to hear what they want, and are far more likely to touch people inappropriately. There's a clear connection between too much power and sexual abuse and abuse of the office.
Kai Wright: I hear you also saying, just in all kinds of corruption in our minds, we become sociopaths if we have too much power.
Zephyr Teachout: We do. There's this wonderful researcher who said, it's as if you've had a traumatic brain injury that affects the empathetic network when you're given too much power. When we think about what to learn from Andrew Cuomo, I think there is a temptation to ask just about Andrew Cuomo himself, the person, but it's also important to step back and look at the structures of power and say, how can we make sure that no one is ever in a position where when they threaten retaliation, they are in a position to follow through on that threat. This is just ancient wisdom that we should apply nowadays. Don't allow people to have so much power as opposed to another response which is to say, let's look for another hero, another person who can play the hero role. It's hey, let's have a balance of power and make sure that people are accountable.
Kai Wright: What about that hero role? Because I also think that's part of the story. We have to talk about the Cuomo sexual craze of last year and his daily COVID briefings, we're really taken his counterpoint to Donald Trump's leadership. They felt like very similar performances to me when I was watching them, honestly, this idea of, it's me and me alone on this wall that's protecting you. What do you think made those briefings such a big hit culturally?
Zephyr Teachout: There's such a hunger for just being released from the responsibility of governing our own lives. Last year, the level of anxiety and also profound loneliness was at a real peak. People were understandably scared and deeply alone. If the counterpoint to grotesque abuses of power is to build systems where communities come together and say, "What should we do?" Not "What hero can lead me?" Then you had a moment where that small democratic communal activity was frankly really hard.
It was hard to have, whether it's Tuesday nights or once a month, or even the politics that you do when you run into a neighbor at a grocery store and work things out and say, "Hey, maybe I'll call my Assemblymember." All of those little moments of interaction were gone, and so you have atomization and isolation and loneliness. At that moment, I think there's this deep vulnerability in all of us to say, "Hey, can't somebody just do all the work?" Because I can't see the 'we' at this moment. I can't feel the 'we' that can govern ourselves.
Kai Wright: I wonder what you think all of this means for women who run for office, if it means anything. This idea of a certain kind of masculinity and machoness and bullying, do you think that women have to perform this same macho act to be viable leaders in the US, and do you see that happening?
Zephyr Teachout: I think we're in a moment of real change on that. I know when I ran in 2014, I had all these questions about, here, I am a law professor with a funny name, no resources, and so naturally, questions of performance come to mind like, "What do I wear and what archetype? How will I make sense to people basically?" There is a deep traditional tendency, which I think is really changing right now to say, "The model that makes sense is to be as close as possible to that 1950s, 1960s white male vision of what a politician looks like." I think over the last 10 years, we have seen a real change in that. Frankly, that's a big deal for men as well. People with tattoos, it's no longer Ken dolls. Mortgages and credit card debt and different hair and that, to me, is something to really be celebrated.
I think that real flowering of maybe superficial like clothing and tattoos and hair, it actually really means a lot for people being connected to politics because then it's not those heroes over there, it's "Hey, I also have credit card debt and tattoos and don't wear a button-up suit every day to work."
Kai Wright: When you mentioned the credit card debt, I assume you're referring to Stacey Abram's famously in her 2018 campaign for Governor, that her personal debt became part of the campaign and she owned it. She said, "Yes, I'm a human being with debt. What do you want? We live in America." I think about her as a counterpoint to the Cuomo example of effectiveness. So much of her brand is competence and effectiveness without the bullying.
Zephyr Teachout: She is the counterpoint in so many ways. Also, you know how you go where you're aiming? The sort of idea that if a pilot's looking at a tree, she's going to crash into the tree. She's looking at the open field, she'll go to the open field. It is so clear, and we'll just use Stacey Abrams as an example, that what she is aiming for is the public good, and a flourishing democracy. She keeps aiming that way, whatever happens. It also is so much part of Cuomo's own trajectory is that he is always been aiming towards himself, towards aggrandizing himself, towards becoming bigger and stronger. Last summer, there was a look in Cuomo's eyes of finally being at the apex, finally being where he wanted to be. It was about himself, it wasn't about the state.
What I think I want to underline is that this kind of-- You might talk about it as toxic masculinity or as this masquerade of bullying his competence, it's really banal. It's not interesting. What is interesting is somebody who has the courage to really care about the public. Being self-centered, that isn't interesting. Seeking power, well, people have been doing that for thousands of years. Bullying, ask a five-year-old, they know how to do it. What's hard is having power and having the courage to share it, not gathering it to oneself.
[music]
Kai Wright: Zephyr Teachout is a law professor at Fordham University. She challenged Governor Andrew Cuomo in the 2014 Democratic primary and ran for Congress in 2016. Back in March, she wrote an early op-ed, making the case for Cuomo's resignation going beyond the sexual harassment charges. You can find a link in our show notes for this episode. Zephyr, thanks so much for coming on the show.
Zephyr Teachout: Thank you so much for having me.
Kai Wright: If you want to hear more about the relationship between gender and power in politics, we made a whole season of this show about it back in 2018 when we were still a seasonal podcast. It's how we covered that year's midterm elections and we talked to a ton of women who have held or sought or were then seeking office, like Stacey Abrams in Georgia and Mikie Sherrill in New Jersey, and several current and former US Senators. Anyway, if you want to check it out, go to wnyc.org/anxiety and look for the Archives tab. Click through and you'll see all of our past seasons, including the one on gender and power. Otherwise, I will talk to you on Sunday.
If you have thoughts about this episode or anything else for that matter, send me a voice memo. Just email it to anxiety@wnyc.org. I love getting voice memos there. Thanks for listening. I'll talk to you soon.
[music]
[00:25:13] [END OF AUDIO]
Copyright © 2021 New York Public Radio. All rights reserved. Visit our website terms of use at www.wnyc.org for further information.
New York Public Radio transcripts are created on a rush deadline, often by contractors. This text may not be in its final form and may be updated or revised in the future. Accuracy and availability may vary. The authoritative record of New York Public Radio's programming is the audio record.