MAGA, the New Confederate Lost Cause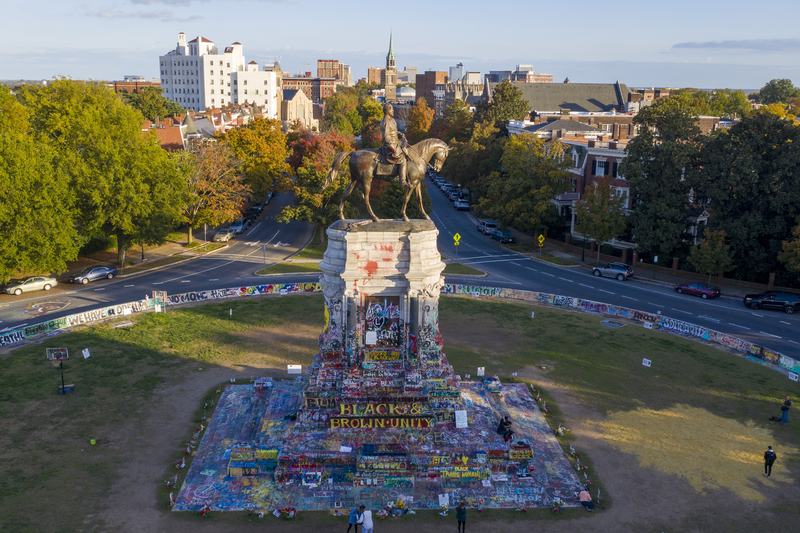 Transcript
Kai Wright: I'm Kai Wright and this is The United States of Anxiety, a show about the unfinished business of our history and its grip on our future.
Lester Holt: It took an honor of guard just 36 seconds to lower a symbol that has divided this nation for a century and a half.
Daniel Sims: I'm not going to take my flag down. If I got a thing to do with it, ain't not monument going to come down.
Protesters: Move the monument.
Tracy Jean Revels: Many people get their Civil War history from Gone with the Wind, the very Southern Lost Cause tale.
[crowd singing]
Tiffany Frady: It's about North vs South. It's not about color or race.
Sen. Mitch McConnell: This is no time to tear down statues of our founders and heroes. This is the time to follow their example.
Whoopi Goldberg: You're bringing in the question, all these Americans, who voted legally? How dare you question that?
Sen. Lindsey Graham: I would encourage President Trump if after all this he does fall short, to not let his movement die.
Kai Wright: Welcome to the show, everybody. I'm Kai Wright. This morning, while many of us were still lost in our dreams, Donald Trump tweeted. I know that is a sentence none of us ever really need to hear again, but this time, it seemed to imply that he had gotten his head around the fact that Joe Biden won the election. This, of course, set all kinds of people ablaze, wondering if he was finally prepared to concede, but within a couple of hours, he was back on message, lying about voter fraud and insisting that he won in spite the enormous and transparent evidence that he lost by a lot.
We are several days into this performance with remarkable moments, like Secretary of State Mike Pompeo's press conference last week.
Interviewer 1: Is the State Department currently preparing to engage with the Biden transition team? If not, at what point does it delay him for a smooth transition or pose a risk to national security?
Mike Pompeo: There will be a smooth transition to a second Trump administration. We're ready.
Kai: Or White House Press Secretary Kayleigh McEnany's appearance on Fox Business this weekend.
Interviewer 2: Are you prepared to say that President Trump will definitely attend the inauguration?
Kayleigh McEnany: Again, that's many steps away here. We're talking January, and President Trump believes he will be President Trump, have a second term. Litigation is the first step, many steps away from that.
Interviewer 2: It would look pretty bad if he did not attend the inauguration. It would look like sour grapes, wouldn't it?
Kayleigh McEnany: I think the president will attend his own inauguration. He would have to be there, in fact.
Kai: Many people are understandably mocking this stuff as some kind of alien planet of reality. The general consensus seems to be that this can't succeed. He will have to leave the White House, and then it'll all go away. It's that last bit that I question, about the staying power of this denial and what it can do when it sticks. I'm thinking of Barack Obama's birth certificate, of death panels. Remember that? The last time there was a public option up for debate? Or for that matter of welfare moms or Pizzagate. We could go on and on with fantastic absurdist assertions that nonetheless, stuck with people and mattered.
A POLITICO/Morning Consult poll taken a few days after the election found that 70% of Republicans don't believe the election was fair. Seven out of 10. This could mean all kinds of stuff about the short-term faith in our democracy, and that's a big deal by itself. I also wonder about the long-term narrative of history because we have in our history a powerful and terrifying example of how this kind of denialism can consume not only our politics but the soul of the country. This week, we are again going to travel back to those crucial and instructive years following the Civil War, when the Confederacy managed to claim victory despite defeat, and it worked.
As our guide, I'm joined by Yale University Historian David Blight. David is the author of the Pulitzer Prize-winning biography, Frederick Douglass: Prophet of Freedom, among many other books about the era. He's written a lot about the ways that the Confederacy still haunts our politics and our culture, and in particular, the modern Republican Party. David, thank you for joining us.
David Blight: Thank you, Kai, for having me.
Kai: We have tons of history to talk about. First, I have to say I'm really curious where someone like you finds yourself emotionally right now. You've got this huge body of knowledge about American politics over centuries, but emotionally, how is someone like you, with all of that information, feeling as you watch this play out? I feel like we're all looking for guidance on how to feel.
David: [chuckles] Thank you for that question. I don't often get asked about my emotion but we have them, too. I bounce off walls some days. When I heard Pompeo said that the other day, I laughed, and then I thought, "Did he chuckle when he said that?" [laughs] I got a little bit worried. The 70% figure about Republicans, that's another reminder that we live in decidedly different information universes.
I've been trying to keep my feet on the ground not only by looking back to history and knowing that we've been in massive crises like these before, but that I really do believe the Trump presidency, with all of its horrors and all of its lying and all of its misadventures with policy, has been essentially a TV show. It is still a TV show. When his press secretary gets up and says what she said, we can't help laughing at that.
On the other hand, the test here is going to be, if there is a Trump Lost Cause, there's already one being fashioned in narrative, in stories, in conspiracy theories, and on right-wing media sources, but if there is to be a Trump Lost Cause, it has to be sustained for what it already was. That is essentially a television show or maybe it will be a radio show or maybe it will be a theme park as an article in The Nation suggested the other day. That is possible. It certainly is possible, but we shall see.
Kai: Meaning that it needs a vehicle for delivering the idea. He's got to have a medium for this performance.
David: He has the audience. The question will be, how does he create a medium in which to keep that audience?
Kai: You recently wrote in The New York Review of Books. You said that today's Republican Party is best understood as a modern version of the Confederacy. You wrote this sentence, you said, "They are secessionists without taking the revolutionary step of seceding." What do you mean by that?
David: I basically mean that ever since Reaganism, the Republican Party has tried to convince this country to not believe in government, that government is essentially a conspiracy against your liberty and not that which will sustain your liberty or sustain your life or your pursuit of happiness. They have rendered as many institutions within the government weak or as weak as possible. This is in effect to, perhaps you could say, from our right-wing point of view, the great triumph of the Trump presidency.
It has strangled the environmental protection agency. It has all but destroyed our foreign alliances in the interest of this isolation as a vision of the world. They have rendered numerous other institutions moot or weak. That's what I mean by it. That in fact, the Republicans want to own the government, that they do not want to actually function to the vast body of the American politic. They want it to function for their own interest. That, at the end of the day, explains this perverse loyalty of Republicans to Donald Trump because he did at least help them deliver what they most wanted, which is tax cuts and judges.
Kai: That perversity, how does that relate to then the Confederacy and that history? Is that how you understand the Confederacy as well?
David: The leaders of the Old South and then the leaders of the Southern Secession Movement have been arguing for years and years and years that they have to sustain their primary interest, which was a slave society. Make no mistake, that's what they were working to defend. They had to sustain it within this American republic as it designed and as it was functioning. The Secession Movement of 1860 and '61 was essentially their belief that they could no longer live within the structures of the federal government because they had become a minority interest, a decided minority interest.
The Republican Party today also is aware that it is risking becoming, if it isn't already, a numerical minority interest in the United States. More and more it identifies as the white people's party, it is becoming a minority political force. How do you sustain the minority political force in our system? We have institutions that allow you to do it, like the US Senate and the Electoral college. This begins to help explain the vast array of methods of voter suppression that the Republicans have enacted over the past 20 years or so.
That analogy to the Confederacy is simply trying to say that we have a political party today, Lindsey Graham, what did he call it? A movement that is trying to strangle the function or federal power in their own interest. I don't know that the Republicans will ever try to secede, although there are secessionist efforts, committees and groups all over the country, especially in Texas, there's even one in California for other reasons. They're not yet secessionist, but they're secessionist from within.
They didn't let the impeachment power play out as it was designed. They stymied any attempt at further aid to the American people in this pandemic crisis. Mitch McConnell has locked down the United States Senate except for the few things that Republicans actually want it to do. That's a sort of secessionist from within.
Kai: They are prepared to just lock up the federal government and throw away the parts that they don't need in the same way as if they had pulled out. If that's the modern Republican Party and its relationship to the Confederacy in your mind, I do want to talk about the Lost Cause, this idea, and how it came about, just a real how-to on how this ideology became such a deep part of our culture.
First off, for those who haven't heard the term or who haven't really taken in what it means, can you just summarize when we say the "Lost Cause of the Confederacy"? What is that?
David: It took root in the physical destruction of the South. It took root in the terrible psychological trauma of defeat for white Southerners. Big time defeat let's remember that. It took root in the revival of the Democratic Party, the Southern Democratic Parties' resistance to reconstruction. It took root in a tremendous sense of loss of people but also of a society. It became a kind of religious cult as well.
Then it became perhaps, above all a version of history. It became what I like to call a set of beliefs, searching for a history. Those beliefs were essentially, that they believed that Southerners had never really fought for slavery, that they were only defeated by overwhelming industrial might and never really on the battlefield. They came to believe in this idea that the most noble or righteous of causes can lose and nevertheless never loses its nobility. They had a murders cult, which was of course the hundreds of thousands of Confederate dead. They had this leader, Robert E. Lee, that they fashioned, one could say invented, into this perfect Christian soldier, who also said, never fought for slavery.
Kai: Let me linger on that part a bit. First off, what you're describing is there's this set of beliefs that are facially untrue to everybody before their eyes at the time and yet were being stated again in public, and somehow it got routed and passed on. As you were about to say, as I gather, a big part of that is about creating heroic characters out of failed leaders.
Robert E. Lee, being the key one, can you take us to Memorial day 1890 in Richmond, Virginia? I understand this is the end of the story for the Lost Cause in some ways, but let's start there. Can you describe the scene on that day? What was happening and why that was important to this story?
David: It's a sort of an ending, but then it's a new beginning. It becomes a new stage of the Lost Cause. I think you're referring to the unveiling of the huge Lee equestrian statue in Richmond in 1890, which was the first of the eventual five major monuments put up on what is called Monument Avenue in Richmond. They would all go up over a period of about 15 years, Lee, Jackson, J. E. B. Stuart, Maury, the head of the Confederate Navy, and last but not least, Jefferson Davis.
That Lee statue is now of course still there, but it has become an object of artistic and aesthetic counter-memory in the wake of the George Floyd rebellions or resistance and protests. That monument of Lee, with hundreds of thousands of people who had turned out for its unveiling covered by the national press, and by then 1890, the Confederate veterans organizations had fully organized and fully come into their own and were out in huge, huge numbers to honor their great captain.
That monument is only one, of course, as everyone knows now of hundreds and hundreds of Confederate monuments, that soon would dot every town, village and city all across the South and even some in the North. I should say here, these monuments had already started earlier. The first major monument in Richmond had been put up in 1874 of Stonewall Jackson on the grounds of the State Capitol of Virginia.
What now these monuments became is part of a whole set of rituals. Every Lost Cause, every great cultural or ideological movement like that, and there've been many other lost causes around the world can only be sustained eventually by intergenerational rituals. The story has to be carried on. It now is going to be carried on deep into American culture, including among northerners, by parades, by the use of cemeteries, the use of monuments by the United Confederate Veterans Organization, and especially by women and what was known as the United Daughters of the Confederacy.
Kai: Why especially by women? Why is that important?
David: They took over in some ways, Southern women. Southern white women took over the memorial cultural process much more than the male veterans did. They raised money for these monuments, they organized parades, they created youth groups to which the story was passed on. The United Daughters of the Confederacy also became a quite powerful lobbying group. They had numerous Southern congressmen and senators wrapped around their fingers to get the money to build all these monuments.
Their heyday comes about in the 1890s and especially in the first decade or two of the 20th century. In all those towns where a Confederate monument, large or small would be unveiled, women were the organizers. There was always a women's memorial committee, a women's memorial organization. This also was one of those beliefs, one of those deep, deep myths at the heart of the Lost Cause and that is the Confederate men, the Confederate soldier had fought for Southern womanhood.
This is a very gendered story and at every unveiling of a Confederate monument, by and large, there had to be this nod to the Southern women. They were always honored as the women who had defended the home front, who had stood by their men, and who had revived the spirits of the surviving soldiers.
Kai: I wonder, as I heard you describe the parades and the monuments and the gatherings, I'm thinking about what you said at the beginning of our conversation about Donald Trump and his Lost Cause that he requires a vehicle. Am I doing too much to compare those two? This would be TV or radio or theme park that Donald Trump will have to go looking for?
David: It's a leap. We've got to be careful with all these analogies. On the other hand, if it's to become a true Lost Cause ideology, it's going to need vehicles. Now, the possible media vehicles are many, aren't they? Let's remember too, here the potency of the Lost Cause ideology was in race, was in white supremacy, and eventually, especially by the 1890s, the Lost Cause was no longer about loss at all. 1890s into the early 20th century, it became a victory narrative.
The Lost Cause ideology now was the story also of the revival of the South and of the resistance to, and defeat of reconstruction. That, they portrayed as a victory for the entire country, a victory over the radical attempt to equalize the races, a victory over the worst idea of all, which they believed was Black suffered, the right to vote being given to Black men. I should say here, and I'm so grateful to have the time to say as much about the Lost Cause ideology. Usually, I don't get this much time.
Eventually, a core element of Lost Cause ideology became the image of the faithful slave. The contented, faithful slave, who were often trotted out, old Black men or old Black women were trotted out at Confederate reunions to be the sample, loyal, ex-slave.
In fact, if anyone ever bothers to go look in a library, or even online, at the Confederate Veteran magazine, which was published for about 45 years, from about 1890 way into the 1930s, in almost every issue of that monthly, after the turn of the century, in particular, they would have an article by an old Confederate veteran remembering his favorite loyal slave. It became part and parcel of Lost Cause remembrance and Lost Cause ideology.
They even held so-called reunions or picnic events for "mammies ". These were old Black women who had served white families, had been their cooks and had been their nurses, and so on and so forth. They would honor them so that they were essentially saying, a great and benevolent noble civilization had been defeated in that war, but its essential ingredients have carried on. It goes without saying here, but it can't be said loudly enough, that the Lost Cause ideology was essentially a racial ideology. Eventually, it was about the victory they had won over reconstruction.
Kai: Coming up, what's all this mythmaking mean for the rest of us? What can we imagine for the country and for ourselves? David Blight will stay with me as we open our time capsule of the big, bold, wild dreams that all of you sent us. It's after our break.
[music]
Kai: David, before we went into the break, you were talking about the victory narrative that had been established by 1890. I'm thinking about who all that victory narrative is for. Again, I'm wrestling with the parallels between now and then. I want to play you something that somewhat on our midday show All Of It with Alison Stewart, the week right after the election. I've lost track of time, so much has happened since Election Day. This was right after the election and before Joe Biden's victory had been declared.
Alison and I were taking calls about how people felt. Someone called in that stuck with me as this example of a defeated emotion I keep hearing from people who want to see racial justice in this country right now. I want to play that for you and ask you about it.
Caller 1: I live in a blue area, I work in a very red area. I live in Hudson Valley. I'm a Latina. I spoke to my family this morning, early in the morning. We're feeling like this was really a racial vote, and that we don't feel welcome. Trump, he ran on basically what for a lot of us seems a white supremacist agenda. To know that even if Biden wins, which I hope he does, but that half of this country is willing to accept that and is willing to go with that, is very disturbing. I prayed that my country would live up to the ideals that they've always been shouting and that I teach my students. It doesn't seem that way.
Kai: David, that's interesting to me, because certainly, the numbers are the numbers. 72 million people voted for Donald Trump. That's not quite half the electorate, but it was a big turnout. I keep hearing this sense of disappointment that arrives in exactly as the caller said this idea that the country hasn't lived up to its ideals, even though Joe Biden won, overwhelmingly, actually.
I'll just put that to you in terms of, is there any lessons from our history with this lost cause in terms of what the narrative of victory in spite of the facts of defeat does to the rest of us?
David: I think that was a fascinating call and may speak for many, many, many people. We've got to remember here that all the talk about grievance being among the Trumpists, there's a lot of grievance on the other side, too. If you think about it, that woman was speaking her own sense of grievance of, how can there be 72 million people who will follow this man? Think of the grievances, shall we say, on the left or among liberals, just take your pick of any one of the outrages of the Trump presidency.
Think back to Helsinki, when he embarrassed his country, in front of Putin. Think of The Atlantic article about what he has said about soldiers. Think of Bob Woodward's book, which just showed he knew what the pandemic was from the beginning. on and on and on, we could go, and yet none of that mattered to this massive outpouring of people who are still so tied to him.
What this means at least and it's very hard to take, but that is the liberalism, let's just say, people like where I work, liberal elites, whether in universities or in business or in the media, are going to have to keep trying to understand those 72 million, as hard as it is. One of the things that may have happened here because of the power of conspiracy theory, the power of right-wing media, the power of Fox News, and the power of this individual political figure, who has, as we've learned, no shame. He will say anything, he will do anything. That is it.
This is just an idea to tribe, his amorality, may have all but ruined our own moral imagination if we're not careful. We can become so disgruntled, so disappointed, so sad, if you like, that we might even get immobilized by continuing to try to imagine what we want this country to be. We got to start with the fact that our belief in the beautiful pluralism of America and the beautiful ideas that are at the core of its creeds is sometimes just not as potent as hatred. Trump has taught us that again, and we've been taught this before. Our set of beliefs, if you want to put it that way, which we hold dear, are up against a set of beliefs that other people hold dear as well.
I just found that woman's comment amazing. She is telling us, "Look, there may be six or seven reasons people voted for this man, but a whole lot of them voted for him because he is a white racist." That is hard to go to sleep with at night.
Kai: You mentioned it so we've got to figure out how to talk to those people. Then part of me says, "Listen, I've read your books, I've read this history, that is a failing task." In fact-
David: Lost at that before, haven't we?
Kai: Yes. How do you arrive at that conclusion, given all that you know, about the way in which just the mythology of white supremacy has been so sticky ever since the end of the Civil War?
David: Oh, God, I wish I really had all the answers to that. Politically, I'm not talking about convincing millions and millions of Trump voters that they were wrong, but the Democratic Party and Liberalism as its own movement, and let's try to call that a movement, they're going to have to come up with economic messages that revive the idea that government is a good thing, that government works, that government may actually even save you, that government can actually create policies that can begin to spread liberty around, can spread equality around.
This is going to take imagination, big-time moral imagination, but we do have models for it. We have the new deal model. I hope to God in the Biden circles and all those people in Wilmington, Delaware, and all the task forces are at least beginning to think boldly and big about this idea that you can use government to reinvigorate everything from the arts, to jobs, to technologies that can create cleaner, energy and on on and on because that's not going to solve white supremacy.
White supremacy is always been this set of ideas and beliefs that mutate. They're so useful that's why they survive and they will mutate again. We are fighting a kind of ahistorical ignorance. Now, I'd like to think that we could just start sending out historians to speak to people, but I know better than that. That's not going to solve all the problems, but some of us do have to get out of ivory towers and go talk more to real people.
Kai: You've mentioned imagination a couple of times so I want to bring our imagination exercise into this conversation. Before the election, we asked listeners to this show to send us voice memos with their wildest dreams for the future of the country and of their communities. We made a little time capsule. Here's some of what you sent us before Election Day.
Michael: Hey, this is Michael from Raleigh, North Carolina.
Ida: This is Ida in Austin, Texas.
Dorian: Hi, Kai, my name is Dorian from Queens, New York.
Female Caller 2: My wildest dreams and imaginations it's going to be hard for me to get through this note to you guys without getting emotional.
Female Caller 3: It's been so nice to imagine a future rather than seeing only Black when I think of the future.
Male Caller 3: In the world, I imagine it's spring in nature and hope and in each other. Our neighbors and countrymen and women of all walks have all grown so tired of loss from COVID and everything else. We've become focused on healing and growing the community and the world we share together.
Female Caller 2: I hope that we can once again, open our borders to refugees and once again, open our arms to immigrants. I hope that we can be that shining beacon of light and hope for people around the world.
Female Caller 4: That people can read each other's minds and animals' minds, and the animals can read people's minds.
Female Caller 3: What do I imagine for our country in a year? I'm going to choose a year. I'm imagining healing. I'm imagining safe conversations happening all over the country in different communities.
Dorian: I would like to imagine a future where we don't replace one form of prejudice or hatred for another. I would love to see us tackle the need for reconciliation between the races as we have defined them.
Female Caller 2: I see my community living in a world where being an artist doesn't cause parents to fret and worry. We're truly appreciated and compensated for our work. When I was receiving pandemic assistance on top of employment, it was literally the most I've ever made consistently. I'm a middle-aged woman, who's worked for large companies.
Female Caller 3: I'm also imagining for myself a whole string of days in a row where I don't have anxiety.
Ida: I imagine a female or non-binary person, a first-generation American, an LBGTQ individual as our president because it's about time.
Male Caller 3: Where there were signs dividing us for who we're voting for, now there's barbecues, COVID behind us. Where wildfires and hurricanes exist there are now rebuilt homes, businesses, and dreams of what we can recover, achieve, and improve together.
Female Caller 2: We can come together at a concert and dance to a band we all love. We can go to the theater and see a play. We can go to the movies and we can all laugh and cry together.
Dorian: Thanks for giving us the opportunity to share.
Kai: That some of what you told us about your wildest dreams before Election Day, including animals and humans, reading each other's minds and I am so here for that. Thank you for making sure that was part of our time capsule. If anybody out there wants to add more dreams and now we're going to start taking your call, 646-435-7280. Again, that's 646-435-7280 and you will be happy to know, David, that our phones are immediately open. I want to invite you to bring Frederick Douglass's imaginations into this conversation eventually, but first, let's hear from a couple of calls. Simon on the Upper Eastside.
Simon: Hi, Kai, and Professor Blight. Thank you for having me on. What I wanted to say was that Professor Blight was talking about how there are 72 million voters who don't feel that they're listened to, or that they're condescended to, by people in power in the corporate world, in the academic world. One thing that could ameliorate that divide or bridge that divide, it's an idea that Elizabeth Warren had about workplace democracy.
We have democracy where we vote, but our workplace structure is still very authoritarian. Elizabeth Warren had the idea of putting workers on corporate boards or establishing other institutional structures where ordinary people who go into work every day could have a say in the way that their workplace is run. I think that that might go a long way towards giving, every day, people a voice in their lives and a voice in the things which make so much impact on how their lives go. She had a very good idea and that the new administration would be wise to listen to her and other people who have advocated for something like that.
Kai: Simon, thank you for that submission to our time capsule. Workplace democracy gets added to the list. Nobles Crawford in Washington Heights. Nobles, welcome to the show.
Nobles: Hi, thanks, Kai. Longtime listener, first-time caller, thank you for all that you do. For my big idea, what I think should happen is that we should make high-speed internet and also data warehousing a government utility, and that way people can get tax breaks according to how much media they consume and the tech companies that buy their data. To give you a little, for instance, folks here, an example, disenfranchised in lower-income communities consume digital media at higher rates than almost anyone else or any demographic in this country, usually from their mobile device.
If those people are allowed to get tax credits from companies buying their data and marketing to them, instead of Amazon or Facebook hoarding the money for themselves, then we can build a basically virtuous cycle that not only can get high-speed internet to rural and low-income areas, and also get money back into people's pockets, but I guarantee you, the profits of the tech companies will be fine. This also comes with, really quickly, a second benefit and that is the power of the United States defense system is also protecting our data as well. Thank you very much for your time and that is my big idea.
Kai: Thank you for your big idea submission, Nobles. Paul in Jersey city. Paul, what's your dream?
Paul: Hi. Thanks for having me on. I'd like to create an army of ears because I feel that all of the grievance we hear about constantly that is being acted out politically is the hollowing out of the methodologies for deep listening on the communal level. As a civil act to create groups locally, that will just sit together and just do deep listening, for instance, that people can be heard.
Everything that I've heard, that some are listening to, the eruption dealing with racial justice, that phrase of deep listening seems to be lacking and because of that, people, therefore, find people like Trump, allows them feelings that they would not publicly like to share otherwise because we don't have mechanisms of deep listening. Social media and the platforms and the algorithms of the social media seem to exacerbate this rather than help it.
Kai: I'll certainly agree with that. Paul, thank you for that submission to our time capsule of big dreams. David Blight, I said before we started adding colors to the time capsule I wanted you to add Frederick Douglass's dreams. One of the things that I really enjoy about your biography is that you really do paint this picture of Frederick Douglass as this imaginary, as somebody who's just really thinking big and particularly towards the end of his career. What was his big dream after the war? When this Lost Cause thing was starting up, what was it that he was dreaming about and urging us to dream about?
David: Douglass was the prose poet of American democracy. If anyone's out there looking for that, start reading some Douglass. First of all, he hated the Lost Cause ideology. Doesn't mean he didn't have a degree of humane sympathy for white Southerners and what they had experienced, but he hated this ideology because he knew it was basically a new kind of pro-slavery ideology.
To answer your question in the briefest way you can find his great dream if you want or his biggest, boldest idea in his speech he gave in 1869, it's called the Composite Nation. It reads today like a multiculturalism manifesto of the 1990s or it reads much better than a university mission statement today. It is the vision created now by emancipation and the three great constitutional amendments 13th, 14th, and 15th. The 15th has just been passed, when he takes the speech on the road. It's this vision of pluralistic America.
He says, for the first time in human history, this country had a chance because it had managed to create a legal structure where people could live with equality before law, they had a chance to do what no other people or country had ever done. That is a nation with peoples from all corners of the earth, all religions, all races, all ethnicities, all living under equality before law.
In the middle of the speech, he made a forceful appeal for what was the big issue at the time, and that was Chinese immigration, which was really vexing the country at that time. He just makes the case. He says, "Look, get ready, America, they are coming." As typical as Douglass, he put it in metaphors, "They're coming over mountains. They're coming across the rivers. They're coming to our cities."
He says, "Yes, they speak an alien language. Yes, they have alien religions, but they are a 3000-year-old civilization. They have done things we can't even imagine. Let them come." It's all based in Douglass's vision, at that time of an assimilationist conception of America. Now, I have to say, just like many of these other dreams we've been hearing about, and by the way, this feature of letting people call in was just brilliant. That's amazing.
Kai: Thank you, we try.
David: I can't find an example of Douglass giving that speech Composite Nation again, after the early 1870s. It just wasn't going to fit as reconstruction began to fall apart, as reconstruction was slowly but surely defeated, as the white South took back over control of its states, and eventually, even to some degree of the country. It's the vision of America that we say we're trying to live every day, and that the people calling in were asking for.
By the way, in those calls, I took careful notes. It's amazing. People were asking for healing. People were begging for the arts over and over. How about a federal arts project, folks? People were demanding empathy, openness, and an LGBT president, et cetera, but none of this can happen without justice. If there was one lesson I learned above all others in writing a long book about the memory of the Civil War, it was this idea that healing and justice, the combination of those two was the greatest single challenge Americans faced after, without question, our most divisive event, which was the Civil War and slavery.
The problem was that healing and justice never found a balance. The country found a lot more healing than it ever did justice by 1900 or 1915, and for that matter, for decades to follow. What we have to hope for now if there's to be some kind of rebirth of this dream people are talking about, is that you got to have both. You got to have justice and healing and they've got to be in some kind of balance.
Kai: What about you? Maybe you just answered it, but what would be your single wildest dream for the future of the country?
David: I'm not going to let mine be that wild, frankly, because I want to see a Biden administration, and they may only have two years because, if history is a guide, the party in power usually loses seats in the House in midterm elections. He's got two years to fashion a bold, economic policy, scientific medical policy to bring us out of this pandemic, but an economic policy to revive the economy and to try, with bold measures, to recreate an increasing equality in this country instead of inequality.
I also think liberalism needs its own careful inward thinking about just what we want this to be. I hope we have a political culture that comes out of this. How about this is a big idea. We just find a way to stop thinking that everything is about us as individuals. It is not. It's about the whole of society. We need a new social contract.
[music]
Kai: Indeed. David Blight is Sterling professor of history at Yale University and author of Frederick Douglass: Prophet of Freedom. David, thanks for talking with us tonight.
David: Thank you Kai. I enjoyed it.
Kai: United States of Anxiety is a production of WNYC Studios. Jared Paul mixed the podcast version. Kevin Bristow and Julianna Fonda were at the boards for the live show. Our team also includes Carolyn Adams, Emily Botein, Jenny Casas, Marianne McCune, Christopher Wirth, and Veralyn Williams. Our theme music was written by Hannis Brown and performed by the Outer Borough Brass Band. Karen Frillmann is our executive producer and I am Kai Wight. You can keep in touch with me on Twitter @Kai_wright. That's Wright, like the brothers. As always, I hope you'll join us for the live version of the show next Sunday, 6:00 PM, Eastern. We're here every week. You can stream it at wnyc.org or you can just tell your smart speaker to play WNYC. Until then, thanks for listening. Take care of yourselves.
Copyright © 2020 New York Public Radio. All rights reserved. Visit our website terms of use at www.wnyc.org for further information.
New York Public Radio transcripts are created on a rush deadline, often by contractors. This text may not be in its final form and may be updated or revised in the future. Accuracy and availability may vary. The authoritative record of New York Public Radio's programming is the audio record.