Juneteenth, an Unfinished Business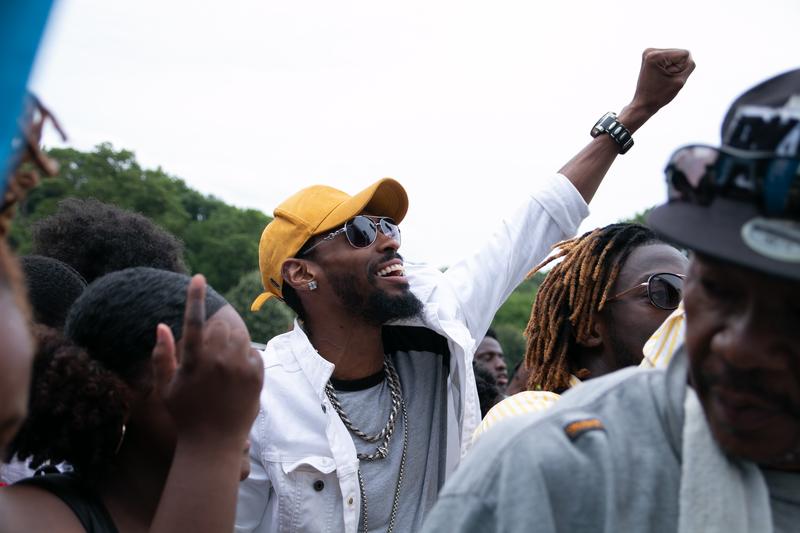 Transcript
KAI WRIGHT: Before we get started, a big, warm welcome to any new listeners... We've been making this show for four years -- ever since the 2016 presidential campaign -- and so there are lots of past episodes for you to dig into. But lemme particularly urge you to go back to the start of this season. That's when we first started looking at the years immediately following the Civil War, that period when this country first set out to truly become a multiracial democracy and has not yet figured it out. Those episodes and that history feels super relevant right now.
[MUSIC]
KAI: And we'll return to that period in this episode as well. It's kind of a holiday special for us: We just celebrated Juneteenth, and so in this episode, we have two conversations about black liberation -- and also we want to look ahead to the Fourth of July and think about what it does and does NOT mean for freedom. I'm Kai Wright and this is the United States of Anxiety, a show about the unfinished business of our history and its grip on our future.
[THEME MUSIC]
KAI: I suspect millions and millions of Americans learned about Juneteenth for the first time this year. There are new state holidays, maybe a federal one coming. Several corporations are now giving workers paid leave to mark the day. Whatever TV or podcast streaming service you use has probably suddenly discovered all this black content that you typically can't find on their platforms…. Better late than never, I guess. But for the record, Juneteenth is not a product placement opportunity. It is an annual celebration of black Americans' emancipation from slavery. And it has been an important holiday in black communities around the country for more than 150 years.
[AMBIENT: OUTDOOR PARTY WITH MUSIC FADES IN]
KAI: Typically, people come together for parades and block parties and BBQs and all manner of ways to just revel in black family and community and joy.
UNKNOWN VOICE OVER SPEAKER: We're celebrating black excellence, black joy, black success!
[AMBIENT: OUTDOOR PARTY WITH MUSIC FADES OUT]
[AMBIENT: CROWD CHANTING AND CAR HORNS FADES IN]
KAI: This year, it is also a holiday for protest.
PROTEST CROWD: I don't see no riot here! Why are you in riot gear?
[AMBIENT: CROWD CHANTING AND CAR HORNS FADES OUT]
KAI: And a holiday for reflection -- on what it's gonna really take to create a multiracial, truly plural society. That's how I spent my Juneteenth -- live on the radio, here at WNYC, talking to a bunch of people about this holiday and what it means. Maybe some of you even called in; I do hope so. But one person I spoke with is Terrance McKnight. He's a musician and thinker in a fairly unique space for a black person -- the world of classical music...
[CLASSICAL MUSIC FADES IN]
KAI: Every evening here in the New York area, Terrance is live on the radio, hosting and playing music on the local classical station, WQXR -- which is affiliated with us at WNYC; we're both part of New York Public Radio. Anyway, I wanted to talk to Terrance because that night, he was gonna do something special -- maybe even something unprecedented. He was gonna create a kind of classical music blackout on the radio: several hours in which he would talk to black musicians and play nothing but black classical music. I asked him why.
TERRENCE MCKNIGHT: I think music can be -- music can just be a gateway. You know, music is such a part of our culture, such a part of -- you know, we wake up singing in the shower. You go to bed, you know, maybe listening to music or humming something that you heard over the course of the day. I think all of us, you know, perhaps being able to -- before we were able to speak, we were almost singing or making sounds that are musical. So I think music is a, it's always been a great tool for bringing people together. So I think if you can sing or if you can hum something or if you hear something that seems to resonate with your soul, it opens you up to exploration. And so I think with music, you know, on the plate, everything else is more palatable and easily digestible.
KAI: I asked him about his own journey through classical music, from being a young performer in Mississippi to now.
TERRANCE: Well, you know, I can go back to my childhood. You know, I think about growing up where being the youngest of five, all of my siblings did something with music. You know, one sister played the violin, another sister played clarinet. My other sister was in the choir. My brother played guitar. So when I went to see or when I went to hear the Cleveland Orchestra for the first time, I felt to a degree at home. You know, I could recognize some of the instruments. My mother would have me watch television, especially Leonard Bernstein, those young people's concerts, and she would have me name the instruments when they would, you know, when the cameras would go around. So I you know, the concert hall initially felt like a place where I was at home because I recognized the instruments and the sound. But, you know, when they would bus us in for these- these rehearsals in elementary school, it was cool - until the white kids came. And when the white kids came, I felt like they had a different entree. Like their experience was gonna be different. Like they actually knew those musicians on the stage because there was one black guy, I remember, and I would always try to make eye contact with him. I was a child, man. I was seven or eight years old, but I knew something about him reminded me of, if not myself, of one of my uncles. So I always tried to look for Donald White sitting in that orchestra and in that cello section. But I always felt like a little estranged when the young white kids would come because I felt like they had more of an entree into the experience. And I remember that as a young person. Man, I've got so many stories, you know, but being here at a New York Public Radio and for 12 years now, twelve years a host, and talking about all kinds of music. Most of it from Western Europe, you know, talking about music from Vienna and Russia and Scotland and Austria and France and Italy. Talking about Hercules and Fair Melusine. And Mozart and Bach. But today, you know, we get to talk about- Langston Hughes said, 'One day, somebody is gonna stand up and talk about me and sing about me. Black and beautiful. Well, I guess it'll be me.' Well, tonight is our turn.
KAI: You brought some of that music with you today. Let's hear a little bit of it. I know that part of the idea here is to sort of hear some music, that of Juneteenth that transcends what we may consider traditional classical music, as you were talking about. One of the pieces I think we'll hear is Freedom Day by Max Roach.
[MUSIC: "Freedom Day" by Max Roach (1960)]
KAI: That's Abbey Lincoln singing "Slave no longer, slave no longer. This is Freedom Day." They're really telling the story of Juneteenth here, right?
TERRANCE: Yeah, man. I mean, this music goes back to 1959 and what Max was looking forward to was the centenary celebration of Juneteenth. They were celebrating the 1863 Emancipation Proclamation. So they put this music out in 1960 and you could hear how Abbey Lincoln is anticipating the beat. I mean, she's really showing that nervous energy just ahead of the beat. That nervous energy that may have existed, that certainly existed on those plantations. She's saying, 'whisper, listen, whisper, listen. We're free.' So they're really talking about Texas and Mississippi and Alabama and these folks hearing rumors of emancipation and the excitement. And you hear, you know, that bebop sound and that bass. And we've got another sample that we're gonna listen to, man, where you're gonna hear that trumpet just flying all over the place. And it's played by this young man named Booker Little who died shortly after this record was put out. Man, he died at age 23, but you're gonna hear this freedom- that the sound of freedom coming through in that trumpet.
[MUSIC: "Freedom Day" by Max Roach (1960)]
KAI: Yes. It is just the sound of Freedom, Terrance!
TERRANCE: It's the sound of freedom. You don't always know where that trumpet is going, but they're willing to follow. You know, our folks didn't have a place to go. It was illegal for them to read and write, even own a pen or paper when they got free, man. And they didn't own land. So they just had to, you know, look for their people. Walking around different plantations, looking for their families, not always knowing where they were going, but they knew they were headed towards freedom. They knew that they were free. And you get a sense of that in that trumpet line played by Booker Little and Max following on percussion, man. I think it's very emblematic of the spirit of, you know, those folks celebrating back in 1963, the centenary, but also of our folks back in 1863, and as we're celebrating today, 1865.
KAI: Let's hear from Greg in Baltimore. Greg, welcome to WNYC.
CALLER: Hi. This is- I really love this segment. Music is so important, and I wanted to say that a year ago this week, a great jazz club here, An die Musik,
had the phenomenal pianist Stanley Cowell do his ensemble premiere of his Juneteenth suite. And that's on recording so people can check that out. And Stanley Cowell is just a master. And it was great to do that at a great club here.
KAI: Thank you. Thank you for that, Greg. Do you know this piece he's talking about, Terrance?
TERRANCE: I don't know this piece, but I know Stanley Cowell.
CALLER: Yeah. Google "Juneteenth Suite". It's really wonderful.
TERRANCE: Yeah. Thank you, brother. Thank you for that.
KAI: So let's talk a little bit more about some more of the music we're going to hear tonight in your special. So we'll hear another piece from Daniel Bernard Roumain. You want to set that up before we hear a little bit of it?
TERRANCE: Yeah. And this idea of, you know, classical music- and I talked about it not sounding the concert hall- sound not being that different than it was 150 years ago. So, you know, this black aesthetic, you know, this idea of improvisation that we brought to American culture. Many of our folks coming north from the Great Migration. For them, improvisation wasn't just a way of making music. It was a way of living. It was a way of being. It was a way of surviving. And so music became an extension of that. And so that's something that I feel is missing from the concert hall. That spirit of cool, of improvisation, of spontaneity. And in this next piece we're going to hear is based on "My Country Tis of Thee," written by Daniel Bernhardt Remain who lives in Brooklyn. And Daniel tells the story of being at BAM [Brooklyn Academy of Music], working on a piece by Bill T. Jones. And there was other art - there were other artists involved. And Daniel said everybody was busy. Everybody had different projects going on. And they were trying to find their space and trying to find time to do the work that they were there to do. And there were some disagreements on stage, backstage. Just couldn't seem to get along. So he said, you know, man, as opposed to just duking it out, I just picked up my violin and went out on stage and just start playing. Just started improvising.
[MUSIC FADES IN]
TERRANCE: And the person that he was in dispute with walked out onstage and heard him and just started playing piano. And she's just playing this line and Daniel's improvising. This is what they put together that day. And I think it's it's it's a special look at "My Country Tis of Thee," because what it brings is that spirit of improvisation, that spirit of black creativity, of freedom.
[MUSIC FADES OUT]
KAI: Let's hear from Juliette in Montclair, New Jersey. Juliette, welcome to WNYC.
CALLER: Well, thank you so much. I'm a native New Yorker and I found classical music through my father and my brother- my oldest brother. So for me, classical music has always been about black people and so with Terrance McKnight, I listen to you every single evening when I'm home and I so thank you because listening to you makes me feel like I'm with family. Now, growing up in New York City, we went to the young people's concerts, etc., etc., etc. but we also were involved with relatives who sang opera. So I've always experienced classical music as being part of my life as a black person. But what Terrance McKnight has done is bring to everybody who listens to the classical music written by African-Americans. And it's so wonderful. So I'm so thankful.
TERRANCE: Thank you for that call. Man, I feel like I'm with family.
KAI: You too can join the Terrance McKnight family by going to the show notes for this episode. You'll find a link to Terrence's whole Juneteenth program.
TERRANCE: We're gonna use music through all these composers and performers of African descent to really show connections between all of us as human beings, and to really elevate some of these performers and composers who've been on the margins of obscurity for, in some cases, centuries. You know, these black classical musicians go back to the 18th century with Chevalier de Saint-Georges, and so we've got him, as you know, 300 years of black folks making what we call classical music.
KAI: Do you think that's changing in classical music? The fact that some of these folks that we're gonna hear tonight are, as you say, have been on the margins? Are not who we're hearing -- is that changing? Or no?
TERRENCE: It's going to change today. On WQXR.
KAI: [Laughs] Alright.
TERRENCE: And you know all we can do, man, all we can do is look forward. You know, I'm sure that Alvin Singleton has a different story, you know, as composer in residence with the Atlanta Symphony than Chevalier de Saint-Georges or William Grant Still did back in the early 20th century. So absolutely, it's changing. Can we do more? Absolutely, we can. Are we? Yes, we are.
[MUSIC]
KAI: Up next, the history of Juneteenth and how we have celebrated it for 155 years.
[MUSIC]
KAI: In the first few episodes of this season, we talked about the ways in which black people around the South burst into civic life following the Civil War -- holding elected offices and opening businesses; creating new schools and starting up newspapers; moving all over the country - looking for opportunities and trying to reconnect with family members that had been torn away in the course of the slave trade. It was a remarkable and inspiring period in human history. And this is the era in which Juneteenth became a holiday -- not officially, of course, but for black people. So when I gathered people for our live radio show on Juneteenth, I called up historian Daina Ramey Berry. She's the author of "A Black Woman's History of the United States," among other books. And she is in Texas, at the University of Texas, Austin. So I asked her about her own experience with the holiday first.
KAI: Can I start by just asking you personally, you know, when do you remember when you first learned about Juneteenth? When did this become part of your own family history?
DAINA RAMEY BERRY: So I first learned about it when I was growing up from my parents. We lived in California. And as many people on the show might know, the migration from Texas to California was one of the major waves. And so there were a lot of Texans in our community and we learned about Juneteenth in that moment when I was in high school. But it wasn't until I went to college at UCLA that I actually began celebrating and going to parades and barbecues and all types of different activities that we do on Juneteenth. And I did that when I was in Los Angeles. And now I'm having a ball because I live in Texas. And the celebrations here are, as they say, everything is big in Texas. So we do it pretty- we do it pretty big here. And it's fun.
KAI: It always strikes me just how starkly different any person's understanding of United States history is, depending on how much they've learned about black American's history. And there are just these really sharp competing narratives that I feel like this holiday is in some ways an embodiment of- I, I personally I can't recall a time before my awareness of it, even if I wasn't celebrating it. And yet I have smart, educated, woke friends who have never heard of this before this year. And I wonder if you can just set the stage for this conversation by just reflecting on that divide in our understanding of our history as Americans.
DAINA: Absolutely. First of all, I think we can sort of mark this in the way we were taught history growing up, no matter what generation we came from. I think that the generations that are going to come from here forward will have a more inclusive history book. I'm hoping for that. I mean that's my optimistic side. But I think when I look at what I learned about African-American history, outside of my home environment, there was no African-American history, hardly in the textbooks that I read in school. And black history and histories of all people of color that live here is American history. The problem is it's been literally segregated and taken out of the textbooks for much of, I would say, the publication world through the 1970s, 1980s. But most of the history books that we read start off with American history with when Europeans arrived and what becomes the United States. And there is a history of this soil that predates that and we didn't get that growing up. I didn't get that growing up. I might be dating myself, but I didn't get that in my textbooks.
KAI: Well, are you dating yourself? I mean, do you- so you're in the field. Do you see that history, that merging of the history you described? Do you see that happening now?
DAINA: Yes and no. Yes, in that there are now better textbooks at the college level and there are revisions of some of the K through 12 textbooks that are actually occurring right now. And so that's what I meant by when I was thinking about future generations and how they will understand and learn about American history. They're not going to first hear about African-Americans during the American Revolution or during the Civil War. They'll actually recognize that African-Americans had stepped foot- or people of African descent stepped foot on American soil in the 16th century, you know, prior to us becoming the United States. So there's a knowledge of that and that's one of the things that Dr. Kelly Gross and I were trying to write about in "A Black Woman's History of the United States," to show that black women were here and people of African descent were here prior to 1619. And that was really an important starting point for us.
KAI: So let's talk about Juneteenth itself. The name comes from the day, June 19th, 1865, when the Union army came to Galveston, Texas, in order to reinforce the Emancipation Proclamation, which, of course, it marks the end of slavery in the United States. For those keeping track, 1865 is two and a half years after the Emancipation Proclamation was signed. Why did it take so long for that news to arrive in Galveston?
DAINA: After the Emancipation Proclamation of January 1st of 1863, many enslavers did not see Lincoln as their president. They were in the states of rebellion and they didn't feel like they had had to free their enslaved people. So although there was this proclamation issued, very few enslaved people received their freedom in 1863. So that's the first point. The second is that Texas is rural and it's the most- it's the far western state where there was slavery at that time, even though we have evidence of slavery in as far west as California and other states. But we know these enslaved people in Texas were not informed and their enslavers didn't tell them because they felt like they were not free. It's not until Gordon Granger comes and reads this proclamation on June 19th that that starts to trickle out into the rural communities. Sometimes enslaved people talked about learning about it from an uncle of theirs or somebody came to the property that was another union soldier that said, 'you are free, you've been free.' And so that's the moment that African-Americans learned about it. But emancipation is not just a flash moment in time. Emancipation, if you look at it, I mean, enslaved people were receiving their freedom or fighting for their freedom or stealing their freedom even before this time period. We look at people that ran away, right, and we look at people that were manumitted. People that escaped to the north. So there's there's emancipation is not just a one time moment, but this is the moment we look at for Texas and how enslaved people received the word of their freedom.
KAI: Let's go to Steve in Harlem. Steve, welcome to WNYC.
CALLER: Oh, man. Good morning. Good morning. I'm just so proud. You guys are doing a great job. It is great to be celebrating with you guys on this Juneteenth. I'm African-American. I'm a millennial. I'm 25. I'm from Harlem. I'm a young progressive, but I went to Morehouse College in Atlanta. And just in general, I would like to say my family for a long time- well, as long as I've been alive- we've celebrated Juneteenth. But I saw it coming to a full reflection when I went down south for school and especially going to an HBCU. I would just like to say that my great grandmother who I actually knew growing up. She passed away at like 103. Her mother, she was enslaved. She was born into slavery. And so my great grandmother, who I knew, would tell this story growing up on how her and her sisters, they came up to Harlem from South Carolina and they came up there because they had to flee from the Klan. The Klan had just killed her brother because he was registering people to vote, at that time black males, to vote in South Carolina and he was trying to organize their political power. So I truly truly appreciate you guys and I'm glad you took over the job for today.
KAI: Thank you for that, Steve. A hundred and three is a wonderful age to live to.
DAINA: It really is.
KAI: That is a celebration.
DAINA: You know, he- can I say something?
KAI: Please!
DAINA: He really brought up a great point. I appreciate Steve's story about his grandmother because that's what early Juneteenth celebrations were about. They were about elders telling the stories of slavery and telling the history of their people and of their family to the generations that came behind them. And the fact that Steve here is 25 years old and today can talk about his connection to slavery is also- she represented the strength of his family lineage. So I just think that's a powerful story and it's very reflective of how and why we celebrate Juneteenth today. So I really appreciate his remarks.
KAI: Does the historical record tell us much about how people in Galveston, in Texas received the information of emancipation on June 19th, 1865? Do we have a sense of not just literally how they received it, but how they felt, how they reacted, where they were at emotionally?
DAINA: Absolutely. Yeah, we have this through slave narratives that were collected in the 1930s through the Workers Progress Administration. Very, very interesting source that's highly contested, but still one of these few sources of firsthand accounts of formerly enslaved people. And in those narratives, particularly ones from Texas, Oklahoma and Arkansas, because many of them had been enslaved in Texas, talked about the moment they found out they were free. Some of them said a union soldier came to our farm and told us we were free. We packed our bags and left. So some of them left right away. Others would say, you know, we celebrated, we danced, we sang. But we stayed right there and worked the land. And we got paid for what we did. You know, so there's that. There's others that said we left the next day. We went and collected relatives. We looked for family members that had been sold to Alabama, Mississippi, Louisiana, and they tried to then go. And one of the main things they wanted to do was, one, solidify their unions, their marriage license. Two, receive an education. And three, often leave the site of- leave the site of enslavement and- but to find work, to work for themselves and to work in occupations that was their choice, not the occupations that they were forced into working.
KAI: How did the idea of Juneteenth and the celebration that began there in Texas begin to spread around the country? Was it due to migration? Tell us about that.
DAINA: Absolutely. As I mentioned and when we looked at some of the early experiences of formerly enslaved people, as they left the sites of enslavement and moved to parts of the north and the West and the Midwest and the Northeast, those formerly enslaved people in Texas brought the experience of Juneteenth with them. That's one way it's proliferated through other communities then. But I think there was a moment of turning point in the 1960s, a really large turning point, the 1960s, where the Poor People's Campaign, led by Sterling Tucker in Washington, D.C., and Dr. Whitney Young which is the National Urban League. They held a Juneteenth Solidarity Day and this was at the site of March on Washington. This was a place where a few years before King had spoken, right? And there were about 75,000 people in attendance. And at that moment, Coretta Scott King spoke and sung. She sung the song, "Come By Here, My Lord," come by here. And she talked about the connection between the history of slavery and the struggle against racism, poverty and war at that time. And I think at that moment, 75,000 people learned about the significance of Juneteenth, if they hadn't known about it before, and those people took it back to their communities as well.
KAI: That's quite striking. And then so in that period, thinking about I mean, you're talking about the poor people's campaign in that era of Jim Crow and the fight against segregation. How up until that point, how was this holiday preserved in black communities? Particularly in the South where people were under such in many cases living under such violence?
DAINA: That's one of the striking factors of this holiday to me is that there's great joy and there's also great pain. And to me, joy and pain are one of the underbellies of African-American history. You know, you see gains, you see dignity. Then you see moments of African-Americans experiencing great tragedies like some of the experiences we are dealing with right now. In many cities, formerly enslaved people purchased parks. Like in Houston in 1872, Reverend Jack Yates and two other congregations purchased some land in Houston and they labeled it Emancipation Park. There is an Emancipation Park in Austin, Texas where I currently live and Juneteenth celebrations occurred every single year in those parks. Now during segregation, when there were restrictions on where- at what public parks African-Americans could be in, these celebrations were often taken to people's homes or in their churches. So during the early periods of the 20s and 30s, when segregation and lynching and lynch law sort of ruled our land, African-Americans still celebrated. They still share this history and this experience, but they did it in spaces where they could maintain their safety. And it becomes much more public and I'm hoping that, as you mentioned at the outset of the show, that it becomes a national holiday.
KAI: Well, on that note, I should point out that one of my producers points out that the mayor, Mayor de Blasio here in New York has tweeted the fact that he's quite proud to announce the beginning that beginning next year, Juneteenth will be an official city and school holiday.
DAINA:That's amazing. That is great news! That's something to celebrate today. That really is.
KAI: There we go. We can add that to the celebration. I know several other companies are talking about this, about taking the day off to celebrate. I think Twitter, Nike, the NFL - notably given its difficult history with the Black Lives Matter movement. There's a federal bill in the works. Here in New York state, there's a bill in the works. As a historian looking at the sweep of it, how much of a turning moment is this for this holiday in particular?
DAINA: I'm definitely an optimist. So for me, it's a turning point. But I don't want this to fall on deaf ears. I don't want after we move forward and people are buried and the protests. You know, I'm hoping the protests will continue given everything we're dealing with, but after things wane down, I hope that we still have conversations. I hope that we still have celebrations. I hope that maybe New York will have a large parade some time and they'll have speeches and people like Steve will tell their stories about their family, their ancestry and their ancestors. I'm hoping that this is not just our response to the current climate, but that this is a movement of change. Change to see different textbooks. Change to see the ways in which we teach history. Change to see to make sure that this is an inclusive way of understanding our American past, both the pain and the pleasures of our experience here.
KAI: Let's hear from Erica in Brooklyn. Erica, welcome to WNYC.
CALLER: Hi there. Thank you for doing what you're doing. It's really important information that needs to be shared with the world. These silent histories.
KAI: Thank you for calling.
CALLER: So I said to the screener that I am a descendant of Nicodemus, Kansas. And it's an all black settlement that still exists in northwest Kansas, established in 1877. And my descendants left Missouri, crossed the river into territory. And what I said to the screener is also this idea of we have to also remember- I'm a biracial woman- that this nation was built upon land that was taken by force and that the indigenous were helpful to blacks at one point, but indigenous enslaved blacks, whites enslaved blacks. So this idea of all of us participating and all of us aware that we are part of a nation that was built on the backs of others and this idea of also empowerment, education became incredibly important. And my great grandmother left Nicodemus and went out to the middle of nowhere, still Colorado outside of Pueblo to hold that land in 1911 and lived there until she was 106 years old. And she taught school until she was 82.
KAI: Erica, can you tell us a little more about Nicodemus? I'm not familiar with Nicodemus.
CALLER: Oh, boy! Yeah. [LAUGHS] Nicodemus is an all black settlement. It is a township, which means it never became part of the larger county. There are descendants that are third generation between the ages of 63 and 93 that still live on the township. Blacks, who had ventured out and escaped, as well as those who ventured out with the migration and the exodus to the West.
KAI: Thank you for that, Erica. Do you want to say a word or two about those kinds of black settlements, Dr. Ramey Berry?
DAINA: Yeah, sure. There's so many scholars that have done work about these freedmen's towns and I'm glad that Erica called in and made that reference because that's something that sometimes gets lost here. There are black settlements in Texas, Oklahoma. Like she was mentioning Kansas, Arkansas, all across the sort of the region that was part of where the Native Americans were put on these reservations. And so that is a really, really rich history of African-American independence and African-American self wealth.
KAI: It's one of the things that I feel like gets left out of the history so much is just how if you if you read about this era, just how forcefully and rapidly freed people ran into society and began to participate. Both, you know, you mentioned jobs, but politics and in rebuilding family. That's a part that's always striking to me.
DAINA: Oh, absolutely and this is- these struggles, the kinds of connections that African-Americans were trying to make after the way they were trying to live out dignified lives as citizens of this country is something that they were fighting for from the moment they were captured in parts of West Africa. From the moment they were forced onto slave ships. While they were crossing the Atlantic. When they were being sold. So the resistance of African Americans, I always argue this and I talk about this and I've read several documents that suggest and show that African-Americans have been fighting for their freedom from the moment they were captured. So it's not that they were waiting till 1865 for General Gordon Granger to come and tell them they're free. They were fighting on a day to day basis at all times, but they were just living under a system of extreme oppression, that it was difficult for them except for those that were fortunate enough to either be manumitted or for those that self-liberated and found ways to become free.
KAI: Let's hear from Moni in the U.S. Virgin Islands. Moni, welcome to WNYC.
CALLER: Well, thank you. Thank you and good morning to you and your guest!
KAI: Good morning to you as well.
CALLER: My story is- really dates back to the 1930s when my grandparents migrated to New York to start a new life from the Virgin Islands. And so they experienced a lot as Caribbean people. Went through the Great Depression, went through civil rights and all the things that happened with every African-American and their experiences at that time. Had their children there. They became Harlemites and they made a life there before retiring, returning back to the Virgin Islands. And I really appreciate what I'm learning now about Juneteenth. I've learned about Juneteenth years ago, but not to the extent that I'm learning about it now and I'm really appreciating what it truly represents and how it affects what changes African-Americans can really mandate on a grander scale and how recognizing everything involved with Juneteenth really goes far beyond just the United States. It actually goes through all of the Caribbean, too, because there are so many Caribbean people who have made a life in the greater U.S. and they've had similar experiences. Well, how do we make a change? Where does it fit with us, especially those of us who don't live in the greater- well mainland U.S. right now?
KAI: Thank you for that, Moni. And what do you think about that, Dr. Ramey Berry? Because, you know, I mean, New York, certainly we are a global black community here. Folks from all over, but particularly Caribbean Americans. How do you think about what Moni is talking about in terms of how I guess that the black diaspora in this conversation?
Daina Ramey Berry: No, I think that's a great question. Thank you for the call, Moni. One of the things that I think is unique about the Diaspora is that there is black liberation movements all over the world. And one of the- some of the most striking moments of change come when there's a unification of these movements. So we know in different parts of the Caribbean, there were moments of emancipation. We know that Haiti was the first independent black nation. Right. And so looking at the ways in which we can talk about common goals, even if our histories don't completely align, we are looking for freedom and equality everywhere we live. That's a quality that crosses boundaries, right? Despite our inherent differences and when different nations and different groups of people became free or never ever even experienced enslavement. So I think that's one thing is this just identifying common goals and ideals.
Kai: My guest has been Dr. Daina Ramey Berry, who is the professor of history and incoming chair of the department at the University of Texas at Austin, the author of several books, including, most recently "A Black Woman's History of the United States." Thank you so much for this conversation.
Daina Ramey Berry: Thanks for having me.
[MUSIC]
KAI: So that's Juneteenth. July 4th is coming, and for my whole adult life, I've had a ritual -- one that's become a bit of a tradition for The United States of Anxiety too.
[MUSIC]
KAI: In 1852, Frederick Douglass lived in Rochester, New York. And that year, the Rochester Ladies Anti-Slavery Society invited him to speak at an event commemorating the signing of the Declaration of Independence. He agreed, and the address he delivered on July 5th of that year is still considered one of the greatest speeches in the history of American oratory. Ever since I learned about that speech, back when I was a teenager, it has been part of my July 4th. I sit down and I read it and I remind myself of just how many generations of black people have fought for my place in this nation. We've also started playing an excerpt from it on our show and so that's how we're gonna end this holiday special. Here is actor James Earl Jones, standing in for Douglass, reading the speech at an event broadcast by Democracy Now.
JAMES EARL JONES: Fellow citizens, pardon me and allow me to ask, Why am I called upon to speak here today? What have I, or those I represent, to do with your national independence? Are the great principles of political freedom and of natural justice embodied in that Declaration of Independence extended to us? And am I therefore called upon to bring our humble offering to the national altar and to confess their benefits and express devout gratitude for the blessings resulting from your independence to us? I am not included within the pale of this glorious anniversary. Your high independence only reveals the immeasurable distance between us. The blessings in which you this day rejoice are not enjoyed in common. The rich inheritance of justice, liberty, prosperity and independence bequeathed by your fathers is shared by you, not by me. The sunlight that brought life and healing to you has brought stripes and death to me. This Fourth of July is yours. Not mine. You may rejoice. I must warn. To drag a man in fetters into the grand illuminated Temple of liberty and call upon him to join you in joyous anthems were inhuman mockery and sacrilegious irony. Do you mean, citizens, to mock me by asking me to speak today? What, to the American slave, is your Fourth of July? I answer, a day that reveals to him, more than all other days of the year, the gross injustice and cruelty to which he is a constant victim. To him, your celebration is a sham; your boasted liberty, an unholy license; your national greatness, swelling vanity; your sound of rejoicing are empty and heartless; your denunciation of tyrants, brass fronted impudence; your shouts of liberty and equality, hollow mockery; your prayers and hymns, your sermons and thanks-givings with all your religious parade and solemnity, are to him, mere bombast, fraud, deception, impiety, and hypocrisy -- a thin veil to cover up crimes that would disgrace a nation of savages. There is not a nation of the earth guilty of practices more shocking and bloody than are the people of these United States, at this very hour. At a time like this, scorching irony not convincing argument is needed. Oh, had I the ability and could reach the nation's ear, I would today pour forth a stream, a fiery stream of biting ridicule blasting reproach, withering sarcasm and stern rebuke. For it is not light that is needed, but fire. It is not a gentle shower but thunder. We need the storm, the whirlwind, the earthquake. The feeling of the nation must be quickened. The conscience of the nation must be roused. The propriety of the mission must be startled. The hypocrisy of the nation must be exposed and the crimes against God and man must be proclaimed and denounced. [CLAPS]
[THEME MUSIC]
KAI: The United States of Anxiety is a production of WNYC Studios. The interviews in this episode originally aired as part of The Brian Lehrer Show on WNYC. The episode was edited by Karen Frillman, who is our executive producer, and It was mixed by Hannis Brown. Our team also includes Carolyn Adams, Emily Botein, Jenny Casas, Marianne McCune, Christopher Werth, and Veralyn Williams. With help from Kim Nowacki. Hannis Brown also wrote our theme music and it was performed by the Outer Borough Brass Band. Keep in touch. You can follow me on Twitter at @kai_wright. And thank you for listening. Take care of yourselves.