Juneteenth Is an Act of Bravery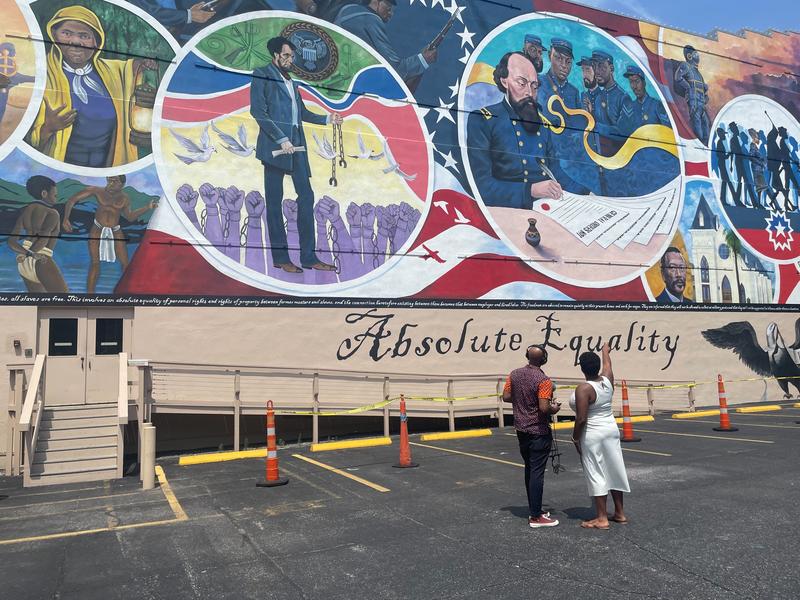 Transcript
[music]
Torin Collins: I know a lot of times people feel shame or discomfort in talking about slavery and the Civil War, and Juneteenth, but it's not something that we should shy away from. Imagine that you are going home and there are no portraits of you in your house. Everyone is there your mom, your dad, your siblings, or your spouse, your kids, but you are not there. That would be very uncomfortable, confusing, upsetting. The Juneteenth Legacy Project is here to restore those pictures onto the wall within American history. Not take pictures down, not remove anything, but to add that missing information so that we have a full history and a full narrative of our full American experience, and not just the pieces that make us comfortable.
[music]
Kai Wright: It's Notes From America. I'm Kai Wright, and happy Juneteenth. The voice you just heard was Torin Collins. She's the daughter of historian, Sam Collins, AKA Professor Juneteenth. Their family created the Juneteenth Legacy Project in Galveston, Texas. Earlier this week, Torin gave me and one of our producers a tour of the historic site where the Union Army arrived on June 19, 1865, at the far western edge of the former Confederacy. They came to deliver the news of the Emancipation Proclamation. Later in this hour, I'll bring you along for a tour of that historic site as well.
Because we come to you this week from the studios of Houston Public Media, our partners in the second annual Notes From America Juneteenth Celebration. We're going to do a bunch of stuff. We're going to go on that tour. We'll hear some live music, and we will take your calls as we learn the history of this holiday. Joining me for all of this is Zion Escobar. Zion is a historic preservationist and executive director of the Houston Freedmen's Town Conservancy. She puts it, "Freedman's Town is the first city established by the last Black Americans to seize emancipation from America's chattel slavery system." She's going to tell us that story. Zion, Happy Juneteenth.
Zion Escobar: Happy Juneteenth to you, Kai. How are you?
Kai Wright: I am fabulous. The story of Freedmen's Town is fascinating, and it's honestly a great way to learn the history of Juneteenth generally, given that it is still a new holiday for many people outside of Texas. Let's start at the beginning. June 19, 1865, the Union Army arrives in Galveston Bay. General Gordon Granger-- Am I getting it right? General Gordon Granger delivers his order. What does General Granger tell people?
Zion Escobar: He says many things to the effect that says you are free, that you have absolute equality, and that you now can go forth. You can choose to stay on the plantation, enter into an employee-employer relationship. Slightly ironic, but that is what is stated. Or you can free yourselves. You can move beyond the plantation, but you cannot idle, because that is illegal, to idle. Although you don't have anywhere to go technically, and you don't even know where you are.
Kai Wright: I've heard you describe it as as much a threat as anything else.
Zion Escobar: Right. "You can't stay here. You got to go somewhere, but don't let me catch you." That sounds a bit antagonistic, but that's really the duality of the interpretation when you can read through it. Essentially what it did was it marked the beginning of people who were born free because they are human, but born into a system of enslavement being able to be released from that system of oppression legally, is what he essentially announced here.
Mind you, many people say, and I don't take pleasure in poking the bear here, but many people say, "Oh, Texas got the news late." They did not get the news late. You do not have to send thousands of colored troops who left plantations to join a Union Army to defeat Lee's Confederate soldiers, to take freedom by force. That is what happened on that day. That is when things precipitated. It was the trigger that says, the war is over. You can now go home. You can find home. You can find life. You can find freedom.
Kai Wright: This is a lost fact often. This was an occupying army showing up. The point is, the Confederacy did not just walk away because the war was over. Our Union Army had to come and claim the territory. Now, among the people present in Galveston that day were some of the people who would create Freedmen's Town here in Houston. How did they react to the news of the Emancipation Proclamation?
Zion Escobar: My understanding, and again, I am not a historian, all right? Disclaimer for my highly qualified, very well-sought after historians out there, I am not a historian, but the lore, the story, the generations of griots who carried this history on for us say that folks were screaming. They were rejoicing, saying, "We get to go. We're gone." Some people didn't even wait for the news to finish being communicated and took off the minute they heard the rumor.
People were jubilant, they were celebratory, but some people were absolutely terrified. If you think about what it's like to be in a place that you don't necessarily know but used to be Mexico, is now Texas and is now becoming part of a thing called the United States. You don't even know where you are. You can't read, you can't write. You've probably never been somewhere beyond the plantation. To told that you are free to go into the wild and you must find somewhere to not be recaptured, claimed, or killed, because you know that is an agenda.
Now you get to make a life, and you have to take everyone with you. That is terrifying. That's someone pushing you out in the cold and saying, "You have to commit to the bravery of making freedom for yourself." It's liberating in that this is where freedom-making movements are inspired by. There are many movements throughout the history of America all throughout the country, all throughout the region, and the Americas even. It's that terrifying and exhilarating moment of, what do I do with my life now that it is my own to determine?
Kai Wright: They set about creating their own freedom. Listeners, as Zion and I talk through this history, we want to hear from you on this idea of creating your own freedom. I am particularly interested in Black Americans right now. How have you claimed and created your own freedom? What does that idea even mean to you, to claim and create your own freedom? Is it something that you were taught? If so, by who? How? Some of those folks who are claiming their own freedom, they set out for Houston. Why Houston? What drew them here?
Zion Escobar: If you look at a map and you think of Houston, you think of Galveston, you look at those two points on a map, no matter where you are in America, you've probably heard of Galveston. Because of Beyonce, we know you've heard of Houston and you've seen it on a map. Thank you, blessed Beyonce. You think about folks who this news is coming to Galveston. That information is traveling and spreading now that people say it is confirmed, you are free, meaning you can leave and not be killed instantly. You have a chance at freedom.
Those folks started migrating from all of these green spaces. The lands, Pearland, Sugar Land, Brazoria County, all of these green regions between Galveston and Houston started leaving all those plantations to go to areas where they could find work. Because everyone understands that a man, a woman, a child cannot subsist without something to labor, to be able to receive compensation now that that is an offer on the table, to receive compensation.
Kai Wright: You're not allowed to remain idle.
Zion Escobar: You cannot remain idle so I must go find work immediately. Where do I do that? Where is the commerce? Houston, as it is today, has been that center and that beacon of commerce and that opportunity. They moved from one port to an interior shipping port. Houston has always been budging in that way. They made that journey, 51-plus miles meandering through many, many different paths to come to Freedmen's Town.
Kai Wright: On foot?
Zion Escobar: On foot, by boat even. There was a lot of waterway travel. There's all these tributaries and things like that. That's how people were traveling in secret even, before emancipation. Those become paths of travel. There's every medium of travel. Again, these things are in secret. Finding documentation that is precise is challenging and there are actually researchers rigorously doing that work right now with the National Park Service via the Emancipation National Historic Trail, which will quantify this for all of America.
This journey and the specifics of what it is you're actually saying, so I'll save it for that. These folks are moving up to Freedmen's Town. These people are saying, where can I go to be free, to make a life of my own without fear or threat? That came to Freedmen's town, which was a swampy malaria-infested space along Buffalo Bayou. Again, these waterways.
Kai Wright: Give us a little more setting here for people who aren't from Houston. It's a swampy space. Where is that now?
Zion Escobar: Downtown Houston. If you've come to downtown Houston, you've seen the big, tall buildings and things like that. There's a waterway that runs through the area. It's called Buffalo Bayou. It actually is the northern boundary of what present-day Freedmen's Town is. In fact, where our current city hall is, that used to be Freedmen's Town as well. I-45 that people drive through nationally, that bisected Freedmen's Town. Freedmen's Town started on the banks of Buffalo Bayou in tents and shanties, and things like that. Even churches were started in brush arbors on Buffalo Bayou.
There's still pictures today in the Houston Public Library's archives of people being baptized, having revivals on those same banks of Buffalo Bayou. Those trees and vegetation built the homes, the churches, the businesses that became this Black Wall Street, that became Houston's Black Mother Ward. It was the first Black settlement in Houston. There were others that spread out, but it was 95% of Black Houston lived in Freedmen's Town right close to downtown. People call it Midtown Downtown Houston.
Kai Wright: What was it about that spot? Quickly, we're going to have to take a break in a minute, but why that spot? What was it?
Zion Escobar: It was an area that folks said, we don't want that because it's malaria-infested, it's unkempt, and it's a bank of a bayou. We can't do anything with it. Y'all can have it. We did what we always do, and we made something out of what looked like absolutely nothing. Now, it is so cherished that the struggle ensues to keep and to protect and preserve it.
Kai Wright: We got to take a break. This is a special Juneteenth edition of Notes from America coming to you from the studios of our partners at Houston Public Media. I'm talking with Zion Escobar, executive director of the Houston Freedmen's Town Conservancy. When we come back, I want to hear from you. I am particularly interested in hearing from Black Americans right now.
Zion is telling us how the people who first celebrated Juneteenth created their own emancipation. What does that idea mean to you? How have you claimed and created your own freedom? Is it something you were taught to do? If so, by who, and how? We'll take your calls after a break and we'll take a tour of the site in Galveston, Texas, where the Union Army arrived on June 19th, 1865 to deliver the news of the Emancipation Proclamation to Texas. Stay with us.
[music]
Kousha: Hey, everyone, it's Kousha. I'm a producer. Longtime listeners know that one of our favorite parts of this show is talking to you, having you a part of the conversation. While we celebrate Juneteenth, I want to invite you to celebrate with us. Here's how, if you've heard anything during today's show that you want to respond to, send us a voicemail and tell us what's on your mind.
You can send a voicemail by visiting our website. It's notesfromamerica.org. Scroll a little down the page and click on the green button that says record. Now, we also want to hear how you are celebrating Juneteenth. If you're on Instagram or Twitter, post a picture of you celebrating and tag us. Our handle is @noteswithkai. However you celebrate, we hope you have a safe and happy holiday. All right, thanks. Talk to you soon.
[music]
Torin Collins: Today what we'll do is we'll retrace the steps of Gordon Granger and the Union troops. We're at the first stop on our Freedom Walk tour. Of course, this is not going to be an exact replica because the layout, the city has developed very differently. For example, where you see the warehouses here, the water line actually went up to there, so it looks very different.
Kai Wright: Oh, wow. We're standing in the--
Torin Collins: Yes, basically. [chuckles] There would not have been this Starbucks, Jimmy John's, and those warehouses are actually where they kept slaves. This is our middle passage marker where General Gordon Granger and the Union troops would've arrived. One thing that a lot of people don't know is almost three out of four of those union troops were colored troops, what they called United States colored troops at the time. Try to visualize this is a Confederate state, and you have these Black soldiers coming here because they have to spread this notice of freedom throughout the state.
There's an interesting story that my father likes to share. My great-grandmother's friend, her family passed down the story of the Black soldiers coming to freedom. She made it a point to say it wasn't a sheet of paper, it was the Black soldiers that freed us. I think that emotional connection to having these formerly enslaved people receive this message from Black soldiers is very important. I'm an eighth-generation Texan, so my family goes back to, we know, 1837. We actually know where the first free man in our family was born.
My dad, Professor Juneteenth, he has been grilling his children on Juneteenth since we were children. Making sure that we know about Juneteenth and we tell the story, we don't shy away from it. It's truly incredible. The second stop on our Freedom Walk tour is the absolute quality mural, which is at the corner of 22nd & Strand in Galveston. We're going to start from left to right.
In the top-left corner, you have a map of the Trans-Atlantic slave trade, and then you have the arrival of the Estevanico. Then you have resistance with Harriet Tubman and all of those figures who fought for abolition. Then we have, of course, the Great Emancipator, Mr. Abraham Lincoln. Behind him stands those United States colored troops that we mentioned before. A lot of times we talk about people in terms of victimhood, we don't talk about how we fought for our own freedom and we fought for equality, and how we also paid with our lives for freedom.
Zion Escobar: Absolutely.
Torin Collins: We have the portraits of those soldiers. Then the last we have Ms. Opal Lee. Opal Lee did her walk to DC to campaign for Juneteenth to be a national holiday, which we successfully achieved in 2021. Her portrait is to the far right. Right above her, we have the astronaut looking forward, which represents the future. It is really to question what do we want our future to look like.
What ideals do we want to carry? Of course, we want that to be truth and equality. We don't want to necessarily shy away. I know a lot of times people feel shame or discomfort in talking about things like slavery and the Civil War, and Juneteenth. It's not something that we should shy away from. It's important that we empower ourselves and we carry this message of freedom forward.
[music]
Kai Wright: Welcome back. I'm Kai Wright, and this is a special Juneteenth edition of Notes from America coming to you from the studios of our partners at Houston Public Media. That was Torin Collins of the Juneteenth Legacy Project in Galveston, Texas. She welcomed us to town last week with a tour of the site where this holiday began on June 19th, 1865. Right now, I'm still joined in the studio by Zion Escobar, executive director of the Houston Freedmen's Town Conservancy.
Zion, before the break, you were telling us about the ways in which the Black people who founded Freedmen Town took this space that was not wanted by white folks and turned it into something prosperous. How'd they do that? Where were they getting resources? Where did the prosperity come from?
Zion Escobar: Thank you for asking that. Because I think this is actually one of the most clearly distinct points that should remind every American why Juneteenth is an American holiday. Because the life that folks made in Freedmen's Town was made possible in collaboration with folks who were abolitionists, with the Methodist Church, who actually put resources and helped these Africans who were now Americans to establish their liberation, establish churches. They even gave them space in their churches to build their own churches, helped them build schools, helped them with resources for materials, folks who built houses and did work with them and alongside them.
Freedmen's Town has a plural list history, and many people don't know that. You would think that it's the oldest Black community in Houston, and it's blackity black black, but as we know, in a country where you are a minority, you do nothing in a silo, truthfully. Even when you respond to something, you're responding to something that is outside of yourself. In Freedmen's Town, the response to liberation, the response to the opportunity to do freedom-making was done with Jewish people. Were done with Irish and Italian settlers.
Some of those who had come from Louisiana. People don't know that there were Irish enslaved and indentured servants in Louisiana who when this emancipation happened for Africans, it happened for anyone who was considered an other. If you were Catholic, if you were Jewish, if you were Prussian you came to Freedmen's Town ultimately because you were not welcomed in other places in Houston.
Other is other. It's where you started to see that cast system of you may not be a slave, but you are not as important as me in your humanity. Humanity is still being on a spectrum at that point. Freedmen's Town was a place where you can clearly articulate that even as we celebrate freedom, to what extent, for who, and what does it look like? Every spectrum of Black and brown experienced some form of degradation in a way.
Kai Wright: I love this idea that it is a pluralist history. It sounds like what we would nowadays call mutual aid to create Freedmen's Town. Let's go to some calls here. We've got a lot of folks who want to join the conversation. Let's start with Kevin Smith in Houston. Kevin, welcome to the show.
Kevin Smith: Thank you very much for having the show. It's so interesting to hear. I just left Galveston, the very site that you were talking about the mural. I had a great time and would encourage everyone to please if you don't go this year, get down there the rest of the year, and certainly on Juneteenth. It was fantastic.
Kai Wright: For yourself, how have you lived into this history of creating your own freedom, Kevin?
Kevin Smith: I am a pretty unique case. I'm an ear, nose, and throat surgeon, and facial plastic surgeon. I do sinus surgery and actually discovered the cure for migraine headaches as a result of doing this for 30 years. I've done it in a way I'm my own solo practitioner. I am a Black doctor. However, I was the first Black resident at the University of Texas Medical School in Houston to go through the ENT program, and also the first Black fellow to get accepted at the McCullough Clinic in Birmingham, Alabama, to do my facial plastic surgery.
There have been steps along the way that I've had to take despite not seeing very many of us in those fields. Actually thought about maybe not even going into plastic surgery, thinking I might not be helping people. I help so many people now and I'm so happy that I forged my path. I had a lot of help on the way. However, I have patients of all races, creeds, and colors that come to see me from all over the country and even internationally. They all love the way that I treat them with respect--
Kai Wright: Kevin, I'm going to stop you there just for time, because we got a lot of callers, but thank you. That's a good start. [laughs] Let's go to Lola in Philadelphia. Lola, welcome to the show.
Lola: Hi. Thank you for having this very interesting talk. Can you hear me?
Kai Wright: We can. How have you gone about creating your own freedom, Lola?
Lola: I've gone by listening to my grandparents and great grandparents who were in Galveston and went over to North Carolina, and then migrated up to the North. Then actually once they were able to settle and get everybody together, some of them went back down to Texas. I have been to Galveston. How I forged my path is I'm in law and helping to try to stop racism, try to change some of the laws that have affected Black people. My way is going through the law because I believe voting and getting your voice heard on the local level is the best way that we can help Blacks. That's what I have been trying to do to forge my freedom for myself, my family, and my children.
Kai Wright: Through voting. Thank you for that, Lola. Let's go to James, who is en route to Galveston, and James, I hope you have pulled over by now. Welcome to the show.
James: Thank you so very much for having me. My family is the Thomas family. We were descendants on Juneteenth. We were slaves to Mike Menard who founded Galveston. My father was instrumental with Al Edwards in getting Juneteenth a state holiday in 1979. I'm connected in that direction. I know Zion. Zion and I talked before. We celebrate Juneteenth by going back into the community, educating, promoting, and having individuals know their history so they can be better and go back to their community, and train, and teach others.
That's what my father was all about. That's what my family's all about. We have a annual pilgrimage from the Menard House where they were slaves to Ashton Villa when the order was read. In fact, I'm going down there now to present an award in my father's name tomorrow on Juneteenth, as we do every year to acknowledge this special occasion.
Kai Wright: Thank you so much, James. Zion, that's a great roundup there of at least our first three callers. You want to react to anything you heard?
Zion Escobar: All of it actually. One, shout-out to Mr. Thomas. Your story and your connection to the Galveston story really inspired me to dig deeper into my own family legacy. Thank you for spreading the word and continuing to encourage others to do that in the region and for everything your family did, and also helping me understand the context through a person, an actual human being whose family is the articulation of this.
For the first two callers, I think it's beautiful that we have a doctor and a surgeon, and then we have a law practitioner, because again, Freedmen's Town had those first Black doctors and lawyers, first Black hospitals and the like. It's like you got to think about how, again, these stories are all intrinsically connected. You couldn't go to a school to become educated as such without those first being had in the first couple of years after emancipation. Again, Freedmen's Town and Juneteenth births out even our first two callers.
Kai Wright: Freedmen's Town today, still exists. It's still a place. We'll get into some of the questions about the preservation, but how would you describe it today? Who lives there? What's it like economically, culturally?
Zion Escobar: It's very different than its intention and its founding. Today demographic-wise, it's about 65% white. It's about 13%-ish Black. There's Hispanic, there's Asian population. It has some diversity, but it's not quite the diversity it had at the very beginning. What I will share with people is Freedmen's Town today shares the same zip code with River Oaks in Houston. People nationally don't know what River Oaks is, but if you Google it, it's one of the wealthiest enclaves in Houston.
Freedmen's town's infrastructure is degraded. Its housing stock has changed massively. It looks very different. It is a visualization of gentrification in some ways. However, the beauty and the inspiration that I draw from this place and why I continue to do what I do and wake up every morning and show up for myself, for my ancestors, and for freedom is because there are over 50 assets left, the most anywhere in the United States. Everywhere else you can go and see a marker.
Kai Wright: Just to make sure that doesn't go. Because I just learned this today, there were 568 historic sites in Freedmen's Town of this history we're talking about. Now there's about 50.
Zion Escobar: That is accurate. There's seven UNESCO sites of memory that I encourage everyone to Google that as well in this space. In my lifetime since 1984 when it became a national register historic district, it's gone from that 60-ish number down to 50 or less. That's what the urgency is, to protect this story before it is completely erased, because in one generation we could just as well not know it was there. What you see on one side of I-45 in downtown Houston with the tall skyscrapers, you would see on the other side and not know that there was historic spaces and places here.
Kai Wright: Let's try to squeeze in at least one more call, maybe two before break. Let's go to Anne also here in Houston. Anne, welcome to the show.
Ann: Hi. This is Ann Rosenwinkel. I'm an architect here in Houston. I have looked at the history of Fourth Ward because I-- Freedmen's Town because I'm doing some work there. I had heard rumor that the original freed Africans there were actually working there, and gardening for the rest of the city providing fruit and vegetables, and that that was part of why that land was given. Is there any merit to that story?
Kai Wright: Quickly see if you can answer that for us.
Zion Escobar: I actually have heard rumors. I have property owners who have photos even that said that there was an enslaved population and there were actually even free people in the area before emancipation.
Kai Wright: Let's go to Curtis in Mission Bend, Houston. Curtis, welcome to the show. Keep it tight for me because I got to get to a break.
Curtis: I'm Curtis Davis. I'm an architect and urban planner. Hi, Zion.
Zion Escobar: Hi.
[crosstalk]
Kai Wright: Go ahead.
Curtis: Your question about freedom is great. It prompted me to realize that really freedom has a different perspective for different Americans. Those who were emancipated, freedom came at the point of a gun. There are those now who are constitutional carry supporters, and freedom means the ability to carry a gun for defense against whatever they feel they need to be defended against. That difference in perspective is quite profound as an African American.
Our freedom is often referred to in terms of our ability to realize our potential. Oftentimes, and you've had it spoken to today, where people are the first in this, are they only in that, or one of a few of those. I'd like for us to begin a dialogue to open up the conversation about our freedoms and the responsibility that goes along with it, so that we as Americans can recognize that freedom means a lot of things to different Americans, and we need to support each other in a positive way to strengthen the country and unify it.
Kai Wright: That's a powerful idea. Thank you, Curtis. About 30 seconds, recognizing our freedoms.
Zion Escobar: Recognizing our freedoms, I think that Juneteenth should take us all to a space of reflection and clarity on what it is we are morally charged with doing now that we know better, how shall we do better, and to decide upon that.
Kai Wright: All right. We got to take a break. Coming up, we're going to think about Juneteenth in the context of the Black diaspora through music. We'll be joined by Houston-based vocalist, Lolade. She's a Nigerian American songwriter who's melding the sounds of African and African American musical traditions. She's going to perform a couple songs for us and we're going to take more of your calls, and we are going to get into all of the different kinds of freedoms that many of us carry from Vietnamese communities, to Black American communities, all the wonderful diverse number of communities that exist here in Houston. This is a special Juneteenth broadcast of Notes From America. Stay with us.
[music by Lolade]
Kai Wright: Welcome back. I'm Kai Wright and this is a special Juneteenth edition of Notes from America coming to you from the studios of our partners at Houston Public Media. We're going to turn now to think about this holiday in the context of the Black diaspora. Let's begin the conversation with some music. Houston-based vocalist, Lolade, is here in the studio with us. She's a Nigerian American songwriter and music educator. In a moment we're going to learn her story and about her work, bringing together the sound of the Black diaspora, but first she offers us an invocation in Yoruba. Here's Lolade.
[music- Lolade: Mo So Rire]
Kai Wright: Wow, I'm a little choked up if I'm honest. That's Houston-based vocalist, Lolade with a Yoruba invocation. What a wonderful and beautiful way to begin this conversation. I'm going to let Lolade get herself set here. I'm just quite moved.
Lolade: Thank you. Thank God.
Kai Wright: First off, welcome to the show.
Lolade: Thank you.
Kai Wright: Tell us about what we've just heard. I gather it's something you often use to bring people into a space.
Lolade: Yes. I love to start off any set of music that I'm doing with that song. It is a prayer. It's a prayer of thanksgiving, gratefulness. The words are saying that I'm giving thanks for yesterday, for today, for tomorrow, that I'm holding on to God because he won't let me fall, and just praise and thanks to God. Really is an invocation. [chuckles]
Kai Wright: How wonderful. A big part of the work you're doing is to both preserve and bring together African and African American music. I think your own life story and journey as an artist really offers a useful and concrete way to get into the conversation about that, and what it means, and why. The stages of your life and career have been like building blocks, it seems like. Let's start at the beginning, your family came to the United States from Nigeria when you were nine years old, I believe.
Lolade: I was eight.
Kai Wright: Eight years old.
Lolade: Yes.
Kai Wright: As part of a white Christian community's missionary work, is that right?
Lolade: That's right. My sister, my oldest sister was in a really bad fire accident. My dad got in touch with some missionaries in his hometown who helped her and us to come here for her to get some medical treatment for her burns. That's how we ended up here, through white Christian missionary work. We landed in Cincinnati, Ohio, in the Midwest and stayed in their home, went to a primarily white church, a Southern Baptist Church. My first few years were very much the only Black face in the crowd, the only Black family. That was culture shock. Talk about culture shock, coming from Nigeria.
Kai Wright: That imprinted on you in one way. Then you went to college at Wilberforce. You leave that environment, go to this historically Black college, and you joined the choir there. What happened for you there?
Lolade: Shout out to Wilberforce, WU. The old WU. The first actually historically Black college and university that was founded by African Americans for African Americans. There's some debate out there about who's first to be on different measures, but you know--
Kai Wright: We're not going to get into that here on live stream radio.
Lolade: [laughs] Wilberforce was just such an amazing experience for me. Tiny, tiny little school in the middle of cornfields in Xenia, Ohio. There's so much history there on campus. Founded by the African Methodist Episcopal Church. Some members that founded that church, Richard Allen. Musically is how I really got to experience that history. I was in concert choir and gospel choir.
Kai Wright: The history of Black American music.
Lolade: Exactly. Learned all about spirituals and those calls, and gospel music, and was just immersed in that Black musical history. That exposed me to a whole new world, and taught me about the connections even between that and African music, and the people that were coming over here throughout history from places like Nigeria and Ghana to learn from Black Americans, Black American musical style, and same in reverse. Some of the Nina Simones and people that traveled over there to get some of that African style of music. That was such a life-changing experience for me.
Kai Wright: You had this initial experience in a fairly white community, culture shock in the United States, then you went and learned about Black music at Wilberforce. You moved to Philadelphia, delved into neo soul and everything that is Philadelphia, before finally coming here to Houston and plugging into little Lagos, and you're rediscovering your Nigerian roots. Tell me about that moment of it, this reconnection with Nigerian music.
Lolade: Thanks to my beautiful mother, may she rest in peace. She passed a few years ago. She always spoke my language, Yoruba, to us growing up. Even though I came here when I was very young, some of my peers don't speak anymore, I still retain the language. I reconnected with that, coming back to Houston and just being in this just huge Nigerian population, I mean. Southwest Houston is little Lagos, as you mentioned.
Then going into the musical community here really allowed me to reconnect with Afrobeats in a way, the original Afrobeats, Fela Kuti stylings. The current Afrobeats and just the blow-up of that over the last couple of years. I incorporated that now into my music. I create this blend that I think people often find hard to qualify or to describe, but it really is just a combination of everywhere I've lived and all my experiences.
Kai Wright: Why is that? What does it mean for you to bring all these cultures together in your music? Why is that such a compelling project for you, this bringing these cultures together in one sound?
Lolade: I used to look at not feeling completely at home in any of these circles that I exist in as a weakness and as something that I had to work through, but I came to now utilize it as my superpower. Because it allows me to communicate across cultures. I'm going to be the Nigerian that maybe an African American has never come across, that maybe they've had bad experiences with Nigerians, and I'm going to be that one that represents something else to them.
I'm also going to be the African American or the person with that history or at least that time here, not really history, but that time spent in this country. To a Nigerian that may have some stereotypes or some negative experiences, I'm going to be that person that can exist in all of those circles. I want to be a positive influence wherever I am. I look at that as something that I'm able to do, and it's a responsibility, not just through music, but just in the way that I represent these different cultures.
Kai Wright: Just to linger on that for one minute, the implication there is something that maybe a lot of folks don't think about outside of either of these communities, but that there is not a presumed unity. Here in this city of Houston is an example of a place where there's so much diversity of Blackness, but it's not necessarily all one community.
Lolade: I always say Houston, it's such a big place. Houston is an hour away from Houston, that's what we hear. It's such a vast geographical space, but there's so many different kinds of people here. It's a very international city. Oftentimes we find that people tend to stay in their little pockets. You don't often see people traveling across town. Somebody in Alief might not go all the way to Third Ward or might not go up north. It feels a little fragmented sometimes to me in that way. I wish there was more commingling of cultures. I'm speaking from the musical community. I see that a lot in musical gatherings.
Kai Wright: Bringing it back to the context of Juneteenth, Zion, you were talking about the history of Freedmen's Town is one of pluralism. I have to say to both of you, I've spent the past week in Houston, this is a truly exciting place. There are so many varied communities creating and melding. Part of me is like, this is it. If we want to ask the right questions about the future of the United States, this is where it is. This is where we can ask those questions, and about living together in a plural society, but then how do these communities relate to one another? Juneteenth, I think is a good example or a good place for us to think about that. Is it only a Black thing in town, or do other communities join in?
Zion Escobar: I would say that in years past when Juneteenth was a state holiday, and thank you, Representative Al Edwards, may he rest in peace for giving us that blessing, which led to the occasion we're discussing now, a national holiday, but now that it's a national holiday and folks who don't look like us got a day off, they have to say, "I don't know if I want to say thank you or ask questions as to why, or if I should.
I'm not going to fight against it. Let me just say yes and find out later." I say all that to say Juneteenth is becoming, year over year, more and more connected, more collaborative. Conversations like this, where you bring the African and African American together for people to remember our connection to each other, that our stories are 100% aligned, that people who are not either African or African American, but these white Methodists, I did not know that part of your history.
That is literally how Freedmen's Town, many portions of Freedmen's Town came into being, is collaborators, allies like that. I think that as we start to uncover our story, if we do our duty right with educating people on the true and the full story of Juneteenth, everyone will start to see that this is an incredible theatrical play in some ways, and we are all the main character in the story. Everyone is giving main character energy. When we do that, we'll have gotten the intention of this holiday right.
Kai Wright: We're talking about it in the context of Houston, in the context of Texas, but for most of the rest of the country, this now national holiday is a new thing. There's a lot of people saying, how do I relate to this? How do I step into this? Lolade, do you see what Zion is talking about in terms of, particularly in African communities, folks stepping into Juneteenth think and finding how it relates to them? Do you see any of that?
Lolade: Yes. We're talking just a year old, it becoming a federal holiday. It's very slow. Some people don't even know about it. They don't know what it is. I jumped on Instagram Live yesterday and was having some conversations, and you'll find that a lot of Africans, they're not even aware of it. There are some great organizations here within Houston, and I'm associated with, that are really doing that work to educate the African community or other immigrant communities about it.
Because it is, like you said, Zion, our histories are so parallel and they're so aligned, we often-- Africans, I'll speak for Africans, we often don't think about it that way. There are organizations that are starting to-- I'll mention a few said institute is one, Pan-African Library. A friend of mine, Lindsey, she has a reeducation project, so it's starting.
Kai Wright: Our YouTube viewers are telling us, shut up and let Lolade sing.
[laughter]
We're going to do that because we got to wrap up.
Lolade: I sing better than I talk.
Kai Wright: You're going to sing us out. I'll let you go get in position for that. Zion, while Lolade is getting over there, very quick closing thoughts, what do you want to leave listeners with for Juneteenth?
Zion Escobar: For Juneteenth, I want to encourage and inspire everyone that as you celebrate, understand that what you are celebrating is not news coming to Texas late. What you are celebrating is the end of a military incursion that was bent on keeping people enslaved. We are celebrating liberation of minds, hearts, and the ensuing restoration, the growth, the economic tidal wave that came with people being free.
Kai Wright: The liberation of minds and hearts. Zion Escobar is Executive Director of Houston Freedmen's Town's Conservancy. Thank you so much, Zion. This has been a special Juneteenth broadcast of Notes from America coming to you from the studios of our wonderful partners in Houston Public Media. I'm Kai Wright. Lolade is a Houston-based singer and songwriter. She's going to be hosting a live concert series coming up this fall. Find out more about her at lolademusic.com or on social media @lolade. That's L-O-L-A-D-E. Lolade, you're going to take us out, quickly set up what you're going to sing, and have at it.
Lolade: All right. This is original song of mine called Dreams. It's just really a song about following your passions and following your heart.
[music - Lolade: Dreams]
Dream on, dreamer
Dream on, dreamer
Don't you let the world tell you different
Oh, my brother
Oh, my sister
Darkness covers
The light will find way
Time again to go back to the place you began
[melody]
Dream on, dreamer
Dream on, dreamer--
Kai Wright: Notes from America is a production of WNYC Studios. Theme music and sound design by Jared Paul. Matthew Miranda was our live engineer. Humongous thanks to our partners at Houston Public Media this week. There are way too many individuals to name, which is always a good sign. You guys are incredible hosts, Houston. Reporting, editing, and producing by Billy Estrin, Karen Frillman, Regina de Heer, Rahima Nasa, Kousha Navidar, and Lindsey Foster Thomas. Andre Robert Lee is our executive producer, and I am Kai Wright. Happy Juneteenth.
[music - Lolade: Dreams]
Lolade: In your heart
In your heart
Don't you die with dreams
In your heart
In your heart
[melody]
Oh my love
My sweet love
Carry on, won't you carry on
Your fantasies and possibilities
Darkness covers, light will lead the way
Time again to go back to the place you began
[melody]
Don't you die with dreams
In your heart
In your heart
Don't you die with dreams
in your heart
In your heart
[melody]
I will fly with broken wings
I will dance with two left feet
I will swim across the sea
I will not accept defeat
I'm not gonna die
I'm not gonna die
I'm not gonna die with dreams inside of me
Die with dreams inside
[melody]
Die with dreams inside.
Copyright © 2023 New York Public Radio. All rights reserved. Visit our website terms of use at www.wnyc.org for further information.
New York Public Radio transcripts are created on a rush deadline, often by contractors. This text may not be in its final form and may be updated or revised in the future. Accuracy and availability may vary. The authoritative record of New York Public Radio's programming is the audio record.