The Joy and Pain of Little Richard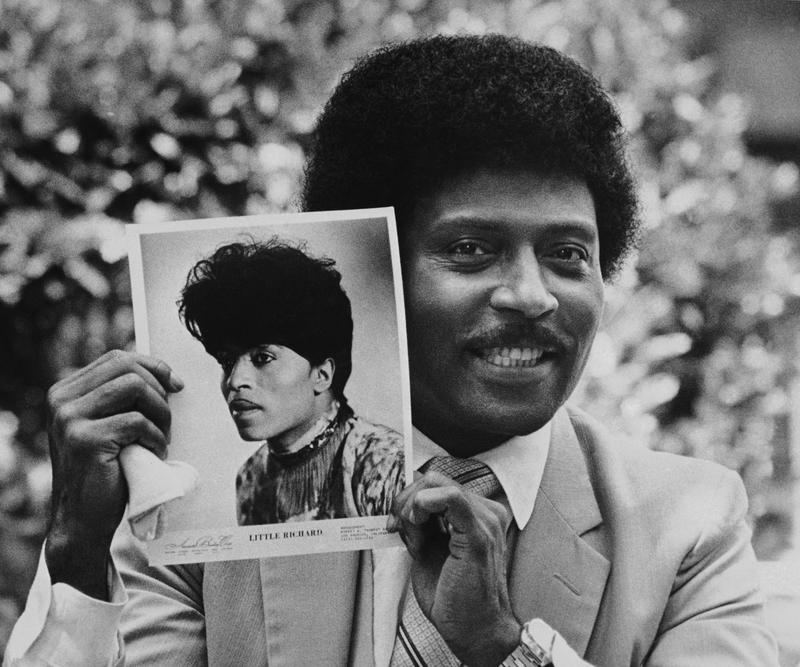 Transcript
Kai Wright: It's Notes from America. I'm Kai Wright. At the end of 1955, Little Richard put out a record that fully changed the world.
[MUSIC - Little Richard:Tutti Frutti]
Kai: Tutti Frutti was the first in a string of massive hits that launched Little Richard into global stardom, and that launched rock and roll into pop culture.
[MUSIC - Little Richard:Tutti Frutti]
Kai: The Beatles, Elvis, the Rolling Stones, David Bowie, just a long list of artists have openly acknowledged that Little Richard, he gave them the template for both their music and their style. More than that, he wrote a whole new set of rules for what it meant to be free for a generation of Americans. His own freedom, however, that is a much more complicated story. In a new documentary, filmmaker Lisa Cortes tells that story. The film is called Little Richard: I Am Everything. It follows Richard Wayne Penniman's wrestling match with both the joy and the pain of his unique trailblazing life as a Black, queer rock and roll star. Lisa, thank you so much for coming on the show.
Lisa: Thank you, Kai. I'm excited to be in conversation with you.
Kai: What made you want to tell Little Richard's story? Why'd you make this film?
Lisa: When I started several years ago, I was intrigued that the story had not been told. I knew that there was great richness, but it's especially important right now. You know Black and queer history is under attack and if they're passing laws against the teaching of our history criminalizing drag performers, this has to provide a counterpoint to a narrative that is trying to erase those parts of our culture. It's very timely right now.
Kai: I have to say that this film was very difficult for me to watch as a Black queer man of a certain age. Richard Wayne Penniman's struggle with when to love himself and when to hate himself was just really resonant and I think legible to a lot of people. I guess I want to start with one of the musicologists you speak to, they say he was very, very good at liberating other people. He was not good at liberating himself.
Lisa: Yes, that's Dr. Jason King. This idea of someone who gave us so much, and what this film looks at is Richard's contribution, not just to music, to style, and fashion, but also to challenging so many norms is pretty major. That's someone who is shifting the energy, he's shifting culture, and that he cannot be a recipient of that, brings great poignancy to the story.
In telling this, the journey of Richard Wayne Penniman, it could have been very easy to lean into, "Hey, geography, isn't he great? He did this, he did that." I think what's especially great is how in light of all of this, he was beautifully human. He lived in between his contradictions. I believe that magic comes from the complexity, and that's so much of the magic that Little Richard gave us.
Kai: Let's talk about some of the stuff that he contributed to the culture, and let's go all the way back to his childhood. I thought I knew about his story, to be honest, before I saw this documentary, there's so much that I did not know. His father is a deacon, a moonshiner, and a club owner all at once. [laughs]
Lisa: Talk about contradictions, right, Kai? He started outliving in contradictions.
Kai: He started outliving in contradiction. Richard is a fem Black boy in 1930s South, who loves to perform in church. Can you just introduce us to the young man who would become Little Richard?
Lisa: Well, I think little Richard, in his community, very quickly established that he was other than. There's a story that's not in the film that I say speaks to his unique approach to life, which is he used to defecate in boxes, wrap them up as gifts-
Kai: Excuse me.
Lisa: -leave them for his, yes, leave them for his neighbors and take delight in watching when they opened up the box and saw that he gave them-- Yes. He, very early on, is showing out in a very special way.
Kai: Woof, okay.
Lisa: [laughs]
Kai: Little Richard is a big personality from the beginning and almost punk when you describe that. We talk about him as rock and roll, but almost punk rock.
Lisa: Oh yes. I think he's very punk. He's rebellious, he is anarchic. To me, those are the best things about great punk.
Kai: His first time performing on stage is with Sister Rosetta Tharpe-
[MUSIC- Sister Rosetta Tharpe: Didn't it rain]
Kai: -the godmother of rock and roll. One of the musicologists in your film explains her style in a way that was the first time I really got it. That like, you drum on the guitar until the spirit comes down. When the spirit comes down, that's rock and roll.
[MUSIC- Sister Rosetta Tharpe: Didn't it rain]
Kai: Who is Sister Rosetta Tharpe and who is she to the boy who would become Little Richard?
Lisa: She's the mother of rock and roll. Let's start there. Let's get this origin story right. She's the one who is coming from gospel. She's electrifying the guitar and bringing the ecstatic to the performance. She's queer. She meets Richard in Macon, hearing him sing outside the Macon Auditorium, and invites him to sing on stage with her when Richard is a teenager. He's actually outside selling Coca-Colas outside the theater. She's someone who sees his talent, who provides, I believe, a portal for him to see himself as bigger than the confines of Macon.
She provides a portal to possibility and plans the seed for young Richard that he could be a star. Another chapter that then opens for Richard after he is kicked out of his home for being queer is he's taken in by the people who own, as the Macon historian has called, a queer bar called Anne's Tc Toc. It is at Anne's Tic Toc where he is first introduced to this idea of a chosen family who do not censor him for who he is and provides shelter and nourishment.
He works at Anne's Tic Toc and then he goes on the road as a performer on the Chitlin' Circuit who adopts a drag persona that he performs as Princess LaVonne. This Black, queer, drag ball scene doesn't just start with Richard. There are documented stories of this happening in Washington DC in the 1800s. When we have politicians now railing against drag performers, I question them to why do they have to negate an important part of our history that has been there for a long time.
Kai: In that an important part of our history that's been there for a long time, and that in it, and this is what I'm learning from your documentary, that in it, are the roots of rock and roll itself.
Lisa: Oh yes, because it's not just Sister Rosetta, it's artists like Esquerita, Billy Wright, who are out. They are openly gay in this period, who meet and mentor Richard, who encourage him. They help him to enhance his piano playing skills, but they also provide ideas of what is possible in terms of presentation and being bold and innovative.
[MUSIC - Little Richard:Tutti Frutti]
Kai: Such as with his song Tutti Frutti. When he first performed this for record executives, the sound just blew their minds and so did the original lyrics because y'all, this is a song explicitly about anal sex. It wasn't originally Tutti Frutti, oh, rootie, it was Tutti Frutti, good booty.
Kai: Well, the second line, Tutti Frutti good booty, "If it don't fit, don't force it, you can grease it, and make it easy". I [unintelligible 00:10:13] the original went all the way. They went all the way. Richard had an incredible A&R person, Bumps Blackwell, who saw that he had a very special artist, but he knew the business well enough to know that this had the possibility to be on radio, not just to be on the underground and the lyrics would have to be changed.
[MUSIC - Little Richard:Tutti Frutti]
Kai: Coming up, that's not the last thing that would be changed about Tuttii-Frutti. Stay with us.
[MUSIC - Little Richard:Tutti Frutti]
Kai: Tutti Frutti catapults Little Richard to international success, this and all of the hits that come follow in really close succession, particularly among young white consumers. What about him are they drawn to in that time?
Lisa: I think Richard is shifting the energy. He's shifting the energy of culture. There's rebellion in the music and all of this is coinciding with the growth of a phenomena of the 1950s, which is the teenager. We didn't have teenagers before. They are a post-World War II construct.
Kai: What do you mean by that? What is this new construct, and why does Little Richard's sound and style connect so well with that new idea of a teenage life?
Lisa: Well, we have to look at kind of like in the big sweep of history where kids are working at the age of eight in workhouses. There are no laws that are protecting young people. After World War II, there's so many shifts that happen. The 1950s come, it's post-World War II, people are particularly, who have served in the war, are coming back with an expanded notion of upward mobility. The teenage construct is introducing, that's why I love the film Hairspray by John Waters.
[MUSIC - Hairspray: You Can't Stop The Beat]
Lisa: We see the teenagers and they're Black and they're white, and rock and roll brings them together, and it's forbidden, the relationships that come up. With Richard, he is this young Black artist who is showing both Black and white teens who feel this sense of exuberance and release, and relatability in this music. It is not safe like Fats Domino and Blueberry Hill. It's like a perfect storm how their passions meet his sound and the inherent energy of his material.
Kai: The overtly sexual, Black gender-queer stage presence of Little Richard was also not safe in the eyes of the gatekeepers of American popular culture. They began to literally whitewash the sound he created.
[MUSIC - Little Richard:Tutti Frutti]
Kai: Both Elvis Presley and Pat Boone sold more copies of their covers of Tutti Frutti than Little Richard ever did. It was the first step in minimizing his role in the invention of rock and roll, an erasure that tortured him through the rest of his life. What comes through so painfully clear in Lisa's documentary, is that Richard is also struggling to see and love himself.
After just roughly two years atop the charts, he withdraws from commercial music, disavows the sex in his songs, and pursues a life of devout Christianity. Through the rest of his life, he goes back and forth between these spaces, between being a queer rock and roll star and being an evangelist who eventually denounces his own homosexuality and the lives of LGBT people generally. He thrashes around in this duality right through his death. He was such a tortured person. He had so many iterations of himself. I mean, how did you even begin to pull apart these, frankly, multiple personalities to think about them?
Lisa: Well, what's great is that Richard was he talked about it openly. Now, certainly, he didn't talk about being queer in the 1950s. He, in the '80s says, "Oh, I was gay. I was one of the first out people but I was very lucky to be introduced to Sir Lady Java, who's a great LGBTQI activist who met Richard when they were very young and can speak to that part of Richard's story that he did not declare at the time. I think the biggest, my takeaway is don't let somebody else define who you are. I believe in that power of agency and holding space and grace for all that you are and understanding that we contain multitudes.
Kai: That makes me think of, again, one of the musicologists in the film says when they're struggling with like, "Oh, what do we take away from Richard's story?" One of them says, "Just don't shrink." For some, I imagine it's hard to think of someone like Little Richard with his famous confidence taking up so much space as someone who also shrank himself.
Lisa: Well, I think by not embracing all that he was, that diminishes in many ways, the power of his platform and what he could present. I think he's also a tremendous story about self-invention and having a dream to power himself literally into the world and into the world in a very unique way. I find joy in that. I find joy in things that maybe ultimately, he couldn't, but that's his gift to us.
It's a gift of possibility. It's that gift that Billy Porter speaks about, that what Richard gave him allowed Billy Porter as a gay, queer man to stand in his fullness, beautifully and unapologetically. Sometimes, we would want someone who gave us so much to have enjoyed all of the fruits. If anything, I'd like to think that Richard planted, he spread the seeds for a really beautiful garden.
Kai: Well, thank you for giving me that image. I will try to lean into the joy of Little Richard's history instead of just the pain of it. It's a hard and beautiful story.
Lisa: Thank you.
Kai: Lisa Cortes's new documentary, Little Richard I Am Everything, is out April 21. You can see it in theaters or stream it on HBO Max. Lisa, thanks for making this film and thanks for making this time.
Lisa: Thank you so much. Take care, everybody.
[MUSIC - Little Richard:Tutti Frutti]
Kai: Notes from America is a production of WNYC Studios. Follow us wherever you get your podcasts and on Instagram at Notes With Kai. Mixing and theme music by Jared Paul. Reporting, producing, and editing by Karen Frillman, Vanessa Handy, Regina de Heer, Rahima Nasa, Kousha Navidar, and Lindsay Foster Thomas. Andre Robert Lee is our executive producer, and I am Kai Wright. Thanks for spending time with us.
[MUSIC - Little Richard:Tutti Frutti]
Copyright © 2023 New York Public Radio. All rights reserved. Visit our website terms of use at www.wnyc.org for further information.
New York Public Radio transcripts are created on a rush deadline, often by contractors. This text may not be in its final form and may be updated or revised in the future. Accuracy and availability may vary. The authoritative record of New York Public Radio's programming is the audio record.