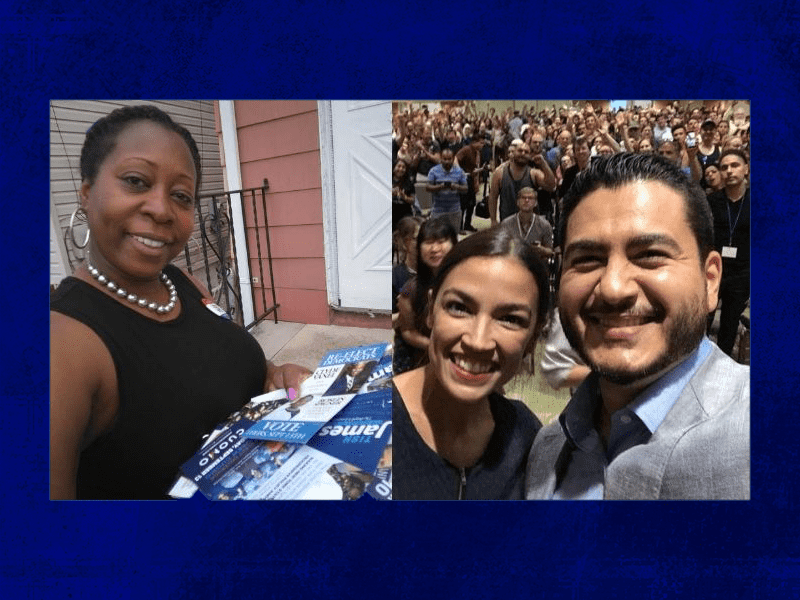 Transcript
Kai Wright: Hey, everybody. What you're about to hear is our first live broadcast of The United States of Anxiety. We're going to be doing it every Sunday evening at 6: PM Eastern. You can stream it anywhere you want, or you can continue to listen right here on Mondays in the podcast feed. You'll hear some of your own responses to the question we put out. You'll hear some folks calling into the show answering that question as well. Don't pick up your phones and call now because we're not going to be answering yet, but we'll have more questions for you soon. Sit back, enjoy. Tweet at us if you want. Here's our first live episode. [music]
Kai: I'm Kai Wright, and this is The United States of Anxiety, a show about the unfinished business of our history and its grip on our future.
Michelle Obama: Good evening, everyone. It's a hard time, and everyone's feeling it in different ways. [music]
Michelle Obama: When you're talking about someone who was in the senate for a length of time that he was, and someone who was vice-president, who on that national stage ha more experience than that?
Kamala Harris: I am incredibly honored by this responsibility. I'm ready to get to work.
Kai: The question is, who are we as a nation? What do we stand for? Most importantly, what do we want to be? [music]
Kai: The message of last week's Democratic Convention was as direct as it is aspirational. This is the party of a joyously diverse America. Sure that patrician white guy at the top of the ticket might look a lot like the past, but he wants to lead us into a future in which patriotism is all about celebrating and legit enjoying the jumble of humans that make up a nation this large. I mean, those kids on opening night- [music]
Kai: It was not an argument for any particular policy. It was a case for a new national identity. Our show, The United States of Anxiety, is new to Sunday evenings. As a podcast over the past four years, this show has also been a conversation about our national identity and the collective choices we make based on how we understand ourselves. We spent the 2016 election in the suburbs of Long Island trying to make sense of the anxiety and fear that seemed to fuel the Trump revolution. Ever since then, we've continued digging through our national history traveling around this region and this country, meeting people and asking them what they value what community they want to create, and whenever we can, talking with you. If anything is clear from all of that reporting, it's that the status quo cannot hold. What comes next? The Democrats have spent more than a year debating that. Watching the debate, it felt a lot like that game some families play when they give each other gifts. You get this big, huge box and you tear into it, and you find just another smaller box and you tear into that one. It's another smaller box, and on and on it goes until you get to this tiny little box. That's the actual gift. It's how I felt at least. This primary started off feeling like something honestly huge and totally new was going to come out of it. I mean, you had this huge, diverse slate of candidates that really did look like America, and you could literally see a future in which power looked and sounded different. Yet, in the end, when a candidate is a guy who first ran for president more than 30 years ago, but if you've played that game with those gift boxes, you also know that a lot of times there's something really unexpected inside that tiny final box, and that's a prize. That is what a lot of Democrats are hoping they have found in Joe Biden. Later in this hour, we'll talk with somebody who wanted to elect a far more radical nominee, but who has nonetheless already begun working with the party to get unexpected change out of a Biden presidency. I want to hear from you during that conversation too. Get your thoughts ready now, but first, let me introduce you to someone who is perfectly excited about Joe Biden, just as he is right now. One thing during this primary season that I found frustrating was so many people had so much to say about Black people who are those traditional, reliable Democrats. I wanted to hear more from those Black Democrats. We start this week by visiting a place where the Bernie revolution is a distant clamor. One of our producers, Carolyn Adams, took me over to Southeast Queens virtually, of course. Take a listen.
Carolyn Adams: Hey, Kai.
Kai: You are born and raised Southeast Queens, right?
Carolyn: I am. It hasn't always been something I was excited about, but I'm here now.
Kai: Why isn't it something you were excited about?
Carolyn: It's going out with your friends. At four o'clock in the morning, you're like, "Oh, man, if I miss this train, the next one is in three hours." It's crazy. but it's where I grew up. My family, my friends, my community members are here. It's Black. We're proud and I love it.
Kai: When you say it's Black, you mean like-
Carolyn: Not exclusively, but just about. People from all across the diaspora, Caribbeans, African, African American, people of all socioeconomic backgrounds live here and it's reflected in our food, our culture, the schools, and ultimately the leadership.
Kai: As I understand it, as a consequence of that, the political leadership there is quite Black as well, right?
Carolyn: It is, but also hasn't always been that way. African Americans really started moving into the area in the 40s, but between the '50s and the '70s is when Black New Yorkers really began buying homes here and there was serious pushback. We perceive ourselves to be this very progressive northern state. We didn't have slavery, we didn't do the burning of the crosses. Then you find out that in many pockets of New York, that was very much happening. The level of arson, firebombing houses here in Rosedale, and then around that same period of time in the '60s, we still have literacy tests. You had to be able to demonstrate competency in the language of English in order to even be allowed to vote.
Kai: It's part of I imagine why you have such a rich Black political culture there. Isn't it the case that Southeast Queens has one of the highest voter turnouts in the city?
Carolyn: Yes, I think people here recognize the power of voting and the importance of both representation and engaging in local politics. Remember, there's a pretty sizable population over here that's older and a lot of them remember and experienced the civil rights movement of the '60s.
Kai: This is not the new upstart Queens politics? This is not AOC Queens?
Carolyn: No, these are people who have been here, who have been living here, whose parents, grandparents were here. When they finally had the chance to have some representation, they took it. [music]
Kai: Who's the right person for us to talk to if we want to understand the Black politics of Southeast Queens?
Carolyn: As soon as we started discussing the DNC, Ros Spigner was the first person that comes to mind. She's a district leader. Her family is known all over this part of the district for the fact that her cousin had been a city council member for 27 years representing this area. People loved him. He worked with Guy Brewer, which is crazy.
Kai: Legendary names in New York politics. Guy Brewer, Archie Spigner, and she grew up in that milieu.
Roslin: Is everyone on MSNBC?
Kai: Last week, we found her as she was hosting these- barnburner sometimes raucous Zoom calls to watch the conventions with her community.
Roslin: I'll be frying fish.
Carolyn: People jumped on a call at seven o'clock, I said, "It's at eight." [laughter] I was just trying to get my backdrop together. I had my balloons and everything.
Kai: That first night with Michelle Obama's speech was pretty intense.
Roslin: My conversation ended at 12:45.
Kai: Wow [laughter]
Roslin: He wanted to talk and I said, "I have got to go to sleep."
Kai: Roslin and her people are the primary audiences for a political convention. The party faithful who need to get really excited about doing a lot of work over the next couple of months. Roslin had, of course, planned to be there in person. This would have been her third convention.
Roslin: I had never been to Wisconsin. I was looking forward to some cheese and some beer and some fruit wine.
Kai: It was a letdown. It's a bit that big trip you've been planning this summer that this Coronavirus has now screwed up. That family reunion or vacation with college friends or that huge wedding party that you've been dreaming about for over a year now. Now you're making do with a virtual or whatever. That was the DNC for Roslin.
Roslin: Just be in person. Being there in that arena with that New York banner. Just having a good time.
Kai: There's no recreating the emotion of the convention for.
Roslin: You really feel like it's your party because that's when you feel like really I'm really a part of this and it's just like being a Delta. When you go to a Delta Convention or AK convention, you're part of this, so you feel proud to be a part of it.
Kai: Let me just pause there for a second because the Black sororities that Roslin is talking about here are suddenly in the news and that's actually a really important detail if you want to actually understand the dynamics in today's Democratic Party.
Kamala Harris: Family is my beloved Alpha Kappa Alpha, our Divine Nine, and my HBCU brothers and sisters.
Kai: Kamala Harris is famously in AKA, but she also went to a Black college and not in HBCU, I don't want to start any mess out there, but some people consider her alma mater Harvard University to be the summit of Black higher education but the point is she and Roslin both came up through Black institutions, institutions that, thanks to the stark realities of segregation, continue to play a humongous role in Black civic and social life.
Roslin: I learned about the whole historically Black life by going to camp because all of the counselors and the staff members, a lot of them were Greek, and then they had told us of the historically Black colleges. Once I became a Delta, I just modeled what my experience as a young person and leadership training, going to camp, Camp [unclear], a historically Black camp.
Kai: It's the camps, these colleges, these historically Black institutions, part of the point is that these are places where if you wanted to and be engaged in civic life as a Black person, you can and you can do it with respect and authority and power in the way that we often can't and other parts of society, including in politics.
Roslin: Right. My sorority, they recommend that we run for office because in order for us to make the changes in our community that needs to be made on a legislative level, they recommend, "Hey, be on the school board, become the district leader. Make sure that you become a city councilperson, go ahead and be attorney general like Loretta Lynch." [laughs]
Kai: Or vice president like Kamala Harris, AKA.
Roslin: That's right, or vice president, or Shirley Chisholm, a Delta who ran for president.
Shirley Chisholm: I'm the candidate of the people from America.
Kai: All of which is to say for some Black people, particularly people in Roslin's generation, the Democratic Party is itself a historically Black institution, one in which Roslin has invested enormous amounts of time and emotion. When she hears people railing against the party and its so-called establishment, it turns her off.
Bernie Sanders: As you may have noticed lately, the establishment's getting a little bit nervous.
Roslin: I am not a Bernie person at all. He's an independent, I just feel an independent should organize and raise money so that they can run their own caveats and they don't have to run on our ticket because I believe in the independent party. I believe that they should do what they need to do. Why come on the Democratic ticket? Do what you have to do like they do on a state level and raise enough money and run your candidates.
Kai: Because you ultimately believe in the Democratic Party.
Roslin: Yes, become a more formidable party and run your own campaigns and do your own thing.
Kai: You said you're the district leader. What does that mean? Inside the Democratic Party being a district leader, what does that mean if I've never heard it?
Roslin: We are executive members of the Democratic Party in that county. Someone would approach a district leader and say, "I'm interested in running for city council. I'm interested in running for state assembly. I'm interested in becoming a judge," and basically we would have that conversation with that potential candidate to understand if they're really knowledgeable, if they're qualified, or if they need the grooming or the mentoring. We would work with that candidate to get them prepared if they are interested in running. In the end, if they are the best and most suitable candidate, then basically they would get the nomination from the county to run in that race.
Kai: It's the official and premature of the Democratic Party in that particular place, we say, "We support this person."
Roslin: Many elected officials, including myself, did not have the county support. You don't necessarily have to have the county support to win, but at least with the county pick, that person was basically vetted. They probably presented their resume-
Kai: Vetted. If you're listening to Roslin here with the ear of, say, a Sanders supporter or someone who generally thinks the party is far too top-down, then you probably think what Roslin is describing is exactly the problem with the Democratic party.
Roslin: I know you've heard of the term kingmaker, queenmaker.
Kai: Indeed. Queens is arguably the epicenter of the conflict between the Democratic party's establishment wing and the revolution Sanders has inspired. This is where Alexandria Ocasio-Cortez shockingly beat Joe Crowley two years ago. What you may not appreciate about that is Crowley was more than a veteran Congress member. He was the head of the Queens Democratic party.
Alexandria Ocasio-Cortez: What we're dealing with right now is the dynamics of power.
Kai: Ever since that upset, the new Queens Democrats have been demanding more small D democracy.
Alexandria Ocasio-Cortez: That is an inherent tension within the party. There are people who want to always hold back, slow down,
Male Speaker 1: Be more moderate, be more status quo.
Kai: But AOC is in Northern Queens, and so is much of the uprising she has come to symbolize, and so are a lot of the younger, wealthier, whiter people who have moved to Queens in recent years. In Southern Queens where Roslin lives, there's a lot of skepticism about those people in the North who want to shake up an institution in which Black people only recently gained some real power. They say that people like you are the establishment and that they are running against that estate.
Roslin: I can't be the establishment because the establishment never looked like me. The establishment looks very much like how they look.
Kai: Meaning they're white. You see the reformers as white.
Roslin: Most of them are in Queens. Most of them are. They want it back, or either they're young and they don't understand the process of politics because I guarantee you, if they did get it back, they would not want to give it up. Power is not something that you just get and give away.
Kai: Now, it's not totally fair to say the reformers are white. A lot of them are people of color. I mean, Queens is a really diverse place even in the North. Listen, if someone in Roslin's position with her access to power and her relationship to those Titans of local politics, if that's not establishment, I don't know what it is. But from where Roslin sits, you also got to understand the history of the Democratic party and how it still functions in Queens. In a lot of places, my colleagues here in the WNYC newsroom ever reported on this a good bit.
Male Speaker 2: There are two ways to get involved in politics, in a town where political machines run the show. You can fight them, or you can join them in the film.
Female Speaker: You know that scene in the film The Matrix?
Kai: political power in Southeast Queens may be Black, but the whole county has always been controlled by a handful of white people who report all the way up to the governor and Roslin and her colleagues don't have much more access to that white power structure than the upstarts in Northern Queens. She's actually part of a generation of Black Democrats who got the power they have now by challenging the party. In 2008, Hillary Clinton was the party's candidate, especially here in New York. She was our senator, but Roslin, she joined the Obama movement instead.
Roslin: A lot of people didn't believe that he was going to win. I finally found a group that was organizing in Soho. I went to meet with these people, it was like the Second Coming. They were so over-- I mean, "Oh, you just don't understand. You have to hear him speak. You have to be in the room with him. This man is dynamite. He's charismatic. He's this. He's that." I said, "Well, I saw him on Oprah and I saw him-" and they were like, "You don't understand." I didn't understand until I actually was in the same room with him and I actually heard him speak, I was speechless.
Barrack Obama: I believe that we have a righteous wind at our backs and that as we stand on the crossroads of history, we can make the right choices and meet the challenges that face us.
Kai: Obama did not do well in New York. He won just three congressional districts in the entire state, but Southeast Queens was one of them, which maybe helps explain why despite having two Black candidates in the primary this year, Roslin and her Democratic club got behind Joe Biden pretty early on. They knew him. Do you remember the first time you met Joe Biden?
Roslin: Yes. What he said to me was, "Roslin, how are you? Roslin from Queens, such a pleasure to meet you. You have more people living in the borough of Queens than we have in the entire state of Delaware. You have over 2 million people living there. What I need you to do is to make sure that all of those people vote for Obama and Biden. Do you think that you can do that, Roslin?" I said, "Oh, sure. I can do that. I can organize 2 million people, no problem." He laughed and we laughed and took a photo, took two photos. He was really nice. It was a great experience.
Kai: That said, Roslin really liked Cory Booker's campaign actually. She really wanted to be with a Black candidate, but that's just not where her people were.
Roslin: I poignantly asked people, they felt that they didn't know enough about Corey. I said, "Corey ran in burning buildings and saved dogs. He was the mayor of Newark." Cory Booker was Superman. Sometimes the stars have to align with- and the stars weren't aligned with these candidates.
Kai: I hear you saying you would have gotten behind one of these Black candidates had you thought- Roslin: I sure would have. Kai: This was a realpolitik choice for you to support Joe Biden. You were like, "Well, Black people aren't with him. I'm going to be with who Black people are for." The Democratic party is a tangle of constituencies. It includes people from very different communities with very different histories and dreams. Much of what we have witnessed over the past week in this unique virtual convention has been an effort to simplify the party's complexity, to make it clear what it means to be a Democrat. People know what they're fighting for. Roslin though, she's never been confused about that part.
Roslin: I'm a Democrat. I believe that I am a true blue Democrat and that whoever the nominee would have been, I would have come around that person. I'm going to make sure that I do my best, my personal best to make sure that my community is engaged and that they're fired up and ready to vote for Joe.
Kai: That was Roslin Spigner, a Democratic party leader in Queens. In a few minutes, I'm going to talk with a Democrat who wanted a good deal more change in this election cycle. We'll be right back. Welcome back. I'm Kai Wright. This is the first week of a brand new Sunday ritual here at w NYC. I'll be here each week for a new live edition of The United States of Anxiety. We'll be telling stories and meeting smart people, but also talking with all of you about what you value and what kind of communities we want to build together. This week, we're thinking about the Democratic party. If you're a Democrat of whatever ideological stripe, call us up and tell us what you need from your party. Can we take as a given for this exercise that you want them to defeat Donald Trump? We know that. Let's say Joe Biden wins. What then? Call us up at (646) 435-7280. This is an invitation to get specific and personal. What will make a difference in your life? (646) 435-7280 or on Twitter with the hashtag #USofanxiety. We already heard from some of our podcast subscribers and Twitter followers. Here's a bit of what you had to say.
Erica: Hey there, my name is Erica.
Melissa Kane: My name is Melissa Kane.
Brandon: Hi, my name is Brandon.
Erica: I am Black, 31 years old. I am an LA girl who now lives in Richmond, Virginia.
Brandon: I am a college freshman currently in Houston.
Melissa Kane: I am from South Sioux City, Nebraska, and I need from my Democratic party vision. Unfortunately, as I place my vote this year, I feel like it will be from a place of desperation and not from a true place of pride. When you asked me what I would like to see from our country and from our Democratic party, I am looking for comprehensive childcare solutions, everything from birth to kindergarten. When I look at other countries and what they do for families and how they support families, that is where I'd like to see the United States be.
Brandon: 2020 is going to be the first election that I'll be voting in. Honestly, I think the number one thing that I want the Democratic party to do for me is to make sure that getting a solid education is affordable and will not land me in debt for the next few decades of my life. As someone who is in Gen Z, I really hope that the Democratic party in the next few years adopts a platform that concretely deals with issues that affect our futures.
Kai: Those are some of the voicemails we've already received. Now it's your turn. If you're a Democrat, tell us what you want from your party. Again, not just beating Donald Trump, we know that much. What will make a difference in your life if Joe Biden wins? On the opening night of last week's Democratic convention, Bernie Sanders, once again, directed his movement to stop challenging the party, at least for the moment and start supporting it. Abdul El-Sayed has already answered that call. Abdul is a vocal part of the movement that has been associated with Bernie Sanders. People who are trying to push the Democratic Party toward a more progressive agenda. In 2018, he ran to be the Democratic candidate for governor in Michigan. He got Bernie's endorsement and a huge part of his platform was support for Medicare for All.
Abdul El-Sayed: Why in the richest, most powerful country in the history of the world do people have to go bankrupt to get health care they already paid for? When are we going to stand up for Medicare for All?
Kai: He lost that election, but he has continued to fight. He's the author of Healing Politics: A Doctor's Journey into the Heart of Our Political Epidemic. Notably Bernie Sanders asked him to serve on the unity task force that helped craft the new Democratic Party platform, which some argue is the most progressive in the party's history. Abdul worked on the healthcare plank. Abdul, thanks for joining the show.
Abdul: Kai, thank you so much for having me. I appreciate it.
Kai: Can we start by talking a bit about your own personal journey to public service? Because I feel like it's something that offers a lot of insight for people who are in the progressive wing of the Democratic party about how that has grown in recent years. You started off wanting to be a doctor. Tell me about that. Why a doctor?
Abdul: That's right. I am the son of immigrants from Egypt. I was raised by my father and my stepmother who's the daughter of the American Revolution, and many summers growing up, I experienced the whiplash of leaving my comfortable suburban Detroit home, going 15 hours, and then going to Egypt in the working class part of Alexandria, where my father grew up. My grandmother, whom I spent most of my time with was illiterate, though she was the wisest and most intelligent person I've ever met. She had this wisdom about her. She had eight kids that she gave birth to, two of whom died before the age of one. For her, her personal infant mortality rate was 25%, but she would always point to my cousins, people who didn't have the same set of opportunities that I had. She would say, "That one over there is smarter than you. That one over there is taller and better looking. That one's a lot nicer. The only thing you've got is a set of opportunities." The crazy thing is in those 15 hours, that I traveled to Egypt, I traveled about 10 years difference in life expectancy, but the crazier thing is that growing in suburban Detroit, I could travel 15 minutes South and I'd travel the same 10-year life expectancy gap, and I wanted to solve that. That's why I became a doctor.
Kai: I heard you mentioned in a speech you gave to the New York Academy of Medicine also that nobody ever complains about their kid decided to be a doctor, you get a lot of praise for that kind of thing.
Abdul: That's right. Particularly as a child of immigrants, being raised in a Muslim household, that's the highest ideal that one can aspire to. The funny thing is if my parents would've known that I ended up running for office, they probably stayed back home in Egypt. That way they could guarantee I'd never run for office because there is no single democracy there . That's the path I was walking. I just kept trying to map what I saw in the health care system to the call that my grandmother had made to me, that challenge about justifying and validating the absurd set of opportunities that I had relative to possess. I would watch the way that our health care system worked, how it would treat low income people who didn't have the same privilege that I was fortunate enough to grow up with. I had to ask myself, is this part of the solution, or is it part of the problem? There was one particular patient that had come in after hitting her head. I watched basically as the emergency room tried to kick her back out onto the streets, she had been drinking and they figured that she'd find her way to another bottle and avoid going into withdrawal. To do that, it meant that they basically didn't give her the workup that you or I by virtue of our privileges will have definitely gotten. I was a fourth year medical student and her experience has fundamentally changed my perspective on whether or not I thought that I could actually achieve the set of changes that I wanted to address the inequality that I saw in health care through the health care system. I concluded that I really couldn't. So I left clinical medicine and decided not to do a clinical residency.
Kai: How did that feel? Because you had such a promising career. You were a Rhodes Scholar, you went off to Oxford, you later became a somewhat celebrated academic, you wrote a textbook, and at some point, you stepped away from all of that for public service, and how did that feel to do that?
Abdul: It's scary, but institutions, the institutions that we all live in and work in and engage with every day, they have a stated set of aims, and then they have the things that the trajectory actually is intended toward, and I think that sometimes we assume that leadership is about accelerating institutions in the direction that they're headed, and when you do that, the institution reward you. They give you the awards, and they give you the accolades and they give you the stepping stones upward. I had to step back for a second and ask, are the institutions that I am working in, are they actually meeting their stated aims and what is the difference between those stated aims and the aims that it seems that they're actually moving towards? It didn't matter if you were talking about the health care system, or also sometimes the academic system, that there are a set of goals that are stated. Then there are the goals that seem to be driven toward it and they almost always focus on money, health care system, in particular, you have this system where 7,000 health insurance companies are paying their CEOs and millions of dollars. The hospital corporations keep eating each other up and you have this major consolidation, also that the MBAs at the top can enrich themselves. You ask, is this for the best interest for the people that we say we want to serve? I had to step back as somebody with a lot of institutional privilege and ask, am I actually meeting the aims that I set out toward or the aims the institutions are headed and does it mean that one has to call the institutions to correct? Sometimes that can be painful and sometimes that means that you lose platforms and lose opportunities, but the end of the day, I had to ask my grandmother, someone who never knew those institutions and what she would say and realize I was- if I continued forward in that role, without stepping back and asking the big question, that I would not be meeting the the big question that you had asked me.
Kai: Well, on this question of institutions before I take a call on this, I mean, the Democratic Party is itself an institution that, some argue, is rewarding people who push it along in a direction versus trying to change it. You have decided to engage with it. Why?
Abdul: Well, at this point very clearly, we have a Neo-fascist and a white supremacist who is actively plunging the country into depths that I cannot imagine and as a child who spent some time in a country run by dictators, I never want to see our country go that way. I also realize though that this institution needs to be engaged with but also challenged, and when I ran for governor, I ran an outsider's campaign, I was not supported by any of the major party power brokers, and part of that was because I knew that in order to get them to pay attention to the challenges that they face, the arena of politics was an easy way to challenge that institution straight up. Now I look at where we are, I supported Bernie Sanders heartily in the primary, but we didn't win and the question now becomes how do we defeat Donald Trump, protect the democracy on which we hope to play another day, and continue to ride forward to the kinds of policies that truly address the kind of challenges that people like my patients that I talked to you about earlier face every day? This is a moment where we're in the den, sometimes it looks like we're wrestling, sometimes it looks like we're dancing, but the whole time trying to pull toward a framework that centers the people who often don't get centered by many of our institutions, our politics included.
Kai: Let's take a call. Kira from the Bronx. Kira, welcome to WNYC.
Kira: Hi, Kai. Can you hear me okay?
Kai: I sure can, Kira. I assume you consider yourself a Democrat. What could the party do? Let's say Joe Biden wins, what could they do to help you?
Kira: Well, I mean, what I feel that they could do to help me is actually try to unify America. Just try find one goal. I know he tried to state about four things that he said he wanted to do as president, but I think that he needs to find one goal that Americans can really focus on and just drive that forward, to focus on one point and try to get everyone in the same page because there are just too many things that are dividing us, too many things that people disagree because they're in a group of like-minded people that also believe certain things. I think that he has to go above that. [voice breakage]
Kai: I'm sorry, you dropped out at the last bit there. Say that again, Kira.
Kira: Oh, I'm sorry. I was just congratulating you on the first live show.
Kai: Nice. Thank you so much. Can I ask you a follow-up question though? If you say unity is what's really important to you here, at what cost? Some would say, "Listen, if you focus on unity, that's going to get in the way of the tension that is required to make the change that we need." How do you come down on that?
Kira: I understand that, but I think that we have to take the reality of this country as it is right now, the fact that people cannot even agree on what the truth is in many ways. In that sense, before we are able to really tackle the big goals, we need everybody to have a certain lowest common denominator which could be simply just that our country needs more jobs, that people are suffering in the middle of the country, it's not only about the big cities like us in New York, that we have to think about all of the United States and help all of them.
Kai: Thank you for calling in, Kira. I hope you'll call us back. Let's see. Let's go to Reggie in Bed-Stuy. Reggie, welcome to WNYC.
Reggie: Hi. Reggie in Bed-Stuy, 60 years old, always lived in Bed-Stuy, a working jazz musician. You guys should talk to me. I would make a great interview.
Kai: You're here right now. We are talking to you, Reggie. You're on the air. What would you like to hear from the Democratic party? I assume you consider yourself a Democrat, what would you like- if Joe Biden wins, what can he do to help you?
Reggie: What he can do to help me is a Wi-Fi access and connectivity that we don't really have here in Bedford-Stuy that they have in Park Slope and Brooklyn Heights; two, the actual financial and banking access. We have all these small Black businesses and small businesses in general that did not have access to the PPP loans, the forgivable loans because they weren't connected to- or the bank that they were connected to didn't want to take the time to process the loan, the PPP-- You have businesses here that didn't get PPP loans. We're not getting the services that we should be getting in the public sector and I know all this unity stuff, I supported-- I'm Black. I've been here for 60 years, but I supported Bernie's slate in the primary. I will vote for Biden, Harris but it's because we're voting against the fascist. Even Colin Powell and [unintelligible 00:38:35] all agree. We all have to get this guy out of office, but the Democratic establishment has to do something for me.
Kai: Reggie, I'm going to leave it there because we need to take a break, but thanks for giving us a call and I hope you'll call back. I'm Kai Wright. This is The United States of Anxiety. I'm talking with Abdul El-Sayed, former Democratic candidate for governor in Michigan and a vocal advocate for Medicare for All, who was a proud member of the Bernie Sanders revolution and yet has gotten to work alongside Joe Biden. We're going to talk about that choice a little more shortly, but I also want to keep hearing from you. If you're a Democrat, what do you want from your party? Biden wins. What then? Abdul, before we chat some more, I want to start with a young woman from South Florida, Sher Delva who is volunteering with the Democratic Socialists of America and is now reporting for the 18-to-29 project which is a project of WNYC's Radio Rookies program. Sher, you have been out there talking to your peers. I want to hear a little bit about what you've been hearing. Welcome to WNYC first off.
Sher: Thank you. Thank you for welcoming me. I've just been hearing mostly the tone of a lot of disappointment and processing that. Among my comrades in the Democratic Socialists of America, there are some people that seem split on whether or not they want to vote for Joe Biden. Also, there's people that are deciding not to vote at all, and some people that are waiting to see if maybe Joe Biden will be more agreeable to some of the policies that they are most passionate about. It's really been back and forth between the groups. There's been more of a divide among us than there has been before.
Kai: Stay with us for a second, Sher. Abdul, hearing that, what are your thoughts as somebody, again, who's in the same political milieu? You were working really hard with Bernie Sanders, and you are hearing Sher say that some of the folks she's with, they're divided about this, what would you say to them?
Abdul: I hear the frustration and I understand where it comes from. I'll also say that sometimes, even though we may not be moving forward as fast as we might want, it is important that we don't continue to move backward? I'll say that I would rather be organizing to enact Medicare for All under a Biden administration than to prevent the repeal of the ACA under a continued Trump administration. I'd rather be organizing for real immigration reform than organizing against the fact that this president put kids in cages and wants to in effect end immigration from people with darker skin tones. I'd rather be organizing for a Green New Deal than organizing against non-enforcement of basic air and water protections. We've agreed upon a big consensus in this country since the 1970s. I hear the frustration, we need Medicare for All. We need a Green New Deal. We need to address the ridiculous debt that people are taking on just to get a higher education. I also know that when it comes to people like my own family, and so many people who are struggling in this moment, the consequences of four more years of Trump are very real. For all of us, when you look at what he's doing with respect to tampering with the post office, or threatening to send federal officers to election sites, or talking about even delaying the election, this man is pointing to a strain of anti-democracy that I think is so dangerous. We've got to protect that democracy. I hear the frustration and I understand exactly how you're feeling. I also know that right now, we have an opportunity to get Joe Biden and Kamala Harris elected, and then to continue to build our movement to move their hands and create the legislation we know can address so many of the challenges that we face in America, so keep going.
Kai: Sher, hearing that, is that a compelling argument to some of the people that you're talking to?
Sher: It is a compelling argument for me. That is why I will be voting in November because I know that there's vulnerable citizens whose lives are at risk. I need to do what's best for them, not necessarily what feels good, but even despite you saying that, there's people that I know that are passionately against what they would consider giving in and sending the wrong message because they did that in 2016 with Hillary Clinton. They feel like we're just going to keep doing the same thing over and over again, and people are going to expect us to keep doing this. They don't feel like it's the right decision despite all of that. It's hard for me to argue with them because I'm not excited to vote for Joe Biden. I'm going to do it, I'm not on the streets knocking on doors like I would for Bernie Sanders, but I'm going to do it. It's like, how do I express that to people that don't feel that way and are very strongly against voting in this upcoming election? That's the balance between the two different sides in my organizations with people wanting to vote, and some people going a different route.
Kai: Thank you for calling in and giving us that, Sher. We will be checking in with you in South Florida as this election keeps going. If you want to check out Sher's latest article in the 18-to-29 project, it's called Getting on Board with Kamala: It's Complicated at their website, youngamericaspeaksup.org. Abdul, on this question of what is fast enough, you were on the task force that helped write the healthcare plank of the Democratic Party now. It notably does not include Medicare for All. Tell me about that process. What, in there is an example of saying, "Okay, you know what, this I can believe in, this is somewhere where we were able to move the Biden camp"?
Abdul: I will say that so much of my willingness to participate is because Senator Sanders asked me to do it. He recognizes that in order for the movement to continue, we have to start being able to continue to drive the outside while also being able to engage folks on the inside. We knew that healthcare was an issue that had been deeply litigated in the primary. We knew exactly where Joe Biden stood and we knew that we weren't going to be able to turn a Joe Biden into a Bernie Sanders, but the question was, were we able to take the platform that Joe Biden had run on, which was a public option, and to that, a very sane public option and help make it meet the moment of the post-COVID reality in which we're living right now. Also, can we allow it to do a couple of basic things? Number one, I judge all policies based on how it would factor into the lives of the people I was responsible for when I was health director for the city of Detroit, would it make their lives better? Would it give them better health care and leave more money in their pockets? Then second, would it take power away from the corporations who have put their chokehold on the healthcare system in a lot of ways? What we were able to do was work together with eight people. Three of us from the Sanders side and five from the Biden side who are firstly focused on really helping to create a platform that was as rigorous as possible, recognizing that we had disagreements about the best way to do that philosophically and come together and hammer that out. What we're able to do is really beef up his public option to make it freely available for people earning less than 200% of poverty. That means earning less than $52,000 a year for a family of four, make it truly public so that it wasn't operated by a corporation that skimmed the cream off the top, but really operated by the government, make it free of a deductible, which is the money you have to pay when you get your health care after you've already paid your premium biweekly or monthly. We were able to get in there that Medicare which is the biggest buyer of prescription drugs, would be able to negotiate finally with a pharmaceutical company, so they can [unintelligible 00:47:10] right now per federal law and do so for everybody and then really focus on health care equity and embracing this public health moment. I'm not satisfied. I believe in Medicare for All. The next book that I have coming out in February, it's called Medicare for All, but I am optimistic that if we can get this done, it can serve those people and it can take away some of the power from corporations.
Kai: We'll have to leave it with that idea. Abdul, thank you for joining us. Abdul El-Sayed is the former Democratic candidate for governor in Michigan, and author of Healing Politics: A Doctor's Journey into the Heart of Our Political Epidemic. Now we look forward to next week's Republican National Convention. Donald Trump says he's going to speak every single night, so we shall see how this goes. We will be back here next Sunday to reflect on all of it. Join us then and every Sunday from now on live at 6:00 PM here on WNYC, streaming online wherever you are in the world and you can always catch up with episodes by subscribing wherever you get your podcasts. If you're looking for something to listen to and just finding us tonight, go back in that feed, there's a bunch of stuff there right now you can check out, and you can keep talking to me on Twitter @kai_wright. This has been The United States of Anxiety live. We look forward to hearing from you again, thanks for spending this time with us. Let's gather next week. [music] The United States of Anxiety is a production of WNYC Studios. This episode was reported and produced by Carolyn Adams, Veralyn Williams, and myself. It was edited by Karen Frillmann who is also our executive producer and it was mixed by Hannis Brown. The team also includes Emily Botein, Kevin Bristow, Jenny Casas, Marianne McCune, and Christopher Worth. A ton of people had to work really hard to turn this podcast into a live show as well. A special thanks to Rob Christensen, Jacqueline Sankata, Aaron Cohen, Jason Isaac, and Wayne Schumeister amongst others. Hannis Brown also wrote our theme music. It was performed by the Attleboro Brass Band. Keep in touch, and you can follow me on Twitter @kai_wright. Thanks for listening. Take care of yourselves, and hey, hope to hear from you live at 6:00 PM Eastern time every Sunday. Bye-bye.
[music]
Copyright © 2020 New York Public Radio. All rights reserved. Visit our website terms of use at www.wnyc.org for further information.

New York Public Radio transcripts are created on a rush deadline, often by contractors. This text may not be in its final form and may be updated or revised in the future. Accuracy and availability may vary. The authoritative record of New York Public Radio's programming is the audio record.