Indian Boarding Schools Are Not Ancient History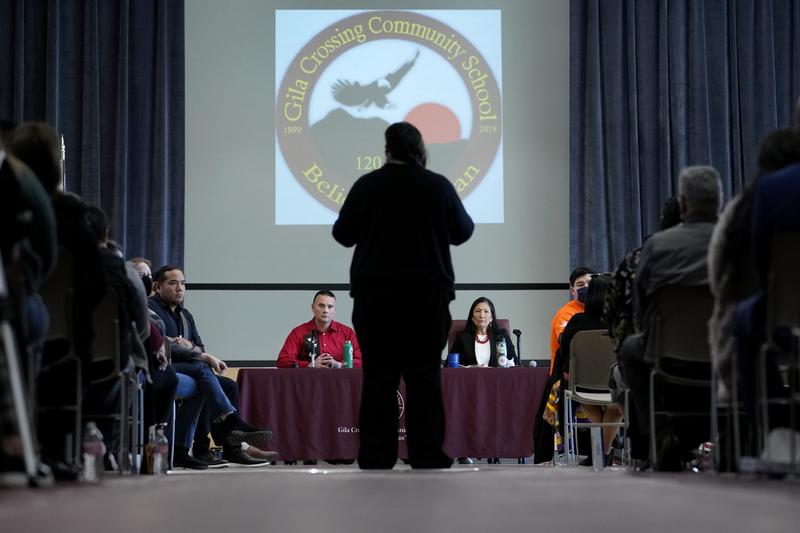 Transcript
Participant 1: We had kerosene poured on our hair, and we were told to sit on a chair still naked, and our long hair was cut off.
Participant 2: When they put the water on me, it stung even worse. They did not care. They didn't bat an eyelash. They said, "If you cry, we will whip you."
Participant 3: How many of you went to school and had your hair cut off by those people and put DDT pesticide in your hair? This was later banned by the US government as a dangerous pesticide.
Participant 4: That none just chop her hair really hard. It cut a piece of her earlobe off, and so the girl was just screaming in blood and everything was all over.
Participant 1: That was my first introduction to boarding school.
Kai: It's Notes from America. I'm Kai Wright and welcome to the show. The people you just heard are describing their orientation into boarding schools run by the federal government. Between 1819 and 1969, the US government removed thousands of Native children from their families and their tribes with the intention of stripping them of their culture and forcing their assimilation into whiteness. For the past couple of years, the US Department of Interior, which oversaw the Indian Boarding School program, has begun finally wrestling with this history.
In 2021, Secretary Deb Haaland launched the Federal Indian Boarding School Initiative to not only document the history but to understand its ongoing impact. As part of that effort, Secretary Haaland has been traveling across the country on a year-long tour to hear directly from survivors and their family members about how the boarding school program affected their lives. The recordings you heard at the start of the show came from one of those listening sessions.
So far, Haaland has gathered testimony in Native American communities in Anadarko, Oklahoma, Palestine, Michigan, the Rosebud Indian Reservation in South Dakota, the Gila River Indian Community, and the Navajo Nation in Arizona, and the Tulalip Indian Reservation in Washington State. We're going to listen to and talk about some of that testimony in this week's show. Listen, I should say that some of it is hard to hear. You've already experienced that. It includes descriptions of physical and sexual abuse, so please take care.
That said, I hope it helps us consider an important question. What can national healing around this history actually look like? What could reparations for effective families and communities look like? This will be the first in a series of segments we're creating in partnership with KOSU in Oklahoma, looking at the impact of these boarding schools. I'm joined by Allison Herrera, who is the Indigenous Affairs reporter at KOSU and has been covering Secretary Haaland's listening sessions. Allison, thanks to you and to the folks at KOSU for working with us on this important reporting.
Allison: Thank you, Kai, for having me on today. I first just want to say that I am not an expert on this subject. There are so many other people that have reported on the boarding school initiative, and I just want to-- I am standing on the shoulders of so many people who have talked about their experience in boarding schools and have been touched by their stories. It's not something that I take lightly in my reporting, but I'm really happy to come on here and talk with you about it today.
Kai: Thank you for that work. First off, why is this listening tour and the broader project that the Department of Interior has launched happening right now? What sparked this?
Allison: As you mentioned, Deb Haaland has launched the Federal Boarding School Initiative in 2021. Deb Haaland became Secretary of the Interior that same year, which oversees the Bureau of Indiana Affairs. She was first elected in 2018 to Congress and as part of this wave of women. She along with Sharice Davids from Kansas, were two Native women to hold these congressional-- were elected to Congress, which was pretty historic. Haaland is the first Indigenous person to oversee to be in this position, to be the Secretary of the Interior.
It's usually been white men that have held this job. Shortly after she took office, this was in 2021, there were these horrific revelations of mass graves of children at residential school in Canada called Kamloops. It's just awful. She then began the Federal Boarding School Initiative and directed her staff, including Assistant Secretary Bryan Newland, who is from Bay Mills. Secretary Haaland is from Laguna Pueblo. To start looking into this system, to report on that system, and along with the number of schools that each state had, they partnered with a National Native American Boarding School Healing Coalition to do this work.
They've been doing it for the past couple of years. Then shortly after that, in 2022, they released this report, which is over 100 pages. Then as we heard at the top of the hour, they embarked on this, what's called the Road to Healing Listening Tour. She told the Arizona Republic after her visit there, this past January that she-- This was something that she was the most proud of since she served as the first Native American cabinet secretary, but this isn't the first-- Boarding schools are an open secret in Native communities.
Native people have talked about them for decades. I remember in 2018, the issue of boarding schools came up when it was discovered that the United States was separating children from their parents at the US-Mexico border. I remember a group of women in this group called Matriarch protesting against that. All of these stories started to come out then about Indigenous people having their children taken and experiencing the federal boarding school system. I've interviewed some survivors in Minnesota that are from the Bois Forte Band of the Ojibwe community in Northern Minnesota. They talked about their experience.
There's several boarding schools in Minnesota that they've talked about these horrific experiences of going to these schools. This is I think really personal for Secretary Haaland, her own grandparents were forced to attend boarding school. It's obviously she carries a tremendous amount of responsibility for all these people who have shared their stories. This isn't the end. Also, I think, she leads the agency that was responsible for this system. I think that, again, just it's a huge responsibility and I think that's something that she's really proud of and has really been overseeing to make sure that it's done right and that people's stories are taken with a lot of great care.
Kai: We will get into some of the details on that as we go forward, but I want to play some testimony. You heard during a listening session held at Riverside Indian School in Anadarko, Oklahoma.
Allison: I'll just say it is a very difficult testimony to listen to. I just wanted to reiterate for listeners, please take care.
Kai: The school opened in 1871, it's still in operation. One woman at the event had her mother on the phone and she held it up to the mic so that she could offer testimony. This is some of what she said. She begins by speaking in Navajo.
Lorenda: [Navajo language]
Lorenda's Daughter: I introduced myself to you in my Native term because I am very proud that I can still speak it. I entered the boarding school system 56 years ago and I could have lost my language, but I retained it because my mother never spoke English. As I grew older, I had to translate for her. I was five years old, did not speak a word of English when I was put into the lower Greasewood Boarding School on the Navajo reservation. Whenever we went to our class and we tried to speak our language, our elbows, our wrist, whatever was whacked with a ruler, it is true. We live through that. It is true. In order to control our unruliness, our misbehavior, we would have to stand at attention for long periods of time in the hallway. It was very hard being five years old and being introduced to something totally foreign, but I made it through, I made it through. It's good to talk about it. It's good to talk about it now and to let other people know what we went through. It did happen. It is true.
Kai: It is true. Allison, we're going to talk about this testimony in some detail after we take a break, but what is just your initial response to what you're hearing in that testimony? I'm struck by the fact that she was just five years old when she was put into this school.
Allison: Can you even imagine I have a child, I can't even imagine having my own child taken from me. Yet this was federal policy. This was something that the federal government did to take land away from Native people. They did it at the expense of native people. They took their culture, like she said, that she took their language, separated them from their children. In one report that I read from 1928, called The Meriam Report, that which was fairly critical of the reservation system and the boarding school system.
They talked about that policy of separation of making children not recognizable to their parents, like separating them for so long that they didn't even recognize them anymore. That's what Lorenda went through. Lorenda and many other people like her.
Kai: Not even recognizable to their parents is a striking language. Well, there is a ton to discuss about this history and its ongoing relevance. Listeners, we want to get your help in thinking about how the United States could repair this damage that was done at these schools. As Allison has said, we know this is hard, so we thank you. If you want to chime in, if you or your family has been affected by the Federal Indian Boarding School program, what would repair look like for you? First off, do you even think that the federal government should provide reparation?
If so, how should it happen? Would it be money? Would it be more investment in native education? Maybe it's better mental health resources that should be offered to boarding school survivors. Maybe it's none of those things or all of those things, you tell us. If you or your family have been affected by the Federal Indian Boarding School program that ran until 1969, this is not ancient history. We'll take your calls and talk more with Indigenous Affairs reporter, Allison Herrera at KOSU in Oklahoma after a break. Stay with us.
Kousha: Hey, everyone. This is Kousha. I'm a producer. We want to hear from you about this episode. If you have experience with the Federal Indian Boarding School program, especially if you're a listener from a native community, we'd love to hear your own experiences and perspectives. That could mean sending us a message about your take on reparations or what your experience was, or something else that this episode has brought up for you. Here's how: Send us a voicemail. You can record it right on our website. Just visit notesfromamerica.org and click on the green button that says Start Recording.
You can also record yourself on your phone and email that to us. Our email address is notes@wnyc.org. However you want to talk to us, we hope to hear from you and potentially use your message in the future episode. Thanks, as always. Talk to you soon.
Participant 2: I still feel that pain. I still feel what this school did to me. I'm not ready to forgive this school for what it did for anything. I don't care how much money it take. I will never, ever forgive this school for what it did to me.
Participant 1: Language was taken. If they can promote that back, they need to do it. Identities were taken.
Participant 5: You almost come out with a survivor's remorse because I know there's children out there that have been buried at these schools.
Participant 6: Where state and federal lands are owned, where boarding schools now reside. Those lands need to revert back to the tribal nations for direct administration. Those places need to be re-sanctified and consecrated back to our sovereigns.
Kai: Welcome back. It's Notes From America. I'm Kai Wright. We are talking this week about the Federal Government's Indian Boarding School program, which operated from 1819 to 1969, and the abuse that many people suffered during the program. There is much to discuss about this history and its ongoing relevance. Some of it quite hard. Do note that descriptions of physical and sexual abuse might be part of this conversation, so please take care if you are listening. Listeners, we also want to hear from you if you were affected by this program. We want to know what you think could repair the damage done if it impacted your life.
The US Department of Interior has been holding a series of listening sessions to gather testimony from people affected by the program. Reporter Allison Herrera has attended and covered some of these sessions as the Indigenous Affairs Reporter at KOSU in Oklahoma. We're partnering with KOSU to produce a series of segments covering this important moment. Allison, we are asking listeners about repairing the damage done, but what, if anything, has already happened? What has the federal government done or said they're going to do with this history?
Allison: Well, I think we've listened to some testimony there, and I think the Road to Healing is part of the Federal Government's initiative just to hear from survivors themselves. I think that producing this report, they've also I know part of one of the initiatives that the White House put forward was to invest more in Native American languages from Native American Languages Act, which was passed in 1990. I think they pledged more money for that program. In fact, I know the Cherokee Nation has invested some of that money to invest in their language program. That's one thing that's already been done.
Again, I'll just go back to the Road to Healing event is part of the initiative. Hearing from survivors collecting this testimony. I do know one thing that the Department of the Interior is going to do is they're partnering with the National Endowment for Humanities to create an archive of oral history of testimonies and have digitize all these records. It's not clear what is going to happen with the testimony, yet if they'll be available for the public, if they're going to be at the Smithsonian Museum, National Museum of Native Americans, or if they're going to be part of the National Archives.
Those are two things that I know have been done. Again, there's a bunch of different initiatives that the Boarding School recommends as part of this longer initiative. It's not done yet. They have another report that they said that they're going to release before the end of the year.
Kai: As a thought experiment, what is even possible here? Is there a model of a country that has addressed something like this before?
Allison: Well, there's Canada. Canada, in 2008, undertook the Truth and Reconciliation Commission from 2008 to 2015. They went around the country, and they collected testimony from survivors just much like Secretary Haaland is doing right now. Then this became part of this archival, all of the research, all the documents, all the testimony that they collected became part of this federal report became available. Then also, they had the Indian Residential School Settlement Agreement, I think, which initially it was 86,000 First Nations people in Canada were awarded billions of dollars in a class action lawsuit. That is one model.
Again, how do you come up with that number? How do you determine how much money people get? I talked to one survivor of the residential schools in Canada a few years ago, and she told me she remembered seeing a notice from her bank that the money was there. She told me she didn't feel even right about touching that money or using that money because she felt-- it was just the pain of that experience and that they were paying her off.
Kai: It worsened rather than repairing the damage.
Allison: Yes. I think it's a big question. When we ask about what reparations looks like in this country, I think that it has to be led by survivors. I think that Secretary Haaland has made that pretty clear.
Kai: Let's go to Kyle in Minneapolis. Kyle, welcome to Notes From America.
Kyle: Hey, thanks for having me.
Kai: Thanks for calling. Were you or your family affected by this program?
Kyle: Yes, my grandma was born in a reservation in Michigan, and I guess it's a non-federal recognized tribe. I don't know exactly what the ins and outs of that means exactly, but either way, she was taken when she was really young from her family, like you guys had been discussing in this program, and shipped all over the US. How it has affected me as me and my siblings when we've tried to get scholarships for Native American students when it came time to go to college and grad school and whatnot, I personally have not been able to take advantage of any of that because, one, my grandma was taken away from her family, and two, she was a member of non-federal recognized tribe, whatever that means exactly. That's the long and short of how it's affected me.
Kai: Do you have an opinion about, as we begin to explore, how do you repair what has happened? Do you have an opinion about what reparation would look like for your family?
Kyle: I think two things. Having the data about whether it's census or personal information about, "Your loved one was a part of this tribe," whether it's federally recognized or not recognized, I think that would mean a lot to my family just to know, "Hey, this is my grandma's family and this is her lineage," or whatever because it's pretty tough to find. Secondly, I am certainly not the only person dealing with this issue, and I'm already through college and grad school and all that, so that's fine.
I feel like for the future generation, it would be really useful for people like me later on so that they would be able to take advantage of the educational programs that the US government provides for Native American students.
Kai: Thank you for calling, Kyle. Let's go to Cynthia in Winona, Minnesota. Cynthia, welcome to the show.
Cynthia: Yes. Hello. Thank you. I'm calling because my story is slightly different. My ancestry is Cherokee and my great-great-great grandmother was taken from her family and given to a white family and educated through boarding schools before that happened. I think it's really underestimated the generational trauma that that act created. Her daughter then went on to be given over to a white man at 12 years old to be married to him and she had her first baby that year and 24 more. Then her son was one of my great-grandfathers.
These setup generations of poverty, sexual abuse, chemical abuse. There were so many things that cascaded from those acts of just really chaotic childhood that I think that mental health counseling is something that would be so beneficial for anybody, even no matter how many generations away from that because of the very long-lasting generational effect that these acts have had on families.
Kai: Thank you for that. Thank you for calling, Cynthia. Allison, mental health that Cynthia raises, I imagine has come up a great deal. I think it's a good opportunity to share another piece of testimony and then talk a little bit about mental health in general. This is another piece of testimony that you heard in Oklahoma from someone who sought out mental healthcare to help process their experience.
Brought Plenty: I have struggled, if it's not every single day, it's every week on trying to get good help for myself, mental help. The psychiatrist, the therapist, they're not familiar with what is going on to this day. There's very few and far between that do. Now, I have one therapist that she is very familiar because she was around Indian people on the reservations with the Dine' tribes. Then I also see a therapist that is affiliated with the urban ended tribal. He's Native himself, so of course, he's familiar with what we went through.
They've labeled me with pretty much every dysfunctional behavior you could probably have. What does happiness feel like? What does it feel like to grow up with a parent, your mother, your father beside you all the years that you've had? What does that feel like? What does happiness feel like? Because these are things that I don't know.
Kai: Allison, again, it's intense stuff, but there's a lot of questions about mental health I can imagine. You were nodding along when Cynthia was talking about intergenerational trauma. Let's start there. How often have we heard in testimony stories like Cynthia's?
Allison: That is what happens when somebody attends boarding school. I interviewed Brought Plenty and her daughter Neilla, and Neilla talked about intergenerational trauma from her mom. I've talked to other children of boarding school survivors who just talk about not being able to feel like they can't hug their parents or their parents don't have the ability to hug or be close to some of their children. That can result in-- Or that they suffer from alcoholism, or people who have come through these schools do what they can to cope, and then they passed that trauma onto their children.
I think I talked with Brought Plenty and her daughter Neilla. They're just beginning to talk-- Brought Plenty that's who was in the clip. She's just beginning to talk about what happened to her with her daughter. She talked about the inadequate mental healthcare that she got. I will just say I've heard from some people that western style therapy, it maybe isn't the best option for Indigenous people who have survived these schools.
One, Lorenda, who I met later on at the Tulsa Powwow, she said that what has helped her is ceremonies or coming to an event like the Tulsa Powwow being around other native people, being able to talk to them about these experiences so that they can relate. At the event that I went to in Anadarko, the Indian Health Service was there and they had trauma-informed care for survivors. Maybe that's something that the Indian Health Service can do a better job at or have more availability for survivors, but some people don't get their care through IHS.
They go elsewhere. I think that's a very big question, and I think that's something that, again, needs to be led by survivors.
Kai: What needs to be led by survivors? Is there a conversation about that anywhere now in terms of--? Is there someplace where survivors are leading that conversation and coming up with some solutions that, "This is what we would expect from the federal government in terms of helping"?
Allison: I'm sure that there is. I have not reported on that currently. I think that last summer actually, the American Psychology Association held their conference in Minneapolis. One of the people that spoke was this Professor Joseph Kahn. He's a part of this Native American, I think he's an American Indian Psychology Association. I have to look it up. He talked about, again, that maybe western style therapy isn't the best way, maybe it's like ceremony. It is learning your language, being able to learn your language again, being able to be in community with other native people.
I would guess that that's the discussion that's happening. I wanted just to point out to something that one of the callers mentioned about doing research. The National Native American Boarding School Healing Coalition, they're launching this website, I think, this summer that's going to allow people to search for information on relatives who may have attended Indian Boarding Schools. That is something that will help survivors or children of survivors.
Kai: I also should say that their website is a place where you can look for resources if you're on your healing journey from this. Go ahead.
Allison: Yes, absolutely. They partnered with the Department of the Interior because they had been doing this research and Willie partnered with the Department of the Interior to bring some of these things to light.
Kai: Just so that listeners, make sure you heard this, it's the National Native American Boarding School Healing Coalition. The website is boardingschoolhealing.org, and we will put that link to that in the notes for our podcast episode when it drops tomorrow. Allison, in the maybe minute we have left here, what's next for the Department of Interior with this initiative?
Allison: I think they said that they're going to release another of investigative report by the end of this year. They're going to continue this work. They recommended more money for language revitalization programs to strengthen the Native American Languages Act. They're going to promote health research that it could impact the lives of the student who attended, to help them deal with that intergenerational trauma. Maybe that's something to do more research into what better mental healthcare looks like. They're going to support the Native American Graves and Repatriation Act, which is critical to finding some of those unmarked graves, and working with the tribes to make sure that they are supported when they do want to repatriate remains like helping them identify that. As far as reparations go, that wasn't, as far as last-- [crosstalk]
Kai: Last word, Allison. We going to have to wrap up.
Allison: I'm sorry. I think anything that goes forward has to be directed by survivors and I think that's what Haaland wants to do. Thank you.
Kai: We will keep following this story. Allison Herrera is the Indigenous Affairs reporter at KOSU in Oklahoma. You can keep talking to us if you have been affected by this at notesfromamerica.org. You can leave a voicemail for us right there. Notes from America is a production of WNYC Studios. Follow us wherever you get your podcasts and on Instagram @noteswithkai. Special thanks this week to our partners at KOSU in Oklahoma. We're working together on more episodes exploring the history of Indian Boarding Schools and the questions that history raises for right now. Stay tuned for more.
Mixing and themed music by Jared Paul. Matthew Miranda was our live engineer this week. Reporting, editing, and producing by Karen Frillman, Vanessa Handy, Regina de Heer, Rahima Nasa, Kousha Navidar, and Lindsay Foster Thomas. André Robert Lee is our executive producer and I am Kai Wright. Talk to you next time.
Copyright © 2023 New York Public Radio. All rights reserved. Visit our website terms of use at www.wnyc.org for further information.
New York Public Radio transcripts are created on a rush deadline, often by contractors. This text may not be in its final form and may be updated or revised in the future. Accuracy and availability may vary. The authoritative record of New York Public Radio's programming is the audio record.