The Line Between Independence and Insurrection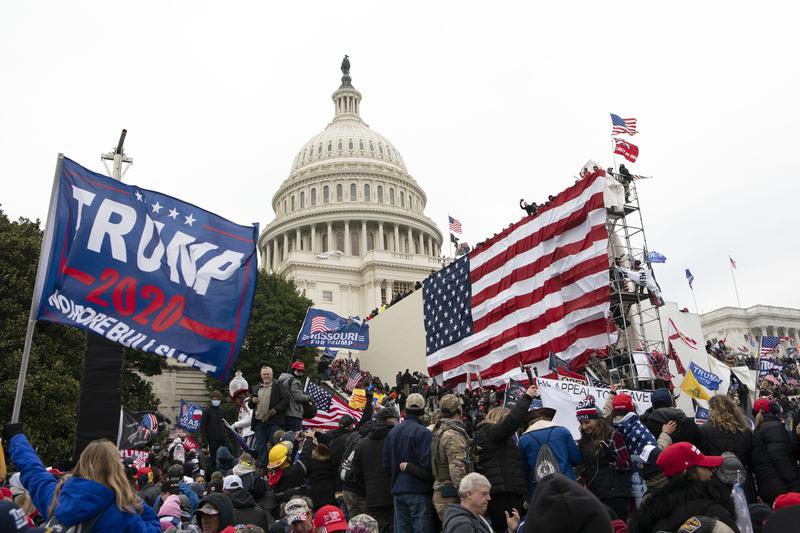 Transcript
[music]
Regina de Heer: With Independence Day right around the corner, a lot of people are thinking about the promise of America. With everything that's happening socially, politically, culturally, how are you feeling about the state of American democracy right now?
Deborah: I am ready to move out of the country. Not even kidding.
Kendall: Gosh, the promise of America. I just think we, as a country, have come to recognize more and more that there's a lot to grapple with and come to terms with.
Deborah: I can't say that we have the best country in the world anymore. The Supreme Court turned their back on women, so, yes, devastation would be a good word to describe it.
Robin: It's really just how more worse it's going to get from here on. Roe versus Wade, gun violence, everything that's going on in the world. I'm ready for the bleeding to stop.
[music]
Kai Wright: Welcome to the show. I'm Kai Wright. I've got a July 4th tradition, which I've had since high school, and over the past couple of years, we've made it a tradition on this show as well. Every Independent Day, we read a portion of Frederick Douglass's speech What to the Slave Is the Fourth of July? In 1852, the Rochester Ladies' Anti-Slavery Society invited Douglas to address an event commemorating the signing of the Declaration of Independence. He was an enormously popular speaker at this time. This speech, which he actually gave on July 5th, it's now considered one of the greatest pieces of oratory in American history.
We begin tonight's show with an excerpt from the climactic moment of this address. Here's actor John Douglas Thompson reading Frederick Douglas's What to the Slave Is the Fourth of July?
[music]
John Douglas Thompson: What, to the slave, is the Fourth of July? Fellow citizens, pardon me, and allow me to ask, why am I called upon to speak here today? What have I, or those I represent, to do with your national independence? Are the great principles of political freedom and of natural justice embodied in that Declaration of Independence extended to us? Am I, therefore, called upon to bring our humble offering to the national altar, and to confess their benefits, and express devout gratitude for the blessings resulting from your independence to us?
I am not included within the pale of this glorious anniversary. Your high independence only reveals the immeasurable distance between us, the blessings, in which you this day rejoice, are not enjoyed in common. The rich inheritance of justice, liberty, prosperity, and independence bequeathed by your fathers is shared by you. Not by me. The sunlight that brought life and healing to you has brought stripes and death to me. This Fourth of July is yours. Not mine. You may rejoice. I must mourn. To drag a man in fetters into the grand, illuminated temple of liberty, and call upon him to join you in joyous anthems, were inhuman mockery and sacrilegious irony.
Do you mean, citizens, to mock me, by asking me to speak today? What, to the American slave, is your Fourth of July? I answer. A day that reveals to him, more than all other days in the year, the gross injustice and cruelty to which he is a constant victim. To him, your celebration is a sham, your boasted liberty, an unholy license, your national greatness, swelling vanity. Your sounds of rejoicing are empty and heartless, your denunciations of tyrants, brass-fronted impudence.
Your shouts of liberty and equality, hollow mockery, your prayers and hymns, your sermons and thanksgivings, with all your religious parade and solemnity, are, to him, mere bombast, fraud, deception, impiety, and hypocrisy. A thin veil to cover up crimes that would disgrace a nation of savages. There is not a nation of the earth guilty of practices more shocking and bloody, than are the people of these united states at this very hour. At a time like this, scorching irony, not convincing argument, is needed. Oh, had I the ability and could reach the nation's ear, I would today pour out a stream.
A fiery stream of biting ridicule, blasting reproach, withering sarcasm, and stern rebuke. For it is not light that is needed, but fire. It is not the gentle shower, but thunder. We need the storm, the whirlwind, the earthquake. The feeling of the nation must be quickened. The conscience of the nation must be roused. The propriety of the nation must be startled. The hypocrisy of the nation must be exposed, and the crimes against God and man must be proclaimed and denounced.
[music]
Kai Wright: That was after John Douglas Thompson reading Frederick Douglass's 1852 speech What to the Slave Is the Fourth of July? It feels particularly appropriate to start tonight's show with this Douglas tradition because we're going to spend the rest of the hour talking about the January 6 insurrection, but I'm less interested in the grizzly details of that day than I am the frankly, 150 some odd year backstory to that day. My friends and former WNYC colleagues, Andrea Bernstein and Ilya Marritz have been reporting on the MAGA Movement since it began.
They launched their Trump, Inc Podcast right about the time we started this show, but they've spent the past year and a half focused explicitly on the insurrection. Their new podcast is called Will Be Wild. It's a tough, but emotional listen, an essential listen for understanding how we got here. It's a holiday weekend, so I spoke with them in advance, and we covered a lot of ground. Just settle in, and take a listen to our conversation. Ilya and Andrea, thank you so much for coming on the show.
Andrea Bernstein: Kai, it's always great to talk to you.
Ilya Marritz: Great to be here.
Kai Wright: I miss the ability to pick your brains, whenever I want, about the world of Donald Trump.
[laughter]
Kai Wright: Which connects to my first question here is you share in the podcast, in Will Be Wild, that you were editing the last episode of Trump, Inc on the day of the insurrection, which I did not know. Can you take us back to that day and the moment you found out about this?
Ilya Marritz: For myself, we were already in pandemic mode. We were already on Zoom, and the dirty secret of Zoom is that even while you have all your colleagues' faces in the grid, you can click away and look at Twitter. I'd been doing some of that. I don't know whether Andrea did that, and I was like, "Ooh, scary pictures." By the time the meeting wrapped up, we saw scenes just full of tear gas and angry, angry, angry people everywhere, and that it really sank in for me that this was like a catastrophe for the history books.
Kai Wright: What did it mean for your reporting, Andrea? Because you had been so deep in this world for so long.
Andrea Bernstein: The last episode that we were working on was actually a time capsule, and we felt like we don't want people to forget this presidency. We want history to remember it. We want to gather together some documents and items that we think will help people remember. I think what really caught us off guard is not only were people not going to be forgetting, but that these events of January 6 meant that unpacking Trump's effects on democracy, Trump's effect on the history of this country was not just our past, but very much our present.
I will add that, as we've come to learn, it's not just about something that happened on January 6. It's about something that is happening now in the country, and that we need to talk about.
Kai Wright: Yes. Is it fair to say that now you're reporting for Will Be Wild, this is how I heard, is not actually about January 6 itself, so much as it is this year's long backstory to the moment?
Ilya Marritz: Yes, that's right. We started out with a lot of questions about the day and the more you looked at those questions, the more the questions seemed to stretch back further and further in time. First, to things that were happening in the Trump administration, and then ultimately, to stuff that really pre-dated Trump. Trump is sui generis, and he certainly played a very significant role in what happened at the Capitol, but actually, the trends that we saw there are manifestation of stuff that's been going on for decades.
Maybe even centuries depending on how you want to look at it.
Kai Wright: Indeed. Let's start our conversation where you end the podcast. With that in mind, Andrea, you talked to Representative Bennie Thompson who is the Chair of the House Committee investigating January 6. The two of you reflect on history, and that reflection begins with one artifact from the trashing of the Capitol, that the rioters ripped down and defaced a portrait. Who was in that portrait?
Andrea Bernstein: The portrait was the first Black Congress member, a man named Joseph Rainey who had been born enslaved. Not five years after the end of the US Civil War, he was in Congress, which is just extraordinary, and tells you about what happened when you could have majority vote in this country, and in the South, in particular, in South Carolina, in particular. He ends up playing a really pivotal role in terms of accountability for white supremacist violence that kept going after the civil war. It's because of his work that there was this accountability structure set up.
One of the things that was so surprising, and I think it's always surprising when you go back and look at reconstruction, because you ask yourself, "How could I not know this? Then it's like face palm, "Like, duh, obviously," because the history was deliberately erased. There was this layering of his portrait being ripped from the wall, and actually physically being erased at the same time that the history of Joseph Rainey has been erased.
[music]
Kai Wright: We'll take a break, and then learn that erased history. I'm talking with Andrea Bernstein and Ilya Marritz about their new podcast Will be Wild. Coming up, how accountability for what happened on January 6 begins in 1871. Stay with us.
[music]
Kousha: Hey, everyone, this is Kousha. I'm a producer, two announcements. First, in our podcast feed, you'll see that we've released the next episode of Keeping Score. Keeping Score is a new series from our colleagues at WNYC. It's about four schools, one building, and an effort to reverse segregation. Be sure to check it out, and check back every Thursday for new episodes of that series. Second, The United States of Anxiety is now live streaming our episodes on YouTube. That means you can watch these episodes live. See Kai and the guests, and even ask questions during the show through the live chat.
We're going to try live streaming out for a while, so if you'd like to watch the show in action, come hang out with us Sundays at 6:00 PM on WNYC's YouTube channel. Just go to YouTube and search for WNYC. We'd love to see you there. As always, if you've got something on your mind you want to share with the show, record your voice and email us. The address anxiety@wnyc.org. All right, thanks. Talk to you soon.
[music]
Kai Wright: Welcome back. I'm Kai Wright. I'm talking with Ilya Marritz and Andrea Bernstein about their new podcast, Will be Wild, which tells the very long backstory of the January 6 insurrection. Before the break, Andrea said the story really begins with the very first Black Congress member who took office representing South Carolina right after the civil war. The insurrectionists ripped his portrait off the wall inside the Capitol on January 6, but Andrea says that 150 years before that vandalism, Representative Joseph Rainey helped create a law that now may be used to hold the insurrectionists and their enablers accountable.
Explain a little bit about the accountability structure he was so pivotal in creating. This is the Civil Rights Act of 1871 known as the Klan Act. How and why is that relevant to this moment?
Andrea Bernstein: I knew not that much about it, and started asking all the obvious people and then all the unobvious people, what happened? What was this? Because it had become the basis of all of these post-January 6 lawsuits. Bennie Thompson actually filed the first lawsuit under the KKK Act of 1871. He filed it with the NAACP as his lawyers, and they had resurrected this Civil War-Reconstruction Era statute. What happened with this statute was that even after the 13th, 14th, and 15th amendments, and even after the first enforcement acts, there was still this incredibly horrible outbreak of violence in the South.
It was particularly bad in South Carolina, Joseph Rainey's home state, so there's this debate. There was a bill proposed, a law proposed that would give the federal government sweeping powers to address white supremacist violence. Joseph Rainey gets up, and he says, "These reports of white supremacist violence are real. We have to pass this measure." What had struck me reading through the congressional debate is how familiar it sounded, how white Democrat after white Democrat, of course, Democrats were the party aligned with white supremacists at the time, how they kept getting up and saying, "Oh, these reports of violence are exaggerated.
They're not real." Joseph Rainey was like, "No way." It is a galvanizing moment. The law passes. President Grant signs it, and his Justice Department really uses it to hold the Klan to account. Then it goes dormant until after January 6 when people start suing using this act to demand accountability. I think there are now eight federal lawsuits that are specifically about January 6 accountability that rely on the KKK Act of 1871. These are all civil lawsuits, and Bennie Thompson filed the lawsuit before he became Chair of the Select Committee. He actually removed himself from the lawsuit, but it still bears his name, Thompson v. Trump.
Kai Wright: Just to put a fine point on it, the idea is that embedded in that law, is a clause that says you cannot disrupt the business of Congress.That it's a crime to disrupt the business of Congress.
Andrea Bernstein: Exactly. It was so extraordinary to me because it was so on point. It said you can be held liable if you interfere with a federal office holder through threats, intimidation, or violence. It seemed like it had been written for what happened on January 6. Of course, it hadn't been. It just had been written for the eventuality that violent mobs could try to exercise raw power over democratic institutions, and in order for democracy to survive, there had to be checks on that. The KKK Act of 1871 was very much this attempt to hold to account people who conspired in this way.
That is exactly what we're looking at here. I think what's really interesting is that there's a federal judge, Amit Mehta, who, in fact, has been hearing a number of the separate Justice Department conspiracy cases against the Proud Boys and the Oath Keepers, but he's also hearing these civil suits. He ruled that there was sufficient evidence of a conspiracy for these cases to go forward. That was a very significant legal moment in the history of January 6 accountability.
Kai Wright: Tell us just quickly a little bit about Bennie Thompson himself. I think he's somebody that a lot of people are just being introduced to as the Chair of the House Committee. We talked about him a little bit on the show. Who is Bennie Thompson?
Andrea Bernstein: It's so interesting to me because when we were working on our podcast Trump, Inc, there was a number of Congressional representatives that were demanding accountability in areas that we were particularly paying attention to, having to do with finances and dealings with Russia. Adam Schiff was one of them, the late Congressman Cummings was one of them when he was Chair of the House Oversight Committee. These were people that we had tracked. All through the Trump administration, Bennie Thompson had been raising his voice about the rise of domestic terrorism and the rise of white supremacist violence in this country.
He'd been holding hearing after hearing. He'd been looking at the Department of Homeland Security and how Trump had been almost systematically dismantling that department's ability to fight domestic terrorism, to fight white supremacist violence. On January 6, a lot of the things that he'd been warning about came to be. I started thinking, "Okay, I really need to look into Bennie Thompson." He is from Bolton, Mississippi, a town of, I think it's about 500 people. He contains in himself the sort of arc of history of Black voting rights. He goes to college in Mississippi in the 1960s. He starts getting involved in politics almost right after college.
Eventually runs and wins, and is elected Mayor of Bolton, Mississippi. There's this wonderful oral history of him where he's asked, "How did you get to do this? What are your aspirations?" He says, "I'd like to run for state legislature, but I don't think I'll ever be in Congress." Of course, the result of the Voting Rights Act is that people do get back into Congress. You have this moment where the high water mark for the number of Blacks in Congress had been when Joseph Rainey was in during Reconstruction. After the Voting Rights Act, it begins to grow and grow and grow.
Bennie Thompson is part of that. Part of that 50-year arc of Black lawmakers getting into Congress. Then he is this victim on January 6, of an attempt by some people, now, the motivations were very different, but obviously, there were Confederate flags in the Capitol. There was racist language used, white supremacists were definitely a thread of that mob on January 6.
Ilya Marritz: I just want to say about Bennie Thompson, his name didn't mean anything in particular to me until he got attached to that lawsuit. Then you start to look at him, you start to look at his career and you see somebody who doesn't go on a lot of TV necessarily, but quietly, has been working these issues, seeking accountability for a really, really long time. When we started looking at the hearings that he'd been conducting during the Trump administration pointing at the number of vacancies in the Department of Homeland Security, of senior staff, people charged with actually protecting the country against domestic terrorism, he was doing the work of government that whole time.
It's not the stuff that gets covered a ton in the news, but that was his bread and butter.
Kai Wright: I love that phrasing, the wording, "He was doing the work of government," which feels so antiquated at this moment. Ilya, speaking of the motivations of the people who were at the insurrection, you spent an enormous amount of time with actual insurrectionists and their family members telling these wrenching emotional backstories. The podcast opens with a conversation with a teenager, Jackson Reffitt, who sent a tip to the FBI before the insurrection, warning that his father, Guy Reffitt, was a dangerous man who was planning "something big".
Can you introduce us to this family, and starting with Jackson and Guy, and their relationship?
Ilya Marritz: Yes. Jackson was 18 at the time that he made the tip. He had turned 18 just a few months before. He has long brown hair, skinny kid. Likes to play video games, loves anime, very intelligent. I got to know him in Texas after his dad had been arrested and locked up. Jackson had played a role in that happening. As you say, Jackson made a tip to the FBI. It was on Christmas Eve, 2020, and didn't really hear anything from them for a while, but felt a sense of relief because, for months, he had been watching his father closely, and seeing his dad, in his own view, espousing more and more crazy conspiracy theories, seeming to go off the deep end.
Not just that, but taking concrete steps, doing actual things that worried him like stockpiling gas and ammo, buying a generator, and also occasionally being violent and out of control. At one point, Jackson's mom reported to him that, Guy, Jackson's dad, had held a gun to her head. This is a kid who, when his dad would do these things, he would write it down in a notebook and look at it. He became convinced, listening to his dad's words, that his dad meant what he said, and he was planning something big, and he was dangerous. Jackson made that tip, Christmas Eve.
Put the whole thing out of his mind. Was like, "This is on somebody else now." He didn't hear back from the FBI until the afternoon of January 6th. They called him. At that point, Guy Reffitt was at the Capitol. Jackson knew that his dad was at the Capitol. That afternoon his phone rings. The agent says, "Are you in a safe place to talk?" Jackson says, "Hang on a second." Puts on his shoes, goes down to his car, shuts the door, and is like, "Hi, sure, I can talk."
Kai Wright: Little late. [chuckles]
Ilya Marritz: "Funny you should call on this particular afternoon." What he told me is that he told the agent your timing is impeccable, and that the agent didn't laugh. What that started was a relationship with that agent and the FBI. They met up a few days later after Guy Reffitt came home from DC, and Jackson gave the FBI recordings of his dad. He described to the FBI a threat that his dad had made that traitors get shot. A threat that he made against Jackson and his younger sister, Peyton, if they were to rat on him because, of course, this was the point when FBI was rounding up everybody that it possibly could, who had been at the Capitol.
This is a family that went from simmering discontent and tension between dad and son to just breaking apart completely in a matter of days. Extraordinarily, many members of that nuclear family talked to me. Not only Jackson, but also his mom, Nicole, his older sister, Sarah, and eventually Guy Reffitt, who was the one who went to the Capitol, he and I have been corresponding while he's been in jail.
Kai Wright: The whole story of this family is harrowing and very difficult to listen to in a whole bunch of ways. One of the things that strikes me, Ilya, is just how the normalization of violence inside the family, before any of this happens, it was just chilling to hear how truly prone to violence Guy seemed to be, and how his wife and daughter convinced themselves to accept that violence. That's what I struggled the most with, listening to it.
Ilya Marritz: Yes, I did too. I interviewed Nicole and Sarah, the wife and daughter first, on my first day in Texas. I interviewed Jackson on the second day. First, I heard basically arguments for Guy Reffitt, saying, "He's not that bad. He would never actually hurt anyone." Essentially, "This is all an overreaction, almost an exaggeration, but we can vouch for him personally." When I left that conversation, they really almost had me there. I was like, "Maybe this is overreach with Guy Reffitt." Then the next day, I meet Jackson, and Jackson, seemingly, has a much more clear eye view of his dad and writes down every little thing that points to an unstable person.
This is an area of reporting that I had never done before. I've never reported on people's lives in this intimate of a way before. What I really wanted to show is that when it happens inside of a family, you tend to lose all perspective. If you are determined to gain perspective, an outsider perspective, as Jackson puts it, you're going to exile yourself from your family. That is what happened. Jackson, effectively, his relationship with his mom and sisters went almost dormant because they couldn't agree on the underlying reality.
Andrea Bernstein: Kai-
Kai Wright: Go ahead.
Andrea Bernstein: -something that you said, you said, "The normalization of violence within this family." It's so interesting that you said that because the official communiqué of the Republican National Committee was that what happened on January 6 was legitimate political discourse. One member of Congress likened it to a normal tourist visit. There are polls that show that a very significant portion of Americans, one in three, or one in four, depending on how you count, believe that violence is a way to make change. That is twice the number that it was 10 years ago.
That thing, the normalization of violence in the family is something that obviously, the Reffitt family experienced, but that we are experiencing as a nation and are still grappling with how to confront.
Kai Wright: In the podcast, Ilya, you say that you surprised yourself in how much empathy and understanding you found in this family story, in the Reffitt story. As you guys tried to think about, "What's the optimism here?" that a note of optimism you got was that this family continues to try to be in relationship to one another. I have to say, I had exactly the opposite reaction to the story you told. I found it terrifying because what I hear in that is that, with Jackson as the notable exception, their ability to find an excuse and to find a way not to say, that it's more comfortable to find a way to say, "It's okay, dad is just a little weird, and we can figure this out," than to say, "Dad is dangerous to the rest of us."
Ilya Marritz: Yes, I think that's a very fair point of view. I don't think there's one way to view this family. What I really hope comes across is that the women in the family who by and large defend Guy Reffitt, although it's complicated, are not suckers, and they're not dumb. They're smart, funny, interesting, astute people. They have reasons that they believe what they believe. They have reasons that they act as they act. I'm not very optimistic for our country, but I do think the thing that is on our side, if we can leverage it, both within the microcosm of the Reffitt family, but also in the bigger country, is that we are talking about our neighbors.
The parents of your kids, friends in school, and just the people all around us. Where we're talking about our neighbors, there is always an opportunity to reconnect. I'm not a big sports fan, but we do it when we watch a baseball game, we do it when we watch football. It's like a ritualized fight, and then we drop it, right?
Kai Wright: Yes.
Ilya Marritz: I think that if I were to take an optimistic view, that's what it would be rooted in. I'm essentially not very optimistic. I think this is a terrible situation. I don't really see how you wind that yarn back up and make it look tidy. I don't think that's going to happen.
Kai Wright: I'm talking with Ilya Marritz, and Andrea Bernstein about their podcast, Will Be Wild, which tells the very long backstory of the January 6 insurrection. Coming up, we were warned by a lot of people that right-wing extremist violence was a growing danger. Why didn't we listen and what's money got to do with all of this? Stay with us.
[music]
Kai Wright: The most frustrating thing about January 6th, really about all the extremist violence we've seen lately, it's just not predictable it's all been. For that matter, it was literally predicted well before Donald Trump even ran for president. One of the stories that Andrea Bernstein and Ilya Marritz tell in their new podcast, Will Be Wild, is that of Homeland Security expert who first became concerned during the Bush years.
Ilya Marritz: Yes. Daryl Johnson, he describes himself as the lone ranger at the Department of Homeland Security in the early 2000s, when DHS was really focused on that external Islamic terrorism threat, and he was the domestic terrorism guy. Around the time that Barack Obama announced his run for President, Johnson was asked to look into the threats around right-wing extremism that might be connected with his candidacy, especially as he became the Democratic nominee and eventually won the presidency. He does a year of research and hangs out on message boards, which is where a lot of that activity was happening.
What he finds is, yes, people are riled up, the prospect of the first Black president, and then the election of the first Black president, is a hugely activating event for a lot of people. He mostly writes his report in terms of potential rather than actual acts that had been committed at that point. The way that he's been trained to read these chat rooms is significant. What he wants to do is point law enforcement to a gathering threat that they should be prepared for. Puts out a report in the spring of 2009, doesn't think much of it. It's really an internal government report, not for wide consumption.
It's only about 10 pages long. The following weekend, he's out with the Boy Scout troop where he volunteers. I believe it was Mulch Fest that weekend. He has the radio turned on to the local rock station, and he hears a news bulletin about this report about right-wing extremism. He's like, "Wait, is that the report that I just wrote?" Basically, in an instant, this fairly dry government report becomes like high-grade Tinder for a conflagration, and Republicans in Congress, and lots of conservative activists, basically had become concerned that this report is a pretext to spy on them.
To spy on anti-abortion activists, or spy on people who oppose increasing immigration, or want to tighten up immigration and stuff like that. That's not really the threat that he's pointing at. The threat that Daryl Johnson is pointing to is just that law enforcement should be prepared for increased right-wing extremist activity, and that, given the recent wars in Iraq and Afghanistan, there's a huge population of veterans, some of whom will be very disillusioned with how things are going in this country and may be a prime target for recruitment.
I think he refers to disgruntled veterans, and that phrase, in particular, really gets this report in trouble. In the end, the Secretary of DHS has to go on TV and apologize for it. Daryl Johnson's unit is disbanded. He's exiled to Siberia within DHS, he leaves shortly thereafter. Really, this opportunity, I think the reason that I told this story is that we had an opportunity at that moment to take the threat seriously. Daryl Johnson was planning to go on the road to talk to police departments around the country. All that got yanked, and so, a big opportunity to get ahead of a problem.
We instead exploded that and fell behind on a problem that was only gathering strength.
Andrea Bernstein: One of the things about the Daryl Johnson episode at DHS is it was like that pattern kept repeating itself, and each time the consequences got worse. There were so many people. We interviewed maybe a dozen former top-level DHS officials for this story. There were so many occasions where people said, "We need to confront white supremacy. We need to confront domestic terrorism." It was accelerated under Trump because Trump himself was riling people up as we know. One of the things that is so disturbing is that there's this disinformation around this.
It goes back again to what we were talking about in Congress in 1870, where the Democrats were saying, "No, white supremacy is not a big deal," when this kind of disinformation is presented, that this is not a serious threat. Tools are also given to people to deny the rebuttal. That is what's so, so, so dangerous about this moment, and we see it happening all around the hearings.
Kai Wright: I want to come back to this disinformation thing in a minute, but, Andrea, I want to ask you also about just, so many points of failed prevention come up, that it is sobering. One of those DHS officials you talked to, she told you the story of her warning about what was going to happen post-COVID, that it was also quite chilling to me. Can you explain the warning that she was giving, this analyst was giving, and why it was ignored?
Andrea Bernstein: Yes. This is Elizabeth Neumann, who held the title of Assistant Secretary for Counterterrorism and Threat Prevention under President Donald J. Trump. She had worked in the area of counterterrorism, basically since right after 9/11. She had been a college student in Austin, volunteered for the Bush campaign, ends up in Washington, ends up working in this area, and goes to work under Trump believing-- You know what? It's like the same story that people keep spinning around Trump. Like, "He doesn't really mean it," which was something that people kept saying in the run-up to January 6, when he was saying, "I didn't lose the election."
People were like, "Oh, he doesn't really mean it." He meant it, as we now know, and it had devastating consequences, as we now know. So many people went to work for Trump, especially in those early days, with a sense of like, "Okay, he can't really mean it because it's unimaginable that he could. Therefore, I believe in government, I believe in service, I can fix it." She was very, very much one of those people. She goes in, and she's studying the threat, and she's really watching with alarm as these things start happening. Charlottesville, and the massacre in El Paso at a Walmart, and the massacre at the Tree of Life synagogue. They're coming so thick and fast, that it's hard to remember these past incidents, but it was her job and she kept trying to say we need to do something about this. COVID comes along, and because she studied radicalization, she studied it under Bin Laden, she studied it under ISIS, she saw the patterns. When you have social stressors, when you have people who are isolated, their propensity to do violent acts increases enormously. She was about to leave the Trump administration.
Her very last act was to go to her team and say, "What does the data tell us about what this COVID lockdown can do?" They come back. They tell her there will be violence on the other side of reopening. She tries to get the White House to issue a memo to law enforcement saying, "Watch out for this. This is coming our way. This is an inevitable product of the kind of isolation that we are now putting people through. The White House never issues this report. It never goes out. It's one in a series of warnings that were buried, deep-sixed, or watered down by the Trump administration.
Ilya Marritz: Right. As we saw with Guy Reffitt and also with Jessica Watkins, and other insurrectionists whose arc of their life we followed, the COVID lockdown was a big deal for them. It's hard to prove causality, but it seemed to send them on this path by putting them online more, by putting them in these communities more. By giving them a stronger need to find some kind of belonging or sense of purpose when work wasn't really happening and life wasn't very satisfying.
Kai Wright: We're running out of time. I want to get to the money because I feel like this is a piece of the reporting both of you have been doing for years, that not enough other people are talking about. The disinformation that helped fuel the flames of January 6, you used this phrase, "The news not on TV." Let's just start with what is that, just as a baseline?
Andrea Bernstein: We did a whole episode on mis and disinformation. One of the credibly interesting moments of history is that, inside the Trump administration, there were people who understood that to preserve democracy they had to fight dis and misinformation. What is disinformation? I think the clearest example would be what Russia does, what Vladimir Putin does, it's just put out stuff that is meant to confuse people and make people do nefarious things. Misinformation is when that gets out into the ether, and then you have people like some of the insurrectionists that we spoke to in the podcast, who start repeating it, and repeating, and repeating it, not knowing that it is ill-intended.
One of the things that people who study disinformation kept telling me is one of the main purposes is to make money for somebody, and that there's a financial incentive to tell a lie. It could be about a COVID vaccine, it could be about masking. One of the biggest ways to make money right now is to tell election lies. We are learning from the Select Committee that that's what was going on. That committees affiliated with Trump and entities affiliated with Trump we're raising hundreds of millions of dollars, in many cases, from small donors
because they were saying to them, "You have to rise to this occasion.
You have to stop the steal. Give us your $25, give us your $10, give us your $50." People did it, people without a lot of means gave that money. We know now that, for example, Donald Jr's girlfriend, Kimberly Guilfoyle was paid $60,000 for her two-and-a-half-minute introduction of Don Jr. on January 6.
Kai Wright: At the rally? At the January 6 rally that turned into an insurrection, she made $60,000 to talk for two minutes in the lead-up to it?
Andrea Bernstein: Exactly, that is what happened. We see the money level is this parallel track. In one of our episodes, we really tracked how a piece of disinformation, very specific disinformation led one of the most serious alleged violent offenders to tase police officer, Mike Fanone. We traced how he was like, "I heard this from President Trump, so I went to Washington, and I did this thing." That same thing motivated all kinds of people across the country to give in small amounts. What did Donald Trump and the people around them do?
They took this money and used it to enhance their personal wealth, and also to enhance their personal power. That is one of the as-yet untold stories of what happened on January 6. I'm very much interested to see what else the committee has unearthed.
Kai Wright: It is perhaps the most terrifying part of it all to me, I will say, and among many tiers because, as we were talking about earlier, that, in the same way that the lie has built into its own self-propagating logic, this whole, it's like an ideological pyramid scheme in which the grift is the idea that they don't want you in the pyramid scheme. Every effort to stop it makes it grow. If you don't stop it, we lose our democracy. I just like, "Blah, am I doing too much?" [chuckles] Talk me off that ledge.
Ilya Marritz: Not only that but there's all this kind of mirror language that happens. We always talk about how polarized our country is, and the two sides don't talk to each other, but they are listening to each other. Very disturbingly, to me, people on the side of the insurrection, loosely speaking, also see our democracy as threatened. They talk about the same concepts of free speech, and democracy, and all the rest of it. The same things that I hope our country manages to protect. The meanings of the terms, how you would get to a society that preserves free speech, that preserves the right to vote for all people, and an equal voice for all people, becomes incredibly muddled.
The fear then is that people just get disgusted and drop out.
Andrea Bernstein: One of the things about what happened with Trump raising all of this money between the election in January 6, based on the election lie, was he had this huge war chest. After January 6, there was this moment, I wouldn't say it was national horror, but there was this moment where businesses and professional associations came out and said, "This is not okay. We cannot run the country in this way." We know from some really, really good reporting, that top Republicans in Congress were like, "We're done with Trump. We're finished with him.
We're finally can move on from him." What did Trump have that they didn't have? Money. Hundreds of millions of dollars of money and his willingness to just continue to spread lies. Those two things made it almost impossible for some members of the Republican Party to distance themselves because it was an existential threat for them that they would lose their jobs. They could have given up their jobs. To be clear, I'm not saying it was a moral choice on their part, but the point is that--
Kai Wright: [laughs] I'm like, "They should have given up their job."
Andrea Bernstein: Right. Clearly, but it is also true that because he had so much money, Trump had this incredibly powerful weapon at his disposal to get them to toe the line. That was not a correct thing to do, but it is what happened. Trump had raised so much money off the big lie that he could then turn around and use it after he had done something truly reprehensible on January 6, to say, "You cannot walk away from me." That is how Trump exercises power over people and has forever. It's just that the stakes now have gotten so high, and we are all suffering the consequences.
Kai Wright: Yes, I remember that from Trump, Inc, that this was a core part of how he's always run things. That once you get in, you can't get out.
Andrea Bernstein: You can't get out. You can't. I think that that's what this fundraising graph really shows.
Ilya Marritz: What was really a change, though, for me with Trump, Inc, Trump, Inc, the whole time we were like, "Does he have this connection to this overseas businessman? How could that affect policy, or who's spending money at the Trump Hotel? How could that influence something else that the government is doing?" It was really about the private enrichment of the President through government. That was the correct lens to look at. I don't think Andrea or I fully comprehended the way that that had morphed into something really, really different, where the way to make money was through the lie.
The rapid dissemination of the lie, and letting it, like a snowball, accumulate more and more logic until it becomes just too big for anybody to avoid. That's where we are now. I don't know how we're going to deal with it.
Kai Wright: That is a sobering but useful and real moment to end on. Thank you both for the remarkable work you have been doing throughout this whole saga, and that I know that you will continue to do. Thanks for coming on to talk to us about it.
Andrea Bernstein: Kai, it's really, really great to talk to you about this subject in this way.
Ilya Marritz: Kai, it was great to talk to you.
Kai Wright: Ilya Marritz and Andrea Bernstein are the hosts and reporters of Will be Wild. Find it wherever you get your podcast. The United States of Anxiety is a production of WNYC studios. You can follow us wherever you get your podcast as well, or at wnyc.org/anxiety. If you got thoughts or questions about anything you heard tonight, hit us up at anxiety@wnyc.org. That's anxiety@wnyc.org. Bonus points for sending a voice memo. Our team includes Emily Botein, Regina de Heer, Karen Frillmann, Kousha Navidar, Rahima Nasa, and Katie Steele.
Mixing and sound designed by Jared Paul. Matthew Marando is our live engineer. I am Kai Wright. You can follow me on Instagram @kai_wright, or catch me here on Sunday nights. Thanks for spending this time with us, and happy July 4th.
[music]
Copyright © 2022 New York Public Radio. All rights reserved. Visit our website terms of use at www.wnyc.org for further information.
New York Public Radio transcripts are created on a rush deadline, often by contractors. This text may not be in its final form and may be updated or revised in the future. Accuracy and availability may vary. The authoritative record of New York Public Radio's programming is the audio record.