How a Young, Black Progressive Won in Chicago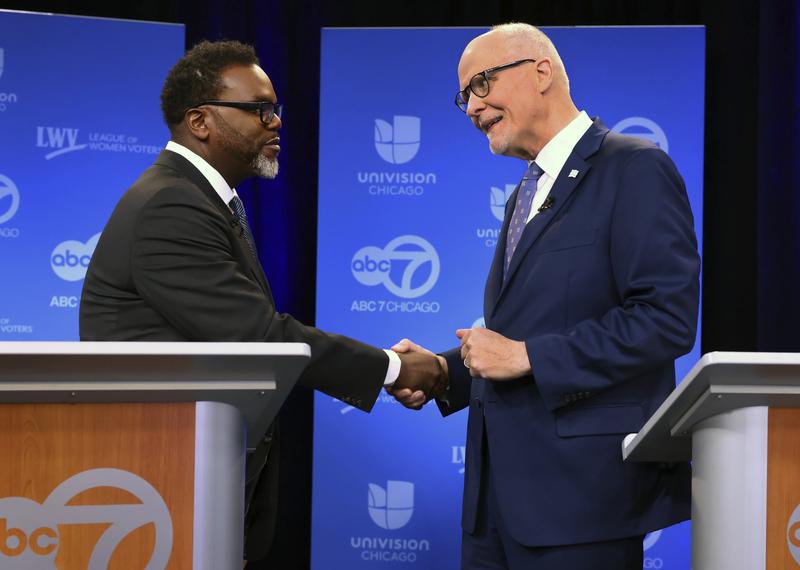 Transcript
Speaker 1: How do you feel about living in a city?
Speaker 2: I think at this age, which is upper 20s, it's fun, it's vibrant, everything's open again.
Speaker 3: A lot has changed as far as culture, arts - the scenery has changed a lot.
Speaker 4: We actually moved, we miss living in the city.
Speaker 5: Yes. We prefer the city; the density of our neighborhood population, the people that we knew and all the kids on the street.
Speaker 6: The city has been going down in terms of security. Safety. People are robbing people inside. They rob people on the street brought daylight. I'm talking about--
Speaker 7: It's semi-segregated. It still has some growing to do as far as opportunities for persons of color crisis and things like that. The city is rising and it's making it difficult for people to live in the city.
Speaker 8: It's definitely a tale of two cities.
[music]
Kai Wright: It's Notes From America. I'm Kai Wright and happy Easter. If you're celebrating today, thanks for spending part of your holiday with us. We begin by talking about the other huge political story that has unfolded over the past week. While former president Donald Trump was being brought up on 34 felony charges in New York, voters in Chicago were going to the polls in a mayoral election that has once again revealed a stark political divide in our nation's largest cities.
We saw this in New York, Los Angeles, now Chicago. There's another one coming up in Philadelphia. These cities in which the Democratic Party is dominant, but where that partisan fact obscures hard conversations about how our cities should be run. Debates that on their face are about crime and schools, but unavoidably also about race and class. We'll talk about what's happening across the country, but starting with Chicago. For that, I am thrilled to turn to our partners at WBEZ in Chicago. Natalie Moore is WBEZ's reporter for Race, Class and Communities. She's a Chicago native who's been writing about the election with history on her mind. Natalie, welcome to our show.
Natalie Moore: Thanks for having me, Kai.
Kai Wright: Your newly elected mayor is Brandon Johnson, who ran as a progressive candidate, defeating a more conservative Democrat Paul Vallas. Johnson actually ran to the left of both Vallas and outgoing Mayor Lori Lightfoot. Here's a little bit of what he said At his victory party.
Brandon Johnson: When we stand on our values as one people, we can reject the false choices that have been presented to us for so long. We don't have to choose between Black, Brown, white, young, old, poor, rich. We get to do it for everyone, Chicago.
[cheers]
Brandon Johnson: We don't have to choose between toughness and compassion between the care of our neighbors and keeping our people safe. If tonight is proof of anything, it is proof that those old false choices do not serve this city any longer.
[cheers]
Kai Wright: Natalie, introduce Brandon Johnson to listeners outside of Chicago. Who is he, and what has he stood for?
Natalie Moore: Brandon Johnson is a Cook County Board Commissioner. He has also been an organizer for the Chicago Teachers Union, CTU. He has been an elementary school teacher and he's been part of the union leadership that has flexed its political muscle over the past decade. The Chicago's Teachers Union had decided, you know what? If we want to change the course of how education is done in this city, then we need to organize in the political sphere and put up candidates. They've had other candidates in the past who didn't come from CTU staff. This is the first time. I would say six months ago, Brandon Johnson was a little-known county commissioner perhaps even among constituents on the west side where he represents, and now he is Mayor-elect.
Kai Wright: This was his winning coalition - teachers union and Black voters. That's who really pushed him over the top, is that right?
Natalie Moore: For the run-off, but let's take a step back to the primary and that was in February. We've had five weeks in between. Brandon Johnson's base was not the Black vote, it was progressive White voters on the north side. After you have the incumbent, Lori Lightfoot did get most of the Black vote on the city south and west side. Those votes were up for grabs, and it was a question of who would get those votes and those voters went to Brandon Johnson.
He was able to build a coalition going forward. Of course, there are Black teachers in the teachers union and he had other union support - the service workers. He comes from that progressive wing. We talk about Democrats, and what does that mean to even be a Democrat in a city like Chicago where everything is democratic, but there are lots of, excuse me, shades of gray that come in when you think about that. Progressive is also a word that is overused and is diluted, but I would say that Johnson and his political upbringing, I would say, are truly the progressive wing.
Kai Wright: All right. Then meanwhile, Paul Vallas, who lost the election, he was the former CEO of Chicago Public Schools. He ran a fairly conservative platform, courting the police unions, supporting charter schools. Notably, he's white; Brandon Johnson is Black. What constituents of voters seem most drawn to him and his message?
Natalie Moore: Paul Vallas has run many times. He has run for governor, he has run for mayor. The last time he ran, he didn't make it to the run-off and he didn't get many votes. Where is Chicago right now? Still reeling from the pandemic. The business community has not recovered. Crime has gone up. This is not unique to Chicago, but there is a fear that was there and Paul Vallas was, one could argue, the consensus white candidate. He was able to draw off of that. Now, Chicago is segregated and it's a tale of two cities, but it's just about evenly split between Black, Latino, and white voters.
I mentioned that Brandon Johnson received part of the north side, we call them lakefront liberal white vote, but on the southwest and northwest sides where you have city workers, police, and firefighters, those are the white communities that went to Vallas. Vallas is backed by the fraternal order of police and their president is controversial, to say the least. [chuckles] There were a lot of MAGA light talking points that had been embraced by Paul Vallas prior to him getting into the run-off and even into the primary. That's sort of the landscape that he was working in.
Kai Wright: You're bringing up some of this history. You wrote an essay before the election about your childhood in Chicago. Being an 11-year-old as Harold Washington run and became the city's first Black mayor back in 1983. An electrifying moment for Black communities all over the country, but also a really difficult moment in Chicago. You write, "I hold those memories close because we must remember history no matter how ugly, but I must admit the race between Paul Vallas and Brandon Johnson frightens me more because their campaigns are stark representations of the tale of two cities." Why did this election frighten you so much?
Natalie Moore: When Harold Washington was mayor, I was in sixth grade when he died in 1987, and he had a formidable white block in the city council who was blocking him. He had a candidate running against him with the tagline "Before It's Too Late." The racial attention in the city was intense. Where we are now in 2023, and it's not just Chicago, but we had this so-called racial reckoning in 2020, and we see how the country is fatigued from that. The backlash in schools, critical race theory, which we know is not being taught in elementary schools or high schools.
That fatigue and backlash that we're seeing on the national stage with race actually did trickle down to Chicago by having these two candidates who were so different from each other. That frightened me because I thought, no matter who wins, what is that going to mean? The fraternal order of police head was saying, if Brandon Johnson wins, then there'll be blood on the streets. That's a very scary thing to say. I just didn't know how Chicago would be able to heal. I can say the election just happened. Paul Vallas' concession speech was conciliatory. Brandon Johnson, who is generally regarded as an affable, friendly person, he was attacking Vallas' record in this runoff. He has talked about I'm a mayor for all of Chicago and I'm talking to the voters who didn't vote for me. I do think that some healing is needed in this city because of the polarization between the candidates and the voters who stood behind them.
Kai Wright: Is it a referendum on those bigger issues? It's, of course, tempting to think about it that way or is it a hyperlocal thing? How do you take Brandon Johnson's victory in terms of what it says about where Chicago is right now?
Natalie Moore: I think that it shows that there-- now the voter turnout is super low. We're looking at 35%. We only had 500,000 ballots that were cast. Chicago's tagline is a city that works and for decades, it has not worked for a lot of people who live in this city, the have and have-nots. The being not at the political table. The legacies of segregation, housing discrimination, unequal schools. Brandon Johnson's speech on election night talked about how he represents the working people, how he represents-- he's an extension of the civil rights movement.
He did not come in with a mandate. He did not win by a crazy margin. Within that, it was still low voter turnout. It's not a mandate, but he does have an edge and people wanted this message. When we think about, for example, crime, for example, you can say what most people know is, "Well, okay, the police are problematic, but that's the model that we have, so more police will make us safer." Paul Vallas was saying, "I will put more police on the streets." Brandon Johnson is saying, "I want to get to the root causes of crime. I want to reopen mental health clinics. I want to give youth jobs. I want to invest in people."
Kai Wright: Natalie, I'm going to stop you there because we're going to talk a lot about crime here coming up, but we need to take a break. I'm talking with Natalie Moore, the reporter for Race, Class and Communities at WBEZ in Chicago about the Windy City's hotly contested mayoral election. Coming up, we'll talk about how many of the same issues that came up in Chicago have shaped the political debate in a number of big cities in which the Democratic Party's partisan dominance obscures some very real political divides. Stay with us.
[music]
Rahima: Ramadan Mubarak. It's Rahima. If you like the show, you should really follow us on Instagram. Our handle is noteswithkai just so you don't miss out on what I'm calling Rahimadan. Basically, it's a series of posts that I'm doing where I'll be sharing what I'm cooking and learning throughout Ramadan. I'll be sharing recipes from Somalia, Indonesia, and Bangladesh, which is where my family is from. We really want to see what's on your iftar table too. Tag our show's handle noteswithkai to share your Instagram posts with us. We also want to hear about the different ways that you're making Ramadan your own. Send us a voicemail and we may play it on the show. Here's how. Go to notesfromamerica.org and click on the green button that says Start recording. That's it. All right. Thank you.
[music]
Kai Wright: It's Notes from America. I'm Kai Wright. I'm talking with journalist Natalie Moore. She's the Race, Class and Communities reporter for WBEZ in Chicago, where voters have just selected a progressive Democrat as their new mayor in a hotly contested election. Natalie and I are now joined by Fordham University political scientist Christina Greer. She's the co-host of the podcast FAQ NYC, which covers politics here in New York, as well as the podcast The Blackest Questions from the Grio. Christina, welcome back to Notes from America.
Christina Greer: Thanks so much for having me, Kai.
Kai Wright: Three years ago right now, Christina, in most major cities around the country, we were a month into near-total shutdown as we tried to figure out COVID and we were a couple of months away from the global uprisings that followed George Floyd's murder. There was certainly a feeling back then that a new consensus around racial justice and economic equity was developing in our cities. Politically, what has happened in city politics over the past three years? Looking at it nationally, do you see any through lines or themes?
Christina Greer: Well, Kai, we oftentimes jump from local to national, but we have to remember, there's a really important state conversation that has to always go along with Black mayors in particular. As we celebrate the fact that New York and Chicago and Los Angeles and Houston, four of the largest cities in the United States are all led by Black mayors, we also have to remember the constraints of any mayor. As LBJ says, when things were getting rough with the civil rights movement and Vietnam, he says it could be worse, "I could be a mayor."
We have to remember that the constraints of a mayor in their relationship with the governor, in their relationship with possibly Republican or Republican white state houses, where these four particular mayors do have Democratic state houses, by and large, with the exception of Sylvester Turner in Houston. There's economic constraints that you laid out post-COVID, that mayors don't always have a free budget. Their hands are tied in some ways before they even get sworn in.
Kai Wright: Just to underline something you said there, an assumption I don't know that everybody grasps is one of the through lines you're pointing to is there have been a number of Black mayors elected.
Christina Greer: Oh, listen, we have a long history and to hear Natalie talk about Harold Washington just makes my heart smile. We also know that because of Harold Washington, there's a Jesse Jackson, because of Jesse Jackson, there's a Barack Obama. There's a clear through line also between local to national politics. Black leadership does have a lot of constraints. There are a lot of, as Natalie laid out, Chicago is a segregated city. Might I argue that so is New York, so is Philadelphia, so is Washington, DC, so is Baltimore, so is Atlanta?
Cities that have had long histories of either a Black mayor or several Black mayors. The constraints that those Black mayors have in dealing with not just white constituents, white city council members, white state house members, and then also following national trends and public opinion about crime. We also have to remember the context in which some of these mayors get elected, it's when the tax base has left the city, when there's not only been white flight but also middle-class flight, when people are feeling as though crime is through the roof and we don't have any money, so now all of a sudden we see this prevalence of Black mayors. When they're coming into office, we also have to be realistic about the challenges that they immediately face because of the circumstances surrounding their election.
Kai Wright: Well, Natalie, before the break, you started talking to us about Brandon Johnson, the new mayor of Chicago, the newly elected mayor of Chicago, and his take on crime and policing. It feels like it diverged from what Democrats have done elsewhere in campaigns. Johnson felt the pain of voters worried about crime. He talked about feeling scared for his own three kids, about shielding them from, quote, I think he says, "the bullets flying right outside our front door." Then he articulated a solution that went beyond policing. What is his take? Did it seem that voters who are worried about crime, which he's now going to have to face, like Cristina's talking about, that they found it convincing?
Natalie Moore: One thing with Brandon Johnson is that he had to distance himself from comments about defunding the police. That phrase is more in the mainstream now, even though it isn't a mainstream-embraced idea. I would say three years ago, that was like, oh, my-- people were not using that term and now it is debated. He had to climb away from those kind of comments. Then he had this lived experience as living in Chicago in a neighborhood that has seen crime. I think for people who live in the communities that are most impacted by crime, they don't see policing as the linchpin, as the solution.
Whereas perhaps some white voters who live in communities with less violence are worried about violence creeping in. They see policing as the solution and also their relationship to policing is much different. It isn't, "I got pulled over," or my community on one hand is under-policed and over-policed. The people who are most affected feel like, this isn't-- we can't police our way out of these issues and they see disinvestment. They see that jobs are needed and that's the way that Brandon Johnson talks about combating violence.
Kai Wright: Saying that it's not about cops, we don't need more cops. He's explicitly saying that, but that we want reinvestment in things that might prevent crime in the first place. Christina, did you hear anything new or notable in Brandon Johnson's approach? Feel free to challenge my premise here, but it feels like the argument he's making, it does seem like a challenging argument for voters to hear if you are concerned about crime, and he seems to have made it successfully, and I haven't heard a lot of other Democrats even try. Is that fair?
Christina Greer: Well, yes and no. I love the way Natalie laid out the reality of crime for certain communities and the perception of crime for others because this was so much a part of our New York mayoral debate, Kai. Eric Adams, in a more philosophical language, said the same thing as Brandon Johnson. He used the Desmond Tutu quote very often, saying, "Instead of pulling people out of the river, we need to go upstream and figure out why it is that all these people keep falling into the river."
He would lay out, "We need to look at housing, we need to look at jobs, we need to look at schools and figure out why it is that these people keep getting caught up in the storm and ending up almost drowning in the river, and we have to constantly pull them out." That was sort of his metaphoric language that he was using. I feel like Brandon Johnson put in a much more explicit policy conversation to it because now New Yorkers who don't want more policing are saying, "Well, Mayor Adams, if we're pulling people out of the stream, why is it that we're defunding our libraries?"
Those are the conversations that can be complex. In New York, a place that is similar to Chicago, in the sense that we have seen spikes in crime, but oftentimes those spikes in crime aren't from the neighborhoods where people are most concerned about crime. It's not touching them. It's the perception of crime. I think it's a nuanced conversation that I think a lot of Black voters can and do have in making a calculus as to what type of leadership they want.
Kai Wright: Natalie, you mentioned that Brandon Johnson benefited in this runoff by picking up the Black voters who had been behind Lori Lightfoot, who is the incumbent mayor. We have to say that all of these questions around crime and policing and access to jobs, they all really tortured Lightfoot, who was elected as a progressive as well, but lost so much of that support. Natalie, you've said that gender is actually relevant to her defeat as well because her temperament was critiqued. Talk about that.
Natalie Moore: Sure. Well, let me lay out that Lori Lightfoot has a prosecutor background and I think her nature must be pugnacious. She didn't get along with a lot of people, and she was seen to pick fights with allies. Some of the alienating that she did was by her own design. However, Chicago voters seem to like bullies because Richard M. Daley and Rahm Emanuel had that reputation too.
Someone once said to me, "We could deal with King Richard, we could deal with Emperor Emanuel, but we couldn't deal with little Lori." Jane Byrne is the last female mayor that we had, and she had one term also. I think multiple things can be true. I don't think that people like seeing women in a kind of offensive or even defensive nature, and that's not talked about as much. I think it's going to take some time.
There are some op-eds that are coming out, but there was so much discontent with Lori Lightfoot across the board that a lot of people aren't willing to step back and say, "Wait, there is a racial and gender component." Also, she's openly gay. I can tell you, the memes, are they supposed to be made in jest, like calling her Larry Lightfoot, making fun of her in different ways? That's the other layer that exists as well.
Kai Wright: We've got to move on ahead. A couple of other things here. Paul Vallas had the backing of much of the Black political establishment after Lori Lightfoot left the race. Natalie, you wrote a story after Brandon Johnson's victory which said that the Black establishment may now have to face what you called a reckoning. What did you mean by that?
Natalie Moore: The numbers are showing that city council members who supported Vallas are not in lockstep with how their communities voted. You had former Congressman Bobby Rush come out for Vallas, a lot of other established people here who a national audience isn't necessarily going to recognize those names, but retired state officials, city council, and a congressman who just retired this year.
I would bet that Paul Vallas was doing what politicians do and making promises. These folks had thought that they were going to be on the winning side, and they were not. I think it shows this disconnect and what does that mean? Because they might have said, "I wanted to bring things back to my community if Paul Vallas was in." Okay, so now what? How do you deal with a Brandon Johnson?
Kai Wright: Does it suggest a divide between what voters want and what the Black political establishment wanted?
Natalie Moore: It does. Does it show that the voters are actually more progressive? I think a little bit of it is, "I want to go with who the winner is." This person, Paul Vallas raised double the money of Brandon Johnson and he also had the support of the business class. They were pouring money into his campaign. People are making a calculation and the Black establishment made a bad gamble.
Kai Wright: In his victory speech, Brandon Johnson had a riff in which he cast his campaign and his victory as the onset of a new coalition that people on the left have dreamed about since the civil rights era. Here's what he said in the victory speech.
Brandon Johnson: It was right here in the city of Chicago that Martin Luther King, Jr. organized for justice, dreaming that one day that the civil rights movement and the labor rights movement will come together. Reverend Martin Luther King, Jr., the civil rights movement and the labor rights movement has finally collided. We are experiencing the very dream of the greatest man who ever walked the earth.
Kai Wright: Christina, that's a big statement, but what about this Black and labor coalition, both in Chicago, but nationally, is this, in fact, the thing that has emerged? If so, what does it change?
Christina Greer: We know that Chicago has a very long, deep, and unique history with labor. We'll see. This could be the beginning of more detailed conversations. I think a lot of cities are having, as Natalie laid out, a reckoning with the Black establishment because so many in the Black establishment were once the progressive outsiders, and over decades of not passing the baton to new leadership, they've become calcified and they are strategic in how they decide to back candidates, especially during runoffs and in primaries.
What I think more and more of the Black establishment is finding out is, one, you're getting young people like Brandon Johnson who aren't going to wait in line until the Black Establishment passes their baton, because we're seeing in many cities across the country they're not passing the baton. We see this also in the Democratic and Republican parties. A calcified leadership at the top. Septuagenarians. Octogenarians. I'm absolutely not trying to be ageist, but there is something about refreshing the bench and growing new voters and new warriors in the cause.
I think what Brandon Johnson's victory also showed some of the Black establishment is that going with the business class, going with the presumed winner, is not the power to the people. What actually wins elections are the votes. It's the door knocking. It's the organizing. When we think about the tradition, the long tradition of Black activism and Black voting rights, it has been about the hard labor of earning every single vote.
We know that labor has worked in conjunction and taken much of that organization and much of those organizing principles from the Black civil rights struggles to win in various cities for their candidates. Once those two forces come together for good, we also have to remember, not all labor unions are the same.
Kai Wright: There's a very difference between the police union and the teachers union here.
Christina Greer: Exactly. They have their own organizational structure and police unions, and they mobilize for Vallas, but when you have the power of the people, which Brandon Johnson has laid out in his victory speech, it could signal we have sort of the AOCs, we've got the Ayanna Pressleys doing the same thing, we could see a different type of municipal election. We also have to remember this is a runoff, and as Natalie reminded us, incredibly, dare I say, embarrassingly low turnout.
Not as embarrassingly low as New York, I will say, but we also have to get people back into voting for municipal elections in ways that we just have not seen in the past say two or three decades.
Natalie Moore: I have a couple of other observations there. I think that there was an underestimation of how powerful unions are in Chicago. This is the home of union organizing. I think there was a dismissal of that by the Vallas supporters. Then secondly, with the establishment, it wasn't just age, because there was a variety of establishment, people who went behind Vallas, maybe thinking they were going to bring bounty home to their communities.
Then you had folks like Jesse Jackson Sr. and his son, who's a new Congressman Jonathan Jackson, who backed Brandon Johnson. It wasn't clearly along age lines, and then you have Brandon Johnson, who was squarely a Gen Xer, who had a great ground game. He was able to win despite being outspent. To be sure, he had money. He had commercials. He wasn't on people's TVs or radio stations, but the ground game was very different with the house parties, the organizing, the door knocking, and that's what he got from being a union organizer with the teachers union.
Kai Wright: We will have to leave it there. Christina Greer is a professor of Political Science and American Studies at Fordham University. Natalie Moore is the Race, Class and Communities reporter for WBEZ in Chicago. Thanks to you both.
Natalie Moore: Thanks for having me.
Christina Greer: Thanks, Kai.
Kai Wright: Notes from America is a production of WNYC Studios. Follow us wherever you get your podcasts and on Instagram @noteswithkai. Theme music by Jared Paul. Mixing this week by Mike Couchman. Our team also includes Karen Frillman, Vanessa Handy, Regina de Heer, Rahima Nasa, Kousha Navidar, and Lindsay Foster Thomas. André Robert Lee is our executive producer, and I'm Kai Wright. Thanks for spending time with us.
[00:32:28] [END OF AUDIO]
Copyright © 2023 New York Public Radio. All rights reserved. Visit our website terms of use at www.wnyc.org for further information.
New York Public Radio transcripts are created on a rush deadline, often by contractors. This text may not be in its final form and may be updated or revised in the future. Accuracy and availability may vary. The authoritative record of New York Public Radio's programming is the audio record.