How Martin Luther King, Jr., Changed American Christianity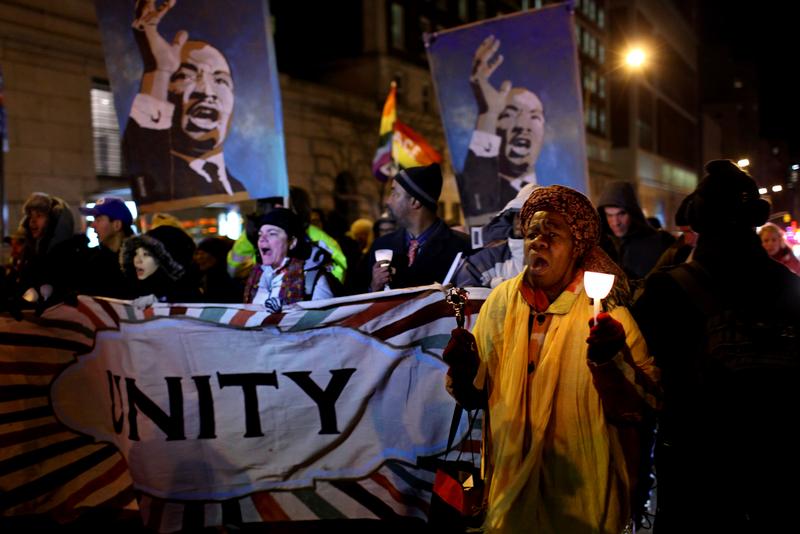 Transcript
Kai Wright: This is the United States of Anxiety - a show about the unfinished business of our history and its grip on our future.
June Knight: We come together in the name of Jesus, in agreement for our president. Lord you chose him for such a time as this...
Lawrence Goyot: I have historically identified the church with politics and I think in the white community throughout this country, there's real separation but there's never been the same kind of separation in the black community.
[Protesters singing "Lift Every Voice and Sing"]
Protester: God bless you, keep the faith.
[Protesters cheer]
Onleilove Alston: The black church and the black community has been kind of a spiritual barometer for this country - whether it's from abolition to the civil rights movement.
Tavis Smiley: Dr. King represents, I believe best, an example of the importance of the intersection between our theology and our politics. Between our faith and our advocacy.
[music]
Kai: Welcome to the show, I'm Kai Wright. I grew up in the Black church. When I say that, I don't just mean we went to worship on Sundays, though, we did like all day, every Sunday. It's so much of my life orbited around the church like people all over town knew me because they went to either my mother's church or my grandmother's church. That fact, it saved me over and over again, despite all of the imperfections of church leadership, despite all the damage that religion can do to some of us and did to me as someone trying to figure out my own sexuality.
The Black church nonetheless saved me by its actions, by the community of individuals who looked out for me, who caught me when I stumbled, who stood up for me when I needed help. We even set me on the road to being a journalist. I say all of this because today, we're going to talk about Martin Luther King, Jr. and we're going to focus on his work as a Christian minister, as a leader in that Black church, which so profoundly impacted my own life. It's King Day weekend and a moment when his life's work is so plainly relevant.
It strikes me that in the media, we rarely discuss meaningfully this one crucial part of his life's work. How did King understand the relationship between his faith and his politics? Or between Christianity and Black liberation? What can we learn from him as we think about the relationship between faith and politics in 2021? Here's the thing, there's been a lot of talk in recent years about how secular Americans have become, which is a real trend to be sure. Three out of four American adults still describe themselves as people of faith, and any road forward in our miserable politics will surely have to go through our collective faith traditions as well.
As we started thinking about these questions over the past week, we called up Dr. Yolanda Pierce. Dr. Pierce is the dean of the School of Divinity at Howard University in DC. She's a scholar of the Black church and of its history, and her latest book is, "In My Grandmother's House: Black Women, Faith, and the Stories We Inherit", which will be out in February. I'm just so thrilled you could join us, Dr. Pierce, thanks for coming.
Dr. Pierce: Thank you so much for having me, it's an honor.
Kai: The first thing I want to do, Dr. Pierce, is bring King's own voice into this discussion. I'm going to play a bit of one of his most famous speeches. This is from the address he gave the day before he was killed in April 1968. He's in Memphis, helping a sanitation workers' strike. He's talking about the role ministers play in the movement. Like all good speakers, King, of course, had set pieces that he deployed regularly in his sermons, and this was one of them, but since this is from such a notable address, I'm going to play this version, so take a listen.
Dr. King: Time will not permit but I want to thank all of you. I want you to think because so often, preachers aren't concerned about anything, but themselves. I'm always happy to see a relevant ministry. It's all right to talk about long white robes over yonder and all of its symbolism, but ultimately, people want some suits and dresses and shoes to wear down here. It's all right to talk about streets flowing with milk and honey, but God has commanded us to be concerned about the slums down here and his children who can't eat three square meals a day.
It's all right to talk about the New Jerusalem but one day, God's preacher must talk about the new New York, the new Atlanta, the new Philadelphia, the new Los Angeles, the new Memphis, Tennessee.
Kai: That's Martin Luther King Jr. speaking in Memphis, the day before he's murdered in April 1968. Dr. Pierce, I start there, because he's articulating a particular idea about the role of Christian ministry that may sound familiar to modern ears, but as I was reading about King this week, I came to gather that he was actually one of the first people to fully articulate Christian theology that said social justice and individual salvation were the same thing, that saving souls from sin and curing the world of injustice are one and the same ministry. Is that correct? Am I right to understand he was articulating a new theological idea in that regard?
Dr. Pierce: He was actually not only articulating a new theological idea for his time, but I think, in fact, King was echoing a sentiment that we see even earlier among African American preachers, African American ministers, even out of the era of enslavement, even from someone like a Richard Allen or someone like a David Walker, which is, as you suggest, there is an absolutely necessary connection between the saving of souls and making sure that the hungry are fed, making sure that people have clothing to wear.
King actually taps into a long-standing tradition that comes out of the African American context, but people were hearing it for the first time, because of who King was, because of the movement that he was leading and because he had the national stage.
Kai: Well, take us back into some of that history. You've studied the history of the Black church overall. You've said that the church itself was born as a protest movement. Can you take us back to 1794 and the founding of the Black church? How'd it come to be?
Dr. Pierce: African Americans-- Let's talk about Africans, who came to these shores, who were brought here as enslaved persons as chattel. One thing that we have to recognize is there's a rich religious diversity of those who we even brought to the continent of North America, somewhere like 15%, 20%, 25% of enslaved Africans, were actually practicing Muslims. Many of them were already practicing Christians, so there was a rich religious diversity during enslavement.
What you saw almost immediately is that African Americans were allowed sometimes to attend white churches and white congregations, but they were not allowed to participate fully. In the brush arbors, in the secret places, they created their own spaces to worship, and they created their own worship practices, and this went on for 100, 150 years. What we see at the end of the 1790s is the actual formal beginnings of what we would call the Black church, which is the idea that African Americans founded churches, denominations would later go on to buy church buildings would actually begin to build an infrastructure around what had really been a movement in secret.
We call it the invisible institution, that the Black church was happening in the earliest parts of early America, but in secret, because of course, of the consequences and repercussions for worshipping in white spaces.
Kai: I gather that there's been a long debate among theologians about what this history means in terms of when we say, "the Black church," that we don't just mean an institution, but rather a distinct version of Christian theology that is rooted in this particular history of protest.
Dr. Pierce: Absolutely. What we're talking about, we call it today "liberation theology." That's what we call it when we're talking about King in the 1960s and forward, but I would go back to these early beginnings, and I would say that what King is picking up in that exact speech is, it was the stereotype that the only thing that African Americans were doing in their churches, were basically concentrating on the world that is to come. "Heaven is our home. There's nothing we can do about the horrific conditions under which we currently live. There's nothing we can do about slavery, so we're just heavenly-minded."
King is disrupting that because he knew that in that invisible institution, in those secret churches, in the hills, in the hollers, and the brush arbors that African Americans were always connected and concerned with the material conditions of their life today. They always connected politics and faith, and so theologians have to parse out sometimes the coded messages in the spirituals and in the songs. You think wade in the water is about baptism, but wade in the water is about sometimes escaping slavery through a water route, or you- think Swing Low, Sweet Chariot is one day, we'll be with Jesus. When in fact it is how do we get up out of this condition of bondage? That connection between the political, the liberation, and the gospel has always taken place within the African-American context.
Kai: Just because you mentioned earlier a couple of names, Richard Allen and Absalom Jones, can you just quickly explain who those people were in this history?
Dr. Pierce: You have Richard Allen, Absalom Jones, and others, a group of African-American men who had been worshiping in white Methodist churches. In 1794 at St. George Methodist Church, these men were praying at the altar. By convention, most African-Americans were either confined to the balconies of churches or the back of churches. These African-American men praying in the front of the church at the altar, they were forcibly removed by people that they considered their brothers and sisters in Christ while they were praying. Those men would later go on to found the African Methodist Episcopal Church, which is the first African-Americans denomination.
Even though we have some Black churches at the same time, this becomes the first denomination, this becomes the first institution building. They would later be ministers appointed and ordained and deacons, and a whole infrastructure built around this movement. You have names like Richard Allen and Absalom Jones, and then later you would have the AME Zion Churches and this other Black-founded it Black-instituted institutions that also are responsible for the vast majority of historically Black colleges and universities in this country as well.
Kai: There was a crucial moment in Dr. King's evolution as a Christian and a faith leader that he talked about often. I want to ask you about in the context of all this because it sounds like he got into the ministry almost on autopilot initially, people in his family had been ministers for generations, but there was a moment during the Montgomery Bus Boycott in 1956 that he says deepened his faith. He was getting these constant death threats at the time, these late-night phone calls to his house, and one particular night, for whatever reason, the threats, they just really shook him.
He describes himself sitting at his kitchen table praying and having his first deep thoughts about his personal relationship to God. As he describes it in one sermon, he says that God told him, Martin Luther stand up for justice, stand up for truth, and lo, I will be with you even until the end of the world. Do you know this story? I assume so. What do you think is the significance of this moment in King's history as a Christian leader because he told the story so often?
Dr. Pierce: It's such a powerful story to me. Sometimes we joke within the Black church tradition that the role of minister is inherited in families. I myself come from several generations of preachers and I was like, "The thing I'm not ever going to do is be a preacher," and then God was like, "Oh, really? I have some interesting things for you to do," but I'm not--
Kai: Now, you're a Reverend doctor.
Dr. Pierce: What am I doing here? I ask myself. Why the King story is so important is because it really points us to this notion of vocation. That's not a word that we use very often. This wasn't just a job for King. This wasn't just a thing to do. It wasn't even just, "I want to help people." The vocation is this process of just sermon whereby you believe that God is calling you and has uniquely created you and outfitted you for a particular task.
King coming from a line of ministers, church all of his life, educated would later go on to pursue a PhD. He had this background, but I think that moment points to what is your vocation? What is that discernment? What is that process whereby a person of faith believes that God has uniquely equipped them for a task that no one else can do? I believe that King knew that he had worked to do no one else could do. I also believe that King knew that he would die before he would see the completion of that work.
Kai: Certainly, that final speech I just played has been called by many "prophetic" because he talks about his coming death, and then he is assassinated the next day. You've mentioned that you come from a long line of preachers yourself. What about your relationship to social justice? This question I'm asking about the relationship between the Black church and social justice was where did that come for you? Is that something you were taught at church or that developed on your own or what? How did you come to that?
Dr. Pierce: I don't think that many of us who grew up in the church a generation or so ago had that language for it. We talk about liberation theology today, we talk about social justice today. We may not have had that language. Our parents, our grandparents didn't necessarily have that language, but what we saw in action, I think is the heart of justice. We saw people who took the Micah injunction seriously to walk humbly before God, to do justice. In my own church growing up, tiny Storefront Church in Brooklyn, New York, I watched as one particular deacon month after month, and year after year drove people to the state prison in New York City.
Now, today we call this a ministry. We have prison ministry, we have returning citizens ministry. He didn't have a label for that. He had a son who was incarcerated and he wanted to make sure that mothers and fathers could see their children who were incarcerated. What I think I saw growing up while it didn't have the name was the idea that we are brother and sisters keepers.
We are all that we have. Loving one another, mutual aid for one another, caring for one another, treating one another the way we want to be treated, and believing that God has called us to do this at large, not just for our tiny congregation, but for all of the world. I saw the liberating gospel work and at hand, even if I don't think my church mothers and grandmothers would have known to call it that
Kai: We'll take a short break and when we return with Dr. Pierce, we can take some of your calls as well. If you're a person of faith, of any sort, not just Christian, I'm wondering if you've had to wrestle with the relationship between your faith and your politics. Have these things ever been in conflict for you? If so, how do you resolve that? Maybe better yet, if you haven't resolved it, you can put a question to Dr. Pierce. She's a theologian after all. Call us at (646) 435-7280. That's (646) 435-7280.
I'm Kai Wright and I'm talking with Dr. Yolanda Pierce, dean of the Divinity School at Howard University about Dr. Martin Luther King, Jr's work as a faith leader and about the history of the Black church and liberation movements. This is The United States of Anxiety, we'll be right back.
[music]
Dr. King: So many things have happened in our lives to make us feel that we don't belong, that we don't have significance. I come back to tell you tonight that you are somebody.
I come back to tell you tonight that you are God's children made in his image. I come back to say to you tonight that every man from a base Black to a treble white is significant on God's keyboard. Fleecy locks and Black complexion cannot forfeit nature's claim. Skin may differ, but affection Dwells in white and Black the same. If I was so tall as the reach the pole after grasp the ocean at a span, I must be measured by my soul, the mind is a standard of the man.
Kai: That was Dr. Martin Luther King, Jr. speaking in New York City in December of 1964, just a week after he received the Nobel peace prize. Dr. Pierce, we have a question on Twitter already from one of our council members, Steven Levin, asks, "I wonder how much Dr. King was influenced by the very short letter of James written by Jesus' brother, James the Just emphasize deeds over faith alone in contrast to his rival Paul. Do you have any answer to that?
Dr. Pierce: That is a dense question, but I think the answer is contained within the question. King was a very close reader of the text. This is someone who was not only a minister by vocational training but someone who pursued this all the way through the doctoral level and earned a PhD. He was a close reader of the text. The idea that your works represent your faith, that faith without works is dead, that the things that you do honor God, it's just that clip that you just played because I think that points has perfectly to the question.
King is always talking about what he called "somebodiness," this idea that all people have worth and value and dignity, that they are not simply their labor. The way in which, unfortunately, in this capitalistic world, we value people by their labor, King is saying there's a somebodiness to everybody. They have worth, they have value, they have dignity. He is reading directly from the texts, the biblical texts. I would also say influenced by other theologians, like Howard Thurman, who was so deeply important to someone like King, Howard Thurman, Black theologian and mystic, and of course, Gandhi and other faith traditions, where what you do is a reflection of the God that you serve.
Absolutely would have read and would have known and would have been acquainted with the words of James.
Kai: Speaking of dense texts. I spent the past week reading a book that Senator-elect Raphael Warnock wrote several years ago. He's a minister and pastor of Ebenezer Baptist Church in Atlanta, which is of course also Dr. King's church. In any case, the Rev. Warnock wrote a book called The Divided Mind of the Black church in which he weighed in on theological debates about social justice and Black Christianity. Some of it was a bit over my head if I am honest, but I wonder what are your thoughts on Reverend Warnock's work as a faith leader, meaning before he became Senator-elect Warnock
Dr. Pierce: Dr. Warnock is a tremendous scholar and has been a tremendous pastor to Ebenezer. He inherited a pretty important mantle. I don't think it is with any kind of carefulness, and you have to be very, very careful to take on the mantle of Dr. King's church. It's like, Oh wow, this is the pulpit Dr. King preached from I see. He is a very careful scholar and a wonderful preacher.
I think that Dr. Warnock in his work and his life, and certainly now his successful run for Senate, Senator Warnock, I think we can begin to call him is the embodiment of exactly what King was trying to do, which is that the political life and the life of faith live side by side, there is nothing that is not political and whether or not that is about housing insecurity, whether that's about food deserts, whether that's the criminal justice system, which I know that is something that Dr. Warnock deeply cares about the reform of the criminal justice system, these are political issues, but these are also issues for people of faith.
I think the right word here is "people of faith." That's the right term to use. This is not confined to Christianity, Christians aren't the only ones concerned about the issues of justice. We join with other people of faith and also people who don't have faith who might be atheist and might be agnostics but have a deep moral grounding that what we do for our neighbors, what we do for the other citizens of country matter and reflect for the people of faith that we are made in God's image and likeness.
I think that's where Dr. Warnock is. I think it will be interesting for us to see whether he can hold on to the work that he's doing in the Senate and then going back to preach Sunday after Sunday in a world in which his sermons will be scrutinized.
Kai: Indeed. Let's go to Rabbi Janice Elster in Morristown, New Jersey. Rabbi Elster, welcome to the show.
Rabbi Elster: Thanks for having me. It's a pleasure to hear Dr. Pierce speak. I think what she's describing is very much along the lines of my own faith and my own tradition. I would answer your question, no, that my faith and my politics are not and have not ever been in conflict because my tradition, it's a funny thing to say faith, when you're talking about Judaism, because we are a tradition of action, of commandments, of commanded acts and sacred act.
What you would call the Hebrew Bible and we call the Torah is filled with the command to do justice. My faith is my politics because my tradition is my ethical and moral compass, and it teaches me and guides me how to live and act in the world.
Kai: Thank you for that, rabbi. That leads me to, I guess, the next question for Dr. Pierce and maybe Rabbi Elster wants to comment too. We talked about Senator Warnock, but Jon Ossoff was also elected as the first Jewish American to come into the Senate from Georgia. Many people have pointed to the two of them as evocative of this Black Christian and Jewish American Alliance that fueled so much of the civil rights movement. I wonder about the roots of that Alliance, where that came from, Dr. Pierce.
Dr. Pierce: Absolutely, I think it points us in a direct path to the ways in which African Americans and Jewish Americans work together during the civil rights movement, not without conflict. One of the things that I most respect when you actually studied the history of the civil rights movement are the ways in which these men and women saw what they had in common but also acknowledged that interfaith work can sometimes be very difficult, but a deep respect for both traditions for the texts, a deep respect as the rabbi just indicated for works, what are you going to do?
Also again, I want to point us historically, you have African American Christians in the 18th and 19th century working so hard to establish places of faith of their own. You have Jewish Americans in this country who are also establishing the first synagogues in North America, and both groups are facing persecution for their faith. Interestingly, by very people who had fled a tyrannical government because they have been persecuted for their faith.
There's a long-standing history of African-American and a Jewish American coalition, again, not without conflict, but with an understanding of people who are tied to the texts who are very tied to tradition, a sense of notion of themselves as doing the work that God has put forward in their communities. I hope we continue to see that we need all people pf faith, we need Buddhists, we need Muslims. We need to recognize that there has always been a progressive religious left because sometimes we talk about faith. We only think that we're talking about the religious right, and that is not the case.
Kai: Can I ask you about that in the modern context though, because we do hear so much about the religious right and we don't. It is often asked where is the religious left? I gather you take exception to that.
Dr. Pierce: I absolutely take exception to that. The African American church, the Black church is 300 years old. It is, has, and it always will be a progressive religious set. A lot of times we're talking not just about the religious right when we say Christianity, but we're often talking about white Christian nationalism. This is what we saw in Washington DC, where I currently live at the insurrection at the Capitol. We saw white Christian nationalism.
Sometimes when we're talking about religion, we think that that's the representation of religion. In fact, there have always been people, marginalized communities, people on the underside of history who have always occupied a space that one would call progressive. Even if African-Americans can be theologically conservative, their politics, their quest for social justice, the ways in which they interact with social policy has often been very, very progressive.
Kai: Then just to push you on that a little bit to talk about right now and the movements we see right now, where is the church in that? Would you say that the church is the moral center of some of the social movements today and the way that it was during the civil rights movement?
Dr. Pierce: I think that we have to let go of the category of the church as institution and really start talking about people of faith. I want to say that people of faith can be, and should be the moral compass of the movement of all of the progressive movements. You have someone like Rev. Barber, who's leading Moral Mondays. You have organizations that have been aligned historically with Christian or Jewish denominations. You have all of these movements and organizations who have been really doing the work. When we talk church, we often think a particular kind of church, we often think organized religion.
The people who are marching for Black Lives Matter, many of them don't necessarily belong to a church, but many of them would consider themselves deeply spiritual. Many of them would consider themselves as people of faith, even if they don't belong to an institutional church. We have to really start shifting our conversation from institutions to the spirituality and the deep religiosity of a movement that might not be located under a particular denomination or under one particular church.
Kai: Let's go to Mark in Brooklyn. Mark, welcome to the show.
Mark: Hi there. Thank you, Kai. Good evening to you and to Dr. Pierce. I have a comment real quick, and then I have a question for Dr. Pierce. My comment is thank you, Kai, I caught the show as you were doing your intro. I really appreciate that. I'm a Black queer man who grew up in the church and it's conflicted to this day about my place in the Black church. I appreciate what you said, how great and wonderful and supportive the Black church can be, and also how it can be painful to be part of the Black church as a queer Black man.
It reminded me of James Baldwin's first novel, "Go tell it on the Mountain", and how he wrote about how wonderful the Black church was, and also in some ways how he had to leave the Black church and in essays later on. I wanted to say that but then my question for Dr. Pierce is circling back to Kai's intro, and I know time is limited, but can you address the role of queer people, queer Black men and queer Black women, the role of people in the Black church historically all the way till today.
Dr. Pierce: Quick answer is what I can honestly say is that the Black church founded as a protest movement, founded upon a liberationist stance, still is an institution that replicated some of the worst of the very patriarchy from which it emerged, including oppressive structures to the brothers and sisters in the LGBT community, to our queer brothers and sisters. We simply have to acknowledge that.
We have to acknowledge that because it is not a perfect institution in any way shape or form. I absolutely lay this at the door of the Black church. I will say an answer to your question is that folk have always been a part of the Black church because folk have always been a part of the Black community. From our earliest history to today, we have had queer folk who have contributed so much to who we understand ourselves to be, not just the music but the theology and the structure and the preaching and the teaching.
It is to our discredit that we have replicated certain oppressive, patriarchal anti and anti-everything that you want to think about here structures. We have to do better because our history and our legacy calls for us to do better than what we're doing right now.
Kai: Say that. Dr. Yolanda Pierce is Dean of the School of Divinity at Howard University. Her latest book is "In My Grandmother's House: Black Women, Faith, and the Stories We Inherit". It will be out in February. Thanks for joining us, Dr. Pierce.
Dr. Pierce: Thank you so much for having me.
Kai: When we return I will speak with the Rev. Dr. Jacqui Lewis senior minister of Middle Collegiate Church here in New York City, a diverse congregation that has put social justice at the center of its ministry for many years to talk about the political power of love. We'll take more of your calls. I'm Kai Wright, this is The United States of Anxiety. We'll be right back.
[music]
Hey, a quick program note. I want to remind you to always check out the show notes for any episode because we've started listing recommendations for companion listening. This week, you'll find a link to an episode we made a few years ago about the religious rights effort to find loopholes in anti-discrimination laws and the history of that effort. That's a topic we're definitely going to come back to given the current Supreme court, so check it out.
I know a lot of you listen to podcast episodes in batches, catching up on stuff you've missed or maybe you just have now found the show and you want to hear more. You can always just go in order, of course, but we figure it's helpful to identify specific things from the archives too. Always take a look in the show notes for our curated suggestions. Thanks and happy listening.
Dr. King: Tonight I stand before you with a belief. I believe that the day can come right here in America. All of God's children will live together as brother. I believe there will be a day and justice will roll down like waters and righteousness like a mighty stream. I believe there will be a day my brothers and systems in Harlem will not have to live in rat-infested slums and depressing ghetto and would be able to live with decency and honor and have that self-respect and personhood. I believe today.
Kai: That was more of Dr. Martin Luther King, Jr. speaking in New York City in December 1964 about a week after he received the Nobel peace prize. I'm Kai Wright, this is The United States of Anxiety. This week we're thinking about Dr. King's work as a faith leader and about the relationship between faith, the church, and social justice. My next guest has helped build a ministry that has become a spiritual home for many who felt like the church didn't fit their lives, people like Mark who called right before the break. Rev. Dr. Jacqui Lewis is senior minister at Middle Collegiate Church, which she describes as a ministry built simply on the doctrine of love. Dr. Lewis, thanks for joining us.
Dr. Lewis: Hi, Kai. I'm so glad to with you. Thank you.
Kai: Can I ask you- I don't know if you managed to catch the show just before we went to break but one of our callers Mark--
Dr. Lewis: I did.
Kai: It feels like he spoke right to your ministry.
Dr. Lewis: I want to just start there. Dr. Pierce gave us a shot at answering that question, but could you answer his question too? What is the history of queer people in the Black church and how do you think about our place in it?
Dr. Lewis: Oh thank you, Kai. Dr. Pierce is one of my favorite scholars out there in the world. I'm so glad to know that she's with Howard. Look, there have always been queer Black people. There have always been true-spirited Black, trans-Black people. If you think about West Africa and think about our travel across the ocean to the places we landed in North Carolina and South Carolina in the south, there've always been queer Black people leading in the Black church.
Too often, Kai, there was a don't ask, don't tell policy. I think what Dr. Pierce was saying is that we who were, let's say, evangelized by conservative white Christian sects were taught that here are some texts that we would call them texts of care now. Not only here are some texts that celebrate patriarchy. Here are some texts that seem to diminish the beauty and joy and wonderfully createdness of queer people.
Here are some texts that put men in charge of their women. These texts were actually against our worldview an old book by Dr. Peter Paris about African spirituality with proof texts that. What I'm here to here to say is that there are a lot of Black churches who are no longer there, who are no longer having this ethic that would squash queer people or squash women. There are still some Black churches like there are white churches and Latinx churches and Asian churches where there's a conservative theology at work.
Mark, you come to Middle Church and you'll find Indigenous, Latinx, Asian, white, and Black people across the diaspora worshiping together, not tolerating, not accepting queerness but celebrating queer people as a representative of actually the multivalent personality or Trinity of God. Many of our people called God there. Our queer Black men at Middle Church sing, we worship. We have queer people on our board. We have queer clergy. We have moved past that.
I want to say that as a sign of hope, not as judgment of others, who are still working it out. I want to say the God is still speaking, Kai. When we listen to what God is saying and we clear our ear or maybe as [unclear] would say, "Get the white old man god off our eyeballs." We can see the God was at work in Africa and God was at work in all of the parts of our globe speaking many languages to God's people celebrating who they are.
We just have to extract patriarchy and racism out of the church which can get in all of us, Kai. When we do that, we'll liberate each other and celebrate each other, which is what we do at Middle Church.
Kai: Speaking of Middle Church and that work. can I ask you to just dig into this idea of a ministry built around love? As a theology, what does that mean to you?
Dr. Lewis: Thank you. Kai. I felt my call to ministry quite honestly the day that Dr. King was assassinated I was almost nine years old. Chicago was on fire. all the big cities erupted in violence. I was hiding under my bed from bullets flying around and I really did feel that God was calling me to pick up his mantle and become a drum major for peace. His love ethic has been super inspirational to me but more than that, my Rabbi Jesus who I call friend and Lord, and his love ethic is actually I think his answer to questions about what it means to be faithful.
The gospel tell the story of a rich young ruler asking Jesus, which lies the most important law, and Jesus who was. of course, a Jewish rabbi blends together a couple of texts from the Hebrew scripture, from the Torah, love God with everything you have and love your neighbor as yourself, love God, Kai, with everything you have and love your neighbor as yourself.
That really boils down to us as love, period. We say everything else is commentary. Everything else has midrash. Jesus makes commentary on his own teaching.
When the ruler says, "Who's my neighbor, who is my neighbor?" We know the story of the good Samaritan where Jesus really lifts up someone who was an enemy of the Jewish people, Kai, someone who was considered mixed race and not pure, Jesus says this guy right here, this guy who stops and picks up the man out of the road when everybody else keeps walking, that's a neighbor and that's what a neighbor looks like.
This love, this radical revolutionary love that sees goodness in our enemies, even who can look past the flaw and see the need but understands we're inextricably connected, this is the foundation of all things. It has gotten corrupted over time, but all the world's major religions have something in there about loving your neighbor as yourself and at Middle Church, we take seriously that love is the only powerful force that will heal the world.
Kai: Let's go to Anna in Harlem. Anna, welcome to the show.
Anna: Hi, good evening. How are you?
Kai: Very well. Thanks for calling.
Dr. Lewis: Hi, Anna.
Anna: I belonged to a church in Harlem quite some time ago when I was really just like 15, late 90s and they wanted to start the partnership for the homeless who'd come to the church asking to use the space in their dining hall, for homeless people. This particular church, a huge congregation, mostly of women, but the people in charge for the most part were men. I was very happy to find that they were going to do this project. I wanted to participate. It would call for providing overnight sleeping quarters and also a meal.
The conflict came when the women in the church, some of them said they want to do the project but they don't want to serve women. They only wanted to serve men. I was flabbergasted because I couldn't believe that I was like, "Well, wait, we are a majority of women. We know what it's like to be a woman, to be shunned, to be homeless. I can't even imagine. Why don't we want to help women?" It was the idea that, well, if the women come, they'll probably have children and that will probably just be too much.
I just found that a big conflict in a congregation mostly of women who had children. I was also a teacher at that time in Harlem. I just found that I was able to do much more in the teaching of treat thy neighbor as thyself outside of the church than I was able to actually do within the church. I did go along with serving the homeless men but eventually, I just left the church and found another church, not to be a member of a church anymore, but just to be able to work, and I found another church that particularly was looking to serve homeless women to provide space for them.
I found comfort in that. I've had a number of conflicts with the way that my politics aligns with the teachings of Jesus within the church, but I've always been in search of congregations who are willing to do the work of the "love thy neighbor as thyself," and I've always prayed about it and been lead to those people who want to do that work.
Kai: Thank you for that, Anna. Dr. Lewis, I wonder about, we talked about this a little bit earlier in the show, this idea of in contemporary times people moving away from being part of a congregation and into just finding their spirituality elsewhere. That's what I'm hearing in Anna little bit there. What do you think about that?
Dr. Lewis: Yes. I'm hearing that too now. A lot of, especially the young adults have left the church across races, ethnicity because they feel the church is hypocritical and they feel the church has lost its way and some have, but I think there are congregations that understand that Jesus was political. This feeding of the people on the mountainside, healing the blind and making the lame walk, this is healthcare before Obamacare. This is a feeding program before welfare. Jesus understood. Look, in the context of the Roman Empire, Jesus was the poor Black one.
His ministry was about the taking the marginalized and putting them in the center. His ministry was about reversing the social order and making sure that everyone had enough. It is really a journey to the simple plans. It's a journey back home, back to the future, if you will, where reclaim the ministry of Jesus of Nazareth, Yeshua, Joseph's boy, Mary's baby, who was an outsider and whose ministry inside the empire was to disrupt the empire with love.
I believe that there are congregations across the nation who are being reignited, and Bishop Barbara is an example of that, Bishop [unclear] over there in California, right here, Michael Walrond First Corinthian Baptist. Lots of my colleagues understand that we've got to get back to Jesus if we're going to get back to love and really heal our world.
Kai: We're running out of time, and one of the main reasons I wanted to talk to you tonight was just to ask, because you are pastoring in this moment and it's been quite a moment.
Dr. Lewis: Yes, oh my God. It's a hot mess, Kai.
Kai: What are you hearing from your congregants, from your parishioners? What are you hearing in terms of their challenges in this regard, in terms of how they bring their faith to their politics?
Dr. Lewis: Thank you for that, Kai. Middle is very political and I think that the people who have found us, and by the way, we've grown by about 400 people now in the time of COVID, Kai, because people are looking for a place where they can walk their walk and talk their talk. The same amount of people who don't want to be political, there's a bunch of people who do and who understand that their faith and their practice of making a better America, a better globe, can go hand in hand.
What I'm hearing from people right now is sorrow about the way Christianity is tasked. Like the white nationalists, white supremacists, some of my people are embarrassed to say they're part of that. I'm grateful to you, Kai, for having us on the show tonight, because too often, the media feel tempted to only tell that story. That's a sensational story, but right there, look, our building burned down in December, totally burned down to the ground, our sanctuary and while the building was burning, women in my church, men in my church were tending to our neighbors next door who were also affected by the fire.
That's an act of politics. That's an act of faith. We're grieving that the church has been corrupted and poorly characterized as a white supremacist, white nationalist organization when in fact King's dream of the church is lived out at Middle Collegiate Church in Manhattan were all of God's children, Black, white Jews, and gentiles worship the same God and love well.
Kai: Dr. Jacqui Lewis is senior minister at Middle Collegiate Church here in New York City. Her new book, "Fierce Love" will be out later this year. You can keep up with her on her new podcast, Love Period, which drops on Valentine's day. Thanks for joining us, Dr. Lewis. Thanks to everybody who called in, apologies to those we couldn't get to, you can always email me at anxiety@wnyc.org, or keep up with me on Twitter @kai_wright. A special thanks to the New York City Municipal Archives for the wonderful recordings of Dr. King's speech here in 1964 that we played. Have a happy and I hope reflective holiday. I'll talk to you next week.
United States of Anxiety is a production of WNYC Studios. Jared Paul mixed the podcast version, Kevin Bristow and Matthew Marando were at the boards for the live show. Special thanks this week to WNYC's archivist Andy Lancet, and to the New York City Municipal Archives for the recordings of Dr. King's 1964 speech. Our team also includes Carolyn Adams, Emily Botein, Jenny Casas, Marianne McCune, Christopher Werth, and Veralyn Williams. Our theme music was written by Hannis Brown and performed by the Outer Borough Brass band.
Karen Frillmann is our executive producer and I am Kai Wright. You can keep in touch with me on Twitter @kai_wright. As always, I hope you will join us for the live version of the show next Sunday, 6:00 PM Eastern. You can stream it@wnyc.org or tell your smart speaker to play WNYC. Till then, thanks for listening. Take care of yourselves.
Copyright © 2020 New York Public Radio. All rights reserved. Visit our website terms of use at www.wnyc.org for further information.
New York Public Radio transcripts are created on a rush deadline, often by contractors. This text may not be in its final form and may be updated or revised in the future. Accuracy and availability may vary. The authoritative record of New York Public Radio's programming is the audio record.