How "Bich" Became "Beth" – An American Tale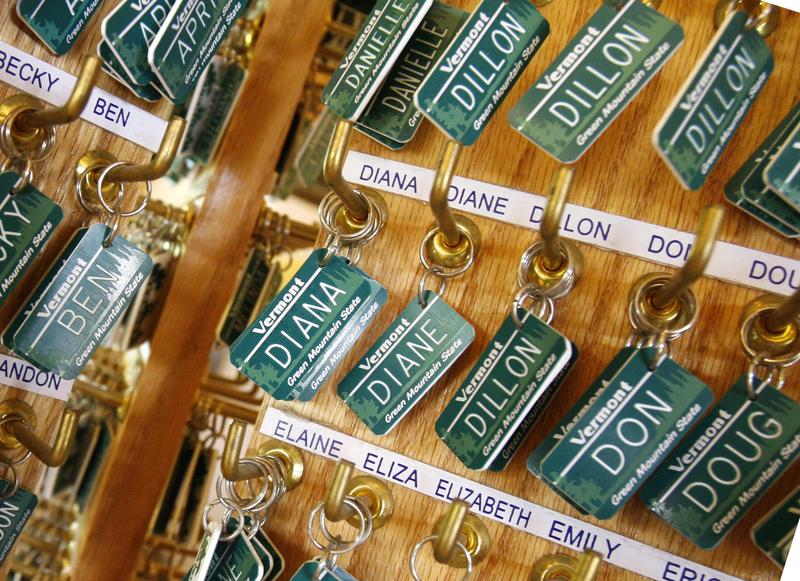 Transcript
[music]
Regina de Heer: Did you ever have a moment when you realized that your name convey something about you?
Sayla: I didn't really love my name as much as a child. I would question my family, "Why is my name Sayla?" I've never heard anyone with that name, but when I got older, I started to appreciate my name more because I felt like it was unique.
John: Well, my first name is John, but I don't go by John because there's so many Johns in the world. I go by Gordon.
Liz: I used to go by Lizzy and Liz when I was younger. I just go by full name now, mainly because I felt like it was a personality and people were assigning to me through my name.
Sophia: I think because my name is so common that you just know people by their last name, like Sophia A or Sophia B. I think my last name means a lot more than me too. Because my last name is ethnic, I think a lot about my family and where it originates from.
Devon: My mom always told me that she named me Devon because it wasn't a Black name. She experienced a lot of racism in her life and didn't want her children to.
Kai Wright: Welcome to the show. I'm Kai Wright. It's remarkable, just how much meaning are names carry, and history, as Devon was just saying. We think they're pretty great conversation starters here. We're going to talk about them in depth this week. The show is special to us because it is fully in response to something we heard from one of you, our listeners. It all goes back to another show we did about a month ago, I spoke with data journalist Mona Chalabi about the US census and what the most recent count revealed about the increasingly complicated relationship between people in this country and racial identity.
The second-largest racial category in the US now, as a result of that last census, is "some other race." We talked to Mona about that fact and the reality that a lot of people now struggle trying to place themselves in the traditional racial and ethnic categories. This part of race and identity has become quite fuzzy. We invited you all to share your stories and your reflections. To start tonight's show our senior digital producer Kousha Navidar is going to share some of those messages you sent. Hey Kousha.
Kousha: Hey Kai.
Kai Wright: People have been reaching out.
Kousha: Yes. If you're listening right now and you sent us something, thank you. It really does mean a lot to us. Like you said, Kai, we asked a pretty open-ended question. It was basically, "Do you have any challenge identifying yourself? What do you make of the fact that the category some other race has become such a popular option?" Here's what some people had to say.
Deborah: I think it's really because people of color, non-white people of color, don't want to be Black. In the United States Black people are the lowest rung in terms of power, et cetera. They can't claim white so they claim other. They're mixed of something else.
Linda: I have always felt that I am the other. I am Jewish, and with the uptick of antisemitism, I think we have to take another look at whether the Jews in the United States are white or are the other. That's something I struggle with.
Jason: Hi, my name is Jason. I live in Brooklyn. I'm half Lebanese, half white. I think ever since a really young age, I just perceived myself as a white person. It's really only in the last five or so years that I've started to see myself differently. Interestingly, I've also heard some friends refer to me as a person of color. I must say, I feel a little unsure about that. I'm not sure that that's accurate description of me. I also feel like there's other people who are more deserving of that category or who better fit that category. It's really murky and confusing. I just wanted to say that I really appreciate the segment. I really enjoyed your guests and I hope you continue to cover that topic.
Kai Wright: That goes in a lot of different directions Kousha, and it strikes me that part of the challenge here is people are being asked to rank themselves in a caste system actually that we don't really name in this country, but nonetheless quite exists. That's what I hear in our first message, that was from Deborah. It's also interesting how in the next two messages, that's Linda and Jason, they aren't quite doing what Deborah thinks. They're in this good faith struggle to place themselves and it's confusing because the whole thing is really just senseless in the end, but at the same time so relevant.
Kousha: I hear people trying to navigate where they fit in this idea of white, but it's not just about being labeled as white. It's about power and perceptions of power. There's one concrete way that came up for another listener. We got another voicemail that I thought was special.
Evan: Hi Kai. My name is Evan. I'm calling from Lincoln, Rhode Island. The part of the conversation that really stood out to me was the part about names and how that is used as a tool to either emphasize your race or maybe try to deemphasize it as a survival tactic. Now, I was born in Albuquerque, New Mexico. My mother's Black, and my father is white and Chicano. My mom has never confirmed this, but I think she named me Evan as a defense mechanism against racism. I do know that she's had a lot of trauma around race in America, but what really struck me about it is I'm now married to a White woman and our first child is due tomorrow and we named him Kendi.
Part of that was after Ibram X. Kendi. Part of it is just based on the meaning of the word in Kenya. I've really been thinking about the fact that I don't know what my child is going to look like. Is he going to look Black at all with this African name or is he going to look very white with this African name? What kind of implications is that going to have in his life? I really wonder how he is going to connect with the concept of race as it's shaped. I love your show and thank you for doing what you do.
Kai Wright: Evan, talk about burying the lead man. Shout out to Evan and baby Kendi. Wow. We got to tell Ibram Kendi about this.
Kousha: Anyone sent us a voicemail the day before their baby was born/
Kai Wright: I truly have no idea Kousha, but let's just call this a first.
Kousha: Is there a way to like send him a WNYC onesie, does that exist?
Kai Wright: It does exist. It's one of the most popular things in the WNYC swag bag. We are totally sending that to you, Evan, so check your mail.
Kousha: This voicemail has so much to unpack. How will Evan's choice of the name Kendi influence baby Kendi's life, his identity, even the way he perceives his race? It feels so personal too, Kai. For me, my name Kousha, I love my name and having a name that you don't hear very often that you can't really place. It's made it simultaneously a great gift and somewhat of a burden, like when people can only read my name and they don't see my face.
Kai Wright: Say more about that. What do you mean?
Kousha: Imagine you're in kindergarten and every teacher mispronounces your name the first day they meet you. You have to decide whether to correct them or let it slide. Imagine sending in a resume where they don't see your face and they don't know, based on your name, your gender, where you're from, except that part probably happens later than kindergarten, but just bear with me. Now, repeat that over and over again, with every new interaction that I've experienced and even the ones that happened when I'm not paying attention. It's really shaped the way that I interact in the world. It's in both good ways and challenging ways. Hearing Evan's voicemail made me think we should do a whole show on this.
Kai Wright: Sounds like we got an episode.
Kousha: Sounds like we got an episode.
Kai Wright: Today we're going to talk about our names. What's the significance and challenge of choosing a name for yourself or a child in a society where the name may signal things, frankly about caste, but generally about race and identity, good, bad and otherwise. I'll be joined by novelist and essayist Bich Minh Nguyen, who has written about her own journey with her name as a Vietnamese American growing up in the Midwest. She wrote an essay for the New Yorker called America Ruined My Name for Me. We'll talk about that. We'll talk about her other work and we will take your calls. What does your name mean for you? At what point did you realize that your name meant something to other people that maybe you had to deal with? We'll get started right after a break, stay with us.
[music]
Kai Wright: Welcome back. I'm Kai Wright and we're talking about our names this week. Beth Nguyen arrived in the United States as a young child. Her family fled Saigon during the Vietnam war and, after passing through a series of refugee camps, finally settled in Michigan, where she grew up in the 1980s in an area that she describes as deeply conservative and mostly white. At the time her name was not Beth, but as she wrote in her New Yorker essay about a year ago, at some point she decided that her life would simply be better if she stopped using her given Vietnamese name and instead went by Beth.
She's now a celebrated author. She's written two novels, Short Girls and Pioneer Girl. Her memoir is called Stealing Buddha's Dinner. It tells her story of trying to find a place for herself in US culture. Beth, thanks so much for joining us.
Beth Nguyen: Hi, thanks for having me.
Kai Wright: Can we start with your given Vietnamese name? The fact that people around you couldn't pronounce it was one of your first big experiences with feeling like you were uncomfortably different as a little kid. I have probably pronounced it three different ways already, your last name, at least in the course of this show. That would be an example. What's the proper pronunciation of your given name? I gather there's actually no correct way to say it, or there's a few correct ways to say it. Let's start there.
Beth Nguyen: Well, my given first name, spelled B-I-C-H, has an accent mark over the I so that it really should be pronounced Bich but most people just say Bic, like B-I-C. My last name, which is the Smith of Vietnamese names, is Nguyen. Most people say Nwyen or Wyen. Neither is correct, but both are acceptable somehow to all Vietnamese Americans.
Kai Wright: We try. When did that name, your first name, began to feel like a problem for you? You were quite young, right?
Beth Nguyen: From my earliest memories of being in school.
Kai Wright: Tell me more about that.
Beth Nguyen: The roll call is a source of trauma for me, and I read an article a few years ago that said that students who are exposed to prolonged mispronunciation of their names when they're very young do internalize a form of trauma. I read that piece and that really resonated with me because I realized, "Yes, that was me." The lengths that I would go to starting from kindergarten to stop teachers from saying my name out loud, because they were always going to say it wrong, or it was always going to be an embarrassing moment for me. I just feel, I can even feel right now, the stress and anxiety that I felt back then.
Kai Wright: That embarrassment, was that about something that was happening for you or about the way that other students reacted when the teacher mispronounced your name?
Beth Nguyen: It was completely my own problem because I was alone as a Vietnamese refugee in a mostly white school in a mostly white environment. I was absolutely the odd person out. This being the deep 1980s, I've absolutely internalized everything negative and assumed that it was all my fault and everything was mine to bear. I just carried around a lot of shame about who I was and what my name was, trying really hard to be like everyone else, knowing that that was completely impossible. That started with my name. I could never present myself as even pretending to be like my friends because of my name.
Kai Wright: You wrote in your essay describing that, "It didn't just make me stand out, it made me miserably visible." That really strikes me, that phrase, "miserably visible." We talk so much about the need for visibility and you're saying, "Actually my visibility made me miserable."
Beth Nguyen: Well, visibility can go both ways in that. Now everyone wants to be represented and wants to be visible, but when you are completely outnumbered, it can be a real danger and liability. That's what I felt back then.
Kai Wright: It's not uncommon for people in immigrant families in particular to take an Anglicized nickname, to have one name at home and another at school. I gather that was a first thought that your parents rejected, that they didn't want you to do that. Is that correct?
Beth Nguyen: That is correct. A lot of people that we knew with complicated names did have two different names. My family was against it. I don't disagree with them. They wanted all of us to be proud and just state who we were and not back down. I see the logic. I really do, and I support it, but as a kid going through it, it was really, really hard. What I felt was that I was stuck between wanting to please my family and wanting to please my friends and just knowing that whatever choice I made would be a form of betrayal.
Kai Wright: Did they literally tell you that as a kid, like, "You should be proud of this. We got to stand up in this mostly white neighborhood." Is that what they said to you? How did you process that as a kid?
Beth: Well, they weren't that nice about it. [laughter]
Beth: It was mostly like, "No, who do you think you are?" Those were tougher times, back in the early '80s. We were just trying to get by, trying to survive. Trying to make a sense of home. I just don't think my family had just-- They just didn't have time for that nonsense. The nonsense of feelings. I'm not from that generation of feelings, which is the now generation of feelings. We were just having to go about our business. I really learned to keep all of those feelings to myself.
Kai Wright: Well, your family had been through a lot too and we'll talk about that in a second.
Beth Nguyen: Exactly.
Kai Wright: Is there any cultural significance to your name in Vietnam that they were holding onto? What would it have been like to be in if you had been in Saigon as Bich Minh Nguyen?
Beth Nguyen: Bich is a really common name in Vietnam and it's considered a beautiful name. It's like a form of Jade. I've met quite a few other people name Bich now over the years. It's quite common. When they named me, they didn't think that they were giving me a strange name or that they were burdening me in any way.
Kai Wright: Let's hear your family's story a little bit because I think that's relevant for where they were coming from probably, too. You arrived in Grand Rapids from Vietnam, you had been through quite an ordeal. in your memoir, you share the experience of your father trying to find a way for you and your family to escape Saigon any way he could. What did he tell you about that journey? What was his experience?
Beth Nguyen: I was a baby when we left, but it was literally the night before the end of the war. It was April 29th, 1975 and it was luck, desperation, chance. My father had been in the army and so it had his brothers and they just had to find a way out. We were refugees and we had the refugee experience of casting out into a river, into an ocean, and very luckily getting picked up by a Naval ship, a US Naval ship. We were in refugee camps in the Philippines and Guam, and then in Little Rock, Arkansas, until we were sponsored by a church group in Michigan, which is why we ended up there. Nobody knew what was going to happen, even in 1974 when I was born.
That's something I think about a lot, which is the circumstances around us change all the time and that the decisions we think are so great right now, they will feel different very soon perhaps.
Kai Wright: It's really profound. Eight months' time, they just had a totally different understanding of what their future was going to look like.
Beth Nguyen: I know. It was like they had been through hell. They had been through a lot. They were processing a lot of violence and actual traumas. My small problems about my name, even then I knew it was just not something that was important compared to what my family, as a whole was going through.
Kai Wright: How do you think your tensions with your name impacted your life? First off, were there any positives, by the way, as a kid? Before you changed your name and you were going by Bich still? Were there any positive parts of that?
Beth Nguyen: I didn't change my name until I was in my 30s. I've lived more of my life as Bich than I have as Beth. I think the positive in hindsight is that I became a writer. Although, as I'm saying that, I'm like, "Is that a positive?'
[laughter]
Beth Nguyen: I don't know. Not sure. Not sure. I could have just been a happy reader. I do think it made me very, very self-conscious and I was self-conscious anyway, and very introverted and having a name like mine that required me to have so much explanation, honestly, just made me not go anywhere. I was like, "I don't want to, I don't want to meet people. I don't want to go anywhere. I don't want to have this conversation. I can just stay at home and read and write. I don't have to explain that to myself or to anybody." I do think it set me on a certain kind of path. I don't regret it in any big way. I just, I think about it though, as something that shaped my consciousness.
Kai Wright: We have one caller who's asked one of our producers, "If you have a challenging name, don't people just ask you how to pronounce it?" I think underneath that question I can hear like, "Why is it such a big deal for you to have to say how to pronounce your name?" Can you help people understand why that's such a big deal?
Beth Nguyen: You would think that that would be true, but in fact almost nobody does that. Very, very few people actually have ever said, "How do you pronounce that?" They usually make a comment. They make a joke. Almost always, they make a joke. The most expected joke you can imagine is what they usually say. Or they say something that is derogatory or slightly embarrassing. It's something always awkward to deal with. Almost nobody has ever just said, "How do you pronounce your name?" without commenting on, "That's a weird name? What kind of name is that?" The neutrality of, "How do you pronounce your name?" I would welcome. That's what I try to do now when I meet people, is to ask them how they pronounce their names.
Kai Wright: It was always set up as an othering device when presented to you. As a young person, were you aware of the way race and ethnicity played into that? Or did you feel like, "I'm just different, people are just treating me differently?"
Beth Nguyen: No. I was very aware, very aware. Also my earliest memories of school are of racist comments. Those are so obvious, especially when they're directed at people of Asian descent. The being made fun of for how I looked and what my name was just would carry on, toward the things that we ate or the way that people would talk about things that we ate or presumed that we ate and things like that. I knew from the start that it wasn't just that it was an odd word, but that it was absolutely tied to my being Asian and specifically being Vietnamese, which represented a huge loss, a loss of a war.
When I was growing people all the time would say that I was to blame. They just assumed that my family was on the "wrong side" of the war, which obviously makes no sense because why would we be refugees in the United States? There was just a lot of confusion.
Kai Wright: At what point did you decide to become Beth instead. You said in your 30s, right? Tell me about that moment. What led to that?
Beth Nguyen: I was so tired. [laughs] I was so tired of having to explain and I thought it would get easier as I became a so-called grown-up, but it didn't at all .The same comments, the same questions. It got easier with my last name. I remembered simply when people at airports started saying Nguyen or Guyen, that a wonderful moment, but it never got easier with my first name. Then I was pregnant with my first child. I realized that if I keep going by this name, Bich, my children will have to deal with it. They will have to deal with the second-hand experience, the second-hand shame and embarrassment possibly, that I dealt with. I just couldn't go through that again.
Kai Wright: Wow. Did this shape then how you named your own children?
Beth Nguyen: It absolutely did. Yes. My children have very simple names. Nobody can get them wrong. They're simple to just spell, straightforward, and that's exactly what I wanted. Just the ease of the naming is, to me, a source of release, but it's also just a way to be slightly anonymous. I know that a lot of people don't want to be anonymous. I think it's weird for a writer to even talk about being anonymous, but there's something, to me, so wonderfully anonymous, but a name like Beth Nguyen. It just fades into the background.
Kai Wright: I was going to ask you about why Beth. I guess that's why. You deliberately chose the most, no shade to anybody named Beth out here, but you deliberately chose something that felt really boring to you.
Beth Nguyen: I felt like the name chose me because over the years I had tried out a lot of names that I genuinely liked. If I had chosen my name when I was in fifth grade you'd be talking to Tiffany right now, perhaps, or Anastasia.
Kai Wright: Anastasia is a great name.
Beth Nguyen: I had a real interest in dramatic names. I knew, I looked in the mirror. I was like, "I'm not Anastasia. I can't even fool myself. I can't pull off Anastasia. I'm the ordinary-looking kind of girl." Over the years I would take on the Golden Girls' names, that was a big one for me. I would be Sophia, Rose. Blanch and Dorothy are harder to pull off if you're Asian, honestly, but Sophia was a good one. Then just one day, just the name Beth occurred to me. I was like, "Whoa, why didn't I not think of this before? Starts with a B, four letters, totally ordinary, forgettable."
Kai Wright: Is there any regret to that? I mean, I know that one thing you wrote in your essay that struck me is that the people who ask you this kind of question that are saying like, "Why would you change your name? It's so beautiful," are mostly white. Which is striking to me. Do you wrestle with it in any way? You sound so clear that like, "No, what I needed to be was Beth."
Beth Nguyen: I do not wrestle with it. No. Life became so much easier the minute I started calling myself Beth. I became just less stressed out about every introduction. Nobody questioned me. That was the funny thing. In the back of my mind, I thought I would introduce myself to somebody and they'd be like, "Well, what's your real name?" Then I realized, "You just tell somebody and they have to believe you." The more I said it, the more real it became. Just like that, I just felt like stress my stress level lowered. I don't struggle with it at all. It also makes me feel like I have more than one identity, which I really love.
Kai Wright: Are your parents still alive? How did they react?
Beth Nguyen: Yes. My family still calls me, they still call me Bich. That's fine by me. In fact, I told them when my dad, he actually read that New Yorker piece. After he read it, he was like, "Should I call you Beth?" I was like, "No, dad, that would be actually really weird. Please don't. It would be really strange." I feel like it's just my family who can call me Bich and it feels normal and good.
Kai Wright: I understand that the response you got to your New Yorker article was striking to you, that you received really a strong response. Can you characterize it? What kind of things did you hear?
Beth Nguyen: I did. I was overwhelmed. I received hundreds and hundreds of messages and emails. Some of them were so moving and powerful and people told me secrets about their anguish and their lives. I just, I was really moved that people took the time to tell me their story. The majority of the emails I got were just wonderfully beautiful messages. There were some really angry ones as well. I try not to dwell on those so much.
Kai Wright: Angry at you for changing your name?
Beth Nguyen: Yes. Race betraying, that kind of email. "Who do you think you are?" kind of emails. "You're nothing special, who cares?" Then a lot of people were really mad about the title. It's not my title. It is a slightly aggressive title, but I didn't choose it. Some people were really mad about that the whole, like, "America didn't ruin anything for you. You should be grateful to be in America." I was like, "I never said I wasn't."
Kai Wright: Well. "Stop ostracizing me by my name is what I said. Here we go again." I'm talking with Beth Nguyen about her chosen name today and how her given Vietnamese name shaped her life as a kid growing up in a largely white conservative Midwestern town. We'll take a break. When we come back, we'll start taking your calls. What does your name mean to you? At what point did you realize that it also meant something to other people? Our first caller is going to be my mom, who I've asked to tell the story of my own name. Stay with us.
[music]
Kousha: Hey everyone, this is Kousha, I'm a producer. Earlier you heard Kai mention a previous episode that started the conversation you're listening to now. That episode was from last month, February 21st. It's called Why so many are Stuck in the Other Box. We talked to a data journalist Mona Chalabi about how defining your own race can be complicated, like what counts as white, or what if the boxes don't fit at all?
Mona Chalabi: I could either choose the thing that feels closest, which is really bizarre to be choosing between white, Black and Asian when you're Arab, or I can select other, or I could just not participate, which is something that a lot of people choose to do.
Kousha: You can check out that episode where ever you listen to your podcasts. Seriously, send us your voicemails. Sometimes they're inspiration for entire episodes. Messages under a minute are best. You can record yourself on your phone and email us. The address, it's anxiety@wnyc.org. Again, anxiety@wnyc.org. Thanks for talking to us. We couldn't do this without you. Talk to you soon.
[music]
Kai Wright: Ma, first off, say hello.
Kai's mom: Hello.
Kai Wright: That's my mom. I called her up this week to ask about my name. Both me and my older brother, his name is Kobe, we both got names that very much reflected my father's passionate pan African politics.
Kai's mom: Melvin was insistent on having African names off some sort for our children. I said, "That's okay, as long as they can have a middle name that I choose then we're fine." We lived in Washington DC at the time, my first pregnancy. We went to this African bookstore and we got, it was a brown book. I don't remember the name of it but it was a brown book that had African names in it and they had in the book what they meant. Kobe's name meant warrior, Kai meant remember me, which I thought was sweet because it says remember me because we'll always remember Kai.
Kai Wright: It's sweet now as an adult, but as a little boy, I was like, "I want to be warrior. I don't want to be remember me."
Kai's mom: [laughs] They certainly fit there because my oldest child is more of a warrior.
Kai Wright: It's true. Now that's a fact. That's a fact. How did you feel about these African names?
Kai's mom: I was reluctant at first but I told Melvin, I said, "Here's the thing." We talked about it. I said, "I have no problem with it as long as the African names are not anything that are long and drawn out. some just complicated, some they can't spell." We were fortunate to agree with that. Melvin didn't have a problem with it. He just wanted to make sure it was African names.
Kai Wright: What was your problem, it was just that the people would find it hard to say?
Kai's mom: More than anything I didn't want my children to have trouble with a name that they would have to try to pronounce. If they would have trouble with it, then somebody else would and I didn't want my children to have to go through people trying to figure out how to say their name. I didn't want them to have to deal with that. That was it. A name like Kobe and Kai is easy to say. It worked out well because Kobe Melvin Wright, Kai Malcolm Wright.
Kai Wright: It's got a rhythm.
Kai's mom: It had the flow. It had to flow. It didn't take us long to agree on those names but main thing is that Melvin had to have African names because he was very, very, very, very, very much into this Black thing.
Kai Wright: [laughs] This Black thing ma is that what you just--?
[laughter]
Kai's mom: This African thing.
Kai Wright: He was.
Kai's mom: We had a lot of African, everything in our home like our curtains, our drapes were. African. We had African figurines in the home. That's how he was so that's what we had.
Kai Wright: My daddy liked Black stuff.
Kai's mom: Yes, he did. He wore afro and I wore afro and our children wore afro. Had thick hair, remember?
Kai Wright: Yes, I do. I'm going to leave it there ma, we've got to let you go.
Kai's mom: Bye, hun. Bye-bye.
[music]
Kai Wright: That's my mom telling the story of my name. She shared Beth's concern with a complicated name. Luckily, it all turned out. Novelists and essayist Beth Nguyen is still with us. She already told us the story of both of her names, both her given Vietnamese name and the name she chose for herself. Beth, I appreciate you sticking around while we hear from some of our listeners. Sound good to you?
Beth Nguyen: Yes.
Kai Wright: Let's start with Jamani in Prospect Heights. Jamani, welcome to the show.
Jamani: Hey, thank you so much, Kai. I love your show.
Kai Wright: Thank you. What's the story to your name and when did you start to think about it as something that meant something to other people as well as yourself?
Jamani: It started, I was living in LA. I'm a filmmaker and I told your producer briefly, I was at this nondenominational gatherings by Michael Beckwith Agape Center of Truth in Santa Monica. My girlfriend was wearing this goddess ceremony, and then they invited us in, the two boyfriends. In this place, they were doing different things, and then one of the women who were setting up this goddess ceremony had a vision and she gave me this name. She said that she was given this name to give me and it was Jamani. I didn't embrace it at first but every Sunday we'd come to this nondenominational place, actually it's a pretty cool place in LA. Oprah goes there, a number of other people go there.
The point is that women started, at this nondenominational place, used to call me the name. I started to, little by little, embrace it. My original name is John William Layton Perry III.
Kai Wright: Oh my goodness.
Jamani: My dad was John Perry, and I'm just growing up in Brooklyn, a musician and stuff like that. The point is that when I started to embrace it turns out in Swahili it means oh God. It was just a trip because my mom is from Jamaica, the Jamaican thing. They were like, "What is this?" They did not accept it and it created a lot of family stuff. What happened was, I won an award as John Perry for a film I directed, and Avi Davis gave me the award. Then my oldest brother says, "You can't change your name." Literally, to this day, my brother is like, "I can't believe you are still using Jamani because Sony and Hollywood has recognized you as John Perry, and your name has been branded." You get what I'm saying?
Kai Wright: I do. Jamani, that is quite the story. Thank you for calling. Let's go to Nikolas in New Jersey. Nikolas, welcome to the show.
Nikolas: Hi, thanks for taking my call.
Kai Wright: Thanks for calling. Go ahead.
Nikolas: I was listening to your episode and had thoughts rolling around in my head about my last name, which is Krychowiak. It is a Ukrainian last name and it's always been a point of contention for introductions and have even been told once or twice that I'm pronouncing the name incorrectly.
Kai Wright: Your own name?
Nikolas: Yes. Now, the person who was telling me that I was pronouncing it wrong was not Ukrainian, and so consequently I don't really talk to them all that more because I asked them to respect and they did not. Going even further back than that. I have family who are over in Ukraine and they talked to me about how they pronounce the last name versus how we pronounce it in the US, and how it's been Americanized. Usually, it's pronounced Krychowiak whereas in the US we say Krychowiak, pronouncing the W instead of the W as a V.
Kai Wright: Thank you for that testimony, Nikolas. Let's go to Kim Marie in Hell's Kitchen. Let's see if we can learn as many name stories as we can here. Kim Marie, welcome to the show.
Kim Marie: Hi, thanks so much for taking my call, Kai. I moved to New York from Boston in 1986 as a young person. I had my father's last name that I wasn't necessarily very attached to, but it was just my identity. Then being a performer, you get different jobs all the time so I was always in different rooms with different people who didn't look anything like me and it really changed the course of my life to be able to do that. I was a teaching artist for a really long time then I became a full-time teacher in 2015. I had this name that was very specific to me, an Irish last name. Almost like I had the privilege to be able to think about it in this way.
When I was little, I thought that there were chickens on the farm and then they were the chickens that you eat. I thought that my last name was an Irish last name, but this verb that was my last name was something totally different. Then in 2019, I have a Ibram X. Kendi inspiration as well. I read How to Be Antiracist and I got to the part in the book where he talks about this king and his middle name being Philip and then he very simply said in the book, "Philip had to go." Right when he said that the light turned on in my head and I thought "Lynch has to go."
I'm in the midst of getting it changed legally but I started a new job in 2019 where people started calling me Miss Elle the kids started calling me Miss Elle like the letter but I spell it E-L-L-E because a lot of the work that I do is around equity with women and feminism. That was how, I wanted to change it to something that the only reference would be me. That's my story.
Kai Wright: Thank you Kim Marie, taking control of your name. Let's go to Tim in Brooklyn, Tim welcome to the show.
Tim: Hi Kai. Kai is a great name, no doubt about it.
Kai Wright: Thank you. Tim is a pretty good name too. Short, sweet, clear.
Tim: Thanks Kai. My father came from Japan shortly after World War II and there was still a lot of stigma around being Japanese. He could pass for Southern European perhaps. He changed the family name which is Kawaguchi, which is a beautiful name, means bridge over the great water I believe. He changed it so that it was ambiguous, K-O-H-C-H-I, what the hell is that? He did that because he was trying to avoid the discussion and the possible stigma and the racism and the discrimination against Japanese people. I own that name as a testament to, a memory to, and a tribute to those who endured that treatment and as a reminder of that reality.
Kai Wright: Thank you so much for that Tim. Let's squeeze in one more. Rommel in here in New York. Rommel, welcome to the show.
Rommel: Hi, thank you so much for taking my call. A lot of what you guest said, a lot of what Beth said resonated a lot for me. I'm also an immigrant, I came here in the '80s. I was eight years old when I came here. My name is Rommel and that's spelled R-O-M-M-E-L. I'm so used to spelling it every time I introduce myself. Erwin Rommel actually was a general for the Nazi army during the war. I was named after him apparently because my father thought that he was, I asked him years later, "one of the good Nazis." His reasoning was that he tried to assassinate Hitler. He was misinformed. I think Rommel knew of the plot to assassinate him but did not actively participate in it. I think the only thing he did was stay quiet about it.
The funny thing is I didn't really think much of my name except that in the way and when I was introduced and people really actually looked at me a little bit differently and couldn't pronounce it, until it was maybe about in my teens, early teens. You can imagine how strange it was, I'm from El Salvador, and a kid from El Salvador is newly immigrated to the US and learns about a little bit about who he was named after. I'm seeing this guy in his 50s and he's commanding tanks across the Sahara Desert. It was a very odd experience for me and the name brings up controversy even to this day.
Obviously some people will say "Rommel, you must be proud of that." In actuality, I always follow it up with, "No relation." Even though I'm six feet and I'm very, very light skinned and have very light hair. A lot of times they'll look at me twice and they say, "You're from El Salvador?" They say, "Did your parents immigrate there in the '40s?" they always think that there's some story behind there but I'm 100% Salvador and 100% Latino. I just carry his name with me.
Kai Wright: Thank you so much for that story Rommel. Beth, in these last few minutes before we let you go first off, did you hear anything in any of these calls that resonated with you or that you want to react to?
Beth Nguyen: I just am always moved by how names are so personal and they're so signifying of deep family histories. First name or last name, everyone has a story that they want to tell about their names and I'm here for that. I want to hear everyone's ups and downs about their names. I was just thinking about how I once had a landlord named Michael Jackson, and he had a lot of feelings about that.
Kai Wright: I bet he did. I wonder, you alluded to this earlier. Now as a celebrated author, a mother, a professor, in a time in which people in those roles are just really encouraged to live their full selves. We're all encouraged to bring our full selves to our jobs and our professional lives. I just wonder how your life experience struggling with bringing your own full self and having changed your name to Beth, how that feels in today's cultural context to you?
Beth Nguyen: I am generation X.
Kai Wright: Me too.
Beth Nguyen: If you are a person of color growing up as gen X, we were told to hate ourselves and now we're supposed to love ourselves. That's a pretty big turnaround and it's been difficult for me to go from one extreme to the other. That's what I'm still struggling with but I teach and I want my students to love themselves. I want everyone to love themselves but I also know that that's not my history at all because I am from a different generation that internalized a lot of terrible feelings. That's the thing that I need to deal with. That's the thing that names can bring up for a lot. of us, which is how shame is a powerful force but the fear of judgment is maybe even stronger.
Kai Wright: Beth Nguyen is author of the memoir Stealing Buddha's Dinner as well as two novels. We'll have a link to her essay in The New Yorker from last year in the show notes for this episode. Beth, thanks for joining us.
Beth Nguyen: Thank you so much.
[music]
Kai Wright: Before we wrap up we of course had to call up the listener who started this whole conversation. Evan, are you there?
Evan: Hey, Kai how you doing?
Kai Wright: First off, thank you very much for sending your voicemail to us. You can see all that it has inspired. I guess the obvious question is how is little baby Kendi? Did you in fact go with that name?
Evan: Yes. Kendi is doing great. His name is Kendi Quinn. He'll be four weeks on Tuesday and he came out eight pounds, nine ounces. He's 10, 10.5 now so he's just growing so much and we are thrilled to have him.
Kai Wright: In the end do you feel like the name fits him?
Evan: Right now, yes. This episode is really helpful in just confirming that we did a good choice with the name Kendi. I'm looking forward to the life that he lives regardless of what connotations that name gives him.
Kai Wright: I have seen pictures, I must reveal, and Kendi is a gorgeous child.
Evan: Thank you so much.
Kai: Congratulations to you and your family. We'll leave it there. Thanks so much, Evan, for both listening and talking back to us. Happy life Kendi.
Evan: Thanks Kai.
Kai Wright: Thanks to everybody who called in tonight. If we didn't get to you and you still want to chime in please do record a voice memo on your smartphone and email it to us at anxiety@wnyc.org. That's anxiety@wnyc.org. United States of Anxiety is a production of WNYC studios, our theme music was written by Hannis Brown and performed by the Outer Borough Brass Band. sound designed by Jared Paul. Milton Ruiz was at the boards for the live show. Our team also includes Emily Botein, Regina de Heer, Karen Frillman and Kousha Navidar and I am Kai Wright.
You can keep in touch with me on Twitter @Kai_Wright and of course you can join us for the live version of the show next Sunday 6:00 PM Eastern. Stream it @wnyc.org or tell your smart speaker to play WNYC. Until then, thanks for listening take care of yourselves.
Copyright © 2022 New York Public Radio. All rights reserved. Visit our website terms of use at www.wnyc.org for further information.
New York Public Radio transcripts are created on a rush deadline, often by contractors. This text may not be in its final form and may be updated or revised in the future. Accuracy and availability may vary. The authoritative record of New York Public Radio's programming is the audio record.