How Assata Shakur Became One of America's Most Wanted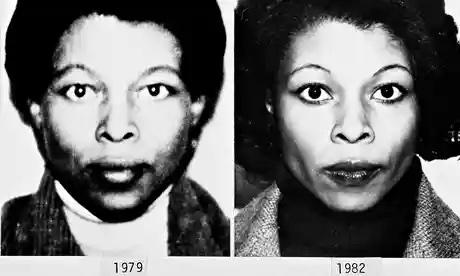 Transcript
Kai: It's Notes from America. I'm Kai Wright. In our show last week, we had a conversation about guns and fear. There is a recurring theme and stories about anti-Black violence. Whether it's the kind of police violence that killed George Floyd or the vigilante violence that was directed at Ralph Yarl. Over and over, we hear about a deep irrational fear of Blackness. But in our conversation last week, we also talked about the fact that at points in our history, Black people have responded to this fear by arming ourselves as well.
For as long as Black people have been in these United States, there have been thinkers, and leaders, and movements saying, "Hey, at minimum we have got to defend ourselves against this madness. We need guns too." The outcome has been complicated. This week, we're thinking about one particularly complicated story in the history of Black self-defense movements.
50 years ago in May 1973, three Black activists were pulled over by state troopers on the New Jersey Turnpike. Tragically, guns were fired and people were killed. In the aftermath, which we have to say is ongoing really, one of the Black activists involved, Assata Shakur, became a cultural icon to many and to an enduring political villain for others. My WNYC colleagues, Nancy Solomon and Tracie Hunte, have been looking at this moment in our history and the many unanswered questions it raises and they're going to share their reporting with us. Nancy sets the scene.
Nancy: We start with what we know about that night. On May 2nd 1973, Shakur and two other members of the Black Liberation Army are driving a 65 Pontiac south on the New Jersey Turnpike. State trooper James Harper stops them for a broken taillight. Another state trooper, Werner Foerster backs him up. Shots are fired. The passenger in the backseat is fatally wounded and the trooper, Werner Foerster is also killed. Assata Shakur and the second trooper are injured.
James: I was just ready to go to bed. I'd call about eleven o'clock. "We had a shooting of a trooper on the Turnpike. Jim, you have to come out here right away."
Nancy: James Challender is a retired New Jersey State police detective. He heads out to the turnpike immediately and finds a bullet-ridden car abandoned alongside the road. The back window is shot out.
James: As I got out of my car, I walked into the weeds and there was a Black man lying there with a state police gun under his body.
Nancy: Zayd Shakur, the passenger who'd been in the backseat of the car lay there dead.
James: And another state police detective was there. Next thing, we said, "There she is in the woods." We came and we arrested Joanne Chesimard, she had been shot. She was screaming in pain and everything.
Nancy: Challender says he went with her to the hospital and processed the physical evidence there.
James: There was only one person in that shooting scenario that had AB negative blood and that was Werner Foerster. That came to be an important factor in the case because part of Chesimard's clothing, especially her socks, were saturated with AB negative blood, which was Werner's blood.
Nancy: Assata tells a different story. She says her friend driving the car got out to present his ID to one trooper. The other officer came to her window on the passenger side. He asked her where they were going and then suddenly told her to put her hands where he could see them.
Assata: He had a gun in my face and I put my hands out like this and in a matter of seconds, I was shot. It was like a nightmare. It was like--
Nancy: Assata was just 25-years-old. For me, the big question is how did she even end up in that car on the New Jersey Turnpike? What were the forces that put around that path? Assata was born Joanne Byron in 1947. She was an only child and she grew up in Queens with her mother. After high school, she worked a few office jobs, got married and became Joanne Chesimard. It's at Manhattan Community College that she meets Black activists for the very first time.
Assata: It was like an awakening. Here were these Black people and they was talking about [unintelligible 00:04:44] and Africa and it made me feel alive.
Nancy: She got involved in student government and community organizing. During this time, the Black Panther Party is gaining momentum in Oakland. They cut a striking image, black leather jackets, black berets and guns. They said they carried guns to protect their community from the police.
Crowd: [singing] No more pigs in our community.
Off the pigs.
No more pigs in our community.
Off the pigs.
Nancy: One of the founders of the Black Panthers, Eldridge Cleaver, explained they had a 10-point program for improving the lives of Black people.
Eldridge: We wanted an end to police brutality and the murder of Black people by the police. That was point number seven. It turned out that we really didn't have time for anything but point number seven.
Nancy: When the Black Panthers set up in New York City, Assata joined them. She volunteered with the Free Breakfast Program and worked on several education projects. Immediately, they were under surveillance by the police department and COINTELPRO, an FBI program that infiltrated, disrupted and attacked civil rights organizations. The police killed Fred Hampton, a leader in Chicago and the NYPD arrested 21 Black Panthers in New York. Assata left the Panthers and formed the Black Liberation Army, a group that believed it should fight violence with violence. During this period, her apartment was raided by the police and she disappeared underground.
Lennox: Now, the FBI carried out a campaign targeting not only the Black Panther Party, they targeted SCLC, they targeted Martin Luther King.
Nancy: Lennox Hinds, a longtime attorney for Assata Shakur argues that her story must be understood as part of an overall attack against the Civil Rights Movement. He spoke on the news show, Democracy Now in 2013.
Lennox: They targeted Harry Belafonte. They targeted [unintelligible 00:06:48], they targeted anyone who supported the struggle for civil rights that they considered to be dangerous. It is in that context, we need to look at what happened on the New Jersey Turnpike in 1973.
Nancy: At that time, the NYPD suspected her in several bank robberies and the attempted murder of two police officers. After her capture, she was found innocent of the robberies and the attempted murder charges were dismissed by a judge for lack of evidence, not so in New Jersey. As far as the state police and prosecutors were concerned, when they found Assata shot by the side of the Turnpike, they had Werner Foerster's killer and they had a trooper who survived the shooting as their key witness.
Assata: In 1977, I was convicted in a trial that can only be described as a legal lynching.
Nancy: It was an all-white jury and she was sentenced to life plus 33 years.
Female Speaker: Good evening. Joanne Chesimard, who is serving a life sentence for the murder of a New Jersey state trooper escaped from the Clinton Women's Prison today.
Male Speaker: At about three o'clock this afternoon, two armed men managed to walk right into the prison and they got Joanne Chesimard out. Chesimard and her accomplices took two guards hostage and commandeered a prison van.
Nancy: They quickly abandoned the van and released the guards.
Assata: I escaped. It was a clean escape. No one was hurt. I planned it as well as I could plan it and that's all I got to say about it.
Nancy: Assata surfaced in Cuba just a few years later. In a TV interview with the journalist Gil Noble, Assata says she didn't even have Castro's permission before arriving.
Assata: I came and I said, "Well, here I am. Now you all got to make a decision and [unintelligible 00:08:45] can do, because you can't call him, uh, hi, can I come down?" [laughter] That was impossible.
Nancy: She was granted political asylum and in 1987, she released her book, Assata: An Autobiography. More than half a million copies have been sold and it has inspired several generations of Black women.
Donna: I read her book when it first came out and for me, it was just transformative.
Nancy: Donna Murch is an associate professor of history at Rutgers University.
Donna: I'd gone to very Conservative Catholic schools in Western Pennsylvania. I didn't have a Black teacher until I went to college. Assata, in the late 1980s for me opened up a whole different way to understand Black liberation.
Nancy: It was the middle of President Ronald Reagan's second term and the promises of the civil rights movement had yet to materialize.
Donna: A third of Black people are living under the poverty line. You heard the crack crisis, the war on drugs, so it was a really painful time.
Nancy: In the midst of all that, she found Assata Shakur.
Donna: Her conviction, and then incarceration, and her own refusal to give in. She- -did the impossible, which is to escape the prison system in the United States and to become a political exile who retains her voice in Cuba. She's literally a symbol of liberation.
Nancy: Murch says that's why we're still talking about her. She wrote the book, Assata Taught Me, about how current-day Black activists are trying to continue her legacy.
Donna: So many of the different organizations in Black Lives Matter, they start their presentations or they start their meetings with a poem from Assata. "It is our duty to fight for freedom. It is our duty to win. We must love and protect one another. We have nothing to lose but our chains."
Nancy: But Assata's status as a hero is a painful subject for many in New Jersey who believe she escaped justice and nowhere is that more true than state police headquarters in Trenton.
Kai: It's Notes from America. We'll be right back.
Kousha: Hey everyone, this is Kousha. I'm a producer. I want to ask for your help on an upcoming episode. Notes from America is partnering with KOSU, that's Oklahoma Public Radio. We're making an episode about reparations for survivors of the Federal Indian Boarding School Program and we'd love to hear from our listeners in the Native community about your own experiences and perspectives.
Specifically, here's what we'd like to know from you. Do you think the federal government should provide reparations? If so, what would those reparations look like for you and how should they happen? Would it be directly paying survivors for the harm or would it be more investment in Native education? If not, what do you think would best serve this community right now?
We'd love to get a voicemail from you. You can record it right on our website. Just visit notesfromamerica.org and click on the green button on the website that says Start Recording. You can also record yourself on your phone and email us. Our email address is notes@wnyc.org. However you talk to us, we hope to hear from you and potentially to use your message in this upcoming episode. Thanks as always, and talk to you soon.
Nancy: When I met with the retired trooper, James Challender, he gave me a tour. There's a plaza with the names of troopers engraved on bricks, historic relics, like an old police car and they've created a small museum.
James: This is the Hall of Honor here.
Nancy: The Hall of Honor, a long corridor with photos of every trooper who's died in the line of duty. There are a lot of them.
James: Bobby Miranda, he was killed on the turnpike. Tommy Dawson, who was a narcotics detective, got killed in a car accident. There's Phil LaMonica. He was killed by the terrorists. Oh my God. All these guys. Here's Werner Foerster.
Nancy: Werner Foerster is the trooper who died that night in 1973. Challender remembers the scene at the hospital when Foerster's wife, Rosa, arrived.
James: She's screaming. I can still see her screaming today. I couldn't stop her.
Nancy: It's an affront to Challender and the state police more broadly that the Cuban government hasn't been forced to turn over Assata to serve out her sentence.
James: No one really made an effort to get her back. No one wanted to go that extra mile to get her back.
Nancy: Why do you think that is?
James: I don't know. This whole case, besides the loss of Foerster and his family and all that stuff, I'm talking about politically speaking, that's the thing that bothers me the most. I know, for lack of a better word, the juice they have, if they want to use it, they can get you back.
Nancy: But the state troopers have been successful in making it a potent political issue.
Male Speaker: Return a cop killer, Joanne Chesimard [inaudible 00:14:14]
Male Speaker: [unintelligible 00:14:14] Joanne Chesimard [unintelligible 00:14:16]
Male Speaker: -of the cop killer, Joanne Chesimard.
Nancy: This is where the standoff remains, and the issues Assata Shakur was fighting for haven't been resolved. Consider an incident on the very same New Jersey turnpike 25 years later involving state troopers.
Female Speaker: The state paid $13 million in a racial profiling lawsuit to four minority men. The men were targeted and stopped on the turnpike by two white state troopers. Moments later, three of them were shot multiple times.
Nancy: It was 1998 and they were headed to a college basketball tryout when they were pulled over. Their car wasn't put all the way in park so it slid back and bumped the troopers' car. In an interview with News 12 New Jersey, one of the men in the car, Danny Reyes, tells what happened next.
Danny: I was in the front passenger, so he took his baton out and just breaks the window with his baton. At that moment, it's when I tried to show him that I wasn't trying anything funny, so I just showed him my hands, and he just caught his pistol and started firing.
Nancy: Reyes was shot in the arms, hip and stomach. He and the other young men sued.
Danny: There was so much discovery done when it comes to the way that they even trained the troopers in Jersey how to profile minorities. From way back, it was bigger than just two bat troopers, it was a whole system.
Nancy: The Federal Department of Justice investigated the state police. They sued New Jersey for targeting Black drivers on the turnpike and conducting unconstitutional stops and searches. New Jersey agreed to reforms that would be supervised by a federal monitor, but those revelations never triggered any kind of review or even questioning of what happened in the Assata Shakur case.
Jason: It's that one piece of the conversation, of the discourse, that is always left out.
Nancy: Jason Williams is a professor of criminology in the Justice Studies Department at Montclair State University in New Jersey.
Jason: Because again, when it comes to talking about police overreach, brutality, malpractice and so forth against Black Americans, the conversation has always been met with a sense of suspicion. It bewilders me why that wasn't even part of the discussion way back then.
Nancy: In fact, Williams points out, Black drivers complained for years about being pulled over on the turnpike for no reason long before the shooting in 1973. Assata was living underground because she had been targeted by the police, the FBI's COINTELPRO, the national program that was later found to be unconstitutional.
Jason: When unpacking this, we have to talk about the overreach of the state that was associated with her lived experience and frankly, her existence. She was on the run. She was a target. You only have to conclude that that had an impact to some degree on how that stopped when.
[music]
Mae: Oh, look, I didn't [unintelligible 00:17:35] getting the cats away.
Nancy: Mae Jackson lives in Yonkers with her daughter and an old Victorian filled with antiques. She's been a lifelong activist for racial justice. She's said it began in 1955 with the murder of Emmett Till.
Mae: I'm in a classroom, fourth grade. We were not that far from where Emmett Till's body was pulled from the river. His death had such an impact on my generation. He was young enough for us to identify with him. He could have been a playmate.
Nancy: In the 1960s, she worked for the Student Nonviolent Coordinating Committee and later co-founded the Third World Women's Alliance. Mae wasn't a Black Panther, but she knew Assata.
Mae: I don't have a position on, well, she did the right thing, she did the wrong thing. She did what any slave would do. If you're not free, you can't make a judgment. I don't make a judgment call. That's how she decided to deal with whatever she was dealing with. I'm there to support her as a Black person, as a Black woman. I don't have to agree with her tactics. That's-- you know.
Nancy: Mae was dedicated to nonviolent organizing, but she understood the need for armed self-defense.
Mae: You're shooting Black children down in the back. You're breaking into people's homes and threatening their family members. You're ruining people's lives. That's why you had a Black Liberation Army. Now you can ask me, was it necessary? Yes, it was, because people get tired of seeing their children gunned down and nothing is done.
[music]
Kai: Notes from America is a production of WNYC Studios. Special thanks to our WNYC colleagues, Tracie Hunte and Nancy Solomon, for bringing us this story. Mixing and theme music by Jared Paul, Matthew Morando was our live engineer this week. Our team also includes Karen Frillman, Vanessa Handy, Regina de Heer, Rahima Nasa, Kousha Navidar, and Lindsay Foster-Thomas. Andre Robert Lee is our executive producer, and I'm Kai Wright. Thanks for spending time with us.
Copyright © 2023 New York Public Radio. All rights reserved. Visit our website terms of use at www.wnyc.org for further information.
New York Public Radio transcripts are created on a rush deadline, often by contractors. This text may not be in its final form and may be updated or revised in the future. Accuracy and availability may vary. The authoritative record of New York Public Radio's programming is the audio record.