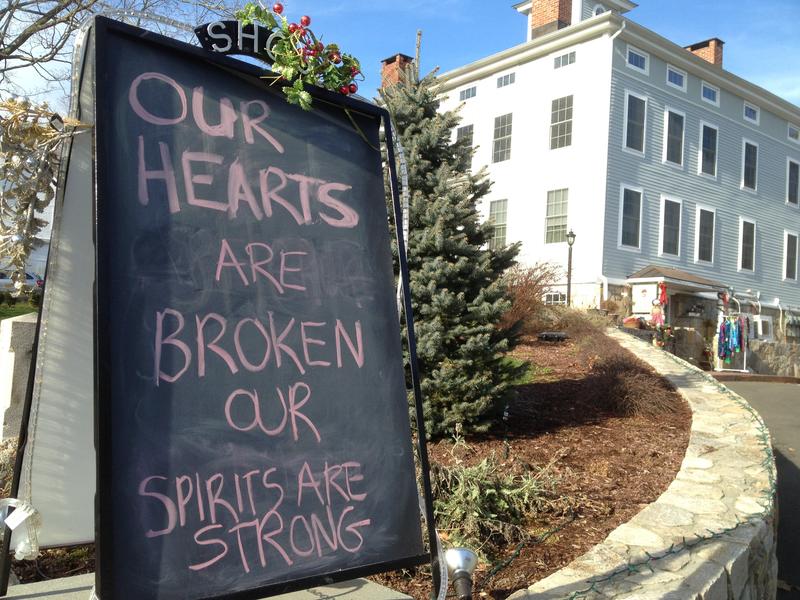 Transcript
Kai Wright: Hey, this is Kai. Just a reminder that what you're about to listen to is the second part of this week's show. We've changed things up in the podcast feed. We're breaking the show up into segments to give you a little more control over what you listen to and when, so if you want the first part of the show, go back, that's the last thing in your feed, and of course, if you want the whole show altogether, go check us out at WNYC's YouTube page, that's where you can get everything. Take a listen. This is The United States of Anxiety. I'm Kai Wright and I am here with my WNYC colleague, Tracie Hunte. Hey, Tracie.
Tracie Hunte: Hi, Kai.
Kai Wright: We've been talking about gun violence this week, and when you heard about this episode, you said there was someone you felt like our listeners really needed to meet.
Tracie Hunte: Yes. Just to set this up a little bit, for me, the last few years have felt relentless. I'm sure that's been the same for you, Kai. There's been all this gun violence, there's been COVID, the murder of George Floyd. I keep thinking about how, even though many of us have been lucky to not have experienced these things firsthand, the sheer volume and frequency of these tragedies must be having some effect on our bodies and our minds.
Kai Wright: Indeed.
Tracie Hunte: I kept coming back to this idea of grief and how I wasn't sure we as a country were grieving properly. I didn't really know what my question was, my big question, but I knew a good person to talk about it with was Nelba Márquez-Greene.
Kai Wright: Now who is that?
Tracie Hunte: Nelba is a mom and she's a family and marriage therapist. About 10 years ago, something happened that made her an unwilling expert in grief. Her daughter, Ana Grace, was killed at Sandy Hook Elementary School. I've been following Nelba on Twitter for a few years, and this might sound weird, but I really grew to admire the way she was grieving out loud.
Kai Wright: What does that even mean, grieving out loud?
Tracie Hunte: It's easier to let you hear how she describes it herself, but for me, she has become the very public face for this normally very private journey. I hopped on the computer with her and it immediately felt intimate.
Tracie Hunte: Good morning.
Nelba Márquez-Greene: Good morning.
Tracie Hunte: She was in her home office, I was in my bedroom. Her dark curly hair was on top of her head in a bun and she was wearing this pink T-shirt with the word Latina [unintelligible 00:02:45] written across it. As we said hello, we were both preparing to talk about something really personal.
Nelba Márquez-Greene: My candle is lit. Why don't you light a candle to set yourself calm? I have my lotion. Maybe I'll get my lotion.
Tracie Hunte: I started with telling her what grief has been like for me. I've been wanting to talk to you for a while because I started following your Twitter account a few years ago and it was right around the time that my uncle died of cancer and my family was having a really hard time and the way I was dealing with it was that I was trying every day not to think about him because if I did I would cry and then I'd get upset with myself for crying.
Then I stumbled on your account and it seemed to me like you were tweeting about your daughter, Ana Grace, every day. It'll be a joke Ana told you or a video of her singing while her brother plays the piano. Just these really beautiful intimate moments from her life. I kept thinking like, "How is she doing that?" I was like, "Wait, am I doing this wrong?"
Nelba Márquez-Greene: There's no norms in grief. There are ebbs and flows, but there are no norms, so perhaps by not thinking about your uncle, it wasn't that there was something wrong with you, but maybe that was what your mind and body and spirit needed to do to handle that loss in the moment for you. Dissociation gets a bad rap, but it's not necessarily a bad thing. It can be a tool for survival.
If in those moments of grief you needed to put the sacred, precious memories of your uncle in a place to save for a time where you would feel safer or more protected or more supported, then I'm grateful to you for listening to that because the worst thing we do in grief is become prescriptive and say, "I follow this Puerto Rican woman on Twitter and she talks about her loved one every day, so here's what we're all going to do, talk about our loved ones." That's not the right recipe for everybody.
What we need to do when they're grieving is honor our process and ensure safety and holiness, which is something that gets defiled all the time. That's just my way. Sometimes I talk about her, sometimes I talk about Costco, sometimes I talk about burning, but I want the privilege and the control of when I share her memories to be mine.
Tracie Hunte: Can you remember maybe the first time you did that and were you scared of putting something precious about her online?
Nelba Márquez-Greene: Probably the first time was like a month after she died. I set up a Facebook, chronically my memories of her on a page called Remembering Ana Marquez-Green. It's me telling very intimate stories about Ana because I wanted people to remember Ana not Sandy Hook. One of the things that happens to survivors of highly publicized tragedy is that you lose a sense of safety and you lose a sense of control. It's not just losing your person.
There are pages dedicated to you on social media with pictures of your loved one you have not endorsed. There are people, both organizations and individuals, fundraising on your back of your loss. It is incredibly gross, so I decided I wanted to be the keeper of her voice and memory. I have to say this every year, "Hey, in my daughter's name, nobody gets to put her picture on a poster or a graphic without talking to her family."
Tracie Hunte: In the days, following the school shooting in Uvalde, Texas, Nelba says her inbox was flooded with request. Gun control advocates wanted her to release her daughter's autopsy photos. Their reasoning was that seeing the true devastation of what bullets do to bodies, especially children's bodies, might galvanize Americans support for gun control. This argument was repeated all over social media and even by some high profile voices.
Nelba Márquez-Greene: Someone actually said, "You don't have to then do the autopsy photo, well, just the crime scene." You know what I wanted to say? "You obviously do not remember that my child was the only Black child because you can't just randomly put a crime scene of dead bodies out there. Ana would be the most visible. We want to save lives, but we can't save lives compromising the people who are already struggling to live in the process."
Tracie Hunte: Nelba won't be sharing any photos of Ana's body. She believes the photos she's already shared of her daughter; alive, vibrant, and absolutely adorable with big dark eyes, brown skin, curly hair, and dimples should be enough to change anyone's mind about gun control.
Nelba Márquez-Greene: We have a box that holds our daughter's clothes that she was wearing on the last day that she was alive. Someone processed the clothes, they cleaned it, laid it beautifully and put it in a purple box with a bow. I haven't opened it, my husband hasn't opened it and it's here. It's actually in my office in the closet, on top, but just to imagine myself taking that box and walking through the halls of Congress, I do not owe you sacrificing myself. For people who have shown us over and over again that they will not do the right thing, you don't get to sacrifice me or ask me to sacrifice myself on that alter. I'm sitting here trying my best to survive.
Tracie Hunte: Grief makes people uncomfortable. Why do you think that is that people can't deal with grieving people?
Nelba Márquez-Greene: It's terrifying. Who wants to be me? I walk in a room and I'm a reminder of an American nightmare. Nobody wants to be reminded that you could do all the right things, go to church, tithe, pay your taxes, own a home, live in a suburb, and lose a kid in a shooting. Nobody wants to be reminded of that, specifically to gun violence, that's part of it. Nobody knows what to say because we are also people who want to fix things.
When I walk in a room, I have made it clear that you are not going to fix this. Until the day I meet Jesus and I see Ana again, this hole doesn't get fixed. We have taught people, "If you pull yourself up by your bootstraps, if you do enough work, if you go to enough therapy, you won't be grieving anymore, you will be recovered." Let me be the first to say that that's the biggest little bullshit and it hurts people.
Tracie Hunte: You're a therapist, and even before this happened, you had patients that were grieving and that you were helping through that process. I was wondering, when you were on your own journey, was there anything about your process that surprised you?
Nelba Márquez-Greene: How little I knew. How little I knew about the darkness, about the ever-present weight. I am a much better supporter and clinician to parents, families that I work with who have experienced loss than I ever was before. I consider that a sacred privilege.
Tracie Hunte: I feel like we haven't sat down and actually experienced or thought about the million plus people who have died in this country. I'm wondering, how do we do that as a nation? Is that something that's even possible?
Nelba Márquez-Greene: How does a country who never acknowledged and has never really formally acknowledged the grief of enslaving people, the grief of how we let down folks in the HIV/AIDS community, the grief of Columbine of Oklahoma City, how do we expect them to grieve now? COVID or George Floyd. We are a grief-averse culture who refuses to feel anything. We want to think our way through. When we think our way through, then we can think that we're going to be better if we just put those unpleasant, uncomfortable feelings that cause us to self-reflect away. That's what I do with my Twitter feed. If you're reading what I'm writing and you're thinking and not feeling, something is wrong.
Tracie Hunte: Nelba also uses her social media to talk about other victims of gun violence and the families they've left behind.
Nelba Márquez-Greene: I've actually tweeted about Trayvon Martin before, like, "Please support his mom @SybrinaFulton." There is very rarely times where I get uglier comments than when I post about victims the world has not sanctioned as angelic. I feel like there are victims of gun violence we care about because of age or circumstance. Certainly school shootings is one of those. Then there are mothers, mostly Black mothers, let's be 100% real, we force to carry a dossier of their child's activities and goodness in order to give a shit about them, and that makes me so angry.
If you sent a Teddy bear here, tell me why you are not sending Teddy bears when this happens in Chicago or in Hartford. That's a real question we have to reconcile and grapple with if we want to move the needle on gun violence because we are basically assigning empathy. I've said before that empathy drives resources, empathy also drives solutions. We have to be honest about who we are, why we want solutions, and who we want solutions for. I want you to want solutions for the families of Uvalde, for the families of Buffalo, for Sybrina Fulton, and for Celeste.
Tracie Hunte: Can you tell me a little bit about Celeste?
Nelba Márquez-Greene: I think it was January of 2013 and I read this article about a dad and a mom who have lost a child and they're saying, "I know my child was the wrong color and in the wrong city to be grieved, but we too deserve your empathy and compassion."
Tracie Hunte: Celeste Fulcher's 26-year-old daughter was shot and killed in a nightclub. Five others were injured. This was about a year after Nelba lost her daughter. After reading about Celeste and her husband, she called a reporter covering the story and asked to be connected. Nelba says she was moved to reach out to the family because she believes that if Ana had been shot and killed under different circumstances, like in a poorer, more marginalized community, her death would not have gotten any notice by the media.
Nelba Márquez-Greene: We drove to their house, my husband and I, and we met them privately. We have stayed in relationship now for almost 10 years. She's an incredibly brilliant woman who loved her daughter as much as I love mine.
Celeste Fulcher: I can honestly say to this day my family is not the same, still isn't the same. I still to this day say I'm doing a life sentence. By the grace of God, they found the guy that killed my daughter. He got life, but I'm doing life.
Tracie Hunte: How did you feel about the way your daughter's death was initially reported on the news?
Celeste Fulcher: It was hard because it was a after hour nightclub. It was like a lot of eyebrows went up because, "What was she doing there? What was she doing in a nightclub?" I'm like, "She's 26 and pay taxes. It's a licensed facility that the state allowed the owner to open." You know what I mean? Why not? Why not go where she want?
Tracie Hunte: Celeste notice something else, despite the fact that six people were shot that night, it wasn't talked about in the press as a mass shooting. What did your brain make of that difference?
Celeste Fulcher: It's literally in your face. These inner city incidences, they're not considered mass. Now, is it the color of your skin? Is it your zip code? What is going on for you to say this is a mass shooting? It's like how much more can I take. Eventually, by the grace of God, I had to think of her and what she would want from me.
Tracie Hunte: Can you tell me about Erika? What was she doing back in 2012, 2013?
Celeste Fulcher: She was that light. If I had a bad day at work, if I'm sitting on the couch, she would come in and be like, "Oh, no, we ain't doing that today. Get up, let's go. We're not doing that." Even just within her friend circle, she was that go-to person. If anybody was beefing, anybody had anything between them, she was that person to straighten it out, get everybody together, bring people together. You know what I mean? She was always that uplifting person. [laughs] I always laugh because she used to always say, "Mom, VIP wherever I go." When it was time for her funeral, me and my husband looked at each other like, "Oh my gosh, she really was," because it was literally over 2,000 people.
Tracie Hunte: Wow.
Celeste Fulcher: She was very well known.
Tracie Hunte: Grief isn't something we overcome, it's something we incorporate into our lives. For me, it's been four years since I lost my uncle to pancreatic cancer. After years of trying not to think about him, I'm now in a place when he pops into my mind, I'm thankful for that memory because, as Nelba said, grief isn't something we should avoid. Grief often drives resources and solutions, but that hasn't happened with gun violence.
Many Americans still dismiss shootings like Sandy Hook as one in a million tragedies or something that doesn't happen in their neighborhoods, but the families who've lost loved ones to gun violence live with that grief every day. By not grieving with them, we're allowing ourselves to walk into tragedies that could be prevented. If we actually grieved, we might actually do something. Celeste is now part of a network of mothers, grandmothers, aunties, most of them Black, who've come together in recent years to support each other.
Celeste Fulcher: I guess this is the path that God put me on that I never, I never ever would've thought, but that's my story. That's my life, to be able to go to them without words and just holds somebody because I'm a hugger. When I tell you that meant the world to me, just to be able to get to another mom and just hold them, don't even know them, because I just wanted somebody to know I got you.
Kai Wright: That was WNYC's Tracie Hunte in conversation with Celeste Fulcher and Nelba Márquez-Greene. The United States of Anxiety is a production of WNYC Studios. You could follow us wherever you get your podcasts or by going to wnyc.org/anxiety. Our team includes Emily Botein, Regina de Heer, Karen Frillmann, Kousha Navidar, Rahima Nasa, and Jared Paul. Matthew Marando is our live engineer. I am Kai Wright. You can find me on either Instagram or Twitter @kai_wright, or just back here next Sunday evening. Thanks for spending this time with us and I will talk to you next week.
Copyright © 2022 New York Public Radio. All rights reserved. Visit our website terms of use at www.wnyc.org for further information.
New York Public Radio transcripts are created on a rush deadline, often by contractors. This text may not be in its final form and may be updated or revised in the future. Accuracy and availability may vary. The authoritative record of New York Public Radio's programming is the audio record.