How Afrofuturism Redefines Our Past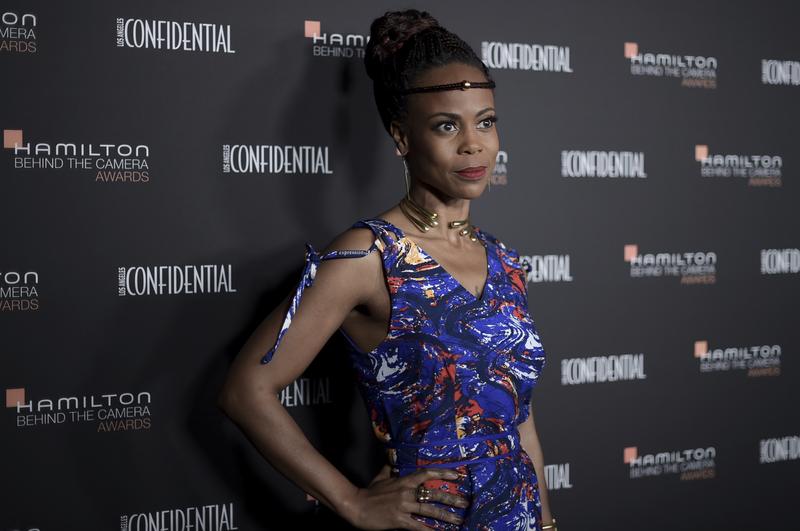 Transcript
[music]
Regina de Heer: We're asking people around the park, have you ever heard of the term Afrofuturism?
Mimi: I've never heard of the term. I'm sorry.
Nakhil: Yes I have.
Andrew: I have heard of Afrofuturism.
Regina: How would you define it?
Nicky: The idea of an Afrocentric world in the future.
Nakhil: It's forward-thinking look.
Nicky: Explore certain ways of technology and future and how one involves in a social-political climate.
Jodi: It's about the importance of-- Because we focus a lot on Black history, but also Black futures are important too. I think it's just about focusing on that.
Regina: Who comes to mind for you?
Nakhil: Sun Ra or Janelle Monáe
Andrew: Big Janelle Monáe fan.
Nicky: I would say Octavia Butler. I first researched the term because of a theater company. They were these two amazing Black women that were part of their resident program. They were creating an Afro-future work. When I saw their work I was like, "Oh, what is Afrofuturism?"
[music]
Kai Wright: It's Notes from America. I'm Kai Wright. Happy New Year. We're going to start 2023 by trying to simultaneously look backward and imagine a radical future. That seems like a good way to describe the work of production designer and visual artist Hannah Beachler. Over the past decade or so, she has created some of the most beautiful, complex, and richly Black worlds in film.
She's designed worlds for Moonlight, for Beyonce's Lemonade, and most famously for both Black Panther films. I spoke to her last year just after she'd tried a little different medium. She curated an Afrofuturism period room at the Metropolitan Museum of Art, which is now a permanent exhibit at the world-famous museum. We're going to kick off 2023 by revisiting my conversation with Hannah Beachler. For you, what is Afrofuturism?
Hannah Beachler: I think there's a lot of different definitions. For me, Afrofuturism is a reimagining of history. It's like going back and reclaiming how history has seen Africans and African Americans throughout time. It's this idea that the past, the present, and the future is not linear, but circular in a sense. Our present is influencing our future is influencing our past. It's just playing with time and how we retell our own stories with our own agency.
Kai: You are the lead curator for the new Afrofuturist period room at the Met. It is this fascinating illustration of everything you're just talking about. People who visit the exhibit step into a speculative future home of the residents of what was once Seneca Village. Can you introduce listeners to Seneca Village?
Hannah: Yes. Seneca Village was a predominantly Black, also Irish community, in Manhattan where Central Park is. It was a lot of freed Black men and women born free as well as freed slaves who escaped the city, if you will, of New York and moved into a more rural area, and started a community called Seneca Village, almost where the Met is located. It's probably about a 10-minute walk from the Met. It was about 1827 to 1857, so right before the Civil War. If you owned land as a freed Black man or a woman, you had to have spent $250, and then you had the right to vote.
Kai: It had been a thriving community of people and it was taken by the state.
Hannah: There was probably about 300 people and the way they took it was-- and many of the same idea that was happening around a lot of Black communities at the time is by saying that they were the slums and it would be better if they took them down and made this beautiful park because this was an eyesore, but that wasn't the truth. This exhibit was an homage to the people, to the idea of community of a protopian society, and a conversation of the past in the future and the present around Seneca Village and what it meant.
Kai: How did you even, just as a designer, begin to imagine this collapsing of past, present, and future of a place like that?
Hannah: I just thought about what are the things in a home, because really these communities are about home. These communities are about wanting the things that everybody has, family, a safe place, love, peace, and a place to thrive where you are wanted. That's where I started. For me, that's the kitchen because of so much of Black culture, me living in New Orleans, and looking around at my neighborhood, it's a lot about food, it's a lot about being neighbors, it's a lot about tradition.
In New Orleans, we still have these 100-year-old traditions. I wanted to start there. That's where I remember getting my hair hot-combed, getting the grease behind my ears. People being in the kitchen and cooking and me being on my mom's skirt and the steam coming off of the stove. The conversations and the arguments and my brothers and sisters and I having water fights. The kitchen is really where life happens. I wanted to show that as part of what maybe Seneca Village could be like. That's how you're going to know these people as people.
Kai: Let's start in that kitchen that you're describing, Hannah. Tell me about some of the choices you're making there. What would you direct my eye to first?
Hannah: I think the first thing that I would hope that people would do when they walk in is look through our windows. On the sides of the structure, there's different size windows sporadically placed and at different heights. I did that because, for me, looking into what is the past for a lot of African Americans, not all but most, and a lot of Africans in the diaspora, we only get a little piece of that past. You only see so much.
I wanted everyone to have this experience. There's everything inside that room, but you only get to see a little sliver of it. The big thing in the room is the fireplace, which is right in the center.
Kai: The big hearth.
Hannah: It twirls up into the rafters, which has concentric circles around it. This is our time machine. This is bringing all the beautiful artifacts that you see from Roberto Lugo, from Fabiola Jean-Louis, from Atang Tshikare, our beautiful chairs that these-- that Fabiola's beautiful paper dress is sitting in. The dress to me is representative of the woman who lives in this. She is sitting, she is at rest. Her body is at rest. That is an important piece to me because so often we're deemed as strong and warriors and working and fighting and--
Kai: The mules of the world is on your hearth and some of those.
Hannah: That's right. At rest, sitting and looking over the future that we protect with our time machine. A lot of it is me wanting people to come in and just have their own experience. Both ends are open because you can only see the future through the past and you can only see the past through the future. The precipice where our body is sitting sits between them both. That is our present. That's how this room is laid out.
Kai: You mentioned that Roberto Lugo, Ms. Philadelphia artist, Roberto Lugo, there's a lot of his pottery in the exhibit. There's one that's-- it's like an urn I think that has a portrait of Harriet Tubman on one side and Erykah Badu on the other. Tell me about that urn, what it's doing in that room because it sounds like it's doing a lot of what you're talking about.
Hannah: It is. It's a conversation and I think that's representative of so much. Roberto wanted to really bring in powerful strong women in our past, in our future, and all the things that they represented of freedom, of choice, of agency. These are conversations we've been having. These are conversations that are cyclical. To me, that represents where we are, where we're going, and the fight and the struggle to stay there.
Kai: Going back to the window, you said that, for you, your experience with Black history is only being able to see a little bit of yourself. Can you say more about that? What do you mean by that?
Hannah: I feel, personally, I don't really know about my past, my ancestors, my relatives. It seems as though sometimes people think African-Americans popped up in cotton fields and here we were. In our past, the history that we teach really doesn't teach beyond that. I never really understood my connection with Africa or do I have a connection with Africa? I don't know who my ancestors were here.
They could have come from the Dominican Republican. They could have come from South America. I don't really know this. Anything I learn, every time I learn something, it's like looking into a little window and seeing more, like I'm walking in a cave with a flashlight and occasionally you get something on the wall. I wanted everyone to understand when you're walking around the world really not knowing everything about your past-- I can't just go back and be like, "They came from France and came over and--" I don't know. I know a lot of people had to survive for me to be here. That was the window, that was the idea of the windows. Everybody experienced that, that you see only so much.
Kai: Back on our tour, when you move into the living room area, there are lots of images as well in this space. I'm really drawn to the portrait of Andrea Motley Crabtree. She's depicted here, she's sitting but done up in this fantastical diving gear. Tell me about this work.
Hannah: When I first saw this work when the Met had presented it to me and said, "This would be something that's great in the room as part of their collection." Then they explained, "She was the first Black woman to be a deep sea diver," and it made so much sense at that point because we know so little about the ocean. We know so little about space. We know so little about ourselves and our journey. It's all wrapped up in the same feeling of flight and weightlessness.
Then I really wanted that you could stand in the very back by the kitchen and look all the way through and you see the time machine, you see Fabiola's dress and then you see this beautiful portrait. That line that it creates through this space from one end to another, from the past to the future. That past is the future. This Black woman is the woman in space that is who I look at the stars every night and see. That's why I wanted that there.
Kai: Hannah, after someone that has experienced this space, what is it you hope they take away as they walk out?
Hannah: Joy, Black joy. My mission is to teach Black joy before Black pain. No child needs to learn that first. I learned that first, and so I want people to walk in and what you see is joyful. What you experience through the pain is joyful. We put hundreds of iron nails in the side of the structure and they had asked me why and I said, "Because iron is so important. It is the thing that shackled us and it's the thing that freed us." I want this to be like that. I want, this is the thing to be the freedom.
[music]
Kai: I'm talking with Hannah Beachler about the exhibit she curated for the Metropolitan Museum called Before Yesterday We Could Fly: An Afrofuturist Period Room. Hannah's mini credits as a designer include the film Black Panther for which she won an Oscar for Best Production Design. We'll take a break and we'll talk more with Hannah about her career and about collapsing the future with the past. Stay with us.
[music]
Kai: Hey everybody, this is Kai and I just want to take a second to say thank you. Our show is nothing literally without all of you, and we literally couldn't make it without your participation. Whether you are downloading it as a podcast every week, or whether you're tuning in via YouTube, or if you're tuning in live to the radio or on the stream every week, or even some weeks or even just once in the past year, I don't care. The point is if you were there, if you participated, if you got something out of it and told somebody else about it, then just thanks. Here's to 2023 and making more awesome shows together. Talk soon.
[music]
Kai: It's Notes from America. I'm Kai Wright. This week we are revisiting my conversation from last year with production designer and visual artist, Hannah Beachler. She's designed the visual backdrop for some of the most iconic Black films of the past decade. We're talking about Moonlight, Creed, Beyoncé's Visual Album Lemonade, and of course Fruitvale Station which was the wrenching biopic of Oscar Grant, and that launched Director Ryan Coogler's career.
She also designed both Black Panther films and, of course, won an Oscar for the first one. Just tell me about working on that film. It meant so much to so many Black people and I just wonder what it meant for you.
Hannah: It meant so much to this Black woman. It was big and I knew it was bigger than me. I just felt compelled to do this and then there was a lot of drive for that. I have of course Mr. Ryan Coogler to thank for having the opportunity to put on screen what I felt was so important for people to see a fictional Black nation to be what it could be. It was daunting. I walked in and I wasn't quite sure what it was and Ryan was like, "Okay, so I need to know how many people there are. What do they do? Where do they live? Tell me everything about the country. Where do they go? How do they drive? What are the streets? What are the stories?"
I was-- "I have to tell you all? I can't just make a pretty set?"
[laughter]
Hannah: We start building the world. I just dug in and I started from scratch. How do you build a world? Just start with, where is it? What is it? How big is it? Where does the country look like? What is the environment? What is the climate? Where is the capital? Now, how many people?
How did they get there? Where did they migrate from? Why did they migrate there? What do they specialize in? How does their tradition evolve to be 50 years of the future from the West? What is the timeline? We built the whole timeline that shows you Wakanda from the Bronze Age to the present against--
Kai: It started with Black joy is also-- I'm thinking about what you said previously. It's rooted in Black joy.
Hannah: Absolutely. We did the work and I'm not going to lie it was scary. It's a big movie. It's a big company. I was just coming off of Creed which was nowhere near that size. I did this big presentation with all of the execs over at Marvel. I was scared to death, and my advice from Ryan was, "Just be yourself." I went in and I was. I was loud, I was excited. I wanted them to see that this Black woman can handle this big budget, handle a large crew, and be creative and pragmatic and give them everything they want.
My main concern was making sure that I was doing right by my community in the diaspora, and in America, because I am an African American. That is my experience. I put a little bit of that experience into this African nation as well. I just wanted to make sure I was doing right by everybody.
Kai: You truly handled it, in fact. Our producer pointed me to an IndieWire article in which you said that the first decade of your production work in your career was a real struggle and that you almost left the business.
Hannah: It was a real struggle. When I started out, and I started out as a set dresser in the art department and I worked my way up through all the different crafts in New Orleans. You just get to the place where it's felt like Hollywood was 1,000 miles away, and it was physically as well as figuratively. No one knew my name. How am I going to get out there? How am I going to get these other jobs? Wynn Thomas who is a mentor of mine, Spike Lee's production designer for his entire career, I called when-- "I can't do this anymore.
I need to start finding something else."
I thought he was going to feel sorry for me and pity me. He said, "Well, you need to get your damn ass up and get back in the business. No crying. I don't care what you say, you're not leaving. Stand up, brush yourself off and that's it girl. Stop." It took me back like, "Okay."
[laughter]
Kai: Let me stop you.
Hannah: He was not playing around with me. He was like, "You're not going to get a little pity party if that's what you're looking for. It's hard so go work."
Kai: You went to work and eventually-
Hannah: I did.
Kai: -you connected with a, at the time, 25-year-old Ryan Coogler.
Hannah: That's right.
Kai: He is obviously a massive figure at this point but this was his breakout moment as well. The start of your collaboration with him was the film Fruitvale Station which was a pivotal film for me I have to say in terms of trying to look at Black pain and Black joy at the same time. It was just such a difficult film to watch. Tell me about working on that project. What was that like?
Hannah: That changed everything. After Wynn got me together, collected me a little bit, he said, "Go get an agent." I did, and the first script they brought to me was for Fruitvale Station. I read it. I cried my eyes out and I said I want to do this film. I had a meeting with Ryan and he hired me the same day. A few months later, I drove out to Oakland and dog-sat so I can work on this-- dog-sat. I became a different person and a different filmmaker having worked with Ryan on that film. Everything I thought I knew. changed about how to tell a story.
He taught me perspective. He taught me storytelling visually and that the place that we're in is as important as the story itself. That's where I would come in, the place. He taught me all about that because of his love for Oakland, because of his love for Black people, because of his love for Black joy, and the need to tell this story. It was not easy. It was really a difficult emotional story to get through and so it takes a toll on all of us.
We were working 22-hour days at that point, so we were all so exhausted trying to get this done with very little money, but trying to do the absolute best because there was me plus one other person in my department. I did everything. I just watched Ryan and he blew me away. I knew, I can remember saying to his family, "Nothing will ever be the same for him after this, ever again. You are watching the rise of an important filmmaker in the history of film." By the end of the film, I knew that's what I was watching. Now, if he was ever going to call me again or not, I don't know. [laughs]
Kai: You knew him and Michael B. Jordan were about to go someplace. Luckily you did too. You and I are talking now not only amid Black History Month but just after Trayvon Martin's birthday. He would have been 27 years old this month. He was killed 10 years ago. This month also began with Amir Locke being killed by police in yet another no-knock raid in Minneapolis. It may be a silly question to ask you, but in the context of all that has happened since Fruitvale Station, what do you feel like art, that film, can do about this anti-Black violence? What is its role in responding to these awful moments?
Hannah: Humanity. What Fruitvale Station did was show people Oscar's humanity. He is a human being first, and that is so important. Though Moonlight wasn't about police violence or brutality, it was about a different type of brutality. I believe it did the same thing as show humanity. Those are so important in Black cinema, the complexities of Black people, that we aren't a monolith, that we are individuals. We are humans. Not just sons, daughters, aunts, uncles, we are humans. We don't have to be these other things in order to be seen as human. That's what Ryan wanted to say. That was the importance of the scene with the pitbull.
Ryan and I talked about that and talked about that and talked about that and struggled with that scene, but at the end of the day he looked at me and he said, "Oftentimes Black men are looked at like pitbulls. You can run them down in the middle of the road and keep going. They are the not needed of society. They are the danger of society." To show Oscar with that pitbull, holding that pitbull was such an important scene.
I think rounded out in the height of the humanity within this young man for whatever mistakes he made, for whoever anyone thought he was. He was someone's son and he was a person and he was killed. I stood over the bullet hole in the BART station at Fruitvale Station and looked at it. We stood around it with Ryan and held hands, and he prayed. That's how hard that film was to do. That's why those films are important.
[music]
Kai: As a consumer of this work, it feels to me like Fruitvale Station was the beginning of this movement in Black film. Does that what it feels like to you as well? If so, how would you describe it?
Hannah: Absolutely, it feels like that to me. Sometimes I feel like I just got swept up in this moment that I'm so grateful and blessed for. I knew it was coming in a weird way as this moment of reckoning. Film is such a powerful medium that I think people were suddenly seeing it's time for us to tell our stories and fighting for that. This generation of young people that have come in and made these films have been fighting for this. It's the springboard of Spike Lee. It's the springboard of John Singleton. It's this springboard of Antoine Fuqua and F. Gary Gray, and you go back and back and back even further.
I'm quite proud of this work, this body of work from working with B. and Barry Jenkins and Ryan, of course. It feels like, truthfully, I don't often say, sometimes, I'm just this general that's protecting my people. Protecting the story because I'm a fighter. I'll tell you what, I make sure that people aren't going to play games and silliness when we're making these movies. That the nuances that aren't usually there, that people don't usually know are there, because it's my experience as part of my community, and I stand strong and firm between what you see on the screen and what you might have seen on the screen.
I make sure it's there that people can see themselves in a real way, in a genuine way. Not the way people want to see us but the way that we are in all of our complications, messiness, and joy. I see myself as, these filmmakers coming to me because they know that I'll stand strong for that and I'll dig as deep as I have to dig and do the research until I can't see straight to make sure that it's right. I'll tell you what, I don't know if I can cuss, but I'll be goddamned if it's going to be something that's going to make these stereotypes continue. No more of this perpetuation. I need people to see us as individuals, that we all do these different things. It's not just like, "Oh, well, sports and music. That's what y'all are." It's like, "No man."
Kai: We are human beings. We are differentiated human beings.
Hannah: All the way through. That's how I saw my role in this moment that's happening and why it's art department and production design to paint our world for the story. That's what I think I'm doing. I am, in a way, a guardian of that world. That's how I feel.
Kai: Before I let you go, I want to play a little bit of your acceptance speech at the Academy Awards. Setting aside the fabulous, bold red gown you were wearing, which-- yes. It was emotional and really quite inspiring in the way you gave thanks. Here's the end of it.
[applause]
Hannah: I'm stronger because of my family who supported me through the roughest of times. I give the strength to all of those who come next to keep going, to never give up. When you think it's impossible, just remember to say this piece of advice I got from a very wise woman, "I did my best and my best is good enough." Thank you.
[applause]
Kai: Tell me about this moment for you, Hannah. Who gave you that advice?
Hannah: Victoria Alonso who is the president of Marvel. My second day, she said, "Come to my office. Let's talk." She knew I was nervous. She knew this was new for me and I'm in this big world right now that I'm biting off a big chunk. She wanted to make sure I understood that she was there to support me. As we went through this film, and I'd call her when I was feeling overwhelmed, or I'd call her when I needed a lift.
I was always very, "It's not right. It's not perfect. It's not perfect. It's not perfect. It can be more perfect. I need this to be more perfect." She said, "No, it's beautiful. It's great." "It's not good enough. It's not good enough, Victoria. I have to do more. What more can I do?" She said, "You have to say this to yourself every day, I did my best and my best is good enough." I've never really thought that way before, so I wrote it on a post-it and I put it on a mirror and I said that every day, "I did my best and my best is good enough." I needed to understand that and I needed to learn that. I needed to step away from this twice-as-hard-for-half-as-much mentality.
My best is good enough. Whether that's twice as hard or not, it's just who I am and this is my best. She taught me that. That's where that came from in this speech. I wanted to make sure I said that because I wanted other young women, other young girls to be able to say those words to themselves because oftentimes as a woman in a man's world, your best is never good enough and you keep pushing and pushing and you'll push yourself until you're not healthy anymore. I say that to myself every day.
I'm a little bit more laid back working on Black Panther 2 right now, and it's not quite as intense for me like, "Everything has to be perfect." I'm more at ease in my role and I'm a little more confident than I was the first time.
Kai: Hannah, your best has not only been good enough, it has been a true blessing to me-
Hannah: Thank you.
Kai: -and to so many of us consuming your work, so thank you for that.
Hannah: Thank you.
Kai: Thank you for this time.
Hannah: Thank you so much.
[music]
Kai: That was my conversation last year with Hannah Beachler, who won an Academy Award for Best Production Design for the Black Panther in 2019. She also designed the second film. The Afrofuturist period room she curated at the Metropolitan Museum in New York is called Before Yesterday We Could Fly. You can find images of it on the Met's website. Also, a note about something very cool that we are doing in a couple of weeks here.
We are going to record our show in front of a live audience at the famous Apollo Theater on Martin Luther King Day. This is part of an annual event produced by WNYC at the Apollo to honor MLK Day. This year Notes from America will be the first hour of the program, and I'll be hosting conversations inspired by the song Young, Gifted, and Black. The event is Sunday, January 15th. That's, again, MLK Day. We'll, of course, broadcast it here that evening, but if you're going to be in the New York area, come join us in person. Tickets are free, but you got to RSVP and they do go fast. They're available starting tomorrow, so get all the details at wnyc.org/mlk2023.
Notes from America is a production of WNYC Studios. You can follow us wherever you get your podcast and join us on Instagram @noteswithkai. Jared Paul does music and mixing for our show. Editing, producing, and reporting courtesy of Karen Frillman, Vanessa Handy, Regina de Heer, Rahima Nasa, Kousha Navidar, and Lindsay Foster Thomas. I am Kai Wright. Thanks for spending time with us tonight and happy 2023.
[music]
Copyright © 2023 New York Public Radio. All rights reserved. Visit our website terms of use at www.wnyc.org for further information.
New York Public Radio transcripts are created on a rush deadline, often by contractors. This text may not be in its final form and may be updated or revised in the future. Accuracy and availability may vary. The authoritative record of New York Public Radio's programming is the audio record.