The History Behind New Waves of Anti-Trans Legislation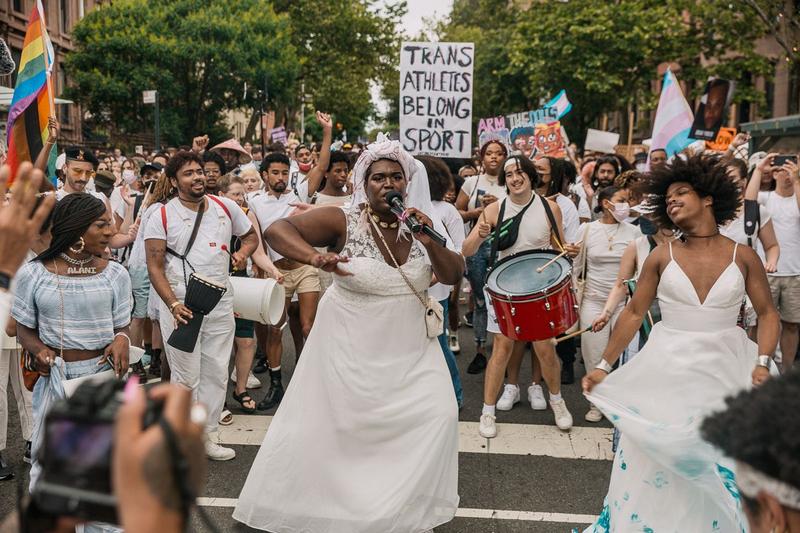 Transcript
Speaker 1: Welcome to America where if you're any kind of different that they don't agree with, you don't get rights at all. A procedure that should only be between the minor, their doctor and the parent is now being controlled by the government.
Speaker 2: Transphobia is very scary. As a parent of not one but two trans children, I am terrified. I never post videos of my kids because transphobia is scary.
Speaker 3: Transgenderism must be eradicated from public life and taught--
Speaker 4: To my friends and family that like to tell me, "I want to see it from both sides," this is the other side, complete eradication. We call that genocide in history. Thank you.
Speaker 5: It is our job to not let this [censored expletive] happen, so get your friends to vote, organize protests across the country. I will make videos on it. Please stay. It's hard, but please stay.
[pause 00:00:53]
[music]
Kai Wright: It's Notes from America. I'm Kai Wright and welcome to the show. My first real full-time job as a reporter was at an LGBT community newspaper back in the mid-1990s. That is a lifetime ago on just about any political issue, but truly on some of the debates I was covering then, there was one really big story in particular, back then that seems like a report from Mars today. The idea that you could get therapy to make yourself properly heterosexual. Gay conversion therapy, as it was called, has been well and truly discredited and few well-meaning people would today suggest that my therapist should try convincing me that I'm actually straight.
Conversion therapy remains very much alive when it comes to transgender people, and moreover, if you want to understand why there's an eruption of bills targeting transgender people in state legislatures around the country, you have to understand the history of this particular idea. This week, we're going to talk about that history and where it fits in the ideology of the Christian nationalist movement. We're going to check in with an advocate in Tennessee who's been working with families affected by that state's new law banning gender-affirming care for minors.
I'm joined first by Imara Jones. She's the founder of TransLash Media and host of their podcast, The Anti-Trans Hate Machine: A Plot Against Equality. Season 2 of the podcast launches later this month, and it begins with a deep dive into the history of conversion therapy. Imara, it is nice to have you back on the show.
Imara Jones: Thanks for having me. I think it was two years ago when we were talking about the very same thing.
Kai Wright: About this very thing, and you were predicting exactly where we're at.
Kai Wright: You begin this season, this new season of your podcast with this deep dive from decades in the past talking about the history of conversion therapy. Why start there?
Imara Jones: It's important because the entire predicate on these bills is that transness is not a real thing. It's a made-up thing. That's not an idea that's actually shared by the medical or the psychological community. It's literally a made-up notion. We begin looking at where does the idea of anything related to transness or sexual orientation come up first, as a made-up idea. When we dug into it, it was due to the entire conversation around conversion therapy.
I think that we have to understand that conversion therapy would have died out in the 1980s were it not for essentially one man, and that's James Dobson, who ran the Family Research Council, who single-handedly found a way to not only maintain the idea but set up a network of thousands of therapists who would work alongside of him driven by religious ideology to maintain it. Everything that they did to maintain conversion therapy, setting up pseudo-scientific groups, and finding "ex-gays," all of whom now have renounced that, was essentially the road test for everything they've done on essentially transness as something that is real or not.
In order to understand where this notion came from, how the conversation has been maintained, and how they've essentially successfully run this disinformation campaign against trans people, which became the predicate for these bills, you've got to understand what happened with conversion therapy.
Kai Wright: When and how did that pivot happen to saying, "Okay, we're going to focus this on trans people," the conversion therapy piece of it?
Imara Jones: For the longest time, not surprising to anyone who is watching how the present conversation has somehow morphed into drag queens, there's this weird conglomeration of anything outside of the gender binary on the right. For the longest time, transness was wrapped into their campaign against gays and lesbians in particular. For the longest time, they just wrapped the whole notion of transness in with that, and so conversion therapy was wrapped into that. Around the time of the 2009-ish period, they began to understand that gays and lesbians were beginning to find wider acceptance in society.
They noticed it first around the don't-ask-don't-tell era, but really beginning in this 2008-ish, '9-ish era. They began to understand pretty quickly that there was a possibility that they may lose this fight, and so they actually began to set up new pseudo-scientific organizations focused on trans people during that time. What's fascinating to everyone who says that the right-wing is responding to trans visibility, what's fascinating is because there's such good cultural listening, they've understood where the debate and the arguments were going, even before people inside of the movement have understood that.
Kai Wright: Long and long ago, yes.
Imara Jones: Yes.
Kai Wright: You say in the podcast, that we have to understand all of this when we start now hearing phrases like social contagion and indoctrination sessions.
Imara Jones: That's right.
Kai Wright: These are ideas that say, that part of the growth in young people who are identify-- I don't even know if that's the right way to put it, but the argument is that there's a growing number of young people who are identifying as trans or are exploring their gender journeys and that it's a consequence of a contagion that is spreading socially.
Imara Jones: Okay.
Kai Wright: You talked with a mother who really struggled with this idea when her daughter came out, and I thought her story was really powerful. Can you just introduce us to that story quickly, and how she came to this idea of social contagion?
Imara Jones: Now, for the full story, everyone will have to listen to the podcast that launches on March 31st. We're not going to preview too much, but, yes, what happened, what's so interesting about this family, Kai, is that this family is one where everyone, essentially is deeply rational. If you were to look at them from the outside, they should be immune to these ideas. They're not religious. They are highly scientific and logical in nature and structure, but they were pulled into these ideas because they have been made to sound as if they are grounded in some sort of science and logic because the right wing has set up an array of pseudo-scientific organizations to peddle junk science.
What was fascinating to me about this story is that they pretty much understand, they meaning the Christian fascist movement, understand that we live in a transphobic society and that transphobia is a default for so many people. If you can begin to whitewash the notion of hate from transphobia, you can actually make transphobia highly acceptable to people. That's essentially what happened in this family, where they played on the discomfort that this mother had about their child being trans. Through a series of conversations seated on the internet, and on a couple of sites in particular, with these ideas, essentially drew this parent into a four-year stalling of blocking the transition of their kid to really serious harm to that child and to their family.
Kai Wright: The website, in particular, there was a particular blog that really drew this person in and that has been a big player in drawing parents into this belief system, right? How did that blog become such a big deal?
Imara Jones: It's a pariah. I wish we could refer to it in the past tense. I wish we could say that it was. The problem is that it still actively is. Essentially it started out as a gathering place for parents who were trans skeptical or out and out hostile to the parent, and because the conversation in this site grew, it pulled in, it began to act as a center of gravity for Christian nationalist organizations and movements, fringe Jungian psychotherapists, various people who questioned transness overall. Strange scientists who somehow used the conversation there to become even more prominent, and so it acted at this weird center of gravity.
It looks as if this blog is natural and all the rest of it, but if you were to pull back, it looks as if the type of place that is sculptured, that is created to garner this type of conversation.
What happens, as you know, is that once you have a site on the internet that acts as a center of gravity, that can pull in this kind of motley crew of conversations, it then acts as a nexus point for that to spread across the internet. That's exactly what happened. It acted as a place where parents and "researchers" were reinforced in their notions of the idea of transness as a social contagion. Then where the idea of transness as a social contagion began to spread.
Kai Wright: She said to you, the mother said to you as almost as an aside, and we've got about a minute before I have to go on break, but she said that they call it transphobia for a reason. What do you think she meant by that?
Imara Jones: I think she meant that if it walks like a duck and quacks like a duck, it's a duck. That no matter how whitewashed, how reasonable, how detached transphobia may sound, it's still transphobia. If someone tells you that your child is trans but you have someone present to you this idea of "watchful waiting," which is one of their concepts, that that's actually a transphobic idea. Because if someone, if a medical professional came to you and said that your child had some other type of condition that needed to be addressed, addressed through some type of therapeutic moves, you wouldn't wait, you would move. The only reason why you don't move on this is because transphobia is dressed up to look comfortable.
Kai Wright: We have to take a break. Imara Jones will be back with us later in the hour to talk more about the podcast, The Anti-Trans Hate Machine launching later this month. Listeners, we'd love to hear from you. Have you or your family been affected by the surge in legislation targeting transgender people by the political interest in gender identities among young people in particular? Tell us how. Perhaps you're a parent, perhaps you're a transgender or gender non-conforming person, maybe you're a care provider or an educator. How is this political moment affecting your life? We'll take your calls and continue the conversation after a short break.
[pause 00:12:25]
[music]
Rahima Nasa: Hi, everyone. I'm Rahima, and I help produce the show. We're planning an on-air celebration of Ramadhan next week, kind of like how we've celebrated Yalda and Juneteenth in the past. We need your help for this one. If you celebrate Ramadhan, we want to know how it has changed over the years for you. Maybe there's a specific way you like to give back to your community during the month, or maybe you have kids now, and you're figuring out how to make the holidays special for them. Whatever it is, we'd love for you to share it with us by sending us a voicemail, which we may play on the show. Here's how you do that. Just go to notesfromamerica.org and click on the green button that says Start Recording. Thank you and Ramadhan Mubarak.
[pause 00:13:31]
[music]
Kai Wright: It's Notes from America. I'm Kai Wright, and this week we are talking about the surge in bills targeting transgender people in state legislatures around the country. Analysis from both civil rights groups and news organizations have found state lawmakers introducing record numbers of bills targeting transgender people in the last two legislative sessions. Youth are a particular focus of this legislation. A NPR analysis this past November found that 86% of the bills in the past two years focused on trans youth. Tennessee is the latest state to make headlines in this movement.
Governor Bill Lee signed a law earlier this month that will ban healthcare providers from giving gender-affirming care to minors. Tennessee is the fifth state to restrict healthcare in one way or another for transgender people according to the ACLU, and it's the first state to restrict drag performances in public places, though there are several similar bills making their way through other state legislatures. Before the break, I was speaking with Imara Jones, founder of TransLash Media about the history behind this moment. She'll join us again later in the show, but for now, I want to turn to Tennessee in particular.
Henry Seaton is the trans justice advocate at the ACLU of Tennessee, which is one of the civil rights groups that I believe have sued to challenge the state in the new law in Tennessee. He joins me now. Henry, thanks for coming on the show.
Henry Seaton: Yes. Thank you, Kai. I really appreciate it.
Kai Wright: You guys have filed suit, right?
Henry Seaton: We are preparing to file a suit at the moment, but we have made a statement with the ACLU, the national organization, and Lambda Legal as well, saying that we will be on the books with a lawsuit pretty soon.
Kai Wright: Got you. Can you first just help people understand what this new law means for individual people in their lives? When it takes effect, what will it mean for transgender youth and their families?
Henry Seaton: I think one of the main sticking points about this piece of legislation that makes it so vile and hateful for a lot of people is the fact that if by March 31, 2024, you have not turned 18, you will be required to de-transition on that date, which means that even if you are already currently on any sort of puberty blocker or hormone therapy before this law goes into effect in July, you will still be required to come off of it. We've seen it already have major impact where children and teens and their families who do want to pursue this life-saving medically necessary care can't find a doctor willing to take in a new patient at the moment because of all the heat that's been brought around them.
It also just really vilifies the medical practice as a whole with its extreme statute of limitations, which can lead to quite a brain drain per se in Tennessee. Whereas doctors are seeing us just completely throw away their expertise and knowledge, and say, "We're going to extra punish you for doing what is medically sound." It's leading to a lot of doctors wanting to move away as well, and again, the law hasn't even gone into effect yet. It goes into effect July 1. A couple of other things that it does, it just--
Kai Wright: Just to underline though, I want to make sure I followed this to be clear because we're not just saying that people in the future, a 16-year-old in the future who says to their parents, "Hey, I'm on a journey, and I'm coming out to you as transgender," that person can't find care in the state of Tennessee in the future. It's not just that. It's somebody who is already identifying as transgender, is already living as transgender, is already receiving treatment, will have to come off treatment if they stay in the state of Tennessee.
Henry Seaton: Yes, that's correct.
Kai Wright: Sorry, I just want to make sure listeners caught that detail. You were just about to say other things that it's going to do.
Henry Seaton: It's definitely a cynical piece that Tennessee is pretty unique in having, but other things that it does is it's pretty standard. I hate to say that because it's so popular, but it's pretty standard for other bills that we've seen around the nation that do this, where it's just a complete blanket ban on puberty blockers, hormone therapy, and any surgical procedure for anyone under the age of 18. The attorney general has up to 20 years to bring a suit against a healthcare provider, and a minor can sue the doctor that gave them puberty blockers or hormone therapy up to 10 years after they turn 18.
Kai Wright: Listeners, if you or your family has been affected by this kind of legislation in your state, or if just the broader political moment in which this conversation is happening in which transgender youth, in particular, are under such intense political scrutiny, if that's touched your life in any way, I'd love to hear from you. That's what it would mean. We've talked about what it would mean for young people in the state of Tennessee. What will it mean for transgender adults in Tennessee? Like, for yourself, what, if anything, will the restrictions, say, on these public drag performances, mean for you?
Henry Seaton: I think the ban that can restrict drag performances in the state of Tennessee is overly broad and vague, in that there's a lot of definitions in the Tennessee code that are just not given. For example, the phrase that catches eyes about that Bill is male and female impersonator, that's actually been in the Tennessee code since the 1990s but has never had a solid definition. Let's say, for example, a trans person who identifies as a man, or like me, for example, let's say that I'm a trans man. I go down the street, and I'm wearing masculine clothing, but as someone who's publicly and openly transgender, I can be seen as a male impersonator.
Because I'm in public and on a sidewalk where kids could potentially see me, even if I'm in my own home and have a window open and someone sees me, that could mean I could get charged with a Class A misdemeanor, or if I get a repeat offense, it's a Class E felony for repeat offenses. It definitely, along with other bills that we're seeing in the Tennessee legislature, one being codifying the definition of sex in the Tennessee code, it definitely shows that they have a specific and strict angle towards the trans community. Even with a healthcare ban for minors, they are forcing minors to go through physical changes that they don't want, and that will affect them into adulthood as well. If we are forcing people to go through a puberty that they do not align with or will bring them a lot of suffering, it will create permanent changes to their body regardless, right?
Kai Wright: You work with families affected by this. I wonder how often you encounter well-meaning parents who are genuinely struggling with their kids' gender journeys, and who hear about these laws and think, "That makes sense to me. That's parental rights. That's parental oversight." What do you or what would you say to those parents?
Henry Seaton: The major point I want to hit on is that the majority of major medical associations, whether it be the American Dermatology Association or the American Medical Association, all disagree with a blanket ban on gender-affirming care. I would also heavily point to the fact that this is a very well-researched and long-term, specific area of medicine, and that listening to your doctors is imperative because any doctor who has a lot of knowledge or research in this area, is able to give you the best advice moving forward. With the Tennessee legislature stepping in, in this way, it just completely blocks off any sort of parental right or choice or a private decision that could be made between a child, their parent, and a medical professional because it just goes and steps in, in this huge government overreach move of just saying that, "Even though we've been told time and again, that this is very well medically researched, we're going to take away this option altogether." I would say that this is a complete robbery of parental rights in a way rather than something that gives those to a parent.
Kai Wright: Let's hear for some callers. Let's get to Luke in upstate New York. Luke, welcome to the show.
Luke: Yes, thanks for doing this. I just wanted to chime in here that my child who's a young adult, his life was probably saved, and definitely, his quality of life was really improved because of gender-affirming care. The fact that people in these legislature take the rights of these parents, and these young people who are trying to figure out exactly how to live their best lives, it's anti-liberty, its anti-American.
Kai Wright: How is this political moment that we're hearing about? How is that impacting your son or yourself? You're in upstate New York. This is not a state that has passed any of these laws, but you're living in this political moment.
Luke: My son lives in another state now, and there is no legislative threat against him at this point and probably won't be, but he has friends who are impacted by this, colleagues. The whole thing, what happens when you cross state lines? What if you need to get a prescription filled at a pharmacy? If you are working for a month or two someplace else? It's ridiculous. We are in a safe space, I guess, but at what point are no spaces safe?
Kai Wright: Thanks for calling, Luke. Let's go to Lisa in Minnesota. Lisa, welcome to the show.
Lisa: Hey.
Kai Wright: Hello.
Lisa: I just want to say thank you for bringing forward all these concerns from across the nation because I think there's a lot of perspective to represent.
Kai Wright: How is it showing up in your life?
Lisa: Living in Minnesota, we think that we don't have lack of safety as trans families. My 16-year-old was assigned female at birth, has been going through transition. Happily got on to testosterone, and that's been very helpful, but inside of the journey, we've had to change care providers because at the start of our journey, there was the overturn of Roe v. Wade, took out one of our referral sources. Now, which is a major university medical system, has diverted all of their referrals to Mayo and to children's hospitals. It's like we've already got limits going on in our state even though we're very much protected by our governor. That doesn't mean that healthcare resources can't make those decisions too.
Kai Wright: Yes, there's an echo effect. Thank you for adding that to the conversation, Lisa. Let's do one more call, and then we'll have you react to some of this, Henry. Let's go to Annabelle in Pittsburgh. Annabelle, welcome to the show.
Annon: Hello, thank you. Just a quick side note, my name is Annon, A-N-N-O-N.
Kai Wright: Oh, sorry.
Annon: No, it's all good. It's hard over the phone. I just wanted to put in my two cents as a non-binary and trans person who identifies as trans individual. I'm 22, I'm soon to be graduating college. I'm in a program that looks at environmental sustainability. I see this as a future where I could possibly travel a lot and be able to help a lot of people, but I also fear for my peers. People in other countries who won't be able to live to their fullest extent because they're being repressed in such a way. It's just very heartbreaking. I'm fortunate enough that at my age and my location, I've been able to pursue various forms of gender-affirming care that have made my life so much more comfortable and enjoyable. It truly pains me to hear about the discrimination and just the terrible ideas that are coming forward with no scientific basis.
Kai Wright: Thank you for that.
Annon: Yes, thank you.
Kai Wright: Henry, in all three of those calls, anything that jumped out to you that you want to comment on?
Henry Seaton: Yes. I really appreciate the point being brought up about the overturn of Roe v. Wade because just like how we saw a balloon in abortion appointments meetings be made in places like California, Oregon because that option was taken away, in states like Tennessee, for example, it's the same way with gender-affirming care. Because it's being restricted in so many areas, it will require people to go out of state to receive their care. This will have that echo effect that you'd mentioned, of having an impact on basically everyone because it will make it to where it's harder to get appointments, not just for people in these states where it's banned, but for people in states where it's not banned, where people have had to flee to.
I hear from families all the time that have fled to areas like Chicago or New York because, in Tennessee, we've restricted gender-affirming care, and because we don't know what the future of that can look like for parents. There was originally, or rather now, there was an amendment on the bill at one point that would have defined gender-affirming care as child abuse. Fortunately, it was taken away but who knows when that could come back again? You know what I mean?
Kai Wright: I do.
Henry Seaton: This will have that echo effects where it will just ripple out to the entirety of the nation it seems. As someone who received gender-affirming care as a minor, I was 17 when I received my first dose of testosterone here in Tennessee, it's safe to say that this saved my life as well. I know that a lot of people have said the same thing. I was unsuccessful in treating my mental health disorders until I was able to build the foundation that testosterone set down for me because I was able to look in the mirror and see myself. I could only then be able to see a future and try to work around being able to live into myself because I actually had a sense of self for once in my life. You know?
Kai Wright: Yes.
Henry Seaton: It's really heartbreaking to hear all of the people that are nervous or scared, but it's also really important to be realistic about how this impacts the entirety of the nation. As these continue to pass, it will just make it worse and worse for all of us, not just some of us.
Kai Wright: In about a minute, we have to take a break, but earlier in the show when I was talking to Imara Jones about the history of this movement, and we talked about social contagion, that idea, how often was that part of the debate in passing the bill in Tennessee?
Henry Seaton: Quite often, it was that in tandem with what we called "comorbidities," so it would be trans people have autism or depression or anxiety that will inhibit their ability to discern a sense of self, when we know that that is just inherently incorrect. That this kind of idea of rapid onset gender dysphoria, which is a phrase that I've heard for this social contagion, is inherently false. It is a huge talking point because it strikes into that fear. It taps into that fear of being like, it's not just these children who live in these big cities, it can be your child and your conservative family too.
Kai Wright: We got to take a break. I'm talking with Henry Seaton, trans justice advocate for the ACLU of Tennessee. When we come back, Imara Jones of TransLash Media will rejoin our conversation. We'll talk about the road forward, and we will take more of your calls. Stay with us.
[pause 00:30:43]
[music]
Kai Wright: It's Notes from America, I'm Kai Wright. We're talking about the surge in bills targeting transgender people moving through state legislatures around the country. We're still taking your calls if you or your family member has been affected by this kind of legislation in your state, or if you've been affected by just this broader political moment. I am still joined by Henry Seaton, who is the trans justice advocate of the ACLU of Tennessee, which has become the most recent state to ban or limit access to gender-affirming care for minors.
Imara Jones is also back with us. Her podcast, The Anti-Trans Hate Machine, is just about to launch its second season. It's produced by TransLash Media, which Imara founded. Imara, one of the things I do want to say that I really enjoy about TransLash is that so much of the work you do is rooted in the joy and celebration of trans communities. I do want to bring that into this conversation because it seems to me we are also in a remarkable moment in which the trans community has asserted, if you will, "We're here, we're trans, get used to it. Oh, I think Imara is muted. Oh, there we go.
Imara Jones: Oh, okay. I think that the fascinating thing is that both things are happening at the same time. It very much reminds me, someone else mentioned this to me, that it very much reminds him of the time of the Harlem Renaissance where you have extreme oppression and you have extreme creativity that rippled out for generations and continues to. I really do think that that's akin to what's happening in trans communities, especially Black trans communities. The sheer range of creativity and places that trans people are showing up right now is really powerful.
The way that trans people are advancing culture and science, and very ideas about community, I think are going to ripple out for a really long time. Anti-Trans Hate Machine is a really important part of our work, but as you say, the vast amount of our work actually is about lifting up all of those other stories that are going on in our community. Both are happening at the same time.
Kai Wright: Henry, are you seeing that in Tennessee as well? If so, how is it visible to you there?
Henry Seaton: Yes, definitely. One of the things I wanted to highlight is just, wow, that was just so on point. It's hard to [laughter] say. I need to say on it.
Kai Wright: If I could prod you, one thing that I've heard you say in the past is that you've seen a real outpouring of people standing up to fight. That is an increase from what you saw in past as an organizer. Is that fair to say?
Henry Seaton: Yes, definitely. I think in talking with other ACLU affiliates as well, a lot of other states are the same way. This is a national movement of people seeing what's happening and being really, really worked up by it. For me, personally, this is not a legislative session that I've seen anything like ever really. This is some of the most vile and hateful legislation that we do see year after year, but this time it has so much more momentum behind it because of how prominent this movement has become over time. In tandem with that is the queer community in Tennessee at least, and I know in a lot of other states as well from conversations that I've had, is really showing up and showing out as a result because a lot of people are seeing how dangerous it is to be trans in Tennessee right now and be publicly trans and speak out for yourself.
Allies have come up and decided to bring their voices forward to protect the trans people and their lives. We've also seen, in Tennessee, Vanderbilt University's Medical Center has been under specific attack because of those doctors having their addresses published online and having to do only telehealth services because of bomb threats at the Vanderbilt campus. A lot of people have come up to support those. Then, with that, financial contributions have also skyrocketed here, which is really great for our locally-based organizations to do their work.
Kai Wright: Let's hear from some more callers. Let's go to A in Trenton, New Jersey. A, welcome to the show.
A: Thanks for having me. I'm really glad that you just brought up the idea of trans joy. I'm an adult that came into my non-binary trans identity late in life, and it was literally the best thing I had ever heard. It was a euphoric moment reading the definitions of what it actually meant to be transgender and to be non-binary. I very naively thought everybody would be equally as happy and euphoric about this idea of gender identity being more diverse and being more comfortable to somebody that did not fit the binary. It's very bewildering and strange to have this increasingly polarizing rhetoric really demonize the best thing that's ever happened to me.
I really worry about trans youth who are the first generation to be able to have all this wonderful visibility and the ability to really understand who they are at a young age and not waste a huge chunk of their life not understanding themselves and how people are perceiving them. Then also I worry about our trans elders who also are now feeling comfortable coming out and understanding themselves after so many decades being perceived incorrectly and thinking about going into assisted living or being dependent on family members who may not understand who they are.
It's like this very weird disconnect between the joy and happiness that I feel. Understanding myself and knowing that other transgender non-conforming people can finally see themselves and be seen. Then also in sharing our stories in this time of visibility with the lack of understanding from cisgender people, and having to tiptoe around and not knowing when and where they can celebrate themselves and celebrate with each other. It's very strange, it's a strange time.
Kai Wright: Thank you for adding that, A and it really underlines Imara's point about, there's two things happening at the same time, and it's very difficult to process that for a lot of us. Let's go to L in Northern Minnesota. L, welcome to the show.
L: Hi. Thank you. The big thing that these new laws really highlight is that these feelings towards trans people, they have always been underlying, I think, for a good amount of the population. I also think that in the current day, there is such a magnification of it almost in that you have minority of people, I do believe it's a minority of people, who don't accept me and other trans people in this country, but who are speaking so loudly that they are actually starting to have an impact. It's to an extent that these laws are being passed, obviously, but it's also to an extent that I think it is definitely scaring some people, which, obviously, yes, that is the intent.
A lot of people will tone it to survivor bias and things as why so many trans people are coming out now because they see it as safer than in the previous times. Even 10 years ago, it was dramatically less safe to come out than it is now. I'm worried that so many people who won't understand who they are and won't discover who they are because they won't even think it's possible just because of all these laws and all of this rhetoric.
Kai Wright: Can I ask you L, I gather you mentioned to our producer that you spoke to, that you have not come out to your family as trans. I wonder how this moment shapes that choice for you.
L: I didn't exactly not come out to my family. What I said was I'm not out publicly.
Kai Wright: Got you.
L: My family is very supportive, unfortunately, despite the fact that I live in Minnesota, a state which I am extremely proud of for its legalization and protection of queer rights, I live in a community that is, unfortunately, not nearly as much of a liberal Baskin as the Twin Cities. I hear things. Obviously, I live in a pretty small town, so it's not representative of the whole population. It's a farming town, but you hear things and you feel dramatically less safe because you know how people really feel about that. Obviously, if you're out and about, there's the whole Minnesota nice thing. We don't tend to tell people if we don't approve of what they're doing, but when they don't know they feel comfortable enough to say things, and that inherently makes me feel less safe.
Kai Wright: Thank you for sharing that, L. I really appreciate it. Imara, I want to pick up on something L said about there's a minority of people who are really loud. A lot of the work you are doing in Anti-Trans Hate Machine is documenting how they got so loud, and what is the structure behind that. I just want to hear you react to that point and what is the megaphone that is making that, if L is correct, that this is a minority of people who support this kind of legislation? What is the megaphone for them?
Imara Jones: I would say that there are a minority of people who are loud, but I think that there is a sizable minority, perhaps even a majority of people who are unsure about trans people, who what I call soft transphobia. I think that what happens is that through the entire infrastructure they've built, the hope is to convert as many of those people who are soft transphobes into being active transphobes. I think that we have to realize that we live in a transphobic society. Transphobia is the default in the country. It's all about how we're responding to changing, answering transphobia that is really powerful here.
The right has done a lot of research over the years to try to figure out how to do that. I think that what we have to understand is that there's an entire infrastructure. I think that one of the things that we did in Season 1 was to detail the state organizations, the national organizations, the billionaires, the think tanks, the religious ideology, the religious institutions, and the politicians that are all working in concert to drive these bills. It is an entire infrastructure that we have to understand it. You know that it's an infrastructure because somehow they have managed to make a group of people who are 1.5% of the population into one of the top three points of discussion of political life in America.
You don't get there by accident. That shows you how powerful they are. I think what we're doing this season is talking about how parallel to that, they built an entire disinformation ecosystem that has found its way, not only into right-wing and Christian nationalist media, which we would expect but also into the broader media mainstream. One of the things that the right understands is that because they have minority views, that they have to try to build majoritarian structures that will allow those views to become the default position in political life.
That's what we have to understand, that there's nothing that's accidental about this conversation, and that, I know that for me, the more that I understand about how the right-wing works and how they have put this conversation at the center of national life, the more alarmed I've become.
Kai Wright: I want to sneak in one more call. We're getting short on time, but I've really enjoyed hearing from our listeners on this. Deb in Minneapolis. Deb, welcome to the show.
Deb: Hi. Thank you so much for taking my call. I have two things to say really quickly. First of all my ex is trans. I have two kids who are trans. I am an educator. I am also an activist. 30 years ago I was a conservative right-wing Christian. I obviously am not anymore, but I have lots of connections in the religious communities, and I am putting it out there all the time that the things that they are hearing from people who are trying to make these laws are not true and that trans people are not a danger. Second, even though I live in Minnesota, thank God for that, and we have laws that protect the trans community, it only takes one election cycle to tip the balance. I advocate all the time for, get out and vote, get out and let people know that there is nothing to fear from the trans community because so many of the people on the religious right, they operate from a place of fear and ignorance.
Kai Wright: Thank you for that, Deb. As we're starting to wrap up here, we've got a few minutes left, but Henry, I would put to you, what is the big fear? I think there's a lot of people who are on the sidelines of this conversation, as Imara referred to the soft transphobes. I think there might also be some soft trans allies that are like, "What's the big deal? Why is everybody afraid? I don't have anything to worry about." In your life, in your experience, what it is that you believe that has triggered people so, who literally don't want trans kids in Tennessee to exist?
Henry Seaton: Yes, that's a great question. I think about it every day, and if I had the best solution ever, I would definitely say it. I think it's something that's been built upon generation after generation like Imara has already discussed. I think it even goes back further because Tennessee has always been this reactive state where they don't think something is a problem until they hear it introduced to them as a problem, and then they know it's a problem if that makes sense. People don't know to think that gender-affirming care is a problem until it gets introduced to them that way, and then it becomes something that they become really passionate about. You know what I mean?
Kai Wright: Yes.
Henry Seaton: This is something that goes back, Tennessee being a former Confederate state, a former segregation state. It already starts with this fear of exposure to people of color, specifically Black and brown people, and just progresses itself over time in the early 2000s as becomes exposure to gay men. Now we're being exposed to trans people, even though we know this exposure does not hurt anyone. Exposure doesn't mean harm, exposure just means having an experience that someone is hesitant to have. This is just something that keeps piling on over and over again.
Then this go-around, it's the trans community. I would say it's really hard to say what the specific fear about trans people is because you have to look back centuries to see how this is just all built upon itself from a former slave state, former segregation state, and now it just continues forward.
Kai Wright: Imara, as a great communicator, can you give me 10 seconds on what is the real fear here?
Imara Jones: The real fear here is of change.
Kai Wright: There it is.
Imara Jones: The real fear here is change. In a time when the majority of America has a lot of fears about change, here's another thing to be afraid of.
Kai Wright: Imara Jones is CEO of TransLash and host of the podcast, The Anti-Trans Hate Machine: A Plot Against Equality. Season 2 is about to launch. Henry Seaton is the trans justice advocate of ACLU Tennessee. Thank you to you both, and thank you to all of our listeners who chimed in for this conversation. I appreciate your honesty and your contribution. If we didn't get to your call, you can always reach us at notesforamerica.org. Notes from America is a production of WNYC Studios. Follow us wherever you get your podcast, and on Instagram @noteswithkai.
Theme music and mixing by Jared Paul, Milton Ruiz was our live engineer this week. Reporting, editing, and producing by Karen Frillman, Vanessa Handy, Regina de Heer, Rahima Nasa, Kousha Navidar, and Lindsay Foster Thomas. André Robert Lee is our executive producer, and I'm Kai Wright. Thanks for hanging out.
Copyright © 2023 New York Public Radio. All rights reserved. Visit our website terms of use at www.wnyc.org for further information.
New York Public Radio transcripts are created on a rush deadline, often by contractors. This text may not be in its final form and may be updated or revised in the future. Accuracy and availability may vary. The authoritative record of New York Public Radio's programming is the audio record.