The End of Institutions: Hollywood Edition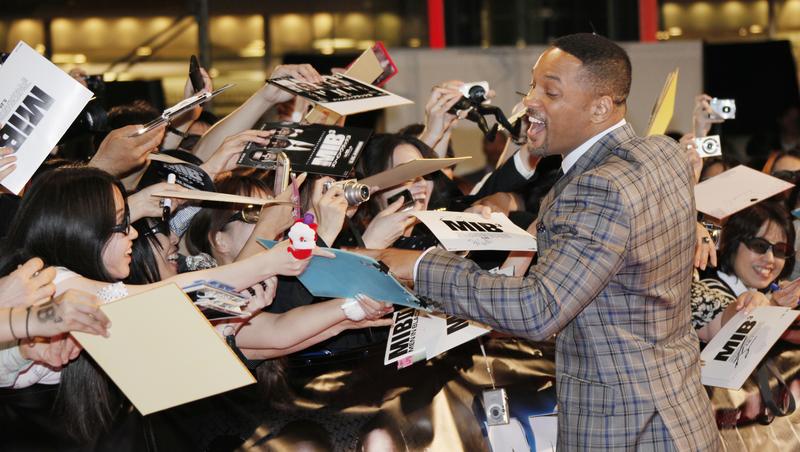 Transcript
[music]
Regina de Heer: Did you watch the Oscars?
Tymetrias: No.
Jasmine: Some of it.
Regina: What have you all as a group been talking about since that day?
Jasmine: I think it was awesome that Samuel L. Jackson finally got his first Oscar. I think that his work has been amazing and that he should've got it way ahead of this time. I'm happy that he finally got it, as well as Will Smith, another Black man having The Best Actor award.
Tymetrias: The deaf actor winning the first award for a deaf actor, that was really memorable for me.
Jayla: I've just been seeing a recent controversy regarding Will and Chris, why they said the things they said, why Will reacted the way he reacted. Chris is a comedian, he makes jokes. Will, there was no telling how anyone would have reacted to someone talking about their wife. We could have taken that probably behind closed door. That's just my opinion.
Kai Wright: Welcome to the show, I'm Kai Wright. We're going to talk about Hollywood tonight. This time last week, as I said goodbye on our show, I could not have imagined that I was about to spend the next week consuming and joining if I'm honest, joining debates about Will Smith slapping Chris Rock in the mouth on live television. That is surely what happened. The thing is stepping back from the smack itself, this now feels like a defining trait of the Academy Awards. The whole event is like a screen upon which we project cultural debates that go way beyond the art of filmmaking. Maybe it was always so, the event is ultimately a publicity campaign for Hollywood.
Which is why tonight we're going to explore questions that the slap heard round the world race for Hollywood itself. Will Smith, after all, is one of the industry's biggest stars, maybe one of the biggest ever. My first guest has been thinking for a while about why that's the case, what it says about the industry and about the rest of us. Soraya McDonald is the senior cultural critic for Andscape, her writing on pop culture, fashion, the arts and literature made her a 2020 finalist for the Pulitzer Prize in Criticism. Before the slap, she wrote an essay titled "Does it matter if Will Smith is actually the best?" Soraya, welcome back to the show.
Soraya McDonald: Hello, thank you for having me again, Kai. It's a pleasure.
Kai Wright: Well, we have to talk about the slap itself. It's still being litigated a week later. It's become the platform for a debate about violence, about who stands up for Black women, about celebrity impunity, even about who has the rights to-- [crosstalk]
Soraya McDonald: Racial essentialism.
Kai Wright: Racial essentialism, who has the right to have an opinion about any of this is part of the debate. One thing, though that everybody seems to agree upon is that Summer of Soul had its moment taken from it. I guess that is almost the most ironic to me that this film that was this beautiful film about a concert that was meant to heal a community that had just been through violent times.
Soraya McDonald: Exactly, and bringing people together. Oh, absolutely. I think in part because Summer of Soul is so celebratory of the healing aspects of art and what it can do, how it can really be a bomb for people. If there are a group of people who can appreciate that is Black people like us. The other thing that I think is really quite amazing about that is, it's not just that you have Questlove who is this prolific artist who has been trimming out just all kinds of fantastic hip hop for years and years, but who is also an excellent bandleader and, as we find out, an excellent documentary filmmaker. To the point that with his first feature project, he is competing against one of the big deans of documentary filmmaking and Stanley Nelson, and wins.
Kai Wright: And wins.
Soraya McDonald: That is an amazing moment. It really is a shame that we didn't get to bask in that in the way that we could have. The other thing I think that's worth mentioning is that this year's documentary category, period, was just really, really stacked. You have the animated film Flee, you have Attica, that's Stanley Nelson's film, Summer of Soul, we've got Ascension, which is this really interesting look at the way capitalism and consumer culture influences labor in China, where so much of the stuff that we buy gets made. There's so many interesting conversations we could be having if we didn't still have to be talking about the slap.
Kai Wright: About the slap. Well, one of the things I have to say, Joseph Patel who was one of Summer of Soul's producers, he has been vocal about feeling this moment was stolen from them. He's focused on Chris Rock's joke, as he presented the award, that it was Questlove and four white guys. Setting aside that it was actually only three producers-- [laughs]
Soraya McDonald: One of whom is Asian.
Kai Wright: Patel is South Asian and he felt really erased in this moment. I guess I wanted to ask you to comment on that. More than that, it just made me think about the ways in which this ceremony has become this strange, diversity competition almost.
Soraya McDonald: Oh, gosh. [laughs]
Kai Wright: I guess it sounds like I've touched a nerve there. What is your reaction to that?
Soraya McDonald: I think one of the things that really irritated me about this particular Oscars was it was very clear, I think in their acceptance speeches, but more in the presenters' speeches. We keep coming to this boding of, oh, we have so much diversity, it is a drumbeat. I want to say rather than talk about it, just be about it, just nominate good work, make sure that you actually see the amazing work that Black people and people of color are doing, that queer people are doing, and recognize that for more than just, here is a Black person who has done something, or here is an Asian person who has done something, or here's a queer person or a deaf person.
I think it would be nice to talk about and appreciate the artistry of what these different folks have accomplished. If we go back to 2016, with the Moonlight, La La Land debacle, Moonlight is, gosh, one of the-- I think in the history of the Oscars, it's one of the lowest budget films ever to win best pictures, was made I think for like $3 million. It's this incredibly beautiful, heartfelt film, you have this excellent score, all these different things. Then what we ended up talking about is the accounting error that leads to this catastrophe when Best Picture was announced.
Kai Wright: Which in case people don't remember is when the announcer announced that La La Land had won but in fact, Moonlight had won.
Speaker 6: Guys, I'm sorry, no, there's a mistake. Moonlight, you guys won Best Picture.
[cheers]
Soraya McDonald: I will say that the Oscars Board of Governors has absolutely tried to make strides since getting pinged repeatedly, first with the #OscarsSoWhite hashtag that is created by April Reign. This is an organization that realizes that it has egg on its face that way. One of the ways that it particularly under the stewardship of Dawn Hudson has tried to correct that has been by trying to achieve some sort of parody when it comes to who they're inviting as new members into the Academy to vote in these various categories. Now, the problem is, is that overall, this is an institution that's so white and so overwhelmingly male that it's going to take more than a few years at the rate that they are going before the demographics of the Academy directly reflect the demographics of the country.
Kai Wright: I wonder if hearing that-- Because the other way to look at all of this is maybe it's a good thing, maybe the spectacle that happens every year around the Oscars at all of the fraught debates that come out of it, they reflect society. A lot of which you just described.
Soraya McDonald: Oh, they do.
Kai Wright: That's society right now.
Soraya McDonald: Absolutely. I think for a long time we had two American live televised events that we rely on frankly, even if we don't necessarily realize it to do this, the Oscars and the Super Bowl. Consider, let's say, Beyoncé's performance at the Super Bowl when she does Formation and all of the dancers are dressed up like Black Panthers.
[Beyoncé singing Formation]
Soraya McDonald: This is when Beyoncé basically, even though, if you've listened to her from the moment her career began, she's obviously someone whose artistry and whose voice is steeped in this Black history. You can hear the Motown influences, you can see the single white Michael Jackson glove in the Bootylicious video, I think, and yet, for a not insignificant number of people, that performance was when they realized, oh, Beyoncé is Black.
Kai Wright: She's Black. She's into Black things.
Soraya McDonald: She's into Black things. She cares about civil rights, who knew? To the point that there's a Saturday Night Live sketch that essentially makes this point. Those two telecasts, for a long time, have really shaped how the American public thinks about itself. It also is reflective of the conversations that we are trying to work through. That is why Whitney Houston's 1991 singing of the national anthem, that the Super Bowl ends up being about so much more.
[Whitney Houston singing The Star-Spangled Banner]
Soraya McDonald: It's about the Gulf War. It's about patriotism. It is about who gets to set a stake and proclaim, "I am American" and what does that mean? What does that look like? All of those things are wrapped up in these moments.
Kai Wright: I'm talking with Soraya McDonald's, senior culture critic for Andscape about the spectacle of the Oscars and the seemingly annual ritual of funneling our cultural debates and our anxieties through this award ceremony. Coming up, we'll talk about Will Smith himself. Way before the slap, Soraya was asking us all to consider the cultural complexities of his role as Hollywood's most popular leading man. Stay with us.
Kousha: Hey, everyone. This is Kousha I'm a producer. You've been sending us so many thoughtful messages in response to our episode a couple weeks ago about the complicated relationship between our names and our racial and ethnic identities. If you haven't caught that episode, please do check it out. It's titled "How Bich Became Beth" and it aired March 21st. One message we received has got us thinking about the next segment we could do on the topic. Take a listen.
Lauren: Hi, Kai, this is Lauren from Inwood, Manhattan. I found one aspect of the conversation that wasn't touched was the impression that the name leaves in combination with voice. I'm a Black woman and I have found that in white settings, I feel the need to prove that the person who has been talking with those people either over the phone or in writing using the name Lauren is the person that they are now speaking to in person with my blackness, with my locks. It's an added burden to verify my identity, yet again, my name and the way that I speak might put me in a different cast, but as soon as I'm seen, I go back down and then have to reprove myself. Anyway, thank you for the show. It was great. Bye.
Kousha: Thanks, Lauren, and to everyone listening, does this sound familiar to you, the way your voice impacts the way you're perceived? If so, send us a voice message about your own experience. You can email us your messages to anxiety@wnyc.org. Again, that's anxiety@wnyc.org. Thanks, talk to you soon.
[music]
Kai Wright: Welcome back. I'm Kai Wright and we're talking about Hollywood this week. Later in the show, Author Jeff Yang will introduce us to what he calls the defiantly Asian future of cinema. Right now, I am still joined by Soraya McDonald, senior culture critic at Andscape. We're reflecting on the slap heard around the world. Soraya, the part that you have wanted to talk about in all of this is the Will Smith of it all. You were writing a good deal about him specifically before this event and the way you see him is almost an avatar for Hollywood in general.
Soraya McDonald: Yes, in a lot of ways.
Kai Wright: Tell me about that. Say more about what about him, even before we got to this slap, was it makes him such an avatar for Hollywood.
Soraya McDonald: As I was working on this essay that published before the Oscars aired and the headline is "Does it matter if Will Smith is actually the best?" As I was working on a draft, the working title that I had in my head was "Will Smith: Hollywood man" because as you say, he's such an avatar for the industry and for institutionalism in a lot of ways. There's this moment and I want to say it's the first Men in Black.
[Men in Black playing]
Soraya McDonald: Where he has, if you have not watched this film, it's so much fun. It's a wonderful-
Kai Wright: Who hasn't watched Men in Black?
Soraya McDonald: -lighthearted '90s blockbuster, and which Will Smith joins this secret galaxy cop agency called the Men in Black. One of the things that contributes to the iconography of that film is the suit that he's wearing, but he looks like a G-Man. That's basically what that suit is and when he puts it on, on his Black body, what does he say? He says, "Oh, I make this look good."
Will Smith: I make this look good.
Soraya McDonald: He makes institutionalism look good, doesn't he?
Kai Wright: Wow.
Soraya McDonald: Up until Sunday.
Kai Wright: Up until Sunday. Wow. You think that's a big part of his appeal is that he's affirming, his roles are affirming of these particularly law enforcement institutions in our society.
Soraya McDonald: Yes, they very much are, because he is a person really that Hollywood can point to and say, "See, it's not just that he has a career," but that he has this stretch where he is ubiquitous in the world. Everybody knows who this man is. Everyone is going to see his movies. He is the one who breaks through this fallacy that films that are led by Black people don't do well internationally. These are not small projects that folks have to fight for years and years to get made. He is a creature of the studio system.
Kai Wright: You say this as a fan of him though, right?
Soraya McDonald: I do. Yes, because the thing is, is like none of this would work if he wasn't good at his job. If there wasn't something about him that kept us returning over and over again to watch him on screen. He has a very easy pleasurable screen presence. He's funny. He knows how to use his body, particularly for comedy. He's also very suave. He's non-threatening. When I spoke to Washington Post Columnist Alyssa Rosenberg, who wrote this really sweeping project about the history of policing in Hollywood and the way these two industries work together, with the result being what we now recognize something called copaganda.
One of the things that Alyssa mentioned when I spoke to her about that piece is the way that policing on-screen has functioned for a long time as what she calls a citizenship machine. Basically, what she means by that is that if white people can trust you to carry a gun, you're a citizen in America. This idea that like, that is the ultimate trust that we can bestow and put in someone who is non-white is we trust you with this deadly weapon and that becomes this really significant part of Will Smith's career because he does those roles over and over and over again, just in a variety of context.
Which is why it's so disturbing because, in a way, we're witnessing this breaking of the fourth wall because this isn't movie violence, this isn't pretend. What we saw Sunday was real.
Kai Wright: From this person who had been deemed the safe Black person, and that said, but he's not safe. I hadn't thought about it that way, Soraya. You've also compared him as an actor to previous big and other big Black leading men unfavorably. That's my characterizing of it, but you've said it's a notable comparison when you think about someone like Denzel Washington and Sidney Poitier, for instance. Put him in context of those two men who I would say are probably the two names that come to mind when you think of massive Hollywood, Black men stars.
Soraya McDonald: What's interesting about that is that if I could be Doctor Who and go back like way early in Will Smith's career to when he does Six Degrees of Separation, where he's basically running a scam and pretending to be the son of Sidney Poitier in that movie, I would say, "Go to roles like this. Do the blockbuster stuff, of course, but just make sure that you've got one or two of these every year where you're challenging yourself and pushing yourself in ways that are weird and uncomfortable because that's how you're going to grow as an artist." When I compare him to Denzel or to Sydney, that's part of what I'm saying, because that feels like the piece that is missing from Will's career.
The last time I think that Will Smith really threw himself into a serious role, where he is absolutely challenged, but I think where he also rises to meet that moment, is the 2001 film Ali, which was directed by Michael Mann. I absolutely think that performance was worthy of a Best Actor Award. Unfortunately, he gets undone or one uped, one might say, by Denzel Washington because that is the year that Denzel wins for Training Day.
The interesting thing about that is that Denzel, he's very much, he's following in the footsteps of Sidney Poitier in terms of his career, in terms of the rigor that he puts into it, he's dedication to going back to theater to buttress his skills. His dedication to rehearsal, all of those things that can get boring, and rote that you got to grind it out to make yourself a better artist.
The other thing is that Denzel trusts his audience. That's not just Black people. He trusts his audience, but he also trusts himself and his talent. He plays this utterly, [unintelligible 00:22:08], horrible, corrupt narcotics cop who is basically a sociopath, and who is genuinely terrifying. All of the stereotypes of Black manhood that we find most threatening and scary, and all of those things. He finds a role basically, where he gets to embody all of those things and take what some might say is this huge risk, but it pays off.
Kai Wright: Well, it's interesting too from what you said about Will Smith being in these roles that affirm institutionalism as a likable person, as the Black person who's allowed to carry a gun. In that light, when I think about Training Day and Denzel taking that job, it's the exact opposite.
Soraya McDonald: That's the opposite of that, yes. Yes, exactly. He really takes this immense chance because the other thing that he's doing, this is not a role that makes cops look good.
Kai Wright: No, it certainly does not affirm institutionalism.
Soraya McDonald: No, by any stretch.
Kai Wright: You also wrote about Cicely Tyson about a year ago.
Soraya McDonald: I did.
Kai Wright: In that, you wanted to again, talk about her career as a way to talk about the history of Hollywood in general and the ways in which we need to understand these modern debates. What were you trying to get at by looking at her career?
Soraya McDonald: Cicely Tyson is just a really interesting figure to think about the history of film because she's born in December 1924 in Harlem. When she actually decides that she's going to get into show business, this is not something that her family is necessarily super supportive of. It's easy to understand why because, like so many other areas of American society, it's deeply segregated, it's rife with bigotry and all sorts of things, but because this is a moment basically where the film industry is really quite young. What you're seeing with the artists of those eras is that they are basically creating themselves on screen, they are creating a mass media understanding of Black people on screen.
They're doing it under the strictures of something called the Hays Code or the Production Code, as it's known, which exists from I want to say about 1934 until 1968. That's a good stretch of time. That is after the Voting Rights Act has been adopted. I think most people are familiar with the Production Code or the Hays Code because of the self-imposed strictures and censorship that the studios come to agree to regarding the portrayals of licentiousness on screen, but of course, this is something that doesn't just affect depictions of sexuality on screen, but it also puts in place these rules about how Black people can exist on screen.
Not just how Black people can exist on screen, but how they can exist in relation to white people, how racism can or cannot be acknowledged. The Hays Code is why you don't see miscegenation or any sort of sexual relationship between Black and white people on screens and big no, no, during this era. That is because you have exhibitors in the south, who say, "Well, if you make these films, we're not going to play them in our movie theaters." To basically preempt this, to get ahead of it, the studio says, "Okay, fine, we're going to come up with these guidelines for things that we can make, without having to worry about our profits being cut into because there's a whole section of the country that just won't show these films, period."
Kai Wright: It's also why you don't see anti-Black violence in the way--
Soraya McDonald: Exactly.
Kai Wright: Again, thinking about the Will Smith, Denzel Washington comparison, that history feels relevant.
Soraya McDonald: Yes. This is a point in the country where lynching is very much a fact of life, and yet, if you go back and you look and you try to find lynching in, say, the studio pictures of that era, you can't. It's very difficult to find any depiction of racial inequality in which white people are explicitly responsible for that violence and inequality. That is because of the Hays Code.
Kai Wright: Before we wrap up here, the Oscars are supposed to be fun.
Soraya McDonald: [chuckles] They are, right?
Kai Wright: We're supposed to go to the movies and at least to some degree escape reality. What are your parting thoughts for people having been through another Oscars where like, that's not quite how it ended? How do you process this moment? Help other people process this moment.
Soraya McDonald: Maybe we should all be watching the Independent Spirit Awards [unintelligible 00:27:29] because the thing that we've seen in recent years has been this precipitous drop in Oscar ratings. I think that coincides with a real diminishment in the faith that Americans have overall in institutions. We see that in government institutions, but in institutions period. I think that is part of the reason why the Oscars have been struggling so much, and why they don't hold the same cachet that they did.
I think going forward, they really are going to have to, I think wrestle with, and be honest about the history of that institution and what it was built on as they think about what they want it to be going forward. I think that's the only way you're going to be able to get that audience back.
Kai Wright: Soraya McDonald is the senior cultural critic for Andscape. Her writing about pop culture, fashion, the arts and literature made her a 2020 finalist for the Pulitzer Prize in criticism. Soraya, thank you so much for your writing and for this conversation.
Soraya McDonald: Thank you so much for your thoughtful questions, Kai, I really appreciate it.
[music]
Kai Wright: Up next, why are some people so put out by Pixar's latest film? A coming of age story about a 13-year-old Chinese Canadian girl sparked an exhausting debate in some corners of the internet, but author Jeff Yang says, "Get used to it because the era of defiantly Asian film is on us." That's next.
[music]
Kai Wright: Welcome back, I'm Kai Wright. We're talking about Hollywood this week. I'm joined next by another one of my favorite pop-culture observers. Jeff Yang is coauthor of Rise: A Pop History of Asian America from the Nineties to Now. It's his fourth book. He's been writing about Asian-American culture for 30 plus years at this point. In March, he wrote an essay for The Guardian about the response from some quarters of the white internet to the latest Pixar film, Turning Red. For Jeff, the conversation that film sparked has been instructive about the way culture, in general, is shifting, and for the better. Jeff, thanks for coming on.
Jeff Yang: Thanks for having me, Kai.
Kai Wright: Let's start with, for those who haven't seen Turning Red, just what's the film about? Describe it for us without any spoilers?
Jeff Yang: That's a little bit of a challenge. Although, I will say, even describing the movie in some ways essentializes it a little bit. It is a Pixar film. The first feature-length film from Domee Shi, an Asian Canadian animator of note who had created an earlier short film called Bao, which got a lot of a claim and actually the Academy Award.
Kai Wright: It's great.
Jeff Yang: It's amazing, but it showed a little bit of her unique perspective on the world, particularly in relation to mothers and children. This ultimately is a film about intergenerational tensions, about expectations from not just your parents but also your peers. It's about puberty. It's about coming of age. It projects all of this into the metaphor of a young girl living in Toronto, aspiring to getting tickets to that sexy new boy band.
[laughter]
[4 Town singing Nobody Like U]
You're never not on my mind, oh my, oh my
I'm never not by your side, your side, your side
Jeff Yang: In the process, finding out that her new feelings, these stirrings inside herself causes her turned into a giant red panda.
[laughter]
Speaker 7: This isn't happening.
Jeff Yang: Because that happens.
Kai Wright: Because you're a teenager, there's a monster lurking inside.
Jeff Yang: Exactly.
[door knocking]
Speaker 8: Is everything okay?
Speaker 7: Don't get in here.
Speaker 8: What's going on honey? Are you sick?
Kai Wright: Setting the haters aside for a minute, what about this film did you love? What did you love about Turning Red as a Pixar movie?
Jeff Yang: Oh, I loved so much about it. Not only is it a world that so rarely I think gets depicted, the actual world of that awkward puberty phase of young women, in particular, we see lots and lots of stories that are coming of age from a perspective of young boys, but girls, because of the way that our society operates, the biological changes, the aspirations, the longings that girls have often is taken out of the narrative.
This song was very much about that, but it's also very specific. It feels like a movie that comes from a unique place, and space, and time, and culture. All that to me, I think is a gigantic blessing. It's like a gift to be able to use animation and film to see through other people's eyes but not everyone feels that way.
Kai Wright: Let's talk about that. You wrote this essay in response to the reaction you saw on the internet. Tell us about that response? What did you see in response to this film that bothered you?
Jeff Yang: There was in particular one reviewer who put out this very blanket statement about the film. That he could not see himself in it, and therefore, he found even just sitting through it to be exhausting. He said, "Oh, there is an audience for this film. I don't think it's very large, but I'm sure those who do end up actually belonging to that tiny demographic will in fact find value in this. For me, basically, I can't see myself in it, therefore, I don't want to watch it at all." That in various iterations seem to reverberate across the ether.
Collectively, it was this interesting notion that somehow film only works-- pop culture only works if it absolutely reflects who you are. Obviously, for some of us, we've been engaging in pop culture for a long time [chuckles] without necessarily having that happen.
Kai Wright: That's the part that I genuinely - I don't mean this rhetorically - I genuinely struggle to wrap my head around. I am not 13, I am not a girl, I am not Canadian, I am not Chinese. I am none of the things in this film and I found it intensely relatable. I have been a teenager, it felt like a really quite universal story to me, actually.
Jeff Yang: Especially since the basic trope of emotions turning you into a giant monster is something that isn't just universal, it's also really familiar, right?
Kai Wright: Right.
Jeff Yang: We do have a Hulk, we have several of them. Just because this is Turning Red and not turning green, all of a sudden, something is not clicking with some people. I do have a theory about it though and that has to do with the fact that, first of all, this is an Asian lens, an Asian girl's lens. I think that for some people, it is comfortable for them to exist in a space where they're consuming pop culture that's really different from them that has aliens and people from other planes of existence because they can then safely put that in the pocket of stuff that doesn't exist, stuff that is fantastical.
Then there's this world of things that look just like them and that's comfortable because isn't it comfortable to wear your own shoes. This middle ground where you're forced to put your perspective into the shoes of the uncanny valley of people who are just similar enough to you, Canadians, that they feel familiar but different enough so that something about that different sticks in your craw, that is something that they feel very uncomfortable with.
Kai Wright: You blame Hollywood itself for training white audiences to feel that discomfort because they've trained white viewers to understand themselves as the default, the norm. You make an interesting point about what that, in turn, does to art that doesn't center white people. You write that a film that centers an Asian American experience has to, quote, "Either be framed as incredibly weird and alien, a cult experience offered up for cultural tourism purposes or it has to be flattened, softened, and lightened so as to make it as digestible as possible."
Jeff Yang: [chuckles] That is I think something which not just Asians would recognize, pretty much any popular culture created by and for people other than what you might call the prime demographic, which, by and large, is 18 to 50 or even 18 to 34-year-old white men, ends up being tested against this spectrum of, "Hey, how far out can we make it to make it still interesting to this group because they can delve into it as outsiders? Or how much can we squarely smash it into a box that fits this group?" It really does create a situation where the entire industry of pop culture creation makes us feel like we belong in the lobby and not in the seats.
Nevertheless, we've always come out. Hollywood at this point is earning more money in movie tickets sales from people of color per capita than any other groups. We're the ones who have pretty much supported the industry, even through the pandemic, and yet, it still often feels like the very biggest movies up until very recently have been designed for people other than us. We've had to actually do that hard and exhausting work, if you will, of migrating our perspectives into other faces and voices and identities, and we've gotten very good at it because again, we've all grown up that way.
Kai Wright: One of the things you point out in the essay is just the premise of this being a niche market is itself absurd.
Jeff Yang: It is quite funny how women, in particular, are always described as a minority. [chuckles] Anything female is marginalized despite the fact that women are literally the majority of humans on this planet.
Kai Wright: On the planet.
Jeff Yang: The planet, and Asians as well. That's the thing which I think even as we were going back and looking at popular culture over three whole decades for our book Rise, we started to recognize that we have our own mainstream, that there are many people who are in our world with us, and that when we started thinking about things from the perspective of not feeling like we have to self marginalize, there is a much bigger world that we occupy and that frankly, we can invite other people to occupy as well.
Kai Wright: I think to me that there is the rub, the decision by people of color from a variety of communities to just not self marginalize. There's a power shift that you're describing there.
Jeff Yang: Yes, absolutely. I think where you see those power shifts becoming more like power coalitions, opportunities for building a mass audience out of very different parts, comes in spaces like hip hop, for instance, or martial arts cinema. I point to those two in particular because when you look backwards at the ways that those two spaces have developed, they started as very specific emanations from a niche culture, if you will, from an underground somewhere or from an imported place, but then they rapidly gained laterally across different communities.
Hip hop was very much a Black thing in this beginning, but it also incorporated Latinx peoples, Asian Pacific peoples, white people and that coalition of creators created something that is now one of the most important mainstream influences on culture at large. Martial arts cinema, obviously, began as an Asian thing largely, but the first people to discover it in the United States were African Americans, both in terms of the popular culture side of it and even the practice of it. Now, again, it's a dimension of our pop culture, which is more than broken through to the mainstream from cult fantasy.
The people who discovered it and who built that first audience were people who were perceived to be on the margins. It's a rethinking of the way that we consider even what a mass audience might look like.
Kai Wright: Not to put too fine of a point on it, but the whole thing feels like quite a metaphor for where we're at as a society at large. This idea that the prime demographic has been taught to be normal and, as a consequence, everybody else either has to be an alien or some bland version of themselves and that we've now refused to fill either of those roles for them anymore, and there's our society.
Jeff Yang: Absolutely. Hollywood has always been a big metaphor and certainly a trailing indicator of where society has moved. I think that it's clear that even as we call out Hollywood, Hollywood is special because it has glitter around it. Because it does much above its weight in terms of its impact, simply because when you see it on screen, it's bigger, it means something more, but a lot of these shifts have been taking place in the streets.
A lot of these shifts have been taking place in interpersonal relationships. There is very much a sense that the same forcing factors that have existed in the Hollywood obviously have existed throughout society and that there are more groups who are willing to say, "If that's the way it's going to be, maybe I'll take my time, my money and my butt elsewhere."
Kai Wright: The real point of your column was to say that the era of all this is about to be over. That Turning Red is part of a larger movement of films that will be defiantly Asian and defiantly female. I want to talk about some of those movies that you have in mind. You mentioned Umma, for instance, right?
Jeff Yang: Umma, yes.
Speaker 9: Who's this woman?
Speaker 10: That's my Umma.
Speaker 11: That was all she had.
Jeff Yang: In some ways, Umma is like almost the dark reflection of Turning Red. It's another movie about a mother and a daughter and an age-old story, especially among Asians. This trope of generational tension and that neediness that exists across generations is something we've seen plenty and plenty of times. What's different now is we're starting to see them through genres that we've never been able to speak in before.
Actually, a lot of credit I think goes to Get Out, which I think was - Jordan Peele's incredible movie - was one of the first to really start using horror in a way that was explicitly not just about social issues, but about racial issues. Umma does that as well, it's also about Sandra Oh, who plays the mother in Turning Red. In this case, however, she's the daughter and she's confronting the reality that her immigrant mother, who has always felt put to the side by society and by her family and by her daughter has now passed away and is seeking to come back and is seeking to have a family reunion that involves coming back from the dead, which is never as pleasant.
Kai Wright: It's never a great idea.
Jeff Yang: Awkward Thanksgiving. If you were to actually watch these two side by side, you'd say, "Oh my gosh, there is definitely a conversation going on between these two. I don't know that we've ever really had a situation where two movies by Asian, North American directors with largely Asian casts have been able to be placed side by side this way, and they're both enjoyable, and they're both cool.
Kai Wright: You also mentioned Everything Everywhere All at Once. Tell us about that film and why it's notable to you?
Jeff Yang: It's another mother daughter story, except this one stars Michelle Yeoh, and it is this exceptionally weird, exceptionally brilliant piece of martial arts multiverse fantasy-
Trailor: Across the multiverse--
Jeff Yang: -in which Michelle Yeoh plays an immigrant woman, who realizes relatively late in her life that she actually is the next worlds. She has this ability to connect to all these other cells that could have been her, had she made different choices. The multiverse is all about branching paths and if she had just made different decisions in her life, she would've potentially been a silver screen superstar or a singing sensation or a sign spinner or an ass kicker. All these things end up becoming opportunities for her to not just change the world and save the universe but rebuild her relation with her daughter.
Again, it's another story that feels familiar enough for us to find hooks in it - not just if we're Asian, but I think people of all backgrounds - but has this exceptionally different perspective. In this particular case, stretches the idea across literally an entire cosmos. Honestly, it's one of my favorite films, not just with this year but maybe of all time.
Kai Wright: Wow. What shifted, Jeff? If this is a new moment and you're able to list all these films that are in conversation with each other, what brought this moment about?
Jeff Yang: I have to tell that story both from the lens of the work we did for the book, for Rise, but also from a little bit of a personal perspective. Obviously, I've been documenting writing about Asian and Asian American popular culture now for 30 odd years, and seen a lot. Those 30 years have been important, not just for me but for our community and our world. In the sense that going back into history, 1965 was when America itself changed. It shook on its own firmament.
Prior to that, people coming from Asia broadly were part of an excluded zone where immigration was very limited, only a few hundred people per year. Then in 1965, this act called the Hart-Celler Act, basically opened up the threshold of America for Asian immigration. Virtually all of our parents and, in some cases, at this point, grandparents, who came over in the '60s, came over because of that one bill. America went from having just a few million Asian Americans to now over like-- I think it's verging on 20 odd million.
These last three decades have really been this time in which Asian Americans have really been forced to fill in this empty box we've been checking off all this time. Even as a kid back in the '70s, I had to actually check off this box Asian without knowing what it meant, but these last three decades we've started to figure out what that meant. On a personal level, just over the last five, six to seven years, we've seen a complete seismic shift, if you will, in Hollywood. Part of that is something which I was witness to firsthand, that's because my son, Hudson Yang, was casting this television show called Fresh Off the Boat.
Speaker 13: I Love food, dad.
Speaker 14: I love food too, son, I love food too. You're following in my footstep.
Kai Wright: In deed.
Jeff Yang: This is on the TV side of things, but it was ABC's decision to really lean into [unintelligible 00:48:18] diversity on prime time, and so they created this show Fresh Off the Boat, they created Blackish, they created Cristela, a number of different shows that were intended to expand the audience in prime time to another set of new worlds of family, and Fresh Off the Boat was a hit. Over the course of those seven years, a lot of the people who were associated with the show as performers or as writers, et cetera, they went off to other places as well and started to create entirely new things. Ali Wong was a writer for that show, Constance Wu went on to star in Crazy Rich Asians.
Speaker 15: I don't really know what-- I haven't met them yet. I'm going to meet them tonight.
Jeff Yang: Gigantic blockbuster coming out of nowhere, romantic comedy.
Speaker 16: You're going to Nick's grandma's house wearing this, wearing that?
Jeff Yang: All Asian cast. I think that the conversation I had after the pilot of that show, Fresh Off the Boat, when they had this big party, invited a bunch of people from different studios, I met a, and I'll just say, a white studio executive who said something to me that blew my mind. We're standing by the punch bowl and he leaned over and said, "We're really excited about this show, it looks phenomenal. We feel like if it is successful, we have so many products we'd love to make featuring Asians, and this will finally be the moment we can do that."
It struck me the reason why Hollywood is the way Hollywood is. Everybody's expecting somebody else to put that tone in the water and succeed before anything cost can change. It's not ever been from a dearth of talent or even a dearth of ideas. It's always been a dearth of opportunity, and in this particular case, finally getting to that point where talent and opportunity, connected with ideas, has unleashed a transformation of Hollywood itself.
Kai Wright: Jeff Yang is co-author of Rise: A Pop History of Asian America from the Nineties to Now. We'll put a link to his guardian essay about the film Turning Red in the show notes for this episode. Jeff, introduce us to your dog. Your dog joined us for the conversation.
Jeff Yang: That's my Asian American dog, a Shiba Inu, named Aiko
Kai Wright: Aiko. Nice to meet you too, Aiko. Jeff and Aiko, thanks for joining us.
Jeff Yang: Thank you.
Kai Wright: The United States of Anxiety is a production of WNYC Studios. Our theme music was written by Hannah Brown and performed by the Outer Borough Brass Band. Sound designed by Jared Paul. Our team also includes Emily Botien, Regina de Heer, Karen Frillmann, and Kousha Navidar. I am Kai Wright. Keep in touch with me on Twitter @Kai_Wright, and of course, find me live next Sunday evening at 6:00 PM Eastern. Stream it @wnyc.org or tell your smart speaker to play WNYC. Until then, thanks for listening. Take care of yourselves.
Copyright © 2022 New York Public Radio. All rights reserved. Visit our website terms of use at www.wnyc.org for further information.
New York Public Radio transcripts are created on a rush deadline, often by contractors. This text may not be in its final form and may be updated or revised in the future. Accuracy and availability may vary. The authoritative record of New York Public Radio's programming is the audio record.