How Zillow Explains Education Inequity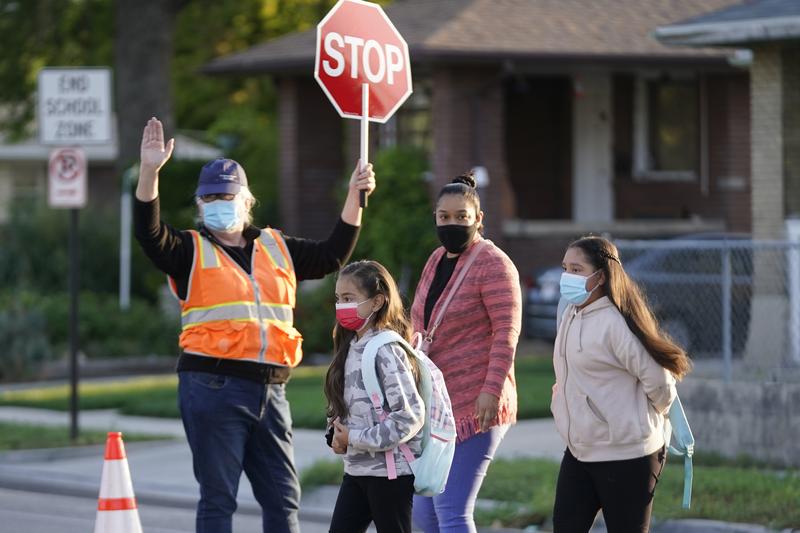 Transcript
[music]
Kai Wright: This is The United States of Anxiety, a show about the unfinished business of our history and its grip on our future.
Gilma Avalos: All New York City schools shutting down starting tomorrow. The mayor called it a painful decision, but the right one.
Gov. Ron DeSantis How about keeping the power with the parents. Those school districts are violating state law, and they are overriding what the parent's judgment is on this.
Kandice Sumner: Why is high-quality education only exclusive to the rich?
Geoffrey Canada: Do not tell me they could not reach those kids and save them. I know they could. It is absolutely possible.
Ava DuVernay: It's not true that education is equal in this country because there's still very intense segregation happening in all kinds of forms all over this country.
Paul Tough: Students who are growing up in adversity are right now much less likely to be in class.
Kandice Sumner: My kids deserve so much better.
Kai: Welcome to the show. I'm Kai Wright. How many of you all remember the movie Lean on Me?
[music]
This is a classic film that is such a perfect artifact of its time. If you haven't seen it, do go look it up. It was 1989. It was a vehicle for Morgan Freeman, who was actually having a banner year as an actor. He just captivated people in his role as "Crazy" Joe Clark. He's a principal called in to save a school in Paterson, New Jersey that has become overrun by drugs and violence. You've got to know this character, surely. Morgan Freeman, with his infamous bat.
Fire Chief Gaines: What the hell is the bat for?
Joe Clark: They used to call me Crazy Joe, well, now they can call me batman. I got thugs, drug dealers, and devious of all kinds trying to get into my school.
Kai: This film hit at just the right time. The drug war was at a fever pitch, the country was just about to start talking about superpredator kids, and there was a real longing for heroes like Crazy Joe, this tough loving, head cracking guy who wasn't scared to teach these bad kids how to pull up their pants and learn something. Morgan Freeman won an NAACP Image Award for the role, and it was actually based on a real principle in Paterson, but I think the movie missed its own point.
The big tension in the story is Crazy Joe's decision to put chains on the doors of the school in violation of the fire code and getting himself in trouble with the city. He wants to keep the drug dealers out, and the students safely inside, but there's one short exchange in the story that hints at the reason all of Crazy Joe's bluster around safety and security is necessary in the first place.
Ms. Levias: Mr. Clark, a baseball bat, is that the image you want to project?
Joe: If they got me those emergency doors that sound an alarm when you open them up like the ones the white schools have, I wouldn't have to chain them.
Ms. Levias: Those doors cost a fortune. We don't have enough money for books.
Joe: Well, tell the mayor that. Call the federal government, tell them to get me more money.
Kai: This is the least sexy and dramatic detail of the whole story, but maybe also the most important. The school building itself is so run down it's dangerous. I thought about this classic movie today because of the missed point in its story. It just seems super relevant to this year's back-to-school season, the physical state of each school building in this country will determine so much about the safety of the kids and teachers and everybody returning to them. Just like in 1989, and for that matter, from the very first schools we ever opened in the United States, there is enormous inequality between these buildings by design.
[music]
This school year kicks off with massive anxiety. In many parts of the country, children account for some of the biggest increases in COVID infections, and hospitalizations among kids are rising. By now I think most of us are at least vaguely aware that safely reopening a school, an emphasis on the word "safely", is highly dependent on having a good working ventilation system. Yet, according to a report by the Government Accountability Office, 40% of schools in the country, 4 out of 10, just don't have that.
Many don't even have ventilation systems at all. That's certainly true of so many of our school buildings here in New York and parts of New Jersey. It's an excellent case study in a very old problem. A long time ago, we made a choice to fund schools inequitably largely based on local property taxes. Later in the show, we're going to talk about the history of that decision and how we could design a very different funding structure now, but first I'm joined by Bracey Harris, a reporter for NBC News who previously covered education for the new site the Hechinger Report.
Bracey and her colleagues at Hechinger reported in an investigation last fall on how inequity in funding for the physical infrastructure of our schools determine who could safely return and who could not. We're going to talk about that reporting and where things stand this school year. Bracey, welcome. Thanks for joining us.
Bracey Harris: Thanks for having me, Kai.
Kai: I'm curious about your own experience in Mississippi. You're from there. You did your reporting for this piece there. What was your own school experience like?
Bracey: Thinking back to growing up in Mississippi, I had an interesting K12 experience because it was basically split down the middle, from kindergarten to one semester of sixth grade. I grew up attending school in a pretty affluent school district, I often like to tell people when I'm talking about my experiences growing up. It was almost like I think you would say the utopian vision of what public education should look like. I grew up in a two-bedroom apartment; it was pretty comfortable. I remember having enough room to tumble around, but definitely, it was eye-opening.
When I would get on the school bus in the mornings, in the afternoons, and we would go through gated neighborhoods that had multi-car garages, that had swimming pools that you could spot, but then in my second semester of sixth grade, I transferred to another school district in Mississippi that was pretty strong academically but did not have the same amount of property wealth. I can still just remember the first day in the front office just looking around, taking in my surroundings, and feeling completely overwhelmed and understanding that my experience was going to be different going forward.
Kai: I feel like we take that fact for granted a lot of times, just people like, "Oh, yes, some schools don't have a lot of money and other schools have got a lot of money, and that's just the way of the world," but can you give us the school funding one-on-one for people who haven't thought this through, school infrastructure spending one-on-one. You've written that education is largely a local endeavor. How do we pay for education, and particularly the physical infrastructure of our school buildings?
Bracey: I would say the thing to keep in mind is if you want an idea of how schools are funded or how that funding is going, you could just get on Zillow and look at what are the property listings like in your area, what's the costs associated with real estate because it's from that property, that's where a lot of school districts get the bulk of their funding, it's from local property taxes.
What I've seen in my reporting over the years, time and time again, is that if I'm in an area where I'm seeing boarded-up storefronts, local downtown's that aren't busy, when I go into those schools, that's where I'm seeing the most need for repairs. That's where I'm seeing plaques that might indicate that this was a building built in the '50s. In one case, I've been in a building that was from the 1920s, but when I'm in a school district, particularly I'm thinking about in central Mississippi, in some of the most affluent counties, you look around and there are just these beautiful tall glass windows.
The buildings just have this sense of freshness from everything, ranging from the paint to the outside exterior, and you just really get a sense of the disparities that occur based around property wealth.
Kai: As you started reporting on this divide last fall as people were trying to go back to school, as we know, it became quite fraught, many people didn't, some were able to. What conditions did you see in the underfunded schools in Mississippi as kids tried to go back to school? What did you see?
Bracey: What I saw in underfunded schools in Mississippi, particularly in the Mississippi Delta, was that many of these school districts weren't physically reopening their buildings at all. Students were doing remote learning. You have to keep in mind, again, I'm thinking of one district in the Delta of Holmes County, I've been in buildings where there were concerns about asbestos being in the windowsills. Some of these classrooms may not have opened up their windows from ventilation, to begin with.
In a lot of these areas, they just remain shut, whereas in more affluent communities in Mississippi, some of them are actually uploading Facebook videos, giving warehouse tours of all of the supplies that they were going to be rolling out in an effort to do disinfection to keep students safe. I will give a caveat here, this was still around the time before the World Health Organization had recognized that coronavirus is airborne, there was just a lot of concentration on disinfecting surfaces. Those were definitely some of the differences that stood out.
Again, on one hand, you had districts really walking parents through on these protocols they were going to be putting in place and other districts in less affluent areas in Mississippi, they were just right off the bat, just saying, "We're going to plan for a semester of virtual learning."
Kai: What is the biggest problem? Again, talking about last fall. What made it impossible in those underfunded schools to come back while facing COVID? Was it the ventilation? I talked about that earlier. Is it the size of the buildings? What were the biggest hurdles?
Bracey: The hurdles I would hear from superintendents were getting supplies in time. In some cases, I'm thinking of districts, again, in terms of when you're thinking of ventilation, there's aging HVAC systems. Upgrading to a certain type of filter to take into account the virus and keep kids safer, in some cases was just already out of the question, to begin with. It was all-encompassing. Some superintendents, they almost didn't even get to the point, I felt like, of saying whether or not they would have enough space to space out their children and adequately because just from the beginning, they just already felt so overwhelmed by the conditions their buildings were in.
Kai: We'll take a short break. I'm talking with journalist Bracey Harris about her reporting last fall on how inequity in the physical infrastructure of schools determined who could and could not reopen safely. We'll be back to think about this school year, including "Crazy" Joe Clark's own Paterson, New Jersey. We'll be right back.
[music]
Welcome back, this is The United States of Anxiety. I'm Kai Wright and I am talking with journalist Bracey Harris about the reporting she and her colleagues at the Hechinger Report did last fall on the physical safety of school buildings. How the inequity in the infrastructure determined who could and could not go back safely. There's a long history to that inequity, and we'll get to that history later in the show. Right now as we talk about the state of school buildings, this back-to-school season, I want to hear from you, parents, students, educators who are going back into public schools, what's the inside of your school building like.
Does it feel safe to return? 646-435-7280 or the #USofAnxiety on Twitter. Bracey, we already heard from a listener on Facebook, they are a teacher here in New York and asked to remain anonymous. They wrote, "Our high school is nasty with old bathrooms, with broken sewage pipes bursting throughout the winter smelling up the hallways, no or broken AC in rooms that have no windows, large mice running around, trickle of water spouts with only a few fountains that work. Our buildings are constantly being updated as the school is incredibly old and it's like putting a bandaid on puncture wounds. In my 36 years, I've never seen it so bad."
I wonder if you've heard things like this, this putting a bandaid on a puncture wound to minor updates. Is that common nationally in what you're reporting last fall?
Bracey: Yes. What I can tell you from the reporting I've done in Mississippi and also from talking with the school district in South Carolina, is often when you're talking about school districts that are in communities where the property values aren't as high, it's not uncommon to see a problem with what's known as deferred maintenance, which basically, that's the scenario of you really need to replace this HVAC system but some kind of way through ingenuity, you for another decade or a couple of years keep squeezing something out of it, even though it's not the best resource.
I've definitely seen this time and time again here in Mississippi. I'll just give a quick example. When it comes to the issue of school bonds, which is basically where school leaders go to a community and ask them, would they, in most cases, be okay with them raising their taxes to address capital facility needs or infrastructure.
When I would cover districts in Mississippi that had fewer funds or were less affluent, I would notice in their school bonds, they were asking to address parking lot repaving to make repairs in student bathrooms, but when I covered school bonds in more affluent communities, they were asking to build a new state-of-the-art high school, which again just illustrates these disparities. As the teacher wrote to you, just putting a bandaid on things for as long as you can.
Kai: Let's go to Elena in Bergen County, New Jersey. Welcome to the show.
Elena: Hi, how are you? Thanks for taking my call. Yes, I agree. These are really just bandaid solutions. We've got to recognize that there has been just so much lip service paid to education. Schools are old, the ventilation systems are largely mechanical, we have a bond that's been floated now and they are for some infrastructure improvements, improvements to the science wing, which absolutely needed it. At the same time, we don't have water fountains that you can use because we were concerned about lead pipes and we have the sink in the faculty room, "Do not drink from that sink, and that one is--" Those sorts of things.
A bigger concern that I have right now is, here we have a Delta variant, we now have this mandate in the state that says kids can be 3 feet apart. You've got 30 kids in a classroom, space them 3 feet apart, don't have any mandates that they have to wear a mask outside of the building, they'll wear a mask in the building, but there's going to be 30 kids in a classroom 3 feet apart in an average classroom space which is absurd.
With mechanical ventilation, which consists of a window that can open maybe 5, 6 inches all the way across the room if they are all working, how is that even a safe situation for anyone? Not to mention the fact that while I teach high school, I have older students who may be vaccinated. They come from homes and communities where they have younger siblings or they're working with younger siblings. It's quite a dilemma. It's not a safe situation, it's just something we have to do. I'm just-- [crosstalk]
Kai: Can I ask you, do you look across the school system or to other school systems, I guess, and see something different? How do you feel when you see that?
Elena: I feel that it's completely unfair. It's almost as if who are the most visible people in a community and how do we accommodate them so that we can keep everybody satisfied? One of the things we did, my husband and I did, is we bought two Monster purifiers to put in the classroom because we didn't want to make anyone sick and certainly didn't want to make our family sick when I came home from work. That's an expense that we just figured was worth it. It's completely unfair, I'm angry about that. I'm frustrated all the time but still have to teach.
Kai: Indeed. Thank you for that call. What do you hear from teachers, Bracey? In particular, now that you were reporting last year but this year now that so many school districts are in fact trying to reopen in a place like Mississippi, what are you hearing from teachers?
Bracey: What I've seen teachers expressing concerns about is really what happens with mass mandates in the state. Right now, Mississippi allows districts at the local level to decide whether or not they will take those precautions or require everyone inside their school buildings to adhere to such guidelines. There's not really as much of a sense of uniformity as there was, I think, compared to last school year. I've seen a lot of concerns expressed through social media channels and also through other local news reports that I follow. That's mainly I think what I've seen from teachers so far this year.
Kai: I want to bring in one of your colleagues Bracey, Meredith Kolodner, who reported the story with you at the Hechinger Report. Meredith's reporting has focused on New Jersey. Meredith, thanks for coming on the show.
Meredith Kolodner: Thanks for having me, Kai.
Kai: We were talking with Bracey about the dynamics of Mississippi. In your reporting, you looked at one school system in Paterson public schools in Paterson, New Jersey, and how they actually tried to address some of these issues just a few years before the pandemic even hit. They applied for state funding to repair the ventilation system in 11 of their school buildings. Repairs that we assume would have helped those schools safely reopen. What happened? How did the state respond to that request?
Meredith: The state said no, actually. They denied all of the requests. It happened all over the state, actually. There were 85 applications throughout New Jersey asking for fixes to unsafe heating, air conditioning, and ventilation systems, the exact things that would have made a difference during the pandemic. Only two of those were approved throughout the state, and in Paterson, which has buildings that are much older, and it faces some of the most severe overcrowding in the state, all of those were denied.
Kai: Then does that then connect directly to the schools that did not reopen last year? What was the divide and who was able to open and who wasn't?
Meredith: Who opened in person and who didn't divided very much along class lines and along race lines. If you looked at school districts with poverty rates of 20% or higher, two-thirds of those schools of those districts started the year all remote, but for school districts with poverty rates that were below 5%, just 17% of those districts started the school year all remote. It also broke down along racial lines. 6 out of 10 students in schools that began the year with remote-only classes were Black and Latino, and just 3 of 10 students were white.
Kai: What did you hear from people in those communities?
Meredith: So much frustration. Many parents, as much as they feared for their children to be sent to the schools what they knew already was a lack of safety and upkeep of school facilities and the buildings, but I had parents tell me that they knew that it was just going to hurt their children. One of them said to me, "It's not just that the more wealthy and affluent majority-white districts have more resources, the inequity is going to even just get bigger this year. The amount of learning and opportunity that our kids have, there's already a divide, and it's just going to get bigger."
Kai: Has that happened?
Meredith: All of Jersey is going to open in-person, as is New York City. Some of the schools are getting increases in funding from the federal government from the CARES Act money. That's about two-thirds are going to get budget increases, but one-third are actually getting cuts. That can be thousands of dollars, up until millions of dollars. Some of them can make that up as Bracey was saying with the local tax base, but some can't. Actually, Jersey City, which I think is about 20% Black and about 30% Latino, they are getting a 38% cut to their school budget.
Kai: Wow.
Meredith: I talked to folks in Paterson, New Jersey, they said the superintendent, the school board, everybody's doing their best, but the parents and the teachers as well feel like it's just not going to be enough. If you have decades of neglect, you can't fix that in a few months.
Kai: Even if you had the money, I imagine some of these things, you wouldn't have the time to fix it in a few months.
Meredith: Yes. I think that's absolutely right. Jersey City, I think they have 15 buildings that are more than 100 years old and another 16 that are more than 80 years old. Yes, even if you had the money, either for overcrowding to build new buildings or to-- You can imagine retrofitting 100-year-old buildings, it would take a while.
Kai: What about in Mississippi, in that region, Bracey, this school year, has anything improved in terms of some of the schools that couldn't open and didn't have the money to reopen?
Bracey: We are seeing more schools that are open from the start of the school year now, part of that I think is primarily a function of schools in Mississippi were instructed for this year to have in-person learning as their primary mode of instruction. Definitely, some of those districts that I saw beforehand that were closed for in-person learning last school year, they are open now. Interestingly enough, even though there are more, I think, federal resources this time around in terms of what schools can use for safety precautions, we're seeing a lot of school districts here in Mississippi pivot temporarily to online learning because of the Delta variant.
Kai: Let's go to Catherine in Hudson Yards, Manhattan. Catherine, welcome to the show.
Catherine: Yes. Hi. Here's my question. Has anyone really given any thought to why it is that here in New York City, the pot of tax money that pays for the school systems is one pot, but yet, if you go from one district to another, or one school to another, there's such disparities? It just doesn't make any sense. If you're in a different state or a different municipality, that would be one thing, but we're all in the same municipality here in New York City.
If you go to East New York, you're going to have a vastly different school experience versus if you're in-- I don't know, in what you may call the Bronx, that real gritty area in the Bronx, Riverdale. Also, forget about it, what about the lottery? That money was supposed to be helping the school system. Where's that?
Kai: Let me put that to you, Meredith. Can you answer that question? We're talking about systems here. We're talking about going from one system to the next and why they're so unequal. Catherine's asking about from school to school inside a system, and inside New York system, in particular. It is a good question. If the funding is the same, or the funding should be the same, so help us understand just from a one-on-one why that's not true.
Meredith: There's two buckets in New York City. There's per-student funding, and that has to do with all the instructional needs and that. It does break down by student. It is a little bit more equitable than it used to be. We have to take into account though, there, that PTAs or parent-teacher associations can raise money, so some of the wealthiest schools will raise over $1 million and others will raise none at all.
If we're talking about school facilities, that's a different bucket. That's the school construction authority. It has been notoriously political, in terms of what gets built and what gets fixed. You can use your district money to do small things like buy air conditioners and things like that, but if you really want a new air conditioning system or HVAC or to build new buildings, which is what some districts desperately need, that is through the school construction authority allocations. That has for a long time been pretty unequal along race and income lines.
Kai: As we wrap up, I know you're both reporters and you try to play it straight, but what would you say to parents, given everything that you have learned about the state of these buildings as people are going back to school all over the country? It sounds like a quite unsafe situation. What would you say? Meredith.
Meredith: My two children are going back in New York City in a week or two. For me, it's worth it to have them in-person. We're very lucky in New York City, that there's a mask mandate, and now there's a vaccine mandate for teachers. It does feel safer, but there are windows that are nailed shut, there are old buildings. In Paterson, New Jersey, there's 40 kids-plus in a classroom in the high schools. What I would say is make sure that everybody has masks on and work with your school district and with other parents. If you see stuff that's unsafe, make noise.
Kai: Bracey, last word. What are you thinking about for parents as they head back into these buildings that you have witnessed are just not really safe?
Bracey: I would say to pivot off of Meredith's point, reporters aren't the only ones that can ask questions. It's not that it has to be an antagonistic relationship, but parents and loved ones of children going to schools, educators within those buildings, they should feel confident to have those conversations.
"If windows don't work, is there a possibility of using a certain type of filter? Is there a possibility of then having a mass mandate? Is there a possibility of bringing in a local public health official that can help advise on making the process safer," or maybe it's asking for a virtual learning option for children that might be more vulnerable going to school in person, but I think that would be what I would say to parents of children is that they absolutely have the right to question about what safety protocols are or not in place.
Kai: Bracey Harris is a reporter for NBC News who previously covered education for the Hechinger Report along with Meredith Kolodner. They both together investigated the deep inequity in the physical state of schools and how it determined who could and could not return to school safely. We'll put a link to that reporting in the show notes for this episode. Thanks to you both.
Bracey: Thank you.
Meredith: Thanks.
Kai: Thanks for your calls. If we didn't get to you, we'd still love to hear your thoughts, record a voice memo and send it to me at anxiety@wnyc.org. Up next, all this inequity in infrastructure is not a coincidence, it traces back to the nation's founding, and to the choice to even have local school systems in the first place. We'll learn that history and talk about how we could design something very different now if we chose to do so. Stay with us.
[music]
Kousha Navidar: Hey, everyone, this is Kousha Navidar. I'm the new senior digital producer on The United States of Anxiety, a longtime listener, first time worker. My role is to bring this show to new platforms. How can we tell stories and deepen conversations with audiences across the digital universe? That's what I explore. This is important to me. Our country has been going through tough times and I think a lot of people out there are hoping for a new beginning.
I know for me, that's what this job represents, a way to offer new voices, new kinds of content, and new spaces to our listeners, but it takes a village, so here's my ask of you. When you're not listening to this podcast, where else do you like to spend time online? Is it YouTube, Instagram, TikTok, some place else? Shoot me and the team an email at anxiety@wnyc.org. In return, we'll email you a fun GIF, or GIF. You know what I mean. All right. Great to meet you. Thanks for listening and making this a community. Talk to you soon.
[music]
Kai: Welcome back. This is The United States of Anxiety. I'm Kai Wright. I want to turn now to why we have localized school systems, to begin with, because that is the source of so much of the inequity between these school systems that we've been talking about. I'm joined by somebody who spent a lot of time researching that history and its consequences. Kevin Carey directs the Education Policy Program for New America. He writes regularly for the Upshot column of The New York Times, among other places. He wrote an article in the journal Democracy with the provocative title No More School Districts! That's with an exclamation mark. Kevin, thanks for joining us.
Kevin Carey: Glad to be here.
Kai: I want to start with where you conclude your article, when you wrote, "Our people today are not doing well at living together, and the school district system has played a critical role in those divisions." Can you elaborate on that point?
Kevin: Sure. That's a quote from Justice Thurgood Marshall, really lamenting a couple of Supreme Court decisions in the early 1970s that in many ways gutted the promise of Brown v. Board of Education, the desegregation case that he argued and won in 1954. What I mean is that school district boundaries, we have about 14,000 different local school districts in the United States, are one of the principal sources of inequality in our country.
They divide us by economic class, by race. They are criminally enforced boundaries. You can be arrested for sending your child to a school in another district that you don't live in. They serve to reinforce the growing social and economic inequality that is already nearing record levels over the history of our nation.
Kai: Let's walk back to some of the seemingly ancient history that led to all that because, honestly, I didn't know all of this before I read your piece. The Constitution does not include the word education, but the Land Act of 1785 was designed to encourage settlement of the continent in a way that ensured access to public services, including education, so start there. Explain that history and how it influenced the way school systems were conceived.
Kevin: Particularly in the 18th and 19th century, the United States of America was settled by farmers, many coming from Europe, where there wasn't as much farmland. This was a place where you could spread out and claim more for yourself. People understood from the very beginning, going all the way back to the Northwest Ordinance, before the Constitution itself, which said that religion, morality, and knowledge being necessary to good government and the happiness of mankind, schools and the means of education shall forever be encouraged.
People needed to know that there would be public services if they were going to be convinced to make the dangerous journey west and settle the land, and so we created a structure of townships, a 6 x 6 mile grid, imagine just a square with 36 square miles in it, and we set aside the 16th square for public education, not necessarily to build the school for the children, but that would be the source of wealth and revenue because almost all tax revenue in 18th century came from property taxes, but the thing was, most of the kids had to go to one-room school rules back then.
You were going to travel 6 to 7 miles, each direction, to one school within the township. Even back in the 18th century, we started a system where people would create their own smaller one-room schoolhouses within these townships and start to pay their own money to support them, and that began creating these lines in the country where if you lived inside the line, you funded your school, if you had a lot of money, your school was nice. If you didn't have a lot of money, your school wasn't nice, and we just heard from the other journalists in this program about, in many ways, that still describes American public education today.
Kai: After that system setup, we have to, of course, look below the Mason-Dixon line. We know what was going on in the south and that started to shape that region's school districts in particular. Can you talk about that a little bit? I gather part of it is that you're concerned about school systems being mapped over counties, which is a large area, explain how things developed in the south?
Kevin: If you look at a map of the United States of America of all of our school districts, again, we have about 14,000 school districts, you will notice something very striking, which is that below the Mason-Dixon line, there are far fewer districts. In the state of Illinois, there are 800 in some districts, for example, whereas all southern states, former Confederate states have counties as their districts so there might only be 30 districts in, say, a state the size of Florida as opposed to hundreds and hundreds. The reason for that is that after the Civil War, there were substantially more African American people living in the south than live there now.
This was before the Great Migration of the early and mid-20th century. In fact, there were so many Black Americans that, given the districts that were in place at the time, there were majority-Black school districts where Black people could have, in theory, elected school boards and had some control over their own education. The white supremacist regime that, of course, persisted for 100 years after the Civil War, they didn't want that. What they did was they consolidated all of the districts up to the county level because at the county level, counties were still mostly white majority, so it was a way of retaining political control over Black people.
Then after Plessy versus Ferguson, the infamous Supreme Court decision in the 19th century that said that separate but equal schools were constitutional, that was overturned by Brown in 1954, Local counties still had to have the separate but equal schools. They could make them super unequal, but they still had to exist. Again, you needed a county's worth of space and population in order to be able to pull that off logistically, so that's what we have county districts in the south [crosstalk].
Kai: These are the same districts that exist today?
Kevin: Yes, haven't really changed that much.
Kai: What about in the north because this is a national problem that we're talking about so that was the dynamic there. How did we end up with such unequal school districts in the north?
Kevin: Brown v. Board was a lawsuit against southern and midwestern states. Of course, we still had the same, in many ways, often worse school, racial school segregation in the north. It was just accomplished by different means. Restricted housing covenants, for example, redlining, which we've learned a lot about. What they would do was they would-- In the beginning of the 20th century, there were about 120,000 school districts in this country because we still had the legacy of that one-room schoolhouse system. As we moved to universal high school, we consolidated those 120,000 to about 15,000, over about 50 years, but while we did--
Kai: That's a huge shrink. That's a big chunk.
Kevin: It is a huge difference, but while we did that, it was very much of a-- People did it to their own advantage, so if you were a poor, impoverished district, mostly full of, say, Hispanic or African-American students, the white suburban districts would absolutely not consolidate with you. They might consolidate with each other, but they would 100% not consolidate with you.
We were left with what we still have, a very familiar pattern in many of the large cities in the Midwest and the Northeast, where you have a central core predominantly minority school district, surrounded by much more affluent white suburban districts that because they are allowed to keep a lot of their own property tax revenue, have much more money and much nicer schools.
Kai: The point is there that, again, the money, the funding flows along these boundaries. That's the problem with the boundaries. Why doesn't funding from the state then fix that inequity?
Kevin: It does in some states. I don't want to be too doom and gloom. There are some states that have made a lot of progress in this and doing it exactly the way you described. Essentially, providing more money to poor districts, and less money to wealthy districts. A lot of this was driven by litigation in the 1970s and 1980s. All state constitutions have provisions that require the state to provide a free public education to all students. Those provisions have often not really been honored, but they're there. There were a lot of lawsuits filed in various states. In some states, the litigants won. In some states, they lost.
New York State, for example, is a state that actually has pretty good numbers in terms of school districts. Again, for your listeners in New York City, in New York State, technically, the entire New York City school system is considered one school district, even though you have these things called districts inside the District of New York. That's pretty unusual. So many things about New York City are unusual.
In other states, districts are these separate legal bodies and you don't have districts inside of districts, and they tend to be much smaller. Massachusetts has a good system. Maryland has a pretty good system. On the other hand, Illinois has a terrible system. Pennsylvania has a terrible system. Virginia, where I live, has a terrible system. It's a mixed bag.
Kai: One of the things, the reason I want to talk to you, is that you have solutions. You have some ideas about how this could be fixed, education, in particular, it can just be so-- It feels so defeated. We've been wrestling with this for so long and it never seems to be able to be solved, but you pinpoint three things that can be done, redistricting, national funding, and decriminalization. Let's quickly talk about those, and in particular, redistricting. What do you have in mind?
Kevin: We shouldn't take our districts for granted. They're not in the Constitution, they're just artifacts of state law. We've changed them before, we can change them again. In fact, there's a lot of precedent for changing districts. Every 10 years, after the census comes out, we change all of our congressional districts and all of our state legislative districts to reapportion them to make sure that they all have the same number of people in them. We didn't use to do that. In fact, there's a sordid history of race-based districting that is still very active.
The Supreme Court just a few years ago ruled against the State of North Carolina for trying to do some race-based redistricting and put all the Black people on one district and all the white people in another district. They said that was unconstitutional. Let's redraw the school district lines every 10 years with the same goal of fairness and equality. As with congressional districts, most of the time, you end up with the same congressman that you had or congressperson that you had last time, but it could change.
In the same way, the districts will stay probably about the same, but over time, we can redraw the lines to make them more rational, more fair, and to make sure that all of the money isn't on one side of these borders and none on the other side. To do that, we will, I think, have to provide more federal funding. Though the federal government only provides about 10% of our funding for our K through 12 schools. That also will help another huge problem, which is in addition to these disparities inside of states between districts, there are also huge disparities between states.
We heard about the State of Mississippi earlier in the program. The State of Mississippi has less than half of the tax base per capita than, say, a New Jersey or a Connecticut has. Even if Mississippi takes all of its own money and distributes it fairly amongst itself, it's still going to be underfunded. We should fund education the way that we find health care and transportation, where we provide more money to states that have less money and vice versa.
Third, finally, this idea that you can be arrested for sending your child to a public school is ridiculous. It's appalling that we would do something like that in a country like ours. You can go to any public park in the United States, doesn't matter whether you live there or not, and make use of those public services. You can walk into any public library you want. If you go to a public hospital, they serve everyone under the rules that they have. You should be able to send your kids to any public school that you like.
Again, if we provide that, if we decriminalize these borders that we've created inside our country, that removes the incentive for wealthy people to essentially congregate inside of certain districts and keep all of their money and social capital for themselves.
Kai: We'll have to leave it there. Kevin Carey directs the education program for the New America. We've been talking about his article in the journal Democracy titled No More School Districts! Before we go, a special thanks to a member of our family here at The United States of Anxiety, our senior editor, Christopher Werth, is moving on to a cool new gig in WNYC's newsroom. He is an invisible hand behind so much of what you have heard on this program over the years. Christopher, we will miss you.
[music]
The United States of Anxiety is a production of WNYC Studios. Mixing by Jared Paul. Kevin Bristow and Milton Ruiz were at the boards for the live show. Our team also includes Emily Botein, Regina de Heer, Karen Frillmann, Kousha Navidar, and Christopher Werth. Our theme music was written by Hannis Brown and performed by The Outer Borough Brass Band. Veralyn Williams is our executive producer, and I am Kai Wright. Keep in touch with me on Twitter @kai_wright or send me an email at anxiety@wnyc.org. Love to get voice memos there. As always, join us for the live version of the show next Sunday, 6:00 PM Eastern.
Stream it at wnyc.org or tell your smart speaker to play WNYC. Until then, thanks for listening and take care of yourselves.
[music]
Copyright © 2021 New York Public Radio. All rights reserved. Visit our website terms of use at www.wnyc.org for further information.
New York Public Radio transcripts are created on a rush deadline, often by contractors. This text may not be in its final form and may be updated or revised in the future. Accuracy and availability may vary. The authoritative record of New York Public Radio's programming is the audio record.